35 Best Skyline Drive Hikes at Shenandoah National Park (By Milepost, North to South)
More than 500 miles of trails cross Shenandoah National Park in Virginia's Shenandoah Valley, which can make it tough to choose one or two day hikes.
Thankfully, many of the most fantastic hikes can be accessed with ease from Skyline Drive, the 105-mile scenic byway that runs the length of the national park.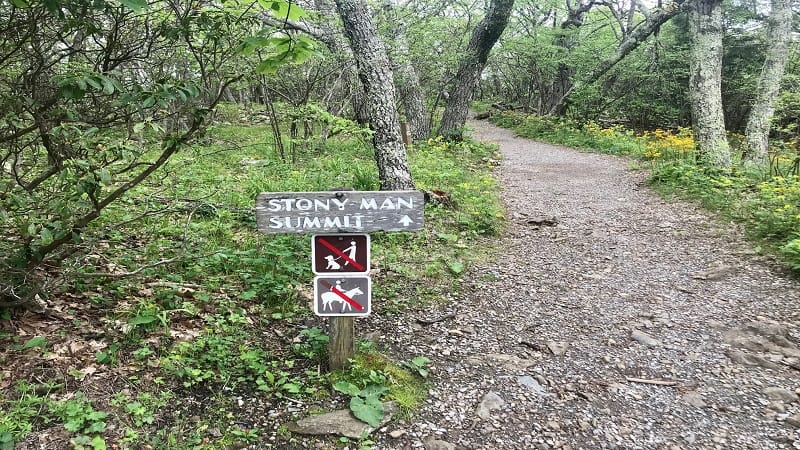 Skyline Drive hiking trails offer variety, too. Hike to waterfalls, geological formations, scenic views, historic cemeteries, even a one-time presidential retreat.
As you motor along Skyline Drive, stop for as many of the 75 overlooks as you like, as well as hiking trails that allow you to explore this national park on two feet.
Skyline Drive Hikes
If you were to drive the length of Skyline Drive, it would take three hours (at 35 miles per hour). Many like to stop for a scenic hike or overlook.
The park is broken up into three districts: North District, Central District and South District. The North District runs from Front Royal to Thornton Gap (milepost 31.5).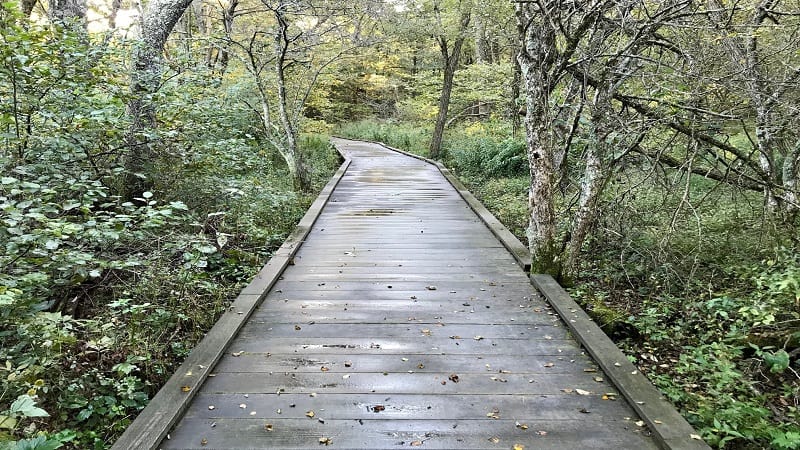 The Central District runs from Thornton Gap to Swift Run Gap (milepost 65.7). The South District runs from Swift Run Gap to Rockfish Gap (milepost 105.4).
It costs $30 per vehicle to enter Shenandoah National Park, and by association, to drive the length of Skyline Drive. You can also enter with an annual park pass.
There are four Skyline Drive entrances: Front Royal, Thornton Gap, Swift Run Gap and Rockfish Gap. You can also access the park by way of boundary entrances.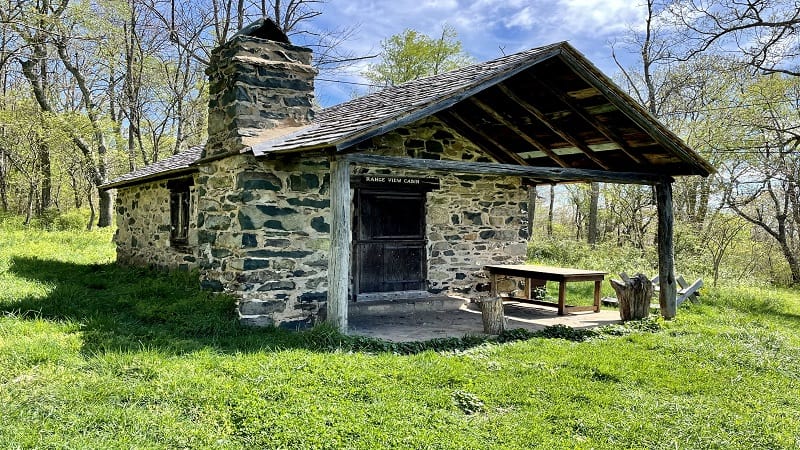 Everyone has their favorite section of the park, but the Central District may be the most scenic and popular. It's home to two park lodges and many hiking trails.
From north to south, here are 35 of the very best hikes on Skyline Drive, including more than a few easy hikes in Shenandoah National Park.
This 1.2-mile loop hike on the Fox Hollow Trail begins across from the Dickey Ridge Visitor Center. It's among the best Skyline Drive hikes near Front Royal.
Walk across land once owned by the Fox family before the park was established in 1935. This hard-working family cleared stones on both sides of the trail to farm.
The Fox family cemetery is one of more than 100 across the park. Inspect a few headstones to think about what daily life was like in the park's hollows and ridges.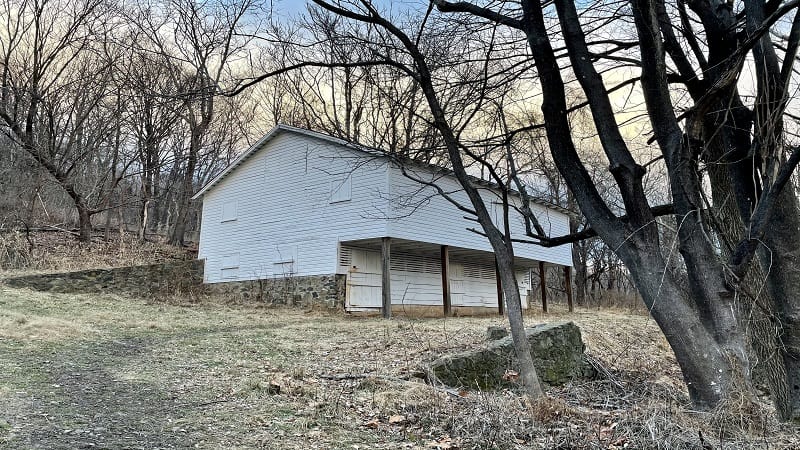 On this 3.4-mile hike you are rewarded quickly when you reach the historic Snead Farm early in this hike. The white family barn is in very good shape.
Behind the barn is a root cellar. It's an underground cellar that would have stored vegetables, nuts and fruits for this farm family.
To the left is a stone foundation, the remains of the family home. All that exists today is a stone outline and a couple of sets of stairs into the former home.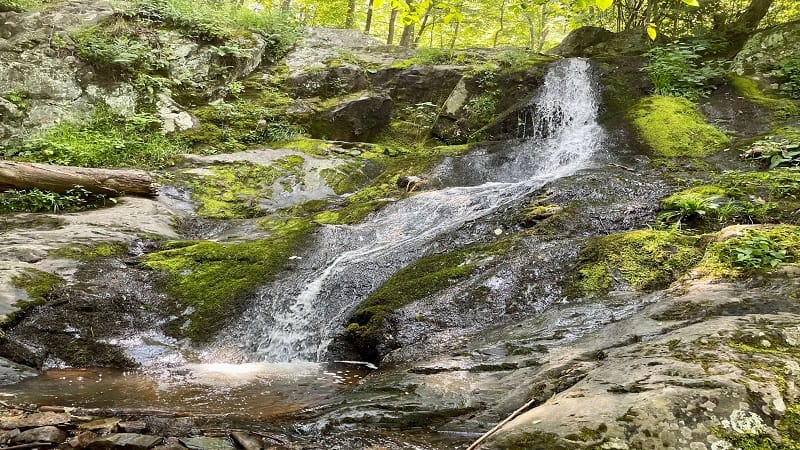 It's a straightforward 1.3-mile out-and-back hike to Lands Run Falls by way of the Lands Run Fire Road. However, there is no safe and easy way to see the falls.
You could miss Lands Run Falls if you walk too quickly along the fire road. Once you reach trickling Lands Run, cross a bridge and you have arrived.
Lands Run Falls is on your right, but you must carefully descend a fairly steep hill to see the falls. This is the closest waterfall to the park's north entrance.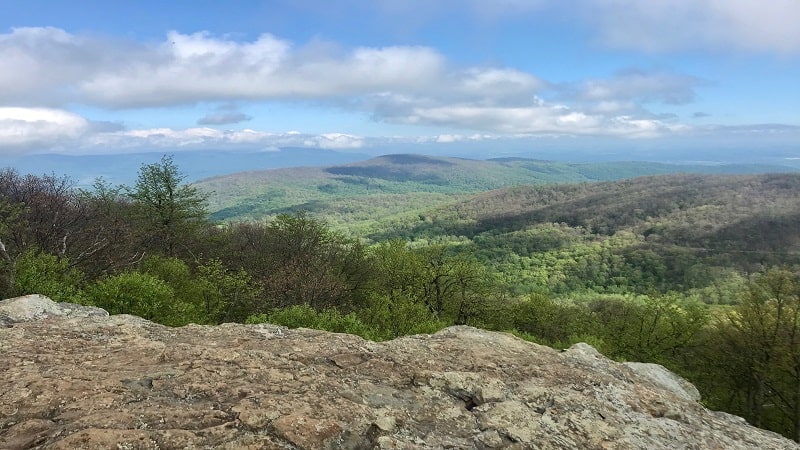 The hike to Compton Peak starts on the other side of Skyline Drive from the Compton Gap parking area. It's a small lot with room for a dozen vehicles.
From the trailhead, ascend .8 miles on the Appalachian Trail to a four-way intersection. Turn right onto a short spur trail to reach Compton Peak.
Re-trace your steps and cross over to the spur trail on the other side of the trail marker to reach a columnar jointing. The geological geometry is awe-inspiring.
An easy hike to Fort Windham Rocks begins from the Compton Gap parking area. It's just .8 miles, but it's a nice addition to the Compton Peak hike.
It's worth the extra steps to see the geologically curious Fort Windham Rocks. Essentially, two huge split boulders that have mysteriously risen from the earth.
The hike starts on the northbound Appalachian Trail. Turn left on the blue-blazed Dickey Ridge Trail and you're mere steps from the super-size rocks.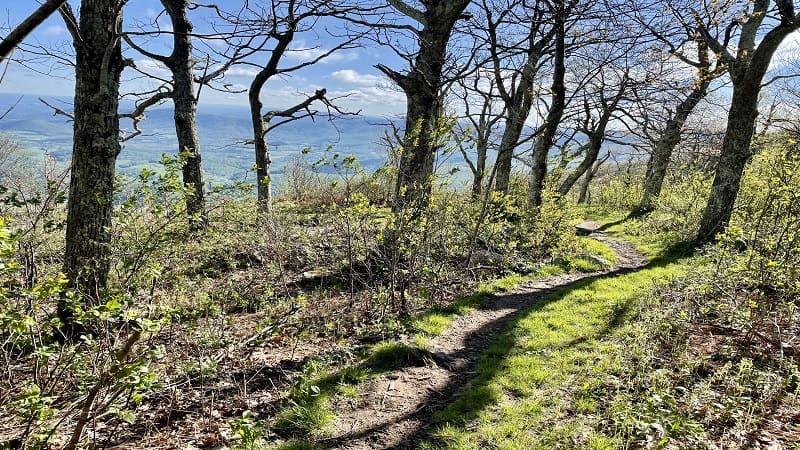 On this 5.1-mile loop hike, cross through leafy forest, take in majestic mountain views and hopscotch across streams. It's a less popular trail, so it's quite serene.
A rocky outcrop at the .6-mile mark rewards with spectacular mountain vistas. You'll reach a second outcrop at the 1.6-mile mark with equally fantastic views.
If you have time, a short 1.6-mile out-and-back hike to Range View Cabin, one of six hike-in PATC cabins in the park, shares a trailhead with the Sugarloaf Loop.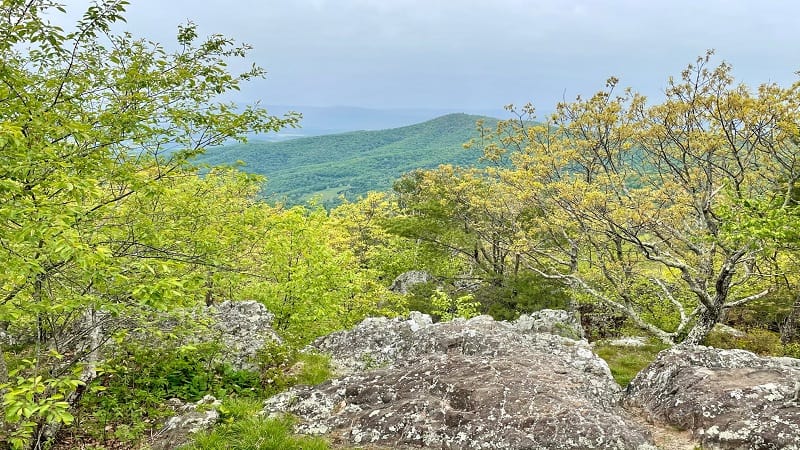 It's strange that there are three "Pass Mountain" hikes at Shenandoah National Park, but this 1.5-mile round-trip hike leads hikers along the Appalachian Trail.
There's a moderate elevation gain on this section of trail. A short spur trail at the .7-mile mark is frustratingly easy to walk by without much notice.
This short trail leads to a rocky overlook with gorgeous mountain views. This is the highlight of one of the best short hikes on Skyline Drive.
#8: Mary's Rock (mileposts 31.6, 33.5)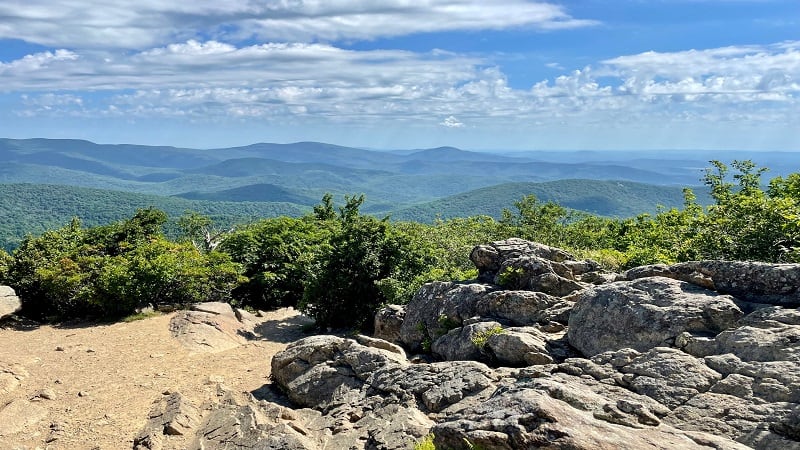 Mary's Rock can be reached from a northbound or southbound section of trail. Both wow day hikers with sensational views across the Shenandoah Valley.
Hiking north, park at the Meadow Spring parking area at milepost 33.5. The leafy trail wows with the remains of an old stone chimney and a sparkling stream.
Alternatively, park in the Panorama parking area at milepost 31.6. South of the Thornton Gap entrance station, you'll find lots of parking, as well as flush toilets.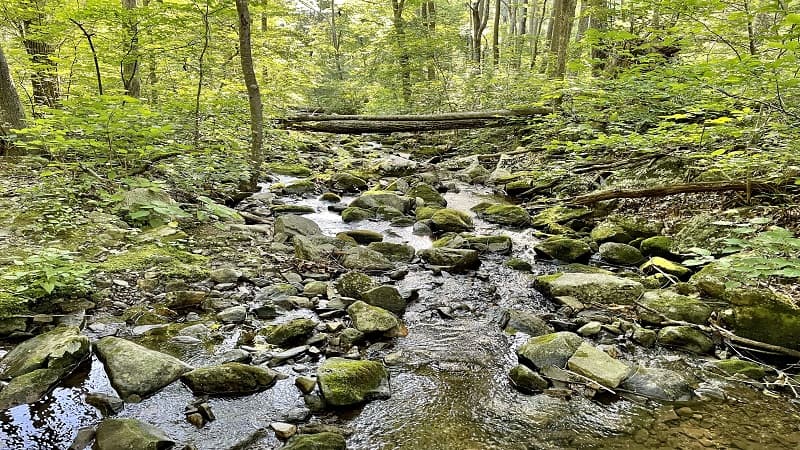 This strenuous 6.1-mile loop hike boasts water views along the Buck Hollow Trail, but also more than 600 wooden steps at the start of the Buck Ridge Trail.
Yes, more than 600 steps (I counted). It was intimidating, but in summer, I was pleased to reach the top for refreshing breezes that were absent in the hollow.
Tackle this hike in late-fall or winter when the leaves have fallen. You'll be rewarded with great views obscured in spring and summer by dense foliage.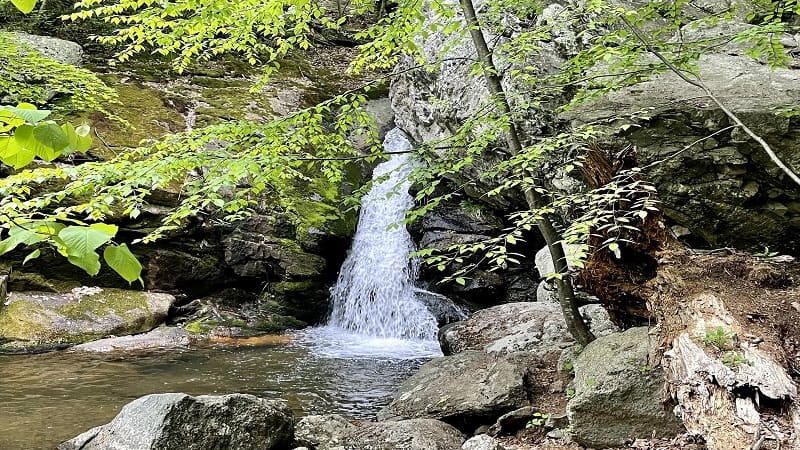 Yes, there are three hikes that originate from the Meadow Spring parking area at milepost 33.5. The hike to Hazel Falls (aka Cave Falls) is a winner, too.
This 5.2-mile out-and-back hike begins with an easy-going descent along the leafy yellow-blazed Hazel Mountain Trail. Enjoy the peaceful burbling of the Hazel River.
Cave Falls boasts a small waterfall, as well as a watering hole. There are cascades and caves, too. It's a well-shaded area that's just right for lunch or a snack.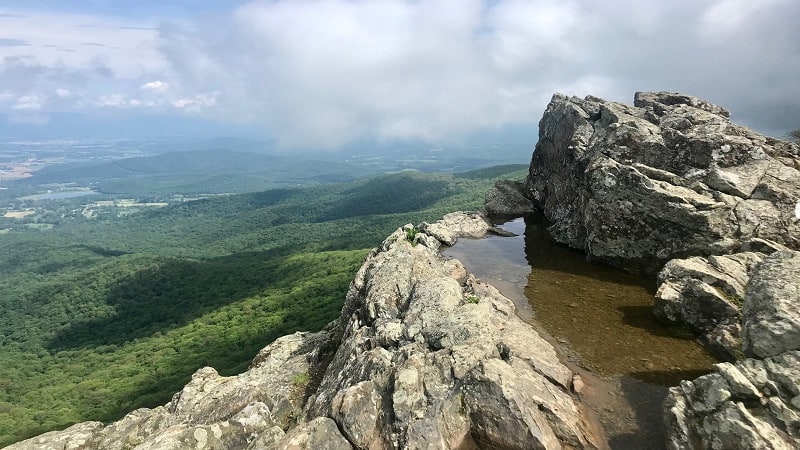 While scenic views are plentiful at Shenandoah National Park, it's hard to beat the two-for-one deal you get on this 3.1-mile out-and-back hike.
You'll climb 300 feet in the first .5-miles to reach Little Stony Man Cliffs. I guarantee you'll be awe-struck by the dramatic views from the rocky outcrops.
From Stony Man, get ready for even more breathtaking vistas. It's not challenging to navigate the rocky outcrops, but you will want to stay fleet of feet for safety.
The easy to moderate 2.5-mile Passamaquoddy Loop hike is popular, earning at least 180 reviews on AllTrails.com and an average rating of 4.4.
Start at the Stony Man parking area and go clockwise, if only because the connections between trail segments are more obvious in this direction.
Keep your eyes open for a hobbit door mid-hike. More likely it's for the electrical technicians given there are power lines above, but it looks like a hobbit door.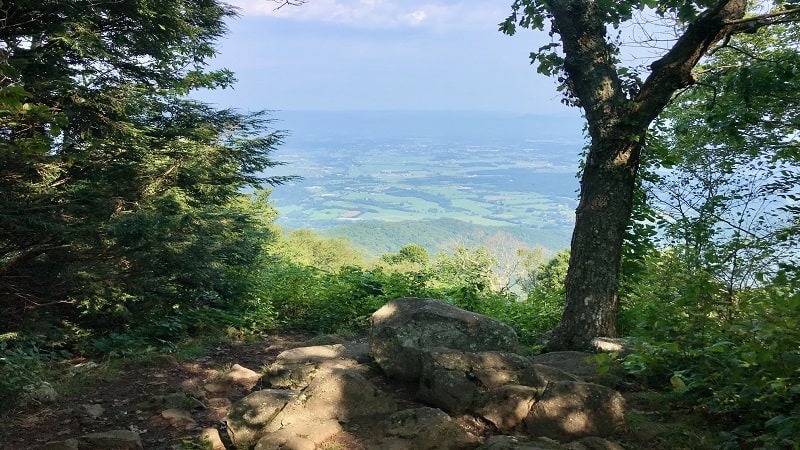 The 1.5-mile out-and-back hike on the Millers Head Trail adjacent to Skyland guides hikers to a former stone fire tower that dates back to the 1940s.
At that time, seven fire towers were manned around the clock at Shenandoah National Park. You can also savor far-reaching views before you reach the tower.
At the .2-mile mark, a short spur trail leads to Bushy Top Observation Point for far-reaching scenic views of Massanutten Mountain and working farms in the valley.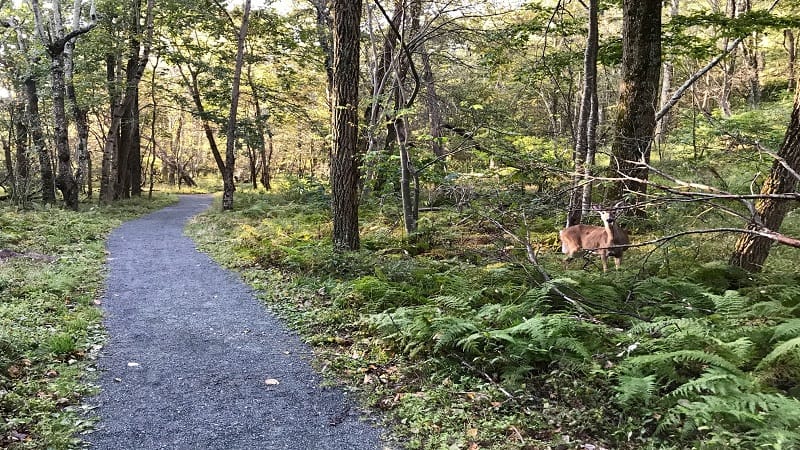 The fully-accessible Limberlost Trail is one of the most-trafficked easy hikes in the national park. With the exception of service animals, this trail does not allow pets.
This 1.3-mile loop along a flat, crushed greenstone walkway is stroller-friendly and wheelchair-accessible. More than 15 wooden benches dot the Limberlost Trail.
You'll also cross over a couple of bridges and boardwalk sections. For more steps, tack on the side trail to the scenic Crescent Rock overlook.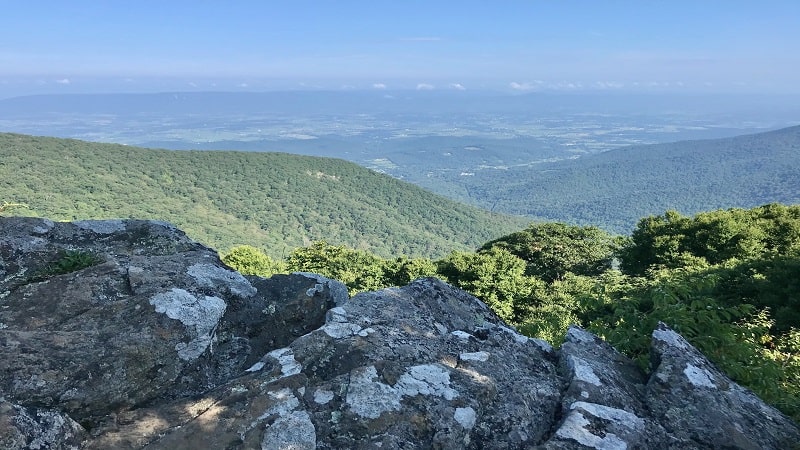 The hike to Hawksbill Summit is among the most popular in Shenandoah National Park's Central District. It's the park's highest point at an elevation of 4,051 feet.
There are three ways to the top, but the 2.8-mile loop that starts at milepost 45.5 awes with a massive boulder field, as well as the rare Shenandoah Salamander.
Another popular route begins at the Upper Hawksbill parking area at milepost 46.7. This hike starts from a higher elevation point, but you will still feel the burn.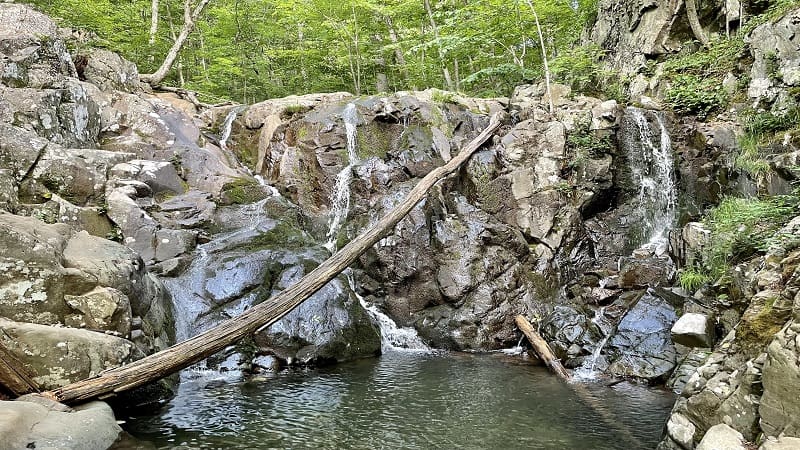 Not every waterfall hike boasts a dreamy swimming hole, but that's what makes the 3.9-mile loop hike to 67-foot-tall Rose River Falls an easy one to love.
This forested loop hike can be completed in either direction, but counter-clockwise leads to the historic Cave Cemetery at the .5-mile mark.
In a few more steps, you'll reach a tumbling waterfall and a spur trail to Dark Hollow Falls. Walk along Hogcamp Branch to proceed to Rose River Falls.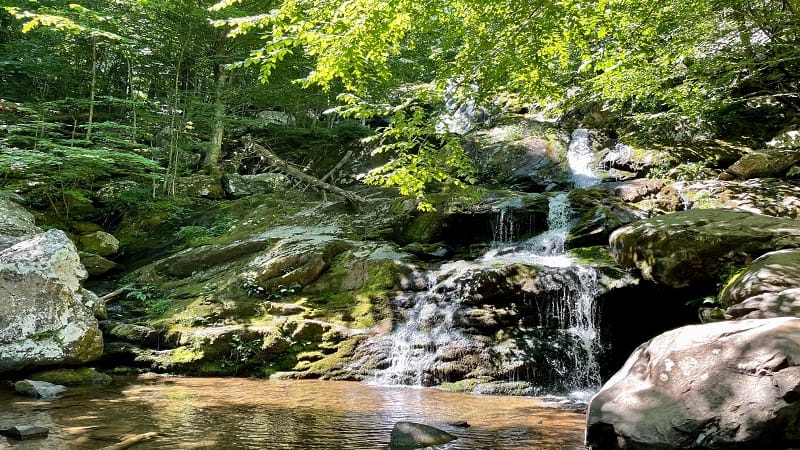 The 1.4-mile out-and-back hike to 70-foot-tall Dark Hollow Falls is one of the most popular Shenandoah waterfall hikes. It can also get very crowded.
The elevation gain for this hike on the Dark Hollow Falls Trail (on the way back up) is 400+ feet, but it's worth the burn for the views of the tumbling falls.
For a longer hike, you can complete a 4.7-mile loop hike. Or better, opt for the 6.9-mile loop hike that includes Dark Hollow Falls and Rose River Falls.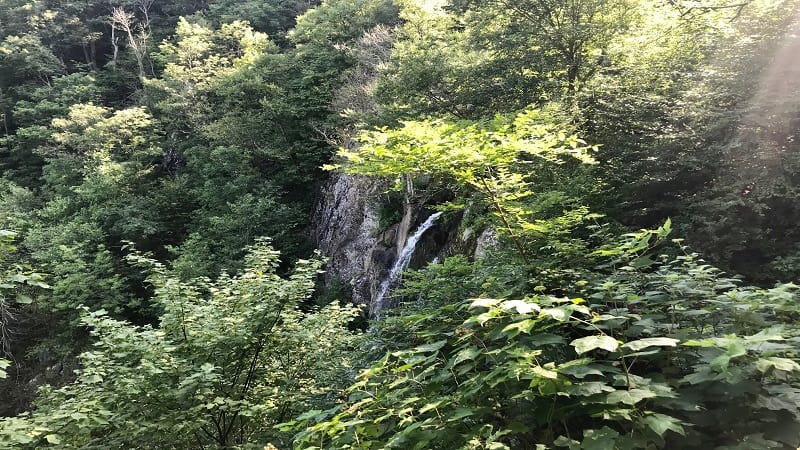 Lewis Falls may not be the tallest waterfall at Shenandoah National Park, but at 81 feet, it's still wildly impressive, especially from the scenic overlook.
It's actually the fourth tallest waterfall in the park. Overall Run Falls, which holds the honor of being the park's tallest waterfall, is only 12 feet taller than Lewis Falls.
The 3.2-mile loop hike to Lewis Falls includes a return trip along the white-blazed Appalachian Trail. At the trailhead, look for flush toilets and a large picnic area.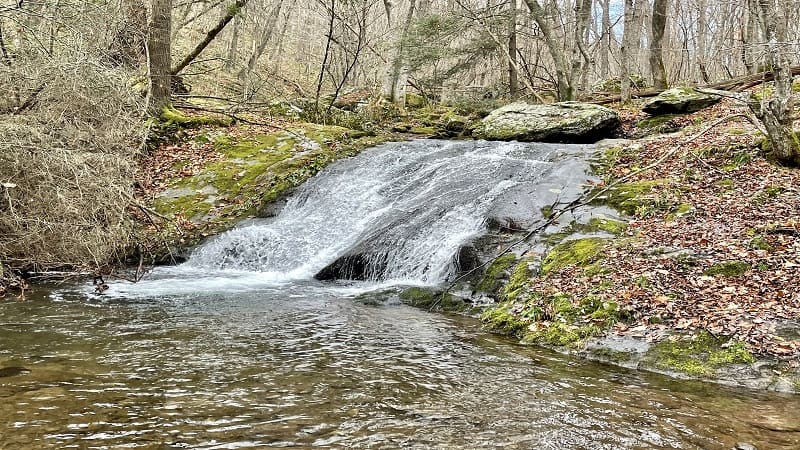 On the opposite side of Skyline Drive from Lewis Falls is the start of the hike to Big Rock Falls. This waterfall is located on the blue-blazed Mill Prong Trail.
A 5.4-mile out-and-back hike leads hikers along the yellow-blazed Mill Prong Horse Trail. This serene trail connects with the Mill Prong Trail after two miles.
Alternatively, you can take in the cascading falls on the way to Rapidan Camp. This 4.2-mile out-and-back hike is entirely along the Mill Prong Trail.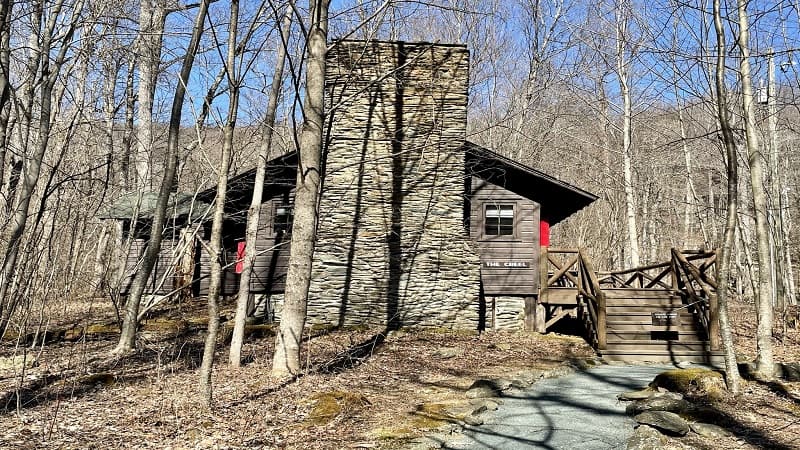 President Herbert Hoover visited Rapidan Camp (also known as Camp Hoover) from 1929 to 1932, during the Great Depression. He fished on the Rapidan River.
Hoover donated the 164-acre retreat to the National Park Service for incorporation into what would later become Shenandoah National Park.
A 4.2-mile out-and-back hike on the forested Mill Prong Trail leads to this national historic landmark, including three restored cabins.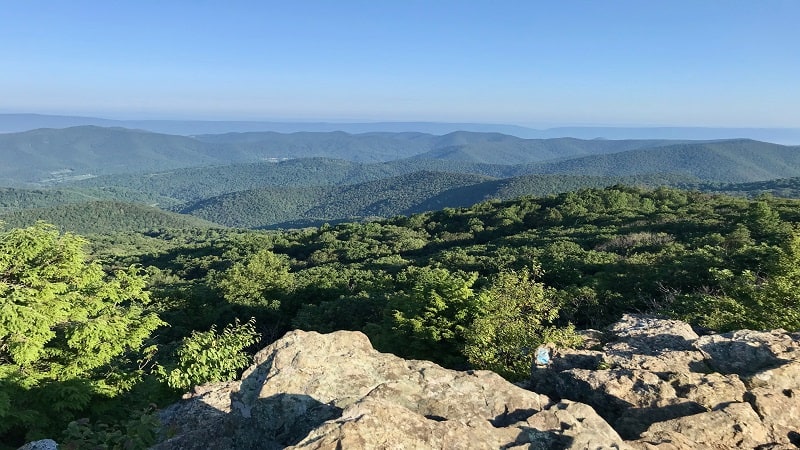 On a clear day, the mountains go on forever from the summit of Bearfence Mountain. It's no surprise that this hike is on the bucket list of many hikers.
The far-reaching 360-degree payoff views after a hike of less than .45-mile are beyond tremendous, but you will need to work for your reward.
The short distance of this rocky hike is deceptive. Plan to use your hands, feet, arms and knees to reach the top. It's well worth every ounce of effort.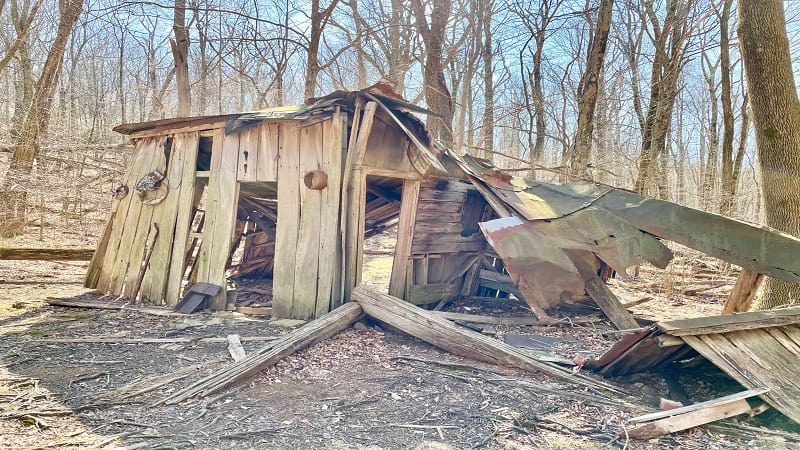 An easy 2.5-mile out-and-back hike on the Pocosin Trail in the Central District leads visitors to Pocosin Cabin.
Pocosin Cabin is one of six cabins managed by the Potomac Appalachian Trail Club (PATC). The cabin was built by the Civilian Conservation Corps (CCC) in 1937.
Continue past the cabin to reach the ruins of Upper Pocosin Mission, which served the local mountain community prior to the establishment of the national park.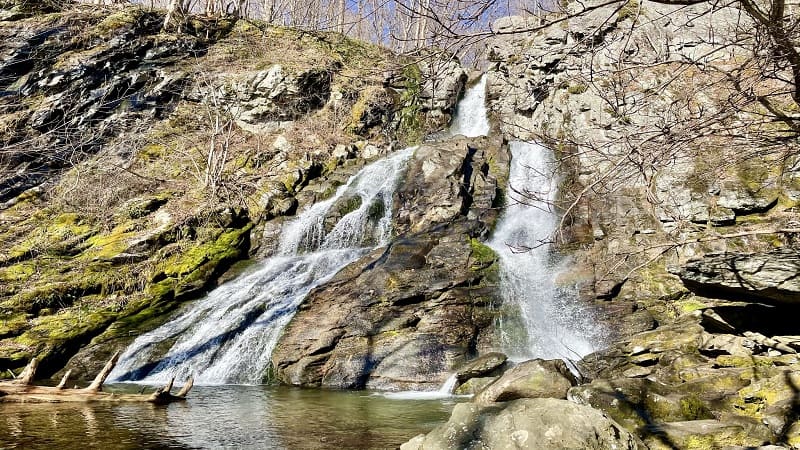 At 83 feet tall, South River Falls is the third tallest waterfall at Shenandoah National Park. It's a beauty and well worth an elevation gain of 1,299 feet.
Complete this hike as an out-and-back on the South River Falls Trail or as a loop by way of the South River Fire Road.
It's a beautiful forested hike with a generous reward when you reach the falls. There are lots of rocks to sit on to enjoy a snack or re-fuel before the return hike.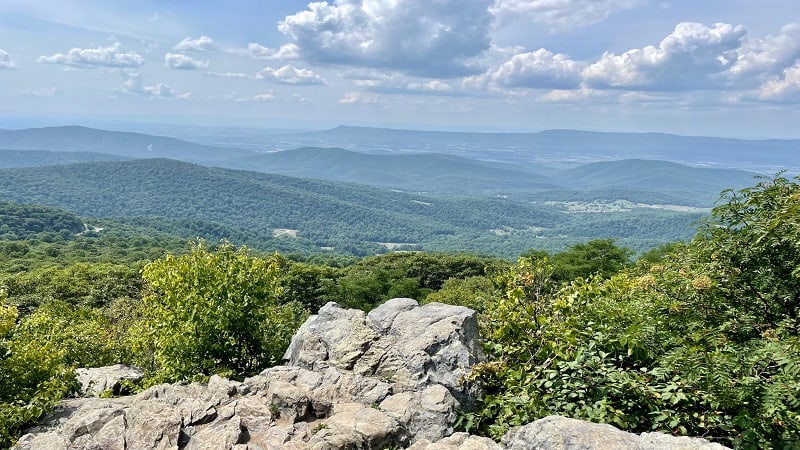 At 3,587 feet, Hightop Mountain is the highest point in the park's rugged South District. A moderate 3.0-mile out-and-back hike leads to and from the top.
From the summit, the panoramas are spectacular. The overall elevation gain is 912 feet over 1.5 miles, so you may find your heart pumping on the way up.
The hike to the top is along a stretch of the iconic Appalachian Trail. There's not a lot to see on the way to the summit, but it's thankfully cool and well-shaded.
#25: Ivy Creek (milepost 77.5)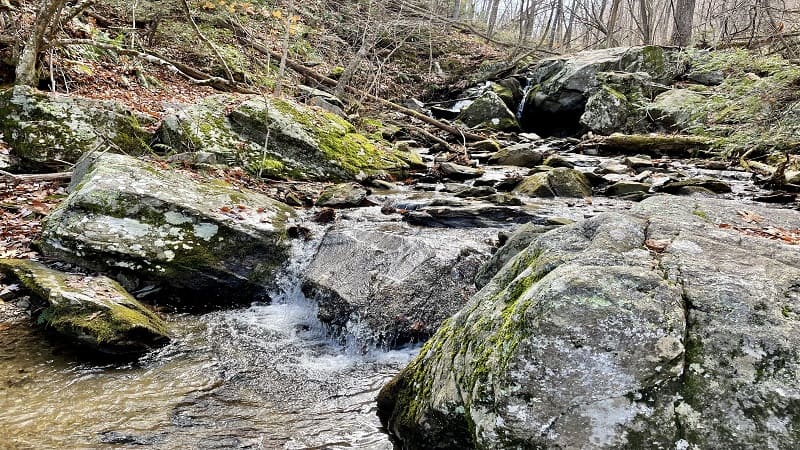 This refreshing 2.8-mile out-and-back hike guides hikers along a forested stretch of the Appalachian Trail to burbling Ivy Creek.
Before you begin, take in the far-reaching views across Weaver Mountain, Flattop Mountain and Loft Mountain from the overlook along Skyline Drive.
There are a plenty of views on this hike, especially in late-fall and winter when the leaves have fallen and you can enjoy less-obscured mountain vistas.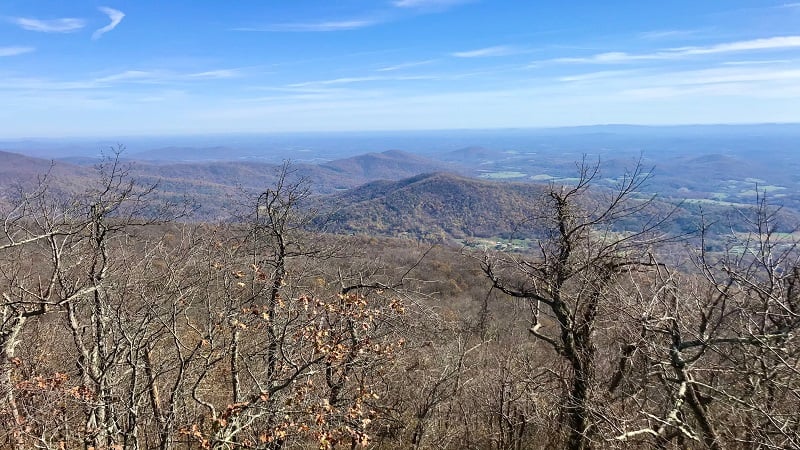 For a gram-worthy loop hike with easy parking and access to sundries and supplies (in-season), the Loft Mountain Loop is a fantastic choice.
This 2.1-mile loop hike pairs the Frazier Discovery Trail with the Appalachian Trail for a scenic hike with rock scrambles, creek crossings and spectacular vistas.
Take this loop counter-clockwise to reach a show-stopping overlook at the 1.2-mile mark. This east-facing viewpoint would be beyond spectacular at sunrise.
The 3.6-mile round-trip hike to Doyles River Falls includes stops at Upper Falls and Lower Falls, as well as Doyles River Cabin, a PATC-managed cabin in the park.
Upper Falls is 28 feet tall while Lower Falls is 63 feet tall. Neither are much more than a trickle in summer months. This hike is best in winter and early-spring.
Doyles River Cabin was built in 1936 by artisans and laborers with the Civilian Conservation Corps (CCC). From the porch, enjoy views of Cedar Mountain.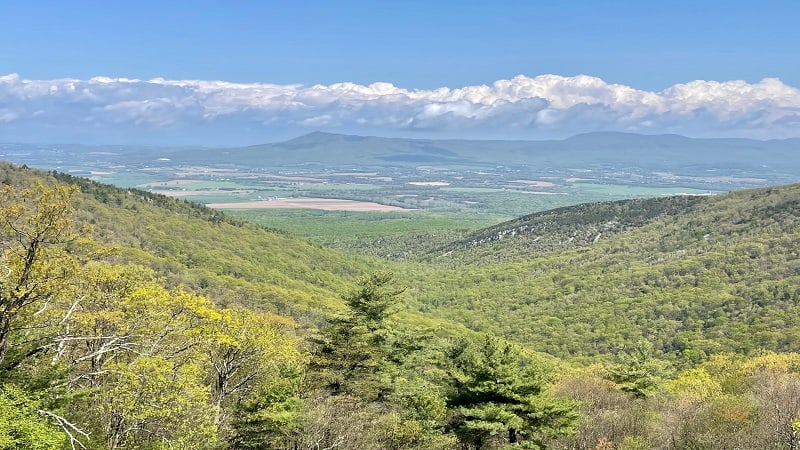 At 9.3-miles, the hike to Lewis Peak is not short, but it's also not technical or strenuous, in spite of a gain of more than 1,800 feet to the summit views.
This out-and-back hike begins at the Browns Gap parking area and guides hikers along several trails, including the Appalachian Trail and Rockytop Trail.
The best view of the hike turns up at the 3.8-mile mark. The northwest-facing views across to Massanutten Mountain are sensational. Five stars, friends.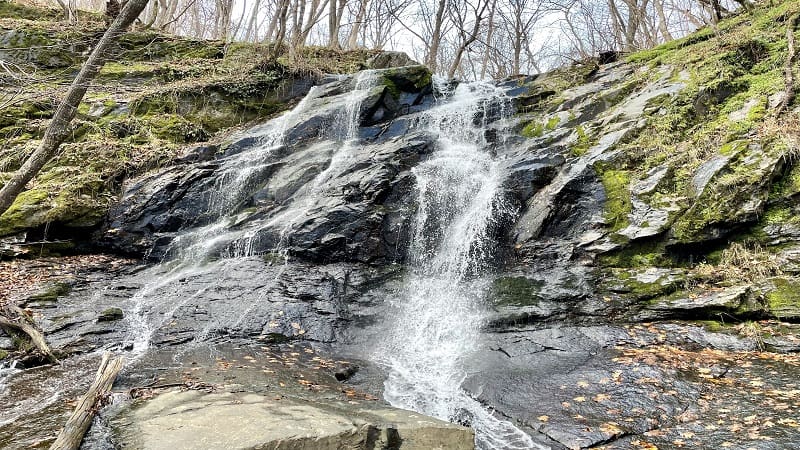 There are two scenic ways to revel in 42-foot-tall Jones Run Falls. Complete a 4.5-mile out-and-back hike or a 7.0-mile loop hike.
The loop hike includes Doyles River Falls, which is less than two miles from Jones Run Falls. If you've got it in you, I suggest the loop to see both falls.
Jones Run Falls is gorgeous and there are lots of rocks to take a seat for a lunch break in front of the falls. Take in all the cascades along Jones Run, too.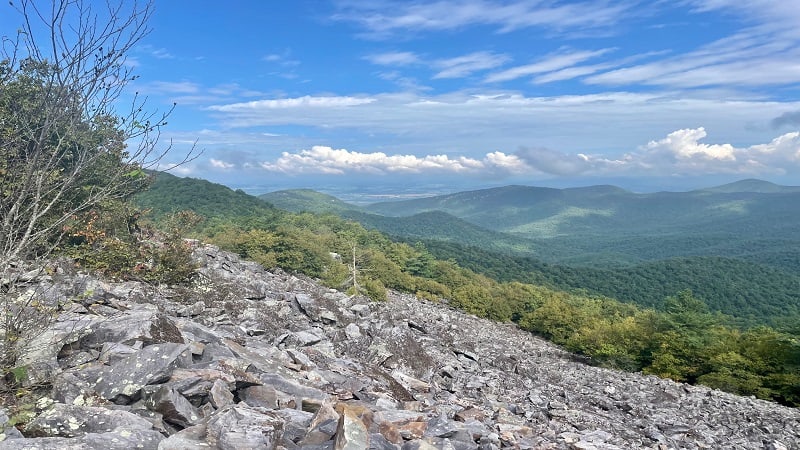 The hike to Blackrock Summit is an easy hike to love. It's also an easy hike, and one that awes with a massive field of – you guessed it, black rocks.
Wide-open views across the Shenandoah Valley make this 1.8-mile hike, which includes a short but impressive, stretch of Appalachian Trail, more compelling.
A spur trail through a field of boulders leads to the Trayfoot Mountain Trail. The scenic vistas, which now include Trayfoot Mountain, are even more sensational.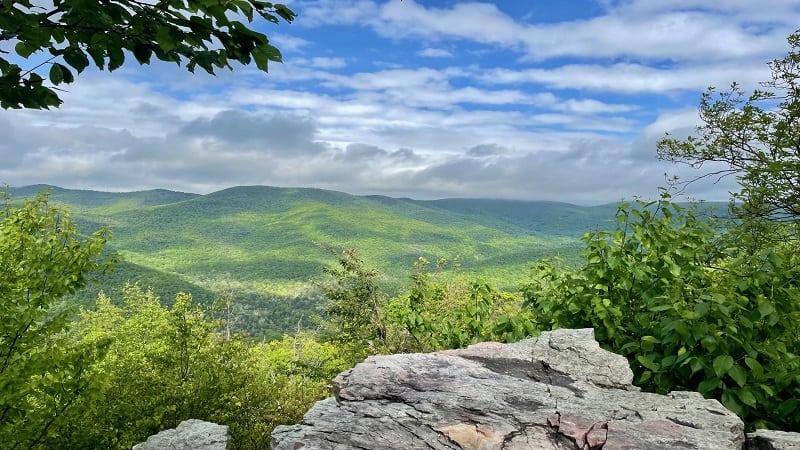 The 6.9-mile out-and-back hike to the summit of Furnace Mountain is seriously underrated. It's got great views and you may be the only one at the overlook.
It's not a hard hike, but there is a good bit of elevation gain, so be prepared. It's a great workout, and it's rather quiet, too. A plus if you need alone time.
You can also tackle this hike with a starting point at Browns Gap Road, but the Skyline Drive start is the preferred trailhead. It's a more scenic hike, too.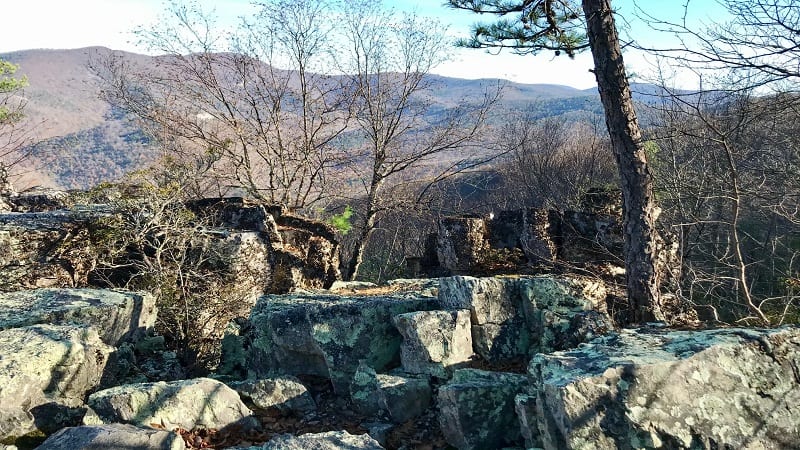 This 3.2-mile out-and-back hike is a two-for-one deal for rock hounds, exposing park-goers to both Calvary and Chimney Rocks.
Technically, it's kind of a three-for-one deal given all the mid-size and large rocks you'll see as you pass through a talus slope at the mid-way point on this hike.
Calvary Rocks is a mysterious wonderland of gigantic rocks to scramble for wide-open views. Chimney Rock is a scenic overlook overflowing with flat top rocks.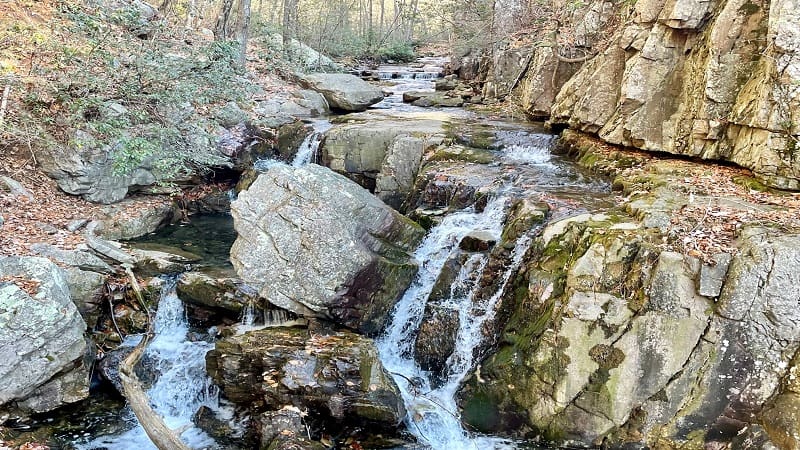 The scenic and strenuous 9.8-mile Riprap Loop guide hikers along forested stretches of the Appalachian Trail, Riprap Trail and Wildcat Ridge Trail.
I suggest a clockwise loop to save the rewarding overlooks, water crossings and cascading falls, even a swimming hole, for the latter half of this hike.
You'll reach Chimney Rock at the 8.1-mile mark. Sit on a flat top rock to soak up all the mountain views. From here, it's less than two miles to the end of the hike.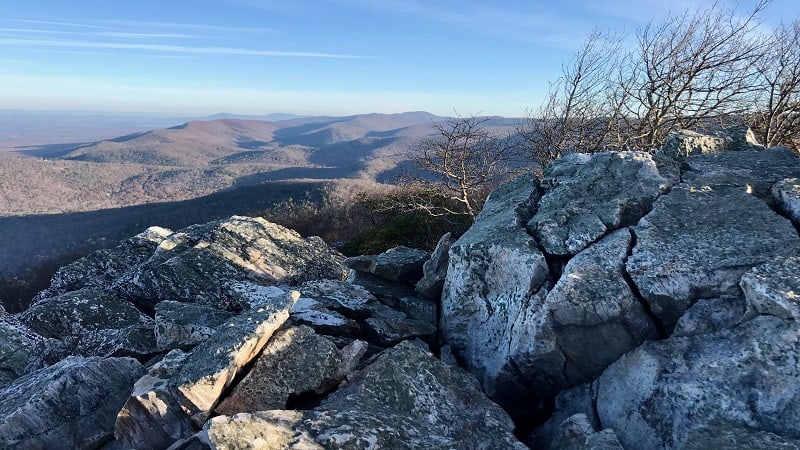 The Turk Mountain hike begins across Skyline Drive from the Turk Gap parking area. This hike awes with rock scrambles, forested trails and mountain vistas.
This 2.5-mile out-and-back hike is not especially steep for a summit hike. Even better, the payoff views are not far along the hiking trail.
If you listen closely, you may hear a train whistle in the distance. The Amtrak train chug-a-chugs through nearby Staunton in the Shenandoah Valley.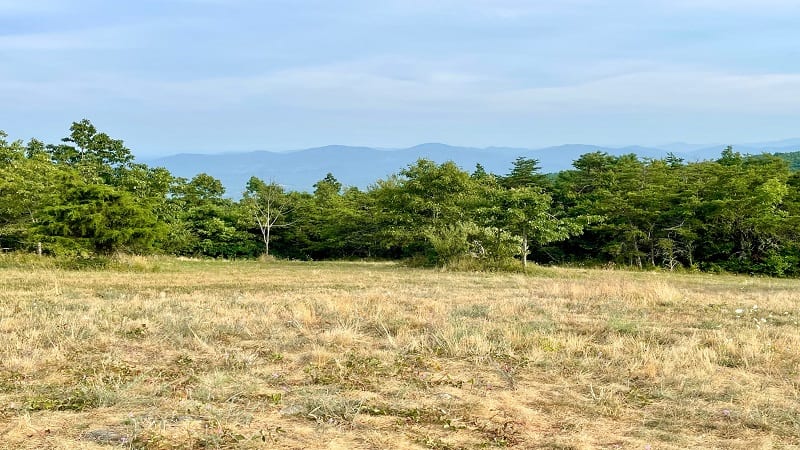 The out-and-back hike to the summit of Little Calf Mountain is short and sweet. It's 1.7-miles and is a nice hike to end the day if you want to squeeze in one more.
This hike is near the Rockfish Gap entrance in the park's South District, so it's also an easy one to do if you're spending time in Waynesboro.
The summit of Little Calf Mountain is more a lovely meadow than a rocky outcrop. Still, the scenic views are rewarding, especially at the end of a long day.
See how many hikes you can complete, but don't forget the Shenandoah National Park hikes not accessible by way of Skyline Drive, including Old Rag.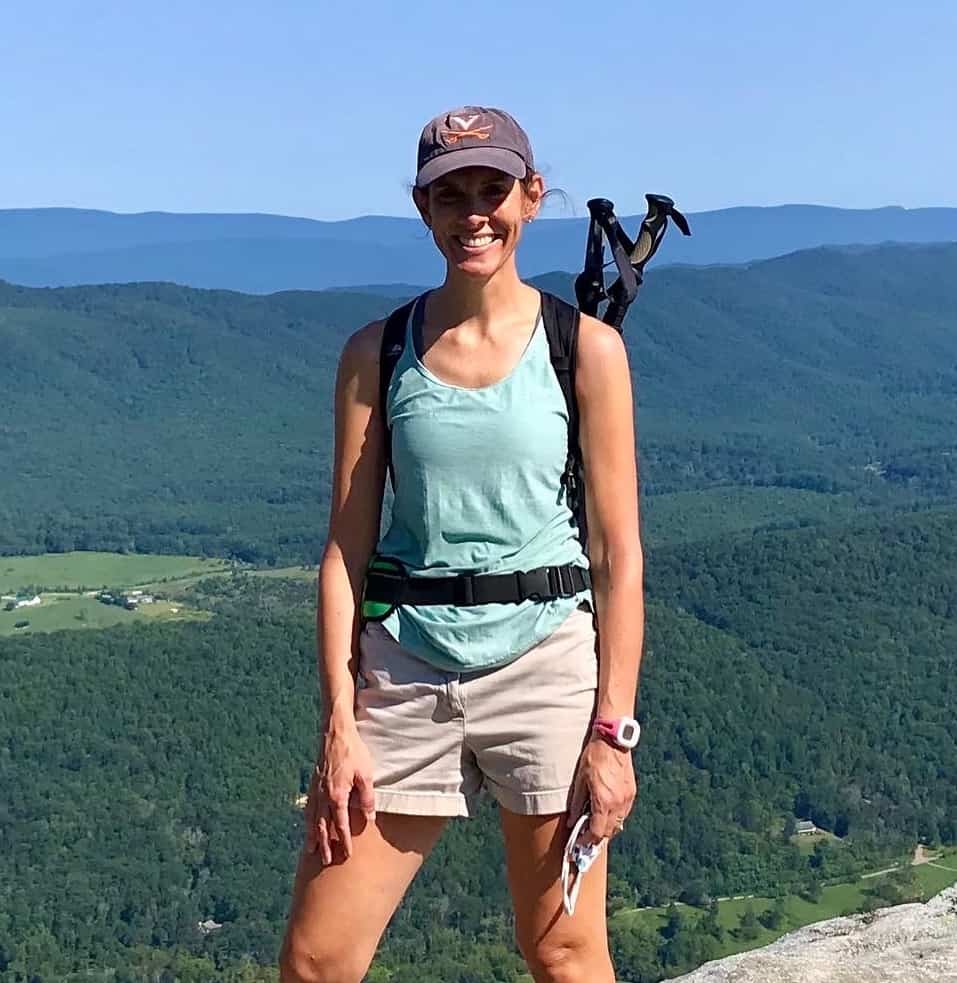 Erin Gifford is the editor of Go Hike Virginia. She has completed more than 300 hikes in Virginia. She is also the author of three hiking guidebooks from Falcon Guides. Need help finding a hike? Check out the Trail Finder feature or send Erin a message.