Pass Mountain: A Short Appalachian Trail Hike Off Skyline Drive Leads to Big Views
I don't know why, but there are three unrelated Pass Mountain hikes at Shenandoah National Park. I already confuse easily, so why do this to me? Geesh.
There's a .3-mile Pass Mountain loop hike that originates from the Pass Mountain Overlook at milepost 30 on Skyline Drive. Oddly, this overlook faces away from Pass Mountain.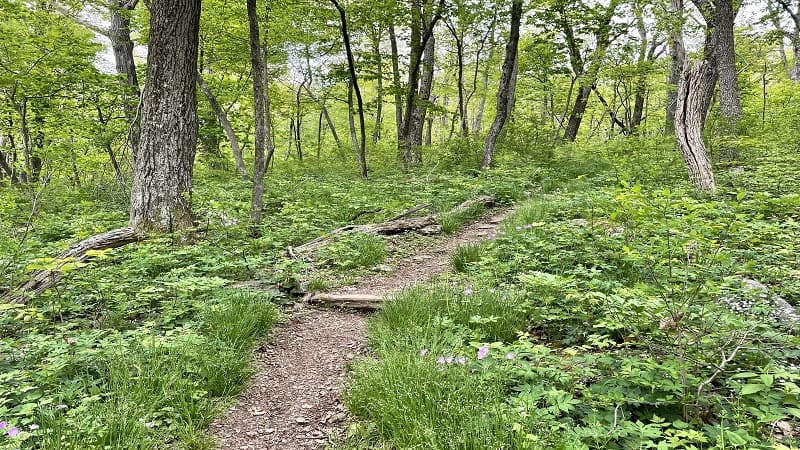 Then, there's the 3.4-mile Pass Mountain loop hike, as listed on the park's official Thornton Gap Area map, which includes steps on the Pass Mountain Trail.
Finally, there's a 2.4-mile Pass Mountain Summit hike. I did this one, but I heeded the advice of hikers before me and turned around at the .8-mile mark.
| Trail Stats | |
| --- | --- |
| Length | 1.5 miles |
| Difficulty | Moderate |
| Trail Type | Out-and-Back |
| Elevation Gain | 453 feet |
| Duration | 1 hour |
| Terrain | Mostly dirt & rock trails |
| Dog-Friendly | Yes |
| Fee | $30 per vehicle (good for seven days) |
| Driving Directions | Click Here |
Arriving at the Trailhead
For the Pass Mountain Summit hike, park at Beahms Gap Overlook at milepost 28.5, which oddly is not much of an overlook. The better vistas are actually across Skyline Drive.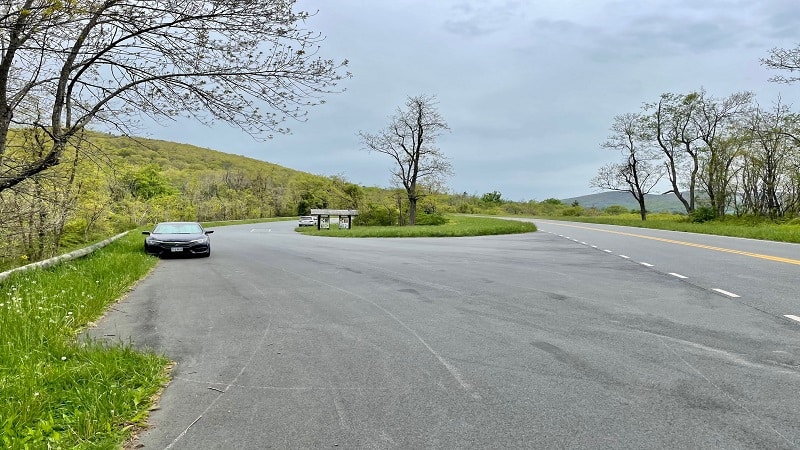 There's no real parking lot here. It's more of a pull-off. Maybe a pull-through since you pull in and realize there are no actual views of the Shenandoah Valley.
You'll see a large trail kiosk and a park map as you pull in. Just park anywhere. This hike is along the Appalachian Trail, which picks up on the other side of Skyline Drive.
The First Steps
Across Skyline Drive from Beahms Gap Overlook, you will see a concrete trail marker. This is your starting point for this short hike southbound on the Appalachian Trail.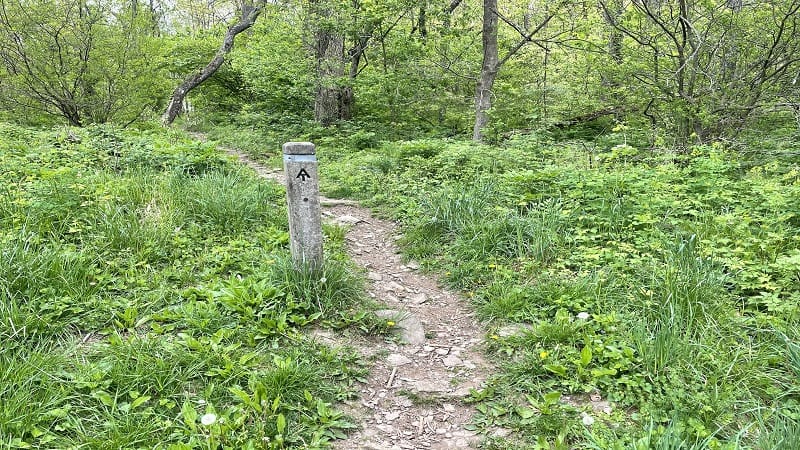 In a few steps, you will cross over Rocky Branch Trail when you see the next trail marker. You will quickly notice – at least in springtime – that this hike is exceptionally lush.
After months of winter hiking on brown, leafless trails my senses were on overload seeing so much verdant foliage and bright-purple wildflowers alongside the hiking trail.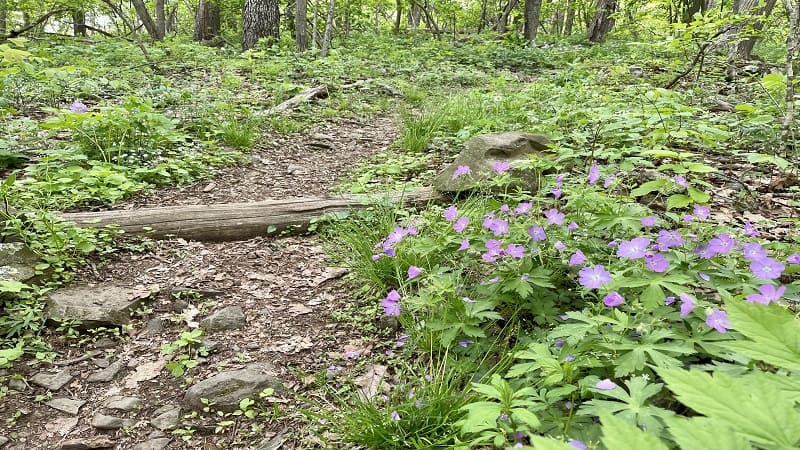 There's a moderate incline on this section of trail, ultimately leading to an elevation gain of nearly 500 feet over the course of less than one mile.
At the .7-mile mark, you will reach a white-blazed tree. There is also a short spur trail on the right that is beyond easy to walk by without notice.
You do not want to walk by. This short trail leads to a rocky overlook with gorgeous mountain views. This is the highlight of this short hike.
I would not say that the views are obstructed, but I would say that it helps to be tall for the best views. This would be a really nice overlook in winter sans foliage.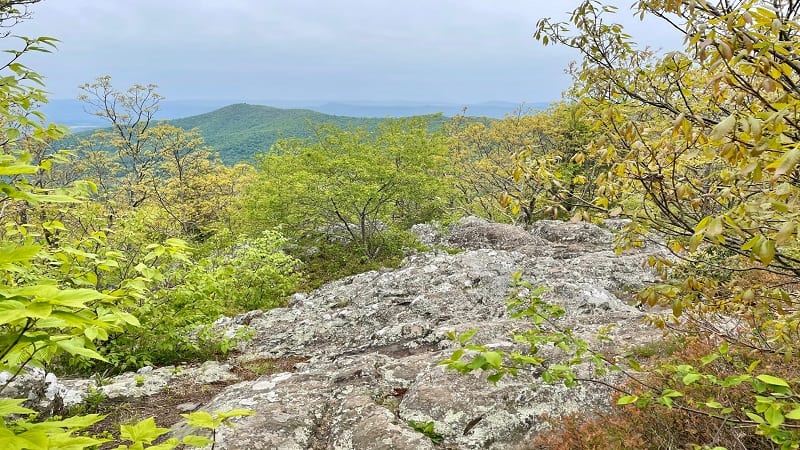 From here, I went back and forth on what to do next. Continue on as the GPS map indicates or turn around as fellow hikers suggested? Decisions, decisions.
I ultimately turned around. The GPS map leads all the way to Pass Mountain on the map, but apparently, there is no second viewpoint. There is nothing more at the summit.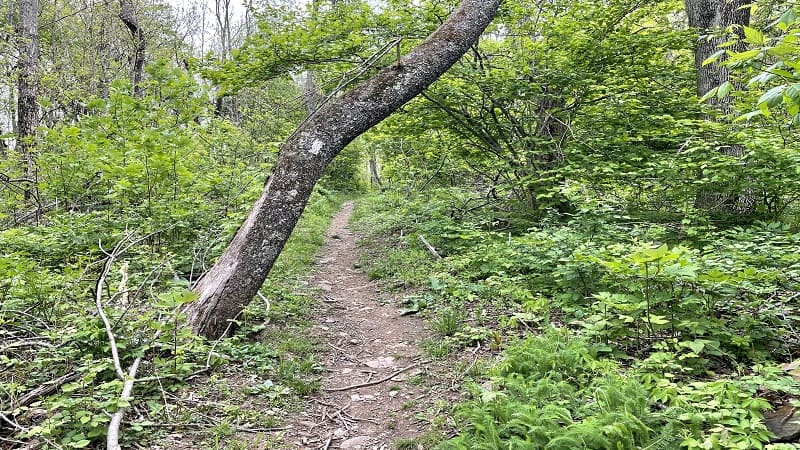 I re-traced my steps to return to the parking area. It's a short hike, but there's nothing wrong with a short hike that leads to a fantastic overlook.
Wrap-Up Notes
From the parking area, this hike took me 45 minutes, including time spent snapping photos of the mountain views from the overlook.
Beahms Gap Overlook is a short drive from Mathews Arm campground and picnic grounds at milepost 22.
For drinks, snacks, souvenirs and restrooms, Elkwallow Wayside is 4.5 miles north on Skyline Drive at milepost 24 (open seasonally).