Millers Head Trail: A Hidden Gem at Shenandoah National Park
There are some viewpoints at Shenandoah National Park. that get all the love, like Hawksbill and Stony Man. They also get all the crowds.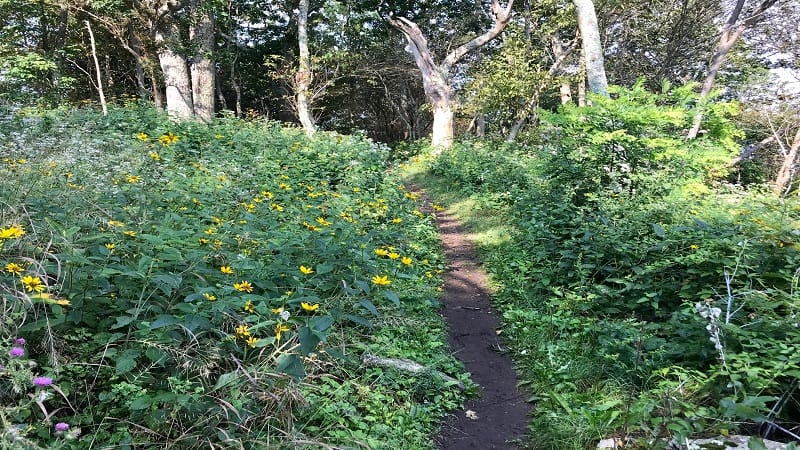 Recently, I hiked the Millers Head Trail, a new-to-me trail that has wide-reaching views and was not overwhelmed with hikers.
Literally the only people I saw on the trail were Skyland guests. If you're looking for a short hike at Shenandoah National Park, this is a good pick.
I saw no other cars parked near my car before or after my hike. Seriously, zero. I'm talking about the 1.5-mile out-and-back hike on the Millers Head Trail.
I know, I'd never heard of this trail either. It's one of four hikes at Shenandoah National Park near Skyland, but it really is a hidden gem.
| Trail Stats | |
| --- | --- |
| Length | 1.5 miles |
| Difficulty | Easy |
| Trail Type | Out-and-Back |
| Elevation Gain | 344 feet |
| Duration | 1-1.5 hours |
| Terrain | Mostly rock & dirt |
| Dog-Friendly | Yes |
| Fee | $30 per vehicle (good for seven days) |
| Driving Directions | Click Here |
Millers Head Trail
To reach the trailhead, enter the Skyland loop at mile marker 41.7. From here, follow the signs to the Skyland Amphitheatre.
There is no paved lot, only two paved accessible parking spaces. You'll need to park on the grassy area to the right (at least that's what I did).
From here, look for the gravel road and the "Authorized Vehicles Only" sign.
The trailhead is just past this sign. Keep your eyes open for a dirt path leading up a small hill to the trail.
I honestly did not see a trail marker, though I did see a photo of a trail marker in the Instagram feed of a fellow hiker.
So, I started tracking mileage from the "Authorized Vehicles Only" sign. What can you do?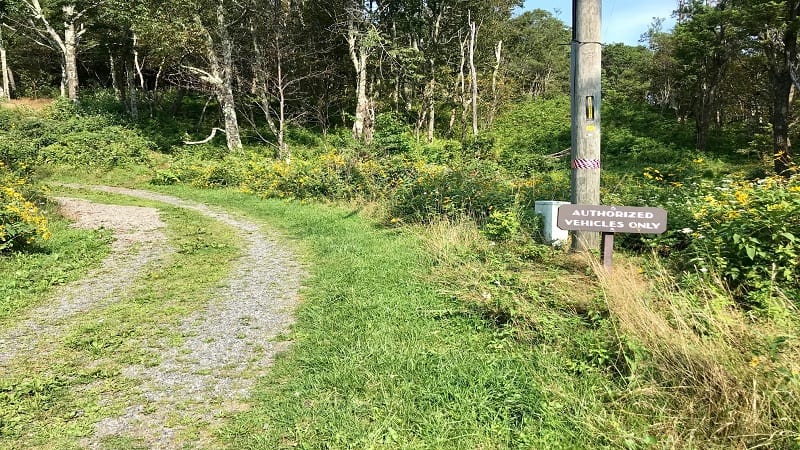 Once you walk up the dirt path (noted above), you'll immediately come to a T-intersection after about 10-15 feet. From here, turn left for the Millers Head Trail.
I didn't see blue blazes right away, but you will shortly to give you peace of mind that you're on the correct trail.
Bushy Top Observation Point
You're quickly rewarded by this trail too when you reach the Bushy Top Observation Point.
It's at the .2-mile mark and requires almost no effort to hike to north-facing views of Massanutten Mountain and the working farms down below.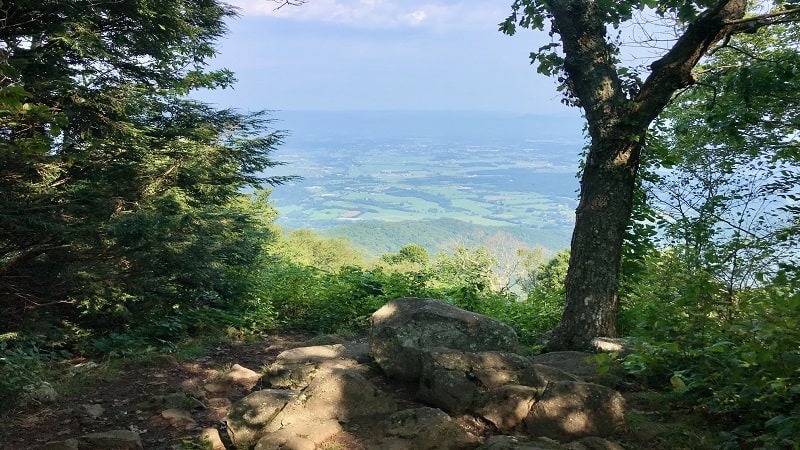 You'll need to briefly step off the trail to this observation point (40 feet from the trail), so re-trace your steps and turn right to get back onto the trail.
From this point on, you'll descend on a mostly rocky trail nearly 300 feet before the trail terminates at a former stone fire tower.
Historic Fire Tower
On the way to the fire tower, you'll walk along a meandering ridge with sweeping views. Much of the view is hidden by tall, leafy trees, but the hike is still impressive.
Upon reaching the fire tower, prepare to be awed by near 180-degree views. They are spectacular. You may be the only one there to enjoy them, too.
From here, re-trace your steps. Take your time since the return hike is fairly steep. You'll need to re-gain the 300 feet you descended to reach the fire tower.
Hike Options
For a longer hike, walk past the trail entry point and continue past Skyland Resort. Ultimately, the trail will end at the Skyland Fire Road.
Honesty, this may be where you'll find the trail marker, though there is no parking in that area. Re-trace your steps to return to your vehicle.
For a shorter hike, simply hike to the Bushy Top Observation Point. It's a quick .4-mile out-and-back hike, but the views are quite nice.
Wrap-Up Notes
This hike took me 45 minutes, which includes stops to enjoy both overlooks.
I saw a man hiking with his dog and a family who looked to be staying at Skyland Resort. Otherwise, the trail was rather quiet and serene.
Post-hike, pop in Skyland. There is a full-service restaurant called Pollock Dining Room and a grab-and-go snack shack called Addie's Corner.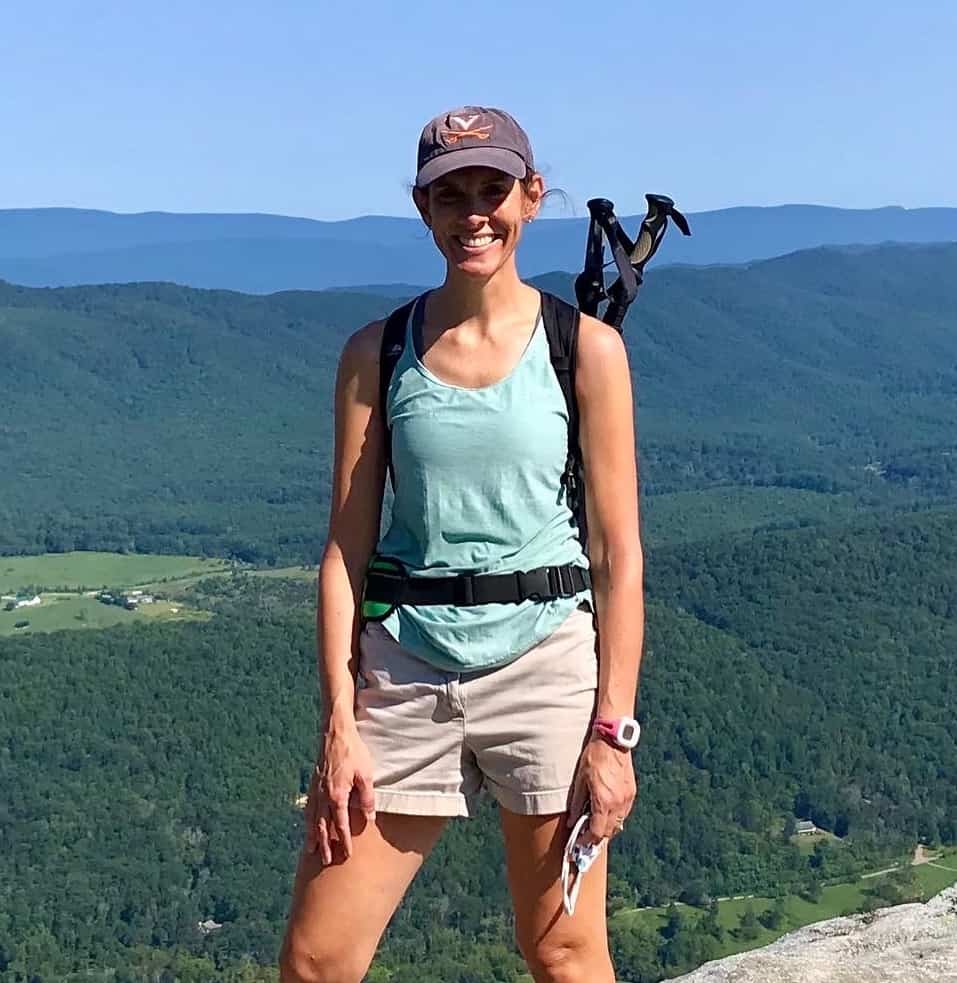 Erin Gifford is the editor of Go Hike Virginia. She has completed more than 300 hikes in Virginia. She is also the author of three hiking guidebooks from Falcon Guides. Need help finding a hike? Check out the Trail Finder feature or send Erin a message.