Riprap Trail: A Stunning Shenandoah Loop Hike
One year ago, I hiked from the Riprap Trail parking area to Chimney Rock at Shenandoah National Park. Such a great 3.2-mile out-and-back hike.
A few weeks ago, I finally tackled the full 9.8-mile loop, which includes the Riprap Trail, Appalachian Trail and Wildcat Ridge Trail.
With an overall elevation gain of 2,073 feet, this hike is strenuous, but your efforts will be rewarded, especially if you do this hike right.
Specifically, you'll want to start in the Riprap Trail parking area (not the Wildcat Ridge Trail parking area) and complete this hike clockwise. Trust me.
| Trail Stats | |
| --- | --- |
| Length | 9.8 miles |
| Difficulty | Strenuous |
| Trail Type | Loop |
| Elevation Gain | 2,073 feet |
| Duration | 4.5-6 hours |
| Terrain | Mostly rock & dirt trails |
| Dog-Friendly | Yes |
| Fee | $30 per vehicle (good for seven days) |
| Driving Directions | Click Here |
Riprap Loop: Suggested Route
From the Riprap Trail parking area at milepost 90 you'll see a large trail kiosk at the back of the lot. There is a trail map and two suggested routes.
The suggested route for the Riprap Loop guides hikers on a counter-clockwise hike. I disagree with this plan, but I'll share why in a couple more paragraphs.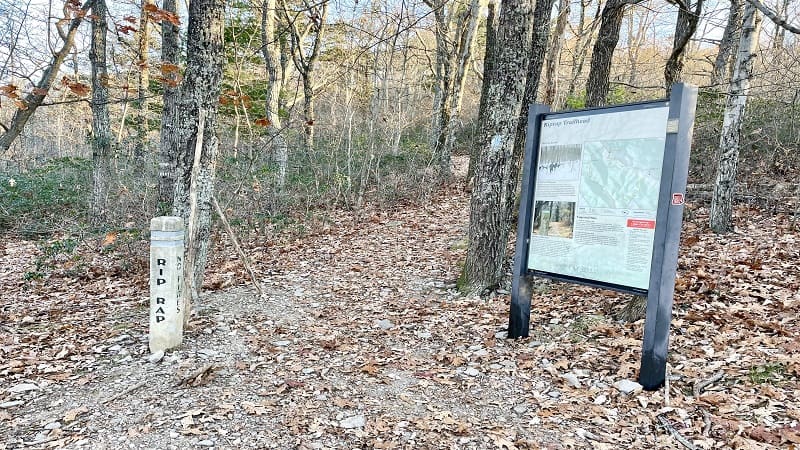 AllTrails suggests a clockwise route, but with a start from the Wildcat Ridge Trail parking area at milepost 92.1. Eesh, I didn't like this plan either.
A clockwise loop with a start at the Riprap Trail parking area is better for two reasons. One, you'll get the ho-hum part of the hike out of the way early.
The ho-hum part is the 2.7-mile section on the Appalachian Trail. It's relatively flat, but there is nothing to see. There'd be even less to see with full foliage.
This section runs parallel to Skyline Drive from the Riprap Trail parking area to the Wildcat Ridge parking area.
Two, you can descend the steep (and not especially scenic) Wildcat Ridge Trail rather than ascend as you would on a counter-clockwise hike.
Of course, there is an ascent on the clockwise loop that comes later on the Riprap Trail, but the views are far superior, especially in late-fall and winter.
Appalachian Trail
From the Riprap Trail parking area, your first few steps are on a blue-blazed spur trail that leads to the white-blazed Appalachian Trail.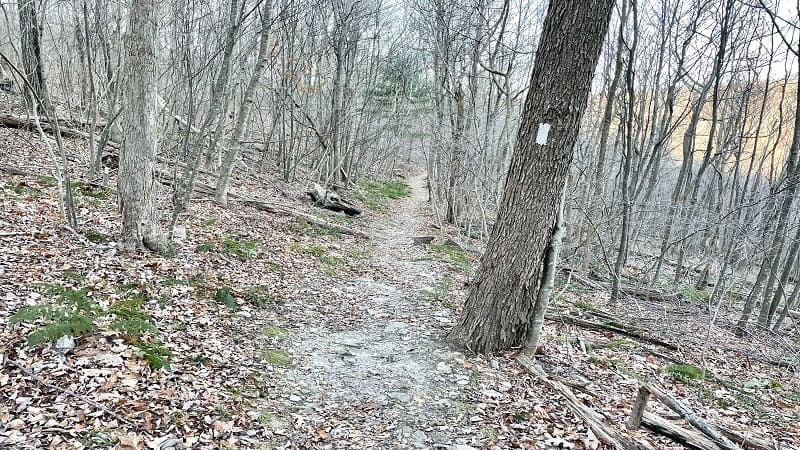 At the trail marker, turn left for the southbound Appalachian Trail. From here, it's a largely uneventful 2.7-mile hike to reach the Wildcat Ridge Trail.
I enjoyed some mountain views through the trees since all the leaves had fallen, but otherwise there would have been nothing to see. Just leafy forest.
At the 2.2-mile mark, there is a primitive camp site with a stone fire ring just to the left of the hiking trail.
You'll pass under the Riprap Overlook on Skyline Drive, but there are no views. At least not for hikers. I couldn't even see the overlook from the trail.
Wildcat Ridge Trail
You'll reach the concrete trail marker for the Wildcat Ridge Trail at the 2.7-mile mark. Turn right here onto this blue-blazed hiking trail.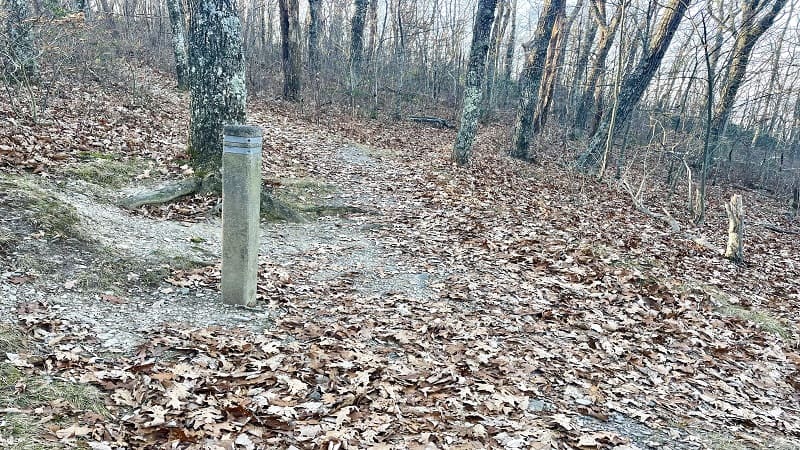 This trail is very steep and is covered with lots of leaves (at least it was in late-November). The Wildcat Ridge Trail is better known for its stream crossings.
However, you won't reach the first water crossing until the 4.8-mile mark on this loop hike. The first one is okay, but the next few are more impressive.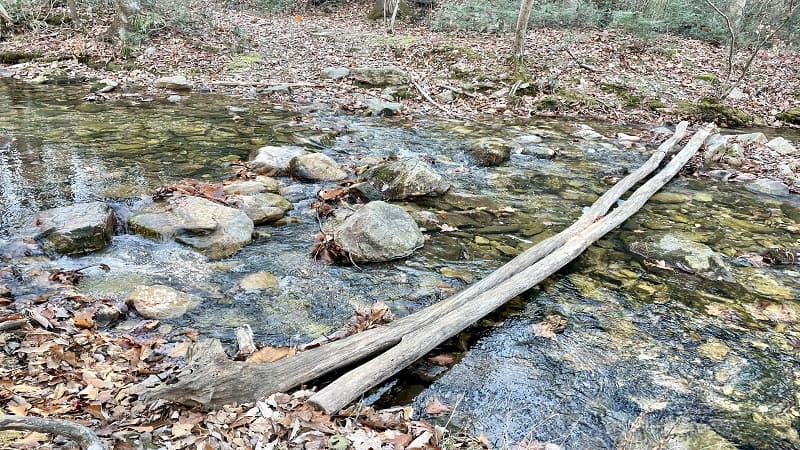 The crossing at Riprap Creek wows hikers with two narrow logs that are used to cross over the water (one foot for each log).
Riprap Trail
At the 5.3-mile mark – just past the Riprap Creek crossing – you'll reach the blue-blazed Riprap Trail. Turn right at this junction and the ascent begins.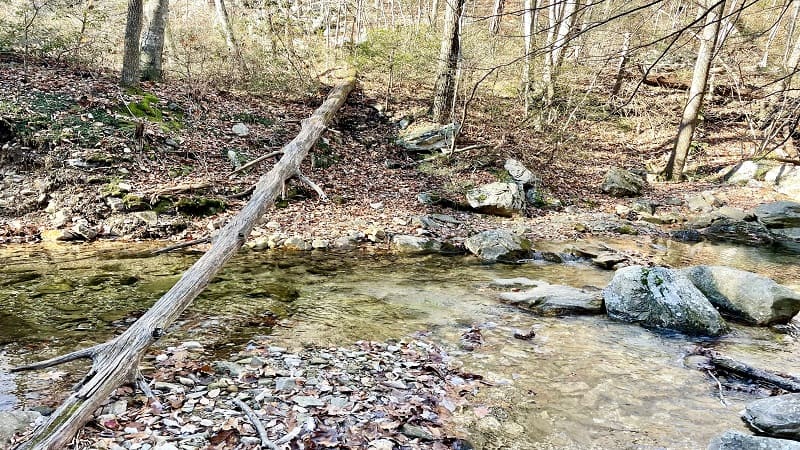 For the next mile, the hike follows Riprap Creek closely through Riprap Hollow. There are more crossings too, including a tricky one at the 6.0-mile mark.
This particular crossing requires you to shimmy across a diagonally-placed log or hopscotch across a few ill-placed exposed rocks. I paused for a few minutes.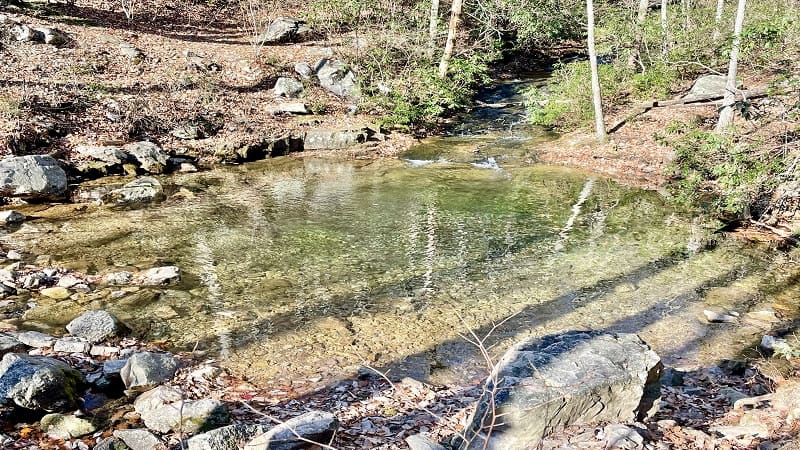 Eventually I opted for the rocks after a near failed attempt to cross on the log. Then, a good-size swimming hole appears, as if out of thin air. Beautiful.
At the 6.4-mile mark, you'll have your last moments with Riprap Creek as you savor gorgeous cascades and a small falls over square-shaped rocks.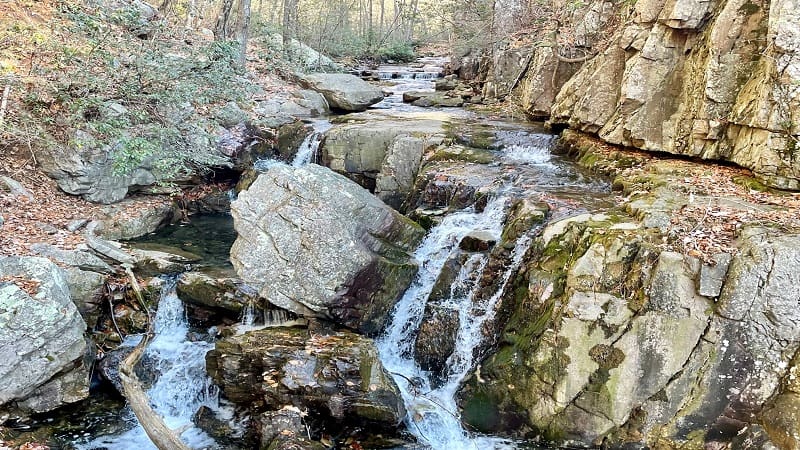 For the next mile or so, it's an uphill climb. It's going to feel like you'll never reach Chimney Rock. You'll wish the hike was over. Then, a sweet reward.
At the 7.7-mile mark, you'll reach the first of several wide-open views from the trail that wow with spectacular mountain vistas.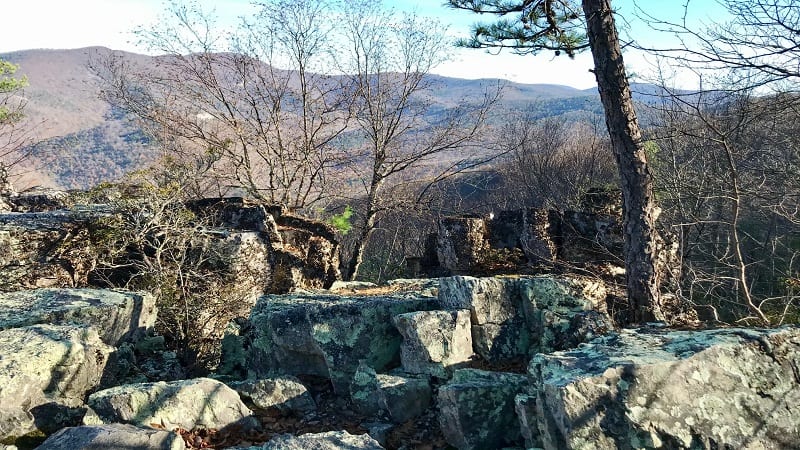 You may stop again and again to snap photos. Then, you arrive at Chimney Rock at the 8.1-mile mark. Take in mountain views and lots of flat top rocks.
As you continue on you'll pass a primitive camp site with a stone fire ring on the left. Then, Calvary Rocks appears at the 8.3-mile mark.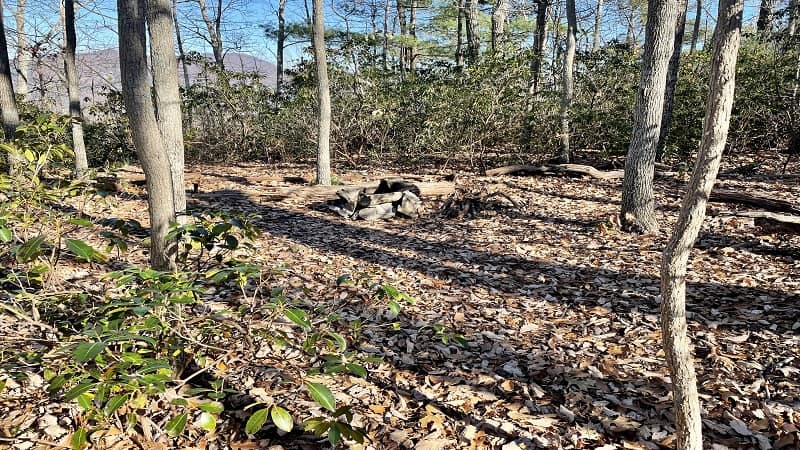 It's like a curious wonderland of gigantic rocks. You can even scramble to the top of some of the rocks for wide-open vistas.
In a few more steps, you'll reach a rocky viewpoint with lots of great views. This is the final overlook for this hike, so savor the spectacular vistas.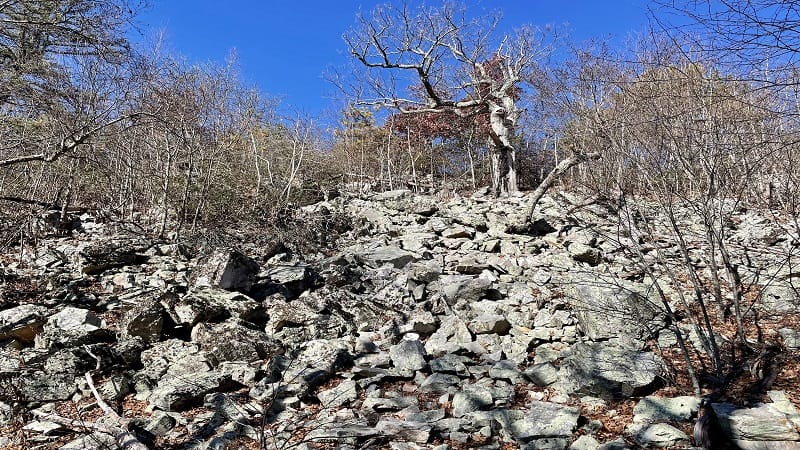 Continue on and you'll pass through a talus slope (essentially, a huge rock slide). There are lots and lots of rocks, as well as a clear path to pass through.
You're now just over a mile to the end of the loop trail. Thankfully, this section of the hike is either flat or downhill, too.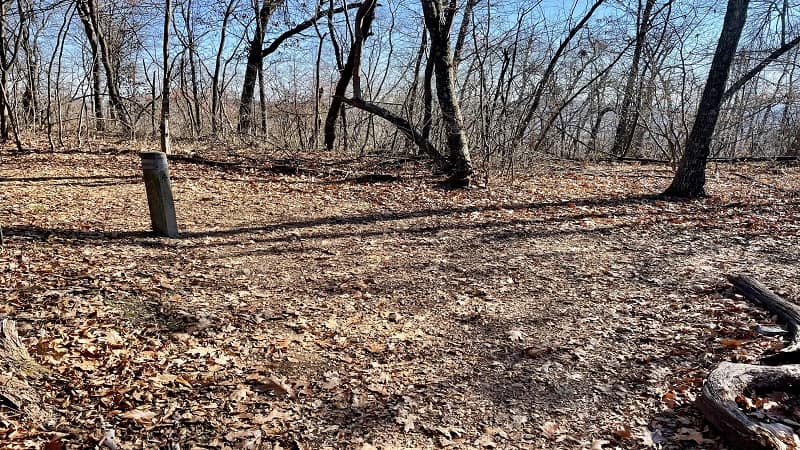 At the 9.3-mile mark, you'll reach a concrete trail marker. Turn right for the southbound Appalachian Trail. You're really in the home stretch now.
Turn left at the trail marker at the 9.8-mile mark to return to the parking area. You are done. Celebrate your success.
South District Hikes
The Riprap Trail is one of several must-do hikes in the more rugged South District of Shenandoah National Park.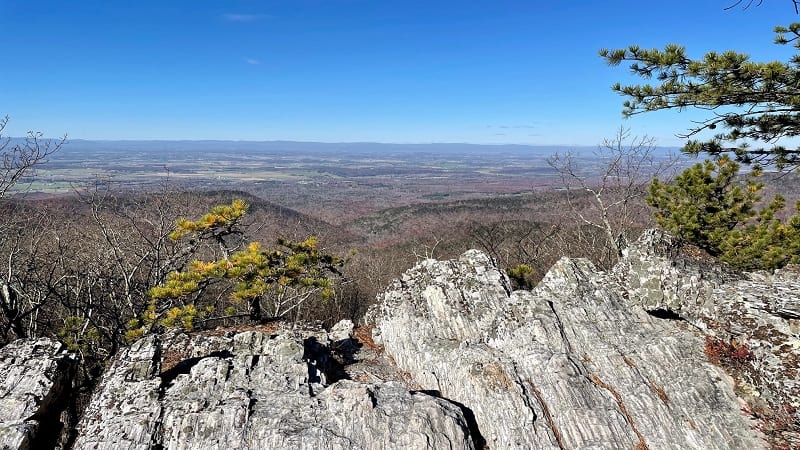 The South District runs from the Swift Run Gap entrance station at milepost 65.7 to the Rockfish Gap entrance station at milepost 105.4.
From north to south in the South District, here are five of my favorite hikes:
#1: Hightop Mountain (milepost 66.7)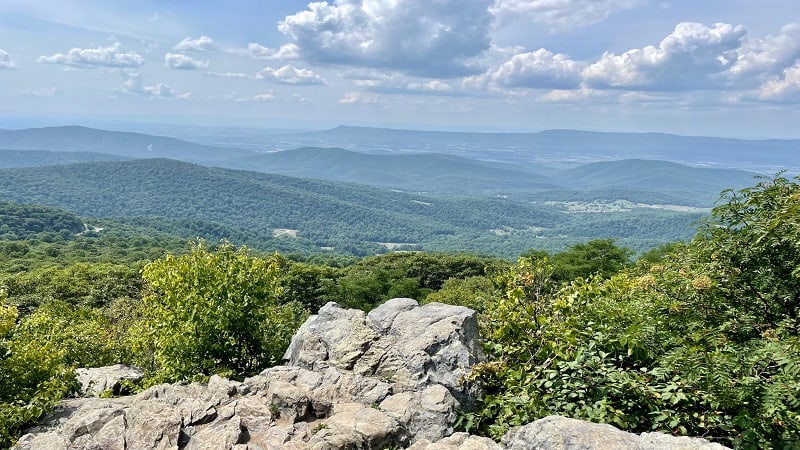 A moderate 3.0-mile out-and-back hike leads hikers to far-reaching views from the highest point in the park's South District (elevation 3,587 feet).
#2: Loft Mountain Loop (milepost 79.5)
This 2.1-mile circuit hike links the Appalachian Trail and the Frazier Discovery Trail for a hike with rock scrambles, creek crossings and spectacular vistas.
#3: Doyles River Falls (milepost 81.1)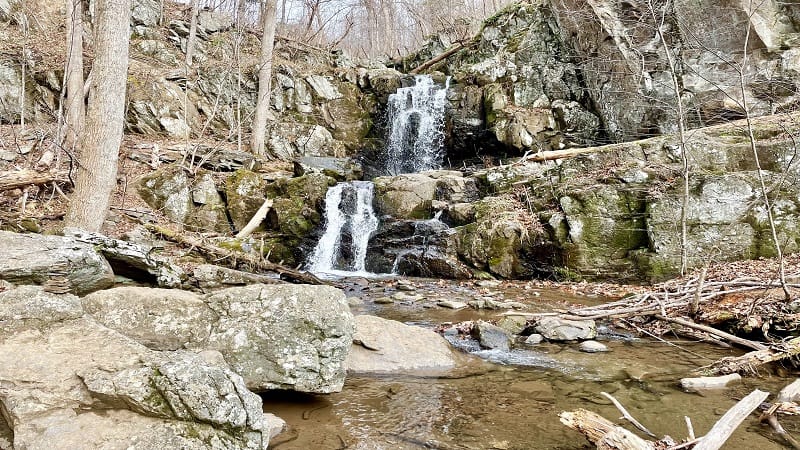 The 3.6-mile out-and-back hike to Doyles River Falls wows with stops at Upper Falls and Lower Falls, as well as Doyles River Cabin, a PATC-managed cabin.
#4: Blackrock Summit (milepost 84.4)
Wide-open views across the Shenandoah Valley make this 1.8-mile round-trip hike to Blackrock Summit sensational. It's an easy hike and one not to miss.
#5: Little Calf Mountain (milepost 99.5)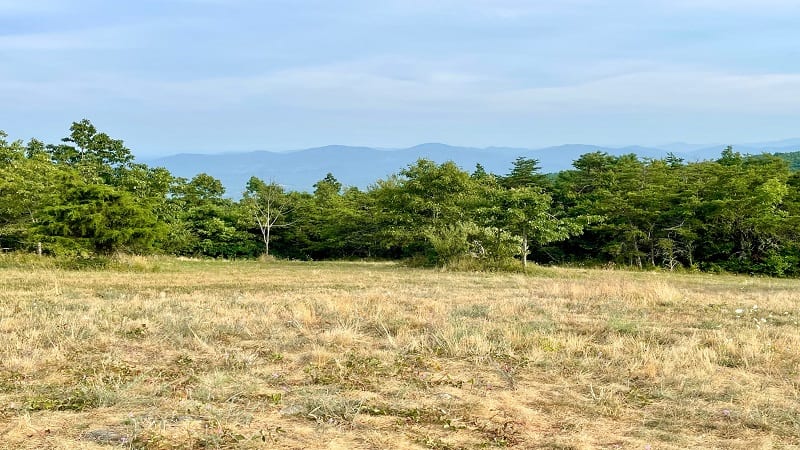 This 1.7-mile out-and-back hike to the summit of Little Calf Mountain is short and sweet. Scenic views abound from the grassy meadow at the summit.
Wrap-Up Notes
From the parking area, this loop hike took me just over four hours, including time spent ogling mountain views and crossing streams.
As one of the hardest hikes in Virginia, you will feel accomplished on completion, especially if you tackle this one on a day that starts in the mid-20's.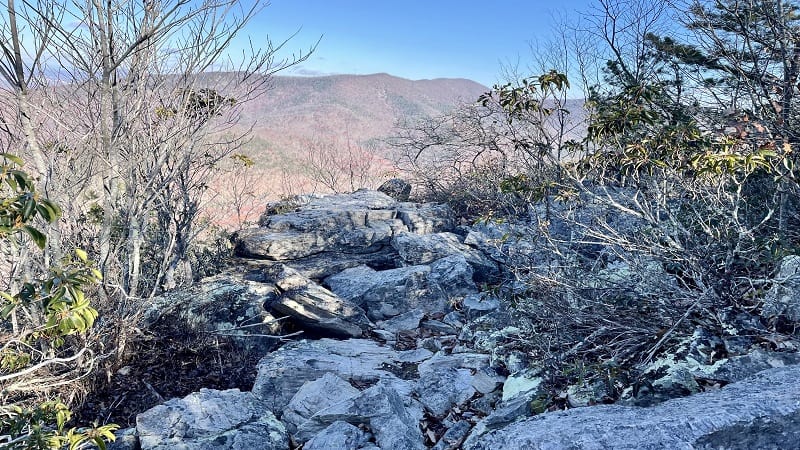 Brr, it was a cold start. However, you warm up quickly thanks to the elevation gain. Be sure to wear proper base layers as not to get cold once you start sweating.
It's a short 35-minute drive to Waynesboro for burgers and barbecue. You've earned it after tackling this tiring circuit hike at Shenandoah National Park.
Eager for more? Check out my favorite hikes near Staunton and hikes near Waynesboro, as well as top Skyline Drive hikes at Shenandoah National Park.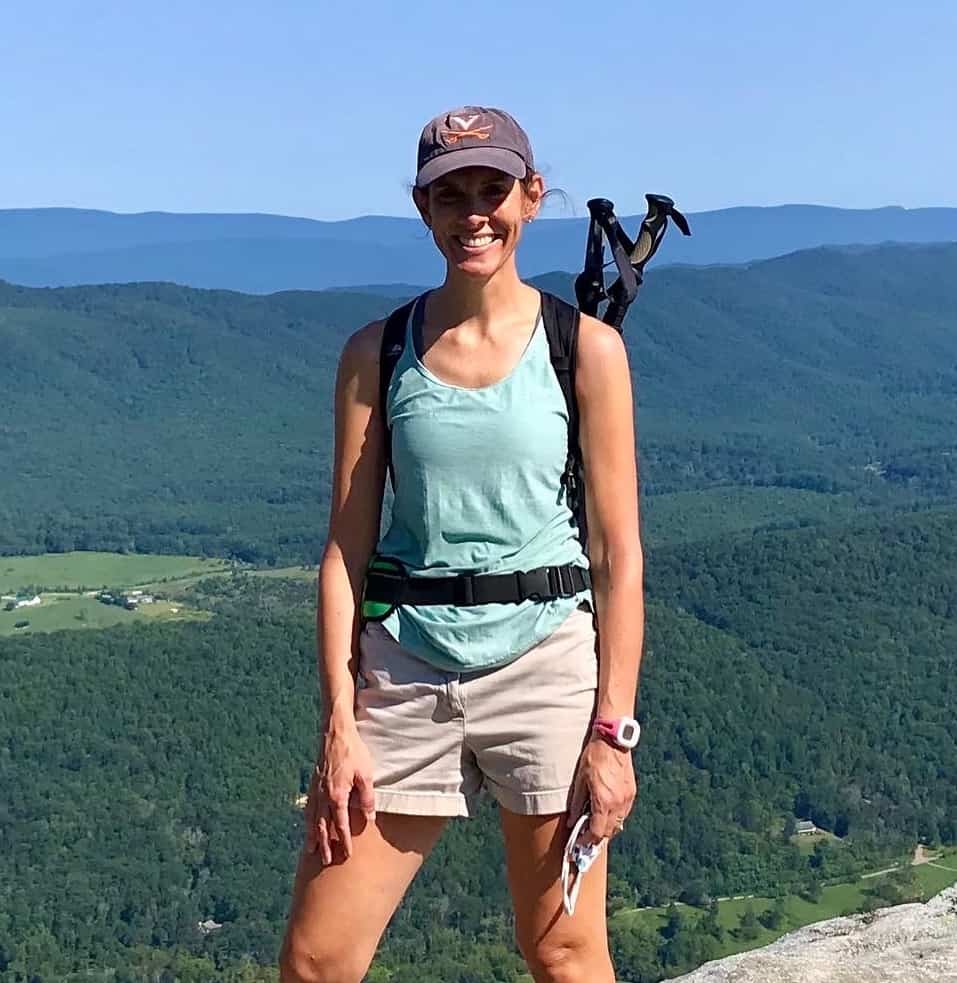 Erin Gifford is the editor of Go Hike Virginia. She has completed more than 300 hikes in Virginia. She is also the author of three hiking guidebooks from Falcon Guides. Need help finding a hike? Check out the Trail Finder feature or send Erin a message.