13 Must-Do Hikes in Shenandoah National Park's South District
Shenandoah National Park's South District runs from the Swift Run Gap entrance (milepost 65.7) to the Rockfish Gap entrance (milepost 105.4).
This rugged section is not as trafficked as the Central District, which impresses with spectacular hikes like Mary's Rock and Dark Hollow Falls.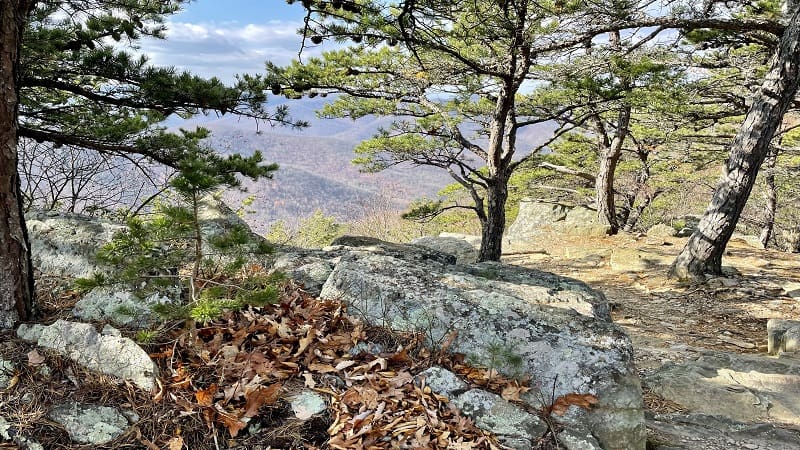 However, the South District has plenty of crowd-pleasing hikes. You'll also find a good share of waterfalls, swimming holes, burbling creeks and scenic peaks.
There's even a family campground and a wayside with a picnic area, gift shop and restrooms in the South District. Both are open seasonally from spring to fall.
South District Hikes
Here are 13 can't-miss picks to add to your list of hikes near Waynesboro to check off at this scenic and historic national park in Virginia.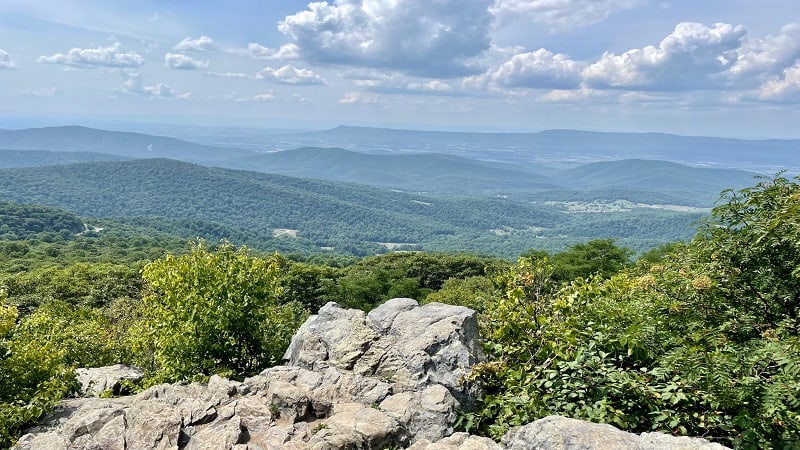 At 3,587 feet, Hightop Mountain is the South District's highest point. A moderate 3.0-mile out-and-back hike leads to and from the rocky summit.
From the overlook, the far-reaching panoramas are spectacular. The overall elevation gain is 912 feet over 1.5 miles, so it's certainly a heart pumping hike.
The trek to the top is along a stretch of the Appalachian Trail. There's not a lot to see on the way to the summit, but it's thankfully well-shaded and cool.
#2: Ivy Creek (milepost 77.5)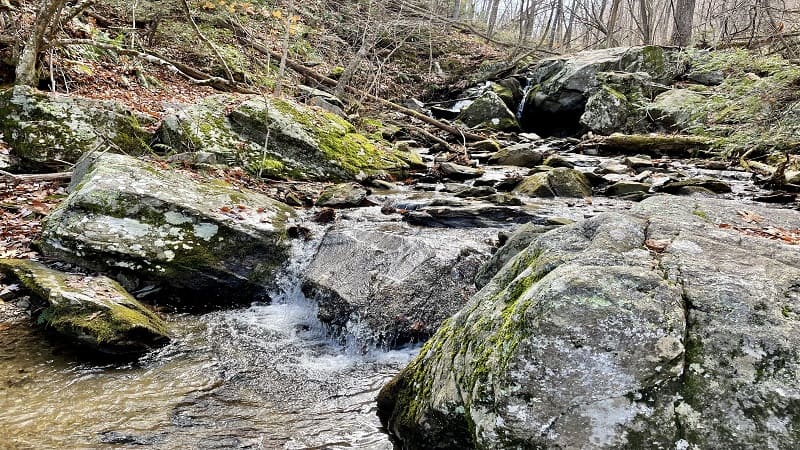 This delightful 2.8-mile out-and-back hike guides hikers along a forested stretch of the Appalachian Trail to burbling Ivy Creek.
Before you begin, take in the far-reaching views across Weaver Mountain, Flattop Mountain and Loft Mountain from the overlook along Skyline Drive.
There are a lot of great views on this hike, especially in late-fall and winter when the leaves have fallen and you can enjoy less-obscured mountain vistas.
For a view-filled hike with easy parking and access to sundries and supplies (in-season), the Loft Mountain Loop is a fantastic choice.
This 2.1-mile loop hike pairs the Frazier Discovery Trail with the Appalachian Trail to wow hikers with rock scrambles, creek crossings and stunning vistas.
Take this loop counter-clockwise to reach a show-stopping overlook at the 1.2-mile mark. This east-facing viewpoint would be magnificent at sunrise.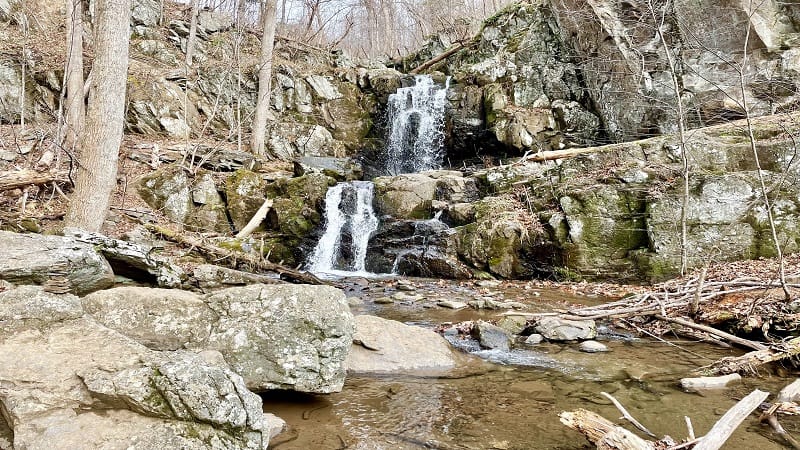 The 3.6-mile round-trip hike to Doyles River Falls includes stops at Upper Falls and Lower Falls, as well as Doyles River Cabin, a PATC-managed cabin.
Upper Falls is 28 feet tall while Lower Falls is 63 feet tall. Neither are much more than a trickle in summer. This hike is best in winter and early-spring.
Doyles River Cabin was built in 1936 by artisans and laborers with the Civilian Conservation Corps (CCC). From the porch, enjoy views of Cedar Mountain.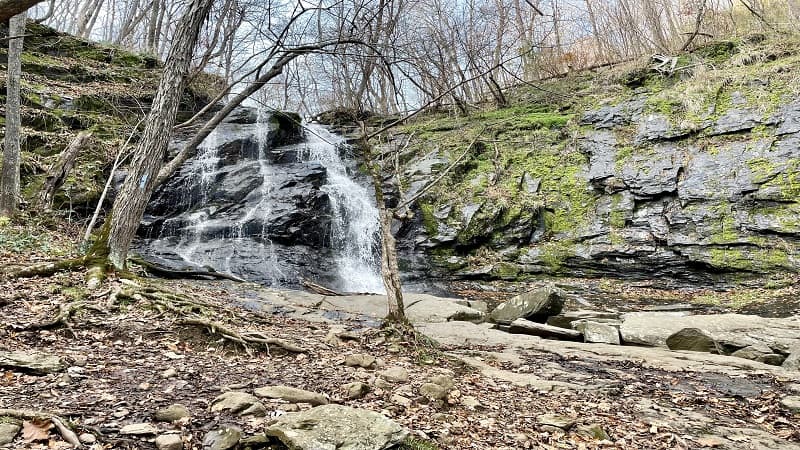 There are two ways to revel in 42-foot-tall Jones Run Falls. You can either tackle a 4.5-mile out-and-back hike or a 7.0-mile loop hike.
The loop hike includes Doyles River Falls, which is less than two miles from Jones Run Falls. If you've got it in you, I recommend the loop for both falls.
Jones Run Falls is beautiful and there are lots of rocks to take a seat for a lunch break in front of the falls. Savor the cascades along Jones Run, too.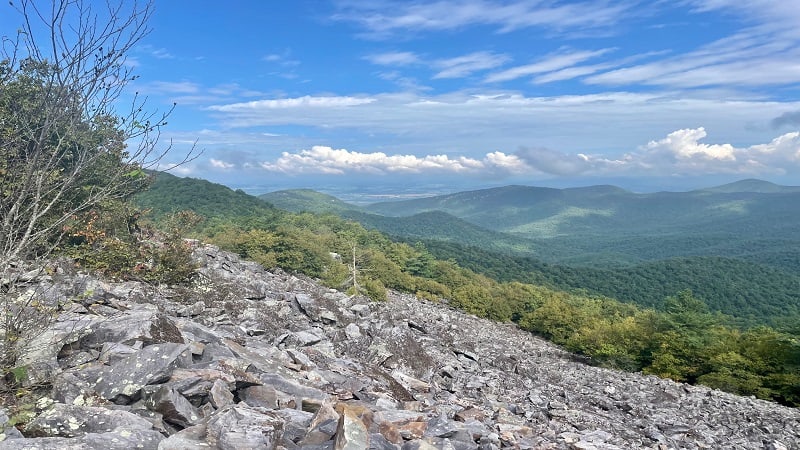 The hike to Blackrock Summit is an easy hike to love. It's also an easy hike, and one that awes with a massive field of – you guessed it, black rocks.
Wide-open views across the Shenandoah Valley make this 1.8-mile hike even more compelling. Enjoy steps on a short stretch of the Appalachian Trail.
A spur trail through a field of boulders leads to the Trayfoot Mountain Trail. The scenic vistas, which now include Trayfoot Mountain, are sensational.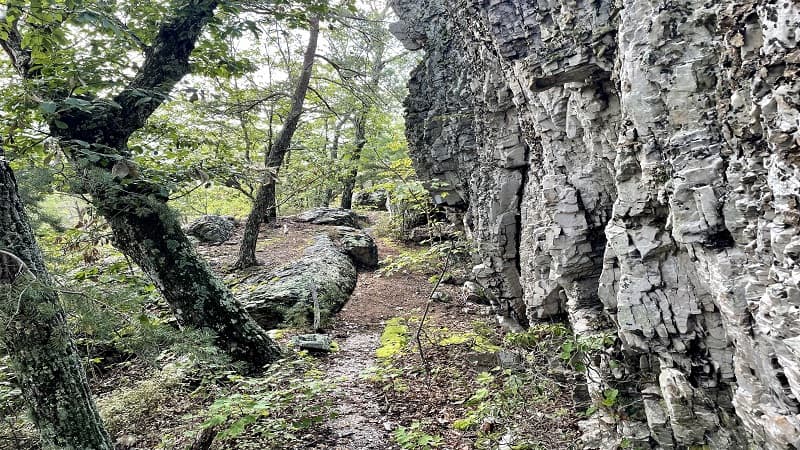 This 10.2-mile loop hike begins at the Blackrock Gap parking area, first guiding hikers along a stretch of the Appalachian Trail to scenic Blackrock Summit.
Take in all the views across Massanutten Mountain and the Shenandoah Valley before heading north along the Trayfoot Mountain Trail to Buzzard Rock.
At the 6.2-mile mark, you'll connect with the Paine Run Trail. In a few more steps, a camp site. You can overnight here or continue on to Blackrock Gap.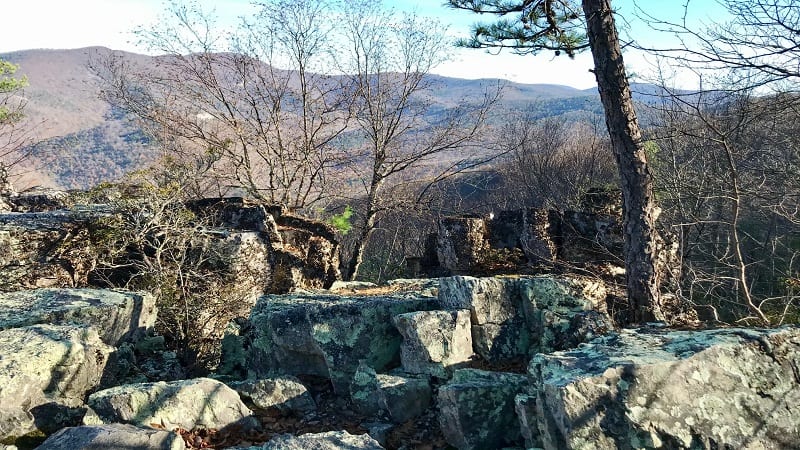 This 3.2-mile out-and-back hike is a two-for-one deal for rock hounds, exposing eager hikers to both Calvary and Chimney Rocks.
It's kind of a three-for-one deal given all the mid-size and large rocks you'll see as you pass through a talus slope at the mid-way point on this hike.
Calvary Rocks is a curious wonderland of gigantic rocks to scramble for wide-open views. Chimney Rock is a scenic overlook overflowing with flat top rocks.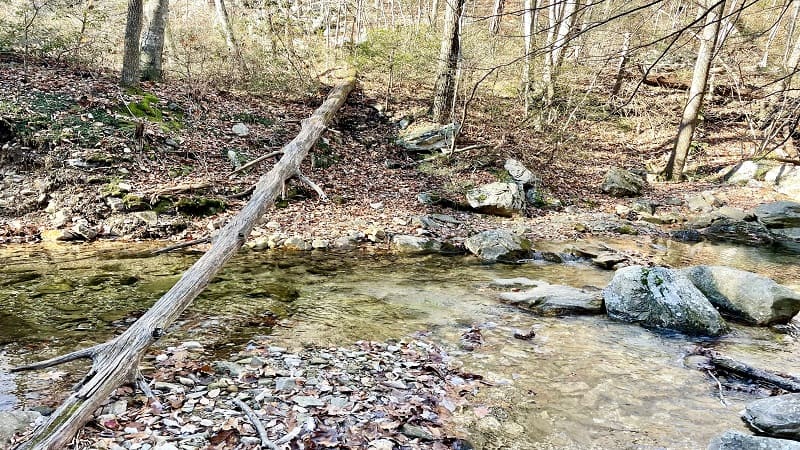 The 9.8-mile Riprap Loop shares a trailhead with the Calvary and Chimney Rocks hike. The loop includes the Appalachian Trail, Riprap Trail and Wildcat Ridge Trail.
I suggest a clockwise loop to save the rewarding overlooks, water crossings and cascading falls, even a swimming hole, for the latter half of this hike.
You'll reach Chimney Rock at the 8.1-mile mark. Take a seat on a flat top rock to revel in the mountain views. From here, it's less than two miles to the end.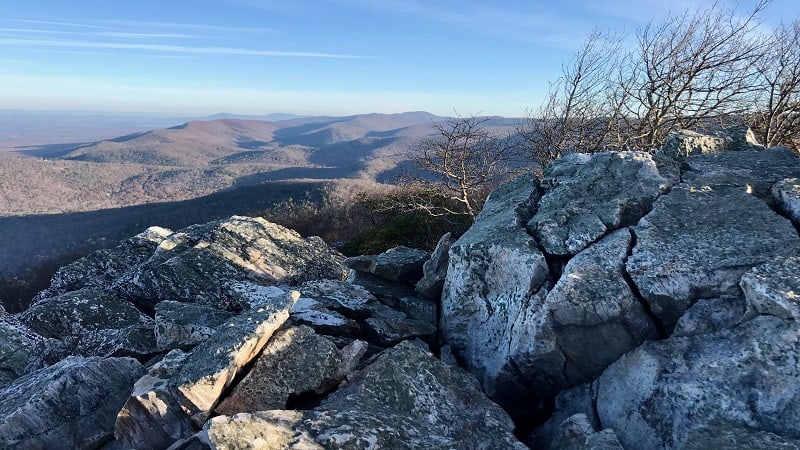 The Turk Mountain hike begins across from the Turk Gap parking area. Get ready to be awed by rock scrambles, forested trails and mountain views.
This 2.5-mile out-and-back hike is not especially steep for a summit hike. As a bonus, the payoff views are not far along this wooded hiking trail.
If you listen closely, you may hear a train whistle in the distance. The Amtrak train chug-a-chugs through nearby Staunton in the Shenandoah Valley.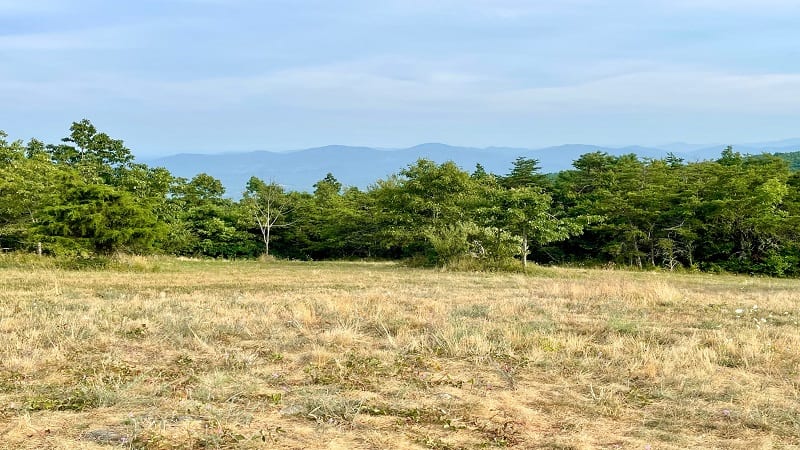 The out-and-back hike to the summit of Little Calf Mountain is short and sweet. It's just 1.7-miles and it's a wonderful hike to end the day.
The summit of Little Calf Mountain is more like a lovely meadow than a rocky outcrop. The scenic views are rewarding and you'll be glad you fit this one in.
A stone's throw from the Rockfish Gap entrance, this is an easy hike to tackle if you're planning to spend time or stay over in nearby Waynesboro.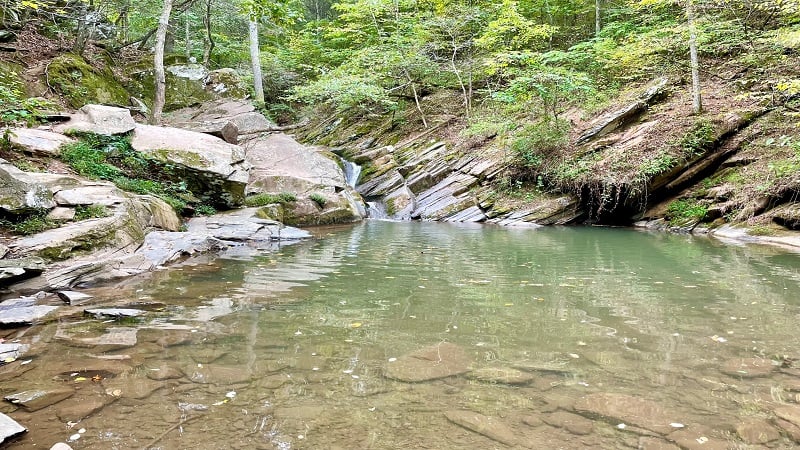 This 3.1-mile southbound out-and-back hike begins from the parking area for Sugar Hollow Reservoir, guiding hikers into the park by way of a horse trail.
You'll slowly ascend alongside the South Fork Moormans River until you reach the Blue Hole, an idyllic swimming hole that's especially popular in summer.
A small cascading waterfall fills the basin for a refreshingly cool splash. An easy rock scramble leads to water's edge. There are lots of rocks to sit on, too.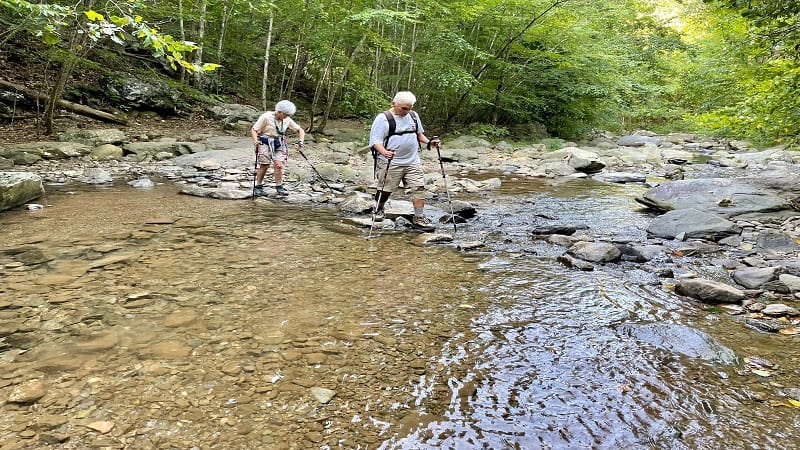 This 4.7-mile northbound out-and-back hike also begins from the parking area for the Sugar Hollow Reservoir. Look for a red gate on the lot's west side.
This enjoyable hike to Big Branch Falls follows the North Fork Moormans River and features several easy river crossings along the way.
At the 2.2-mile mark, a blue-blazed spur trail leads to Big Branch Falls. There is a gently-flowing waterfall as well as a small yet refreshing swimming hole.
For even more fantastic hikes at Shenandoah National Park, check out the very best North District hikes and Central District hikes.