Robertson Mountain: A Rugged Hike to Stunning Views in Sperryville, Virginia
Not long ago, I hooked up with a MeetUp group to hike Robertson Mountain at Shenandoah National Park. It's basically the sister mountain to Old Rag.
Both summit hikes begin from the same parking lot at the end of Nethers Road in Sperryville, Virginia. You do not access Robertson Mountain from Skyline Drive.
Technically, you can reach the summit of Robertson Mountain from a starting point on Skyline Drive. However, the Nethers Road route is more common.
That's not to say that this is a popular hike. Old Rag Mountain sees the lion's share of visitors, but Robertson Mountain may soon see more steps on its trails.
From March 1 to November 30, visitors needed a day-use ticket to hike Old Rag. For those without a ticket, Robertson Mountain is the next best hike.
There may not be rock scrambles, like on the Old Rag hike, but Robertson Mountain is a five-star hike with plenty of spectacular far-reaching views.
| Trail Stats | |
| --- | --- |
| Length | 9.7 miles |
| Difficulty | Strenuous |
| Trail Type | Lollipop |
| Elevation Gain | 2,444 feet |
| Duration | 5-6 hours |
| Terrain | Mostly dirt & gravel trails |
| Dog-Friendly | Yes |
| Fee | $30 per vehicle (good for seven days) |
| Driving Directions | Click Here |
Hike Parking
Navigate to the end of Nethers Road. On your GPS, key in 3577 Nethers Road, Etlan as the parking lot address. This is the Old Rag parking area.
Since you'll park in the same lot as those hiking Old Rag, it's wise to arrive early. We'll see how the volume of cars changes with the new ticket program.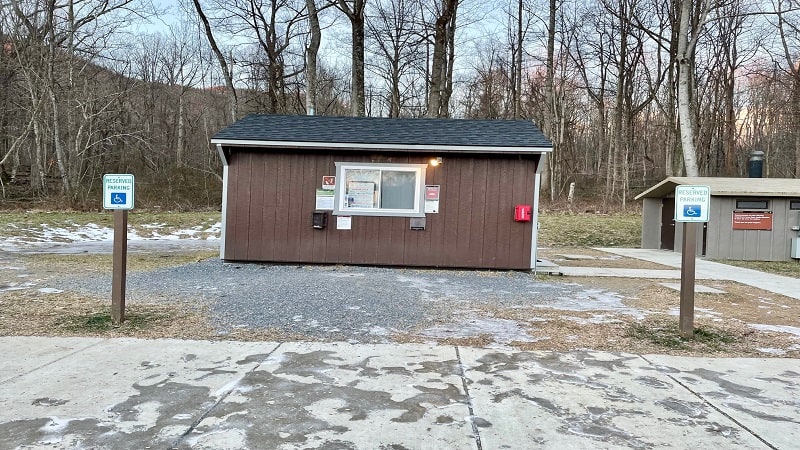 Lot one (lower lot) is the main parking lot. You'll see a small ranger station at the front of the lot. Here, you'll pay your entrance fee to the national park.
Place the paid receipt you receive from the ranger on the dashboard of your car and you're all set. To the right of the ranger station is a vault toilet.
Robertson Mountain Hike
From the ranger station, turn right for Robertson Mountain (check out the reel I made for this hike). The Old Rag hike begins to the left of the ranger station.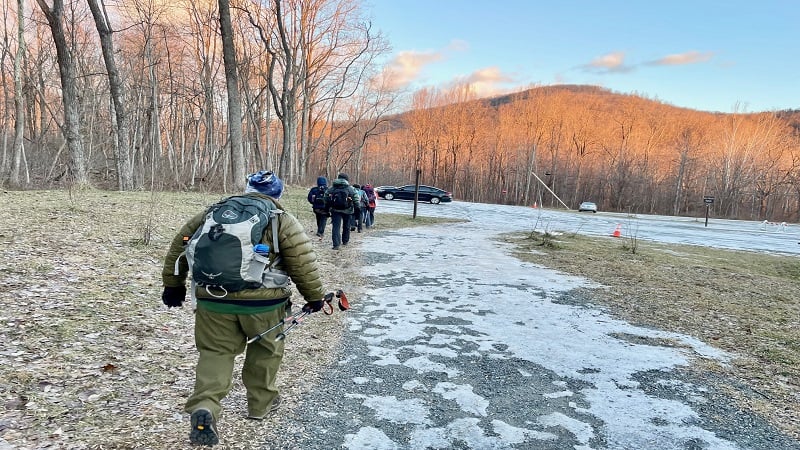 A wide gravel path leads over a footbridge, then alongside lot two (upper lot), which is for RVs, horse trailers and cars.
At the .1-mile mark, turn left onto paved road. This leads to the intersection of the Weakley Hollow Fire Road and Ridge Access Trail at the .5-mile mark.
You'll stay on the gravelly Weakley Hollow Fire Road and cross over three or four bridges over Brokenback Run. In winter, they can be icy, so be careful.
From here, it's a slow, gradual ascent on a wide fire road. You'll cross over flowing Brokenback Run one last time at the 1.6-mile mark.
Robertson Mountain Trail
Turn right at the concrete trail marker at the 1.8-mile mark for the blue-blazed Robertson Mountain Trail. Do not turn right onto the Corbin Hollow Trail.
This is where the real fun begins. As in, real elevation. This is also where the group broke up, with each person climbing this steep section at their own pace.
At some points, the ascent seems never-ending and unrelenting. Take your time, stop to catch your breath and re-hydrate when you need water.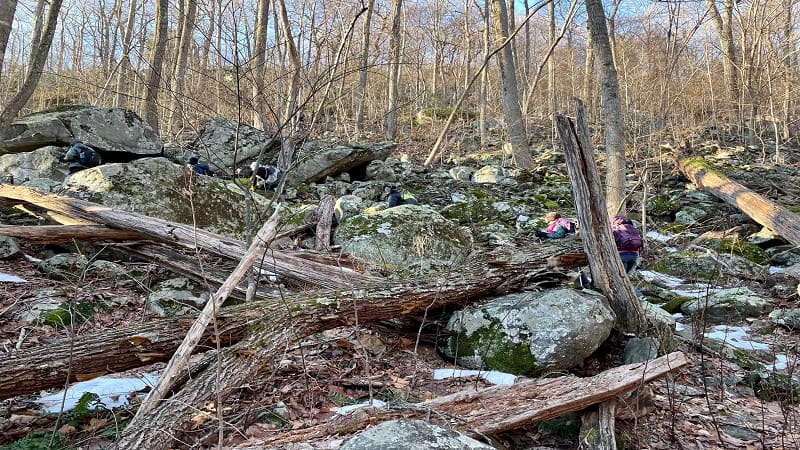 Thankfully, hiking Robertson Mountain in winter offers the reward of scenic views through leafless trees. That definitely helped me get to the summit.
At the 3.5-mile mark, step right for rather nice vistas only visible in winter. The summit is very close though, only another .1-mile from this ledge.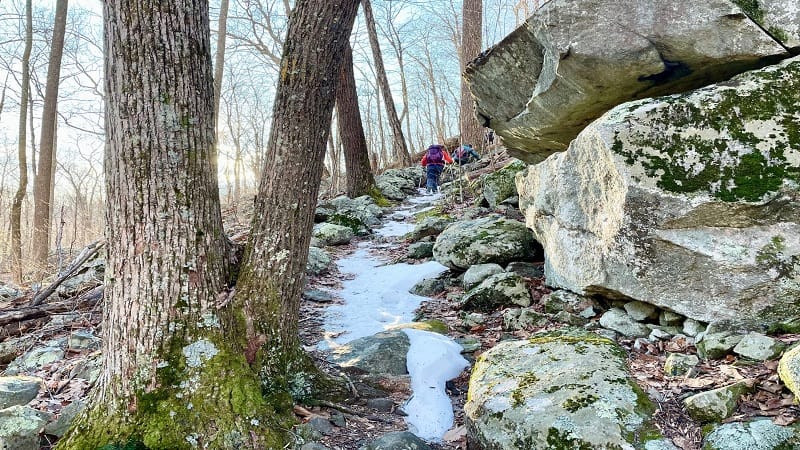 You will reach a fork in the trail at the 3.6-mile mark. There is no marker, but AllTrails came to the rescue. Turn left here to proceed to the summit.
Summit Views
It's short walk to the summit and the views are gorgeous. This is great place to stop to re-hydrate and re-fuel with a snack.
The day of our hike it was so windy and so cold at the summit that we barely stopped to take photos, much less enjoy a snack. I've never been so cold.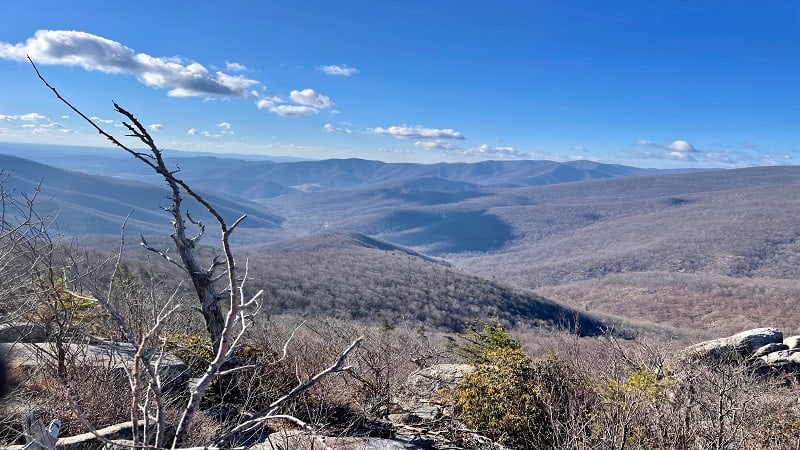 Let me tell you, it was much, much colder at the summit than it was in the parking lot. Just something to keep in mind if you take on this hike in winter.
From the summit, re-trace your steps to the fork in the trail, then turn left to continue on. Your descent back down the mountain begins now.
In winter, I highly suggest microspikes for hiking down this section of trail. It's a north-facing slope, so it sees less sun, and there is more snow and ice.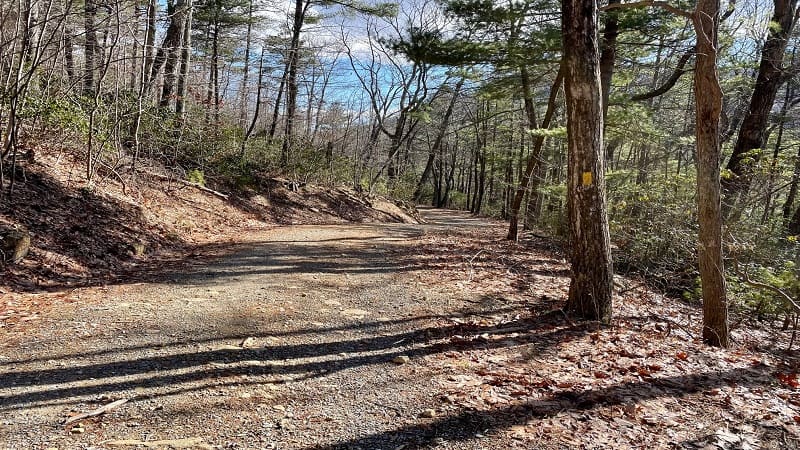 Trekking poles are also a good idea. I don't use poles often, but they were a good idea this day on the descent to the Old Rag Fire Road.
I was not a fan of this section of the trail and was ecstatic to reach the yellow-blazed Old Rag Fire Road at the 4.4-mile mark.
Old Rag Fire Road
We turned left here, but you can also turn right to connect with the Corbin Hollow Trail for a slightly shorter lollipop hike (more like 8.5-9 miles).
From this point, you're basically walking on gravel road for the next five miles. Some hikers find this dull, but it's wooded, wide and nice for groups.
After a snowy, icy and narrow descent, it was nice to be able to re-connect on the wide fire road with the other seven hikers in the group.
Weakley Hollow Fire Road
You'll see a large sign at the 6.7-mile mark directing you to Old Rag Parking by way of the Weakley Hollow Fire Road. Turn left at the sign.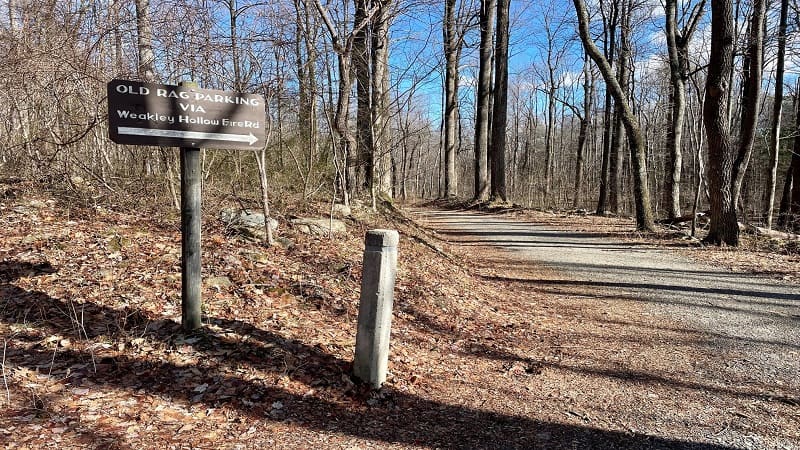 At the 7.8-mile mark, you'll close the loop. Stay right to continue on the Weakley Hollow Fire Road and re-trace your steps to the parking area.
Your hike is complete at the 9.7-mile mark. It's time to celebrate tackling of one of the hardest hikes in Virginia. Cheers, friends.
Wrap-Up Notes
The Robertson Mountain hike is a great hike and one that I highly recommend, especially now while it's relatively unknown and receives less foot traffic.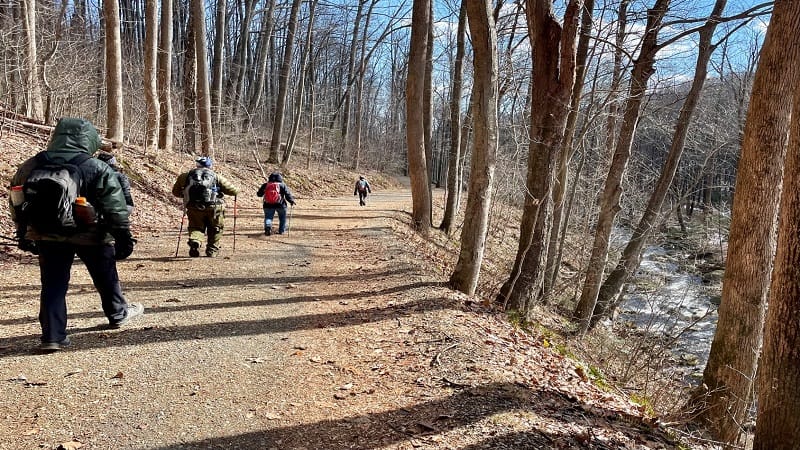 I suspect that once restrictions on Old Rag visitors go into place on March 1 that more visitors will check out Robertson Mountain.
From the parking area, this hike took us 4.5 hours, including a few stops here and there to enjoy views and let fellow hikers catch up to the group.
There are actually two more mountains that can be reached from the Old Rag parking area, including Corbin Mountain and Catlett Mountain.
Both hikes are also in the range of 9 to 10 miles. I will definitely be back to check out these two summit hikes another day, preferably on a warmer day.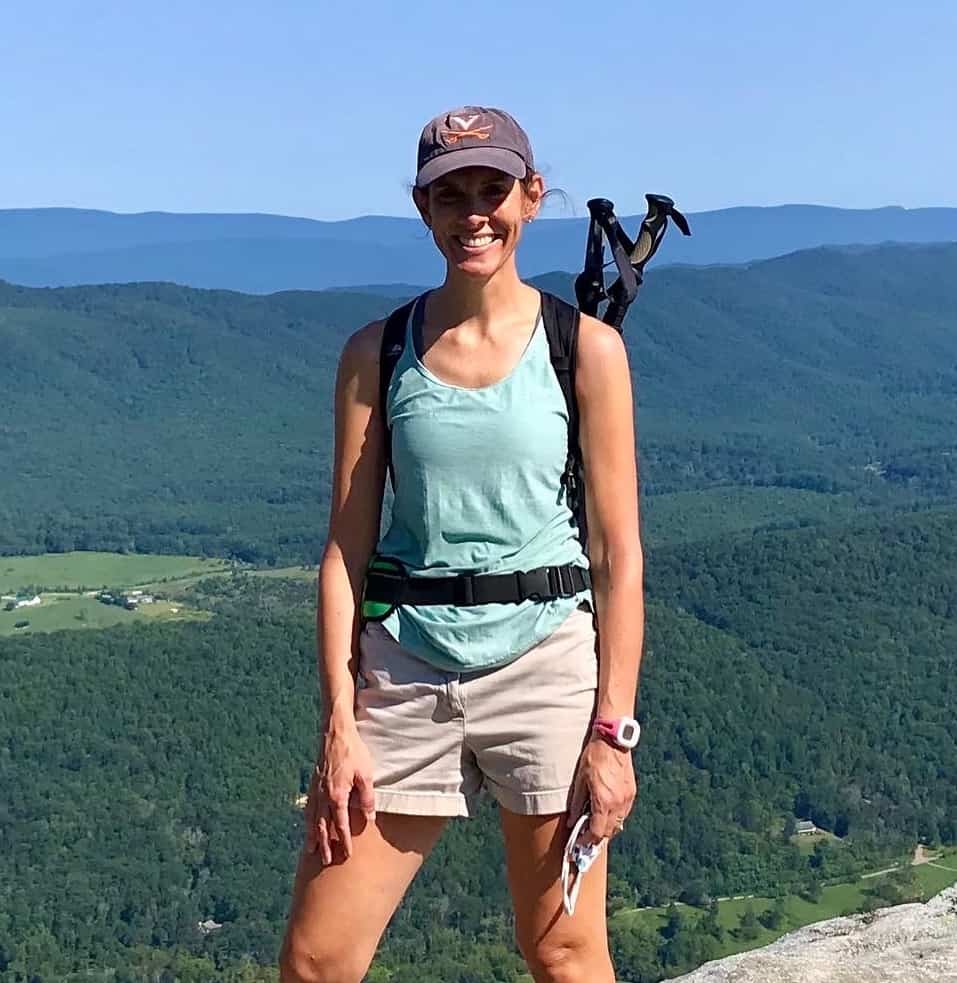 Erin Gifford is the editor of Go Hike Virginia. She has completed more than 300 hikes in Virginia. She is also the author of three hiking guidebooks from Falcon Guides. Need help finding a hike? Check out the Trail Finder feature or send Erin a message.