Bearfence Mountain: A Rock Scramble Hike to 360-Degree Views at Shenandoah National Park
Reaching the top of Bearfence Mountain by way of the Bearfence Loop Trail at Shenandoah National Park is worthy of a spot on any list of bucket list hikes.
On a clear day, the mountains seem to go on forever (and ever). The far-reaching 360-degree views are beyond tremendous.
* Before I go on, watch a short video I made when I hiked Bearfence Mountain. *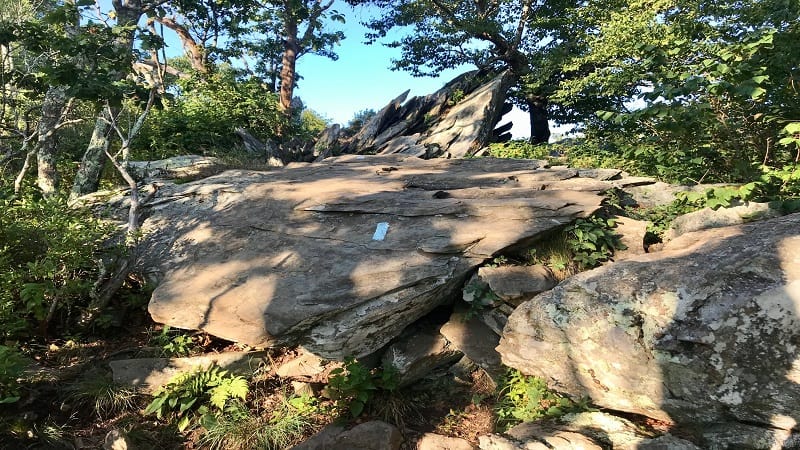 This hike clocks in at just .85-mile with an elevation gain of 167 feet, but don't underestimate this Skyline Drive hiking trail, particularly the rock scramble.
This trail can be heavily trafficked, but I wouldn't be surprised to learn that many turn back before the summit. The final ascent can be intimidating.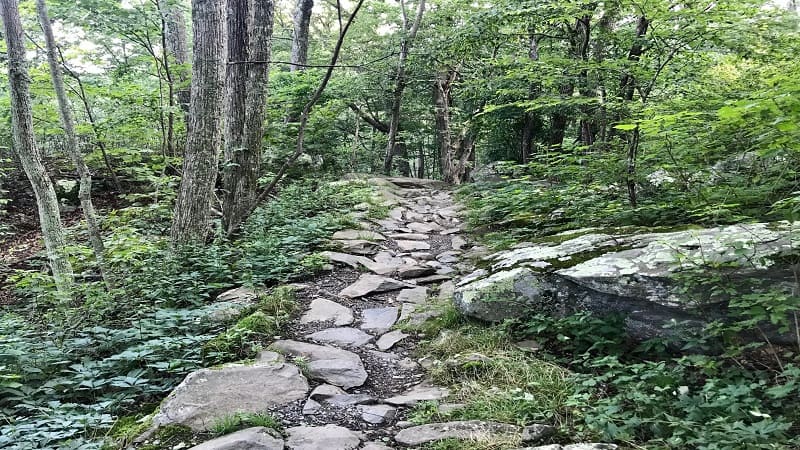 The short distance of this rocky hike – called the Bearfence Rock Scramble Hike – can be deceptive.
You will need to use your hands, feet and arms, even knees to reach the top.
If you're up for the challenge, however, it's totally worth every ounce of effort.
Bearfence Mountain Hike
The parking lot for the Bearfence Loop Trail is situated at milepost 56.4. Here you'll find maybe a dozen parking spaces. The trailhead is directly across Skyline Drive.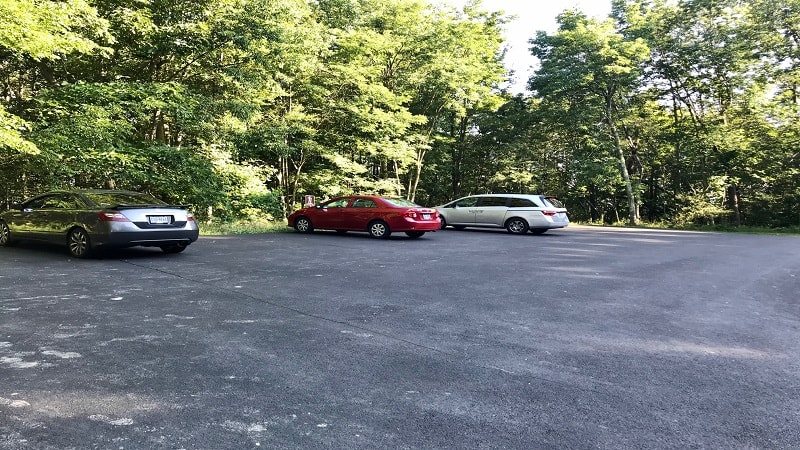 In the parking lot, you'll see a large trail sign outlining the Bearfence Rock Scramble Hike (the harder one) and the Bearfence Viewpoint Hike (the easier one).
The sign also provides a snapshot of the rocks (er, boulders) you can expect to deftly navigate on your way to the summit.
Bearfence Rock Scramble
This blue-blazed trail commences simply enough, with a few dozen wooden steps built into the hillside.
At .1 mile, you will reach a four-way intersection with the Appalachian Trail.
Continue straight ahead for the Bearfence Rock Scramble Hike. More steps guide you to the start of the rock scramble.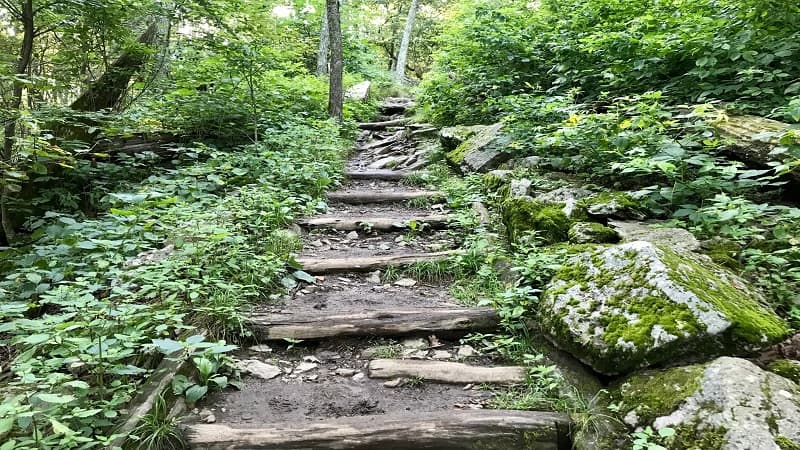 As you stand facing several massive boulders, painted with blue blazes, you may think, this can't possibly be the trail. But oh yes, it is.
From here, use hands and feet to navigate large and jagged rocks, even pull yourself up onto rocks, all while teetering close to the edge of the mountain.
Bearfence Mountain Summit
The rock scramble runs .15-mile before you (thankfully) reach the summit to take in all the views that you earned for the day.
The ascent can be harrowing, but once you reach the top, settle in to rehydrate and re-fuel with a snack. You may not want to ever return to your car.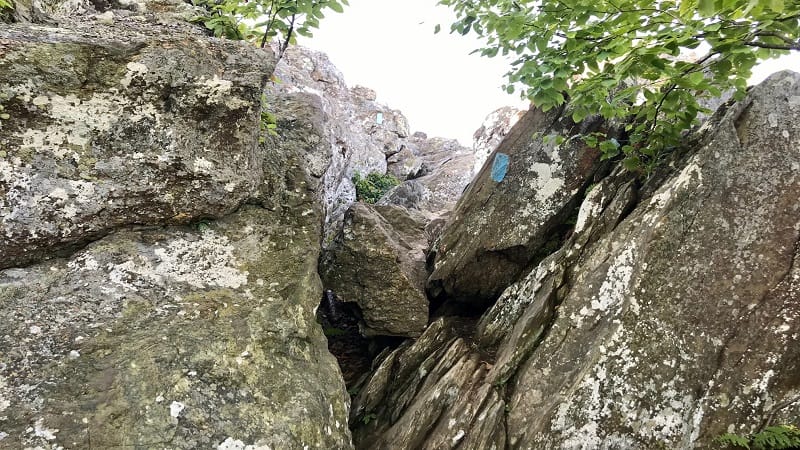 Continue on up and over the rocks until you reach an intersection with a connector trail at the .45-mile mark on the hike.
Turn right, then turn right again after a dozen or so steps. This will take you along the northbound Appalachian Trail.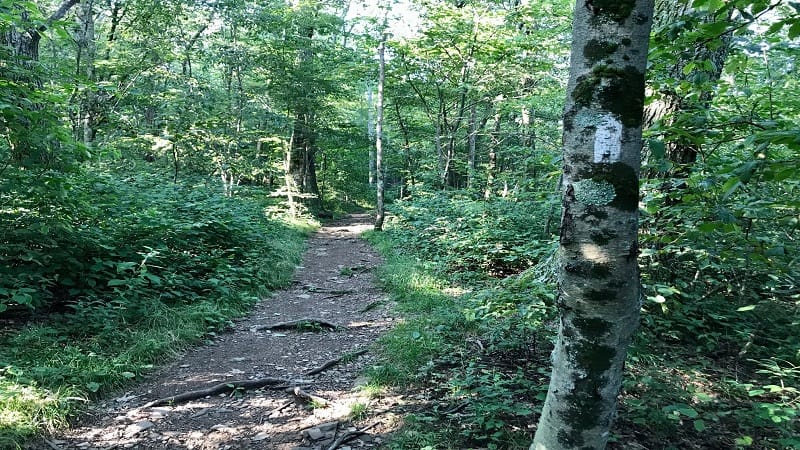 From here, it's a well-shaded downhill along a trail of dirt, rocks and gravel. At .75-mile, you'll reach a four-way junction.
Make a left turn to descend the stairs and return to the parking lot to wrap up this scenic, though challenging, lollipop hike. Plan on 45-60 minutes for this hike.
Bearfence Viewpoint Hike
I actually checked out both the Bearfence Rock Scramble Hike and the Bearfence Viewpoint Hike to compare the two since I was there.
Both hikes begin the same way, with a casual ascent up the stairs to the intersection with the white-blazed Appalachian Trail at .1-mile.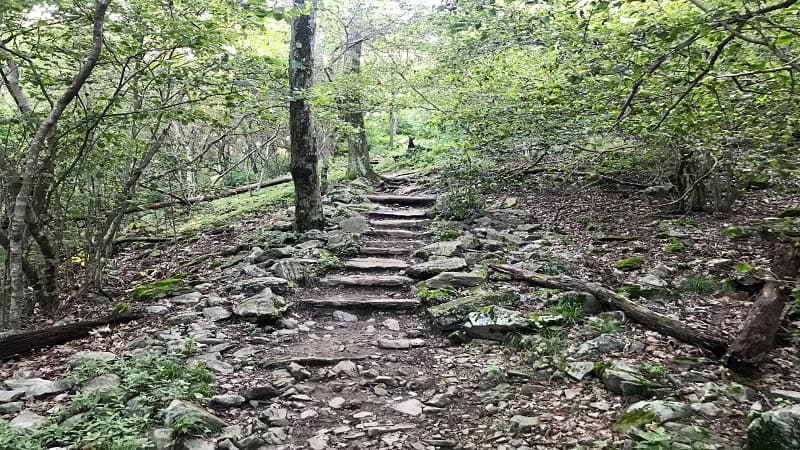 Instead of continuing straight ahead on the blue-blazed Bearfence Loop Trail, turn right onto the Appalachian Trail for the Bearfence Viewpoint Hike.
Begin with an ascent south on the trail on a shaded, dirt and gravel trail. After .35-mile, turn left ont a connecter trail. It's a handful of steps to a T-intersection.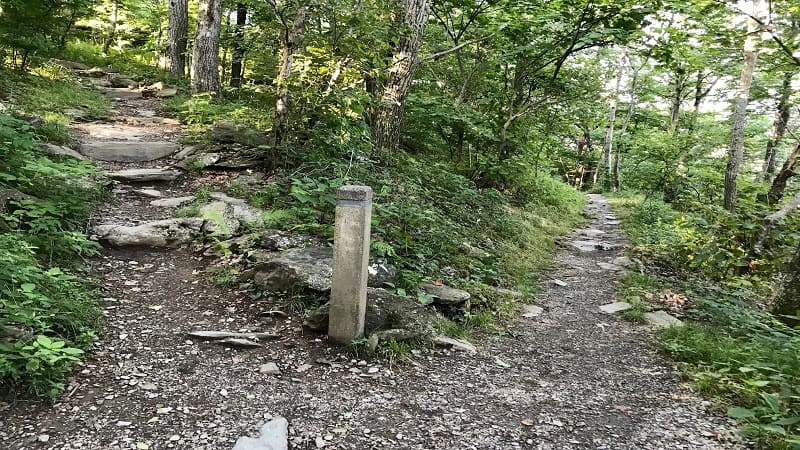 Turn right at the T-intersection. From here, it's just 25 yards to the viewpoint (according to the trail marker), though it is a fairly steep climb.
The viewpoint wows with 180-degree views of the mountains and valley. There are several large rocks that are perfect for taking a rest.
This hike clocks in at .95-mile, so it's longer than the Bearfence Rock Scramble Hike, though as you can see, it also skips the rock scramble entirely.
It also only offers 180-degree views rather than full 360-degree views. Still, it's a very nice hike, especially with small children. Plan on 30-45 minutes for this hike.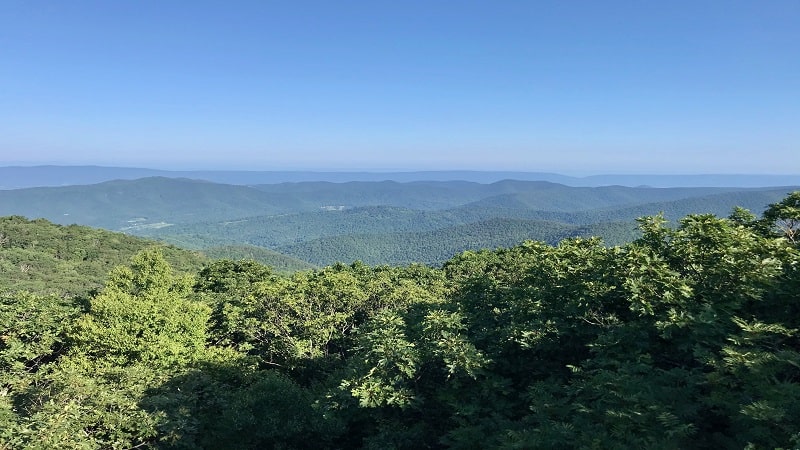 Hike Option
For a few more steps, and to be able to enjoy the views for both hikes, connect the two for a hike that clocks in at just over one mile.
To do this, start with the Bearfence Rock Scramble Hike. Once you've hiked up and over the summit, you will reach a trail marker.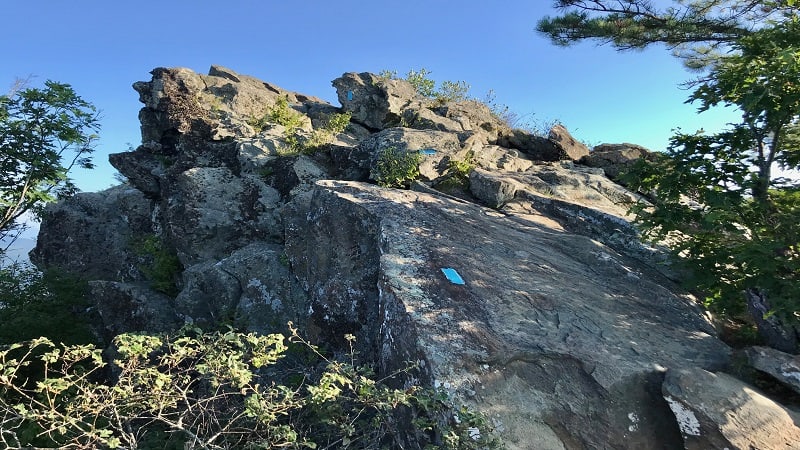 Rather than turning right onto the connector trail, continue straight ahead. This will guide you to the scenic 180-degree viewpoint.
Once you've taken in all the views, turn right (instead of left) onto the main trail. Shortly, you will reach an intersection with the Appalachian Trail.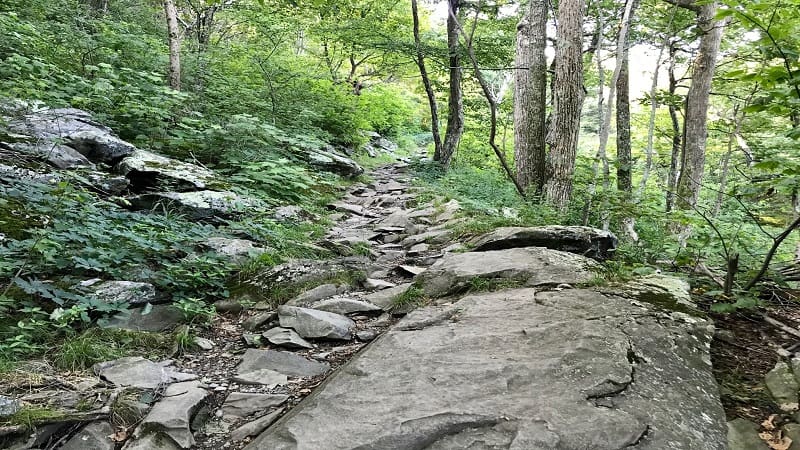 Turn right onto the Appalachian Trail. Take this to the four-way intersection with stairs on both sides. Turn left here and you are within .1-mile of the parking lot.
Wrap-Up Notes
Yes, the Bearfence Rock Scramble Hike is challenging, but it can be safely done. However, a few notes. Dogs are not allowed on this trail (for very good reason).
Also, do not even attempt this trail if it is wet or icy in any way. The rocks will be dangerously slippery.
Once you complete this hike, you will very much deserve a treat, or at the very least, an icy cold beverage.
It's a five-mile drive north to Big Meadows at milepost 51. Here you'll find a gas station, a restaurant, a large picnic area and a visitors center.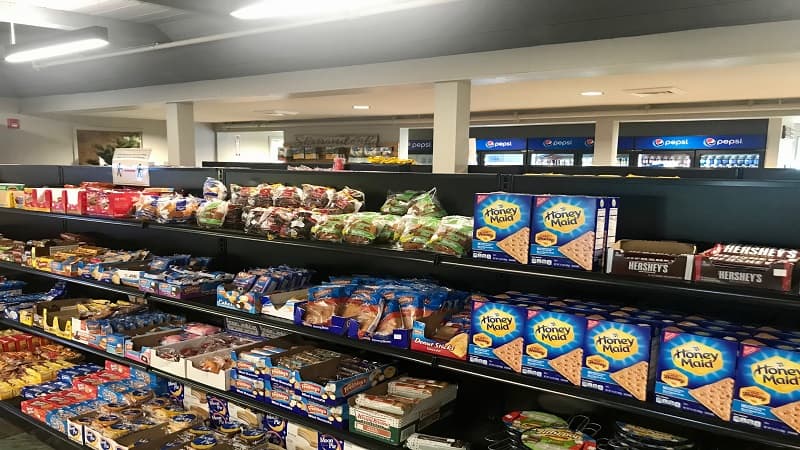 You'll also find Big Meadows Wayside, a large convenience store with grab-and-go sandwiches, loads of snacks and camping supplies.
As a bonus, there have ice cream bars, cold drinks (even beer and wine) and all kinds of souvenirs. Restrooms are located on the right-hand side of the building.