Furnace Mountain: An Underrated Summit Hike in Shenandoah National Park's South District
Let me tell you, the Furnace Mountain Trail in Shenandoah National Park's South District is a seriously underrated hike. The summit views are fantastic.
I tackled this hike earlier this week, starting from the back of the Blackrock Summit parking area at milepost 84.4 on Skyline Drive.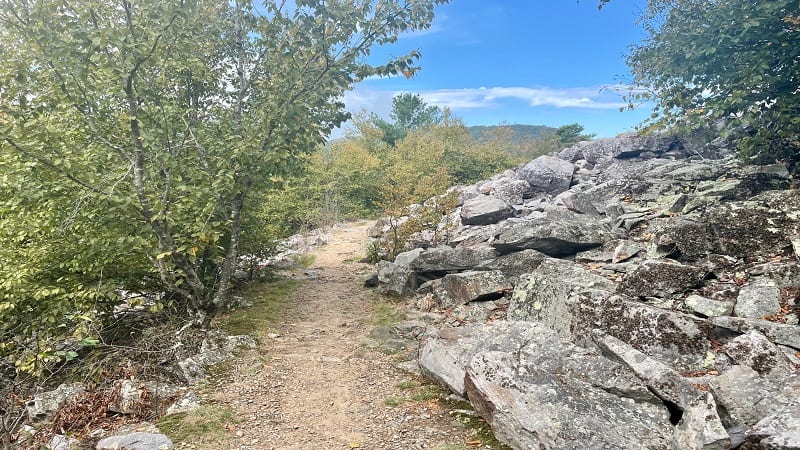 | Trail Stats | |
| --- | --- |
| Length | 6.9 miles |
| Difficulty | Moderate |
| Trail Type | Out-and-Back |
| Elevation Gain | 1,798 feet |
| Duration | 3.5-5 hours |
| Terrain | Mostly rock & dirt trails |
| Dog-Friendly | Yes |
| Fee | $30 per vehicle (good for seven days) |
| Driving Directions | Click Here |
It's a nearly seven mile hike to the Furnace Mountain Summit. It's not a hard hike, but there is a good bit of elevation. It's also a great workout.
As a bonus, you'll get to revel in great views from Blackrock Summit and along the Trayfoot Mountain Trail, too. These vistas make the climb so worth your efforts.
Appalachian Trail
This day hike begins at the large trail kiosk marked for the Blackrock Summit Trailhead at the back of the parking area.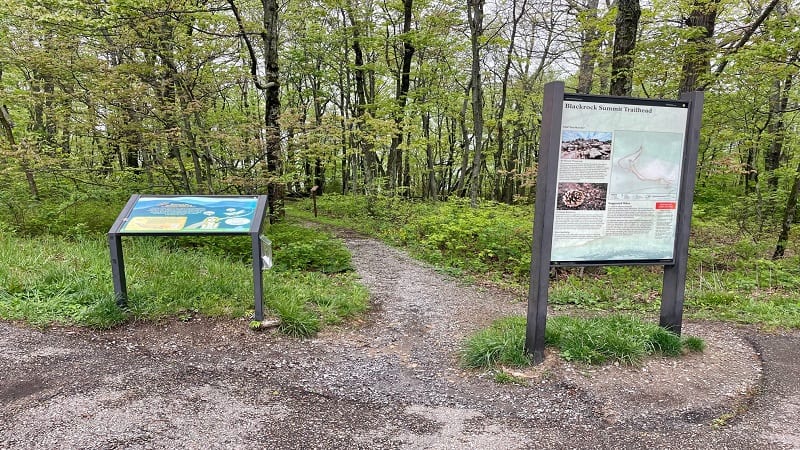 You won't see the Furnace Mountain hike as either of the two suggested hikes, but trust me, this is the start of the trail. There's also a Kids in Parks display.
Walk past the trail kiosk and you'll arrive at the Appalachian Trail. Turn left here to continue on a southbound stretch of this iconic white-blazed hiking trail.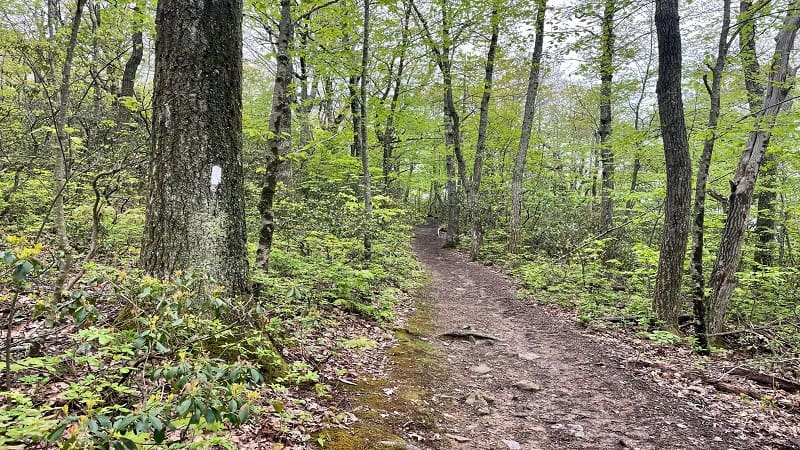 At the 0.3-mile, the hiking trail splits, but stay to the right for the Appalachian Trail. Just keep following the white blazes.
Blackrock Summit
At around the 0.5-mile mark, the forest will open up and you'll be awed by an open talus slope (essentially a gigantic rock field).
You have arrived at Blackrock Summit. This is one of my favorite hikes given how quick and easy it is to reach such incredible summit views. Take it all in.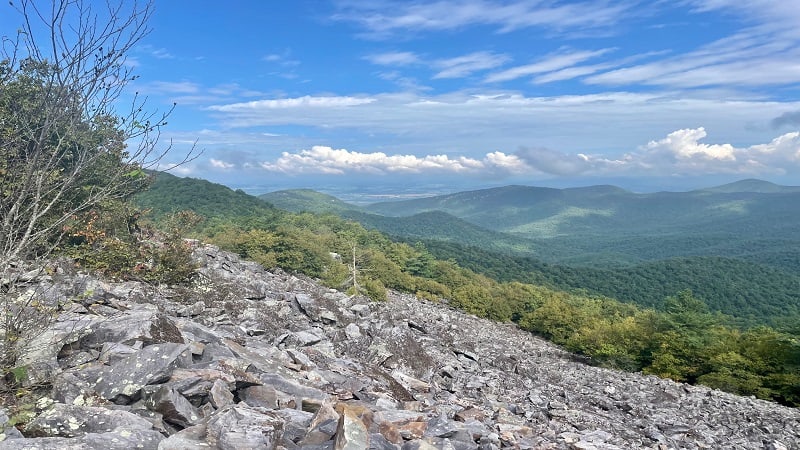 Scramble the huge boulders on the left, or simply remain on the relatively flat path that hugs the mountain to savor all the majestic views.
You deserve to treat yourself to the far-reaching views across the Shenandoah Valley and Massanutten Mountain. The vistas go on for miles and miles.
Trayfoot Mountain Trail
As you curve around the mountain, you'll reach a concrete trail marker. When you do, turn right for the Blackrock Summit Trail. It's a short, rocky section.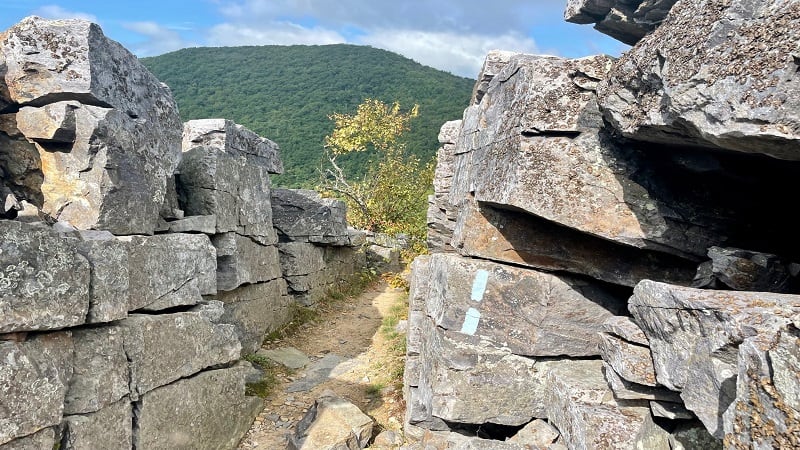 Enjoy scenic views to the left of Trayfoot Mountain. This short section is more or less a connector trail to access the blue-blazed Trayfoot Mountain Trail.
Take it slow. This section has lots of rocks, big and small. There are also lots of big views to the left that you'll want to revel in as you walk.
At the 0.7-mile mark, the Blackrock Summit Trail dead-ends at the Trayfoot Mountain Trail. Turn right here and you'll soon be taken back into the forest.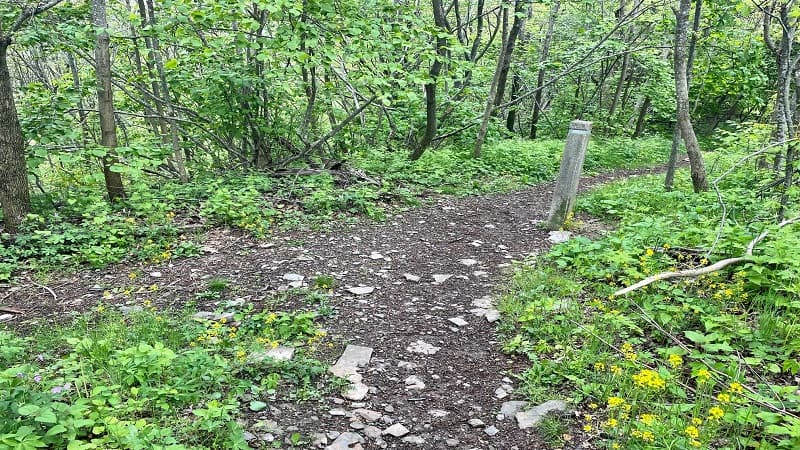 The forest is pretty dense, too. In spring, colorful wildflowers, like mountain laurel blooms, line the trail. You're also going to start your first real ascent on this hike.
Furnace Mountain Trail
Your ascent ends (for now) at the concrete trail marker at the 1.3-mile mark. If you were to turn left, you would continue on the Trayfoot Mountain Trail.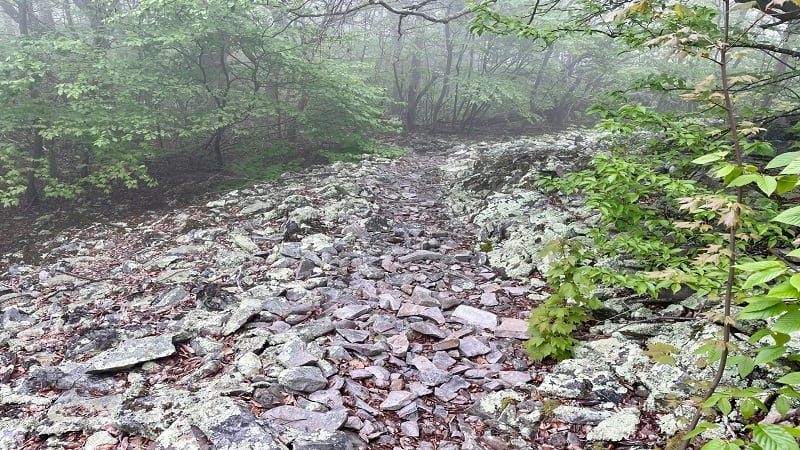 You want to turn right to descend the Furnace Mountain Trail. The steady descent is about a mile, during which time you'll cross two small talus slopes.
The forest is quiet dense too, though you can enjoy peeks of mountains on either side of this blue-blazed trail here and there.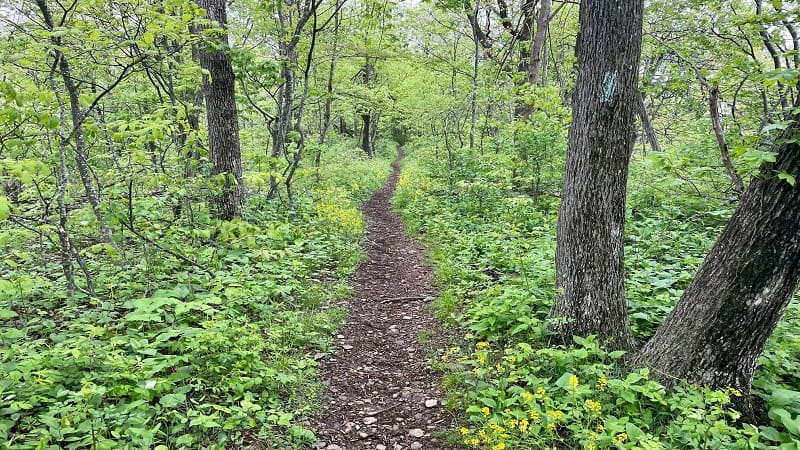 You'll start to climb again at the 2.3-mile mark. You'll go up, then down. You'll then reach a fork and a concrete trail marker for the spur to the summit.
Turn right for the spur trail to the summit. If you were to stay left you would continue on the Furnace Mountain Trail.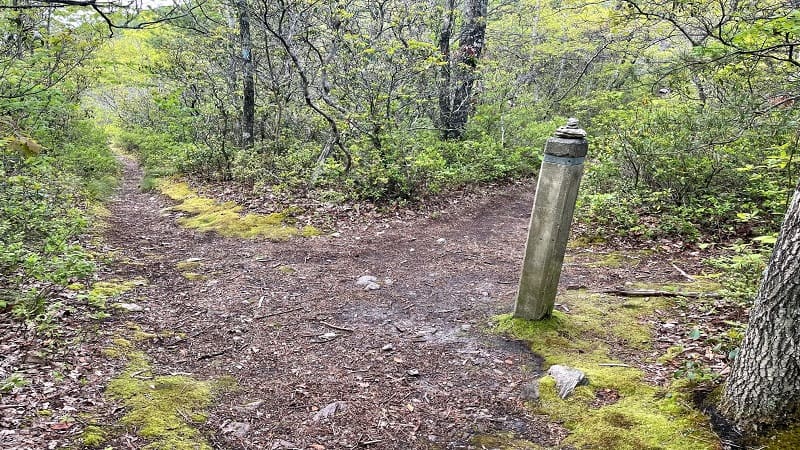 The Furnace Mountain Trail goes on for another 1.5 miles until it ends at the Browns Gap Fire Road.
Furnace Mountain Summit
At the marker, turn right for the Furnace Mountain Summit Trail. Naturally, it's all uphill from here. You will, however, enjoy some views on the way up.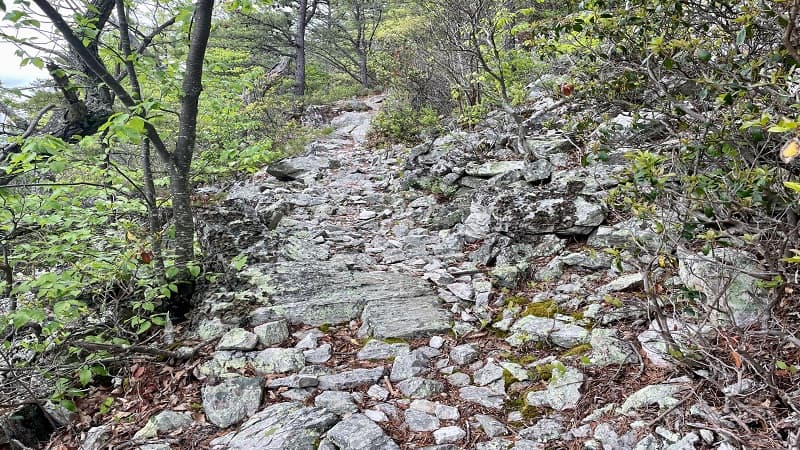 It's a 0.5-mile climb along this side trail, but it's not terrible. You'll pass a fairly large camp site on the right that's a short distance from the rocky summit.
Near the 3.5-mile mark for this hike, you will be rewarded with fantastic mountain and valley views. Get ready to celebrate at the best view of the hike.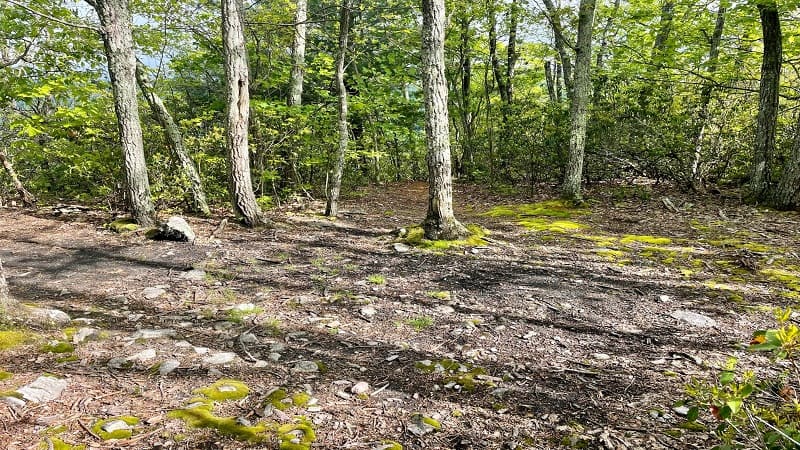 I really loved this summit because the outcrop was very flat, so it was easy to take a seat and re-fuel or re-hydrate as you savor the views.
Once you've enjoyed the views of the Shenandoah Valley, re-trace your steps to return to the parking area on Skyline Drive.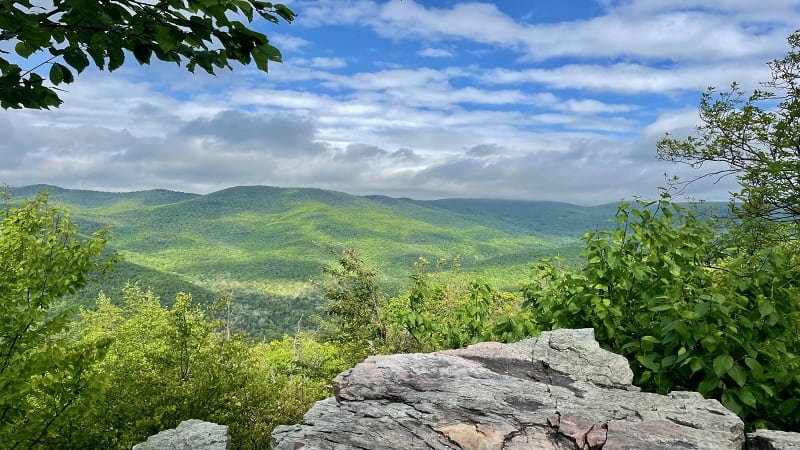 Take your time at the summit. You'll have a pretty good climb, especially as you return on the Furnace Mountain Trail to the Trayfoot Summit Trail.
Hike Option
As I alluded to earlier in this post, there is another way to hike to the summit of Furnace Mountain.
You can begin this hike from the park boundary, at the end of Browns Gap Road. From here, it's a 0.2-mile walk to reach the Browns Gap Fire Road.
Once you see the Furnace Mountain Trail, turn right and ascend for 1.5 miles until you reach the spur trail. Then, turn left and hike 0.5 miles to the summit.
This option is shorter – about 4.4 miles – but it's literally all uphill with 1,300+ feet of elevation gain to reach Furnace Mountain Summit.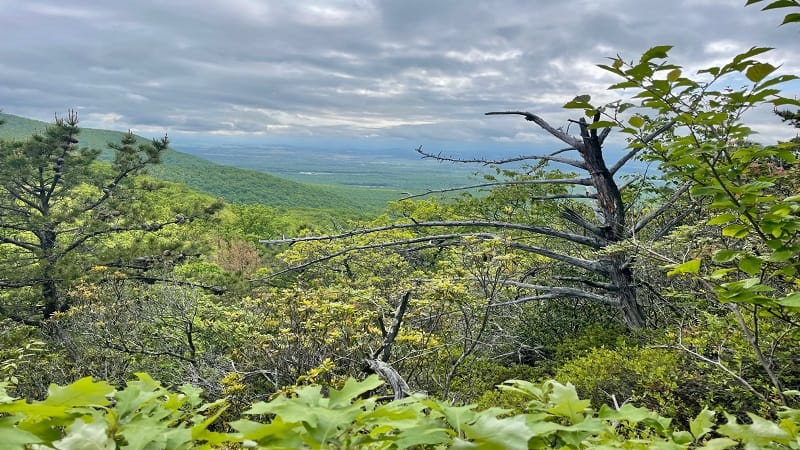 I like the longer option from the Blackrock Summit parking area because you've got ups, downs and views at Blackrock Summit and Trayfoot Mountain.
Wrap-Up Notes
This 6.9-mile out-and-back hike took me nearly three hours, including time spent ogling mountain views and enjoying a hard-earned snack at the summit.
This was a great hike. It was quiet and scenic. Mind you, I did complete this hike late afternoon on a Tuesday, but I think it would be quiet on a weekend, too.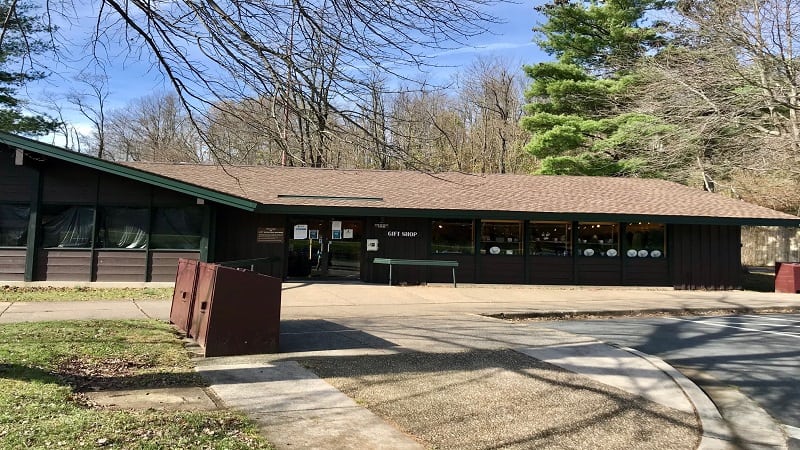 Most visitors use the same small parking area for the easy hike to Blackrock Summit. In my opinion, far fewer continue on for Furnace Mountain.
Hungry? Loft Mountain Wayside is five miles north on Skyline Drive at milepost 79.5. Here you'll find drinks, snacks, gifts and restrooms. Also, picnic tables.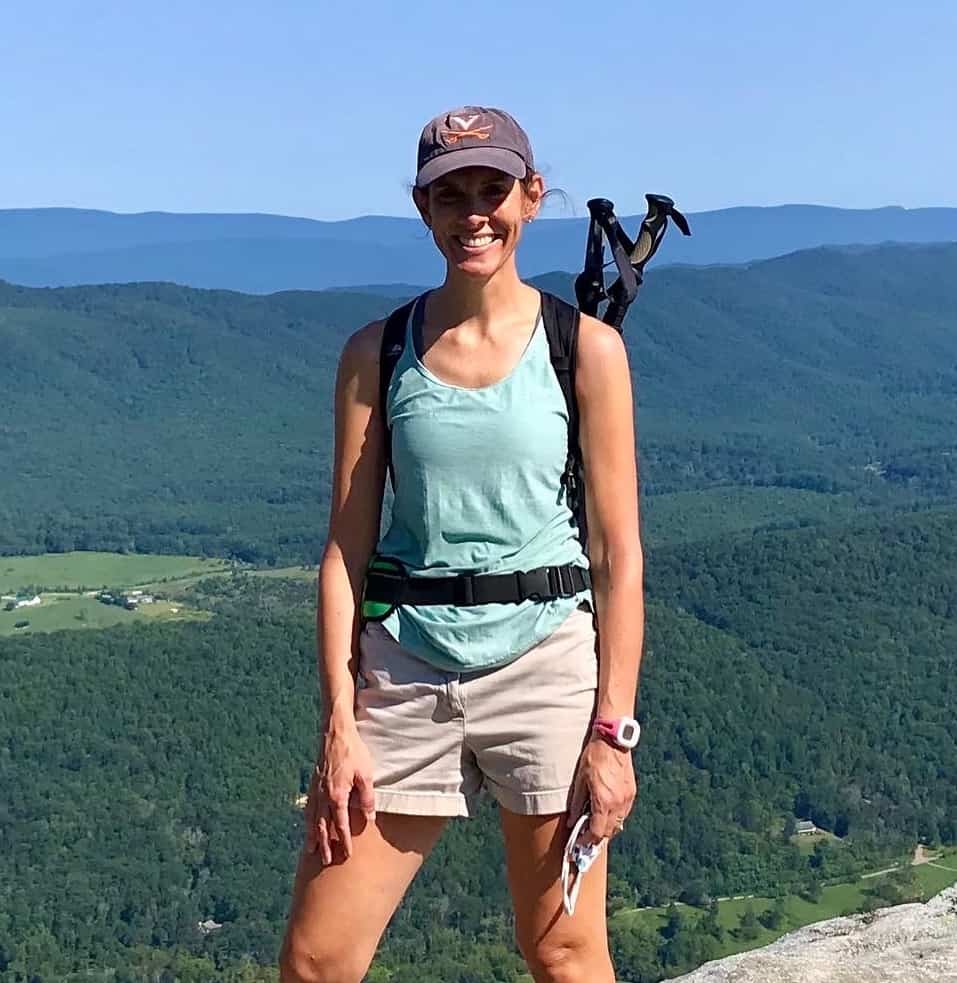 Erin Gifford is the editor of Go Hike Virginia. She has completed more than 300 hikes in Virginia. She is also the author of three hiking guidebooks from Falcon Guides. Need help finding a hike? Check out the Trail Finder feature or send Erin a message.