It's me, Erin. You'd probably expect to see a photo of me or my family hiking, right? Nah, too obvious. So I went with a photo of me learning to curl, and kind of failing.
It's cool. We all fall down sometimes, you know. 😄
If you just happened to land here, maybe thanks to Google, welcome. I encourage you to sign up to hear from me on a regular basis.
As a super-cool bonus, I'll even send you a free day hike checklist as a thank you!
I'm so glad you're here. I have so much to say, but first let me tell you a little bit about me. I'll then show you around so you feel comfortable navigating this website.
I don't want you to feel overwhelmed. I want you to come back again and again to find the best hikes for you, your family and your friends.
ABOUT ME
Okay, first things first. Who the heck am I? I'm Erin Gifford. I grew up in Fairfax, Virginia and now I live in Loudoun County.
I spent some time in Atlanta, like six months, but NoVA has pretty much always been my home. In my house, I've got four kids, a husband and a dog.
Here's a photo of all of us at the annual Turkey Trot in 2022. This never happens. You know, having a photo with all six of us, and the dog, too!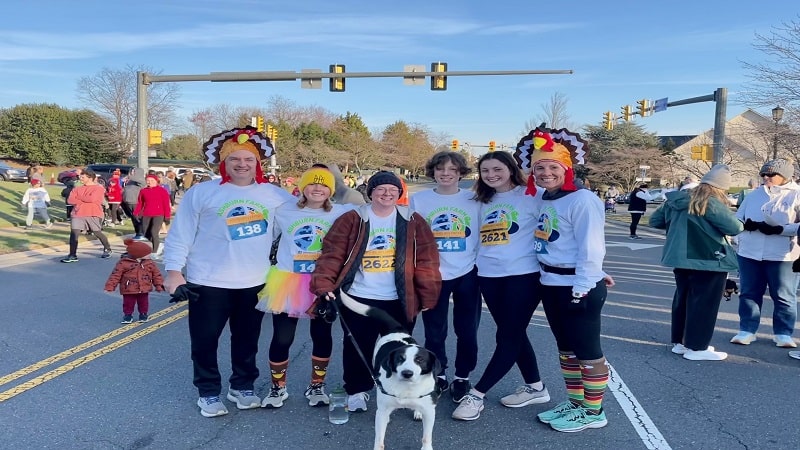 So, I started Go Hike Virginia in April 2020. The pandemic had just started and I was looking for a new direction.
I had been a freelance travel writer, but you know, no one was traveling back then.
It was a time when all we could do was go outside. No one really knew where to go. Shenandoah National Park was closed for at least six weeks.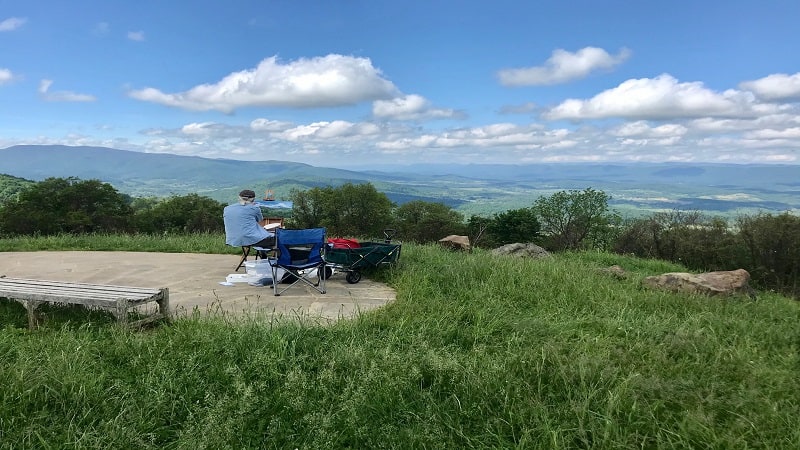 Then, I had a light bulb moment. Well, first I hunted around the interwebs for hiking resources, then I had a light bulb moment.
I couldn't find exactly what I wanted. As in, hike reviews with all the deets, including photos. It was kind of frustrating, you know.
Then, Go Hike Virginia was born. A minute later, I wrote my first hiking guidebook for Falcon Guides.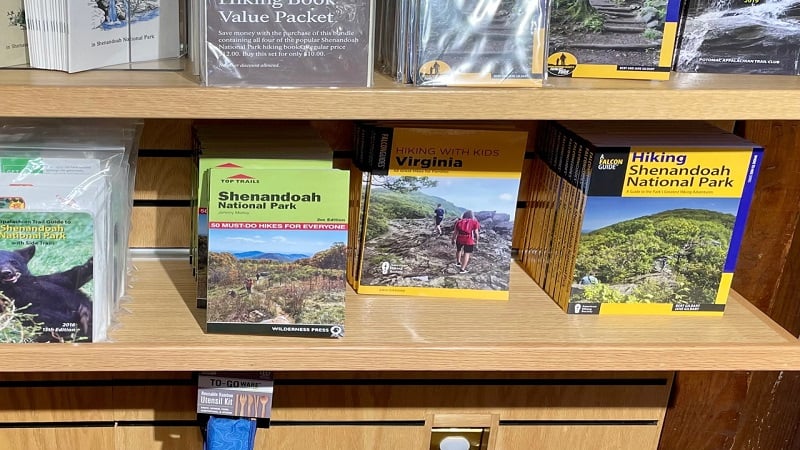 Then I wrote a second, then a third. You can check out my author page on Amazon.
I've completed more than 300 hikes across Virginia.
To be honest, I sometimes struggle with finding new hikes, so please send me any cool hike suggestions. I'm always up for a new hike!
WHAT'S HERE
You'll find lots of hiking-related content at Go Hike Virginia. I typically put up three new posts each week, which include hike reviews, round-up posts and gear guides.
I make it easy for you to find hikes in three ways:
SEARCH: You'll see a search bar above my Facebook box on the right-hand side of the page. If you know the name of the hike or trail, you can search for it here.
HIKES BY REGION: Check out the navigation bar at the top of the page. Hover over "Hikes by Region" and click on your part of Virginia to find hikes near you.
TRAIL FINDER: Also in the navigation bar, check out the "Trail Finder" feature. Click the link to reach a map of all the hikes I've written about on this site.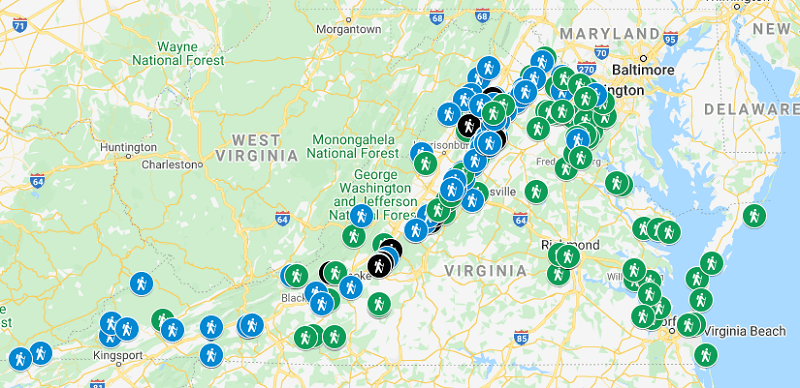 Zoom in to your area on the map to find hikes and click through to reviews. Hikes are color coded like ski runs: green for easy, blue for moderate and black for strenuous.
MY MOST POPULAR POSTS
There are more than 400 posts at Go Hike Virginia, so I wanted to share with you the best of the best to give you a jolt of hiking inspo.
Getting Started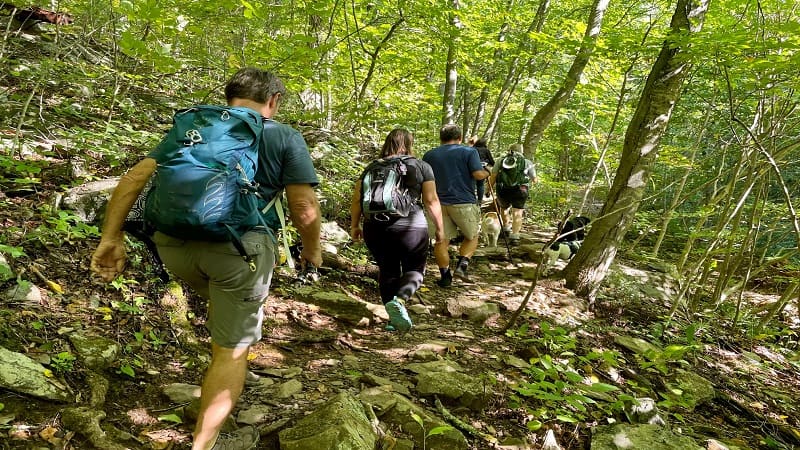 Hiking for Beginners (Hiking 101)
Winter Hiking for Beginners: Practical Tips & Advice
How to Find a Hiking Buddy or Hiking Group
What to Eat Before, During & After a Hike
Hiking Stretches: Before & After a Hike
Favorite Hikes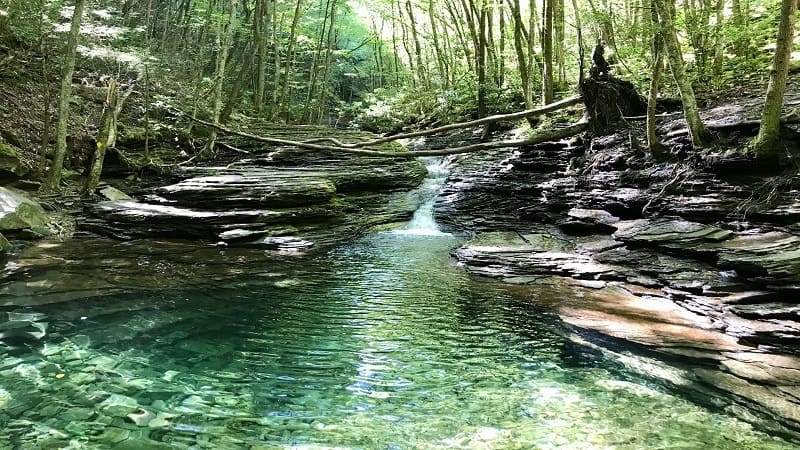 16 Best Hikes In and Near Charlottesville, Virginia
Devil's Bathtub: A Wickedly Good Hike to a Magical Swimming Hole
30 Best Day Hikes in Northern Virginia
Old Rag: What to Know Before You Tackle This Bucket List Hike
I also encourage you to check out my Gear Guides for reviews of all kinds of hiking gear, from fleece-lined hiking pants to backpacking coffee to hiking dresses.
CONTACT ME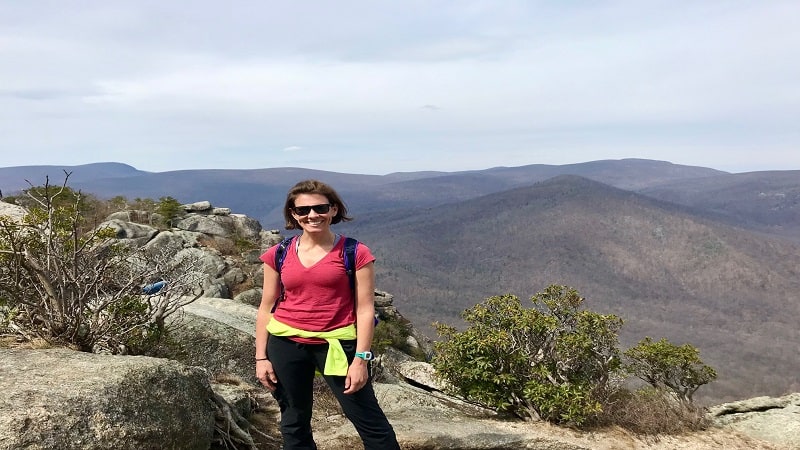 If you want to follow me on social, I would seriously love that. I'm on Facebook, Instagram and Twitter, and you'll find photos, hike reviews and video reels.
You can work with me, too. I have worked with a lot of visitors bureaus across Virginia to help promote hiking in their parts of this beautiful state.
Meantime, feel free to send me an email anytime you want, too. Honestly, I'm super nice and friendly. I can't wait to hear from you!