Rose River Falls: A Waterfall Hike + Bonus Swimming Hole
On a hot day, there's nothing like a cool down in the refreshingly cold basin that gets filled up by a waterfall in Virginia, like 67-foot-tall Rose River Falls at Shenandoah National Park.
Since not every waterfall comes with a dreamy swimming hole, this waterfall hike is an easy one to love.
Yet nothing worth having comes easy. What I mean by this is that you'll need to put in some effort to reach Rose River Falls on the 3.9-mile Rose River Loop Hike.
It could be as little 1.3 miles or as much as 2.6 miles, depending on which direction you begin on this loop hike.
| Trail Stats | |
| --- | --- |
| Length | 3.9 miles |
| Difficulty | Moderate |
| Trail Type | Loop |
| Elevation Gain | 866 feet |
| Duration | 3 hours |
| Terrain | Mostly dirt & gravel trails, some tree roots |
| Dog-Friendly | Yes |
| Fee | $30 per vehicle (good for seven days) |
| Driving Directions | Click Here |
Arriving at the Trailhead
Park at Fishers Gap at mile marker 49.5. This is 1.5 miles north on Skyline Drive from Big Meadows Wayside where you'll find restrooms and a convenience store.
It's a good stop to make for a quick bathroom break or to stock up on snacks or drinks before the hike.
From the parking area, safely cross over Skyline Drive to the trailhead. You can walk straight onto the Rose River Fire Road for the counter-clockwise route.
Or, you can begin on the gravel trail immediately to the left for a clockwise route that reaches the waterfall more quickly.
The First Steps
Honestly, I went back and forth about this, but I have to recommend the counter-clockwise route on this loop hike.
In doing so, you reach Rose River Falls at the 2.6-mile mark. There's more hiking on the front-end, but after enjoying the falls, the hike back to the car is 1.3 miles.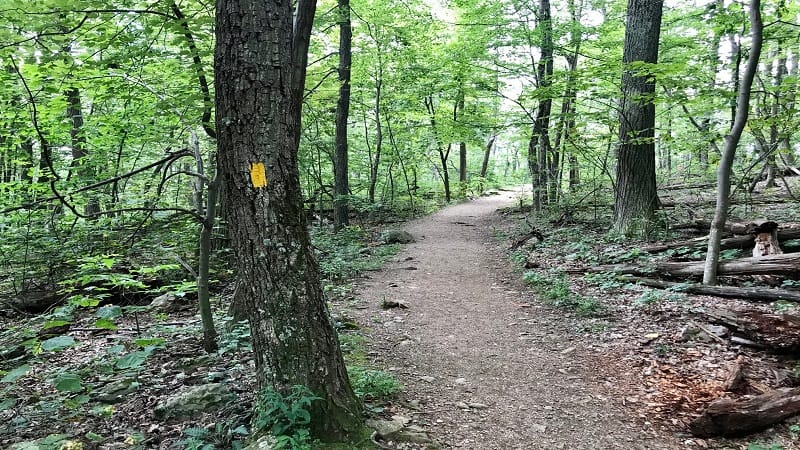 Opting to go counter-clockwise, I began a gradual descent on the wide, gravel Rose River Fire Road. This yellow-blazed trail is relaxing with tall trees on either side.
At the .5-mile mark, the Cave Cemetery appears on the right-hand side of the trail.
This family cemetery is one of more than 100 across this national park belonging to families who lived within the park boundaries in the 1930's and 1940's.
The fire road ends in glorious fashion at a narrow waterfall that descends from 70-foot-tall Dark Hollow Falls.
To see Dark Hollow Falls, it's a .2-mile (one-way) hike up the right side of this tumbling waterfall. Truth be told, the fire road does not end at the waterfall.
From the waterfalls, cross over the bridge and turn left onto a narrow hiking trail that parallels a stream called Hogcamp Branch, which runs through Dark Hollow.
Notice that the trail blazes also change from yellow to blue.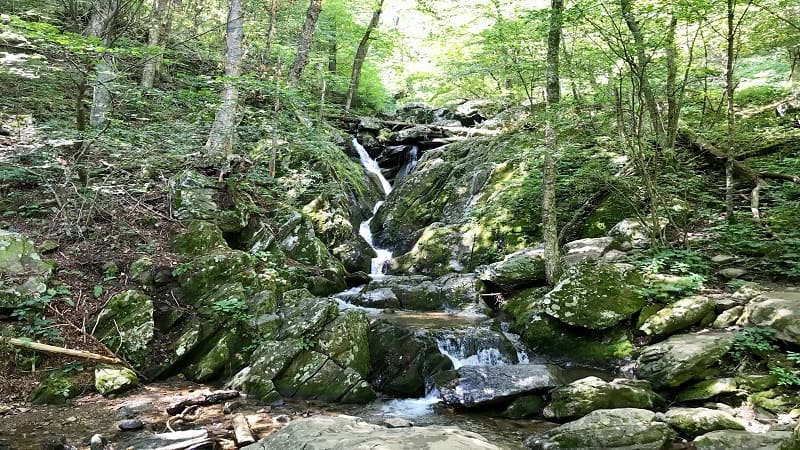 Descend as you walk alongside the stream, taking in the peaceful sounds of cascading water with each step. Watch your footing for tree roots and wet rocks as you walk.
At the 1.3-mile mark you'll see the perfect spot for a snack break. There are several large rocks to sit on and plenty of small stones to skip into the water.
Take your shoes off to enjoy the crisp clear water. Just past the 2-mile mark you'll reach a pedestrian bridge to cross over the gently flowing stream.
In a few more steps, you will see a gravel trail that leads up a hill to the left. It's so steep you may think, you've got to be kidding me.
I did. I breathed a huge sigh of relief when I realized this was not actually part of the trail.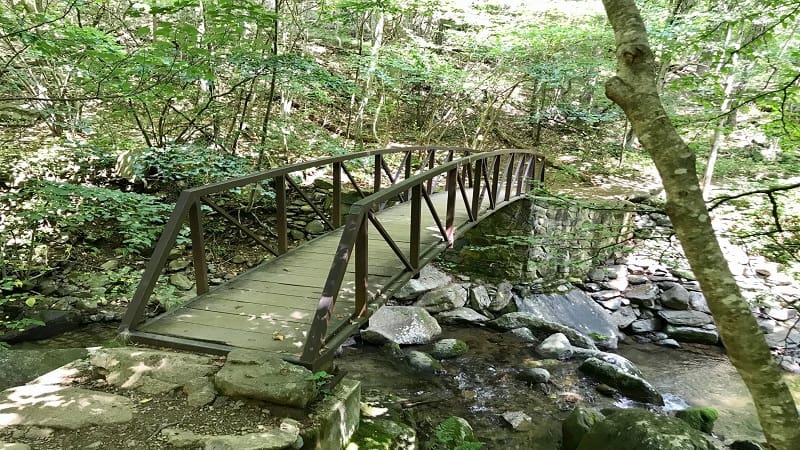 Instead, the trail splits here, so turn right to continue on. After two miles of hiking, you may wonder if the falls will ever appear, but it's coming.
Be patient. At the 2.25-mile mark you'll spot a trail marker. Turn left and the falls are just .5-mile away. But first, you must ascend a fairly steep hill with cascading water views.
At last, the waterfall comes into view at the 2.6-mile mark. From here, you must carefully navigate a rock scramble to the waterfall basin.
In all honesty, I slipped on some mud on the way down, so be careful. At the base of the waterfall, you can walk across on exposed rocks.
Set your gear on the other side of the swimming hole and falls. Once you've splished and splashed to your heart's content at Rose River Falls, scramble back up the rocks.
Turn right to get back on the hiking trail for the final 1.3 miles to the parking area. The trail is a mix of rocks, mud, roots and dirt. It's also a steady ascent to the top.
You'll see a couple of trail markers on the way up the hill to give you updates on the distance to Skyline Drive and the Fishers Gap overlook parking area.
You may be tired (from the hike) and refreshed (from the waterfall), but also happy that you have just 1.3 miles, not 2.6 miles.
Hike Options
For those eager for a longer hike (though not much longer), add on an extra .4-mile round-trip to the Rose River loop trail by incorporating Dark Hollow Falls.
When you reach the bridge at the fire road, walk up the stairs to the right of the waterfall for a glimpse of 70-foot-tall Dark Hollow Falls.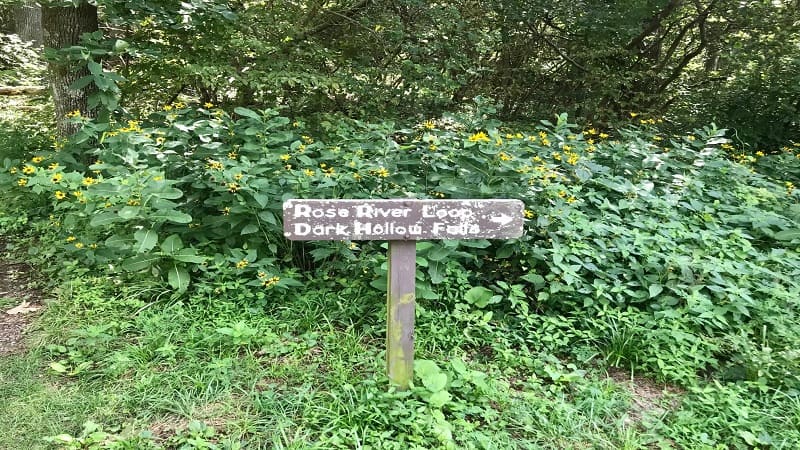 For a shorter hike, transform this into an out-and-back hike. From the Rose River trailhead just off Skyline Drive, start left on the Skyland-Big Meadows Horse Trail.
Walk 1.3 miles to the waterfall, then re-trace your steps for a 2.6-mile round-trip hike to Rose River Falls.
Wrap-Up Notes
This hike took me 1 hour, 45 minutes to complete, including a stop to check out the falls. Here's my map of the trail, including where to park, on AllTrails.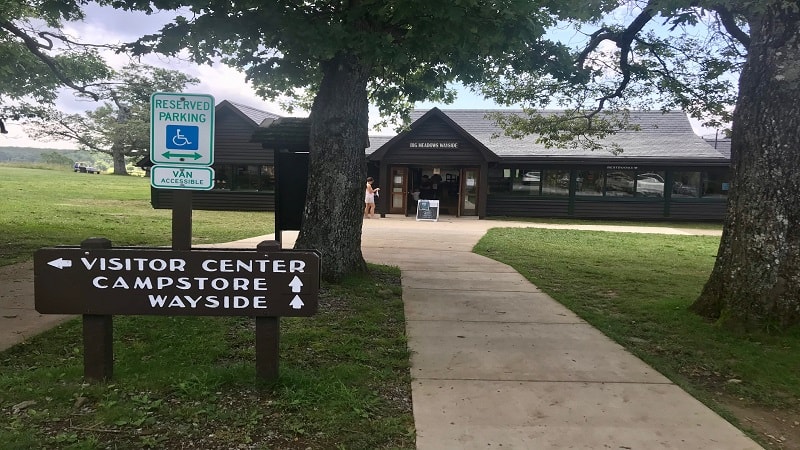 For post-hike refreshments and restrooms, Big Meadows Wayside is at mile marker 51. Here you'll find restrooms, a convenience store and souvenirs.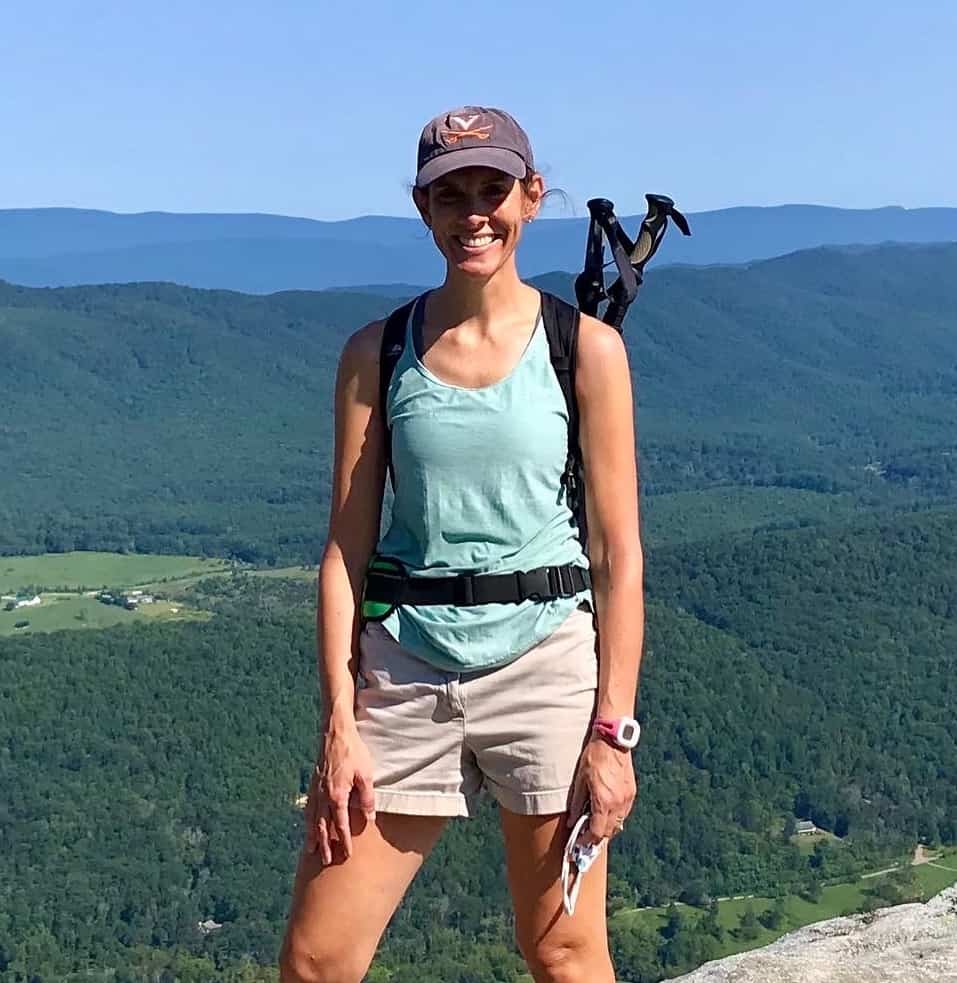 Erin Gifford is the editor of Go Hike Virginia. She has completed more than 300 hikes in Virginia. She is also the author of three hiking guidebooks from Falcon Guides. Need help finding a hike? Check out the Trail Finder feature or send Erin a message.