Backpacking Shenandoah: Trayfoot Mountain-Paine Run Loop
Thanks to MeetUp, I finally got the chance to do some backcountry camping in Shenandoah National Park. It was a 10.2-mile backpacking loop in the park's South District.
This was a loop but also a triangle, if only because we touched three hiking trails, including the Appalachian Trail, Trayfoot Mountain Trail and Paine Run Trail.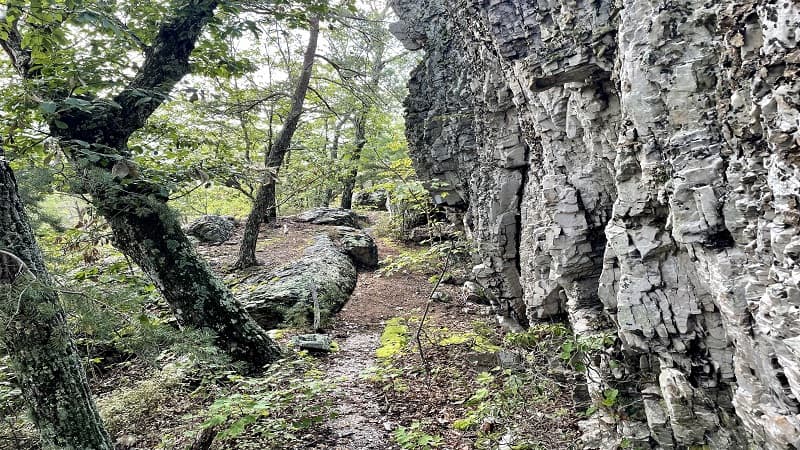 There is an elevation gain of 2,200+ feet, but spread out over 10 miles, it didn't feel so intense. I would definitely suggest this backcountry trip to beginners.
This was just my fifth time backpacking. My first overnight backpacking trip was at Belle Isle State Park in Lancaster in January. That's another good one for novices.
Backcountry Camping in Shenandoah National Park
First things first: yes, you can backpack at Shenandoah National Park. The park even suggests dozens of backcountry trips that range from easy to strenuous.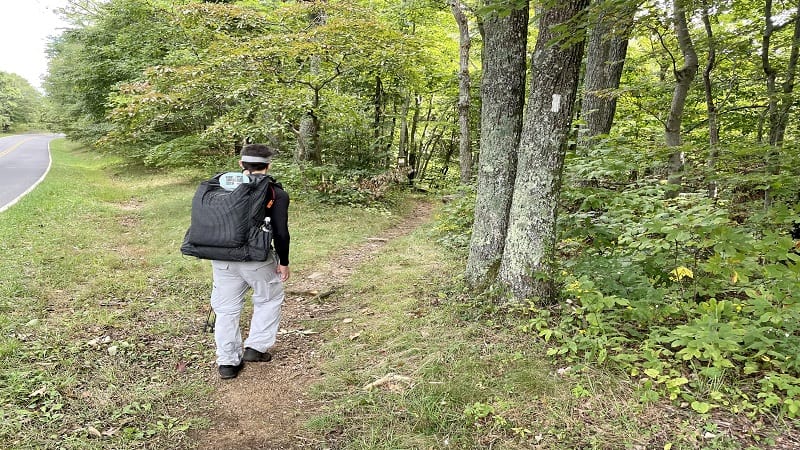 Suggested backcountry trips range from one to 13 nights. You can also create your own backpacking trip at Shenandoah National Park. No need to be limited to park routes.
It's free to camp in the backcountry but you will need a permit to camp outside of Shenandoah's four primary campgrounds. You can fill out an application online.
To get a backpacking permit, you will need to provide your contact and itinerary details, including where you plan to enter and exit the backcountry (as in, which trails).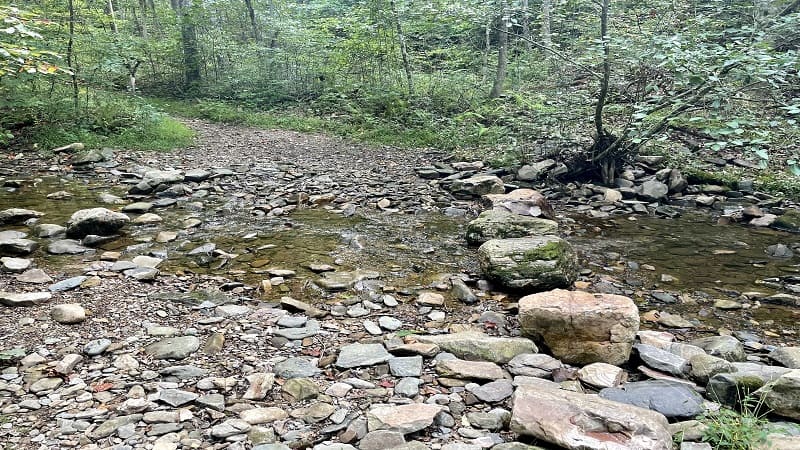 The park will also want to know how many people will be backcountry camping in your group, if it's more than just you. Groups of more than 10 people are not allowed.
Print out the reply email you receive with the details you provided. This will serve as your permit. You can also save the email to your cell phone.
If you forget to register online, you can also self-register when you arrive at the park at various locations, including the Front Royal and Rockfish Gap entrance stations.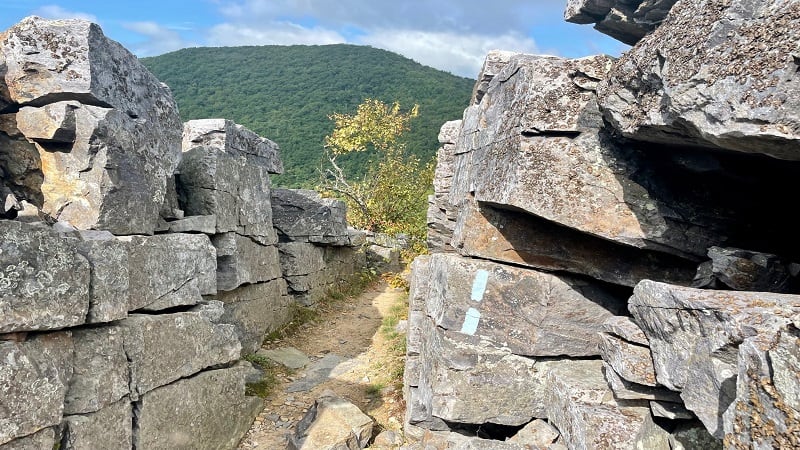 Beyond the entrance stations, you can register for a backcountry permit at the north and south entry points of the Appalachian Trail and the Old Rag Trailhead.
There are quite a few backcountry regulations at Shenandoah National Park. Most importantly, campfires are not permitted in the park's backcountry.
It's worth noting that there are also certain areas where camping is prohibited, including along the Limberlost Trail and above 2,800 feet at the Old Rag Summit.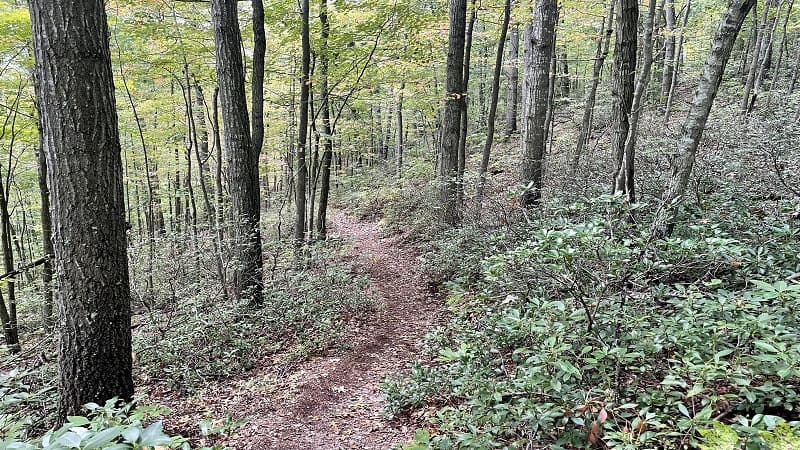 One more note, be sure to bring a bear canister to store your food and toiletries (anything with a scent). I have the medium-size BearVault for backpacking.
Before you turn in for the night, place the bear-resistant canister at least 100 yards from your tent. The National Park Service suggest placing the canister downwind.
Overnight Trip Idea: Trayfoot Mountain-Paine Run Loop
When thinking about where to backpack at Shenandoah National Park, bookmark the Trayfoot Mountain-Paine Run Loop in the park's South District.
This backpacking loop starts at the Blackrock Gap parking area at milepost 87.4. Note: do not park at the Blackrock Summit parking area at milepost 84.4.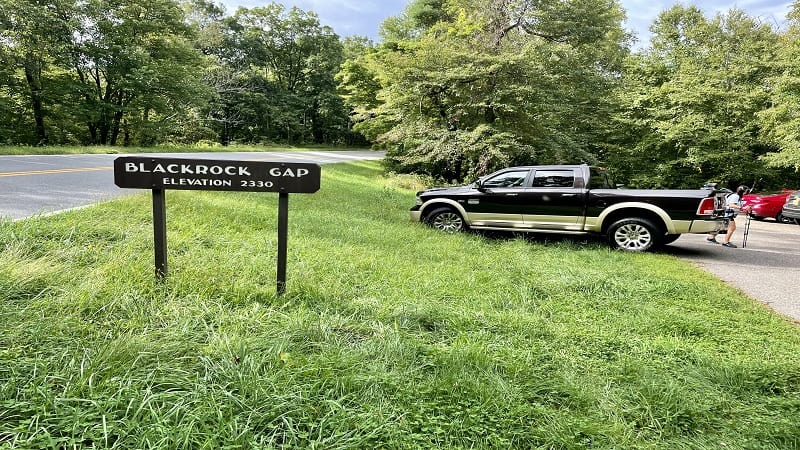 The Blackrock Gap parking area is not big – there's room for a dozen cars. It's okay to park here overnight. You do not need to place your permit on your dashboard.
Three different hiking trails set off from this parking area. For this hike, walk across Skyline Drive and start on the trail that heads north (the trail on the left).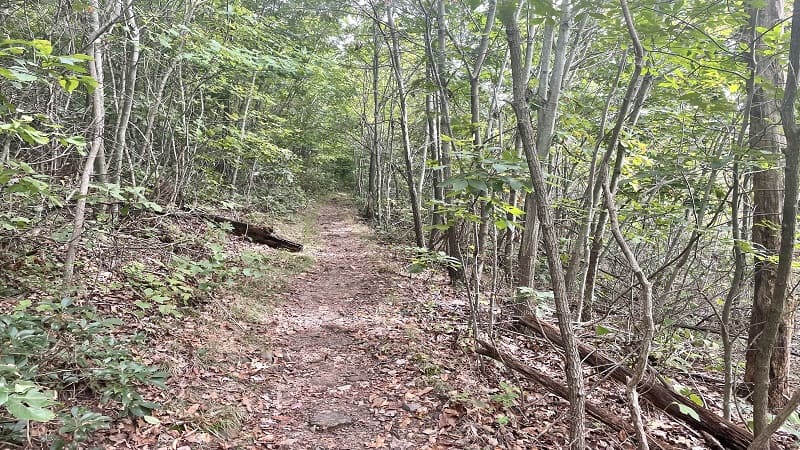 This is the northbound section of the white-blazed Appalachian Trail. You'll gently ascend along a forested trail that parallels Skyline Drive for .2-miles.
You'll then walk back over Skyline Drive and will continue the gradual climb. At the 1.2-mile mark, cross over the Blackrock Trail (Blackrock Hut Fire Road).
Best Views in Shenandoah National Park
In a few more steps – at the 1.4-mile mark – you will reach Blackrock Summit. It's nice to reap rewards so early in a hike.
The views across Massanutten Mountain and the Shenandoah Valley are among the very best in the park. The spectacularly scenic vistas are absolutely as-advertised.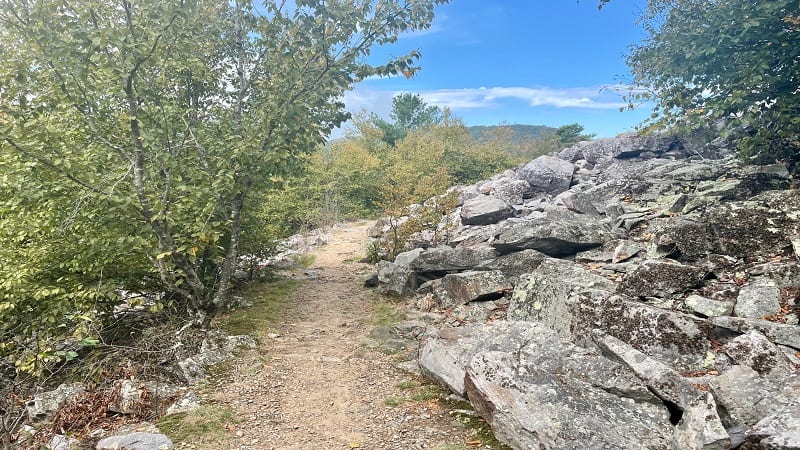 Of course, if you're not up for a 10.2-mile loop, you can also do a 1.0-mile loop from the Blackrock Summit parking area to savor all the views from Blackrock Summit.
Back to the backpacking route. Once you've taken in every ounce of the views from Blackrock Summit, head north on the blue-blazed Trayfoot Mountain Trail.
You will continue ascending. The trail can get quite narrow in some sections. At the 2.2-mile mark, turn left at the trail marker to stay on the Trayfoot Mountain Trail.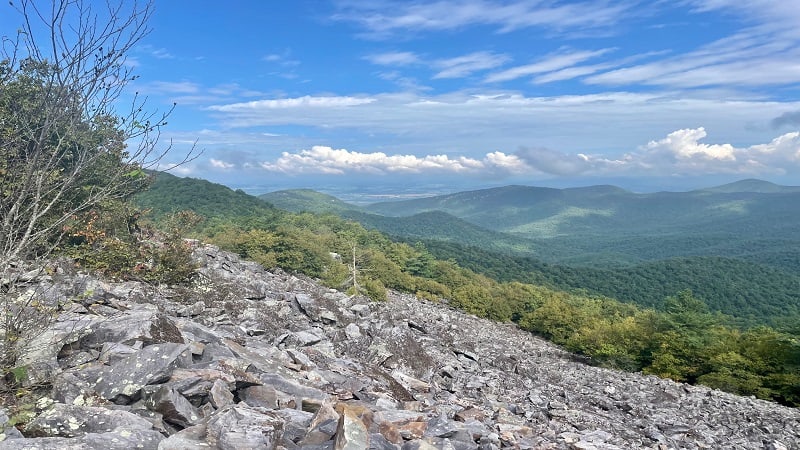 You'll reach the summit of Trayfoot Mountain (elevation 3,380 feet) at the 2.5-mile mark. Note that it's a summit in name alone. There is no overlook.
By now you will have gained 1,000 feet and will begin to descend along the hiking trail. You'll hike downhill all the way to the camp site at the 6.7-mile mark.
Shenandoah Surprise: Buzzard Rock
It's a nice easy walk, though you should be careful to watch for loose rocks. At the 5.7-mile mark, a surprise. As in, a booming view of pointed Buzzard Rock.
This view was very cool and very unexpected. I didn't realize there would a second wildly scenic vista after Blackrock Summit.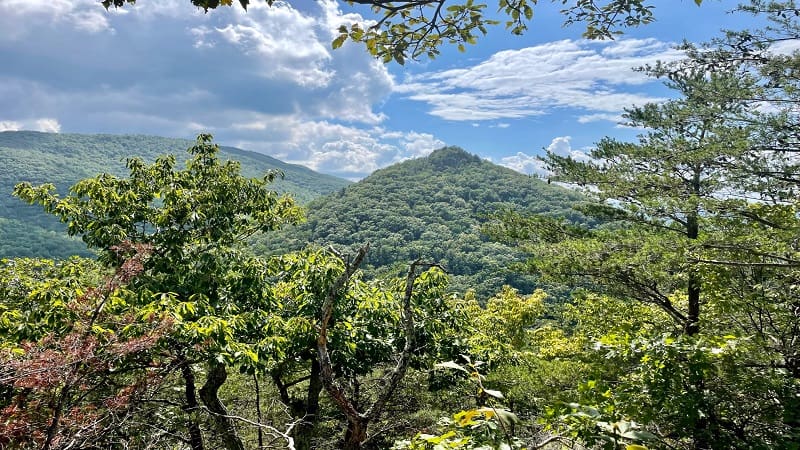 There's a small rocky outcrop here, making this a great spot to stop for a snack or water break before powering out the last mile to the camp site.
After the wide-open views, you'll head back into the forest. At the 6.2-mile mark, you will reach a dead-end. Turn left here for the yellow-blazed Paine Run Trail.
You'll reach Paine Run at the 6.6-mile mark. It's an easy walk on stones across this gently flowing stream. In a few more steps, keep your eyes open on the right.
Shenandoah Backcountry Camp Site
A large clearing will appear with enough space for 8-10 people, depending on the sizes of the tents. There is also some space for a tent or two on the other side of the trail.
While there is a fire ring at this camp site, recall what I noted up above. Campfires are not allowed in the backcountry at Shenandoah National Park.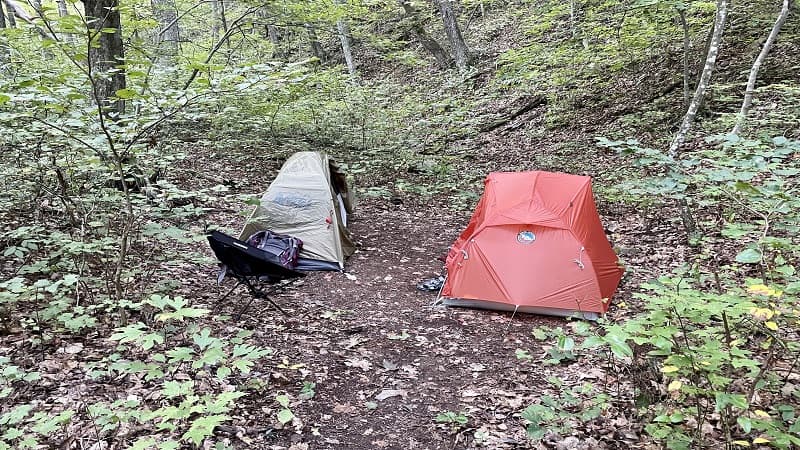 Pitch your tent, prepare your dinner and settle in for the night (after putting away your bear canister, of course).
In the morning, energize with a cup of backpacking coffee, pack up your gear and continue northeast along the Paine Run Trail.
You'll encounter a couple of water crossings as you ascend the hiking trail. Thankfully, the ascent is easy.
In less than 3.5 miles you will arrive at the Blackrock Gap parking area. I was surprised by how quickly we reached the end of the trail.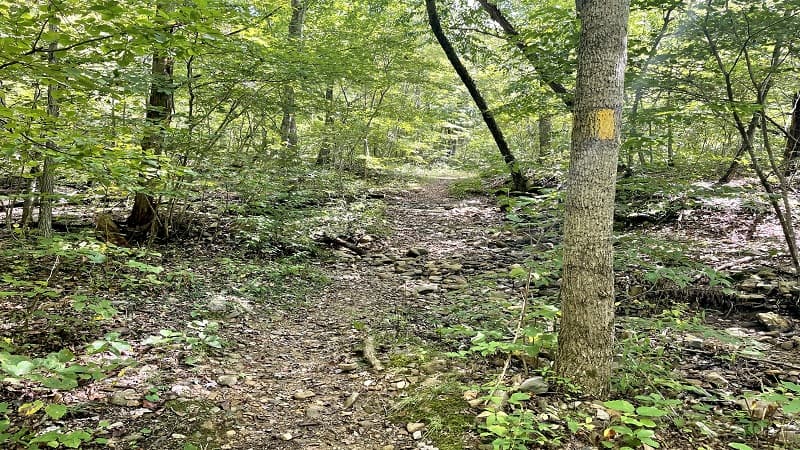 Once you arrive, celebrate. Then go home and take a shower to really celebrate a successful overnight backpacking trip at Virginia's Shenandoah National Park.
Of course, if you like, you can also do this as a day hike. Since it's just 10 miles, it's totally doable in a day.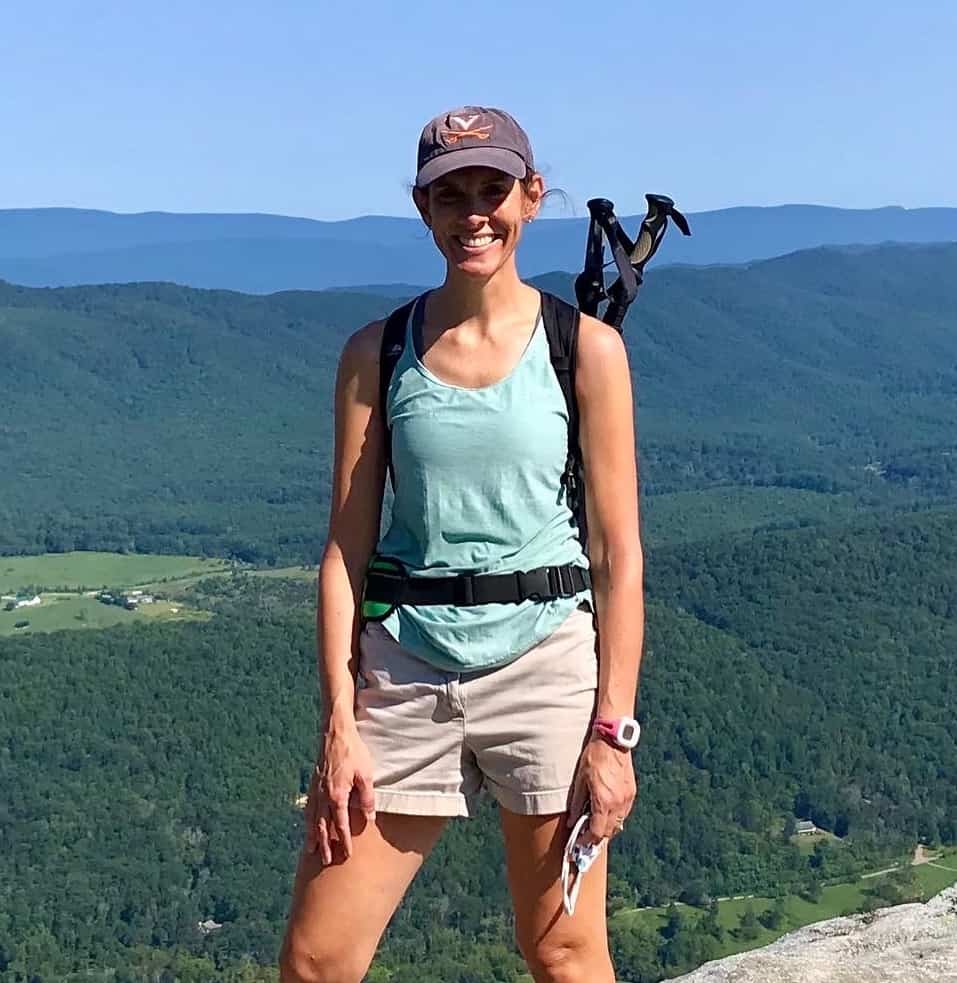 Erin Gifford is the editor of Go Hike Virginia. She has completed more than 300 hikes in Virginia. She is also the author of three hiking guidebooks from Falcon Guides. Need help finding a hike? Check out the Trail Finder feature or send Erin a message.