Old Rag: What to Know Before You Tackle This Bucket List Hike
Last Updated on January 24, 2022 by Erin Gifford
The Old Rag hike at Shenandoah National Park makes many lists, including Outside Online, which ranked the hike among the 25 best hikes in the world.
Yes, the world. Not just the U.S. Meanwhile, Insider gave Old Rag top honors as the most scenic hike in Virginia. Honestly, the accolades for Old Rag go on and on.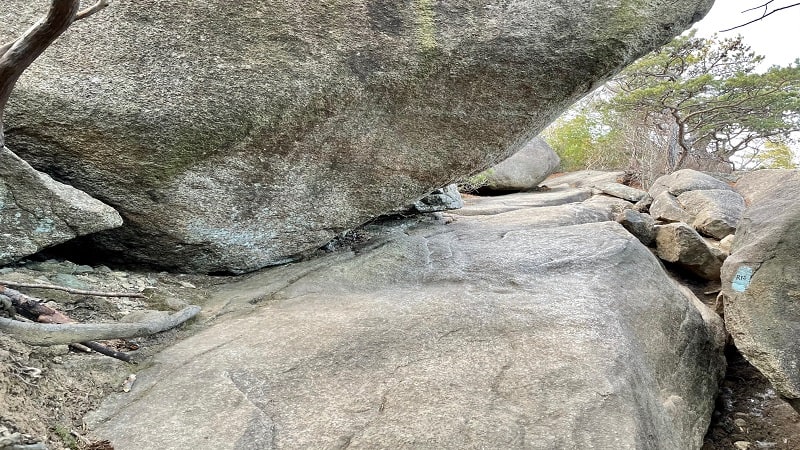 However, the Old Rag Mountain hike is not for everyone.
In mid-October 2020 – two days in a row, mind you – hikers had to be rescued from atop Old Rag. It's not as easy as a medevac. Not that a medevac is easy.
In both cases, hikers were reported as injured late in the day, too late for a same-day rescue by helicopter. Both had to wait until morning.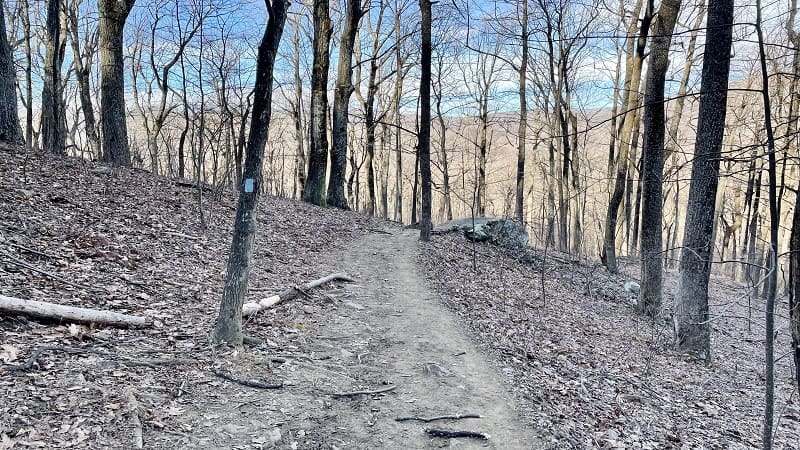 Shenandoah National Park later warned visitors that you may be charged with "disorderly conduct" if you require a rescue due to a series of bad decisions.
Bad decisions can include improper footwear (e.g., flip-flops), not carrying a flashlight or first-aid kit, and not setting off on a hike with enough water.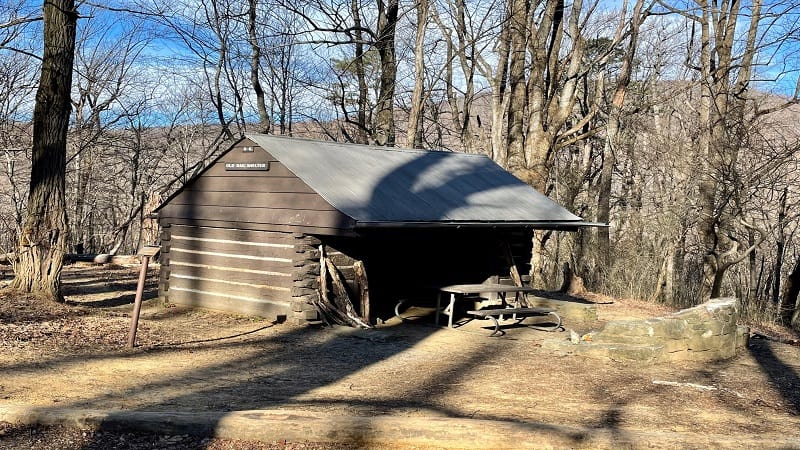 Know your limits and do not overestimate your physical abilities. The rock scrambling at Old Rag require knees, elbows, hands and feet.
If you are up for the challenge, however, it's an amazing hike to the top of Old Rag Mountain. Read on for what to know to complete the Old Rag Mountain hike.
| Trail Stats | |
| --- | --- |
| Length | 9.8 miles |
| Difficulty | Strenuous |
| Trail Type | Lollipop |
| Elevation Gain | 2,608 feet |
| Duration | 5.5-6.5 hours |
| Terrain | Mostly dirt, rock & gravel trails, plus intense rock scrambles |
| Dog-Friendly | No |
| Fee | $30 per vehicle (good for seven days) |
| Driving Directions | Click Here |
Old Rag Day Hike Tickets
As you consider an Old Rag Hike, note that a pilot day hiking ticket program was approved on December 8, 2021 and will begin in March 2022.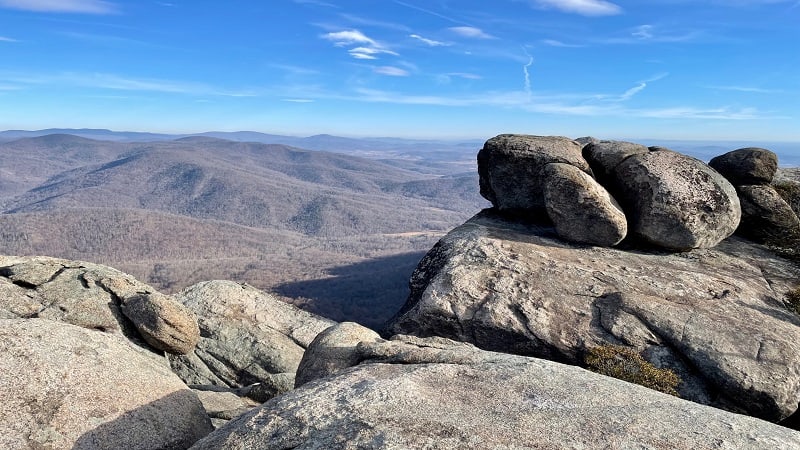 Under this program, which will run through November 2022, all Old Rag hikers will be required to have a day use ticket to complete the day hike.
This is a reservation system to ease crowding by limiting the number of hikers on Old Rag. Each hiker will be required to pay a $1 fee.
A cap of 800 hikers will be set per day. Half of the tickets (400) will be available for purchase 30 days in advance at www.recreation.gov.
The other half (400) will be released for purchase online five days in advance. The pilot program will be evaluated at the end of the nine-month period.
Old Rag Parking
If you haven't hiked Old Rag in some time, it's worth noting that there is a relatively new parking situation. Instead of just one lot, there are three lots.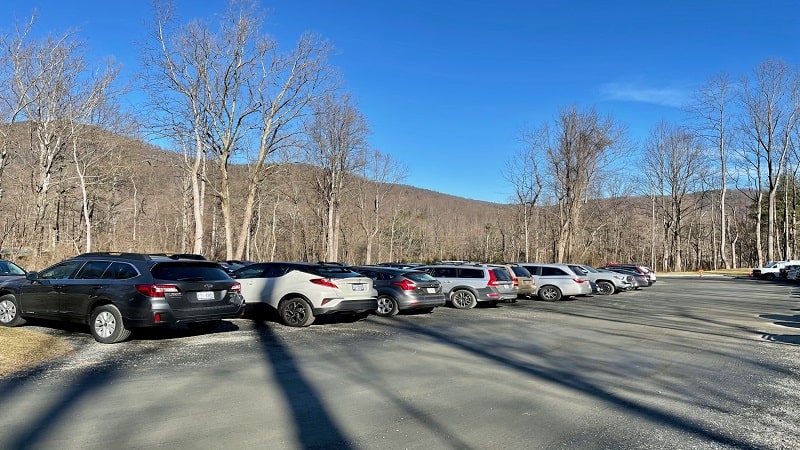 The National Park Service opened second and third parking lots in June 2020. The trailhead is now located at the front of the second parking lot.
There's no longer a need to park, then walk .5-miles or so along Nethers Road to reach the trailhead. As you drive Nethers Road, you'll see lots one, two and three.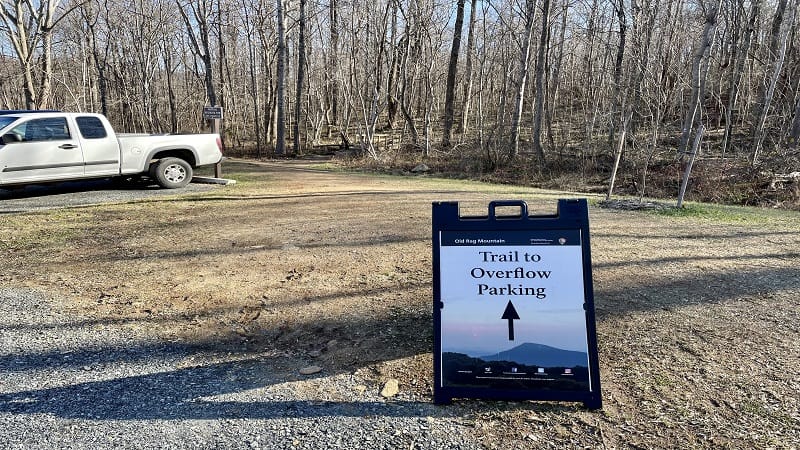 Lot one is now for horse trailers and RVs. It's also a back-up overflow lot. Lot two (lower lot) is the current primary lot. Lot three (upper lot) is the overflow lot.
It will make sense when you drive along Nethers Road en route to the parking lots. On your GPS, enter 3577 Nethers Road, Etlan as the Old Rag parking lot address.
The trailhead is to the left of the lot two ranger station. Show your annual park pass or pay the entry fee for a receipt for your dashboard to show you've paid.
Hiking Old Rag
Walk past the trail kiosk and over a footbridge to begin your hike on the Old Rag Trail. This switchback-laden trail skirts on and off private property for .8-miles.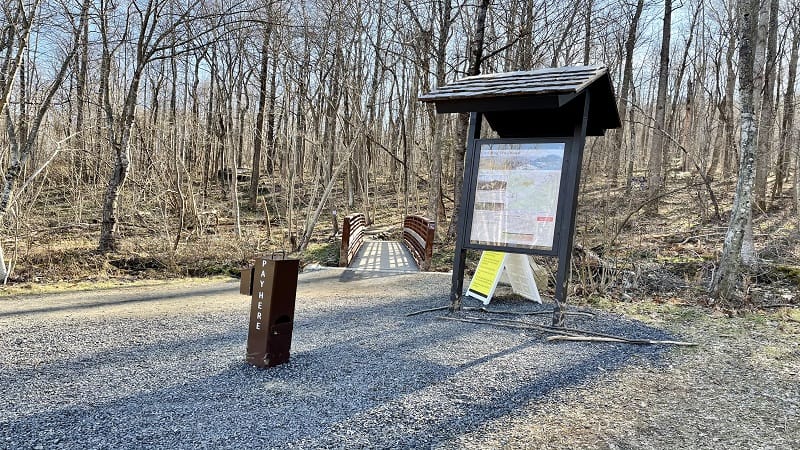 You'll reach a concrete trail marker and an intersection. Stay left to take the blue-blazed Ridge Trail to the rock scramble that leads to the top of Old Rag.
If you turn left, you'll reach the summit at the 3.8-mile mark. Since this is a loop hike, however, you can turn right to skip the rock scramble (counter-clockwise).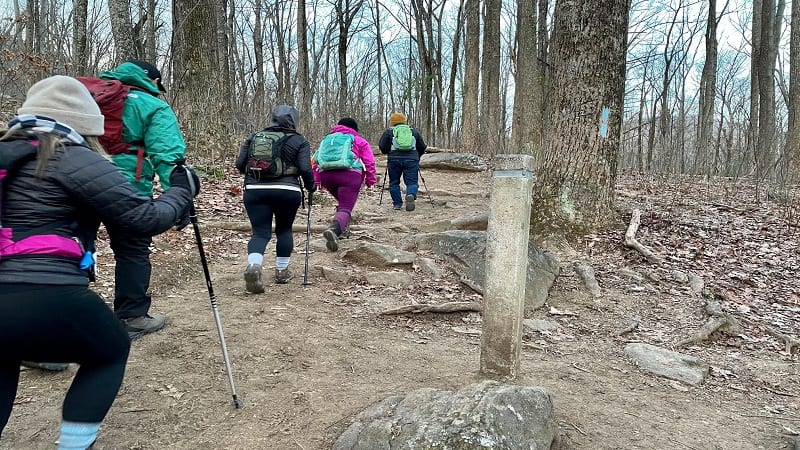 You'll arrive at the summit at the 5.2-mile mark. This makes for a longer out-and-back hike, but allows you to bypass the strenuous rock scramble section.
Back to the clockwise route. Ahead of the Old Rag rock scramble, you'll reach a rocky outcrop, probably at the 2.6-mile mark. The far-reaching views are fantastic.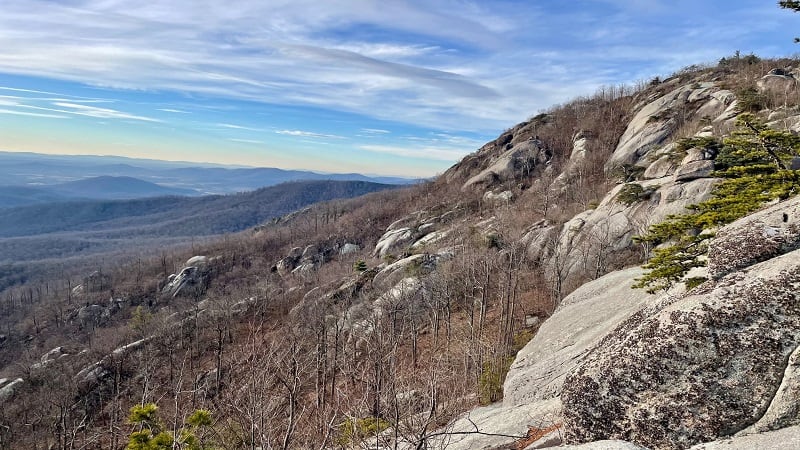 The rock scramble begins in earnest at the 2.8-mile mark. From here, it's a solid mile of climbing, gripping, pulling and scrambling to reach the top.
You've got to navigate tight spaces, strategize rocky passages, slide down granite surfaces and use all your strength to pull yourself up onto rocks and boulders.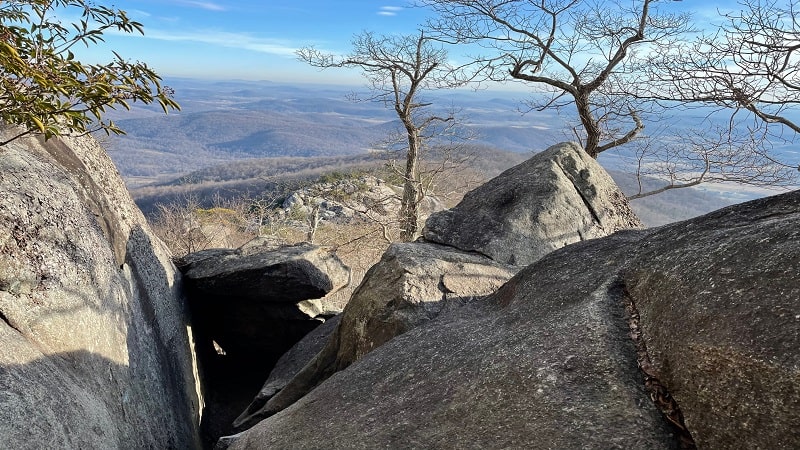 It's fun, but it's not always easy. Several times I just stared at the next rocky section, wondering how I was going to proceed to make it to the summit.
Early on in the rock scramble, you'll reach a narrow crevasse. It's maybe six or seven feet deep. You've got to find your footing and get down into it to proceed.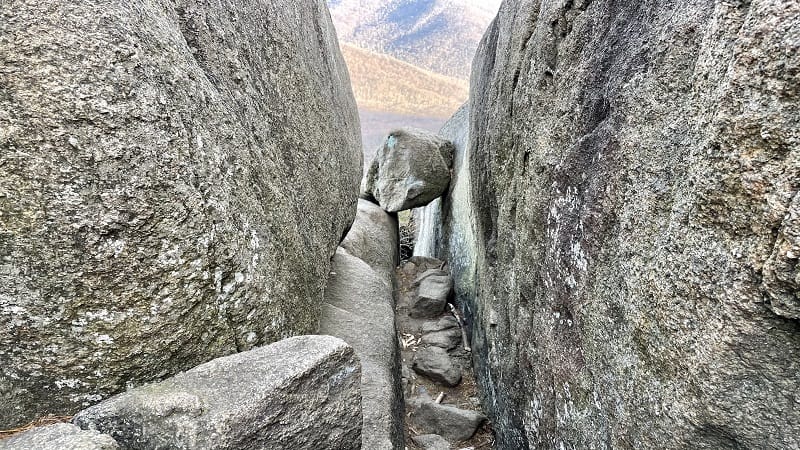 This particular section causes a lot of pause and hesitation. On warm sunny days, the wait time to get through this passage can be 60 to 90 minutes.
Since I hiked Old Rag on an ice-cold January day, there was thankfully no wait to complete this harrowing section of the rock scramble.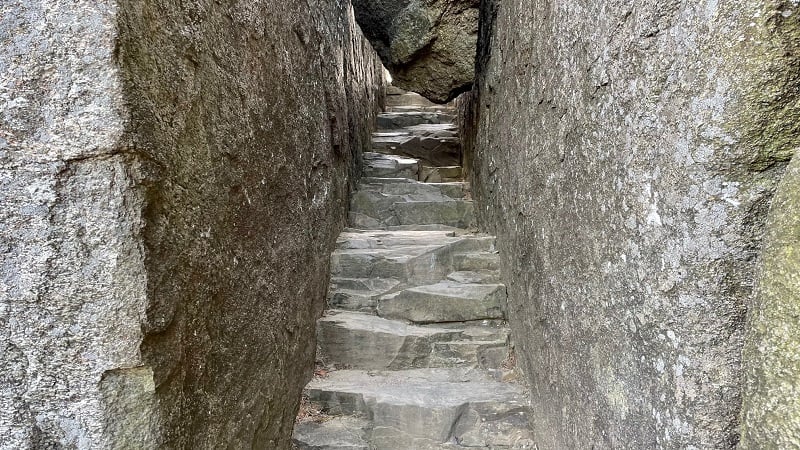 At the 3.0-mile mark, you'll reach a staircase that goes right through a boulder. It's actually pretty cool. At the 3.8-mile mark, a trail sign for the summit. Success.
Climb up on to the rocks atop Old Rag. There's a lot of space to sit, snack and savor all the far-reaching views of surrounding mountains.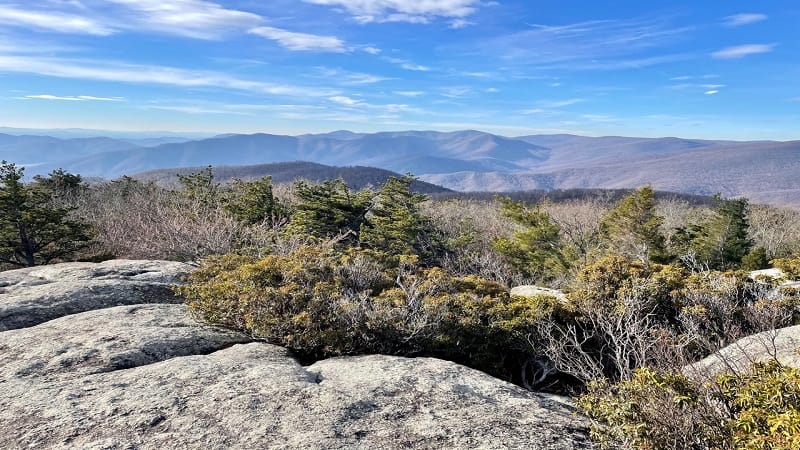 Re-trace your steps to the trail sign. Turn right to complete the loop. An out-and-back hike would be shorter, of course, but no thank you to scramble back down.
At the 4.5-mile mark, you'll reach Byrd's Nest Shelter. This is a day-use shelter with a picnic table. Turn right here to connect with the blue-blazed Saddle Trail.
In less than one mile, at the 5.4-mile mark, you'll reach Old Rag Shelter. This is another day-use shelter with a picnic table. There is also a vault toilet.
From here, turn right onto the Weakley Hollow Trail. This is a wide dirt hiking trail. It's also a relaxing break from the strenuous rock scramble earlier in the hike.
At the 6.0-mile mark, turn right at the large trail kiosk. From here, it's an easy walk along the gravelly yellow-blazed Weakley Hollow Fire Road.
Some may say it's a boring walk along this fire road, especially after the challenging and strenuous rock scramble. But, this fire road has a few surprises.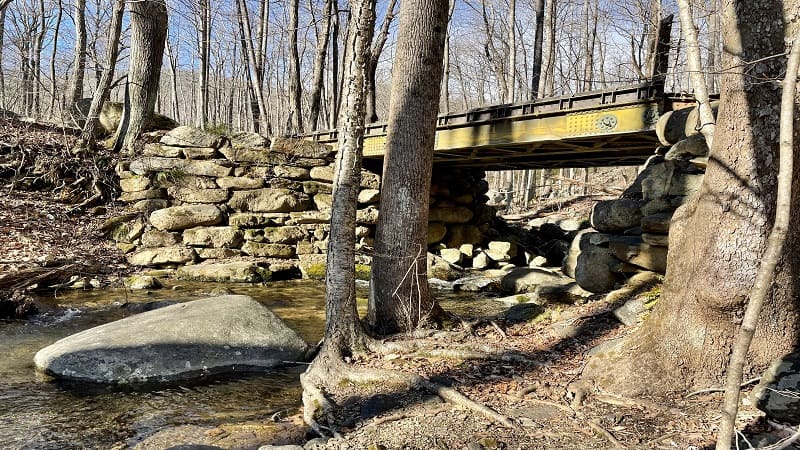 At the 7.3-mile mark, cross over Brokenback Run. You'll walk alongside cascading waters for the next mile. Several spurs allow you to get close to the water.
You'll cross back over Brokenback Run at the 8.3-mile mark. You'll actually cross over four different footbridges.
At the 8.5-mile mark, you may recognize the paved traffic circle from the previously routed hike. On the new route, you'll turn right at the trail kiosk.
From here, you walk uphill until the 9.0-mile mark when you close the loop. Turn left at the marker for the final descent along the Old Rag Trail to the parking area.
Old Rag Mountain Hike Options
From the Old Rag Trailhead, there are at least three alternatives to the rock scramble summit hike.
#1: No Rock Scramble + Summit Views
This out-and-back hike clocks in at 10.4 miles. It's longer, but it's a good option for those who want to reach the top but are not sure about the rock scramble.
Begin at the trailhead. Turn right at the marker at the .8-mile mark. At the 1.2-mile mark, turn left on Weakley Hollow Fire Road, then left on Saddle Trail.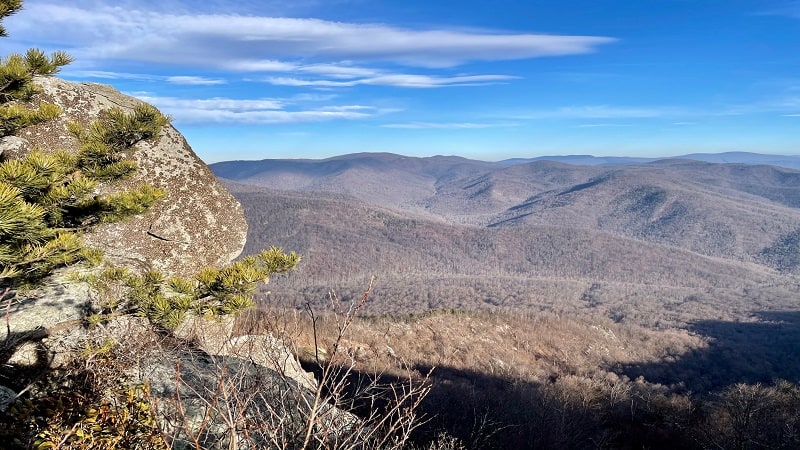 #2: No Rock Scramble + No Summit
I know, this sounds like nothing with no rock scramble and no summit views. Yet, there is a tremendous vista at the 2.6-mile mark, just ahead of the rock scramble.
Start at the trailhead, then turn left at the marker at the .8-mile mark. Continue until the vista, then re-trace your steps for this 5.2-mile out-and-back hike.
#3: Rock Scramble + Summit + Extra Mountain
I've not (yet) done this hike, but it's on my list. Scramble the rocks, savor the views, then hike the fire road until you reach a concrete marker at the 7.1-mile mark.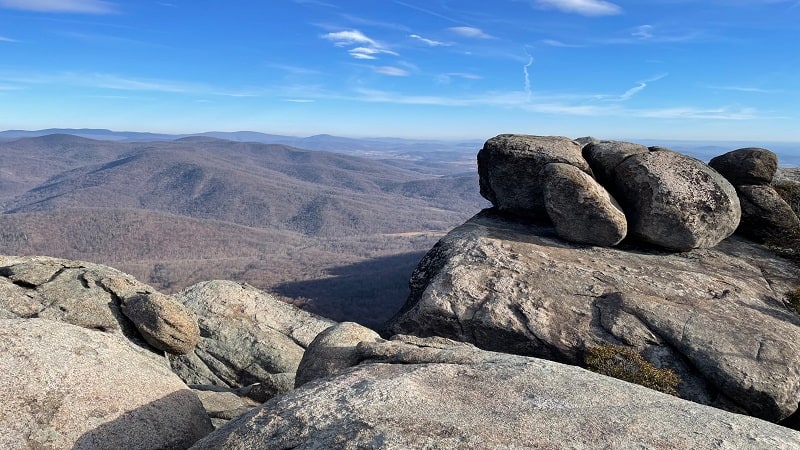 Turn left here onto the Robertson Mountain Trail. From here, the summit of neighboring Robertson Mountain is just 1.6 miles away.
Continue looping until you again reach Weakley Hollow Fire Road. Turn left to proceed to the parking area. This would be a 13.5-mile hike.
Old Rag Camping & Overnight Stays
The Old Rag hike is unquestionably one of the best Shenandoah hikes. Thanks to 360-degree views, some hikers opt to tackle an Old Rag sunrise hike.
Many also choose to overnight by camping near Old Rag or by staying at local bed and breakfast, lodge or hotel. Here are a few Old Rag overnight options:
#1: Graves Mountain Lodge
A short 20-minute drive from the Old Rag Trailhead, Graves Mountain Farm & Lodges in Syria is a nice full-service option.
Here you'll find a spacious campground for tents and RVs, as well as cabins and lodge rooms. There is also a restaurant that serves breakfast and dinner daily.
#2: Sharp Rock Vineyards
An easy five-minute drive from the start of the Old Rag Trail is Sharp Rock Vineyards at the foot of Old Rag Mountain in Sperryville.
There are three cottages on-site at this bucolic vineyard, winery and bed and breakfast. Plan to hike to the Old Rag summit, then sample local wines.
#3: Skyland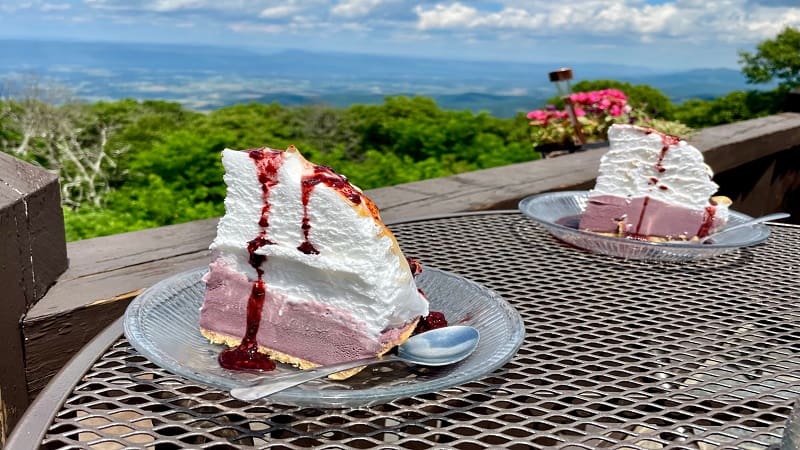 Overnight in a rustic cabin or modern guest room at Skyland. Located at milepost 42.0 on Skyline Drive, it's a 45-minute drive from the Old Rag parking area.
Skyland is not as close as the other options, but it is a good choice when you want to tackle several hikes. A favorite hike close to Skyland is the Millers Head Trail.
#4: Days Inn
A budget option in Luray is the Days Inn, though it's still about a 40-minute drive to the parking lot for Old Rag.
Make it a weekend with an exploration of Luray Caverns, which is less than five minutes by car from the Days Inn.
#5: Backcountry Camping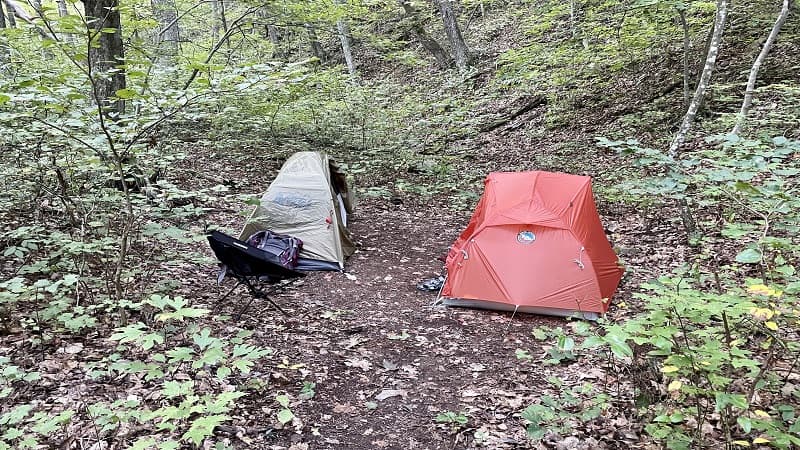 There is the option for backcountry camping near Old Rag, but note that a) you do need a permit and b) you must camp at an elevation at or below 2,800 feet.
Old Rag Mountain camping is not allowed at the summit. However, Shenandoah National Park has an Old Rag trip guide.
This guide suggests pitching a tent for a backcountry camping experience off the Berry Hollow Fire Road or Saddle Trail.
Wrap-Up Notes
From the parking area, it took me just over five hours to hike Old Rag, including time spent enjoying a snack with a view from atop Old Rag.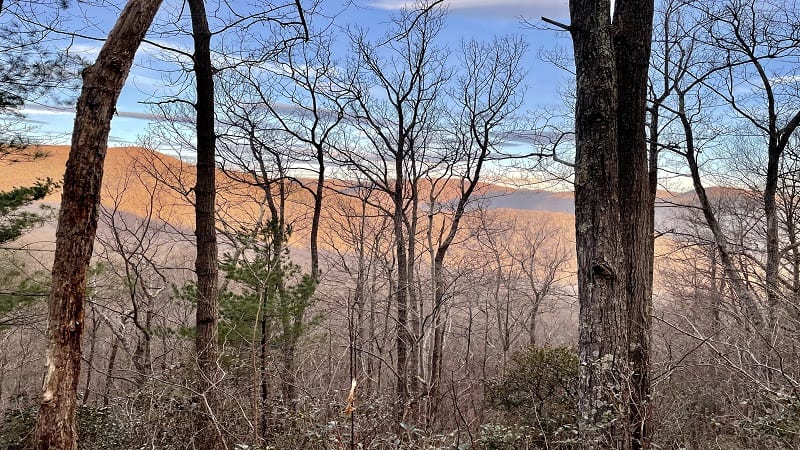 Hiking Old Rag is amazing in late-fall and winter when you can take in the mountain views through the leafless trees. It's also far less crowded.
I did this hike with a MeetUp group of about seven or eight people. Given the strenuous sections of rock scramble, I don't recommend doing this hike alone.