Big Devils Stairs: An Underrated Hike with Big Views in Shenandoah National Park
I had been eager to hike Big Devils Stairs in the North District of Shenandoah National Park. I checked off this hike this week. It was worth the wait, too.
I had read mixed reviews about the hike, so I kept putting this off, but this is a good year-round hike. I think it will be spectacular with fall foliage, too.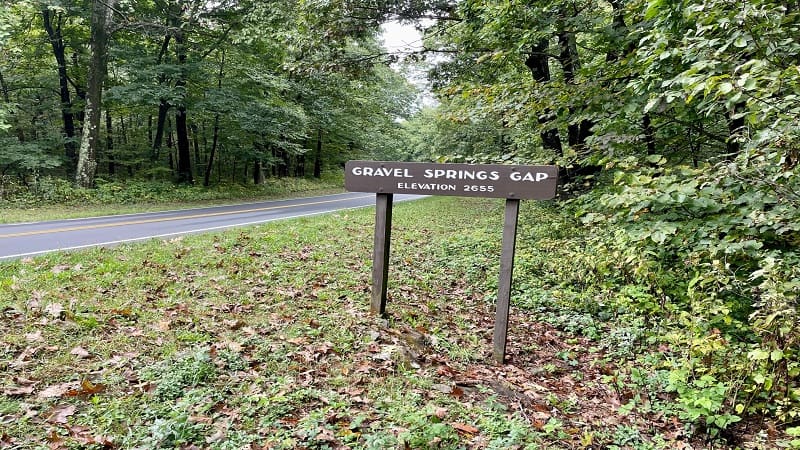 You can do this as a 5.2-mile day hike, only going to the overlook. Or, you can dig deep and tackle this as a 6.8-mile hike, ending at the gorge and stream.
For the latter, you'll take the Big Devils Stairs Trail to the park boundary. Keep in mind, however, that it's a long way down (so it's a long way back up, too).
| Trail Stats | |
| --- | --- |
| Length | 6.8 miles |
| Difficulty | Strenuous |
| Trail Type | Out-and-Back |
| Elevation Gain | 1,587 feet |
| Duration | 4-5 hours |
| Terrain | Mostly dirt trails |
| Dog-Friendly | Yes |
| Fee | $30 per vehicle (good for seven days) |
| Driving Directions | Click Here |
Gravel Springs Gap
For this hike, plan to park in the Gravel Springs parking area on the east side of Skyline Drive at milepost 17.7.
This is a fairly small parking lot, but there is still room for at least 10 to 12 cars to safely and legally park.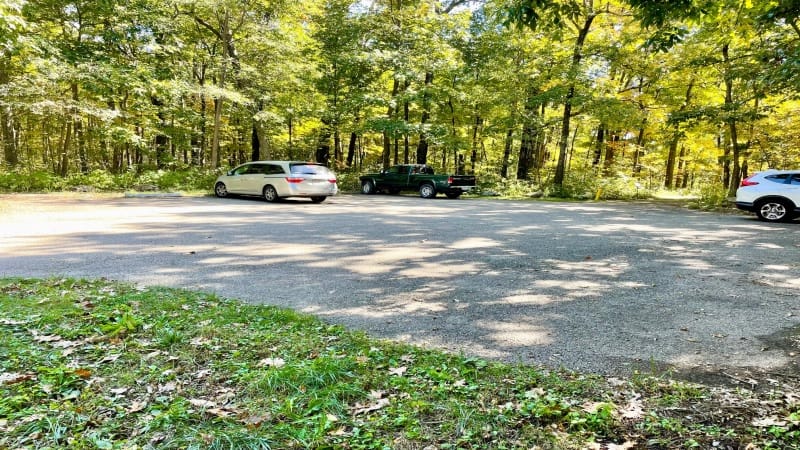 The hike begins on this side of the road, but not at the fire road (a gravel road), which is at the back of this small parking area.
Look to the right of the fire road and you'll see a concrete trail marker that marks the Appalachian Trail. The hike starts here, so start to head south.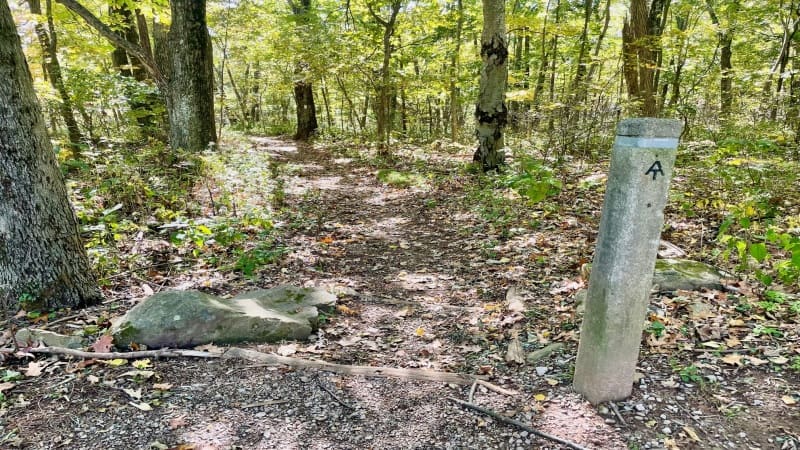 However, you won't be on the white-blazed Appalachian Trail for long. After just 0.1-mile, you'll turn left onto the blue–blazed Bluff Trail.
Gravel Springs Hut
Get ready to descend for 0.3 miles. You'll soon reach a T-junction. On the left is a concrete trail marker for a freshwater spring.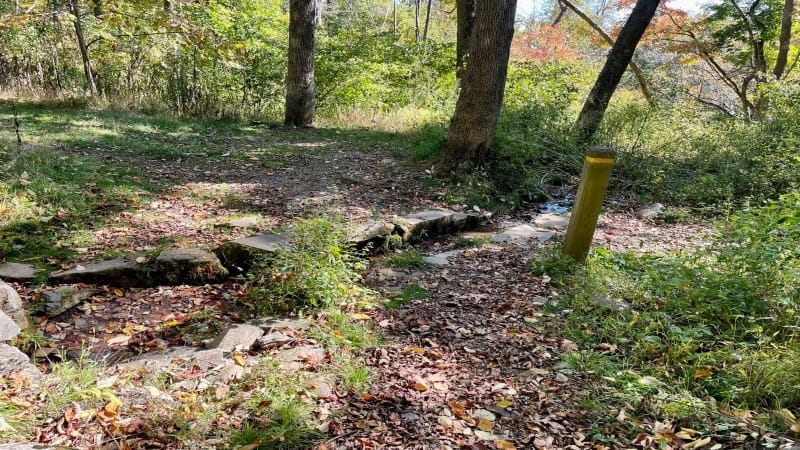 If you turn right, you'll be steps from the Gravel Springs Hut, a three-sided wood and stone shelter for hikers.
There is a picnic table, a privy, a food storage locker (to keep smellables away from black bears), a bear pole and five designated tent pads.
It's unusual for me to step foot on the same trail more than once, but I was at this same location two weeks ago on my Mount Marshall backpacking trip.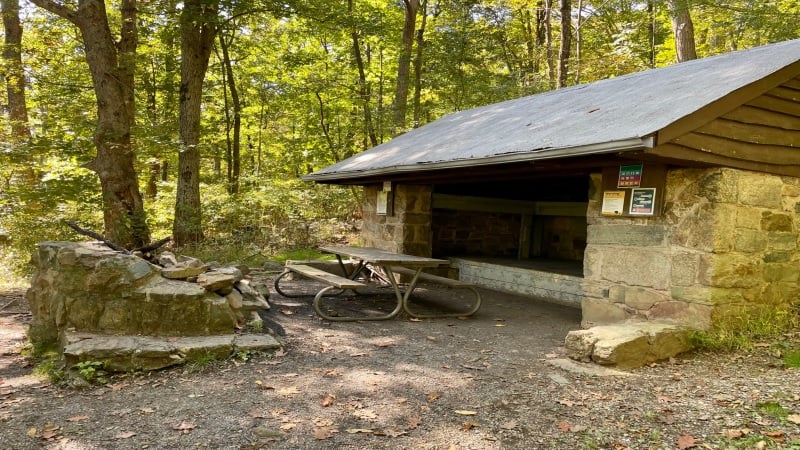 From the T-junction, if you turn left, then bear right when you see the concrete trail marker and the blue blaze on the tree, you'll be back on the Bluff Trail.
Bluff Trail
After a few steps, the blaze color changes from blue to yellow. You may also note that the trail is called the Harris Hollow Trail (as well as the Bluff Trail).
But, pretend like I said nothing. Just follow the yellow blazes and the markers that indicate that you are on the Bluff Trail. You will be on the right track.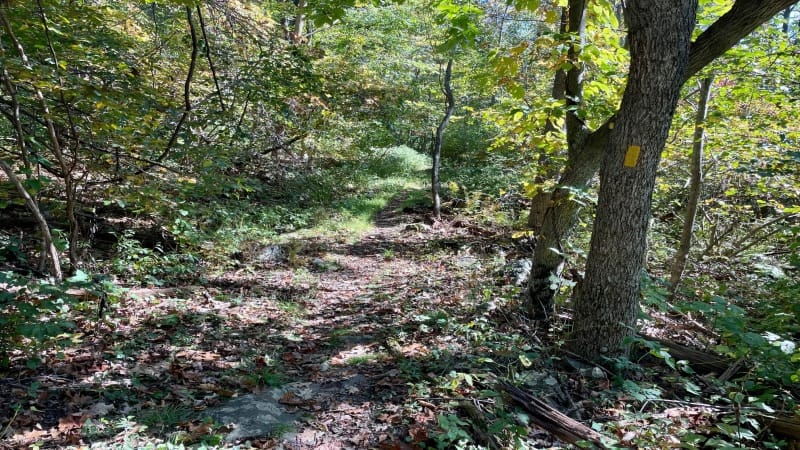 From here, it's a leafy, serene walk in the woods. There's not much to see, just lots of trees and greenery. It's rather calm and Zen-like.
It's a mild descent, but it's hardly noticeable. At the 1.9-mile mark, there is a trail junction. Make a sharp right turn for the blue-blazed Big Devils Stairs Trail.
Big Devils Stairs Trail
The Big Devils Stair Trail is 1.5 miles (one-way), but you'll reach the overlook on the canyon rim within the first 0.6 miles. It can be easy to miss, too.
That seems weird right, to think that you could miss a big rocky outcrop. Honestly, I might not have noticed it had I not heard a couple of male voices.
At the 2.5-mile mark, you kind of hit a hard stop. You won't see another blue blaze. To the left, you'll see a disappointing, obscured overlook.
You may think that's what you hiked all this way for, but it is not (phew). Look right to see a small rock scramble that leads to the east rim of the canyon.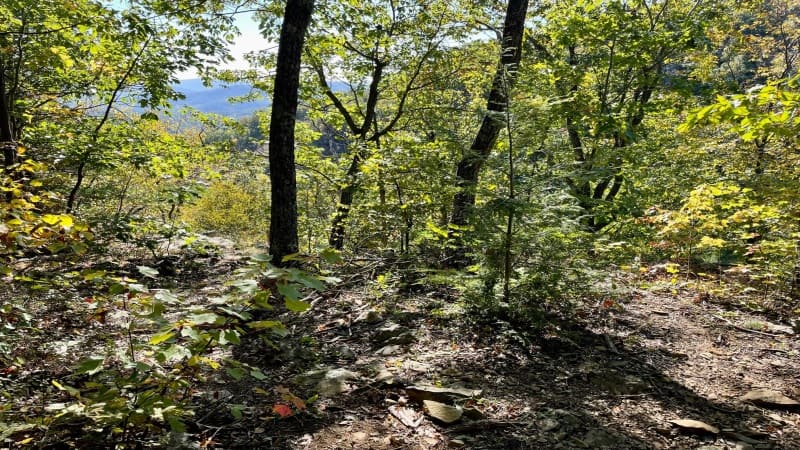 Scramble down and the trees open up to a big view across the valley, mountains and down into the gorge (just don't lean too far out into the gorge).
The rocky outcropping is large enough to settle in on for a lunch break with a view. To the left you'll see a blue blaze as the trail descends into the gorge.
A lot of hikers turn around here, but that would be a mistake. This is a great view, but the best view from a second overlook is just 0.1-mile down the trail.
If the view was your end-goal, then this is your turn-around point. Fuel up and re-hydrate for the ascent back up the wooded trail to Gravel Springs Gap.
Bottom of the Gorge
If you continue on to the bottom of the impressive gorge, know that it will be a steep descent. But, that makes sense, right? It is a gorge.
In late-fall or early-winter, when there are many leaves on the trail, stay fleet of feet. An abundance of leaves can make the hiking trail slippery.
As you follow the blue blazes, you'll walk along the ridge of the canyon, but only for a short distance before the trail meanders through the woods.
In the woods, you may encounter a few blowdown trees. Thankfully, the blowdowns have largely been cut away, so they were a cinch to navigate.
There are no other views as you continue down to the gorge, which you will reach at the 3.4-mile mark.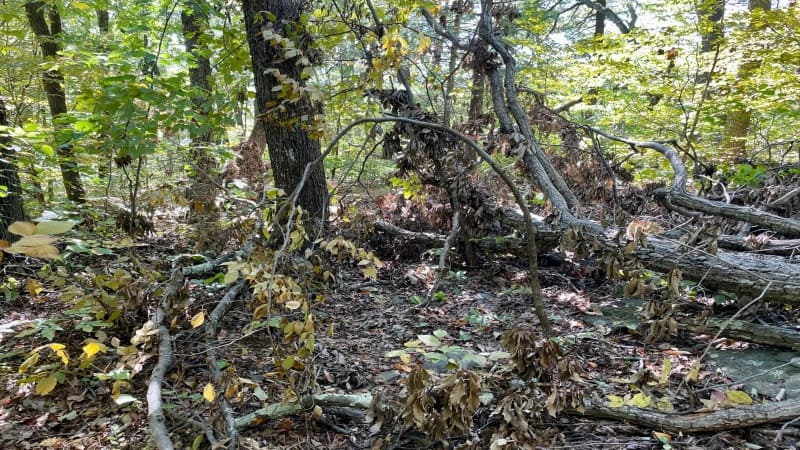 Shortly, you may think you have arrived at a stream crossing. Actually, the trail ends at a small, cascading stream. If you cross, you may see barbed wire.
A few steps past the stream is private property. Here you are on the very edge of the east side of the national park.
There is no concrete marker to mark the end of the Big Devils Stairs Trail. Some hikers have indicated an end-trail marker, but it's no longer there now.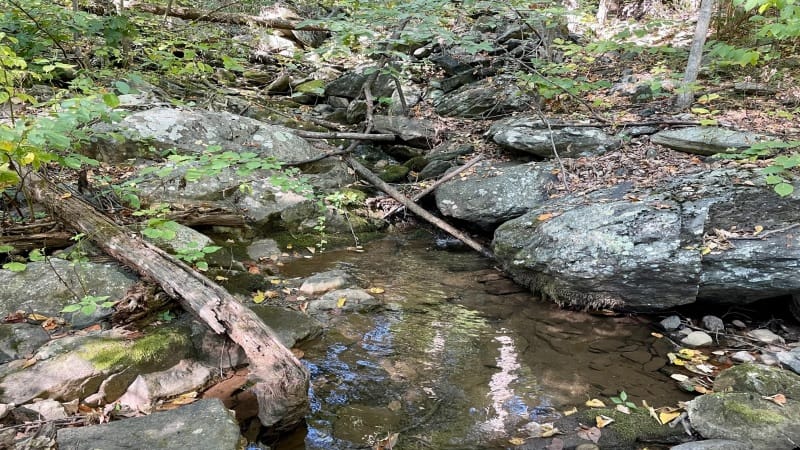 The stream was not flowing much when I was there, but it was still nice to sit and chill for a bit before the steep climb up the Big Devils Stairs Trail.
When you're ready, re-trace your steps all the way to the Gravel Springs parking area for a 6.8-mile out-and-back hike.
Wrap-Up Notes
From the trail head, this North District hike took me nearly three hours round trip. Here's a short video I created of the Big Devils Stairs hike.
If you are up for the climb (a 1,500+ foot elevation gain), the Big Devils Stairs hike is a great hike, regardless of whether you go all the way to the gorge.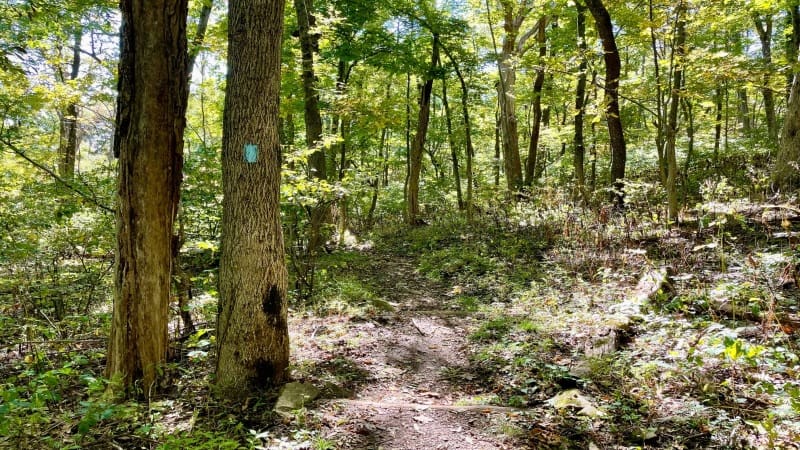 It's also a largely underrated hike. I rarely hear of anyone tackling this trail, but it's a wonderful hike that's great for big views and quiet reflection.
Another great hike at Shenandoah National Park with a similar name is Little Devils Stairs. This hike boasts a gorge, as well as much more flowing water.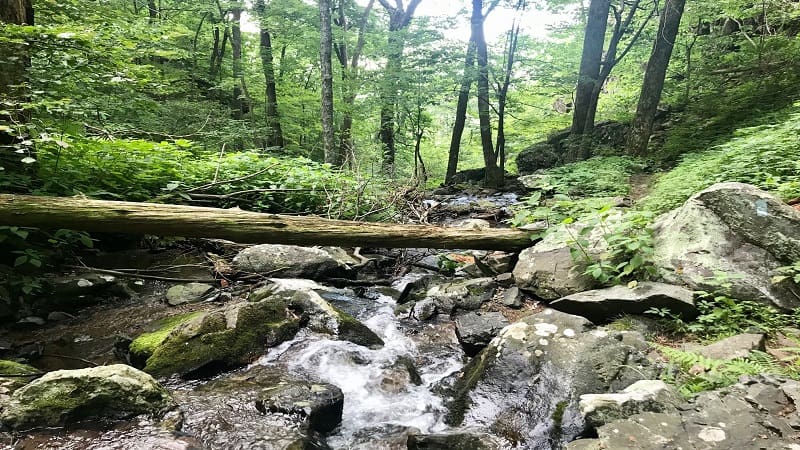 This hike is a favorite thanks to a family cemetery, a small waterfall (or two or three) and a stream crossing (make that, more than a dozen crossings).