Crescent Rock: An Easy Hike to a Scenic Overlook at Shenandoah National Park
I was eager to get back to Shenandoah National Park, so I set off on the 3.3-mile out-and-back hike to Crescent Rock Overlook in the park's Central District.
In late-August, I hiked the Limberlost Trail, a fully-accessible trail that can be reached by way of a parking area at milepost 43.
About half-way into the hike, I spotted (and was intrigued by) a trail marker for the blue-blazed Crescent Rock Overlook.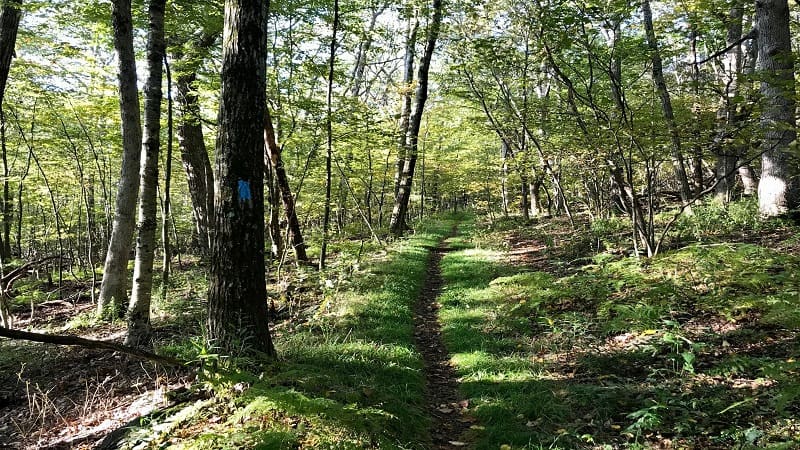 My time was limited that day, so I jotted down a quick reminder to hike to the Crescent Rock Overlook another day.
Interestingly, the Crescent Rock Overlook can also be reached by car. I had no idea. There is a sizeable parking area at milepost 44. Who knew? Not me.
| Trail Stats | |
| --- | --- |
| Length | 3.3 miles |
| Difficulty | Easy |
| Trail Type | Out-and-Back |
| Elevation Gain | 466 feet |
| Duration | 1.5-2 hours |
| Terrain | Crushed greenstone, then mostly dirt & gravel trails |
| Dog-Friendly | No |
| Fee | $30 per vehicle (good for seven days) |
| Driving Directions | Click Here |
Crescent Rock Trail
Once you park your vehicle in the lot that has room for 10 to 12 vehicles, make your way to the Limberlost Trail sign. This is your starting point.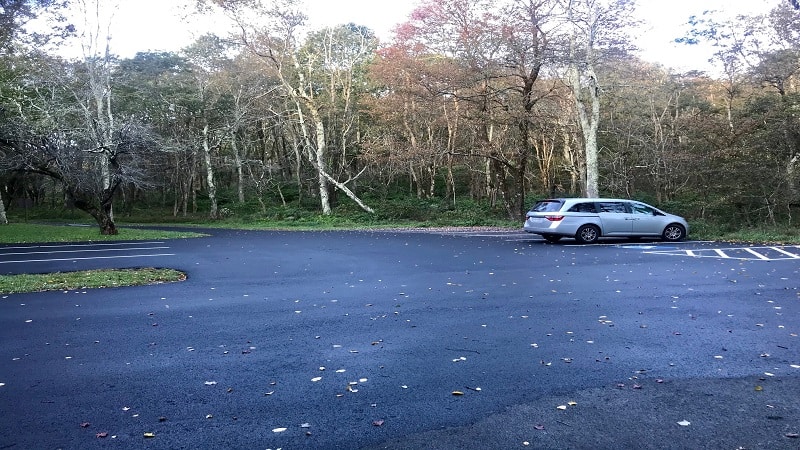 For the first .5-mile of this hike, you will follow the Limberlost Trail, which guides you along a wide, leafy trail that is accessible to those of all abilities.
Wooden benches appear nearly every .05-mile, then you'll cross a short section of boardwalk trail at the .45-mile marker.
In a few more steps, turn right at the concrete trail marker for the Crescent Rock Trail.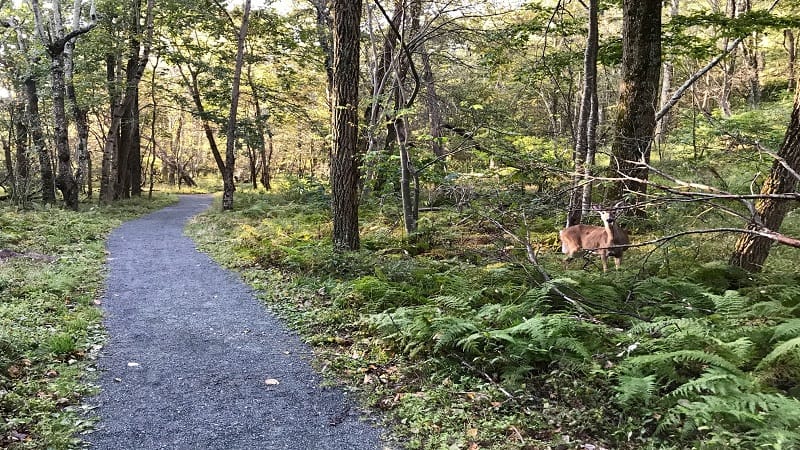 From here, the trail narrows. The trail gently ascends into a serene forest of hemlocks and spruce trees. Smooth logs built into the trail serve as steps.
You can tell that this trail sees fewer footsteps, but that's what makes this one-mile stretch of trail a delight. There's not the constant brush of hikers.
Skyline Drive
Just past the 1.5-mile mark, you reach Skyline Drive. A trail marker is on the left, but it does not tell you which way to go for the Crescent Rock Overlook.
From here, you need to turn right (north) on Skyline Drive. You will see an unmarked side road once you're walking north. Turn left onto this road.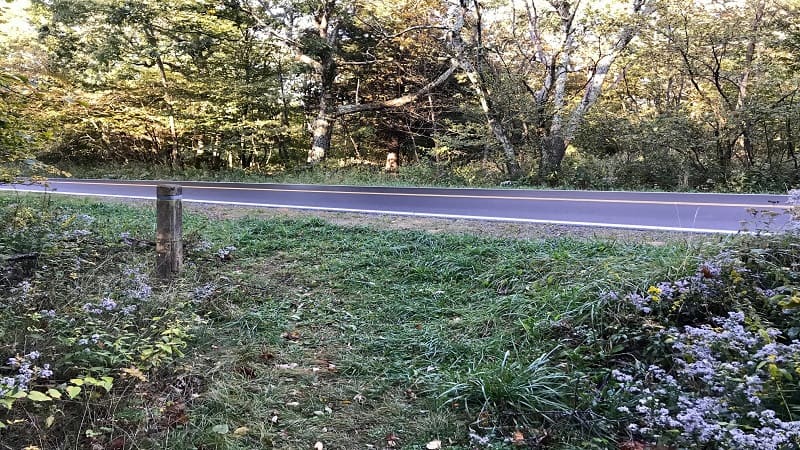 In a few more steps, you'll see the overlook just ahead. This is when I realized you can also get here by car. You will be at the scenic overlook at the 1.65-mile mark.
Crescent Rock Overlook
Ahead of the overlook, a trail sidles up on the right. This is the Appalachian Trail, which offers another way to reach the Crescent Rock Overlook.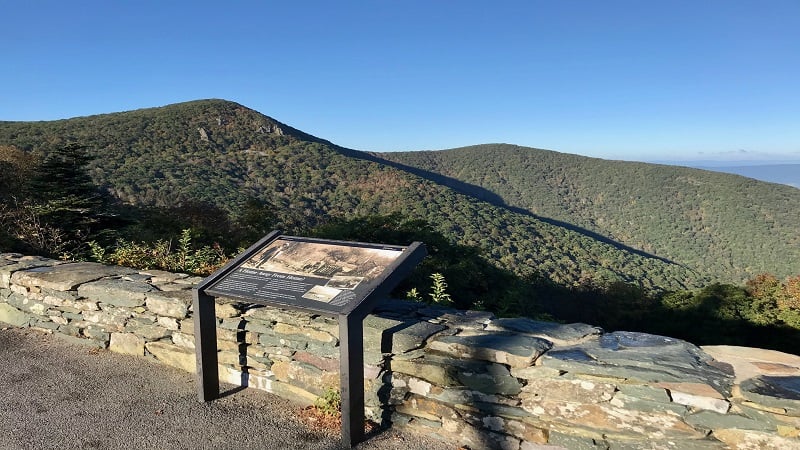 Since this is an out-and-back hike, simply re-trace your steps to the parking area to return to your vehicle.
I really liked this trail and overlook because it's a good option when visiting Shenandoah National Park with hikers of varying abilities.
For those who can handle an ascent on a dirt trail over rocks and roots, go ahead and hike the 1.65-mile one-way route to Crescent Rock.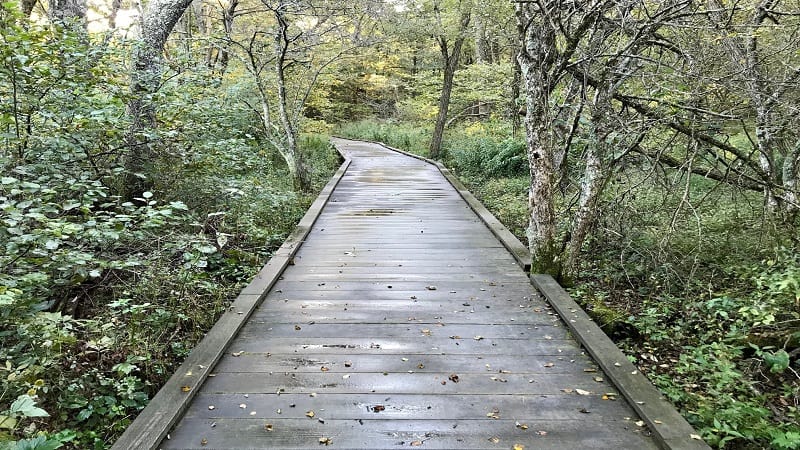 Those with strollers, wheelchairs or more limited abilities, stroll the easy 1.3-mile loop along the Limberlost Trail.
When finished, pile back into the car and drive south on Skyline Drive to milepost 44 for the Crescent Rock Overlook to meet up with the rest of your group.
This way, everyone wins. Those who want to hike can hike. Those who want to stroll can stroll. Everyone can savor the scenic views of Massanutten Mountain.
Hike Options
For a slightly longer hike, re-trace your steps from Crescent Rock Overlook to the Limberlost Trail.
Instead of making a left, turn right to continue around the loop. This will make the total hike 3.6 miles.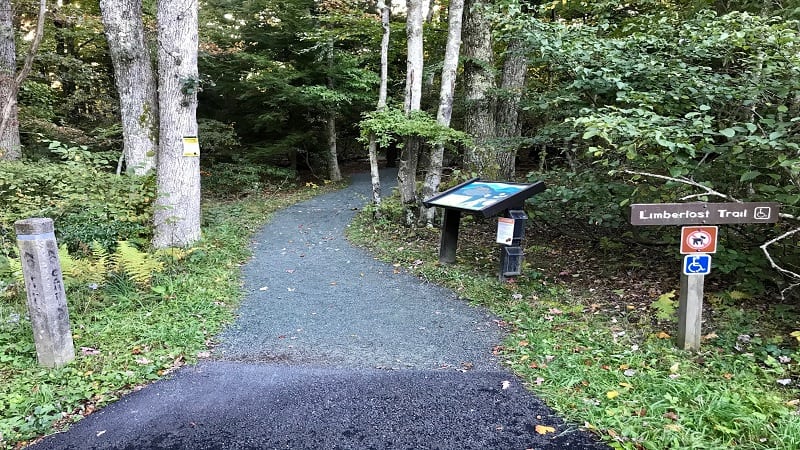 For a shorter hike, opt for the 1.3-mile Limberlost Trail, which shares a trailhead.
Instead of turning right at the .5-mile mark for the Crescent Rock Trail, continue around the loop to complete the Limberlost Trail.
Wrap-Up Notes
From the parking area, this out-and-back hike took me nearly 1 hr, 15 minutes to complete, including adequate time to savor the views at the lookout point.
The parking area is a short drive from Skyland Resort, which is north on Skyline Drive. At Skyland, you'll find a full-service restaurant and grab-and-go snacks.