15 Best Hikes Near Waynesboro, Virginia
There are so many incredible hikes near Waynesboro, Virginia, including hikes for all levels along the Blue Ridge Parkway and at Shenandoah National Park.
Wintergreen Resort is also a short drive from Waynesboro. This four-season resort has lots of hiking trails that wow with cascading falls and big views.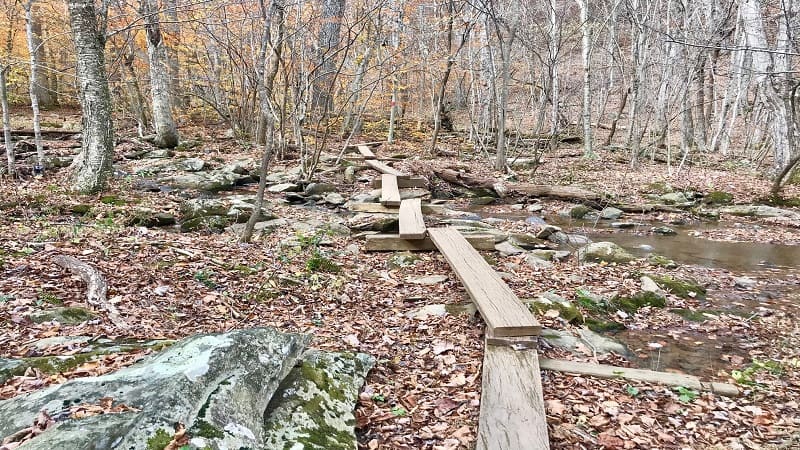 It's hard to go wrong with hiking trails near Waynesboro. As a bonus, there are plenty of hotels, breweries and restaurants in-town, so go stay the weekend.
Hikes Near Waynesboro, Virginia
To make it easy for you to navigate, I've organized hikes by difficulty level so you know what you're getting into before you step foot on the hiking trails.
For each of the hikes below, I also share what's to love and how far each one is from Main Street in Waynesboro. Get ready for some really good hiking.
Easy Hikes
For a relaxing walk to a scenic meadow or a cascading waterfall, even a walk through a historic train tunnel, these hikes near Waynesboro are just for you.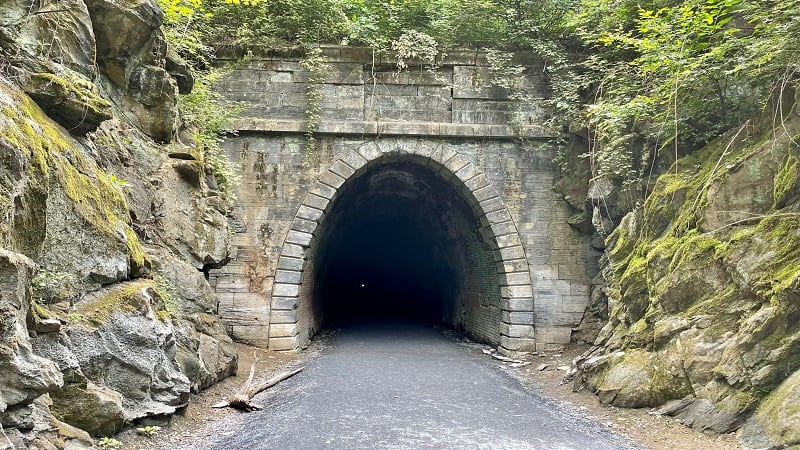 This 4.6-mile round-trip tunnel hike leads visitors through a historic railroad tunnel from the 1850s. Don a headlamp. It gets very dark in the Blue Ridge Tunnel.
Map to the East Trailhead for the Blue Ridge Tunnel Trail in Afton, which has a large parking area. This is your best bet. It's also the starting point for most hikers.
This popular trail located under Rockfish Gap opened up to visitors in November 2020 and has been seeing record numbers of trail-goers ever since.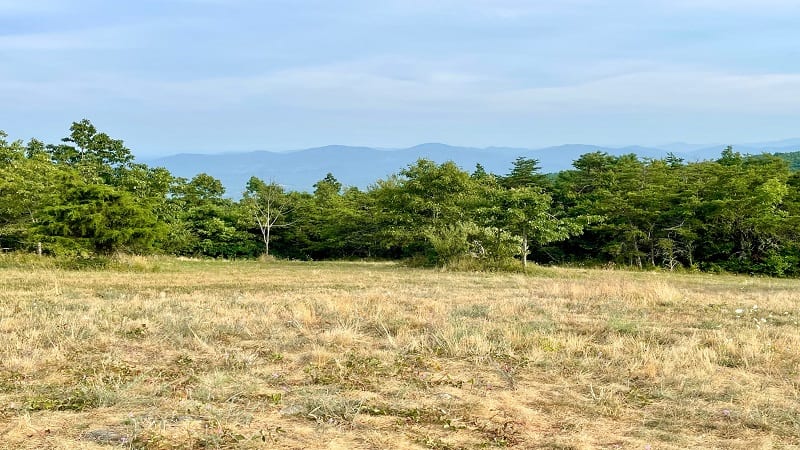 The out-and-back hike to the summit of Little Calf Mountain is short and sweet. At just 1.7-miles, it's a nice hike to end the day if you want to squeeze in one more.
This hike is a stone's throw from the Rockfish Gap entrance of Shenandoah National Park. It's an easy one to do if you're spending time in Waynesboro.
The summit of Little Calf Mountain is not a rocky outcrop, but rather a lovely meadow. The scenic views are eye-pleasing, especially at the end of a long day.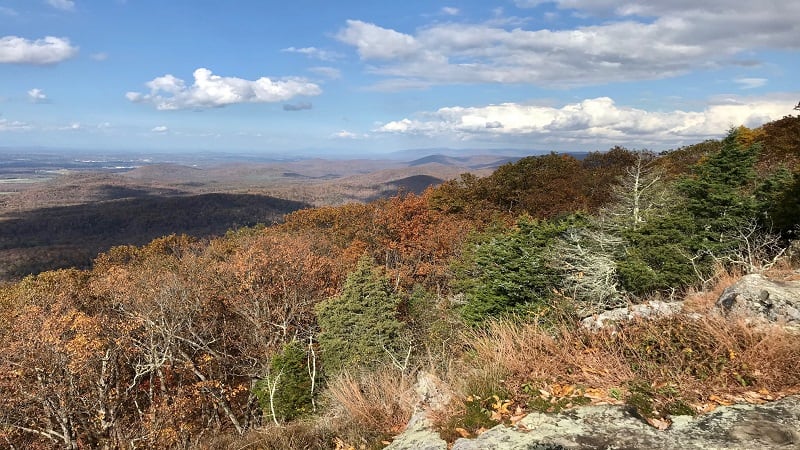 The Dripping Rock South hike begins across the Blue Ridge Parkway from the Dripping Rock parking area (more a pull-out than a parking lot).
The 2.8-mile out-and-back hike guides visitors along a wooded southbound slice of the Appalachian Trail. Get ready be wowed by two scenic overlooks.
The Cedar Cliffs overlook comes into view at the .5-mile mark. A second overlook is at the 1.4-mile mark and serves as the turn-around point for this hike.

The Paul's Creek Trail is on the far end of Wintergreen Resort. It's so peaceful you may feel like you're the only one who knows about this 1.2-mile hike.
It's a calming walk through the trees before you need to skip on rocks over a burbling creek. Then, a cascading waterfall. Ah, serenity.
The trailhead for this hike is at the end of Paul's Creek Court. Be sure to savor the natural water slides as they stream into the cold basin of creek water.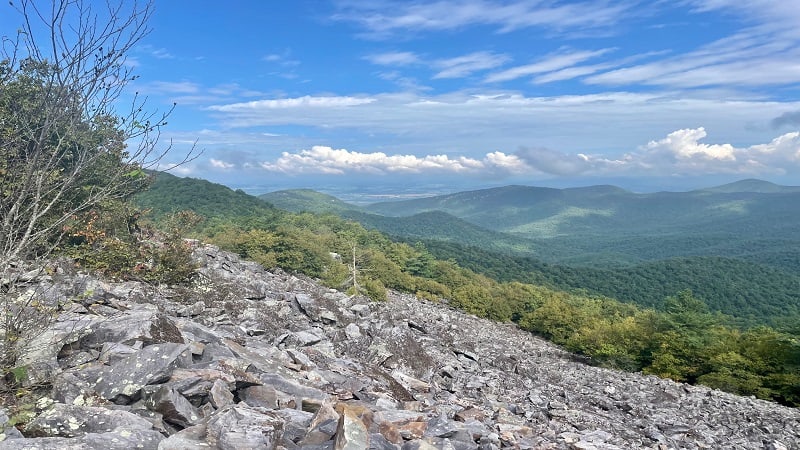 The hike to Blackrock Summit at Shenandoah National Park is an easy hike to love. It's also an easy hike, and one that awes with a massive field of black rocks.
Wide-open views across the Shenandoah Valley make this 1.8-mile hike a winner. The hike also includes a short stretch of white-blazed Appalachian Trail.
A spur trail through a field of boulders leads to the Trayfoot Mountain Trail. Scenic vistas, which include Trayfoot Mountain, are even more sensational.
Moderate Hikes
These hikes near Waynesboro are between two and five miles. There's more elevation, but also more scenic views, rock scrambles and tumbling waterfalls.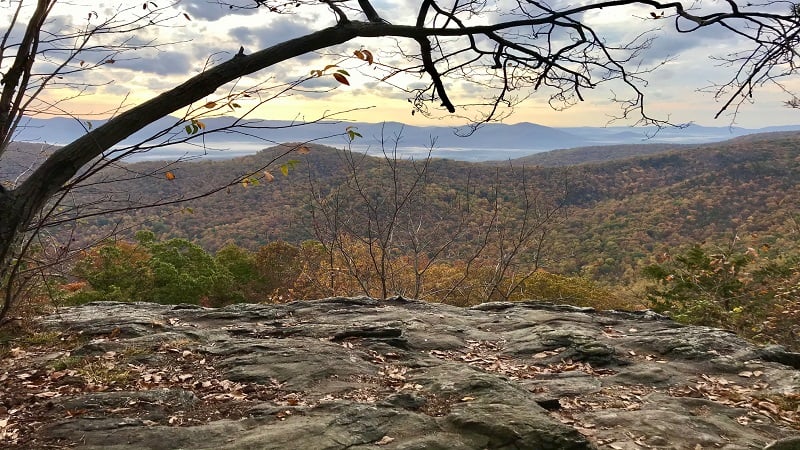 The 3.8-mile hike on the Jack Albright Loop (also known as Dobie Mountain) shares a parking lot with the Humpback Rocks hike. Plan to arrive early.
The Glass Hollow Overlook at the 1.0-mile mark (counter-clockwise route) awes with panoramas across the Blue Ridge Mountains and Rockfish Valley.
Look out for the remains of a 1960s plane crash – a Beechcraft Bonanza. What's left of the wreckage is on an unmarked spur trail at the 2.5-mile mark.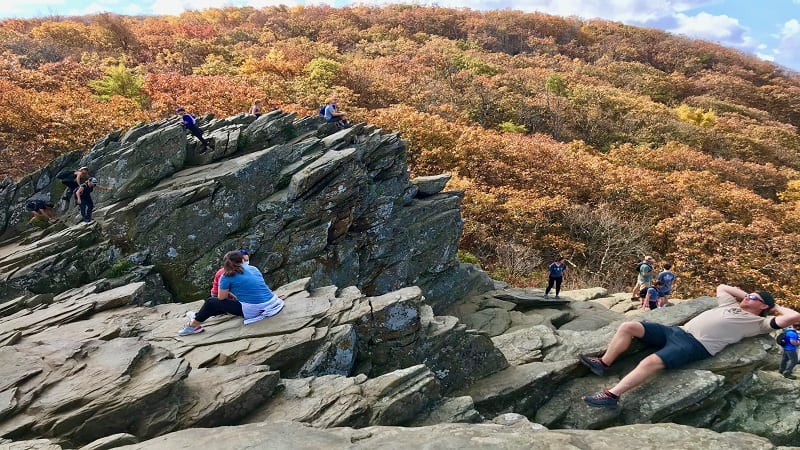 Whether you take on Humpback Rocks as a 4.3-mile loop or a 2.0-mile out-and-back hike, you're sure to be inspired by 360-degree vistas.
The ascent is not for the faint of heart. Thankfully, several benches and a wooden staircase ease the climb to the very top where vistas are plentiful.
On the way down, re-trace your steps or follow a forested stretch of white-blazed Appalachian Trail on your return to the Humpback Gap Overlook parking area.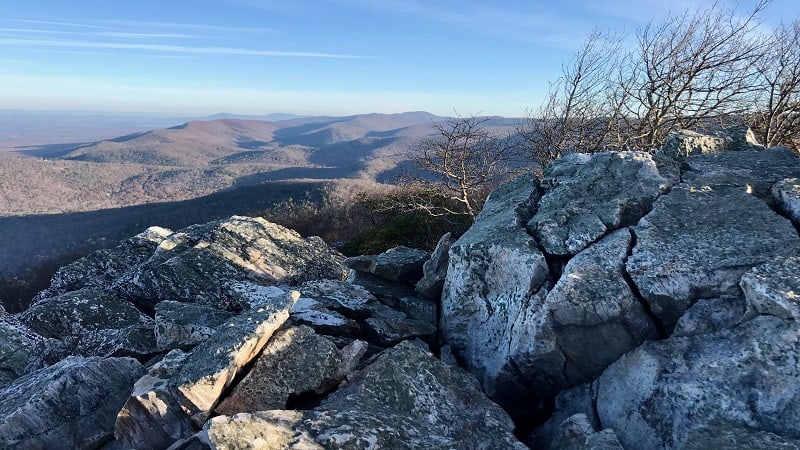 The Turk Mountain hike begins across Skyline Drive from the Turk Gap parking area at Shenandoah National Park.
This 2.5-mile out-and-back hike is not especially steep for a summit hike. Get ready to be awed by rock scrambles, forested trails and mountain views.
Listen closely. You may hear a train whistle in the distance. The Amtrak train choo-choos through nearby Staunton in the Shenandoah Valley.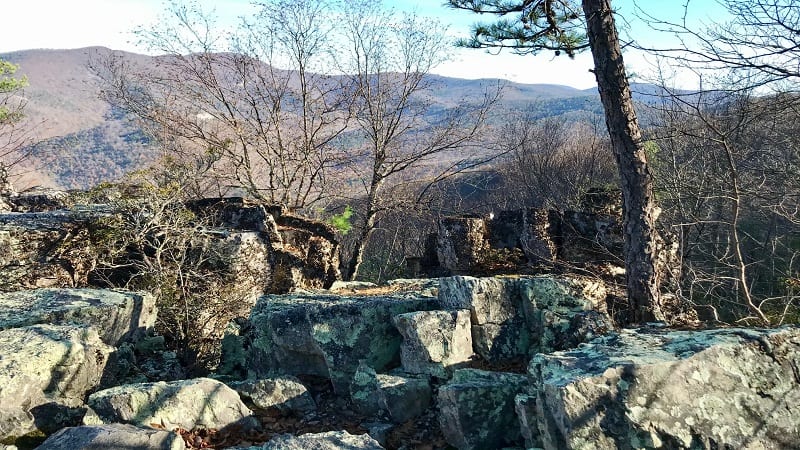 This 3.2-mile out-and-back hike is a two-for-one deal for rock hounds, exposing eager hikers to both Calvary and Chimney Rocks.
It's kind of a three-for-one deal given all the mid-size and large rocks you'll see as you pass through a talus slope at the mid-way point on this hike.
Calvary Rocks is a mystical wonderland of gigantic rocks to scramble for wide-open vistas. Chimney Rock is a scenic overlook with lots of flat top rocks.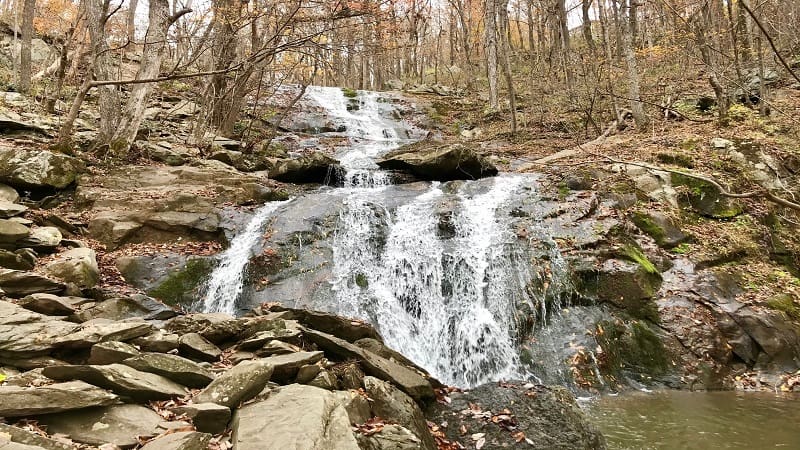 A moderate 2.9-mile out-and-back hike to cascading Upper Shamokin Falls begins from a trailhead on Laurel Springs Drive at Wintergreen Resort.
There are lots and lots of rocks to scramble at the base of the falls and on either side of Stoney Creek as it tumbles along to Lower Shamokin Falls.
This hike begins on the Old Appalachian Trail, but a shorter .8-mile hike to the falls also starts further along Laurel Springs Drive, just past Weeping Rock Lane.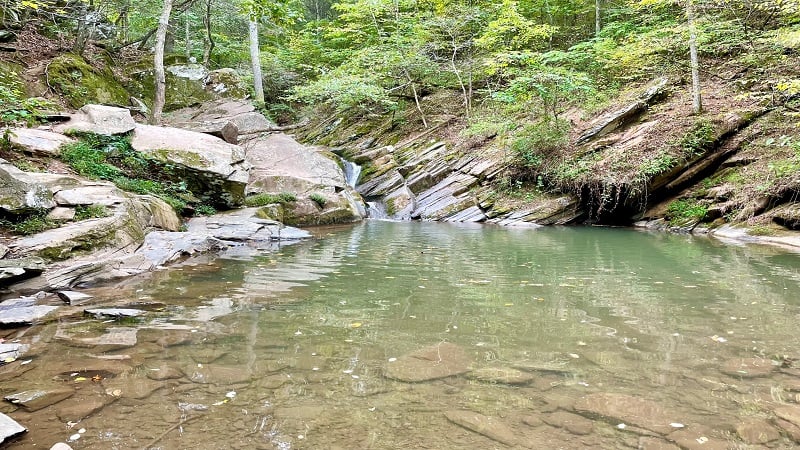 This 3.1-mile southbound out-and-back hike begins from the parking area for Sugar Hollow Reservoir, guiding hikers into Shenandoah National Park.
You'll slowly ascend alongside the South Fork Moormans River until you reach the Blue Hole, a magical swimming hole that's especially popular in summer.
A small cascading waterfall fills the basin for a cooling splash. An easy rock scramble leads to the water's edge. There are lots of rocks to sit on, too.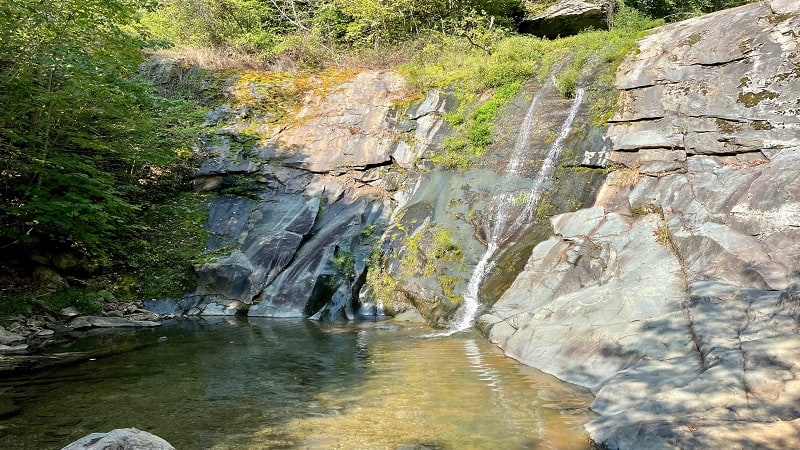 This 4.7-mile northbound out-and-back hike also begins from the parking area for the Sugar Hollow Reservoir. The hike starts at a red gate on the lot's west side.
This forested hike to Big Branch Falls follows the North Fork Moormans River and wows with several easy river crossings along the way to the falls.
At the 2.2-mile mark, a blue-blazed spur trail leads to Big Branch Falls. There is a gently-flowing waterfall as well as a small yet refreshing swimming hole.
Strenuous Hikes
For a real challenge, as well as really big views, these ambitious hikes near Waynesboro are for you. Bring plenty of water to keep yourself hydrated.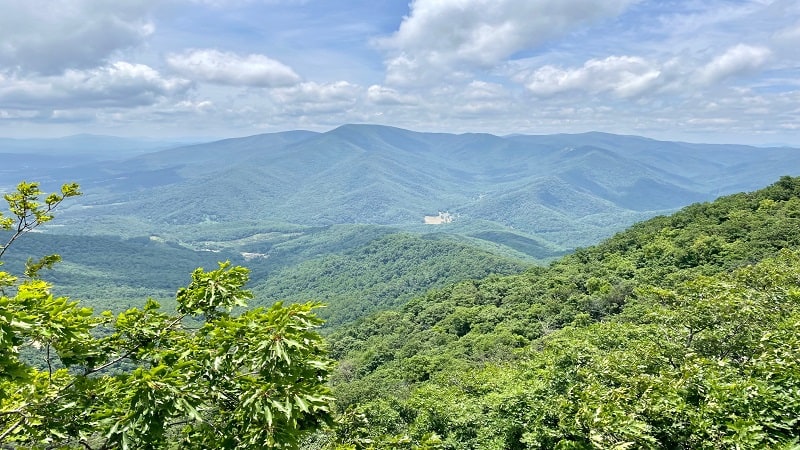 The 15.0-mile loop hike across Three Ridges Wilderness is both extraordinary, and at times, extraordinarily challenging.
If you're not in the mood for a 15-mile hike, there are several scenic options. From the trailhead at Reeds Gap, it's just .8 miles to a spectacular overlook.
Alternatively, the best viewpoint of this hike is at the 3.8-mile mark. Enjoy your day hike lunch, then re-trace your steps for a 7.6-mile out-and-back hike.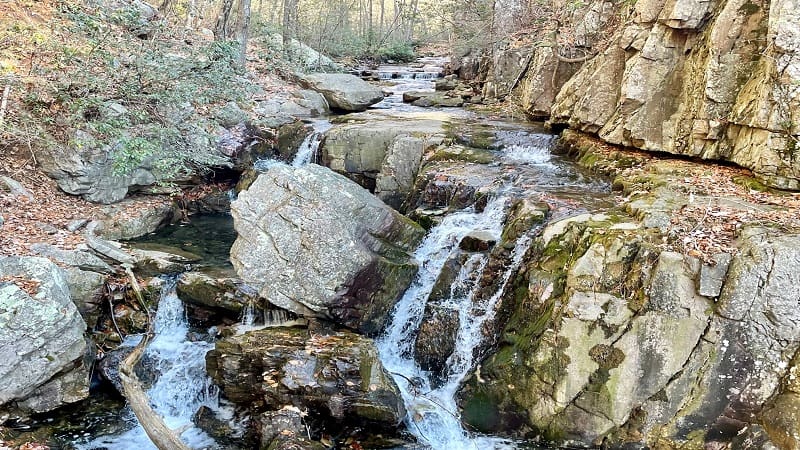 The 9.8-mile Riprap Loop shares a trailhead with Calvary and Chimney Rocks. The loop includes the Appalachian Trail, Riprap Trail and Wildcat Ridge Trail.
I suggest a clockwise loop to save the rewarding overlooks, water crossings and cascading falls, even a swimming hole, for the latter half of this hike.
You'll reach Chimney Rock at the 8.1-mile mark. Sit on a flat top rock to revel in the mountain views. From here, it's less than two miles to the end of the hike.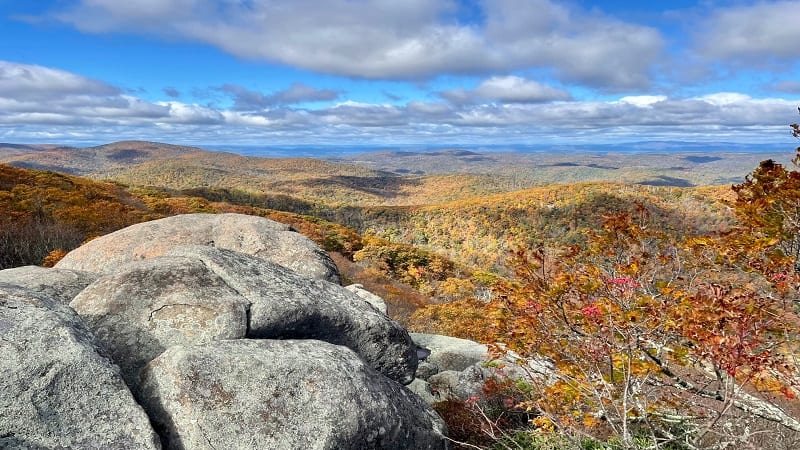 With an elevation of 4,063 feet, The Priest is the highest point in Nelson County. It also asks that hikers climb more than 3,000 feet to reach the top.
The full 9.0-mile hike is on a southbound stretch of the Appalachian Trail. At some points, you may feel that the trail is unrelenting, but you will be rewarded.
To reach the summit, you'll navigate more than 30 switchbacks. Thankfully, the far-reaching panoramas are beyond your wildest dreams.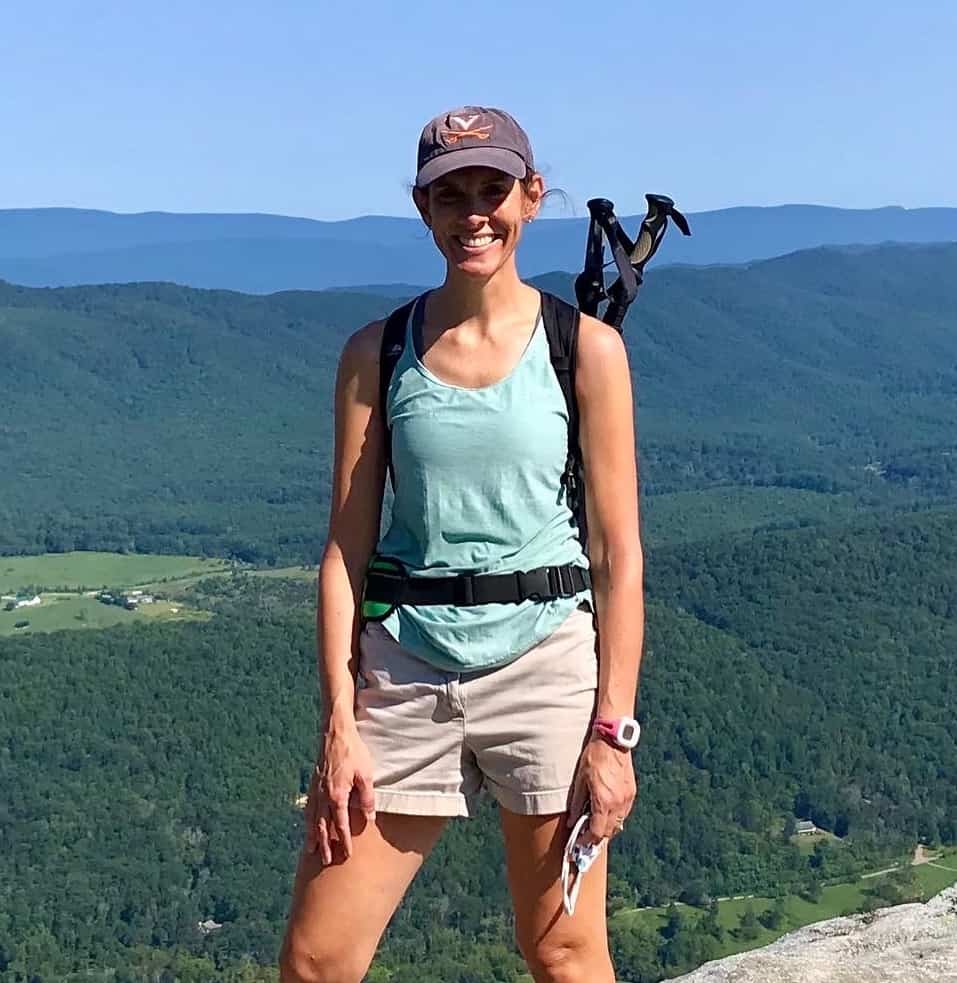 Erin Gifford is the editor of Go Hike Virginia. She has completed more than 300 hikes in Virginia. She is also the author of three hiking guidebooks from Falcon Guides. Need help finding a hike? Check out the Trail Finder feature or send Erin a message.