15 Best Hikes Near Middleburg, Virginia
Middleburg may be best known as Virginia's Horse Country, but you'll find lots of beautiful scenery and great hiking near Middleburg, Virginia, too.
You may event want to book an overnight stay, maybe at the Goodstone Inn or Salamander Resort & Spa, to enjoy all the Middleburg area has to offer visitors.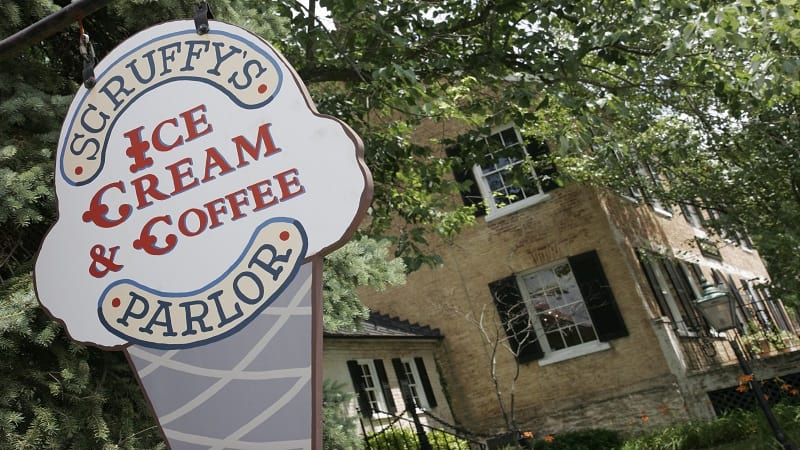 On Washington Street, look for the National Sporting Library & Museum, King Street Oyster Bar and a delightful scoop shop called Scruffy's Ice Cream Parlor.
Stroll historic sites, like the nearby Aldie Mill, go horseback riding or check out equestrian events, like the Middleburg Spring Races.
Hikes Near Middleburg, Virginia
To make it a cinch to navigate, I've organized hikes by skill levels, so you can maximize your chances of having a great time on the hiking trails.
For each of the hikes below, I also share what's to love and how far each one is from Middleburg. From the Red Fox Inn on Washington Street, to be exact.
Washington Street is the main street that runs the length of this historic town. It's also home to fine art galleries, fabulous restaurants and quaint coffee shops.
Easy Hikes
For a gentle walk in the woods, across a nature preserve or in a state forest, these hiking trails near Middleburg do not disappoint.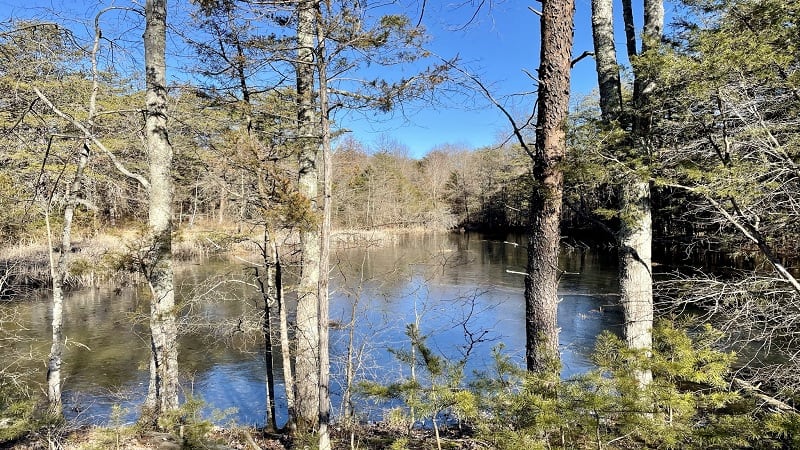 Leopold's Preserve is a 380-acre nature preserve that surrounds Villages of Piedmont, a community of single-family homes and townhomes in Haymarket.
Plan to cross wooden boardwalks, stop for gentle creeks and streams, climb atop tree stumps, observe wetlands and read up on the wonders of nature.
There are seven miles of easy and scenic nature trails. The nature trail loop is 4.7 miles and encompasses the entire neighborhood.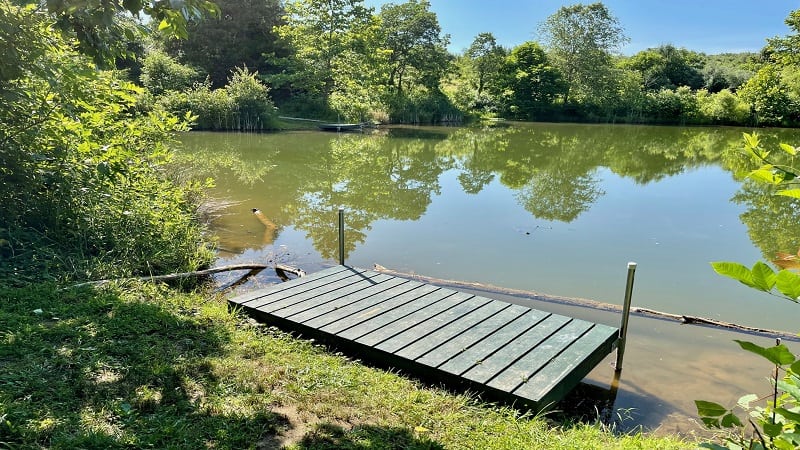 More than 20 miles of hiking trails criss-cross 695-acre Banshee Reeks Nature Preserve, which includes ponds, streams, fields and forests.
It's easy to create-your-own hike by piecing together several hiking trails. You could probably hike here every day and not ever complete the same hike twice.
This natural area is closed on Mondays and Fridays, as well as on public holidays. The park opens at 8 am every day; closing time varies by season.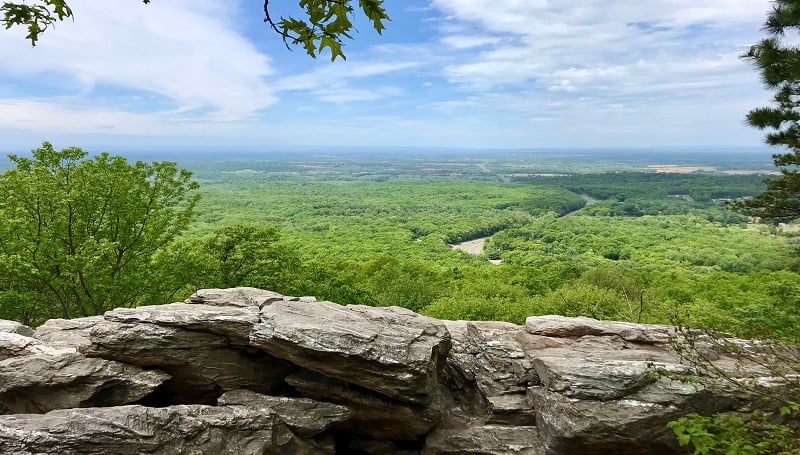 The hike to Bears Den Overlook takes visitors along a delightful, shady stretch of the iconic, white-blazed Appalachian Trail.
But first, plan to walk along a .3-mile blue-blazed spur trail from the large parking area to connect with the Appalachian Trail for the Bears Den hike.
From here, it's a short walk to the ever-popular Bears Den Overlook. Plan to navigate tree roots, boulders, wildflowers and rocky terrain on the way.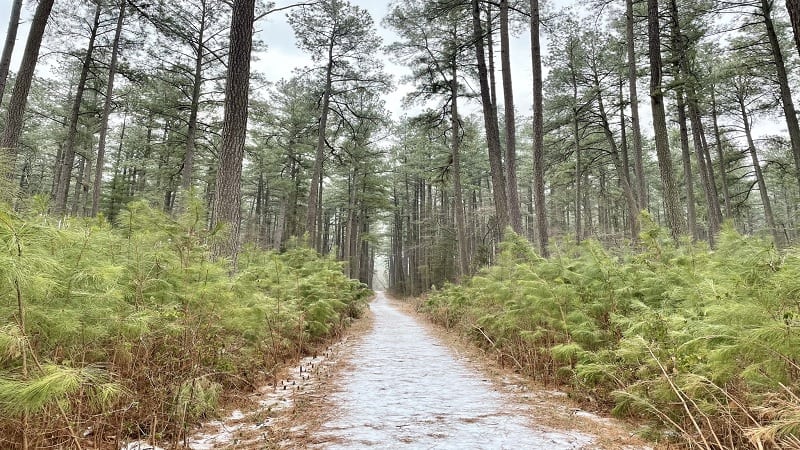 It's a snap to piece together a scenic loop hike along the four marked trails (blue, yellow, red and orange) at 444-acre Conway Robinson State Forest.
You can also stay on the blue trail for a 3.3-mile wooded hike through a grove of old growth hardwood trees and over a couple of small water crossings.
Late in this hike, tall loblolly pines and white pines intermix with old hardwoods. It's dreamy to walk through this wildly picturesque tunnel of towering pines.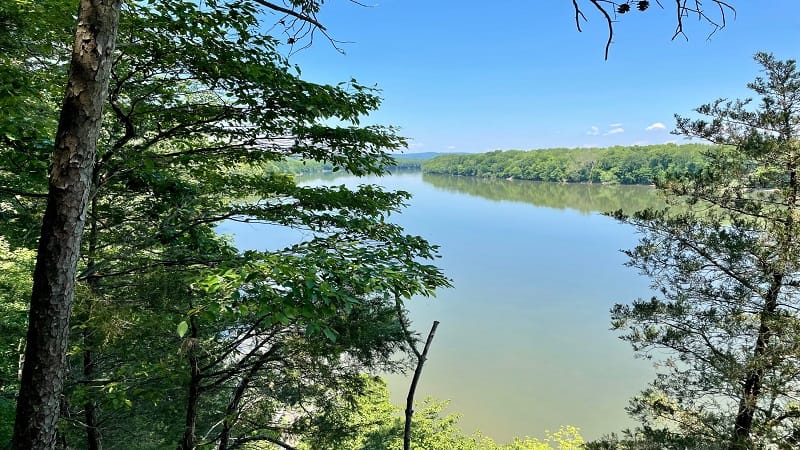 At Red Rock Wilderness Overlook Regional Park, the 1.2-mile loop hike around this 67-acre park is a must-do for Potomac River views and forested trails.
At this small park, there are winding nature trails, as well as historic buildings from the 1880s, including an Ice House and a Carriage House.
The Loudoun County property dates to 1869 when a wealthy industrialist purchased 2,000 acres. This section was donated for use as park land in 1978.
Moderate Hikes
These moderate hikes near Middleburg are between three and eight miles. There's more elevation, but also big views, waterfalls, even shelters and cabins.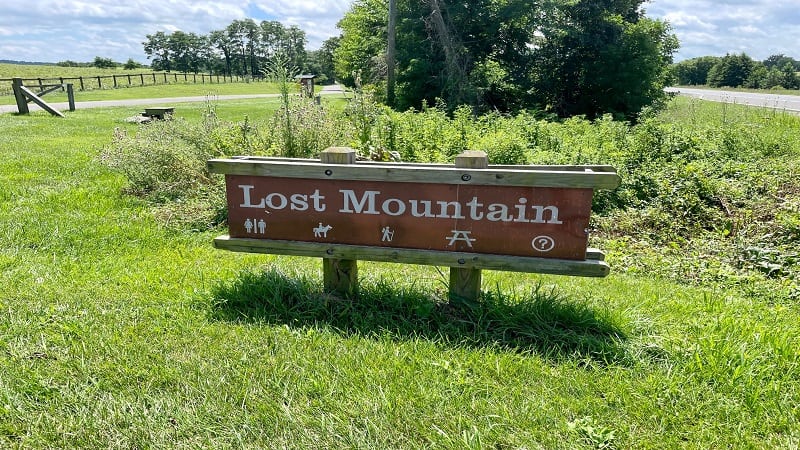 Sky Meadows State Park is a wonderfully scenic state park that is divided into two sections by U.S. Route 17 (Winchester Road).
The east section is home to the more pastoral Lost Mountain Trails. The Lost Mountain and Rolling Meadows Trails create a relaxing and serene hiking loop.
It's a beautiful 4.0-mile hike, but also a quiet hike. Bring a picnic lunch on a warm day to enjoy at one of several picnic tables adjacent to the parking lot.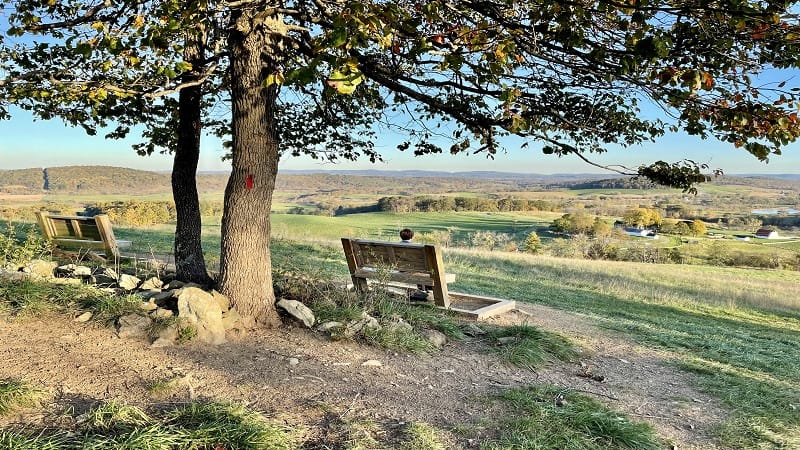 One of the most popular scenic overlooks at Sky Meadows State Park is split into two overlooks – Lower Piedmont Overlook and Upper Piedmont Overlook.
Both can be reached quickly (but be ready for a healthy ascent) along the Piedmont Overlook Trail, which sets off near the Park Office.
Re-trace your steps once you've savored the overlooks or continue on to the Ambassador Whitehouse Trail for views from Whitehouse Overlook.
Myron Glaser Cabin is one of a few dozen primitive Potomac Appalachian Trail Club (PATC) cabins for rent in Virginia, Maryland, West Virginia and Pennsylvania.
Most hike-in cabins, like Range View Cabin, can be rented by anyone. Some cabins, like Myron Glaser Cabin, are reserved for PATC members only.
This 4.5-mile out-and-back hike begins from a parking area off Blue Ridge Mountain Road, near Route 50. Note, the "Trailhead Parking" sign is very small.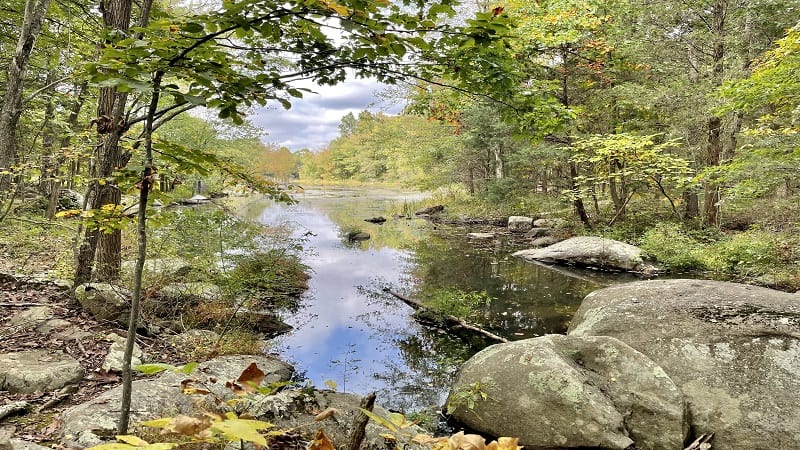 Blue blazes lead the way on this 8.3-mile hiking trail that loops around 350-acre dam-fed Beaverdam Reservoir in nearby Ashburn.
This hike starts from the parking lot of the National Recreation & Park Association. From here, a counter-clockwise loop affords the very best views.
A rock scramble completes this lake loop. Swimming is not allowed in the reservoir, but this is a great place to fish for bass and catfish.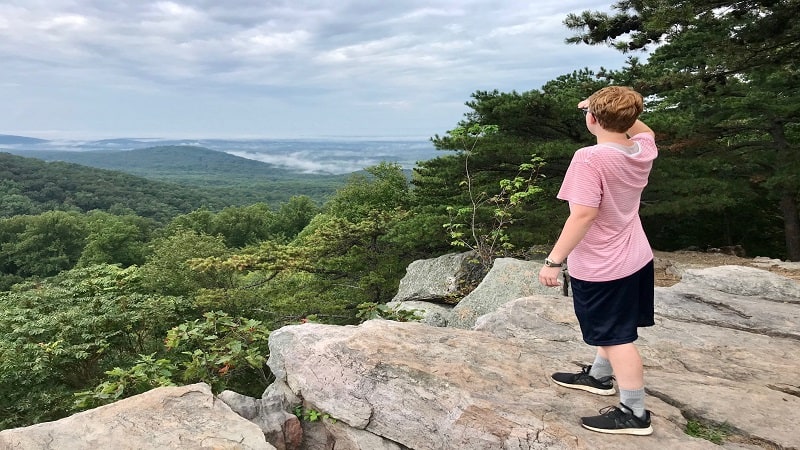 One of the most popular hikes in Loudoun County is the 5.1-mile out-and-back trek to Raven Rocks along the rugged Appalachian Trail.
It's a rocky climb with an elevation change of more than 1,500 feet that rewards your efforts with sweeping valley and mountain views.
The Raven Rocks hike meanders along a rock-laden section of trail. You may bump into an ambitious thru-hiker or two, depending on the time of year.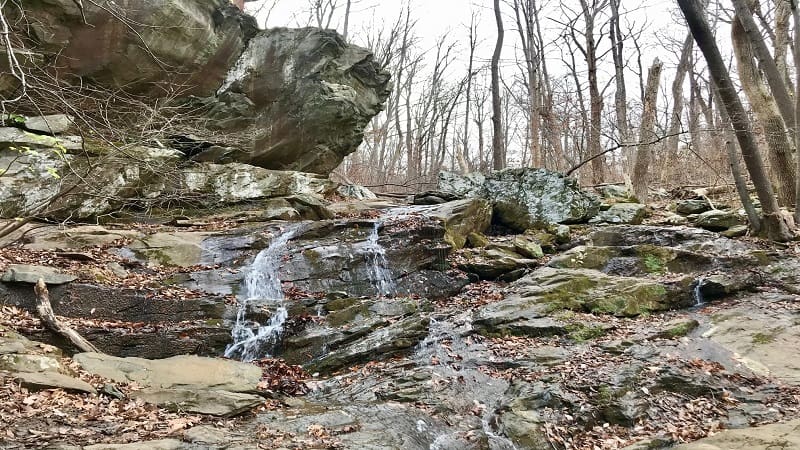 The wooded 3.5-mile out-and-back hike to Buzzard Hill wows with a creek crossing, a small waterfall and west-facing views at Buzzard Hill.
Near the top, you will reach a primitive campsite with a fire ring. The far-reaching views you've worked for are just a few more steps from here.
At the 1.7-mile mark, keep your eyes open for a short spur trail on the left. This will lead you to the west-facing overlook at Buzzard Hill.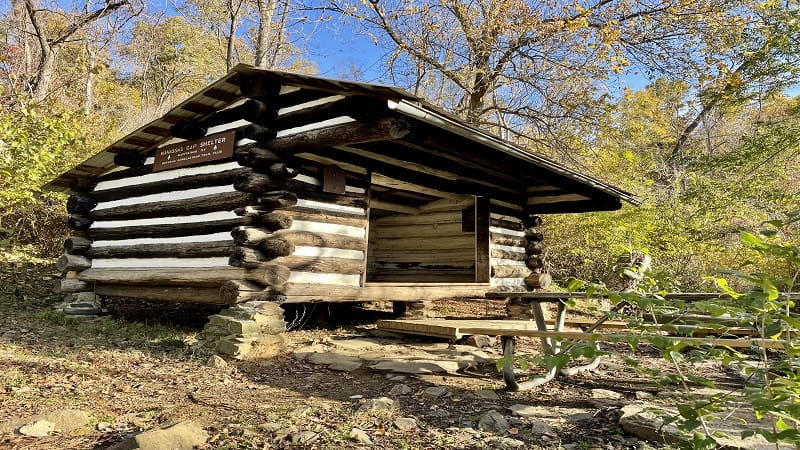 A 4.9-mile out-and-back hike along the Appalachian Trail allows hikers to revel in the fresh air as they check out the Manassas Gap Shelter.
There is not a lot of green space, but there is a picnic table, a large fire pit, a bear pole and several primitive camping sites for backpacker tents.
Side trails lead to an outdoor privy and a spring. The lean-to shelter has pegs outside and inside for hanging up backpacks.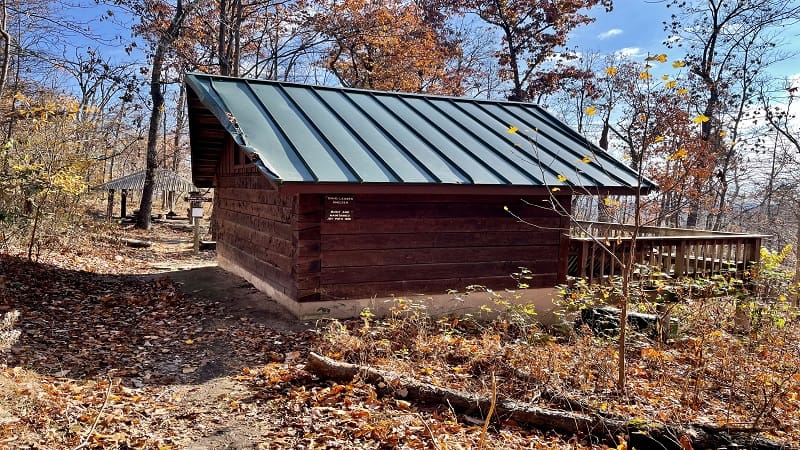 The hike to the David Lesser Shelter on the Appalachian Trail begins at Keys Gap between Virginia and West Virginia. It's a stone's throw from Harpers Ferry.
There are some scenic views on this hike, but they are best viewed in late-fall and winter once the leaves have fallen. You can see working farms in Hillsboro.
The star of this hike is the large David Lesser Shelter, which features a small campground. Continue past the shelter to the Buzzard Rocks overlook.
Strenuous Hikes
For a challenging hike near Middleburg, get on the Appalachian Trail Roller Coaster toward rustic backpacker shelters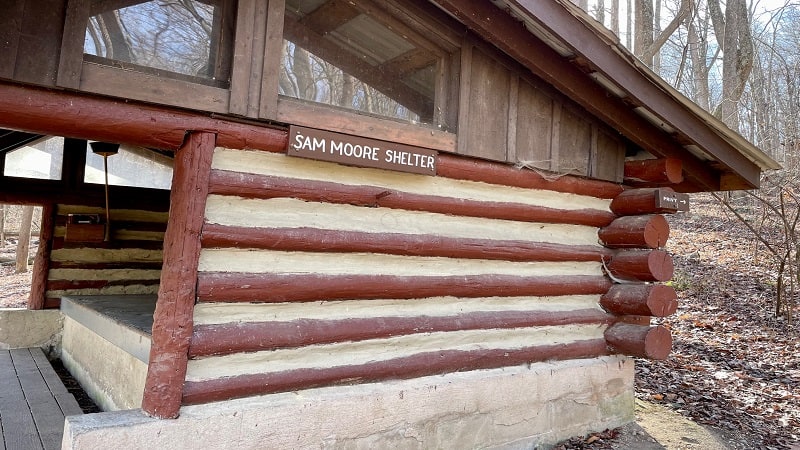 The Sam Moore Shelter for hikers and backpackers is located on a hilly section of the Appalachian Trail in Northern Virginia.
This hike shares a starting point with the Bears Den Overlook hike, but once you pass the scenic overlook, get ready for ups and downs, ups and downs.
The overall elevation gain on this hike to see the Sam Moore Shelter exceeds 2,000 feet. It's a very good workout, so be sure to bring plenty of water.
The Rod Hollow Shelter is also located on the famed 13.5-mile Roller Coaster section of the Appalachian Trail, which runs from Snickers Gap to Ashby Gap.
This wooded southbound hike begins on the opposite side of Morgans Mill Road from the Buzzard Hill hike. The two share a good-size parking area.
Plan to cross a wooden footbridge over Ashby Hollow, then go up and down, up and down to reach the Rod Hollow Shelter, as well as several tent pads.
Photo Credit: Visit Loudoun (Washington Street, Scruffy's Ice Cream)