Lewis Peak: Hike to Sensational Mountain Views at Shenandoah National Park
I'm not able to explore the South District of Shenandoah National Park as much as I would like, but last week I was able to hike to Lewis Peak.
At 9.3-miles, this Skyline Drive hike is not short, but it's also not technical or strenuous, despite an elevation gain of more than 1,800 feet to the summit views.
Since the gains are spread out over 4.6 miles (one-way), this summit hike is rather manageable, even with the steep final ascent to Lewis Peak.
This is a nice hike to do from fall to spring when you can revel in the views of surrounding mountains through mostly leafless trees.
| Trail Stats | |
| --- | --- |
| Length | 9.3 miles |
| Difficulty | Moderate |
| Trail Type | Out-and-Back |
| Elevation Gain | 1,857 feet |
| Duration | 4.5-5 hours |
| Terrain | Mostly dirt and rock trails, some talus slope sections |
| Dog-Friendly | Yes |
| Fee | $30 per vehicle (good for seven days) |
| Driving Directions | Click Here |
Browns Gap
This out-and-back hike begins from the Browns Gap parking area at milepost 83 (oddly, the sign reads "Brown Gap"). There is room for a dozen cars to park.
From the parking area, stay clear of the Browns Gap Fire Road at the very back of the parking lot. Instead, look for the concrete trail marker.
The first .5 miles of this hike are along a northbound stretch of the Appalachian Trail. Keep your eyes peeled for a thru-hiker or two this time of year.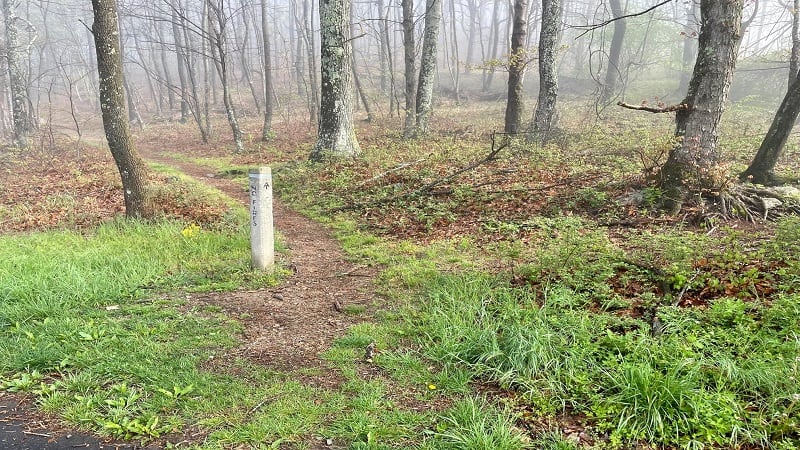 I stopped to chat with two section hikers from Traverse City, Michigan on this short stretch. I always love to hear stories from the Appalachian Trail.
Rockytop Trail
At the .5-mile mark, your time on the AT ends as you turn left at the trail marker onto the blue-blazed Big Run Loop Trail.
As you make your way to Lewis Peak, you'll find yourself walking along the side of the mountain with a steep ascent and descent on either side of you.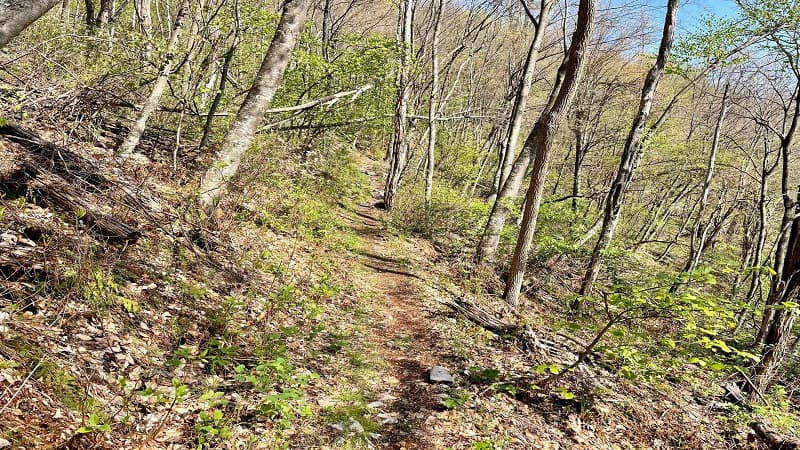 With each trail junction, the side of the mountain you are on seems to change, too. At the 1.2-mile mark, continue hiking straight ahead for the Rockytop Trail.
You'll reach a fork in the trail at the 1.6-mile mark. Stay right to continue on the Rockytop Trail. The trail is also about to live up to its name. As in, very rocky.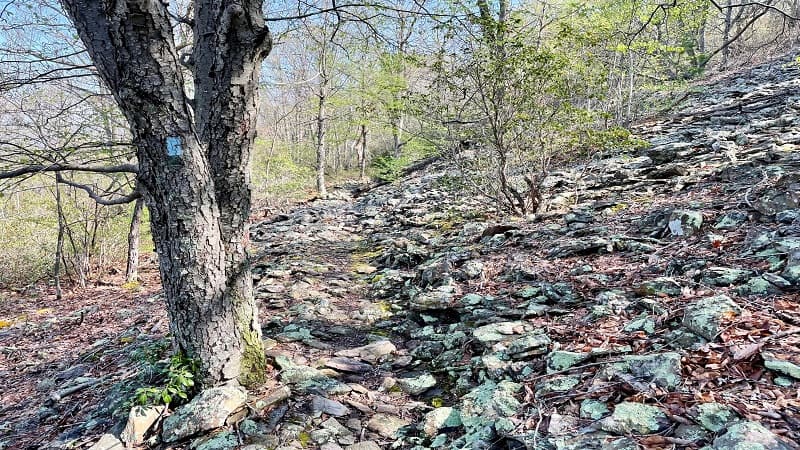 The hike gets more rocky as you reach a talus slope (basically, a giant rock slide) near the 2.4-mile mark.
Then, a second talus slope. Both are easy to manage, but stay fleet of feet as not to twist an ankle or take an unplanned spill on the hiking trail.
Lewis Peak Trail
At the 3.6-mile mark, you'll reach another fork in the trail. Stay left for the Lewis Peak Trail. Surprisingly, the trail descends for the next .5 miles.
Stay alert, the best view of the hike is coming up at the 3.8-mile mark. You'll need to take a few steps off the trail onto a rocky talus slope, so watch your footing.
The northwest-facing views toward Massanutten Mountain are sensational. Honestly, the summit views are similar, but I preferred this scenic view. WOW.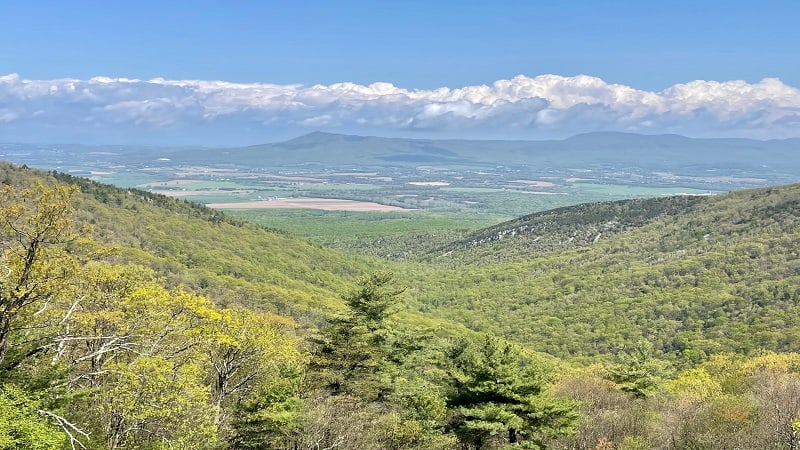 At the 4.2-mile mark, get ready for the final ascent to Lewis Peak. On the way up, you'll pass a concrete marker for a trail to the park's west boundary.
It doesn't look like this trail gets much use. It's not maintained and there are lots of leaves on the trail. Continue straight ahead for Lewis Peak.
As you climb, you'll encounter a couple of switchbacks, as well as big mountain views in all directions. At the very least, the views help inspire the final climb.
You have arrived near the 4.7-mile mark. It's an open rock face, so take a seat and enjoy the far-reaching views. The trail dead-ends at this overlook.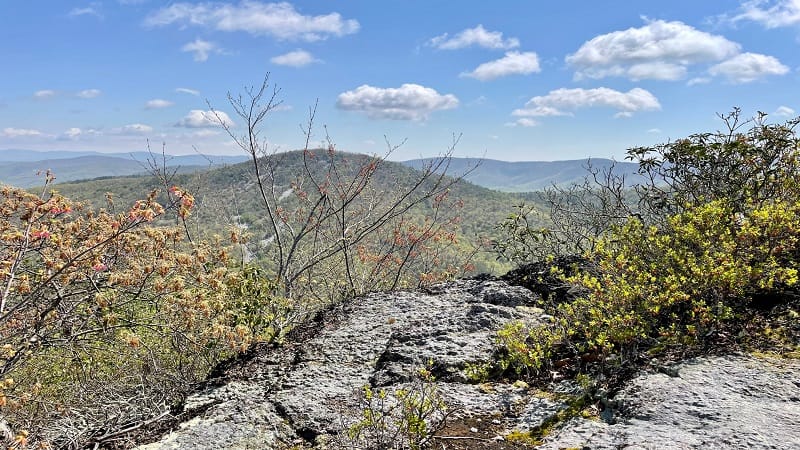 From here, simply re-trace your steps to the parking area. Celebrate a hike well done at Shenandoah National Park in Virginia.
Wrap-Up Notes
From the parking area, this hike took me nearly four hours, including time spent ogling the views and chatting with Appalachian Trail hikers.
Post-hike, stop in Loft Mountain Wayside at milepost 79.5. It's a four mile drive north on Skyline Drive. Here you'll find snacks, souvenirs and restrooms.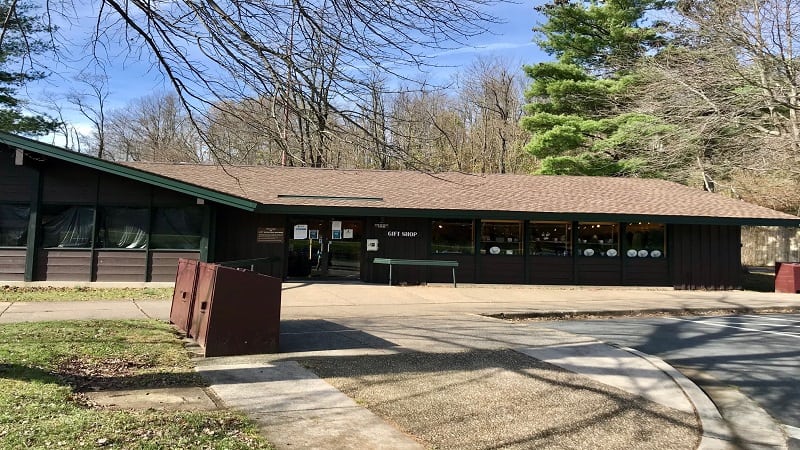 The popular Loft Mountain Campground is also at this location, on the opposite side of Skyline Drive. It's a great campground for tent and RV campers.
From the Loft Mountain Wayside, you can also set off on an easy 2.1-mile loop hike that starts on the Frazier Discovery Trail and wows with two big vistas.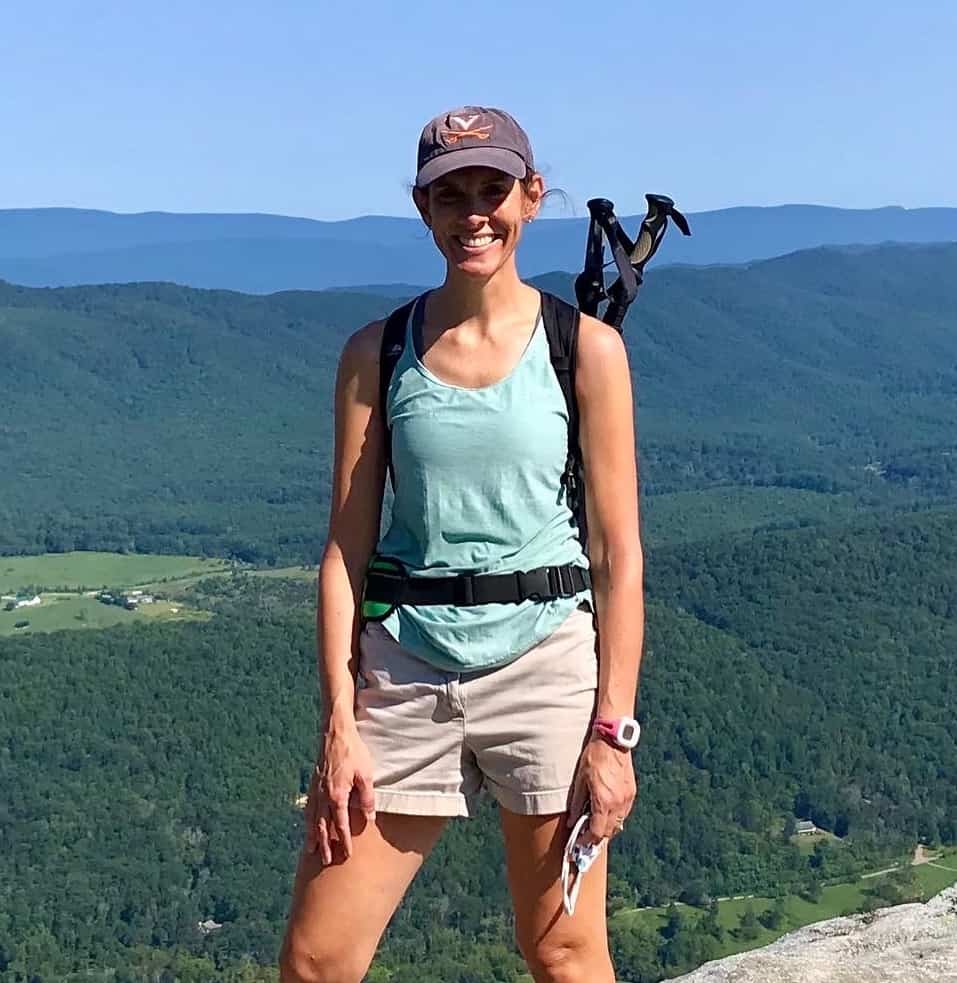 Erin Gifford is the editor of Go Hike Virginia. She has completed more than 300 hikes in Virginia. She is also the author of three hiking guidebooks from Falcon Guides. Need help finding a hike? Check out the Trail Finder feature or send Erin a message.