Hazel Falls: A Refreshingly Beautiful Waterfall Hike at Shenandoah National Park
Not long ago, I hiked to Hazel Falls at Shenandoah National Park on a weekend. On a Sunday. I typically avoid the park on weekends. It can get very crowded.
Thankfully, I chose a trail with no other hikers. I only saw a couple of backpackers who had set up their tent by the trail. They were just waking for the day.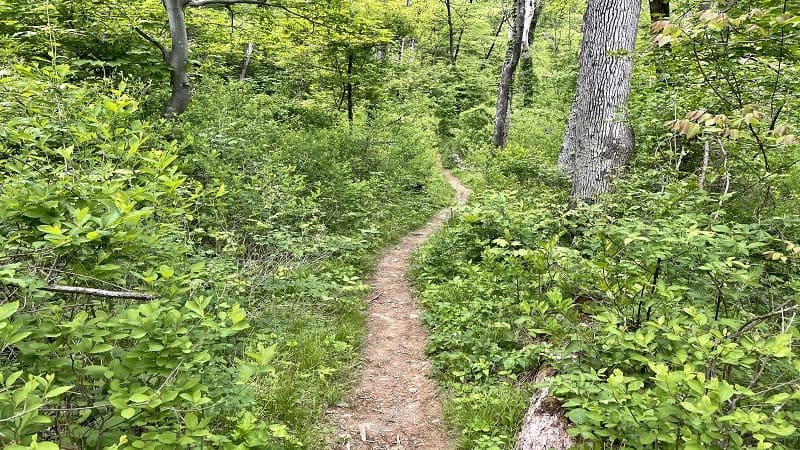 It helped that I got an early start. I arrived at the Meadow Spring parking area at 8 am for the hike to Hazel Falls (aka Cave Falls) via the Hazel Mountain Trail.
Three hikes, including Mary's Rock (southern approach), share this small parking area, so I was elated to get a parking space. The hike was a winner, too.
| Trail Stats | |
| --- | --- |
| Length | 5.2 miles |
| Difficulty | Moderate |
| Trail Type | Out-and-Back |
| Elevation Gain | 1,017 feet |
| Duration | 2.5-3 hours |
| Terrain | Mostly dirt & rock trails |
| Dog-Friendly | Yes |
| Fee | $30 per vehicle (good for seven days) |
| Driving Directions | Click Here |
Hazel Mountain Trail
There are just 12 parking spots, including nine pull-in spots and three parallel spaces. It is also possible to carefully parallel park along the two-lane Skyline Drive.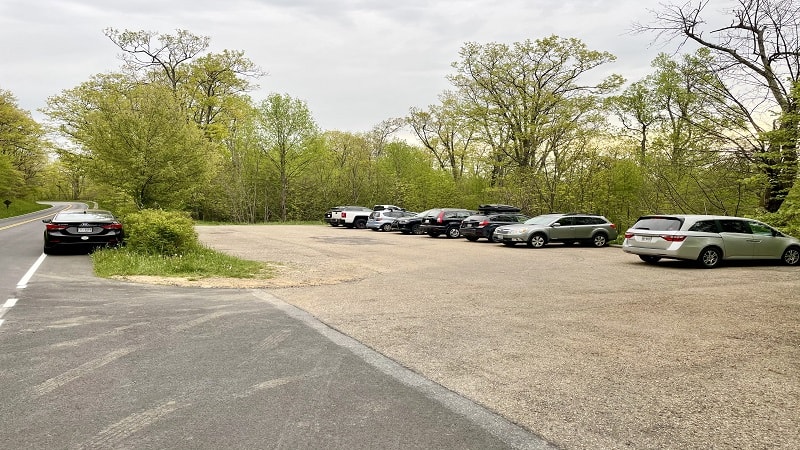 The trailhead is easy to find on the south side of the parking area at milepost 33.5. You'll see a concrete trail marker and a path that descends into the leafy forest.
The marker reads "Hazel Mountain Road," though the gravel path is listed simply as "Hazel Mountain Trail" on AllTrails.
Once you walk by the concrete trail marker, you will shortly reach a fork in the trail. Stay to the right for the yellow-blazed Hazel Mountain Trail.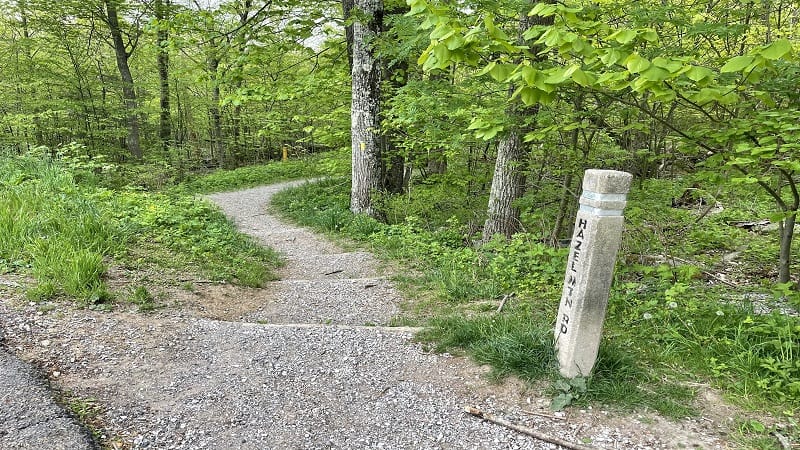 From here, it's an easy-going descent along a lush leafy trail. Heads up, the trail splits again at the .4-mile mark. Stay right once more for the Hazel Mountain Trail.
Hazel River
It's a relaxing hike, but there is not much to see. You know, beyond deciduous trees, wildflowers and easy water crossings. Maybe a downed tree or two.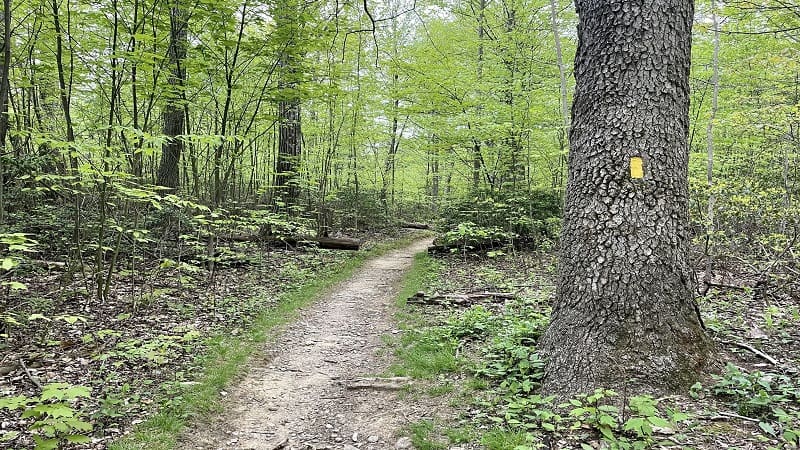 At the 1.2-mile mark, you will begin to hear the peaceful burbling of the Hazel River. You may think, oh the falls must be close, but sadly you would be wrong.
In a few more steps, at the 1.6-mile mark, you will turn left onto the White Rocks Trail – away from the Hazel River. The trail also narrows quite significantly.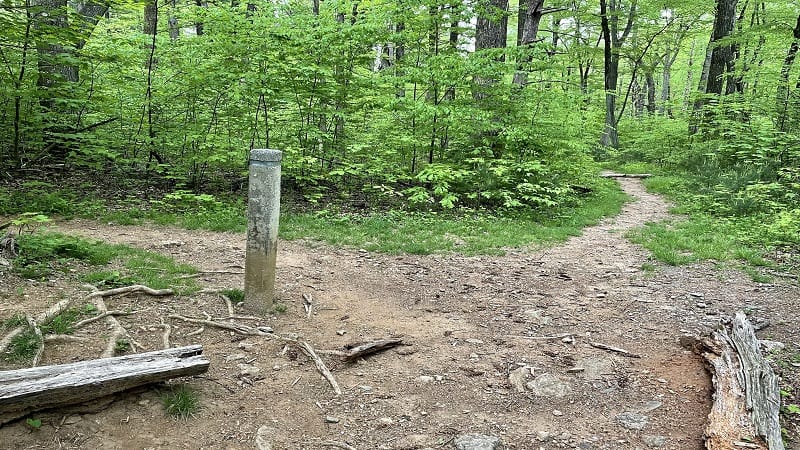 Press on, friends. You're really are getting close. At the 2.4-mile mark, you will see a trail junction and a concrete marker. Hurray, Hazel Falls is .2 miles from here.
Hazel Falls
Turn right at the marker onto a blue-blazed spur trail. Note, it's a fairly steep descent to Hazel Falls. There are steps and rocks to help you navigate.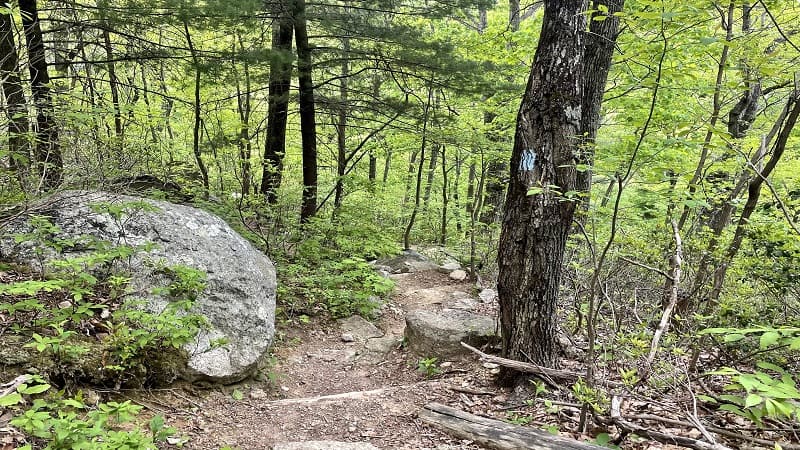 You reach Hazel Falls at the 2.6-mile mark. There are cascades and caves. It's really quite lovely. Also, Hazel Falls. It's a small waterfall, but it boasts a watering hole.
I met a couple with a bright-yellow tent who had camped out alongside the falls. They readily admitted they were too close to the trail, but it was such a great spot.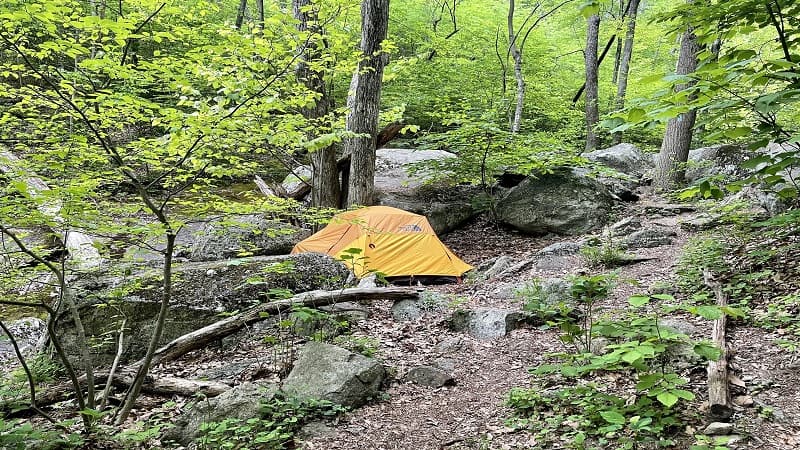 Adjacent to Hazel Falls you will see a couple of dark shallow caves. Both are worth safely exploring while you are alongside the crystal-clear cascading waters.
Sit on one of the large rocks next to the falls. It's a well-shaded area and perfect for enjoying lunch or a snack while listening to the relaxing waterfall.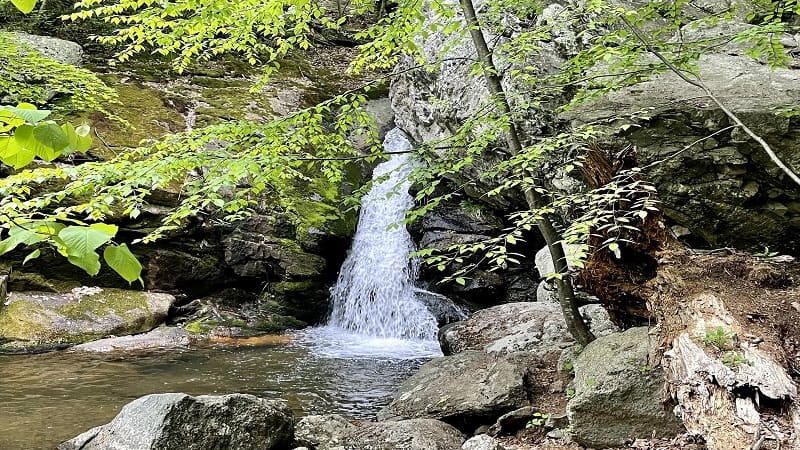 From here, re-trace your steps to the parking area. Your peaceful hike to one of the most lovely waterfalls in Shenandoah National Park is complete.
Wrap-Up Notes
From the parking area, this hike took me just over two hours, including time spent ogling the falls and chatting up the backpackers with the bright-yellow tent.
For those eager to re-fuel post-hike, proceed north along Skyline Drive to Elkwallow Wayside at milepost 24.1.
You'll find groceries, camping supplies, souvenirs and grab-and-go sandwiches. There is also a restroom and a picnic area.