Mount Marshall: A Scenic Shenandoah Loop Hike
I have completed a lot of hikes along Skyline Drive at Shenandoah National Park. Then, an opportunity to check off Mount Marshall jumped on my radar.
Even better, it was a backpacking adventure, organized by Virginia Outdoor Adventurers, an outdoor-loving activity group for all skill levels on Meetup.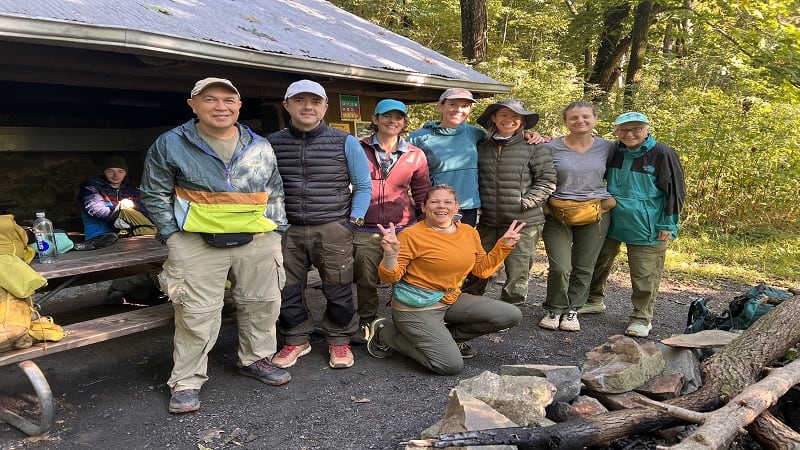 It had been more than a year since my last overnight backpacking trip, so this was the perfect opportunity to sleep in a tent and see Mount Marshall. Woohoo.
To revel in Mount Marshall views, you can go the short way or the long way. There are rocky overlooks within 0.5 miles on either side of Skyline Drive.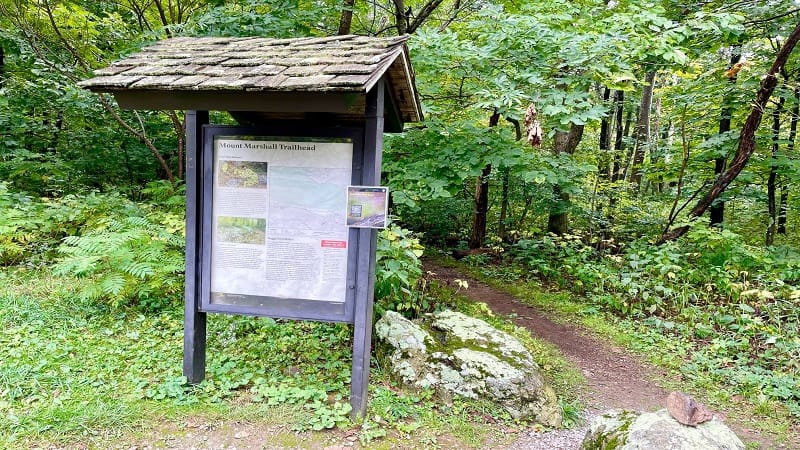 Since this was a backpacking trip, we naturally opted for the long way, which was a total distance of 13.8 miles over two days by way of a gigantic loop.
As a side note, it's said that Mount Marshall is named for John Marshall. He served as Chief Justice of the Supreme Court from 1801 to 1835.
| Trail Stats | |
| --- | --- |
| Length | 13.8 miles |
| Difficulty | Strenuous |
| Trail Type | Loop |
| Elevation Gain | 2,175 feet |
| Duration | 7-8 hours |
| Terrain | Mostly dirt trails |
| Dog-Friendly | Yes |
| Fee | $30 per vehicle (good for seven days) |
| Driving Directions | Click Here |
Backpacking Shenandoah National Park
Before I go much further, it's wise to note that you can't just shove your tent and sleeping bag into your backpack, then set off on the hiking trails.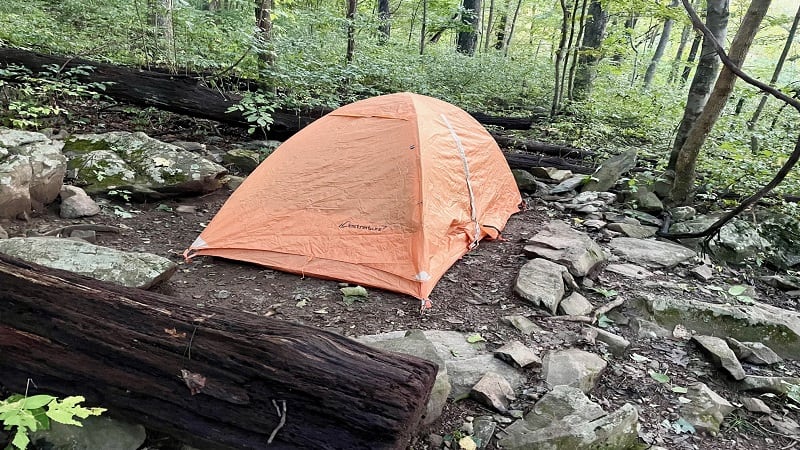 At Shenandoah National Park, you need to acquire a backcountry permit if you want to set up a tent outside of the designated family campgrounds.
It's free (for now) to camp in the park's backcountry, but you need to complete an application that includes your contact details and planned itinerary.
If you forget to register online, you can also do so at the park's entrance stations when you arrive at Shenandoah National Park.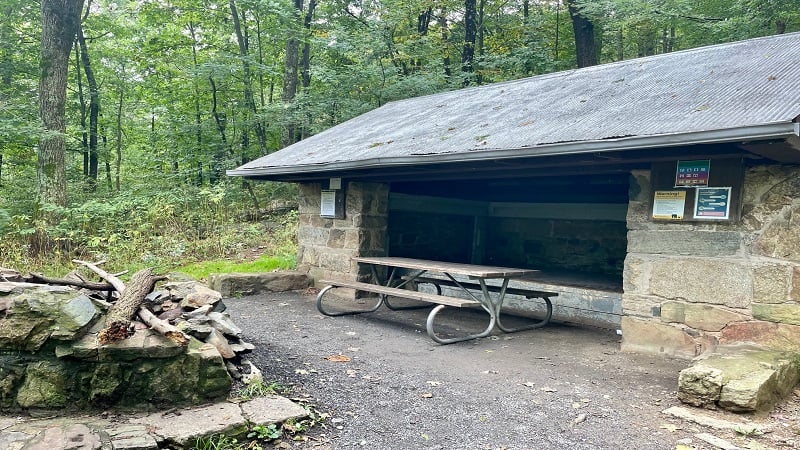 There are also several alternative locations to obtain a backcountry permit, including the north and south entry points of the Appalachian Trail.
Before you go, review the park's backcountry regulations. Among them, know where camping is prohibited and no groups larger than 10 people.
Where to Park
For this 13.8-mile adventure to and beyond Mount Marshall, you'll start from an unmarked parking lot at milepost 12.3 in the park's North District.
The parking area is on the west side of Skyline Drive. It's just north of the Jenkins Gap overlook, which is on the east side of Skyline Drive.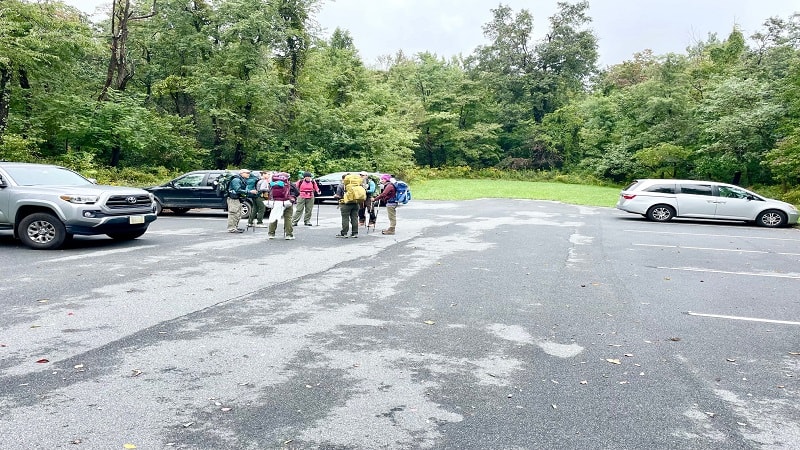 This is a good size parking lot, with room for at least a dozen cars. Just one hiking trail leads out of the lot. It's the yellow-blazed Jenkins Gap Trail.
The Jenkins Gap Trail is a 1.4-mile (one-way) hiking trail that dead-ends at the park's western boundary.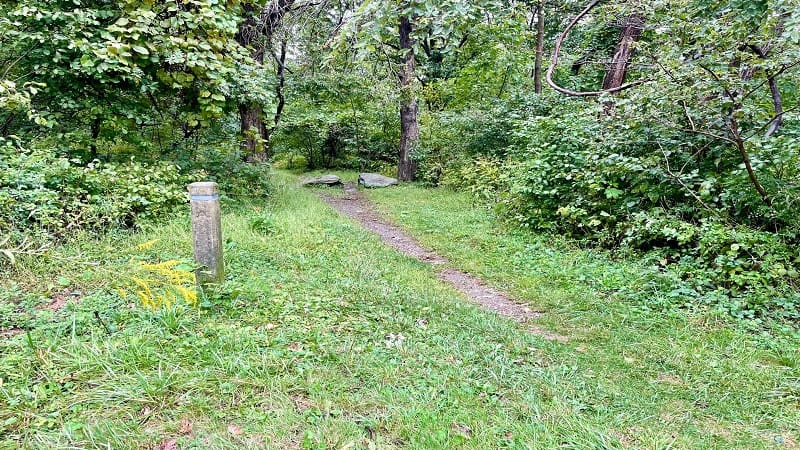 You'll see the concrete trail marker on the south side of the parking area. The hike begins here and you will quickly become enveloped by the forest.
Appalachian Trail
Within the first 0.1-mile of this hike, the Jenkins Gap Trail crosses over the white-blazed Appalachian Trail. Turn left here for Appalachian Trail South.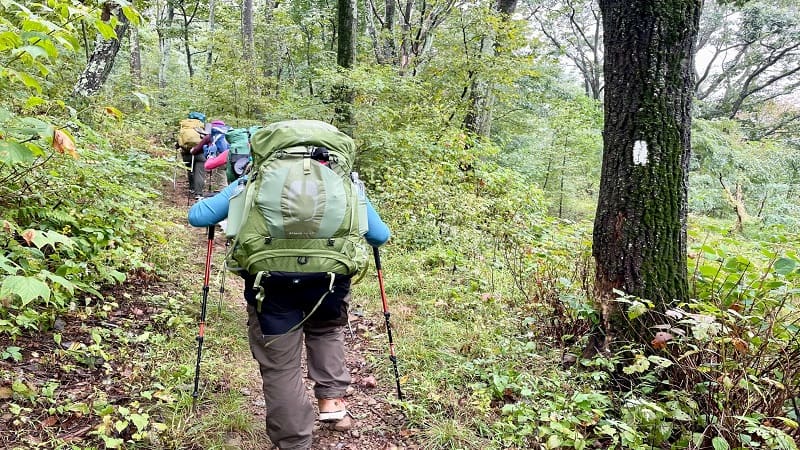 It's not a steep climb, but rather a slow and steady climb for the next 3.4 miles until the high point at the top of North Marshall (elevation 3,360 feet).
However, there is no view here. Be patient, in another 0.2-miles you'll reach a rocky ledge for north- and west-facing views (when weather cooperates).
But first, you'll cross over Skyline Drive at the 1.7-mile mark. The Appalachian Trail crosses this scenic byway many times over the length of its 105.5 miles.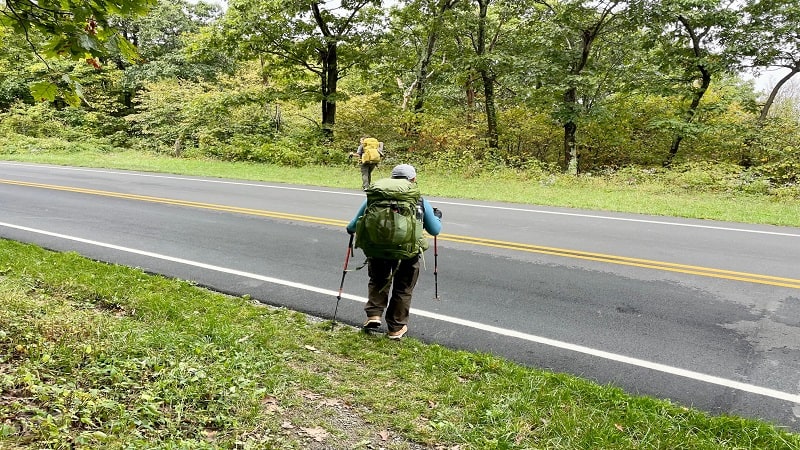 On this loop hike alone, you'll cross over Skyline Drive four times before you finish up the hike at the parking lot where you began.
At the 4.0-mile mark, you will cross over Skyline Drive a second time. But, not at the parking lot for the Mount Marshall Trailhead.
The Appalachian Trail actually crosses Skyline Drive a little bit further south on Skyline Drive. So walk past the parking lot to stay on the hiking trail.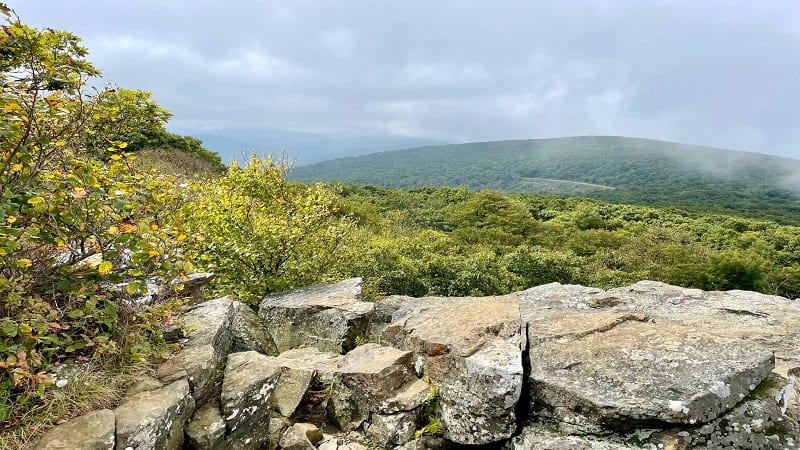 Once you cross Skyline Drive, you'll reach the South Marshall overlook at the 4.6-mile mark. There must be spectacular views, but we saw only thick fog.
From here, it's mostly all downhill until you reach the blue-blazed spur trail to the Gravel Springs Hut.
Of course, you'll cross Skyline Drive one more time. You'll see a sign for Gravel Springs Gap. The Gravel Springs parking lot is on the east side of the road.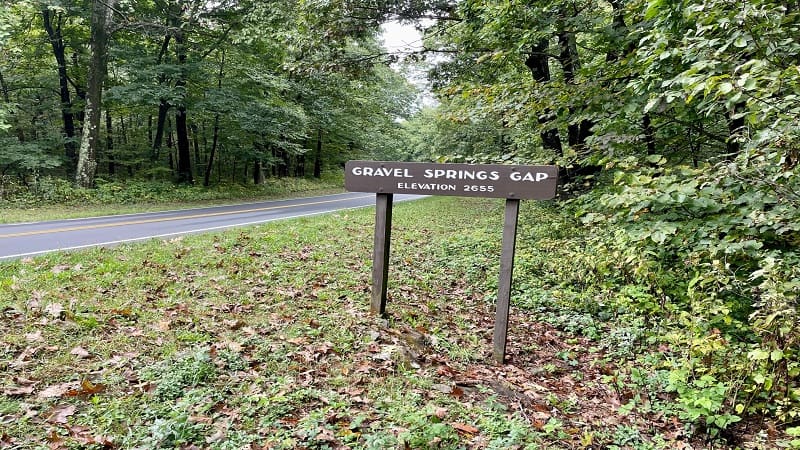 Heads up, there is a yellow-blazed fire road at the back of the parking lot, but you don't want this path. The white-blazed AT is to the right of this path.
Gravel Springs Hut
At the 6.0-mile mark, veer left at the blue blaze for a short, steep descent on a side trail to the Gravel Springs Hut, an open wood and stone shelter for hikers.
There is also a picnic table, a spring, a privy, a food storage locker (to keep smellables away from black bears), a bear pole and five designated tent pads.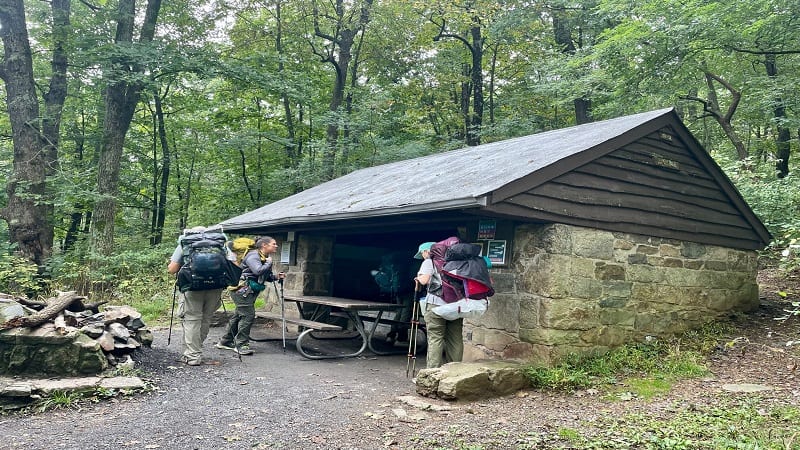 The privy and tent pads are just past the shelter, and a short walk up a hill. The tent pads are flat, semi-private and quite nice. I was impressed.
There are several other tent sites just down the hill from the shelter. They are not as nice and not as flat, but will do in a pinch.
We reached the shelter and settled in near 3 pm. I happily set up my tent on a tent pad before our group re-convened at the picnic table to relax.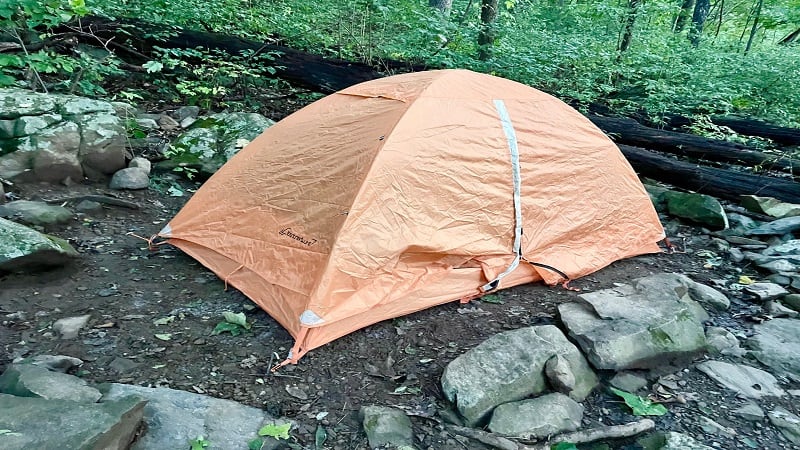 Before too long, a couple of section hikers stumbled in to set up for the night (shout-out to Alan and Liam!).
In another few hours, two SOBO (south-bound) thru-hikers arrived to bed down for the night (shout-out to Forrest Gump and Neptune!).
It was tight, certainly in the shelter where the four new-to-us hikers slept, but we certainly weren't going to turn away any weary souls. Make room, friends!
Bluff Trail
The next morning, we packed up our backpacks and returned to the trail. This time, we got on the yellow-blazed Bluff Trail.
From the Gravel Springs Hut, we crossed over the spring and turned right for the Bluff Trail (instead of turning left for a return trip up the short trail to the AT).
It was a basic but quiet and enjoyable walk through the woods. We set off near 9 am and the woods were still and beautiful.
The Bluff Trail runs for 3.8-miles, from the Gravel Springs Hut to where the trail dead-ends at the yellow-blazed Mount Marshall Trail.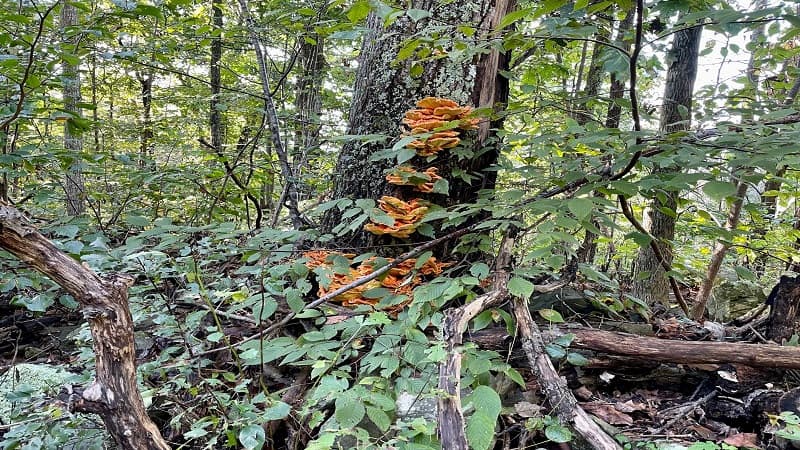 While mostly an uneventful walk, one of my fellow hikers, who is clearly knowledgeable about edible mushrooms, spotted chicken of the woods.
This orange fungus was growing on a tree adjacent to the trail. Supposedly, this fungus has a taste and texture that is similar to chicken. Go figure.
Mount Marshall Trail
At the 9.8-mile mark, you will reach a concrete trail marker. Stay left for the yellow-blazed Mount Marshall Trail.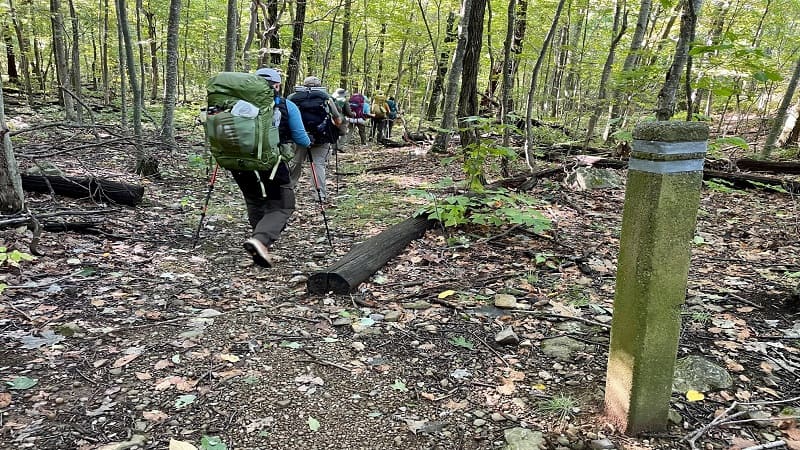 You'll navigate a few very easy water crossings, but this is also just a walk in the woods. It also seemed more of an ascent than the map would indicate.
Shortly after this point, I bid my fellow hikers farewell. I was ready to get rid of the backpack. I was also eager to get on with the rest of my day.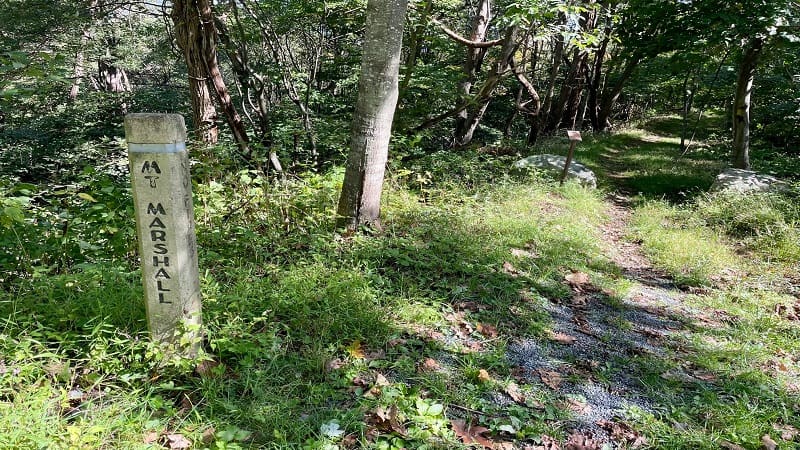 The Mt. Marshall Trail ends at the 13.4-mile mark. It basically dead-ends at Skyline Drive. There's room for one or two cars if you want to park here.
From here, cross over Skyline Drive and continue north for the last 0.4-miles to reach the parking lot where you begin.
Jenkins Gap Overlook
But first, plan to pause for the Jenkins Gap Overlook at mile marker 12.4 for expansive views across the Shenandoah Valley.
I had no idea, but Jenkins Gap was named for the Jenkins families who were displaced with the creation of Shenandoah National Park.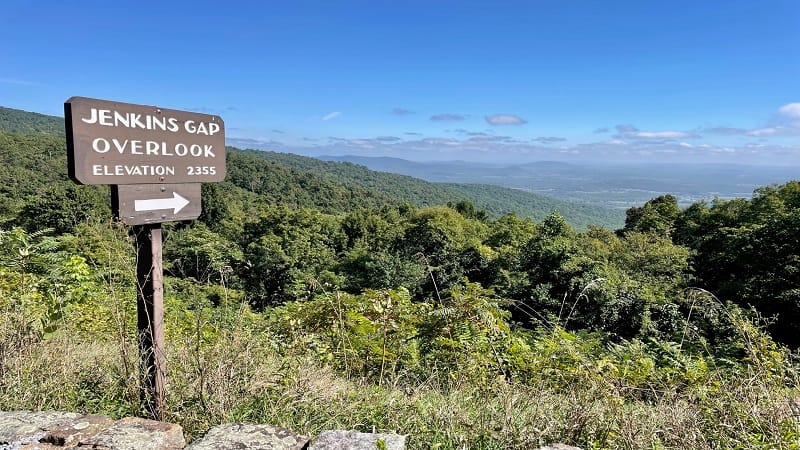 There is a small pull-off for those motoring along Skyline Drive who want to make a stop to revel in the vistas. So, please watch for cars as you cross.
Once you ogle the views, turn left into the parking area on the west side of the road to complete your 13.8-mile hike. Also, celebrate. Woohoo.
Wrap-Up Notes
I tackled this hike over two days, but it probably took me close to seven hours to complete, including time spent at North Marshall and South Marshall.
The elevation gain is 2,175 feet, so keep this in mind before you look at this as a day hike or overnight trip. The gain is over 13.8 miles, but it's still rather sizeable.
The day we hiked to these two rocky overlooks, they were completely socked in by fog. Thankfully, they were easily reachable from Skyline Drive.
The parking area for the Mount Marshall Trailhead near milepost 17.5 allows easy access to great views from both Mount Marshall overlooks.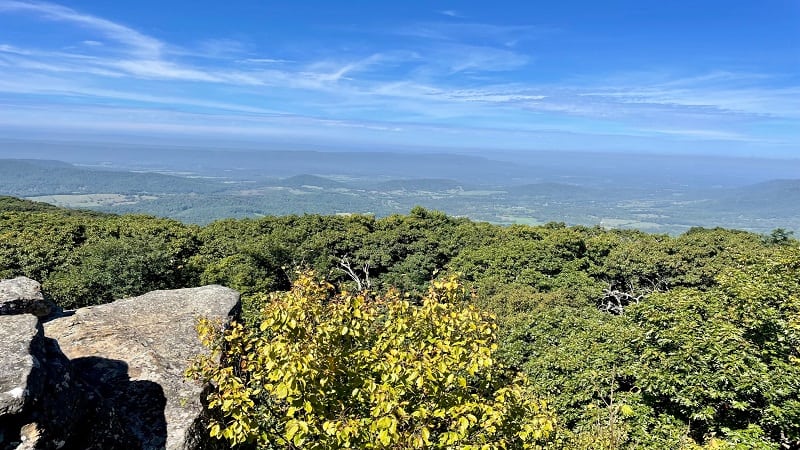 As I noted above, it's less than 0.6-miles (one-way) to each overlook on either side of Skyline Drive. North Marshall is closer, less than 0.4-miles (one-way).
After I finished my hike on the second day, I drove to this small parking area and hiked to North Marshall. It was a clear day and it was beautiful.
If you want to see what the Mount Marshall hike looks like before you go, take a look at this short video I created when I completed this hike.
For more organized backpacking trips, check out Virginia Outdoor Adventurers, an outdoor-loving activity group for all skill levels on Meetup.