Ivy Creek Overlook: A Scenic Appalachian Trail Hike at Shenandoah National Park
Recently, I made the drive to Shenandoah National Park's South District for several hikes, including an Appalachian Trail hike from Ivy Creek Overlook.
I knew I wanted to hike to Jones Run Falls and to complete the Riprap Loop. Eager to add in one more short hike, I stumbled upon the Ivy Creek hike.
I was pleasantly surprised, too. This 2.8-mile out-and-back hike is entirely along the Appalachian Trail and leads down to burbling Ivy Creek.
This hike also wows with a rocky overlook with mountain views that I was not expecting. The vistas were incredible. Even better, I had the trail all to myself.
| Trail Stats | |
| --- | --- |
| Length | 2.8 miles |
| Difficulty | Moderate |
| Trail Type | Out-and-Back |
| Elevation Gain | 863 feet |
| Duration | 1.5-2.5 hours |
| Terrain | Mostly dirt & rock trails |
| Dog-Friendly | Yes |
| Fee | $30 per vehicle (good for seven days) |
| Driving Directions | Click Here |
Ivy Creek Overlook
The hike begins from the Ivy Creek Overlook at milepost 77.5. On the south end of the overlook you'll see an educational placard on the Appalachian Trail.
It's worth a read to learn more about the 101-mile stretch that runs through Shenandoah National Park and the volunteers who help maintain the trail.
You'll also see a concrete trail marker on the left that marks the Appalachian Trail and the start of the up and down hike to Ivy Creek.
There are a lot of great views on this hike, especially in late-fall and winter when the leaves have fallen and you can enjoy less-obscured mountain vistas.
From the overlook, and from several east-facing spots on the trail, you can revel in views of Weaver Mountain, Flattop Mountain and Loft Mountain.
Wide-Open Mountain Views
At the .8-mile mark, you'll be rewarded with spectacular west-facing mountain views from a rocky overlook. This is a breathtaking spot to stop for a snack.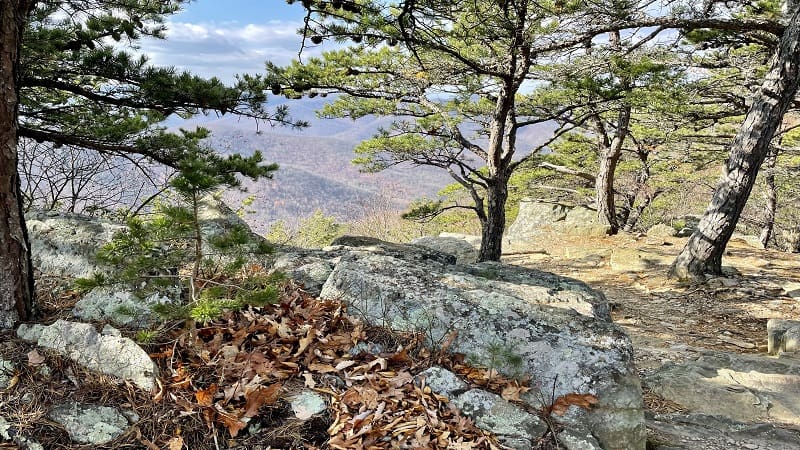 In the distance, you an see Lewis Peak and Rockytop Mountain, maybe even Brown Mountain and Rocky Mountain. The views are truly spectacular.
As you continue on, you'll alternate between mountain vistas (through the trees) and narrow sections with low-growth trees on either side of the trail.
There are a couple of places where the trail nearly rubs up against Skyline Drive, but you may not even notice. It's a very quiet, lightly-trafficked stretch.
Ivy Creek
At the 1.4-mile mark, you will reach the lowest point in elevation on this hike. You'll also arrive at cascading Ivy Creek and a well-shaded section of trail.
Take your shoes off to splash in a few watering holes before re-gaining elevation on the way back to the trailhead at the Ivy Creek Overlook.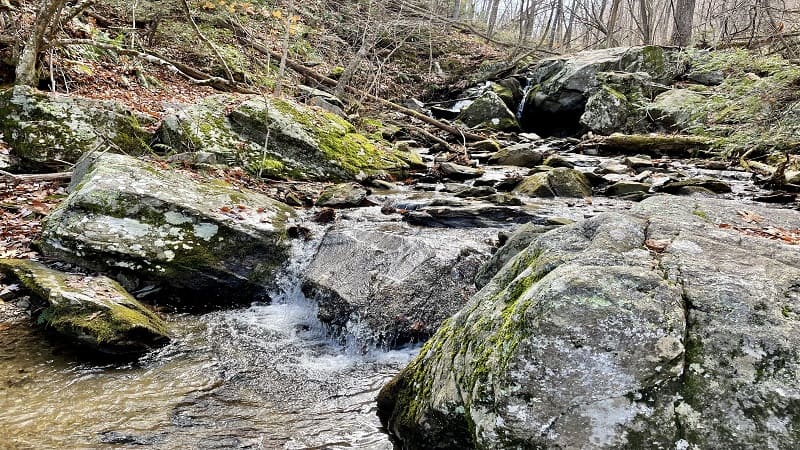 If you were to continue on the Appalachian Trail past Ivy Creek you could hook up with the Loft Mountain Loop, an easy loop hike with gram-worthy views.
It's less than a quarter-mile to reach this 2.1-mile loop. This could be a great way to add in extra steps (and extra views) and create a 4.8-mile lollipop hike.
If you choose not to add in the Loft Mountain Loop, simply re-trace your steps from burbling Ivy Creek to the Ivy Creek Overlook at milepost 77.5.
Wrap-Up Notes
From the parking area, this hike took me 75 minutes, including time spent ogling the mountain views and reveling in glistening Ivy Creek.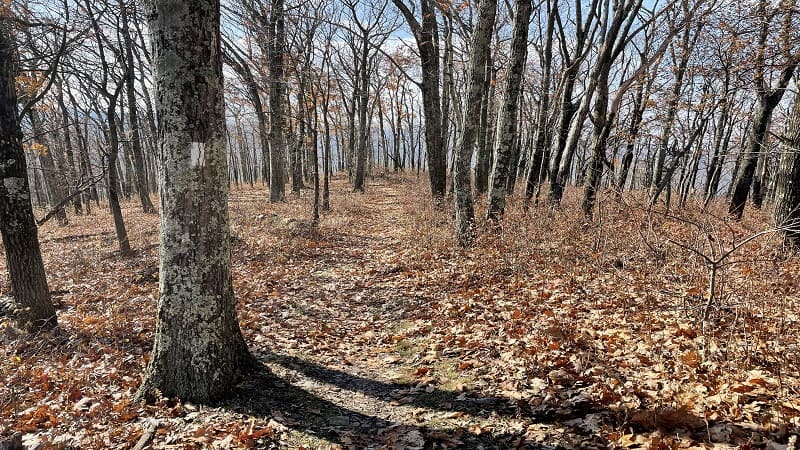 From Ivy Creek Overlook, it's a short drive to Loft Mountain Wayside at milepost 79.5. There are picnic tables if you want to bring a lunch and eat outside.
Make note that Loft Mountain Wayside is closed from early-November to mid-April. This includes the gift and snack shop, as well as restrooms.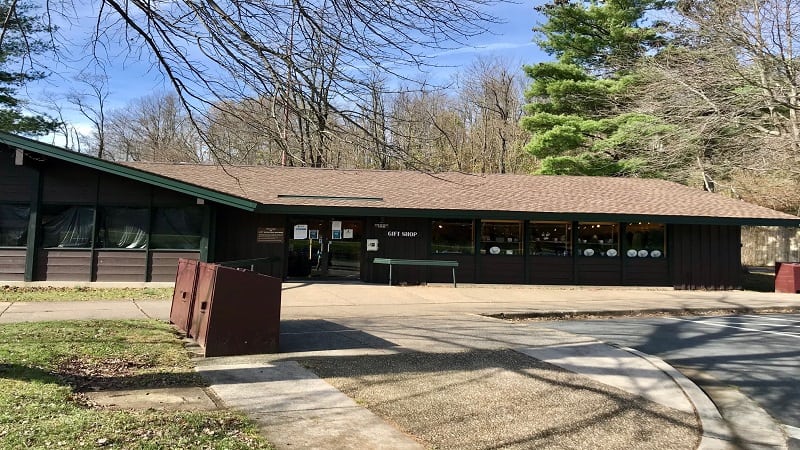 One final note, keep in mind that Ivy Creek Overlook on Skyline Drive is different from Ivy Creek Natural Area, which is located in Charlottesville.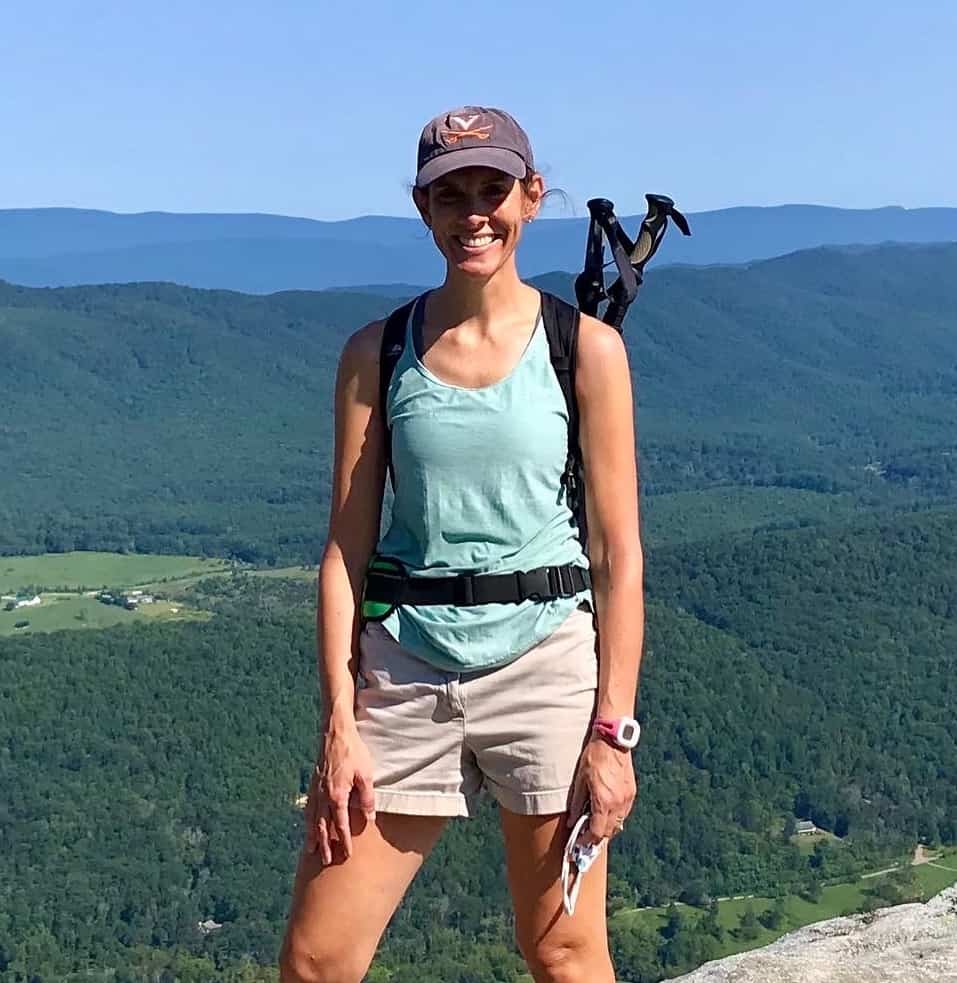 Erin Gifford is the editor of Go Hike Virginia. She has completed more than 300 hikes in Virginia. She is also the author of three hiking guidebooks from Falcon Guides. Need help finding a hike? Check out the Trail Finder feature or send Erin a message.