Turk Mountain Trail: An Easy Summit Hike to Big Views Across the Shenandoah Valley
An easy 2.5-mile out-and-back hike leads to rocky overlooks and big views on the Turk Mountain Trail in Shenandoah National Park's South District.
This summit hike begins across Skyline Drive from the Turk Gap parking area at milepost 93.5. It's a very short drive from the Rockfish Gap entrance.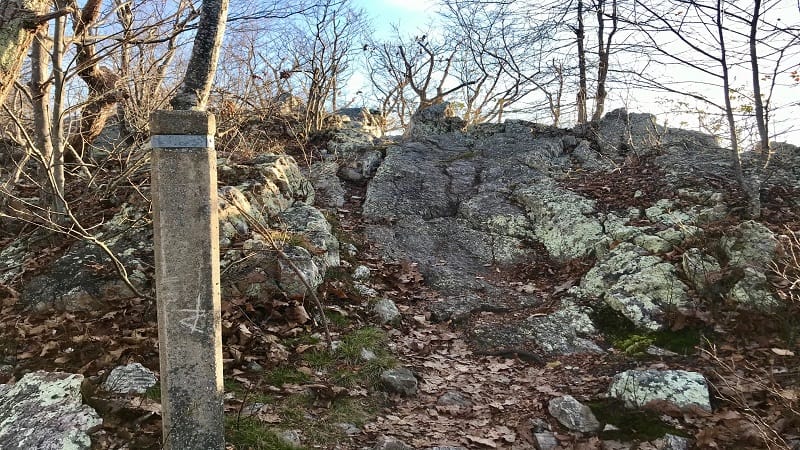 This hike briefly follows the white-blazed Appalachian Trail before hikers pick up the blue-blazed Turk Mountain Trail for rock scrambles and wide-open views.
Enjoy quiet, wooded trails on this hike, as well as both east-facing and west-facing views in different spots on this forested hike to the top of Turk Mountain.
| Trail Stats | |
| --- | --- |
| Length | 2.5 miles |
| Difficulty | Moderate |
| Trail Type | Out-and-Back |
| Elevation Gain | 699 feet |
| Duration | 1.5-2 hours |
| Terrain | Mostly dirt trails, some rock scramble |
| Dog-Friendly | Yes |
| Fee | $30 per vehicle (good for seven days) |
| Driving Directions | Click Here |
Turk Gap
The Turk Gap parking area at milepost 93.5 has room for maybe 12 cars. It's located on the east side of Skyline Drive.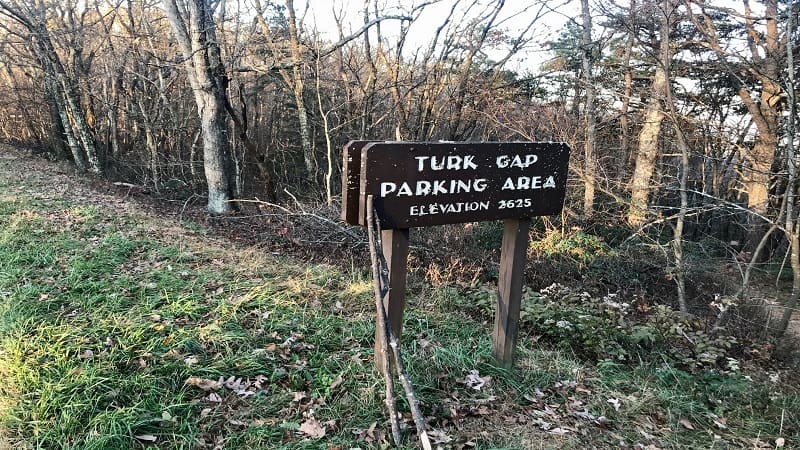 There is a trail marker adjacent to the parking area, but it is not for this hike. That trailhead is for the Turk Branch Trail, which goes south and southwest.
Instead, cross to the west side of Skyline Drive. You should see a concrete marker for the Turk Mountain Trail. You may also see a friendly deer, like I did.
However, do note that your first steps will be on a southbound section of the white-blazed Appalachian Trail.
Turk Mountain Trail
At the marker, stay left for a 0.2-mile walk on the Appalachian Trail. You'll then reach a fork in the trail. I told you, it's a very short stretch of the Appalachian Trail.
At the fork, stay right for the blue-blazed Turk Mountain Trail. This will lead you to the rocky overlooks and big views across the mountains and valleys.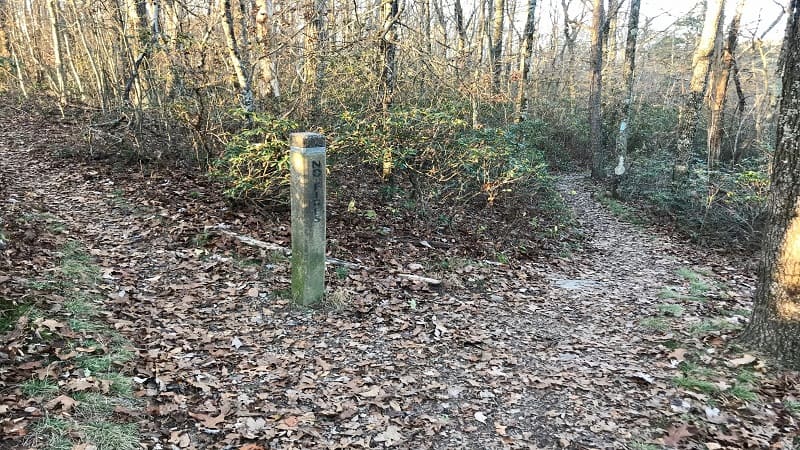 If you listen closely, you may hear a train whistle off in the distance. The Amtrak train choo-choos through nearby Staunton in the Shenandoah Valley.
The terrain of the Turk Mountain Trail is mostly dirt, but it does get more rocky just past the 0.8-mile mark. From here, it's a flat section, then a section of rocks.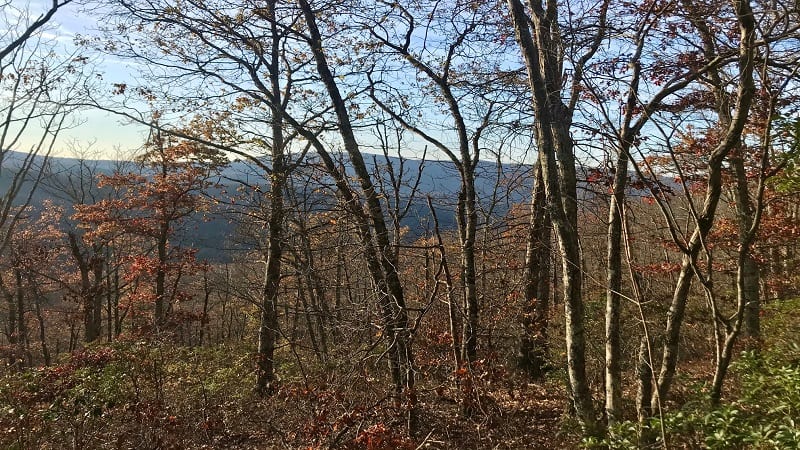 If you manage this hike in late-fall or or winter, you can enjoy views of nearby mountains through the trees on the left and right with each step you take.
Talus Slope
At the 1.0-mile mark, you'll see a talus slope to the right. This basically looks like a rock slide. Thankfully, a cleared-away trail allows for safe passage.
You'll reach a double blue-blaze at the 1.1-mile mark. You can either turn right to continue to the summit or you can stay left for an open rocky area for views.
Scramble up a small hill, then turn right to stay on the trail. In a few more steps, you'll see a short spur trail (like 7 or 8 steps) to a small outcrop for endless views.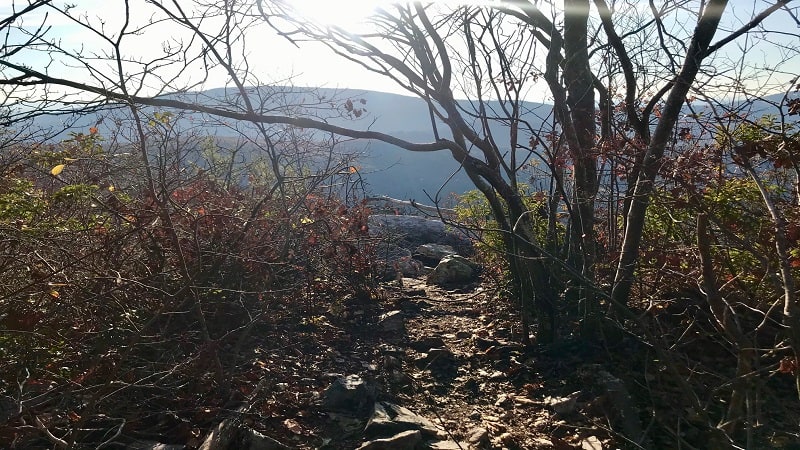 At the 1.2-mile mark, a concrete trail marker lets you know you have arrived. There are plenty of large rocks so there's no need to settle on the first ones you see.
Scramble out to the most distant rocks for wide-open northwest-facing views. This is a great spot to re-hydrate and re-fuel while taking in all the mountain views.
Wrap-Up Notes
The Turk Mountain hike took me just over an hour to complete, including time spent hiking and savoring the views at the Turk Mountain overlook.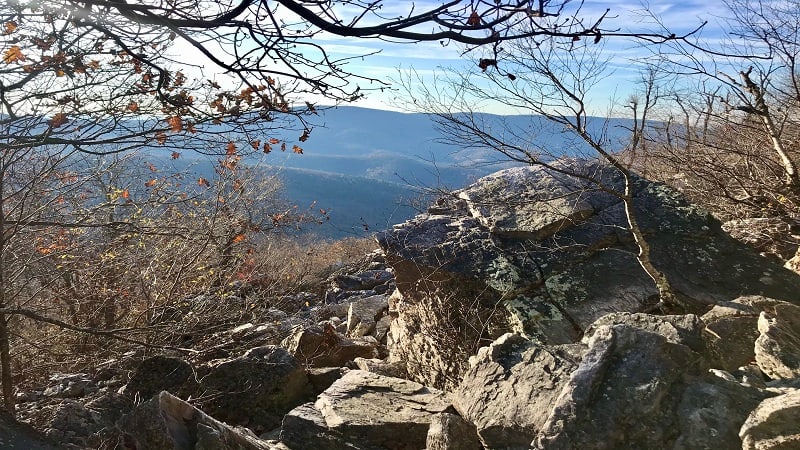 Just 30 minutes away, Waynesboro is the closest town for post-hike eats and sips. A couple of faves include The Fishin' Pig and The Tailgate Grill.
Eager for more steps on hiking trails? Check out my favorite hikes near Staunton and hikes near Waynesboro, as well as top Skyline Drive hikes.