Doyles River Falls: Hike to Upper Falls and Lower Falls at Shenandoah National Park
I'd been eager to hike to Doyles River Falls in the South District of Virginia's Shenandoah National Park for quite some time. Sadly, August was not the right time to go.
Honestly, I should have known better. I don't remember the last time we've had a really good rain. At both Upper Falls and Lower Falls, the falls were barely a trickle.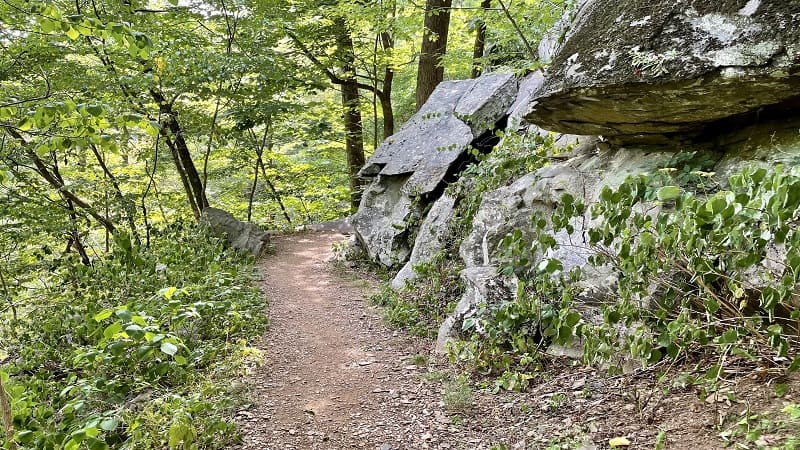 I actually had plans to hike to Jones Run Falls the next day, but quickly bagged that idea. I can't imagine the water situation at Jones Run Falls was markedly different.
Still, I enjoyed some water views and a nice side trip to Doyles River Cabin, one of six Potomac Appalachian Trail Club (PATC) cabins in the national park.
| Trail Stats | |
| --- | --- |
| Length | 3.6 miles |
| Difficulty | Moderate |
| Trail Type | Out-and-Back |
| Elevation Gain | 1,217 feet |
| Duration | 2-3 hours |
| Terrain | Mostly dirt & rock trails |
| Dog-Friendly | Yes |
| Fee | $30 per vehicle (good for seven days) |
| Driving Directions | Click Here |
Arriving at the Trailhead
The parking area is located on the east side of Skyline Drive at milepost 81.1. It's a good-size lot with room for at least a dozen cars.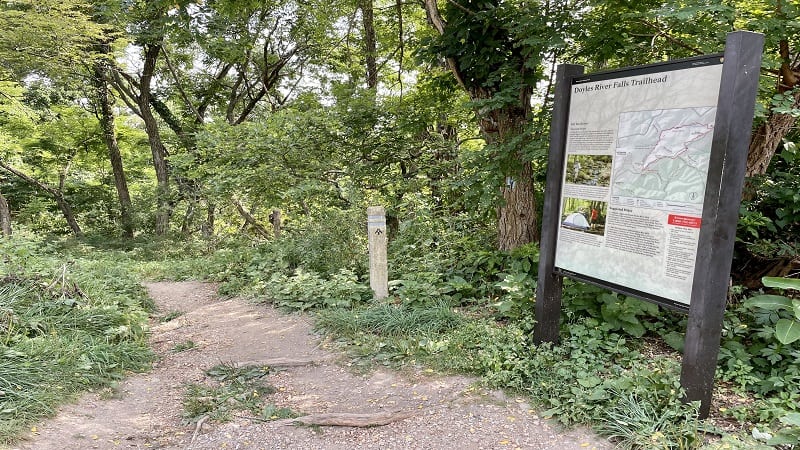 You'll see a trail kiosk marking the start of the hike along the blue-blazed Doyles River Trail. There are two suggested Shenandoah hiking trails, including an out-and-back to the falls.
Alternatively, you can complete a large loop hike that includes both Doyles River Falls and Jones Run Falls. That's definitely on my agenda when I come back for the falls.
The First Steps
Walk past the large trail kiosk (on your right) and you will immediately be enveloped by the forest as you proceed along the Doyles River Trail.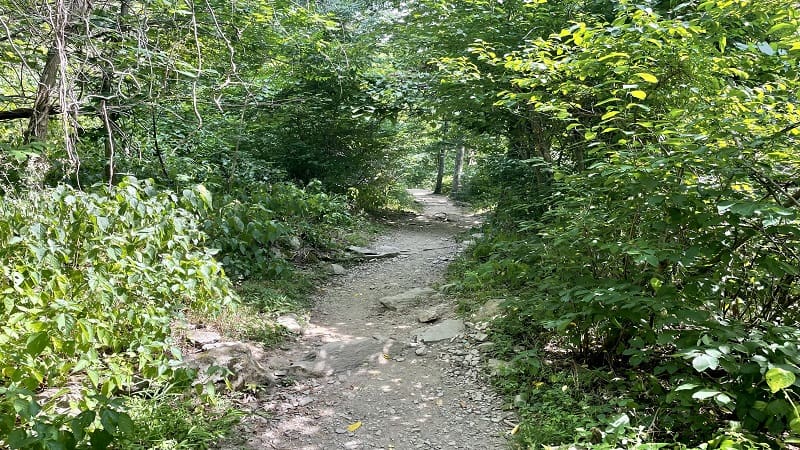 In a few steps, the blue-blazed trail crosses over the white-blazed Appalachian Trail. Continue straight ahead on your gradual descent to Upper Falls and Lower Falls.
At the .3-mile mark, turn left onto a spur trail that leads to Doyles River Cabin. All hike-in PATC cabins in the park can be rented by anyone, not just PATC members.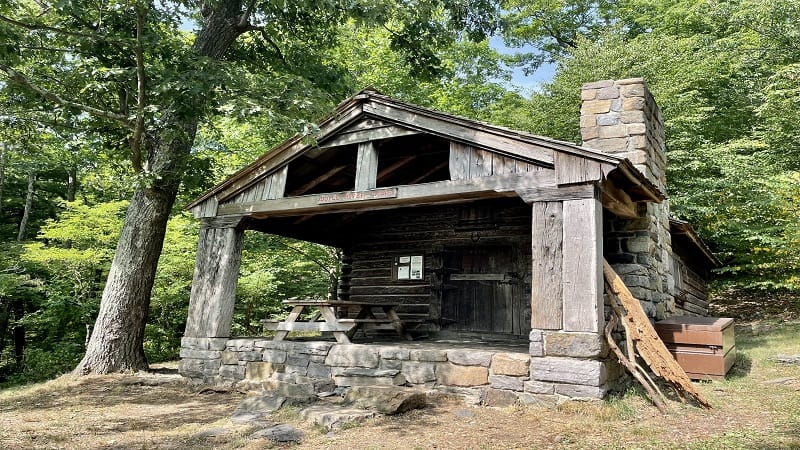 The current rates for stays before September 1, 2021 are $30/night on weekdays and $45/night on weekends. Both rates increase $5 per night after September 1.
It's a short (but steep) .1-mile walk to Doyles River Cabin, which was built in 1936 by artisans and laborers with the Civilian Conservation Corps (CCC).
Inside this primitive cabin there are two sets of bunks, two sets of double-width bunks, a wood stove and a dining area. A covered porch has views of Cedar Mountain.
From here, re-trace your steps to Doyles River Trail, then turn left to continue on to the falls. At the 1.1-mile mark, you'll begin to walk next to Doyles River.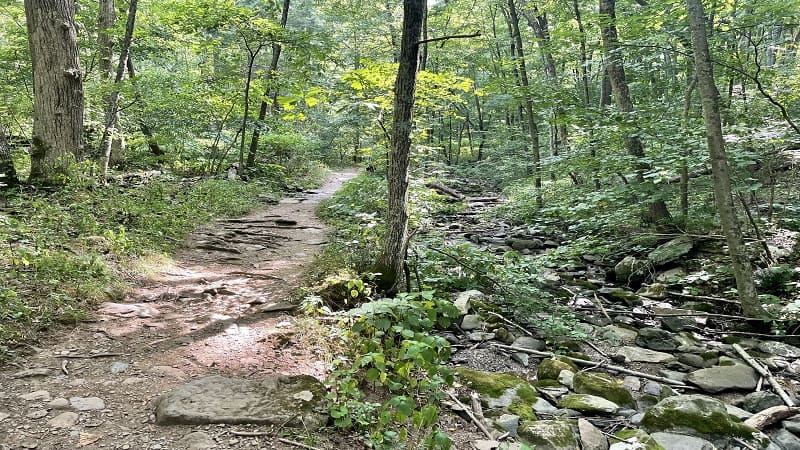 On my visit, there was almost no water to walk alongside, but I imagine it's quite a beautiful walk when the river is flowing. At the 1.2-mile mark, a "water crossing."
There are large rocks to hop across the river at this point, but they weren't necessary, at least not when I was there. I was able to walk on the riverbed without getting wet.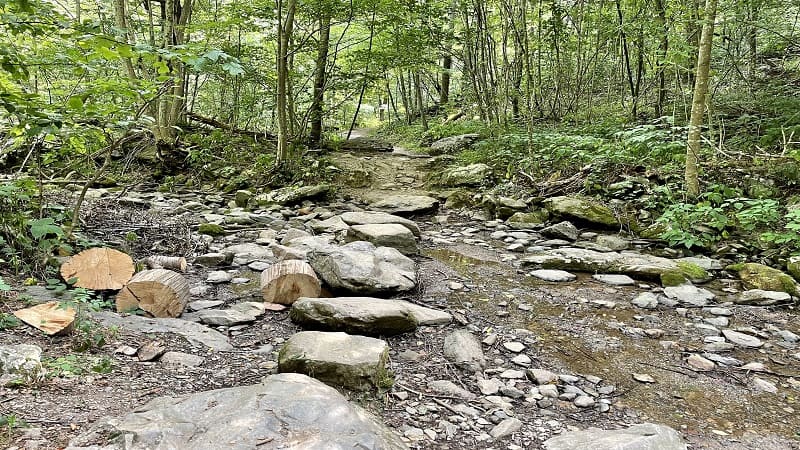 At the 1.4-mile mark, you can walk out to a small waterfall on the left. This is not Doyles River Falls, but it is a nice spot with a watering hole for a short break.
You'll reach a concrete trail marker directing hikers to Upper Falls (28 feet tall) at the 1.5-mark. It's a short descent for easy views of Doyles River Falls.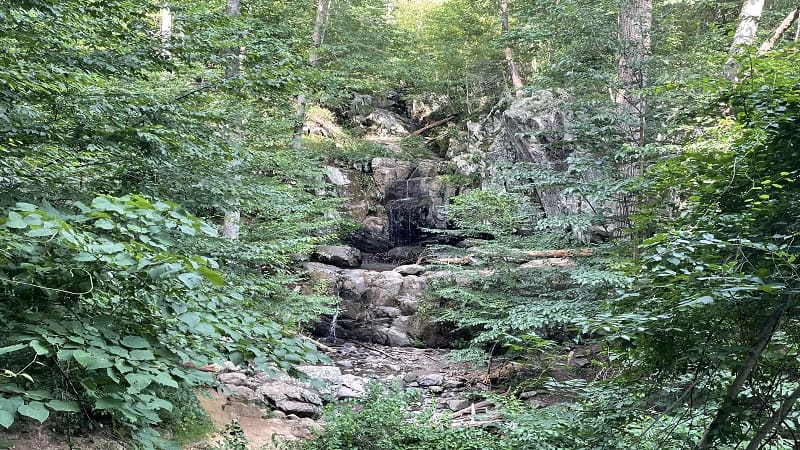 From here, re-trace your steps to Doyles River Trail, then turn left to continue on to Lower Falls (63 feet tall). You'll arrive at the falls at the 1.8-mile mark.
The AllTrails listing for this hike suggests that you continue on to a bridge that marks the start of the Jones Run Trail at the 2.1-mile mark, but there's no need to do so.
I walked the extra .3-mile to the bridge, but there was nothing more to see. Once you've taken in the views of Lower Falls, simply re-trace your steps to the trailhead.
Wrap-Up Notes
From the trailhead, this hike took me just over 90 minutes, but of course, this includes the time spent walking to the bridge at the end of the Doyles Falls Trail.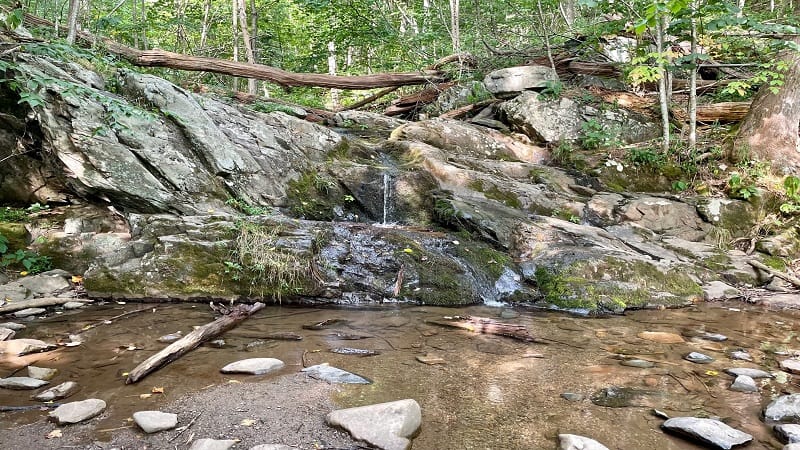 I've seen photos of Doyles River Falls when the falls are far more impressive, so I will definitely be back, maybe in the winter or spring. I will check on the water levels.
For more in-park waterfall hikes, consider Rose River Falls (milepost 49.5), Dark Hollow Falls (milepost 50.7) and South River Falls (milepost 62.8).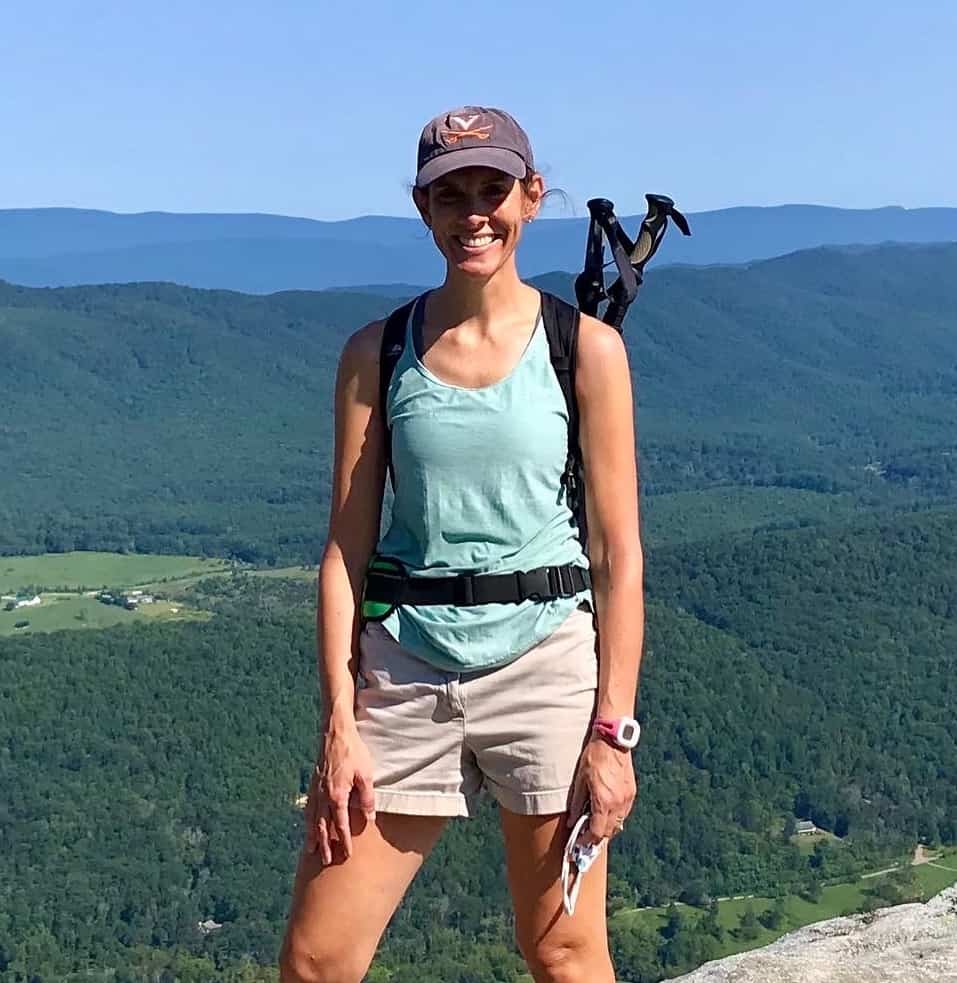 Erin Gifford is the editor of Go Hike Virginia. She has completed more than 300 hikes in Virginia. She is also the author of three hiking guidebooks from Falcon Guides. Need help finding a hike? Check out the Trail Finder feature or send Erin a message.