Lands Run Falls: A Short & Sweet Waterfall Hike at Shenandoah National Park
I hiked to Land Run Falls at Shenandoah National Park over the weekend. A very short hike leads to this tumbling waterfall, but keep your eyes open.
A gravel fire road guides hikers over the top of the falls, so it can be very easy to miss if you're not paying attention.
This is a popular waterfall hike at Shenandoah National Park given its relatively close proximity to Northern Virginia and Washington, DC.
This short hike is a good one to pair with another short hike or two in the park's North District, like the Fox Hollow Trail or Compton Peak.
| Trail Stats | |
| --- | --- |
| Length | 1.2 miles |
| Difficulty | Easy |
| Trail Type | Out-and-Back |
| Elevation Gain | 308 feet |
| Duration | 1 hour |
| Terrain | Mostly gravel path |
| Dog-Friendly | Yes |
| Fee | $30 per vehicle (good for seven days) |
| Driving Directions | Click Here |
Lands Run Parking Area
For this waterfall hike, motor along Skyline Drive to milepost 9.2. The parking area is on the west side of the byway that meanders the length of the park.
Here you'll find parking for a dozen cars. You will see a trail set off on the north end of the parking lot, but that is the blue-blazed Dickey Ridge Trail.
For this hike, you'll begin at the sound end of the Lands Run parking area, on the yellow-blazed Lands Run Fire Road.
Look for the gravel path and the sign that reads "Fire Road No Parking." This is your starting point. Now, get ready for a mild descent to the falls.
Lands Run Fire Road
The Lands Run Fire Road is a wide, gravel path. You'll take this all the way to Lands Run Falls. Given its width, it's nice for hiking side-by-side with a friend.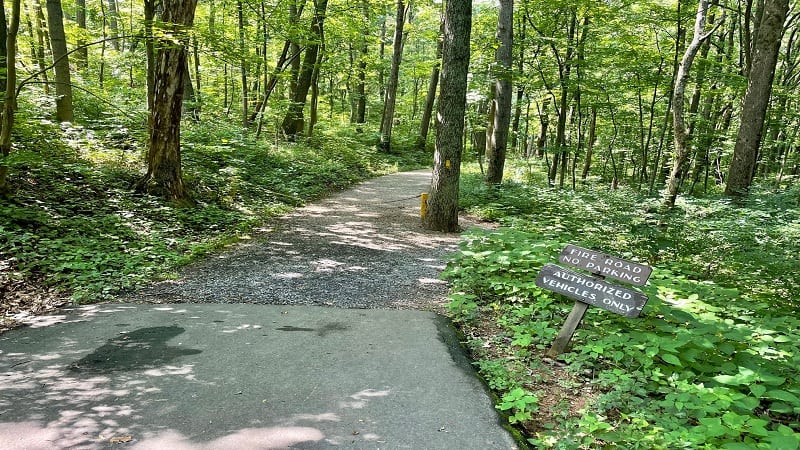 At the 0.1-mile mark, you'll see a stone bench on the left. You may not need it now, but it's a welcome sight on the ascent back up to the trailhead.
Continue on and you will see a massive rock pile on the left at the 0.2-mile mark. There's a good chance children will want to scramble up to the top.
As you proceed, you may find it's a fairly uneventful hike. However, it's short and shaded, so that's a win for many visitors in the park for the day.
Lands Run Falls
At the 0.6-mile mark, you will reach Lands Run. On the left side of the path, you may want to take off your shoes to splash around in the small stream.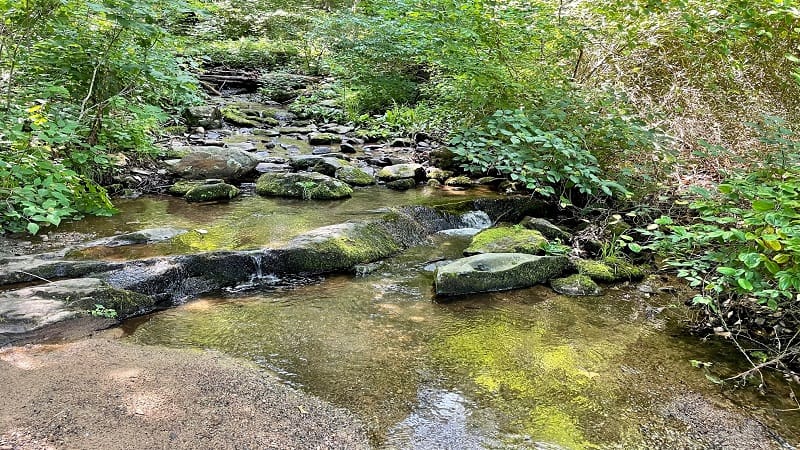 Before you reach Lands Run, you'll see a side path on the right, which takes you near the top of the falls. However, there's not much of a view.
Instead, look for the path on the right that's just past Lands Run. This will lead you to views of the cascading falls.
A series of cascades fall 80 feet into a narrow gorge, but you can only safely see maybe the first 10 or 15 feet of Lands Run Falls.
Many visitors stop at this point to snap photos. You can continue on to the waterfall basin, but I suggest you proceed with extreme caution.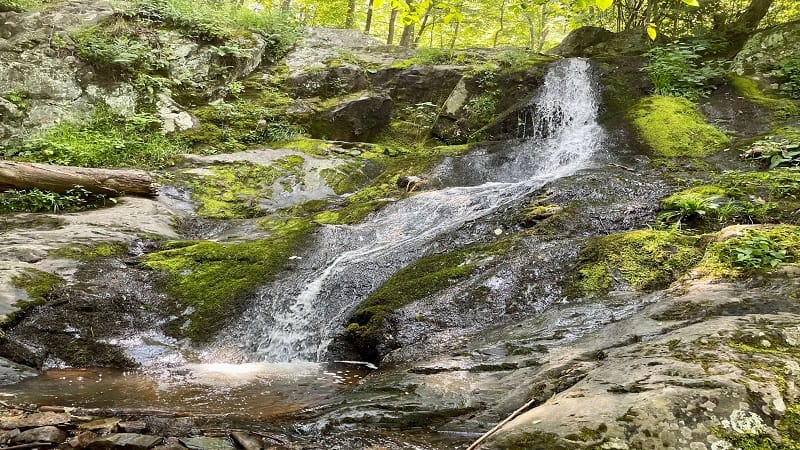 It can be steep and slippery on the way down, which creates a whole new challenge when climbing back up to the top of the falls.
In dry months, like July and August, Lands Run Falls may be little more than a trickle, but I thought it was flowing nicely on my late-July visit to the falls.
Re-trace your steps to the parking area or continue on the Lands Run Fire Road to the end of the trail at the 1.9-mile mark. Then, re-trace your steps.
Wrap-Up Notes
From the parking area, this hike took me less than 30 minutes. It's a nice hike if you want a quick peak at a waterfall.
Before or after this hike, stop in the Dickey Ridge Visitors Center at milepost 4.6. You'll find restrooms, a short park orientation film, exhibits and a bookstore.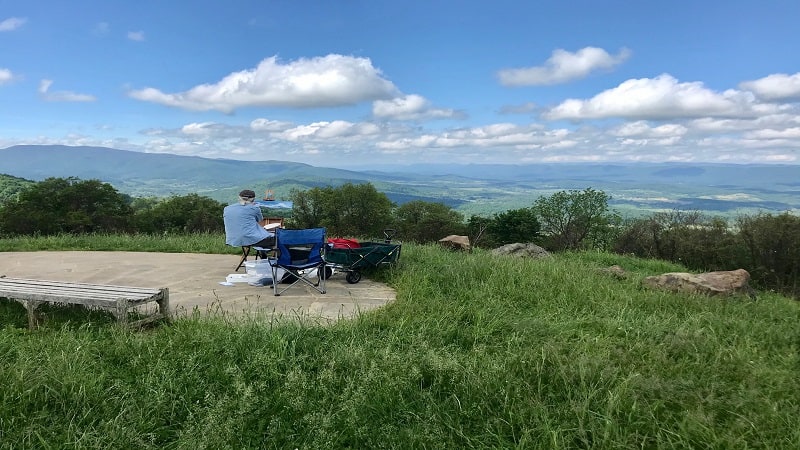 Pick up a Junior Ranger Activity Booklet for kids ages 7-12. They can complete activities, then be sworn in as a Junior Ranger and earn a badge.
At the Dickey Ridge Visitors Center, there is also an overlook for sweeping views and a small picnic area. From here, it's a 20-minute drive to Front Royal.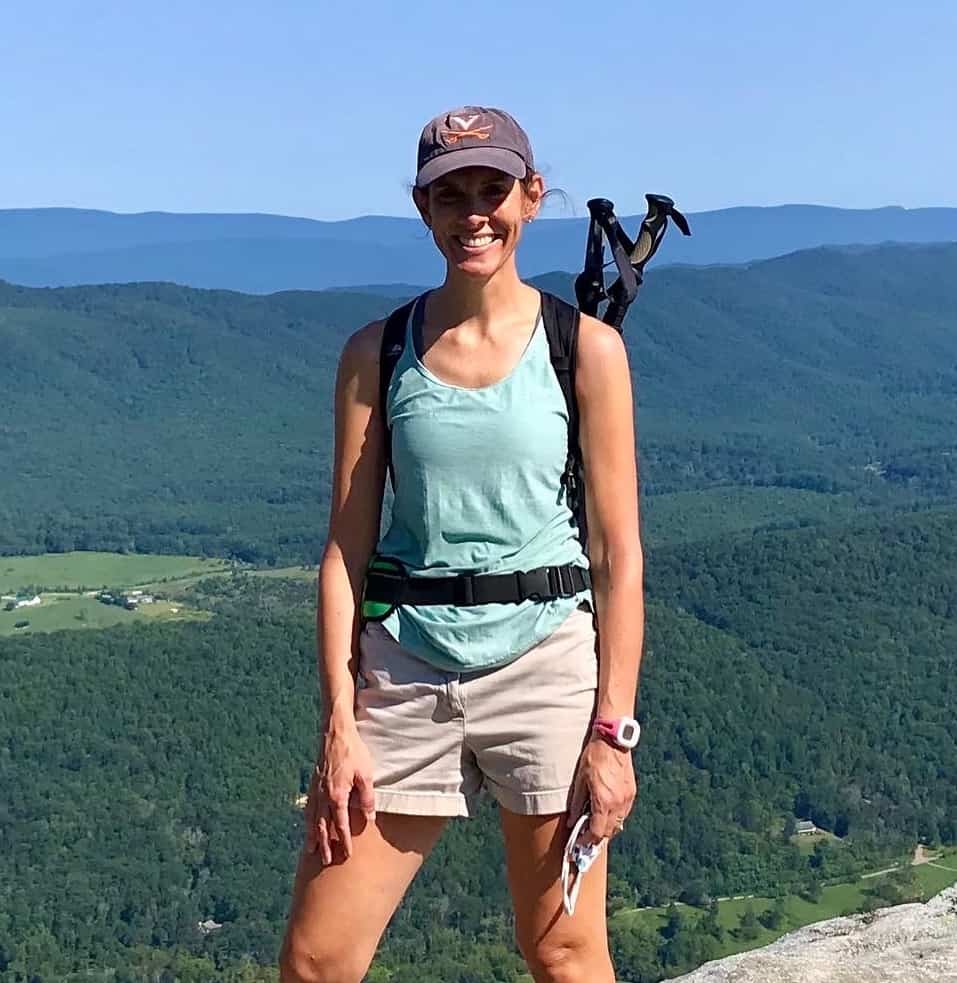 Erin Gifford is the editor of Go Hike Virginia. She has completed more than 300 hikes in Virginia. She is also the author of three hiking guidebooks from Falcon Guides. Need help finding a hike? Check out the Trail Finder feature or send Erin a message.