40 Easy First Day Hikes in Virginia to Kick Off 2023
As 2022 comes to a close, it's time to start thinking about First Day Hikes. They are a must to start off the year on the right foot. Literally.
There are so many great hikes across Virginia, but let's shake off 2022 and slowly ease our way into 2023.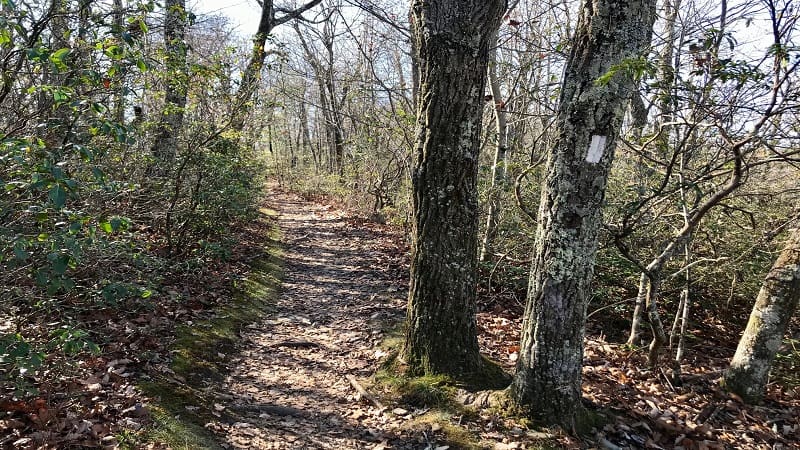 Here are 40 easy hikes that can be tackled and enjoyed by all levels of hikers. You'll find vistas, waterfalls, rock scrambles, river views and sandy beaches.
For more hikes, I encourage you to check out my Trail Finder feature, which pinpoints all hikes by location. All the green hikes are easy hikes.
Virginia First Day Hikes
The first 26 hikes are less than two miles. The remaining 14 hikes are under five miles. All are easy, delightful and satisfying for the whole family.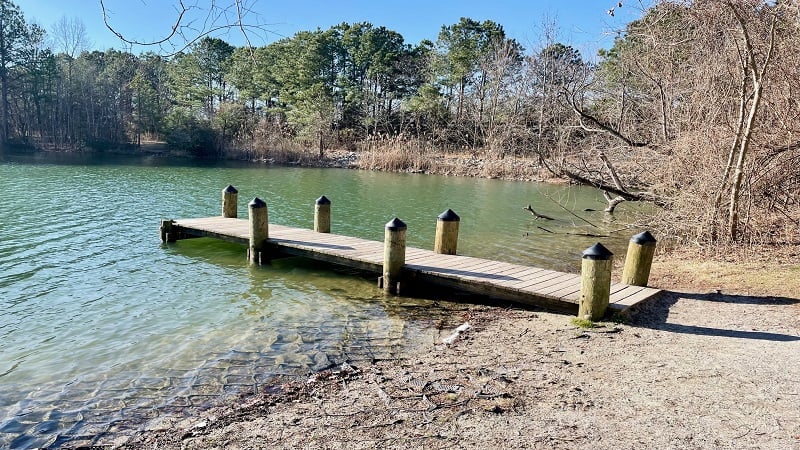 In Chesapeake, a 1.9-mile walking path circumnavigates 70-acre Oak Grove Lake. Wooden benches and overlooks reward visitors with scenic views.
This stroller-friendly trail is open to walkers, bikers and joggers. There are also several picnic tables, as well as a colorful playground.
This 1.2-mile loop hike on the blue-blazed Fox Hollow Trail begins across from the Dickey Ridge Visitor Center at Shenandoah National Park.
Walk across land owned by the Fox family before the park was established in 1935. The Fox family cemetery is one of more than 100 across the park.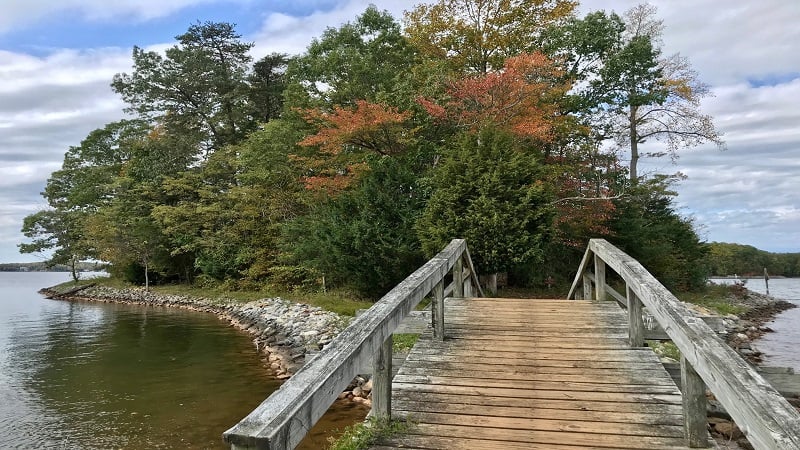 Smith Mountain Lake State Park may be better known as a go-to destination for water sports, but there's a lot to love on dry land too, like the Turtle Island Trail.
This popular 1.4-mile loop hike leads to a small island and a path that outlines the perimeter of the island. A small beach area precedes the footbridge to the island.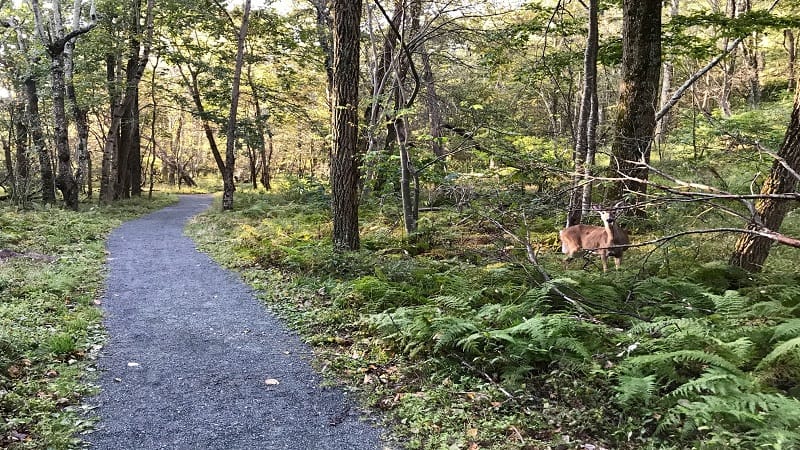 The fully-accessible Limberlost Trail is one of the most popular easy hikes at Shenandoah National Park. This trail does not allow pets.
This 1.3-mile loop along a flat, crushed greenstone walkway is stroller-friendly and wheelchair-accessible. More than 15 wooden benches dot the Limberlost Trail.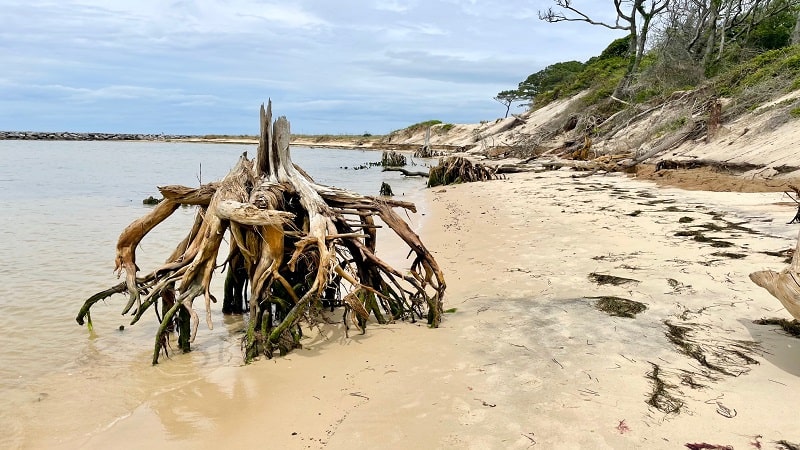 For a delightful coastal hike through a migratory songbird habitat, look to the Beach Trail at Savage Neck Dunes Natural Area Preserve in Cape Charles.
Visitors are rewarded with a relaxing white sand beach on the Chesapeake Bay that is littered with weathered driftwood. Enjoy the calmly lapping waves.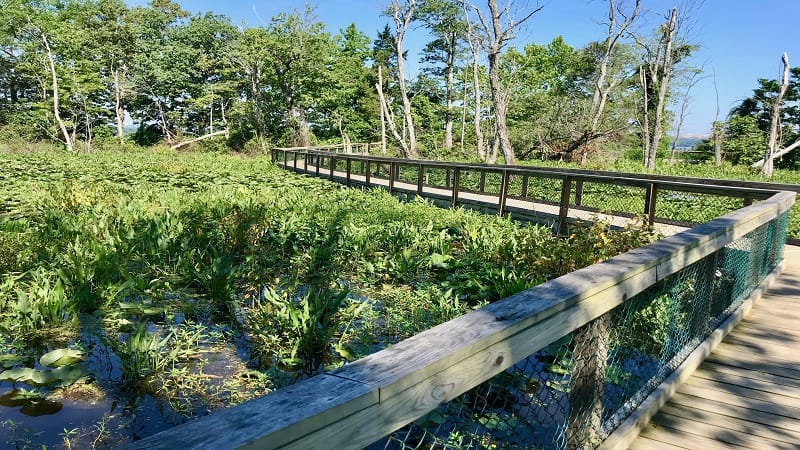 The flat, shady Bay View Trail at Mason Neck State Park may clock in at just 1.0-mile, but it's a nice loop hike that wows with dramatic views across Belmont Bay.
Take in the eclectic mix of wooded forest, sandy coastline and verdant wetlands. A wooden boardwalk guides visitors across a lily pad-strewn freshwater marsh.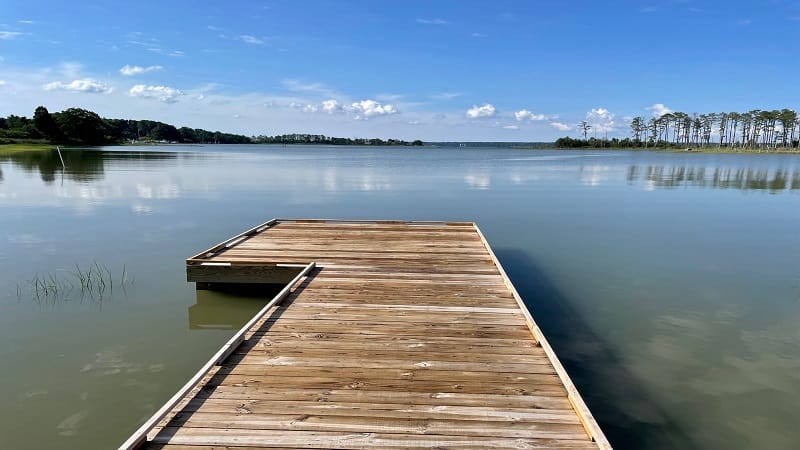 Our 40th state park, Machicomoco State Park, is set on Virginia's Middle Peninsula. This park has a campground, three hiking trails and a boat launch.
A celebration of this Native American heritage can be seen across Machicomoco State Park, most notably on the scenic .9-mile Interpretive Trail.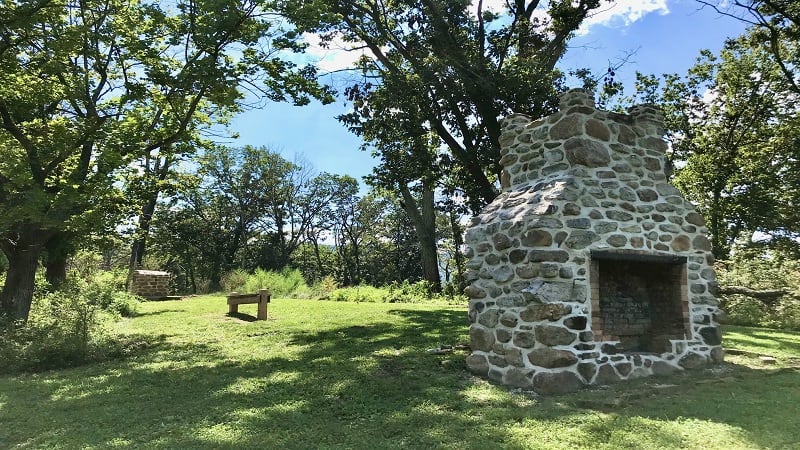 It's an easy 1.0-mile hike along the Eagles Edge Trail at Seven Bends State Park. Access this corn stalk-filled hike by way of the park's Lupton Road entrance.
Snap photos of a suspension bridge over the Shenandoah River, the remains of a river stone fireplace, a working apiary and a LOVEworks sculpture.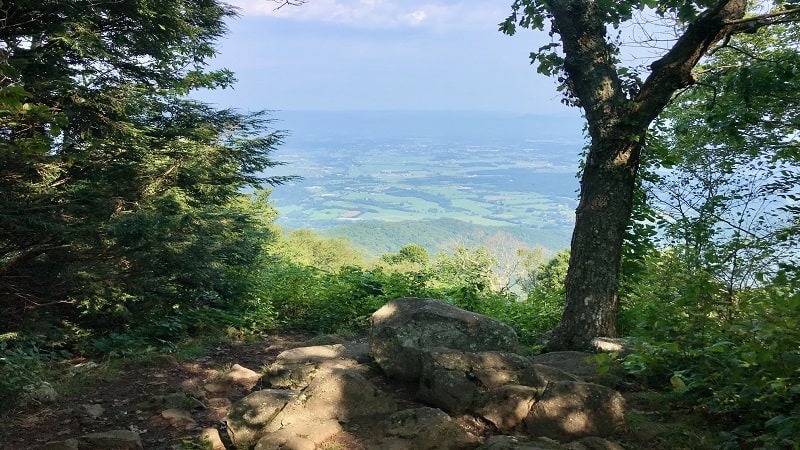 The 1.5-mile Millers Head Trail at Shenandoah National Park rewards with views of Massanutten Mountain and working farms from Bushy Top Observation Point.
Continue on to a former fire tower that dates back to the 1940's when there were seven fire towers in this national park, each manned around the clock.
At Widewater State Park in Stafford, the primary hiking trail sets off just behind the visitor center. It's the .8-mile red-blazed Long Pond Trail.
This easy trail begins along a dirt path toward Aquia Creek. Well-placed wooden benches allow hikers to savor far-reaching views across the water.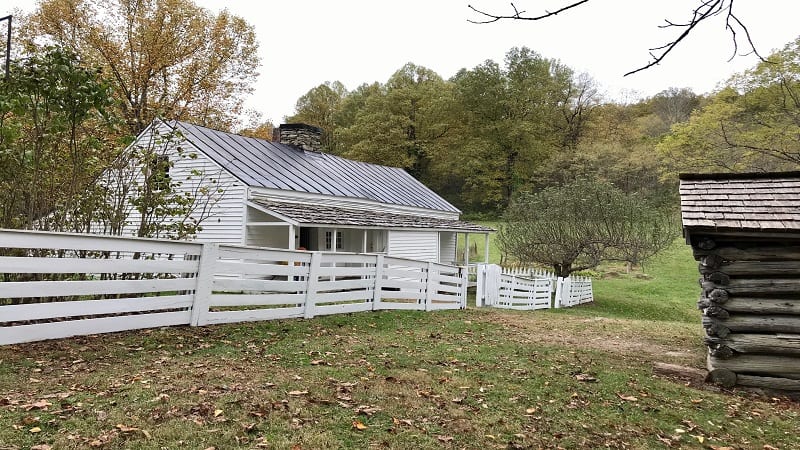 This hike can either be done on its own or coupled with Harkening Hill. Begin just to the right of the Peaks of Otter Visitor Center, across the byway from the lodge.
The main attraction is Johnson Farm, a family farmhouse that was built in 1854. It's since been restored and includes a weaving shed and apple house.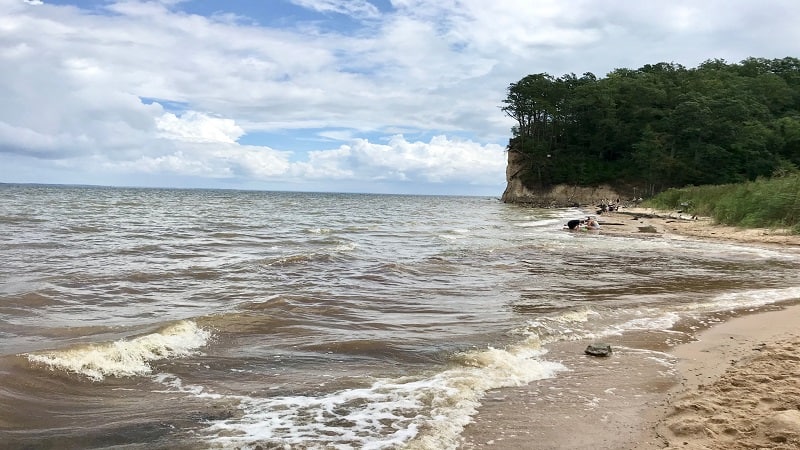 At Westmoreland State Park on Virginia's Northern Neck, the 1.4-mile out-and-back Big Meadow Trail is among the most popular at this state park.
The forested Big Meadow Trail leads to Fossil Beach. Bring along a sieve or colander as you'll want to hunt for fossils, like shark teeth.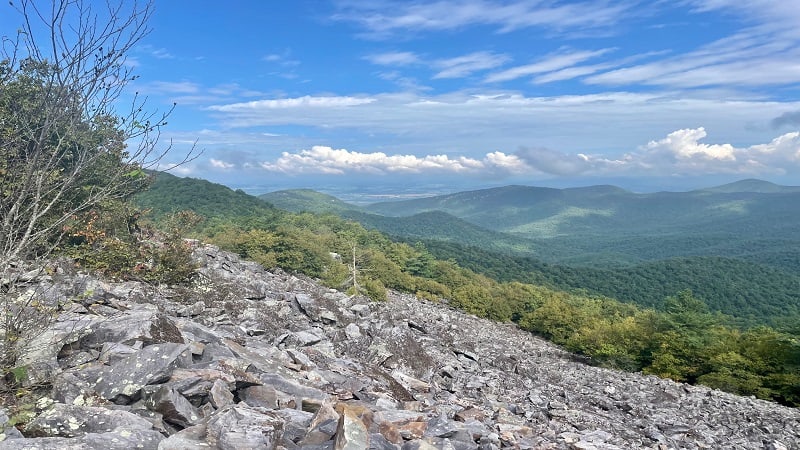 Blackrock Summit at Shenandoah National Park is an easy hike to love. It's also a plain easy hike, and one that wows with a massive field of – yes, black rocks.
Wide-open views across the Shenandoah Valley are another reason to complete this 1.8-mile hike, which includes a short stretch along the Trayfoot Mountain Trail.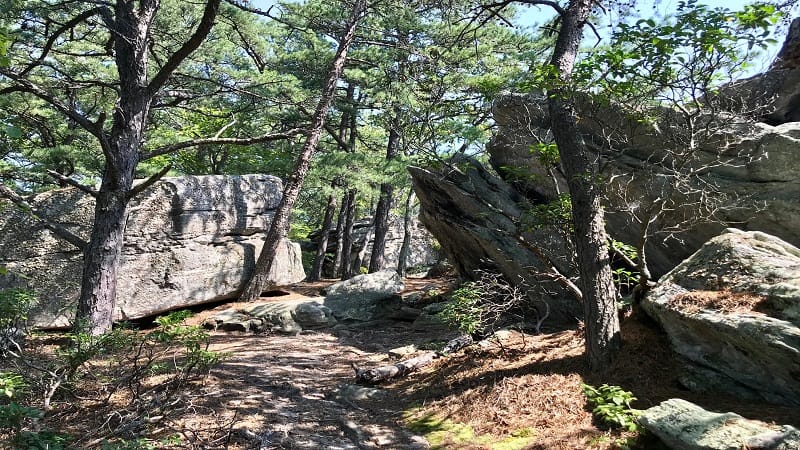 For those who aspire to hike Virginia's Triple Crown (Dragon's Tooth, McAfee Knob & Tinker Cliffs near Roanoke), a good place to start is Sawtooth Ridge.
This 1.9-mile out-and-back hike shares parking with McAfee Knob, taking hikers on a southbound stretch of the Appalachian Trail with views and a rock scramble.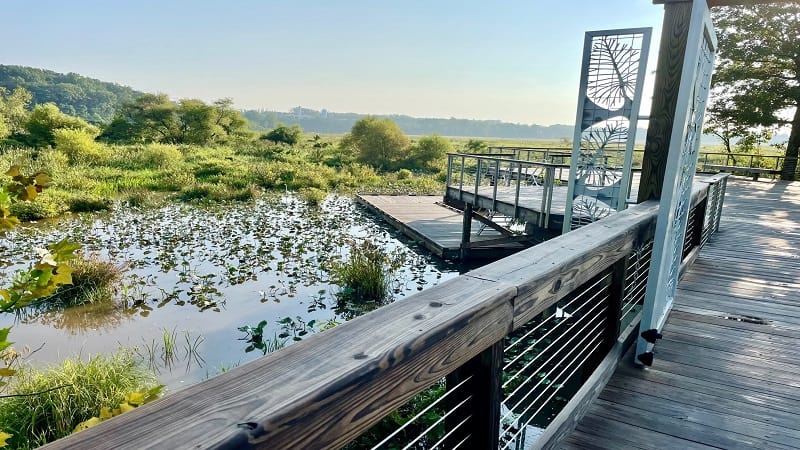 The easy 1.7-mile hike along the Neabsco Creek Boardwalk in Woodbridge is tops among birders eager to ogle snowy egrets, wood ducks and red-winged blackbirds.
It's also not unusual to see beavers, ospreys and great blue herons as you stroll along the 10-foot-wide boardwalk trail, particularly in the early-morning hours.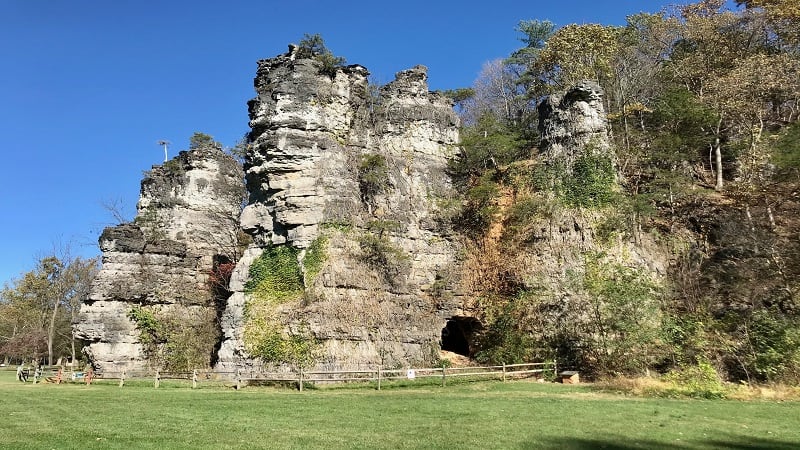 For a geologically curious hike, look to Natural Chimneys Regional Park. Imposing limestone formations inspire and awe. More than that, they're really cool.
This 1.9-mile loop hike starts on the Overlook Trail, taking visitors above the natural chimneys before winding along the North River on the River's Edge Trail.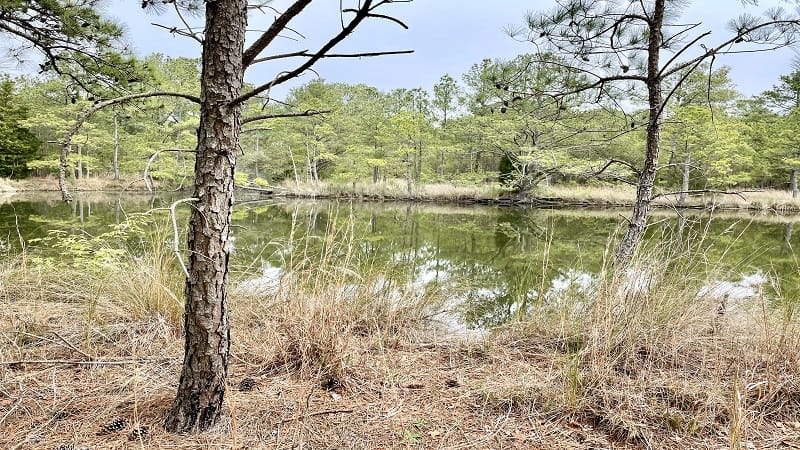 At the 118-acre Pleasure House Point Natural Area in Virginia Beach there are two trails, the Meadow Trail and the Beach Trail.
These two Virginia Beach hiking trails make up a two-mile loop that encircles the natural area with views aplenty of maritime forest and tidal marsh.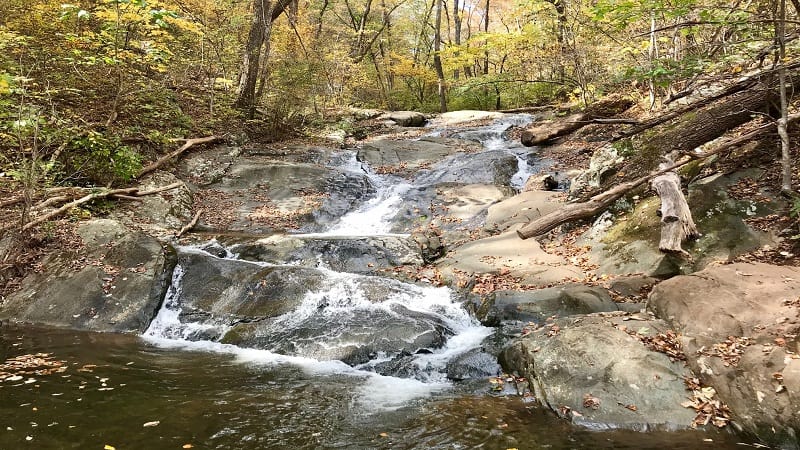 The Paul's Creek Trail is a stone's throw from Wintergreen Resort. It's peaceful and you may feel like you're the only one who knows about this 1.2-mile hike.
It's a delightful walk through the trees before you need to hopscotch across rocks over a burbling creek. Then, a refreshing waterfall. Ah, serenity.
The paved Storybook Trail is an accessible, easy-going hike within the George Washington & Jefferson National Forests.
The out-and-back hike may be just .7-mile, but this trail delights with off-trail rock scrambles and breathtakingly beautiful views from the wooden observation deck.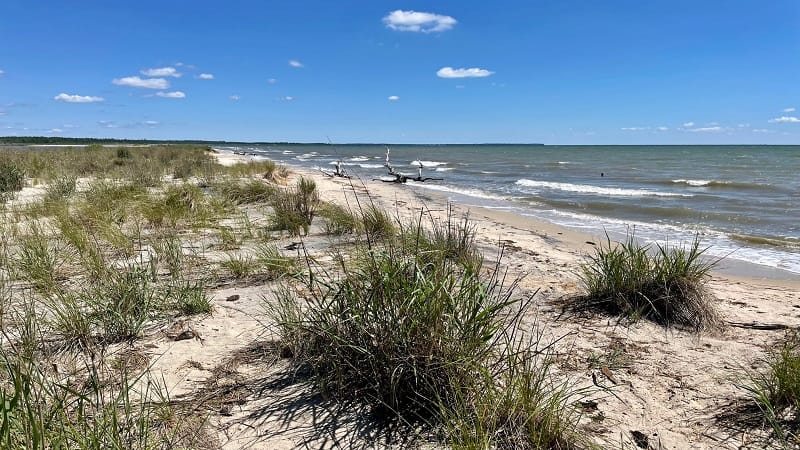 Hughlett Point Natural Area Preserve is a hidden gem. You'll drive by corn and soybean fields to reach the parking area. Then, a coastal oasis.
Kids will love skipping along boardwalk trail, walking out onto the observation decks for views across the salt marsh and traipsing across the sandy beach.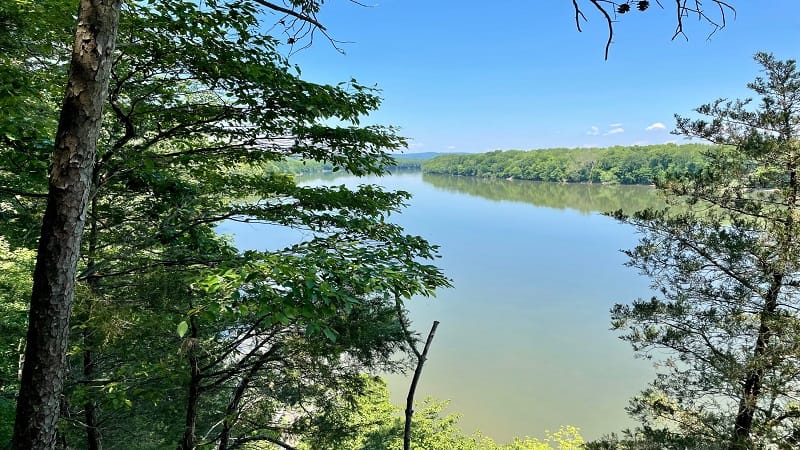 At Red Rock Wilderness Overlook Regional Park in Leesburg, a 1.2-mile hike follows the perimeter of this 67-acre park set on the Potomac River.
This small wooded park features winding nature trails, as well as several historic buildings from the 1880's, including an Ice House and Carriage House.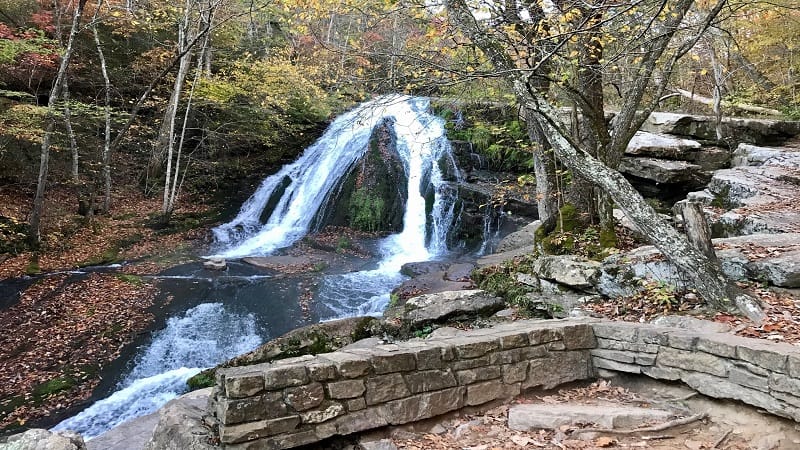 This short and sweet 1.7-mile waterfall hike at Roaring Run Furnace Day Use Area is a rewarding hike that can be completed (and loved) by all levels of hikers.
The trail guides visitors alongside cascading Roaring Run all the way to the falls. Enjoy a history lesson at the historic iron furnace that dates back to the 1800's.
This delightful, leafy trail at Smith Mountain Lake State Park guides you along a forested peninsula that juts out into the lake that is the centerpiece of this park.
Strategically placed wooden benches along this 1.7-mile hike allow visitors to savor the pristine lake views and breathtaking vistas of the Blue Ridge Mountains.
At Buffalo Mountain Natural Area Preserve, three short trails combine into one magical hike that culminates atop Buffalo Mountain for 360-degree views.
This laid-back 2.0-mile hike guides across a few steep, forested sections, but the payoff when you reach Barrens Loop is beyond your wildest dreams.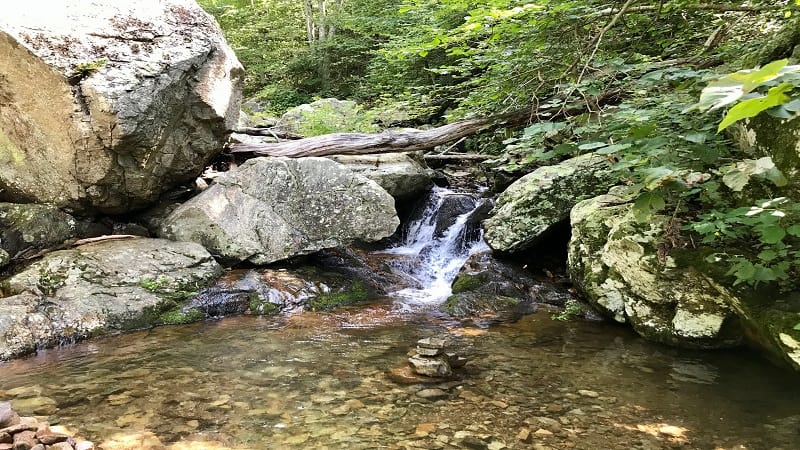 The 1.2-mile out-and-back hike to Fallingwater Cascades off the Blue Ridge Parkway guides visitors along a forested trail to a gently cascading waterfall.
The waterfall is small, but it does offer a refreshing respite. This hike can also be done as a loop hike if you continue the trail just past the falls.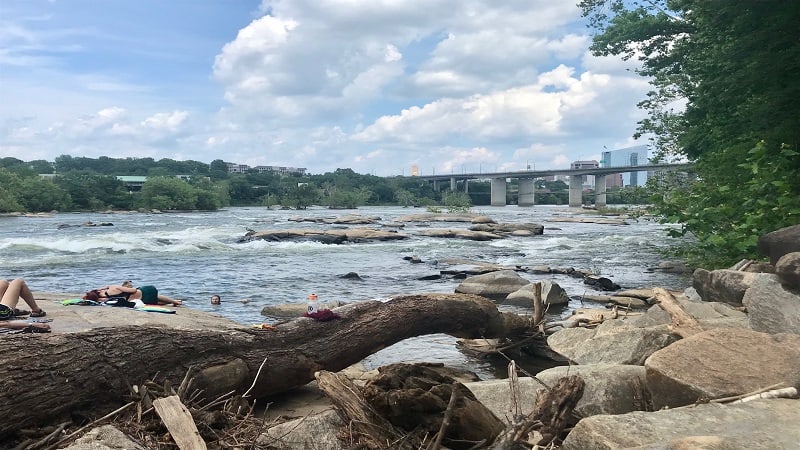 It can be challenging to find a satisfying hike in an urban setting, but the Belle Isle Trail in Richmond's James River Park goes the extra mile for visitors big and small.
This gravel loop trail clocks in at 1.8 miles and engages visitors with historical buildings, rock scrambles, a suspension bridge and a beach of river rocks.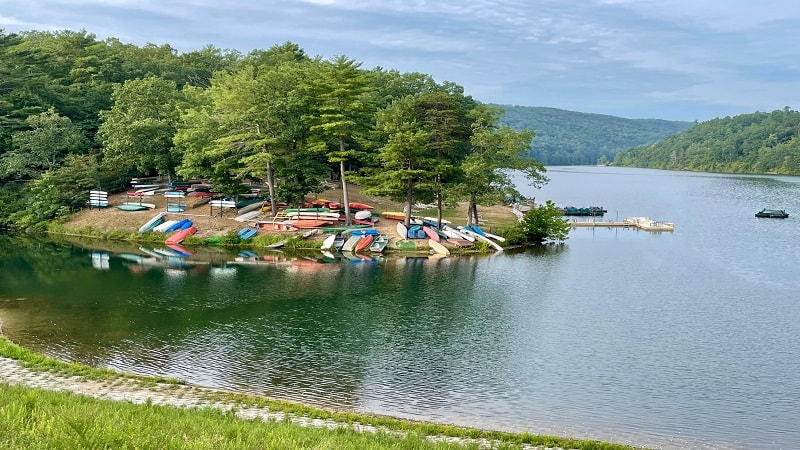 In Shenandoah County, 44-acre Lake Laura is a dream. It's also the perfect destination for an easy-going 2.5-mile walk around the lake.
This dam-fed lake in Basye is owned by Bryce Resort. As you circumnavigate the lake, you'll see weekend cabins steps off the trail.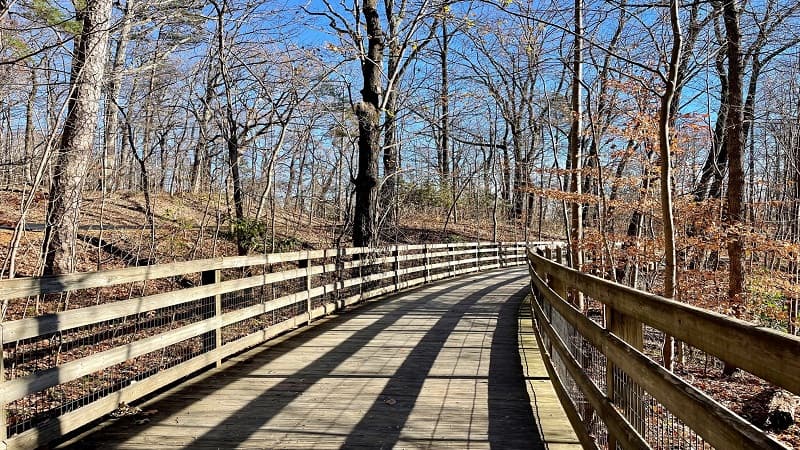 The well-maintained Saunders-Monticello Trail is a 4.3-mile out-and-back trail that winds along Carter Mountain to Thomas Jefferson's Monticello.
Along this kid-friendly trail, visitors take in views of native plants and a small pond. Gently curving boardwalks elegantly guide hikers into the forest canopy.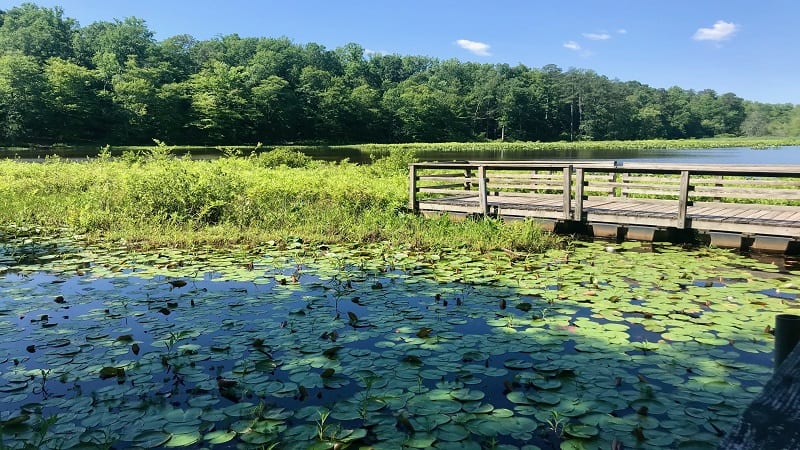 The Beaver Lake Trail is an easy 2.6-mile loop with mild terrain and evolving scenery, like bridges, wooden boardwalks and lily pad-strewn Beaver Lake.
Wooden benches appear every .5-mile along this hiking trail. Late in the hike, look for a dam that gracefully cascades water onto a scenic spillway.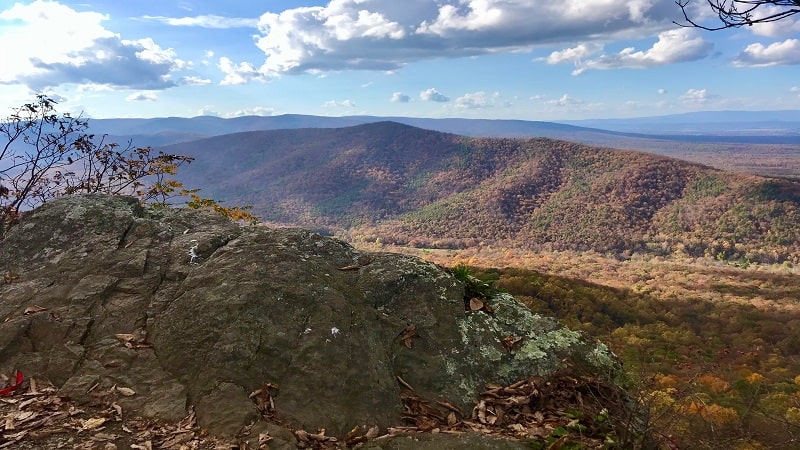 The 2.8-mile out-and-back Dripping Rock South hike originates across the Blue Ridge Parkway from the small Dripping Rock parking area.
This hike gently guides visitors along a forested southbound section of the Appalachian Trail. Along the way, prepare to be wowed by two scenic overlooks.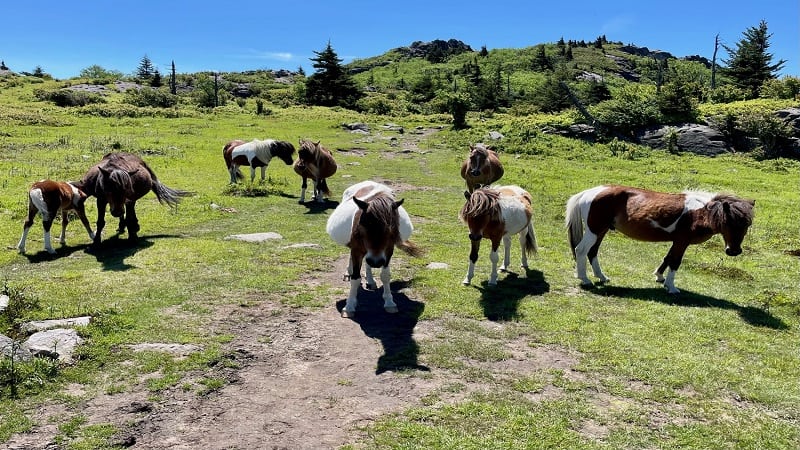 Given dozens of gentle, wild ponies roam the Appalachian Trail at Grayson Highlands State Park, it's a must to check off this easy 2.3-mile loop hike
There's so much to love about this hike – the balds, the alpine meadows, the hardwood forests, the panoramic vistas. And yes, the ponies (of course).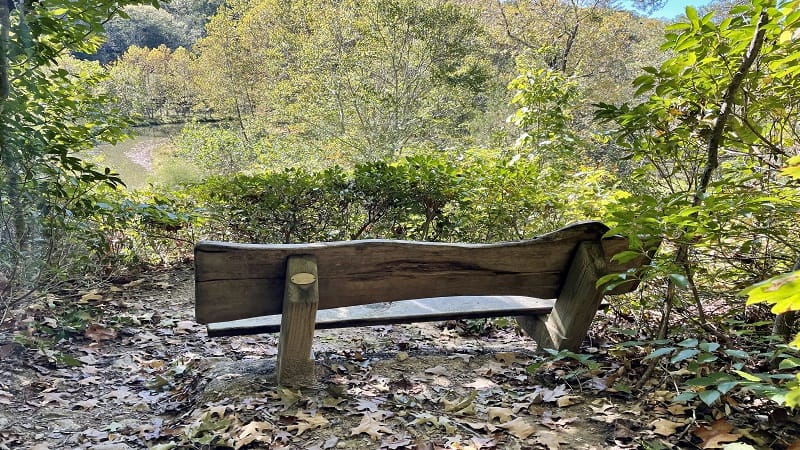 More than seven miles of hiking trails criss-cross the 219-acre Ivy Creek Natural Area, which sits alongside the South Fork Rivanna River Reservoir.
Along the natural area's 11 short trails, visitors encounter shoreline, streams, fields, pines and upland woods. The longest trail is the 1.7-mile Red Trail.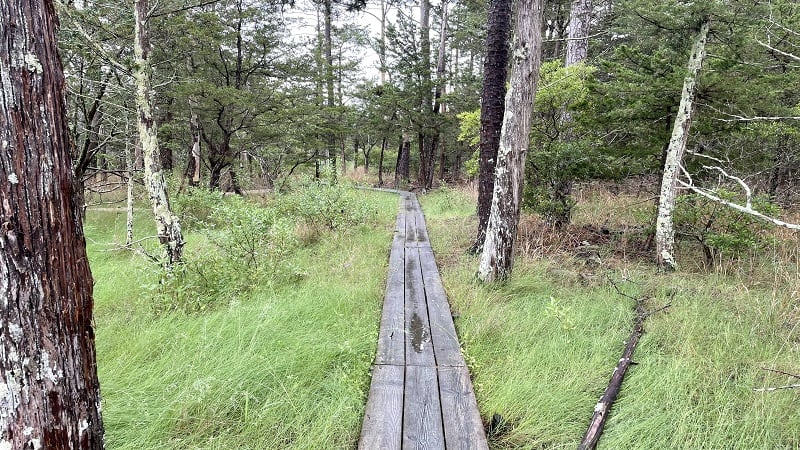 A hike on the William B. Cummings Birding and Wildlife Trail at Brownsville Preserve exposes visitors to salt marshes, hardwood forest and tidal creeks.
A printed trail guide allows you to read up on what you will see on the trail, as well as learn all about the nature preserve as you hike across the landscape.

Seneca Regional Park is a hidden gem. It's so hidden that some locals don't know about this forested wilderness area alongside the Potomac River.
Savor the river views, even check out a beaver's dam, and cross over several wooden bridges before the end of this easy-going loop hike through the woods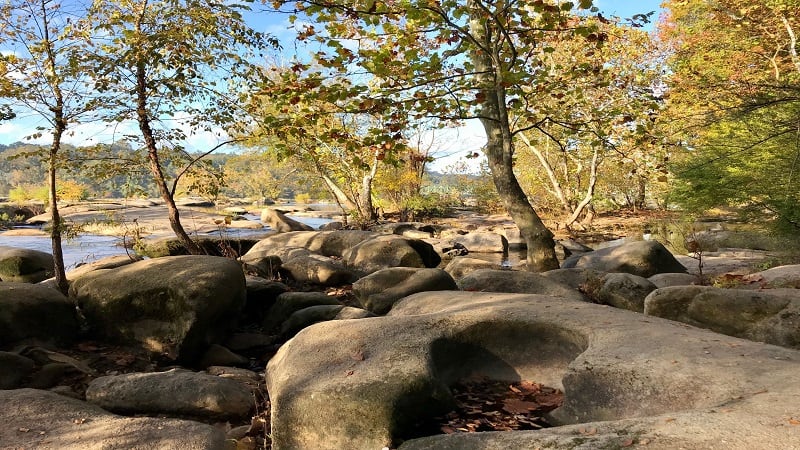 This leafy urban hike begins at James River Park, casually guiding hikers, including adventurous children, to and along the flowing James River.
Get ready to be wowed by colorful Texas Beach Murals that first appeared in 2014 to cover up graffiti in the stairwell that crosses over the train tracks.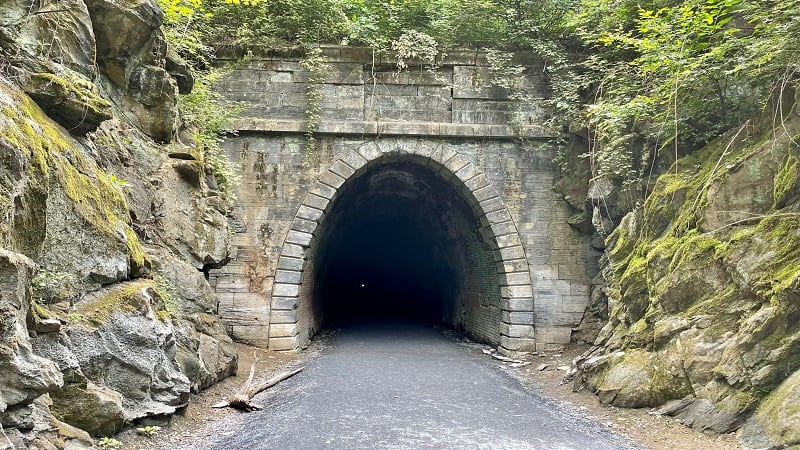 A 4.6-mile out-and-back hike leads visitors through a railroad tunnel from the 1850s. Bring a headlamp. It gets very dark in the Blue Ridge Tunnel.
Your best bet is to map to the East Trailhead in Afton, which has a large parking area. This is the starting point for most hikers.
For a gram-worthy loop hike with easy parking and access to sundries and supplies (in-season), the Loft Mountain Loop is a fantastic choice.
This 2.1-mile loop hike pairs the Frazier Discovery Trail with the Appalachian Trail for a scenic hike with rock scrambles, creek crossings and scenic vistas.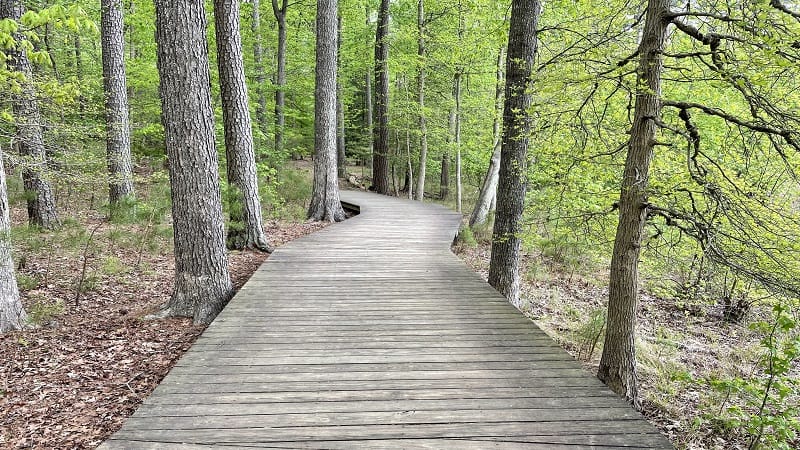 At Newport News Park, the delightful White Oak Nature Trail crosses the Lee Hall Reservoir twice, offering views of coastal wetlands and cypress swamps.
Take in the views of the bald cypress trees and tidal wetlands as you hike this trail. Keep your eyes open for swimming turtles that frequent the reservoir.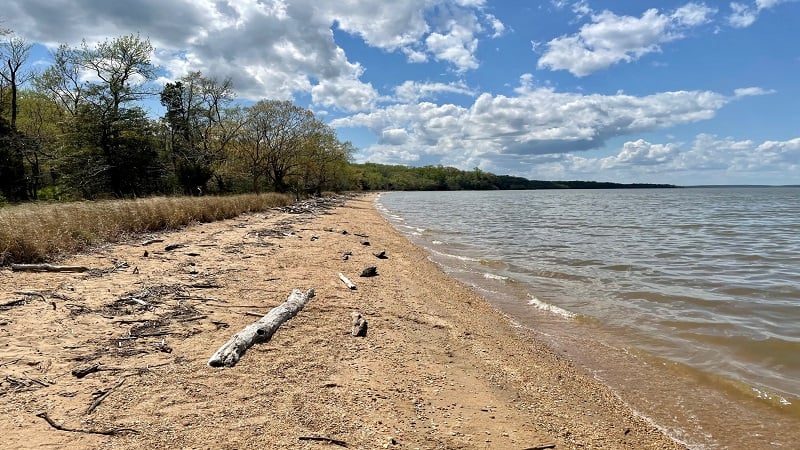 At Caledon State Park in King George, the Boyd's Hole Trail guides visitors across old growth forest and on to a relaxing sandy beach.
This state park is a National Natural Landmark known for its majestic bald eagles. The Boyd's Hole Trail is one of the best trails for spotting bald eagles.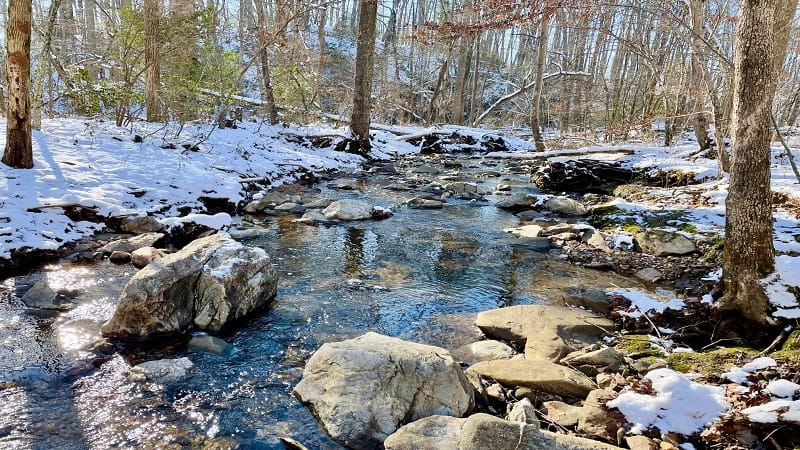 The 2.5-mile loop hike on the Wolf Trap Trail in Vienna is a hidden gem. Tops with dog walkers, the trail encircles the popular suburban concert venue.
Despite its location next to the Dulles Toll Road, this trail impresses with quiet and stillness at times, especially as you near Wolf Trap Creek.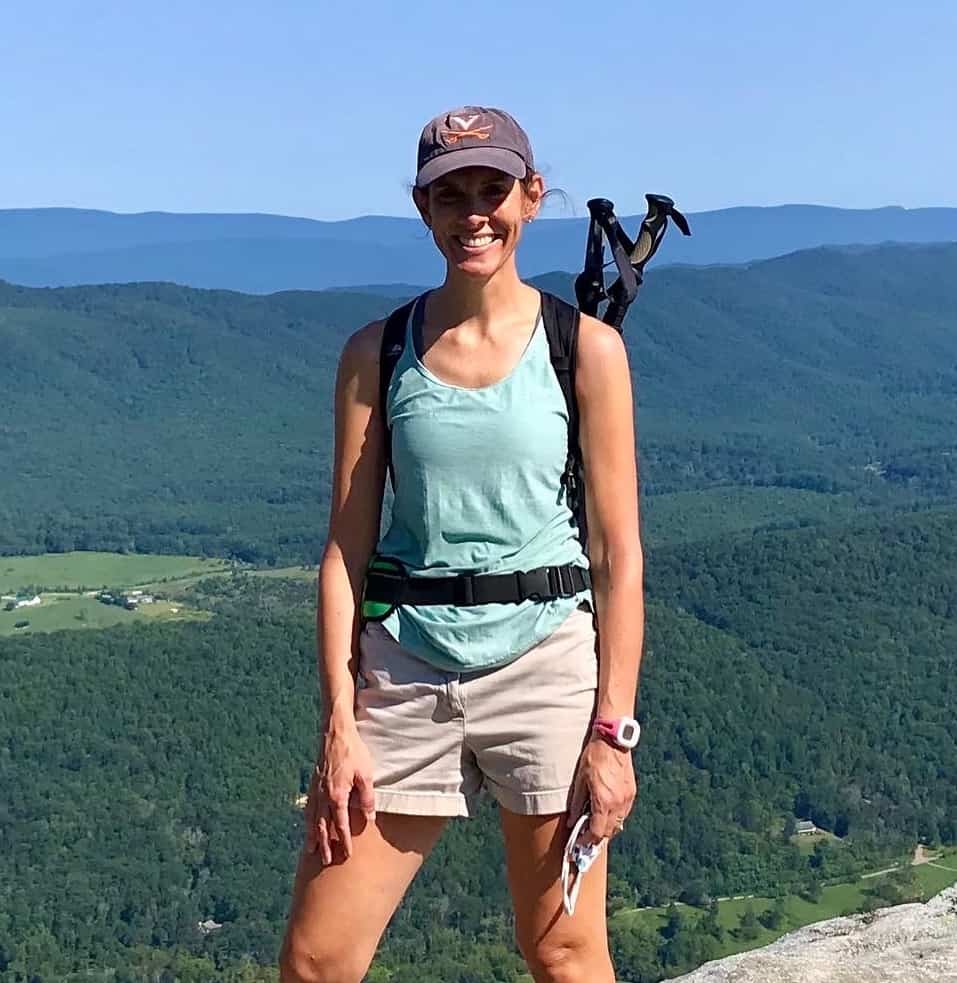 Erin Gifford is the editor of Go Hike Virginia. She has completed more than 300 hikes in Virginia. She is also the author of three hiking guidebooks from Falcon Guides. Need help finding a hike? Check out the Trail Finder feature or send Erin a message.