Savage Neck Dunes: Hike the Beach Trail at this Coastal Nature Preserve in Cape Charles
The 298-acre Savage Neck Dunes Natural Area Preserve in Cape Charles, Virginia is home to an easy 1.3-mile out-and-back coastal hike on the Beach Trail.
This hike guides visitors through a migratory songbird habitat and highlights three restoration zones: coastal grassland, coastal shrub and maritime forest.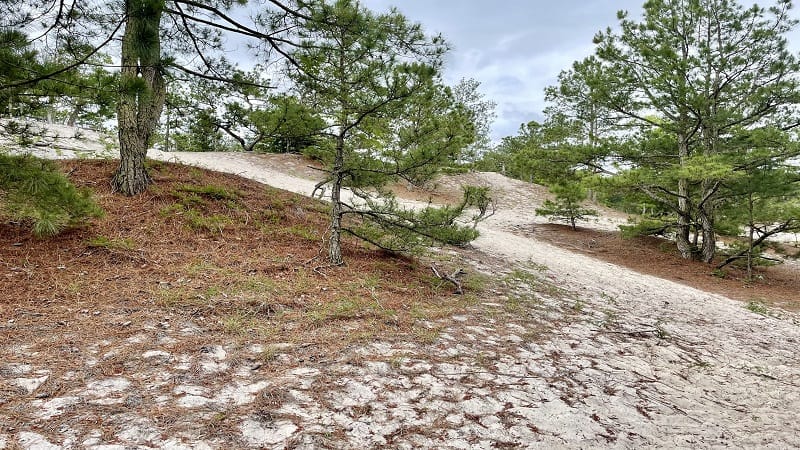 It's okay to wear sandals on this hike on Virginia's Eastern Shore. The last 0.2-miles are soft sand, so you may be glad to skip sneakers or hiking boots.
The Beach Trail, which leads to a sandy beach, is one of three trails at Savage Neck Dunes. The other two short trails are the Field Loop and the Woodland Loop.
| Trail Stats | |
| --- | --- |
| Length | 1.3 miles |
| Difficulty | Easy |
| Trail Type | Out-and-Back |
| Elevation Gain | 16 feet |
| Duration | 1 hour |
| Terrain | Mostly dirt, grass & sand |
| Dog-Friendly | Yes, on a 6 foot leash |
| Fee | Free |
| Driving Directions | Click Here |
Savage Neck Dunes
A small eight-car parking lot for Savage Neck Dunes Natural Area Preserve sits alongside Savage Neck Road, a country road that divides up local farms.
It's easy to miss, too. We drove right past the lot at first, but thankfully spotted it once we turned around. Parallel parking is not allowed on Savage Neck Road.
There's a large kiosk at the front of the parking area. The trailhead for all three trails is just to the right of the trail kiosk. You will see a trail marker, too.
The hike begins on a grass trail through a meadow. This is the coastal grassland section. It's made up of perennial grasses for nesting birds, like sparrows.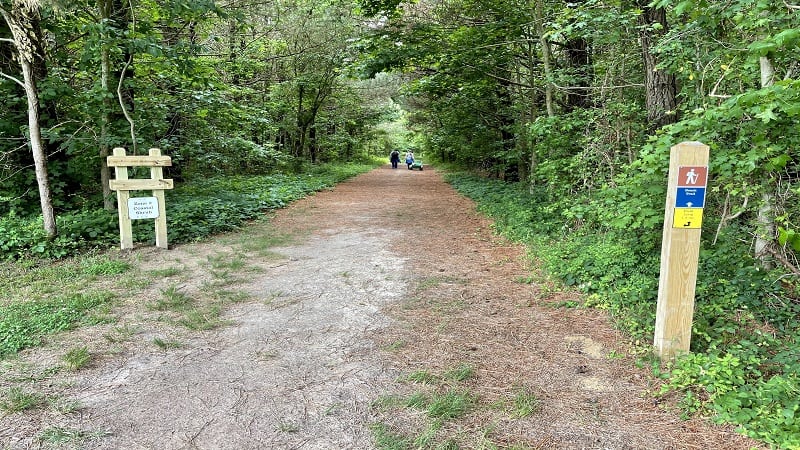 At the 0.1-mile mark, you will have the option to turn left onto the Field Loop. For the Beach Trail, continue straight ahead to enter the coastal shrubland.
Beach Trail
This section is replete with wax myrtles. This fast-growing native shrub produces small berries. These trees provide plenty of food and perches for birds.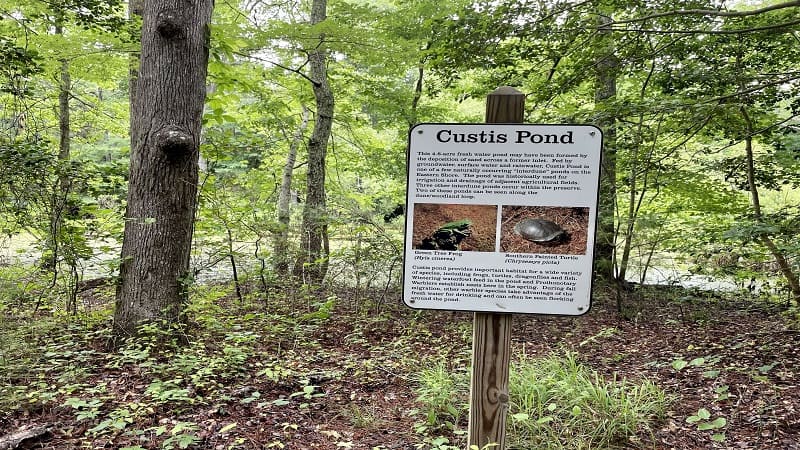 At the 0.2-mile mark, you'll reach an intersection for the Woodland Loop, but continue ahead on the Beach Trail. You will shortly arrive at Custis Pond.
Custis Pond is a 4.6-acre freshwater pond. It's also one of the only naturally occurring interdune ponds on Virginia's Eastern Shore.
Keep your eyes open for green tree frogs and southern painted turtles. There are three interdune ponds in the preserve. The other two are on the Woodland Loop.
At this point, you enter a mixed maritime forest with deciduous, coniferous and broadleaf evergreen trees. Coastal pines dominate this forested section.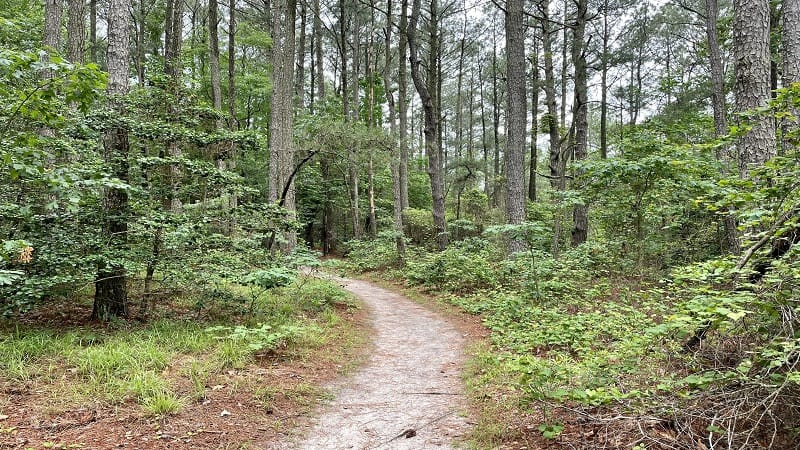 The trail becomes sandy as you enter the maritime forest. The closer to the beach, the more sandy the trail becomes. You may want to take off your shoes.
Dune Overlook
At the 0.6-mile mark, you can turn left for a short walk on a boardwalk trail to the Dune Overlook for a look at a secondary dune ridge that parallels the shoreline.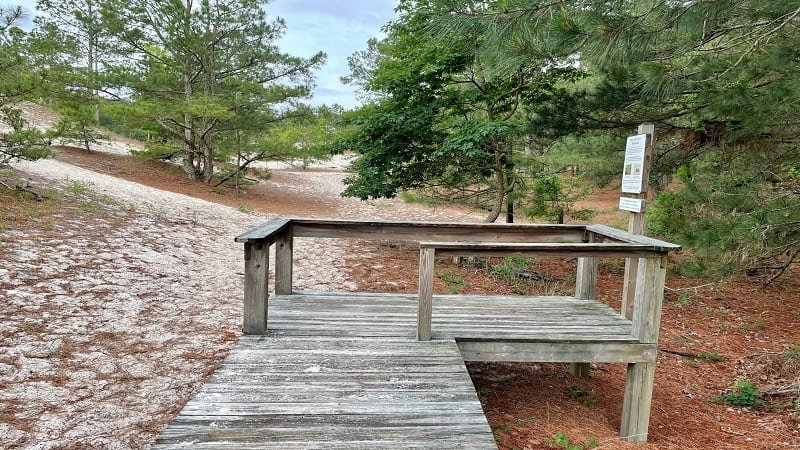 This dune ridge runs alongside the shoreline for one-mile and features some of the highest elevation points on Virginia's Eastern Shore.
Re-trace your steps to the Beach Trail, then turn left for the beach. As you approach, a sign educates about the rare northeastern beach tiger beetle.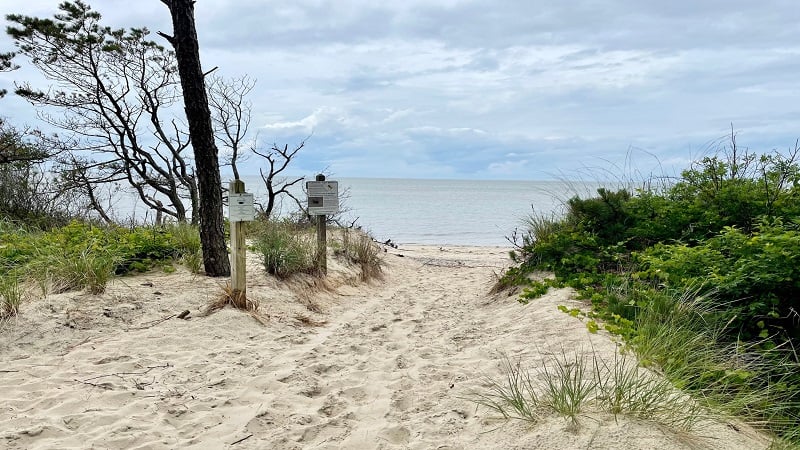 The tiger beetle is so rare that it can now only be found at two sites outside the Chesapeake Bay. They are vulnerable to any kind of beach sand disruptions.
You will arrive at the beach at the 0.7-mile mark. The water from the Chesapeake Bay is shallow and gentle. Enjoy the calmly lapping waves.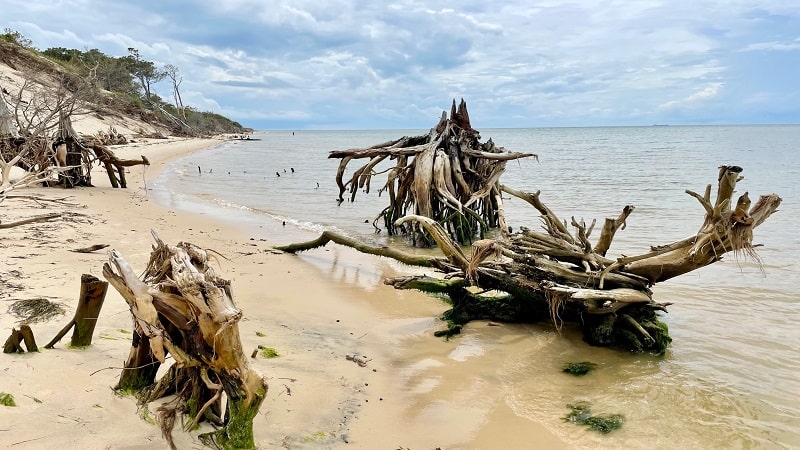 The white sand beach is littered with weathered driftwood, largely on the north end. Some of the driftwood appears to grow right out of the sandy beach.
Walk north on the beach and you will spot an adorable tiny home with mad west-facing views. The sunsets here must be beyond spectacular.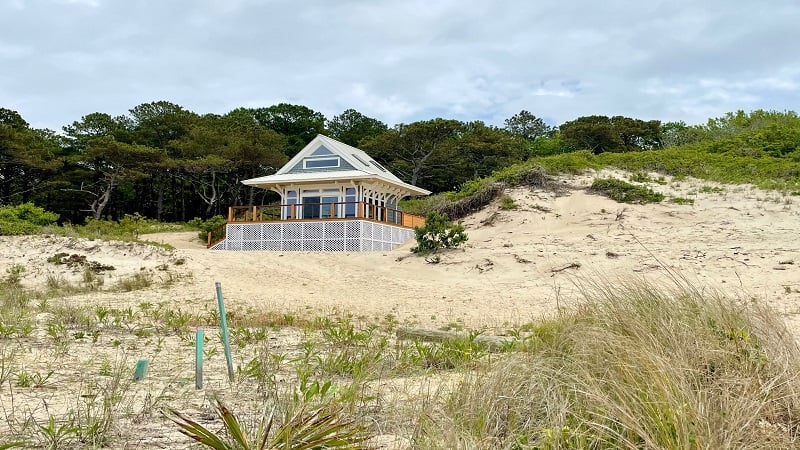 There are at least three other homes past the tiny home. What a perfectly relaxing beach getaway. I didn't see the tiny home on Airbnb, but I'm going to keep looking.
Enjoy your day here on this largely secluded beach in Cape Charles, then re-trace your steps to the parking area for Savage Neck Dunes Natural Area Preserve.
Wrap-Up Notes
This easy hike on Virginia's Eastern Shore took less than an hour, but it would be easy to spend an afternoon exploring this coastal natural area preserve.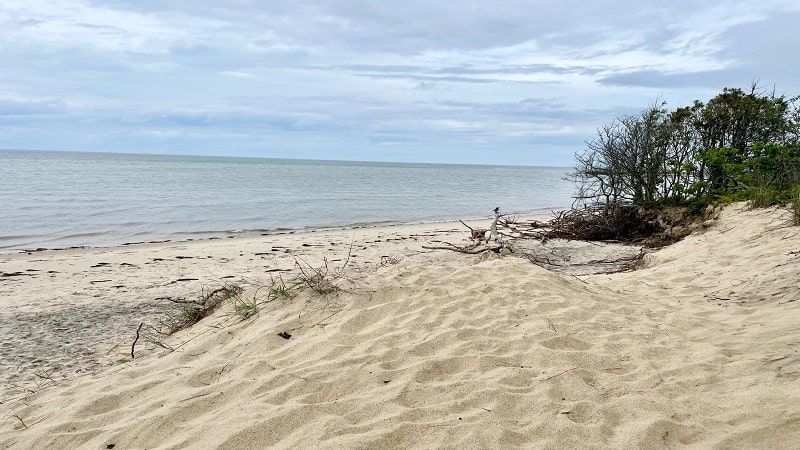 A word to the wise is to wear insect repellant. Me personally, I like Sawyer's Picaridin Insect Repellent. It's a lotion and oh so worth it.
Post-hike, order up a scoop or two at Brown Dog Ice Cream in the Cape Charles Historic District. It's definitely the best, and oh so delicious. Yum-o.