Red Rock Overlook: A Historic Loop Hike with Potomac River Views in Loudoun County
I recently made the short drive to Red Rock Wilderness Overlook Regional Park in Leesburg, Virginia. I was eager to get in a quick hike near my house.
The mostly shaded 1.2-mile hike along the perimeter of this 67-acre park on the Potomac River is a great pick when you don't have a lot of time.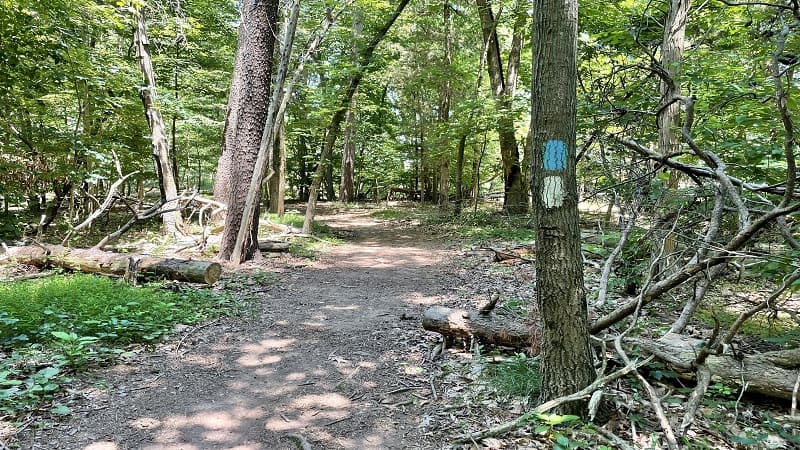 At this small wooded park, you'll find winding nature trails, as well as several historic buildings from the 1880's, including an Ice House and Carriage House.
The property dates back to 1869 when a wealthy industrialist purchased 2,000 acres in Loudoun County. This section was donated for use as park land in 1978.
Trail Starts Here
This regional park is located on Edwards Ferry Road and is nestled between a couple of neighborhoods. The parking area has room for at least a dozen cars.
Two trailheads are located in the parking area. One sets off from the southeast side, while the other leads off from the northwest side of the lot.
For this hike, I started on the southeast side, on the trailhead closest to the entrance. You will see a "Trail Starts Here" sign to put you in the right direction.
| Trail Stats | |
| --- | --- |
| Length | 1.2 miles |
| Difficulty | Easy |
| Trail Type | Loop |
| Elevation Gain | 112 feet |
| Duration | 1 hour |
| Terrain | Mostly dirt trails |
| Dog-Friendly | Yes |
| Fee | Free |
| Driving Directions | Click Here |
Ice House
Just past the trail sign, a private home turns up on the left (keep back from the fence to respect their privacy), then a stone Ice House from the late-1800's.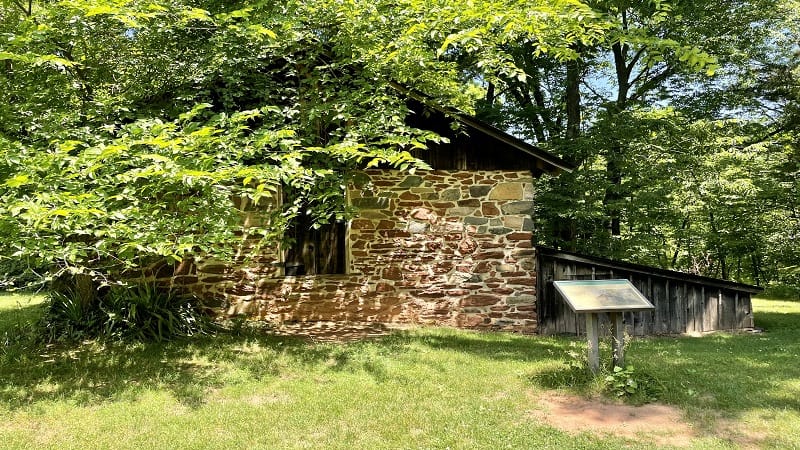 The Ice House stored chunks of ice cut from the Potomac River and remained in use until the mid-1930's. It was restored by the local park authority in 1938.
As you continue on, you will enter a shaded forest. But first, a plaque dedicating the park to Mrs. Frances V. Speek, the woman who donated the park land.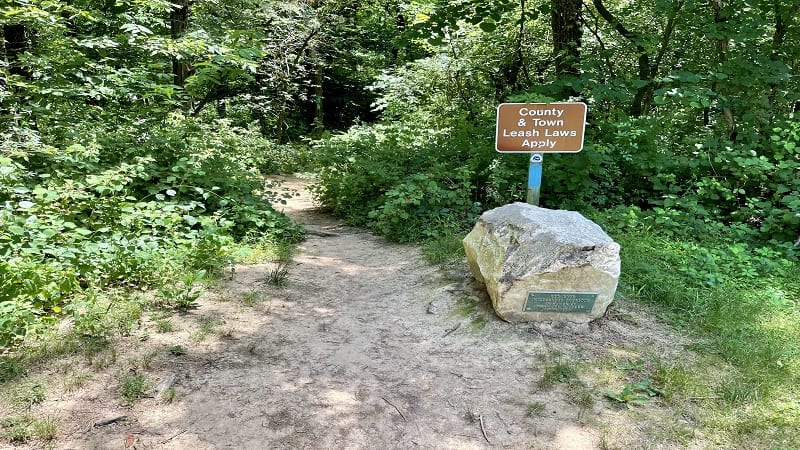 In a few steps, a red-blazed trail turns up on the left. Continue past this nature trail to stay on the shaded trail you are on that is marked by white and blue blazes.
Red Rock Overlook
At the .5-mile mark, you will arrive at the overlook with far-reaching views of the Potomac River. There is a bench, but also a black metal fence for safety reasons.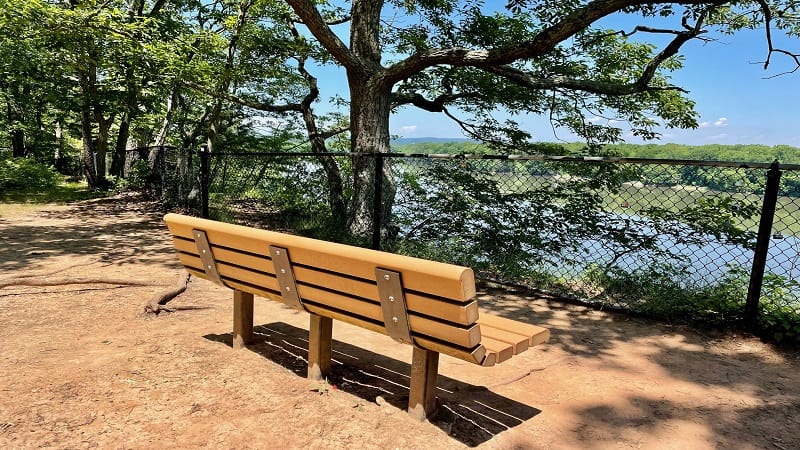 There's no question that it would be quite a tumble if you lost your footing on this bluff in your attempt to snap the perfect river photo. Hence, the safety fence.
Continue alongside the fence, savoring the river views from up high. You will soon drop down to walk next to the flowing Potomac River.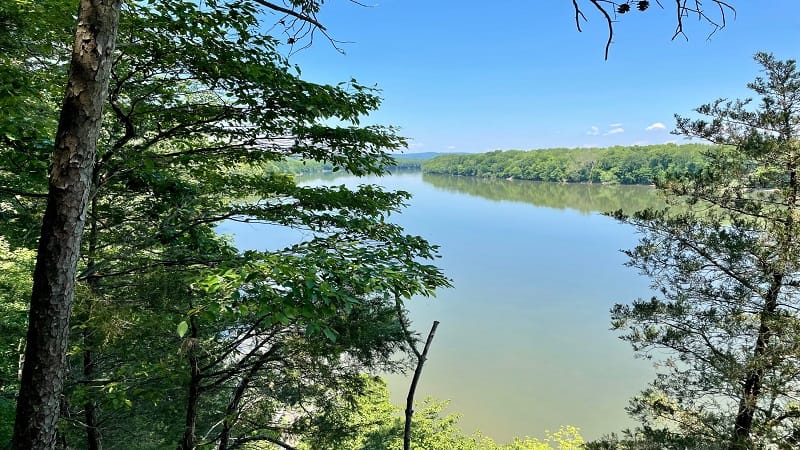 In a few more steps, you will reach a small rock scramble and a large fallen tree to navigate. Stay focused on your footing. You'll be soon be at river level.
At this point, you are on an unmarked trail. Interestingly, this .33-mile section is actually referred to as "unmarked" on the park map on the large trail kiosk.
I found this section to be the most scenic. It's a wide forested trail adjacent to the Potomac River. You'll see a tire swing on the left side of the nature trail.
At the .8-mark, look to your left to see the trail ascend back into the forest. You will also see a "Parkland Ends Here" sign, so you will know you're on the right path.
Once you get to the top of the small hill, you will again see white and blue blazes that will guide you all the way back to the parking area.
As you exit, you'll notice a large trail kiosk on the left. There is a map and you'll see that various short trails criss-cross the park allowing you to create your own hike.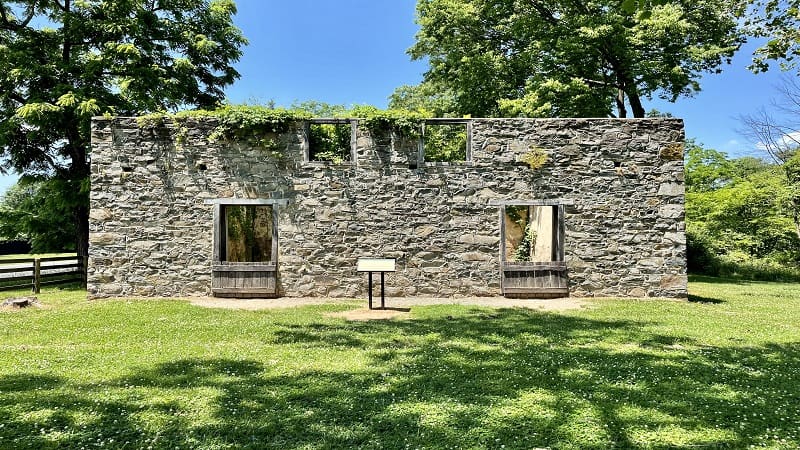 Before you go, be sure to explore the historic buildings, including a Well House and Granary. It's fun to imagine what life was like at this location in the 1800's.
Wrap-Up Notes
From the parking area, this Northern Virginia hike took me 30 minutes to complete, including time spent relaxing on the bench at the overlook.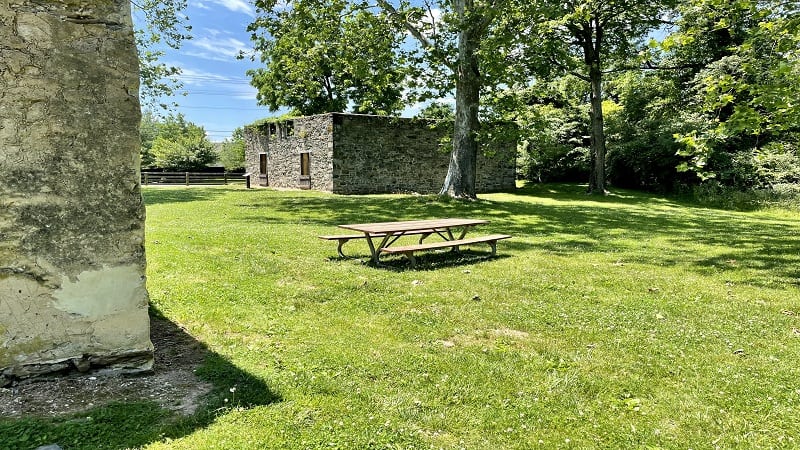 In Loudoun County, there are several other first-rate hikes, including Bear's Den, Buzzard Hill and Raven Rocks. All three are located in nearby Bluemont.
One more top pick is the 2.6-mile loop hike at Ball's Bluff Battlefield Regional Park. This park in Leesburg is an easy 10-minute drive from Red Rock Overlook.
Eager for more? Take a look at my favorite hikes near Leesburg and hikes near Bluemont to find a few more hikes to add to your must-do hiking list.