An Easy Hike Along the Bay View Trail at Mason Neck State Park
The flat, shady Bay View Trail at Mason Neck State Park may clock in at just one-mile, but it's a top pick among family-friendly hiking trails in Northern Virginia.
An eclectic mix of wooded forest, verdant wetlands and sandy coastline keep visitors engaged from start to finish.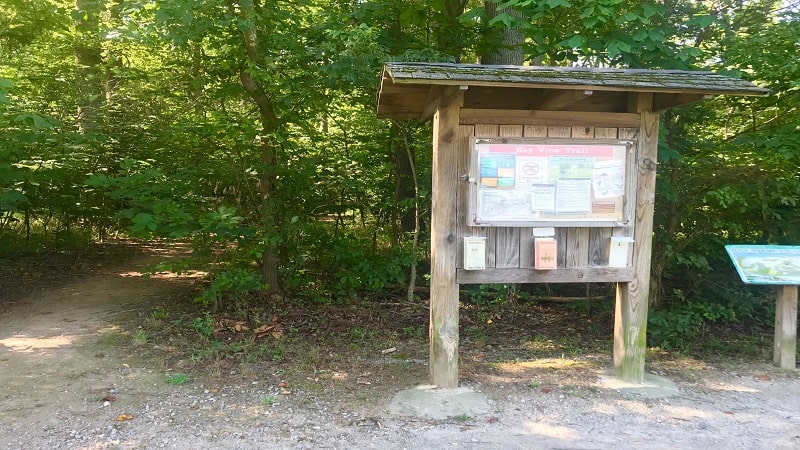 Mason Neck State Park has only a handful of short hiking trails and multi-use trails, but this state park in Virginia wows with family-friendly amenities.
Here you'll find a playground, seasonal canoe and kayak rentals, nature programs and water bottle refill stations.
| Trail Stats | |
| --- | --- |
| Length | 1.0 mile |
| Difficulty | Easy |
| Trail Type | Loop |
| Elevation Gain | 49 feet |
| Duration | 45 minutes |
| Terrain | Mostly dirt & sand trails, some boardwalk |
| Dog-Friendly | Yes |
| Fee | $10 per vehicle |
| Driving Directions | Click Here |
Arriving at the Trailhead
The trailhead is near the back of a large parking lot that dead-ends at Belmont Bay. The trail is easy to find too thanks to a large, colorful sign marking this red-blazed trail.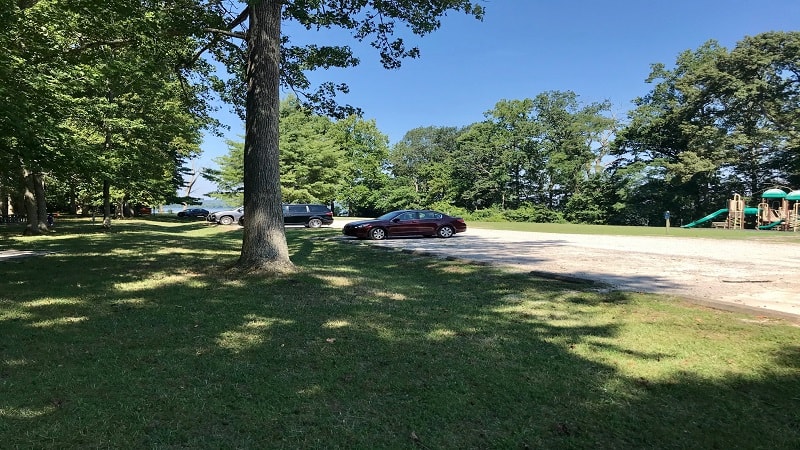 Pick up a salmon-colored brochure for a self-guided tour along the trail, including stops for the freshwater marsh and fruit-bearing pawpaw trees.
According to the brochure, chilled pawpaw fruit was a favorite dessert of George Washington and Thomas Jefferson.
The First Steps
Begin the loop hike clockwise. This is opposite the direction of the self-guided tour, but a clockwise circuit rewards with dramatic views across Belmont Bay.
These views on the final stretch of the hike are especially fantastic at sunset when the sky bursts with fiery reds and oranges.
This hike begins on a soft dirt trail in the cool, shaded forest, then leads up to a short boardwalk trail, adding dimension to this hike.
Once you've walked .25-mile, you'll reach a navigational sign. Veer left for the yellow-blazed Wilson Spring Trail.
Continue on to the Bayview Trail to an observation blind for views across the lily pad strewn tidal marsh. Stroll past the observation blind to reach a second (unofficial) lookout point.
Here you'll find even more wide-reaching views of bright green lily pads and wetland plants.
From here, notice the now sand-covered trail, which leads visitors to a set of 15 steps down to a beautiful boardwalk trail across freshwater marsh.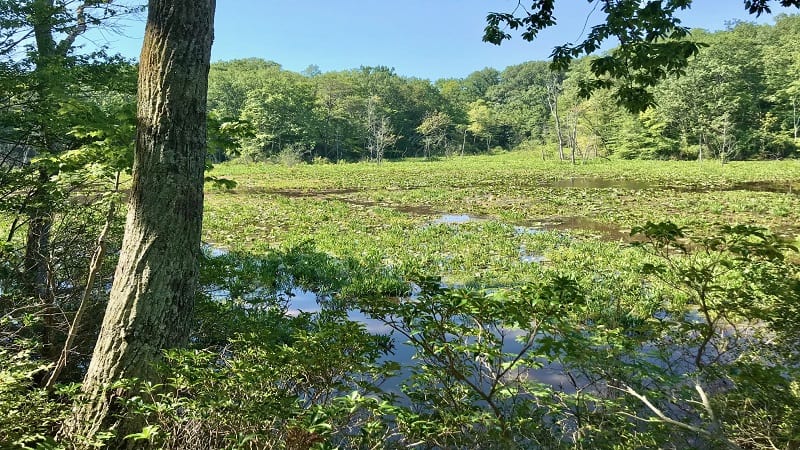 Before you reach the end of the boardwalk, there's an opening on the left to exit the trail onto a small beach.
It's not a swimming beach, but it is a nice spot to dip your toes into the water or throw down a beach towel to watch for wildlife, like bald eagles, ospreys and blue herons.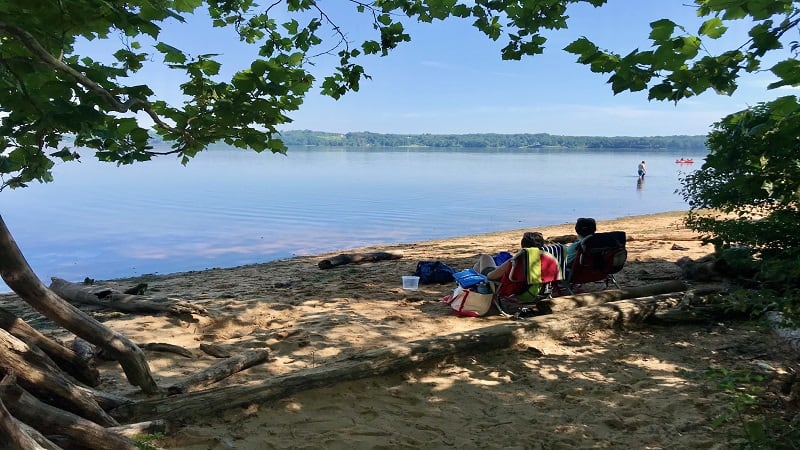 As the trail comes to an end, ascend a set of stairs to a mostly gravel trail for the short return to the parking lot, all the while taking in the refreshing views across Belmont Bay.
Hike Options
For a longer hike, add on the yellow-blazed Wilson Spring Trail when you reach the intersection .25-mile into the hike to add on a second loop.
This trail is .63-mile and connects with the .85-mile Dogue Trail for a third loop if you choose to add on one more.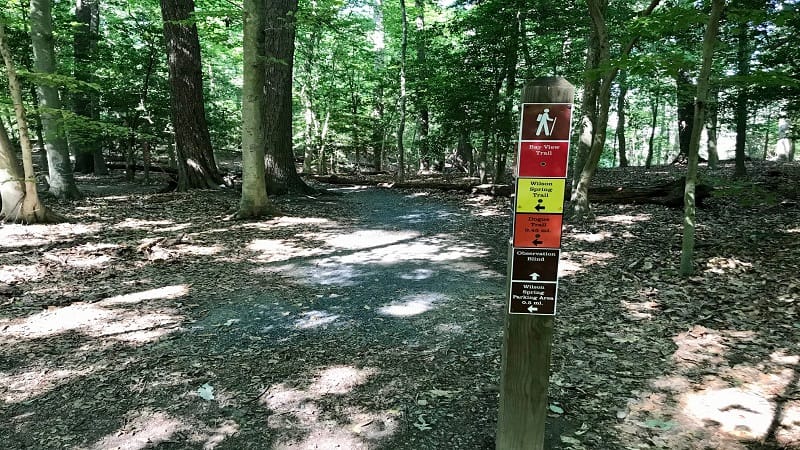 For a shorter hike, try the Beach Trail. This .3-mile unmarked trail is mostly paved and begins steps from the Visitors Center.
The trail leads to a picnic table with a view and a small beach for finding large freshwater snails washed up on the shore.
Wrap-Up Notes
This hike took me no more than 30 minutes. However, there is plenty to explore along this kid-friendly hiking trail in Northern Virginia, so this could easily take an hour to fully enjoy.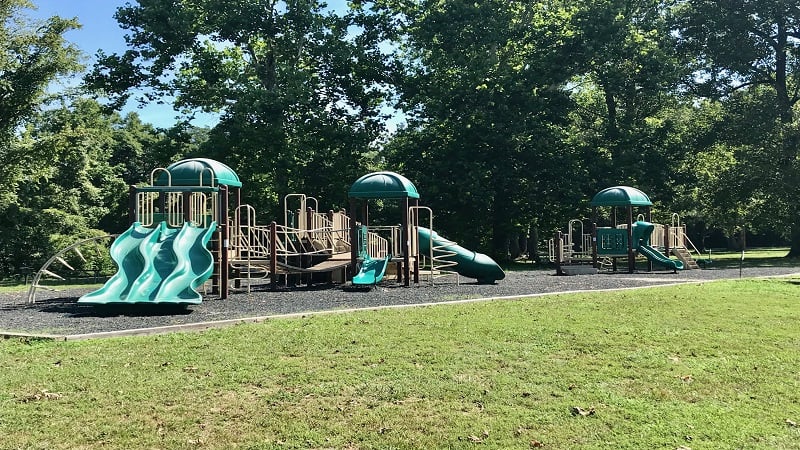 At the end of the hike, kids will love the playground. There is also a large, shaded picnic area, a massive green space and restrooms (not just a porta-potty or two).
The park rents canoes and kayaks too, so you could easily fill up an entire morning or afternoon at Mason Neck State Park.
On weekends, the park hosts kid-friendly nature programs, like "Fun with Fungi" and "Squirrel Appreciation."
Importantly, the Visitors Center has a case of ice cream treats for purchase. A perfect reward for a hike well-done.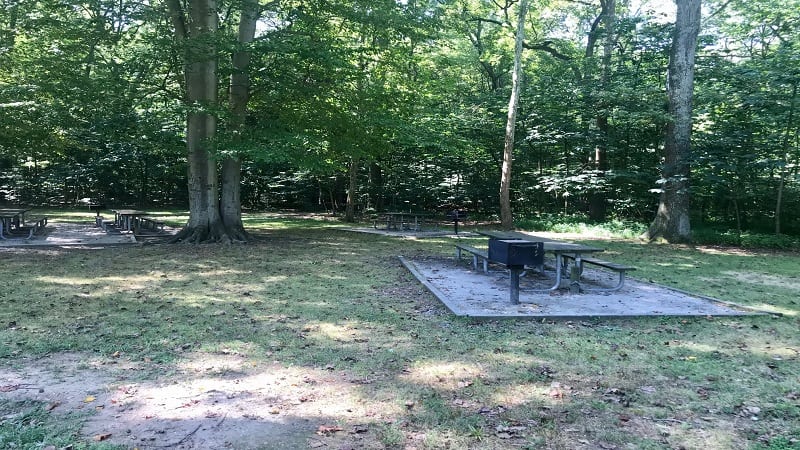 One final note that there is an entrance fee for Mason Neck State Park. On weekdays, the fee is $7 per vehicle. On weekends, the fee is $10 per vehicle (April-October).
You can purchase the Naturally Yours Passport, which allows admission for one-year to all state parks for $75.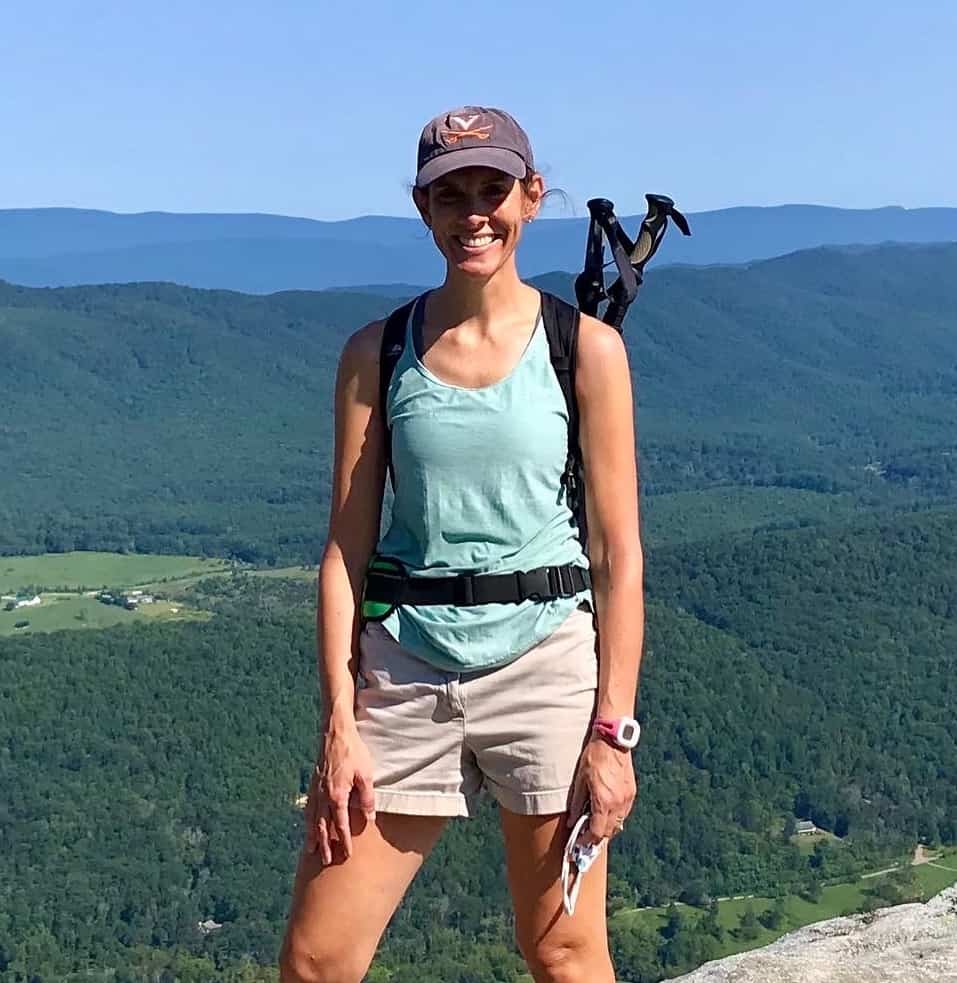 Erin Gifford is the editor of Go Hike Virginia. She has completed more than 300 hikes in Virginia. She is also the author of three hiking guidebooks from Falcon Guides. Need help finding a hike? Check out the Trail Finder feature or send Erin a message.