Buffalo Mountain: An Easy Hike to 360-Degree Views in Floyd County
I was eager to hike what I thought was the Buffalo Mountain Trail in Floyd County on a recent exploration of Southwest Virginia. There is no such trail.
Worse, the driving directions on AllTrails are bogus.
They lead you to a private drive, and one that looks impossible to get out of if you decide to continue on the narrow gravel road.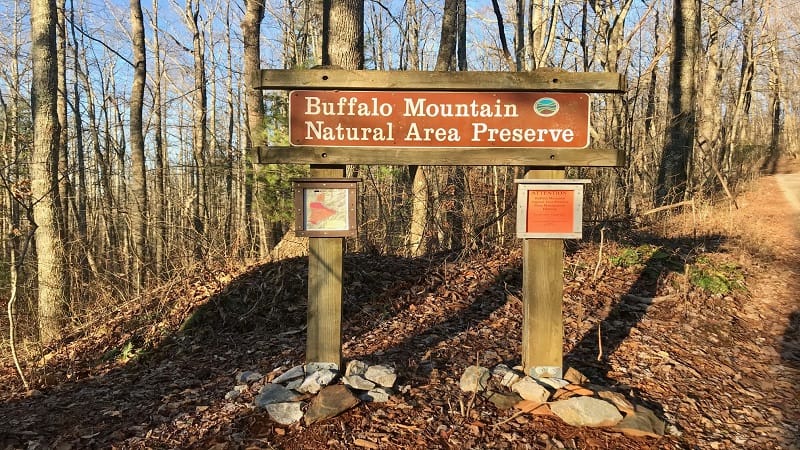 Ugh, so frustrating. On AllTrails, this hike has a 4.8-star rating based on 250+ reviews. The cover photo features a gorgeous vista. I was not giving up so easily.
A sign to the left of the private drive noted that a nature preserve was one mile up the road, past the private drive. I had nothing to lose, so I pressed on.
I reached a dead-end and a sign to the right for the Buffalo Mountain Natural Area Preserve. I drove nearly two miles along a bumpy, gravel road to the preserve.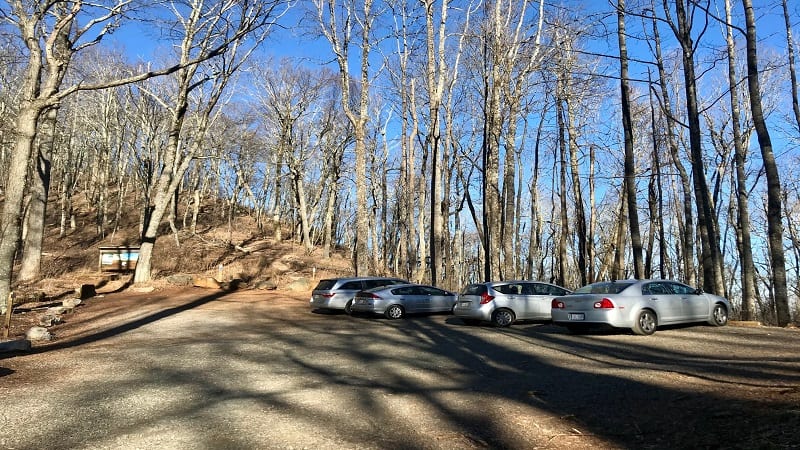 Thankfully, I was eventually welcomed by a 10-car gravel parking area, a porta-potty and an official-looking trail kiosk. This must be where I need to be.
I reviewed the trail map and there was no Buffalo Mountain Trail. Instead, there were three short trails that combine into one hike to the top of Buffalo Mountain.
| Trail Stats | |
| --- | --- |
| Length | 2.0 miles |
| Difficulty | Easy |
| Trail Type | Loop |
| Elevation Gain | 587 feet |
| Duration | 60-90 minutes |
| Terrain | Mostly dirt and rock trails, some rock scramble |
| Dog-Friendly | Yes |
| Fee | Free |
| Driving Directions | Click Here |
Buffalo Mountain Natural Area Preserve
If you map to Buffalo Mountain Natural Area Preserve (890 Moles Road SW, Willis) in Google Maps, you will reach the trailhead with no problems.
However, if you use AllTrails directions, just know to follow the sign to the nature preserve lest you get stuck attempting to ascend the precarious private drive.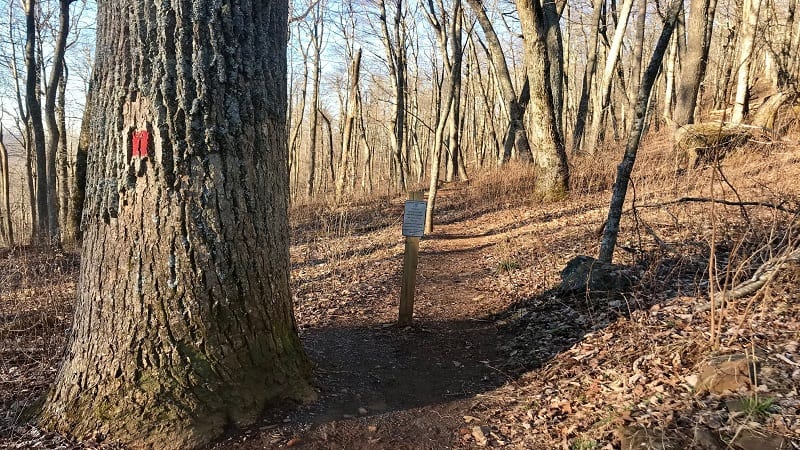 Trailheads for two of the three trails begin at the back of the parking lot. The Oak Trail (red) sets off to the left; the Ridge Trail (blue) leads up stairs on the right.
Oak Trail
This hike is just 2.0-miles if you walk along each trail. The Oak Trail and Ridge Trail both end at the third trail, Barrens Loop (orange). It's steep, but worth every step.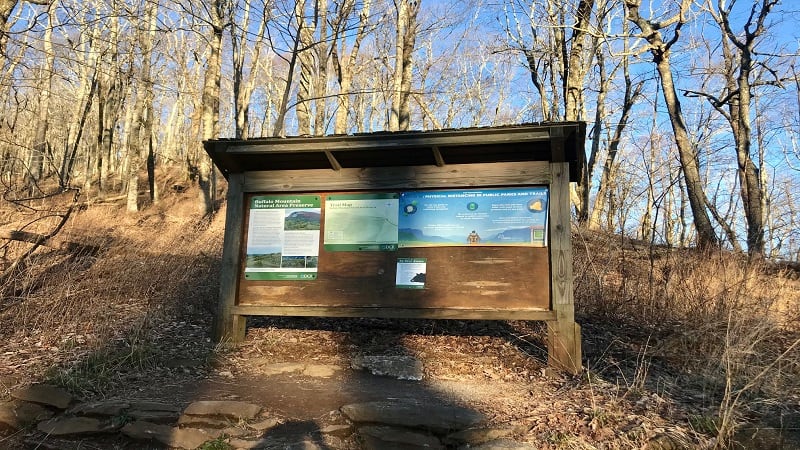 You can complete this hike in either direction, but I tackled this hike clockwise, starting on the Oak Trail. It's a lovely forested trail along the side of the mountain.
Along this .9-mile trail, you'll encounter several switchbacks as you ascend more than 400 feet. At which point, you'll reach a wooden trail marker.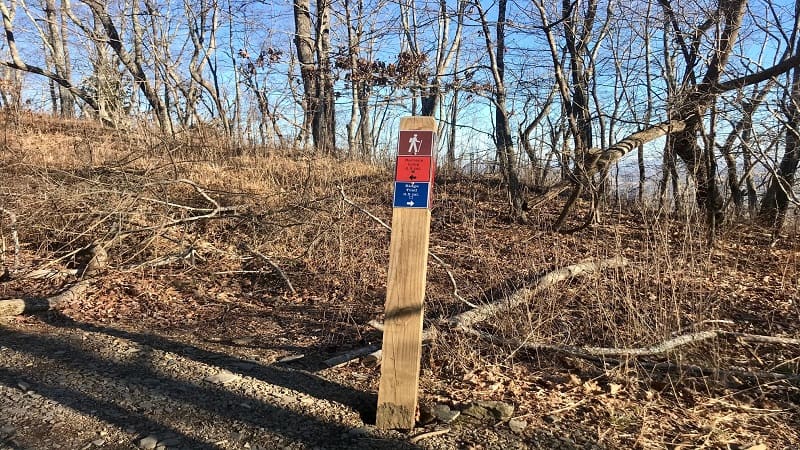 Turn left for orange-blazed Barrens Loop. If you turn right, you will connect with the blue-blazed Ridge Trail, which will return you to the gravel parking lot.
Buffalo Mountain Summit
From the trail marker, you'll ascend another 100 feet over the course of .3-mile before reaching the top of Buffalo Mountain.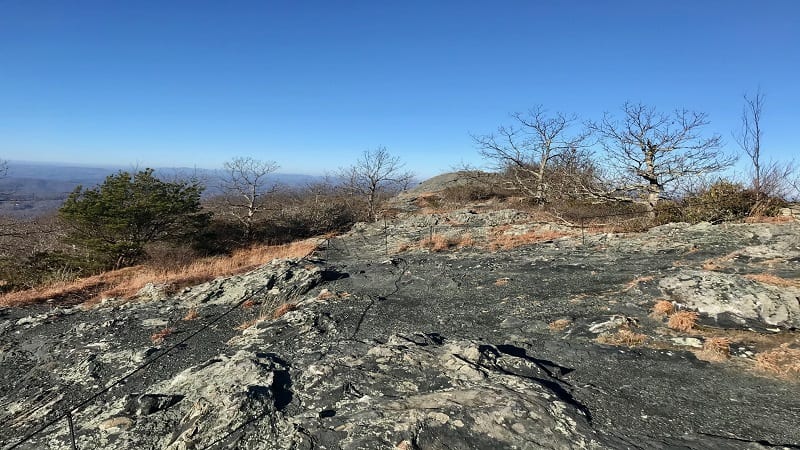 The rounded, treeless summit is home to rare and diverse plant species, even an insect found only at Buffalo Mountain named the Buffalo Mountain mealybug.
At the summit, you'll find a rocky path that's roped off to guide visitors and protect vegetation from being trampled. You'll also find delicious 360-degree views.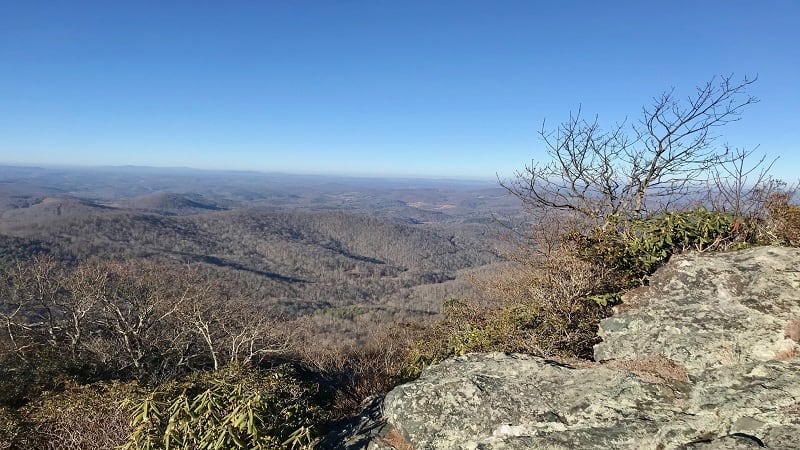 There are two large rocky outcrops at the summit that are ideal for scrambling and relaxing with a well-deserved snack. You'll want to savor the views for a long time.
From here, re-trace your steps down the hill to the trail marker. Continue straight ahead for the blue-blazed Ridge Trail.
You'll encounter a few switchbacks on the return to the parking lot. In the last few steps, you'll descend three dozen steps to reach your vehicle.
Wrap-Up Notes
From the parking area, this hike took me under 60 minutes, including time spent scrambling rocks and taking in all the views across the Blue Ridge Mountains.
For a slightly shorter hike, you can tackle this as an out-and-back. Take the Ridge Trail to Barrens Loop, then re-trace our steps. This would be a scenic 1.6-mile hike.
From Buffalo Mountain Natural Area Preserve, it's an easy 20-minute drive to Floyd, home to the Floyd Country Store and its well-known Friday Night Jamboree.