Lake Arrowhead: Enjoy an Easy & Scenic Nature Trail in Luray, Virginia
Luray, Virginia has fantastic hikes with summit views, like Kennedy Peak and Strickler Knob, but the nature trail around Lake Arrowhead is a new favorite.
This easy trail was even more special with foliage at its peak. It was also mid-week when I visited, so I practically had the lake to myself, too.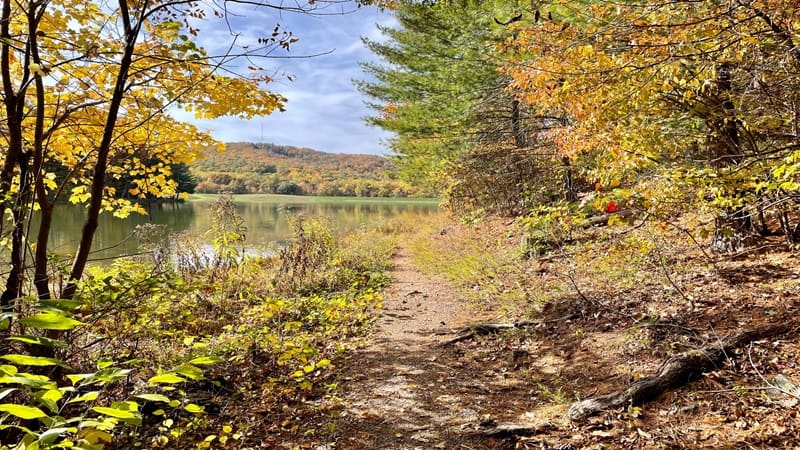 Lake Arrowhead is a 39-acre freshwater reservoir that is the centerpiece of Lake Arrowhead Recreation Park in Page County. It is such a gem.
At this park, you'll find picnic shelters, restrooms, a children's playground, a white sand swimming beach and benches at various spots around the lake.
| Trail Stats | |
| --- | --- |
| Length | 1.4 miles |
| Difficulty | Easy |
| Trail Type | Loop |
| Elevation Gain | 112 feet |
| Duration | 1 hour |
| Terrain | Mostly dirt & gravel trails |
| Dog-Friendly | Yes |
| Fee | Free |
| Driving Directions | Click Here |
Lake Arrowhead Park
Lake Arrowhead Park is a scenic 134-acre public recreation area that is owned and operated by the Town of Luray.
This park and freshwater lake sit at the base of the Blue Ridge Mountains, and let me tell you, the views across the Page Valley are simply sensational.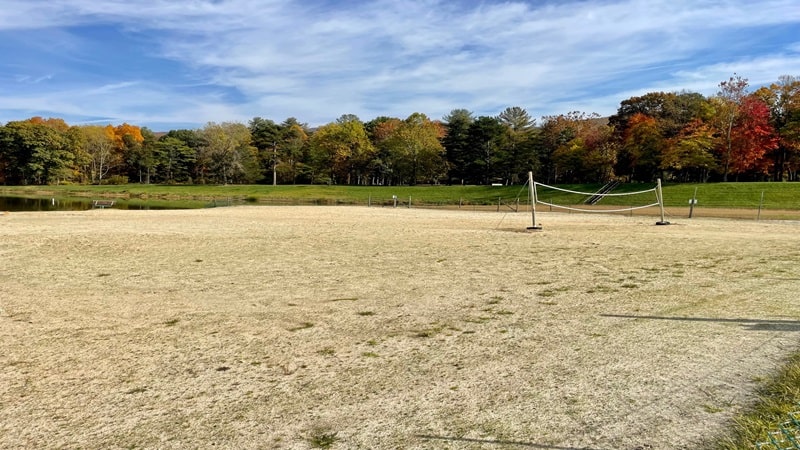 In summer, the beach is open for swimming. The fee is $3 for ages 3-12 and $5 for ages 13 and up. There are also canoe and kayak rentals at $10/hour.
There is also a boat launch, so you can bring your own canoe, kayak or stand-up paddleboard year-round to drop in the lake for a paddle at no charge.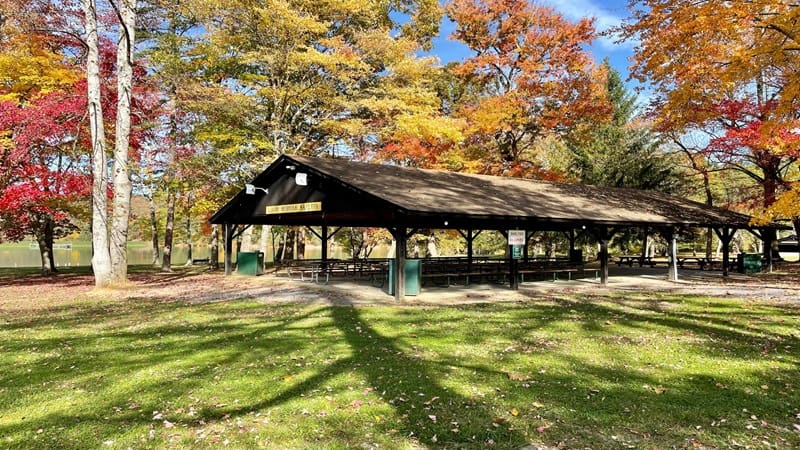 At Lake Arrowhead Park, you'll also find a fishing dock, sand volleyball, a basketball court, horseshoes, a baseball field and picnic tables.
For scouts, there is a dedicated campground that is available for rent. There is a $50 usage view for scout troops wishing to reserve the camping area.
Lake Arrowhead Nature Trail
I was eager to walk the nature trail at Lake Arrowhead Park, and thankfully, it was easy to find when I arrived at the recreation area.
When you enter the park, drive past the turn-off for the swimming beach and continue on to the end of the paved road in the park.
You'll reach a parking area that can accommodate at least a dozen cars. There is also an information kiosk at the back of the parking area.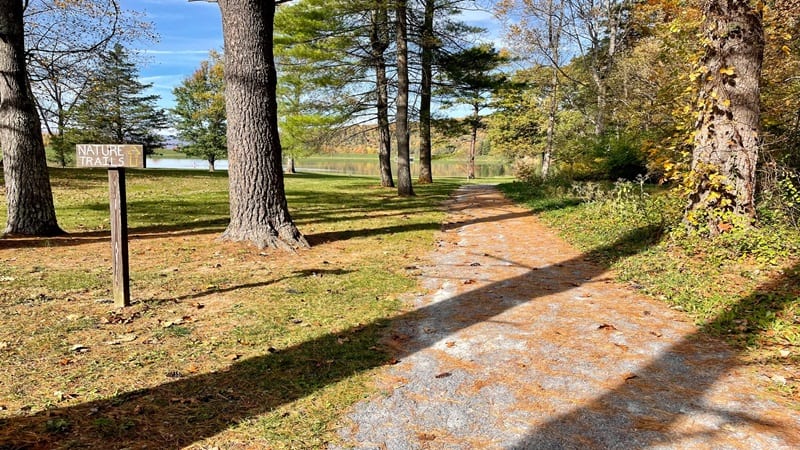 There is no trail map, but if you look left, you'll see a path and a sign that reads "Nature Trails," so you'll know you are in the right place for this hike.
Proceed along the crushed gravel trail to begin a counter-clockwise loop around Lake Arrowhead.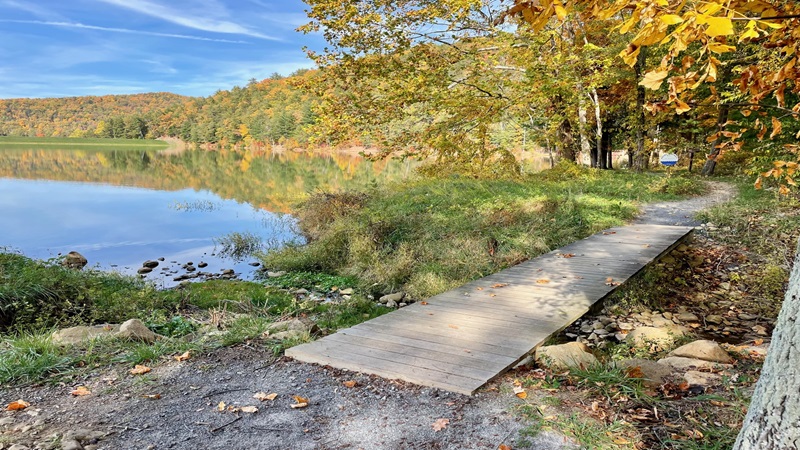 You'll cross the first of several wooden bridges. Then, a directional sign for the Beaver Nature Trail and Tomahawk Trail. Stay straight for the nature trail.
Pass or stop for a few wooden benches as you continue around the reservoir. At the 0.4-mile mark, the nature trail narrows as it gets very close to the lake.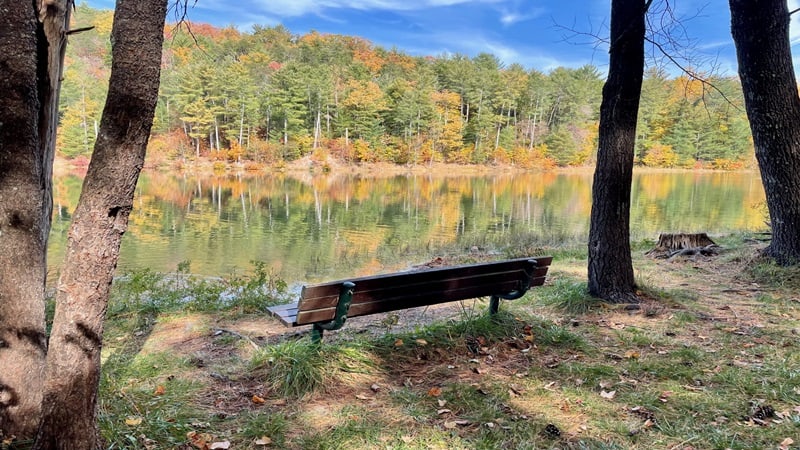 You'll also experience some ups and downs as you encounter uneven terrain and exposed tree roots. Just watch your footing and you'll be fine.
By the 0.7-mile mark you'll be back on more solid ground. You'll also see a sign facing hikers coming from the opposite direction.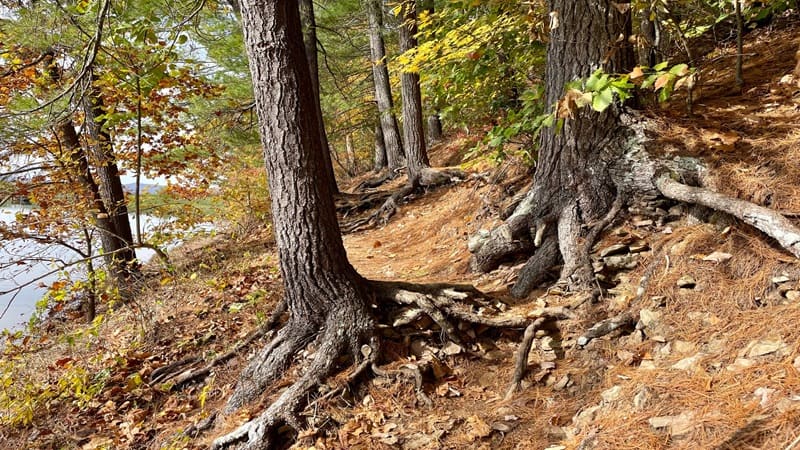 The sign reads "Caution: This part of trail is very steep and rocky." Thankfully, you've already completed this short section of trail.
Walk up a dozen or so steps and turn left to continue looping around the lake. At the 1.0-mile mark, you'll see a lone picnic table.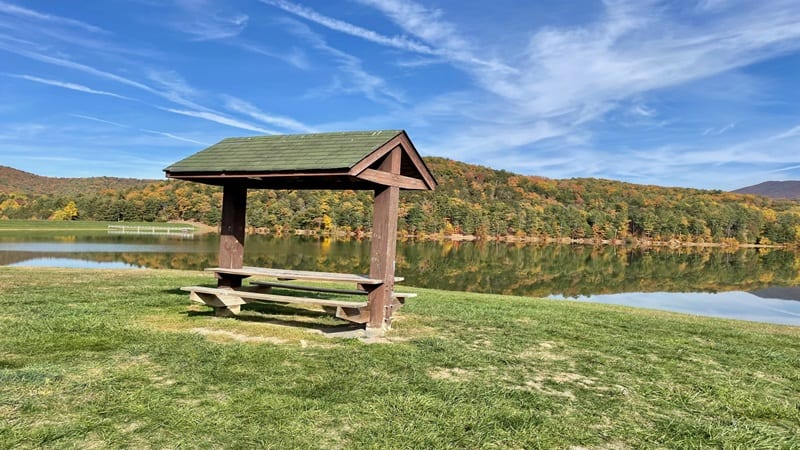 Continue past sandy Lake Arrowhead Beach, then walk up a couple dozen steps and turn left on a cut grass path. Close the loop at the 1.3-mile mark.
From here, turn right and you're steps from your car in the parking area. Or, walk a second loop around Lake Arrowhead. It's such a beautiful walk.
Wrap-Up Notes
From the parking area, this easy hike took me just 35 minutes, including time spent ogling the foliage-filled views across the freshwater reservoir.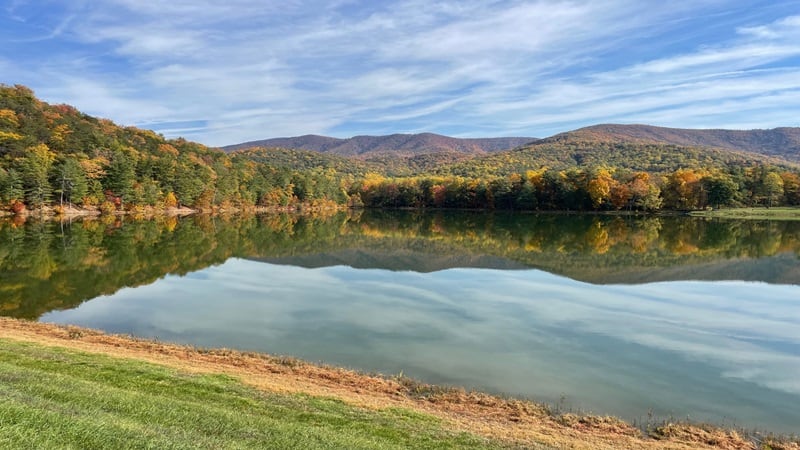 Lake Arrowhead Park is just 15 minutes from Shenandoah National Park, so you're in close proximity to loads of trails if you're eager for a second hike.
A few easy hikes in the area include Storybook Trail, Kerns Mountain and Range View Cabin. The first two offer especially brilliant views across the valley.
If you want to see what Lake Arrowhead looks like before you go, take a look at this short video I created when I hiked the nature trail.
Also, here is my full list of the best hikes in and near Luray, Virginia. For an overnight stay, consider the luxe new Luray RV Resort & Campground.