Texas Beach: An Easy Riverside Hike in Richmond
For an urban hike that makes you feel worlds away from city grind, look to the riverside trail adjacent to Texas Beach at James River Park in Richmond.
On AllTrails, you'll see this easy-going hike listed as the Texas Beach Trail, but there's no park trail with this name. It's listed simply as "path" on the trail kiosk.
AllTrails also tracks this hike as 4.8 miles but requires you to walk alongside a train track on gravel for 1.6 miles (.8-mile out, .8-mile back). Oof, major fail.
I tentatively hiked adjacent to the rails for .8-mile total (.4-mile out, .4-mile back), though I wish I had sooner thought better of the idea to press on. Scary.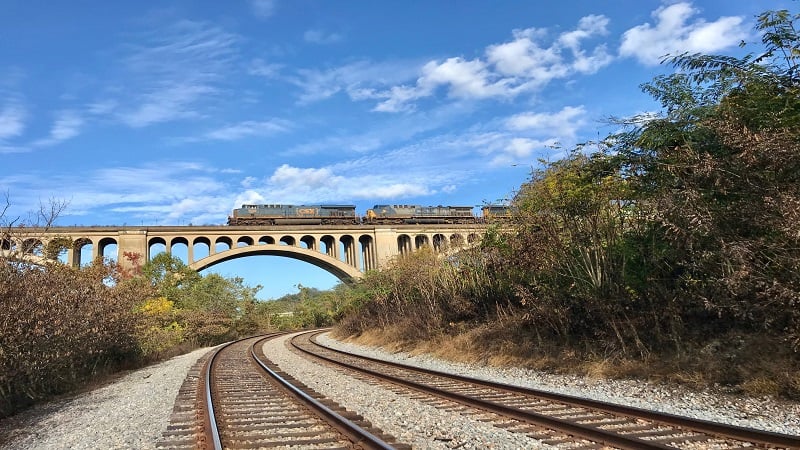 If a train had come along, I would have had nowhere to go. Worse, many of the trains choo-chooing through Richmond are long freight trains. Like, really long.
With the exception of this minor mishap that was easily corrected, I have only good to say about this hike. I wish I lived closer to hit the trail a second time.
| Trail Stats | |
| --- | --- |
| Length | 3.2 miles |
| Difficulty | Easy |
| Trail Type | Out-and-Back |
| Elevation Gain | 164 feet |
| Duration | 1.5-2.5 hours |
| Terrain | Mostly dirt trails |
| Dog-Friendly | Yes |
| Fee | Free |
| Driving Directions | Click Here |
James River Park
The hike begins from the back of the parking area at the North Bank Entrance to James River Park. It's a fairly large lot too, with room for at least 15-20 vehicles.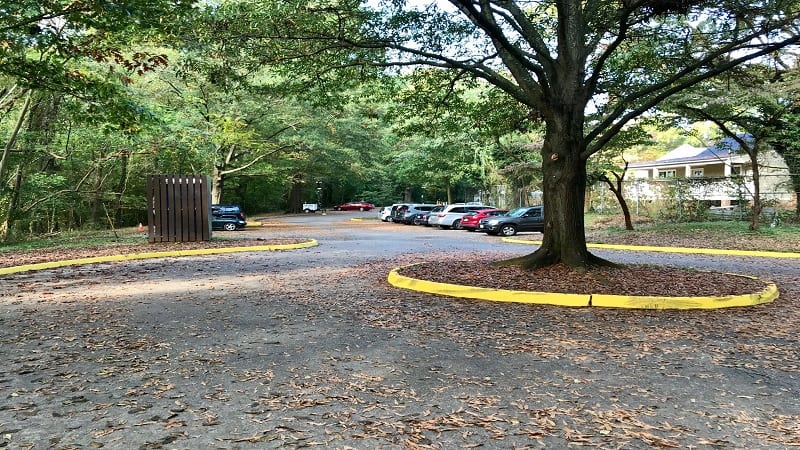 Located on Texas Avenue, I can only assume this has everything to do with the naming of Texas Beach. Certainly, it's not for its size. Texas Beach is far from large.
The parking area ends in a loop. To the right is a porta-potty. A few steps away is a trail kiosk with a large map of all the trails across James River Park.
On the Way to Texas Beach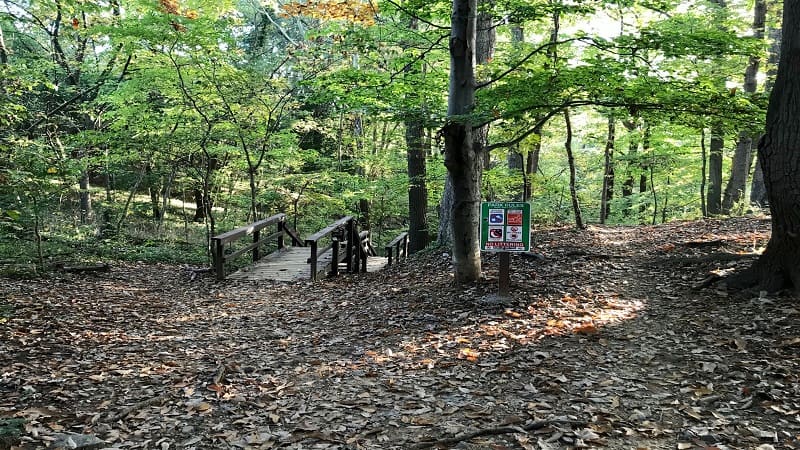 The hike begins with a staircase, ushering hikers down 15 to 20 steps to the trail. Then, at the .1-mile mark, there is a monumental decision to make.
You can stay left to go down another set of stairs or turn right to cross a bridge over train tracks and the Kanawha Canal. There is no helpful signage.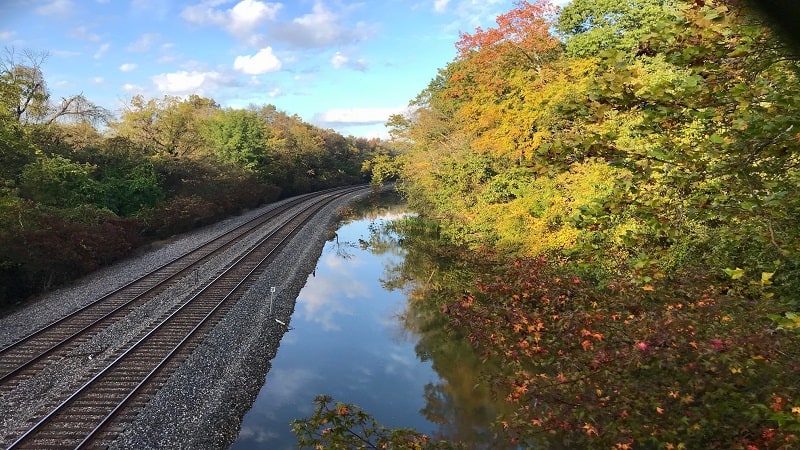 I turned right to cross over the bridge. Thankfully, this was the right decision. Once you reach the other side of the bridge, get ready to be wowed by colorful murals.
The Texas Beach Murals cropped up in October 2014 as a way to cover up graffiti in the stairwell. Today, nature- and wildlife-themed murals delight day hikers.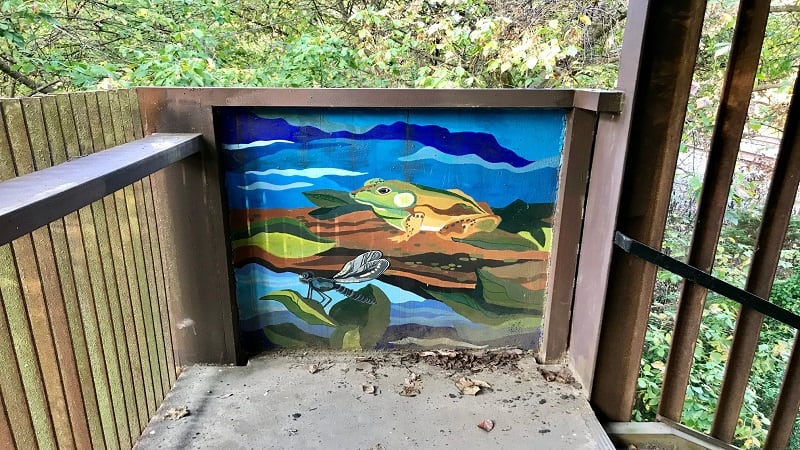 At least a dozen murals are on display in the stairwell, transforming every flat space into an inspiring work of art for all to see and love.
Once you exit the stairwell, you'll walk on a mostly dirt trail before reaching a quick boardwalk over a bit of a mire before returning to the forested trail.
At the .25-mile mark, you'll have your first opportunity to get close to the James River. In a few more steps, a yellow rope swing, which I'm sure is joy in summer.
Texas Beach
Near the .6-mile mark, cross rocks to a small island (optional). You'll also find plenty of wide flat rocks and a sandy beach to cop a squat for a snack or lunch.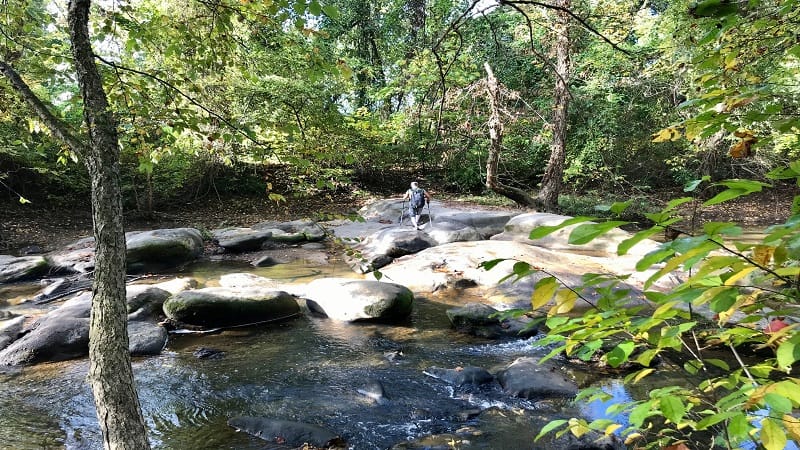 A graffiti-laden bridge soon crops up. Just over the small bridge – which requires a bit of a rock scramble – you'll see a short spur trail on the left for more river views.
At the .75-mile mark, a series of four or five delightful wooden footbridges connect large rocks. Here you'll also find a couple of dam-created waterfalls.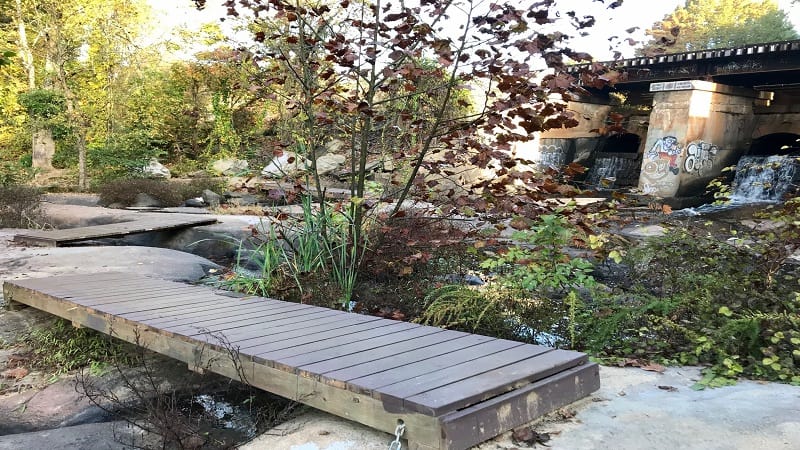 In a few more steps, Foushee's Mill turns up on the left. This former gristmill was built in 1819, but was destroyed by flooding in 1832.
The mill remained largely intact until the 1950's. Unfortunately, much of the mill, including the water wheel, was since lost to vandalism and neglect.
As you continue walking, you'll see more large rocks to walk out onto the river before you stroll under the Boulevard Bridge at the 1.2-mile mark.
The out-and-back hike ends at a stony beach at the 1.6-mile mark. Technically, the trail continues on, but then quickly leads up to the train track on a gravel trail.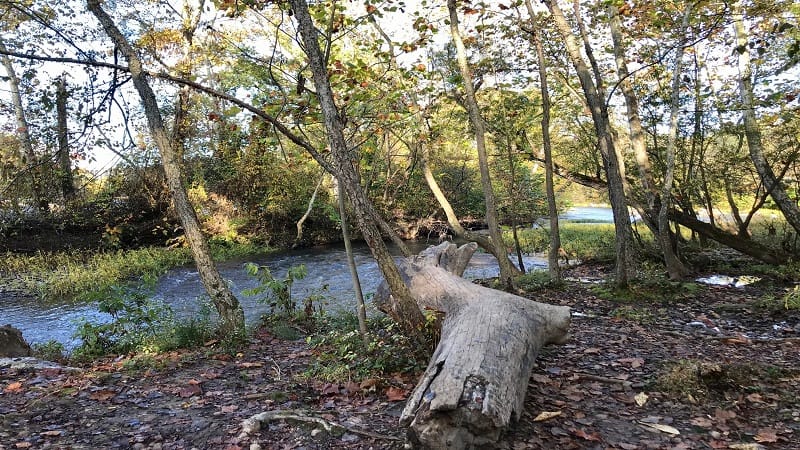 IMHO, it's too dangerous to suggest anyone continue on the gravel path. The further I walked, the more nervous I felt wondering whether a train would come.
Since this is an out-and-back hike, re-trace your steps to the parking area.
Hike Options
Create a shorter hike by simply turning around at Foushee's Mill or after taking a snack break at one of many areas of large flat rocks along Texas Beach.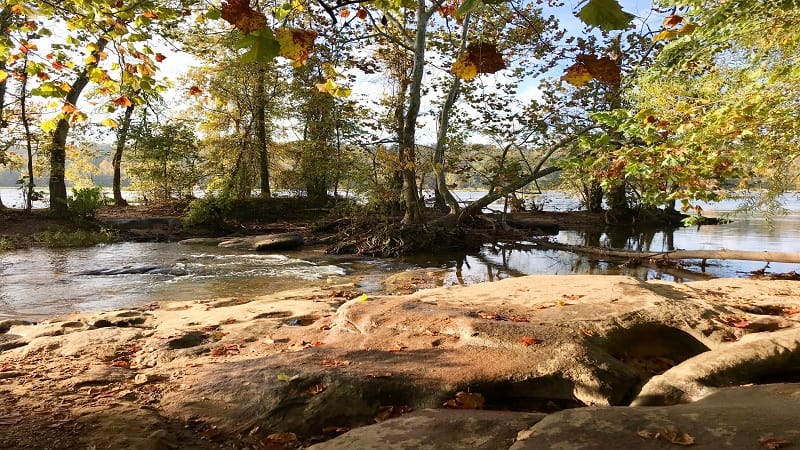 For more steps, re-trace your path to cross the bridge near the start of the hike over the train tracks and the Kanawha Canal.
Rather than turning left for the parking area, turn right to descend the stairs for the North Bank Trail, another popular hiking trail in Richmond.
I didn't realize this was the North Bank Trail, but later learned this in watching RVA Hiker Girl's video on the Texas Beach Trail.
Wrap-Up Notes
From the parking area, this hike took me two hours, but I hiked 3.9 miles, rather than the 3.2 miles that I propose here (skipping the gravel trail at the rails).
Eager for more Central Virginia day hikes? Check out my favorite hikes near Richmond, Virginia.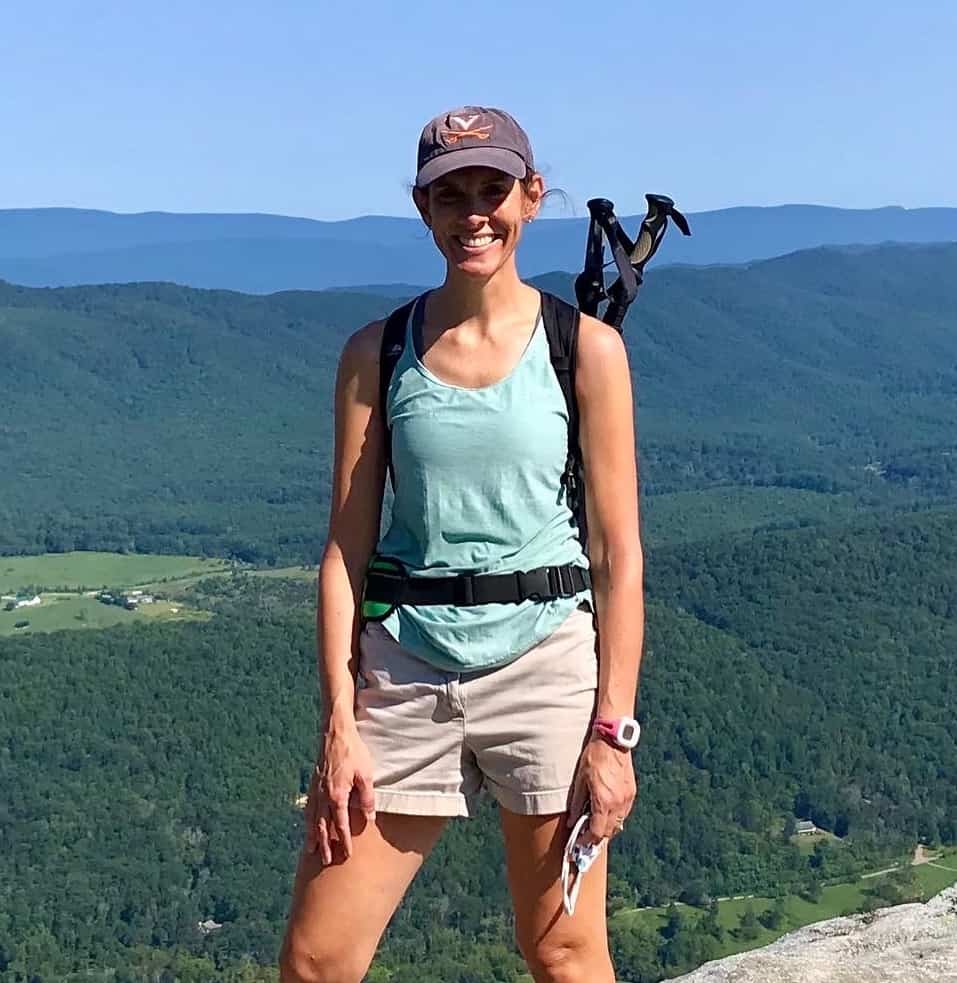 Erin Gifford is the editor of Go Hike Virginia. She has completed more than 300 hikes in Virginia. She is also the author of three hiking guidebooks from Falcon Guides. Need help finding a hike? Check out the Trail Finder feature or send Erin a message.