12 Lakes in Virginia for a Refreshingly Cool Hike
There are many, many lakes in Virginia, both large and small. Some have kid-friendly beaches and lakefront camping, as well as canoe and kayak rentals.
Not every lake in Virginia boasts hiking trails, too. However, you'll want to add a few refreshingly cool lake hikes to your must-go list for the summer months.
At Smith Mountain Lake, the second-largest lake in Virginia, you'll find several nice hikes at the state park. The same is true at Lake Anna State Park.
Virginia's Beautiful Lakes
There are also plenty of lakes that serve as the centerpiece at city and regional parks, like Lake Mercer Park and Oak Grove Lake Park.
Here are 12 lakes across Virginia that wow with easy-breezy hiking trails, many of which are stroller-friendly. Enjoy the cool breezes.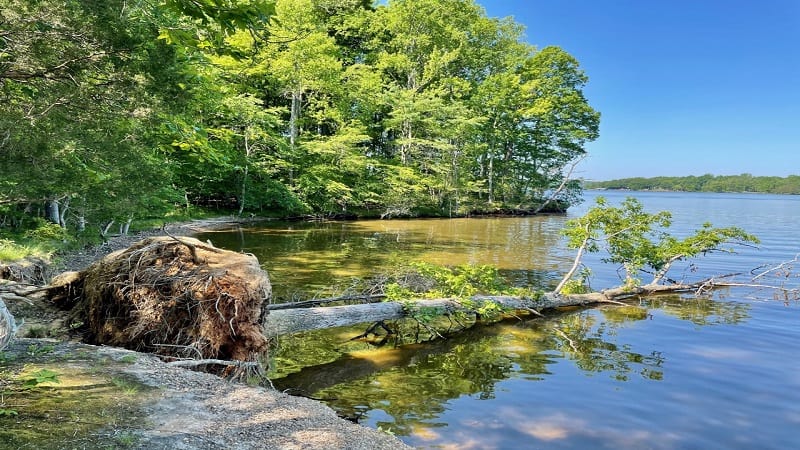 Lake Anna may be better known for water sports, like kayaking, boating and fishing, but there's a lot to love on dry land, too.
The 13,000-acre freshwater reservoir formed by the North Anna Dam has more than 200 miles of shoreline, including shoreline at Lake Anna State Park.
A dozen short trails at the state park, like Railroad Trail and Fisherman's Trail, allow visitors to revel in time in the shade before a second splash in the lake.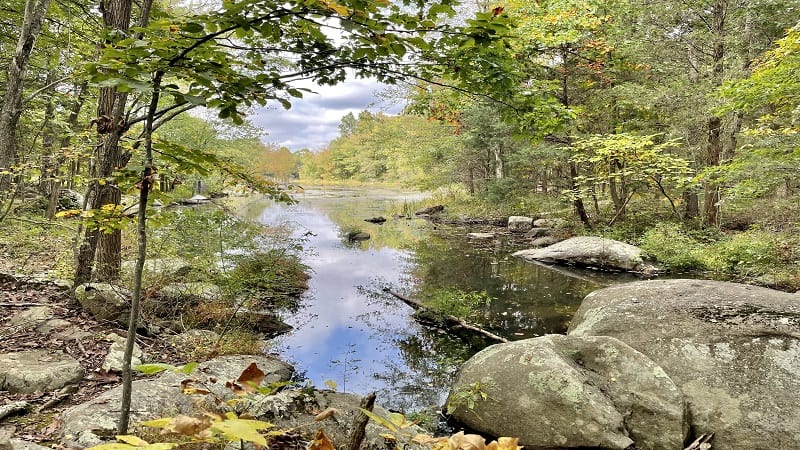 Blue blazes lead the way on this 8.3-mile loop hike around 350-acre dam-fed Beaverdam Reservoir in Ashburn.
This hike begins from the parking lot at the National Recreation & Park Association. From here, a counter-clockwise loop affords the very best views.
Late in the hike, a kid-friendly rock scramble completes this lake loop. Swimming is not allowed in the reservoir, but you can fish for bass and catfish.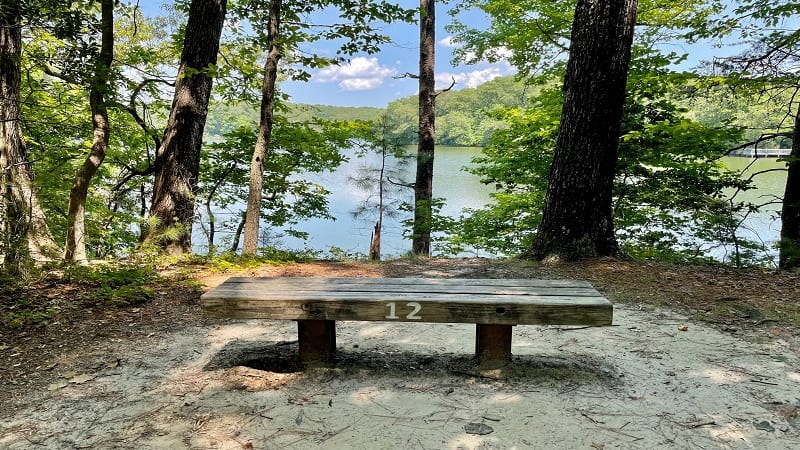 The Noland Trail is a forested 5.6-mile loop that quietly circumnavigates The Mariners' Lake at Mariners' Museum and Park in Newport News.
Along this well-shaded trail, there are plenty of overlooks, benches and bridges. You will also catch views of the James River here and there.
Near the end of the hike, you'll cross over the famed Lions Bridge, which looks over the mighty James. You'll also see a small grove of longleaf pine trees.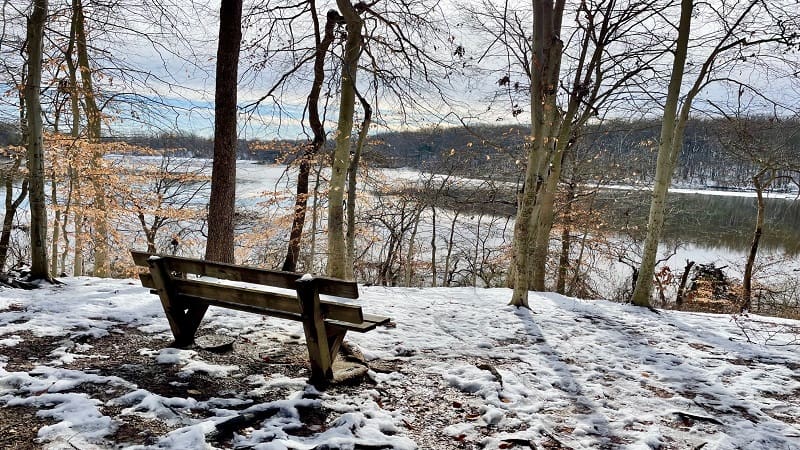 At Lake Accotink Park in Springfield, a 3.9-mile path runs along the perimeter of 55-acre Lake Accotink.
The hike begins at the base of the historic Orange and Alexandria Railroad Trestle, which was built in 1851. You'll also see a dam and a spillway.
At the .7-mile mark, you'll arrive at a scenic overlook with four benches. This is a great spot to sit for a spell and take in the views across Lake Accotink.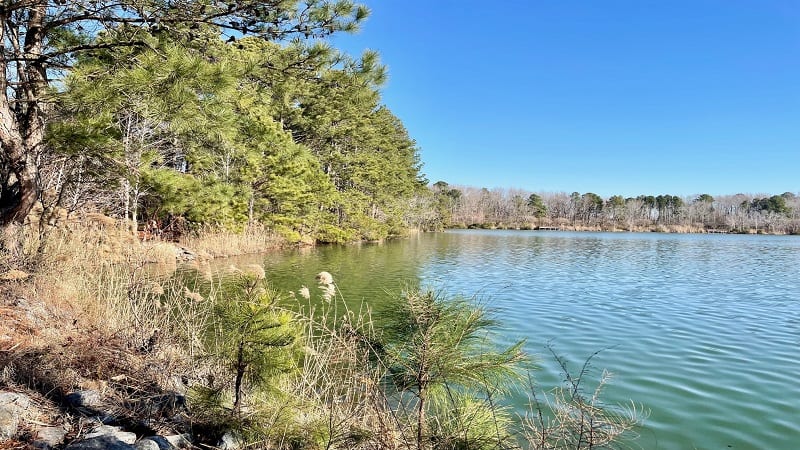 In Chesapeake, a 1.9-mile walking path circumnavigates 70-acre Oak Grove Lake. Wooden benches and overlooks along the lake reward with scenic views.
There are also several picnic tables, including a small picnic pavilion, so plan to bring a lunch to eat outside. Kids will love the colorful playground.
This stroller-friendly trail is open to walkers, bikers and joggers. For fitness-minded visitors, there are six outdoor fitness stations around the lake.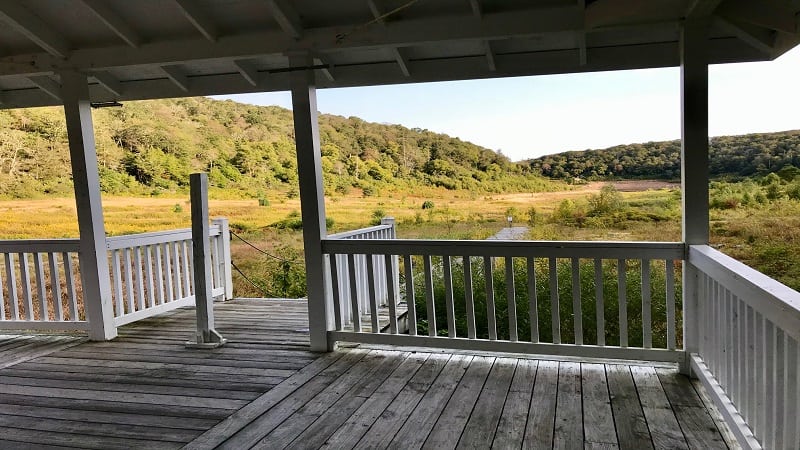 Mountain Lake is one of only two natural lakes in Virginia. The other is Lake Drummond at Great Dismal Swamp National Wildlife Refuge in Suffolk.
You've probably seen Mountain Lake before, even if you've never been to Pembroke. It's located at Mountain Lake Lodge (aka Kellerman's).
Yes, it's the lodge from Dirty Dancing. A 1.5-mile hiking trail starts to the right of Baby's Cottage (known as "Virginia") and leads visitors around the lake.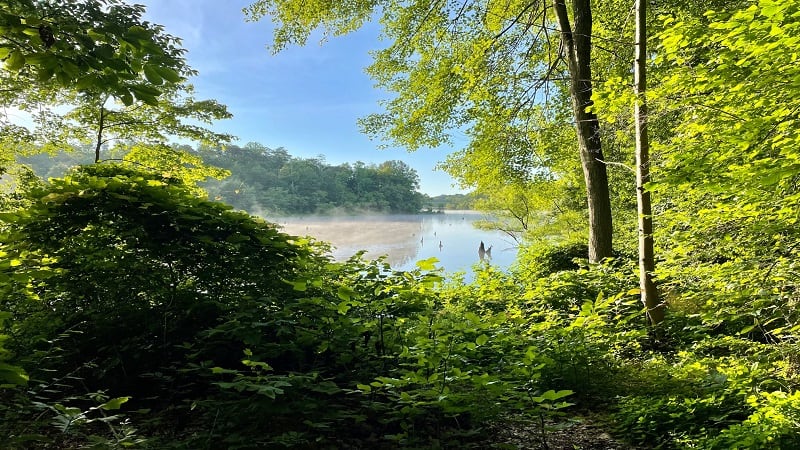 At 154-acre Lake Mercer Park in Springfield, an easy-going walking path leads visitors around Lake Mercer.
This shady, forested loop includes pedestrian footbridges, and of course, beautiful views across the lake, especially from the top of Lake Mercer Dam.
There are several benches along the way that are just right for soaking in the views and enjoying the start of a beautiful day.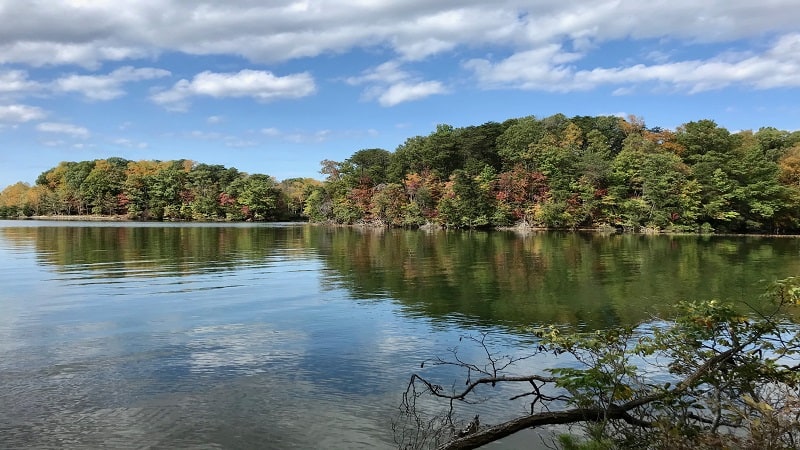 Smith Mountain Lake may be better known as a go-to destination for kayaking, wake boarding and jet skiing, but there's a lot to love on dry land, too.
This man-made lake covers 20,600 acres and boasts more than 500 miles of shoreline. This means that there are plenty of hiking trails.
For water views, check out the 1.7-mile Chestnut Ridge Trail and the 1.4-mile Turtle Island Trail, which includes a perimeter walk around the island.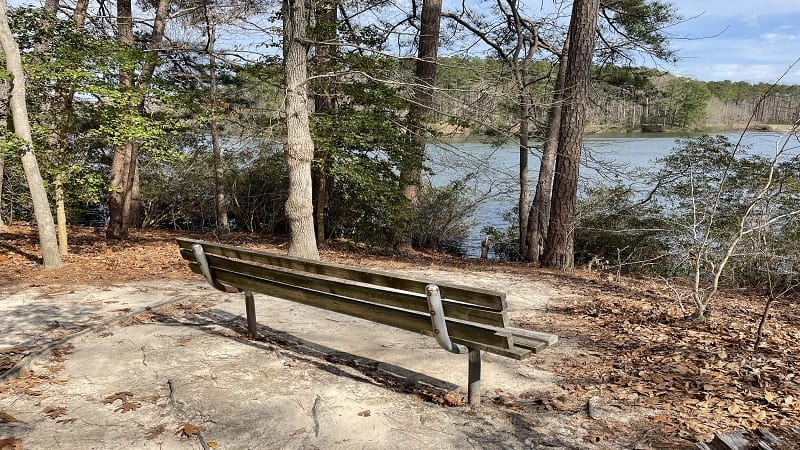 Waller Mill Park is a town park adjacent to the 360-acre Waller Mill Reservoir. You'll find boat rentals, disc golf, a dog park, and of course, hiking trails.
There are several short trails, including the 2.7-mile Lookout Tower Trail and 1.0-mile Bayberry Nature Trail. Both are peaceful and relaxing.
The Lookout Tower Trail meanders along the perimeter of a forested peninsula. As you can imagine, there are loads of refreshing water views.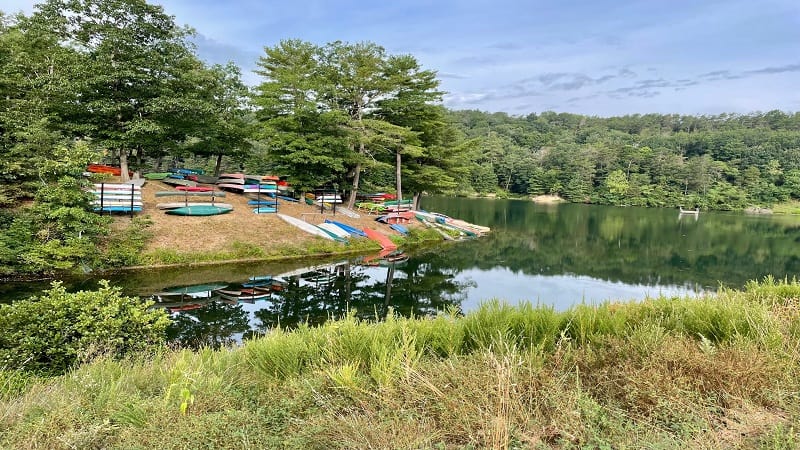 In Shenandoah County, 44-acre Lake Laura is rather dreamy. It's also the perfect destination for an easy-going walk on a Saturday morning.
This dam-fed lake in Basye is owned by Bryce Resort. The rectangular lake is filled by the headwaters of nearby Big Stony Creek.
As you circumnavigate the lake, you'll see weekend cabins off the trail. In summer, visitors can rent kayaks, canoes, tubes and stand-up paddleboards.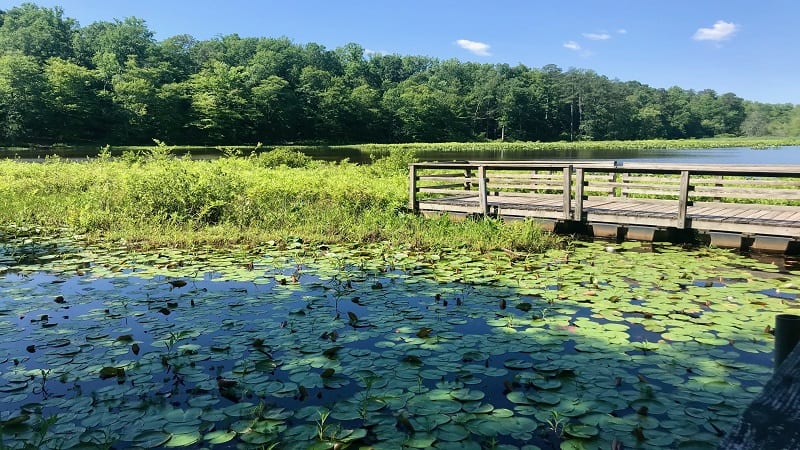 The path around Beaver Lake at Pocahontas State Park is a secluded loop with mild terrain and ever-changing scenery, like bridges and wooden boardwalks.
The views across lily pad-strewn Beaver Lake are particularly serene. Even better, wooden benches turn up every .5 miles along this shaded hiking trail.
Look for a dam that gracefully cascades water onto a scenic spillway. This is an especially popular spot to stop for a snack break or to re-hydrate.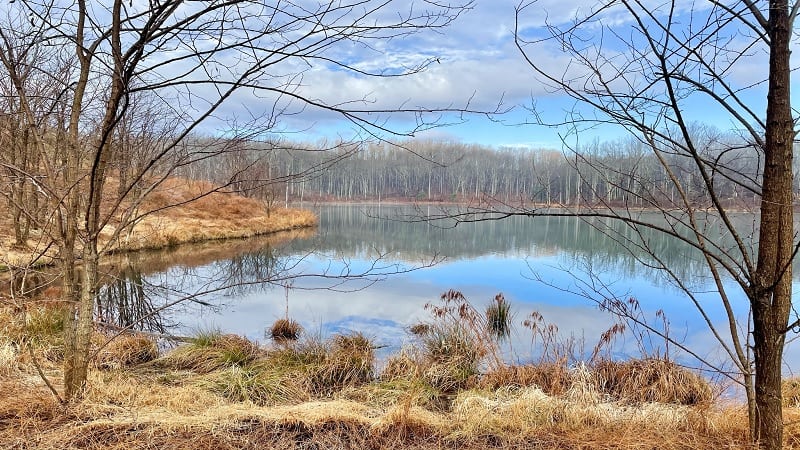 The centerpiece of Ragged Mountain Natural Area is Ragged Mountain Reservoir. The 7.0-mile Lake Front Trail circumnavigates the 170-acre reservoir.
As you walk the Lake Front Trail, stop to savor the views at Rocky Peninsula. Prepare for a few surprises as you continue along this wooded loop trail.
As in, wood carvings, including two owls, an eagle, two bears and a turtle, even a Davy Crockett-style pioneer. They are whimsical and such a delight.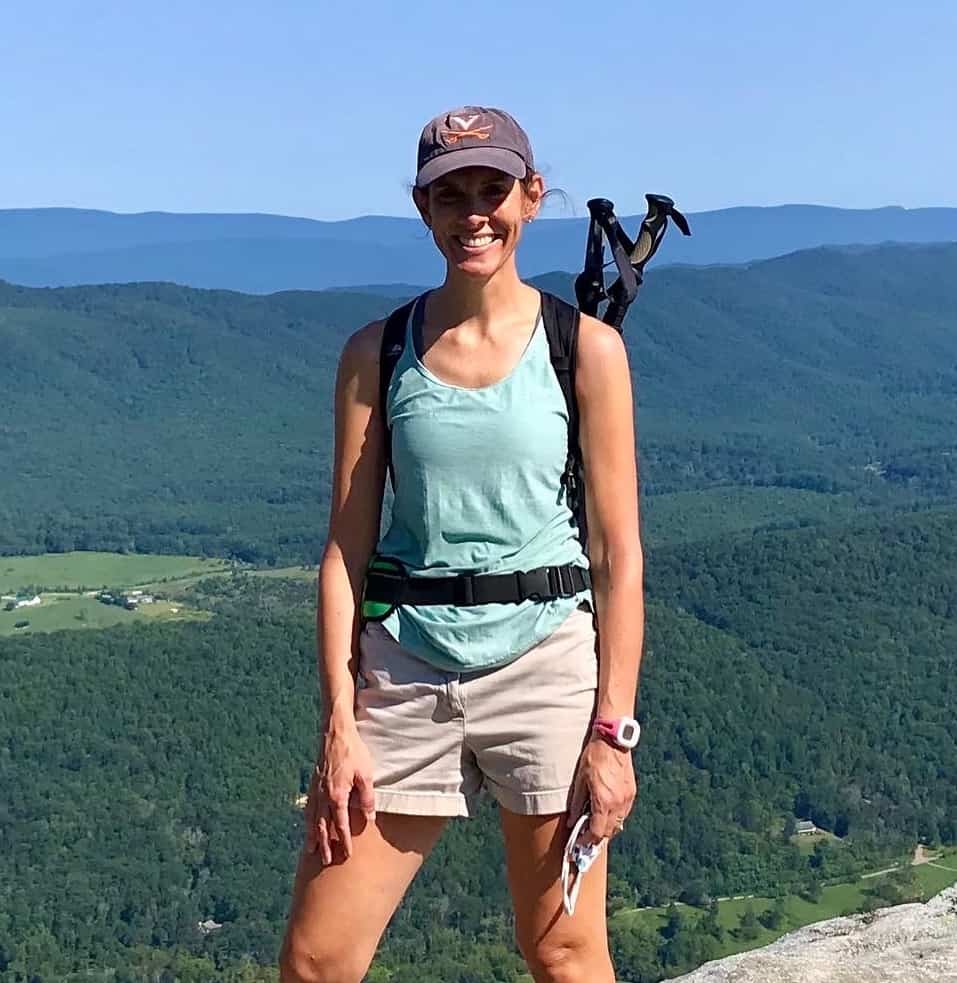 Erin Gifford is the editor of Go Hike Virginia. She has completed more than 300 hikes in Virginia. She is also the author of three hiking guidebooks from Falcon Guides. Need help finding a hike? Check out the Trail Finder feature or send Erin a message.