Neabsco Creek Boardwalk: A Delightful Trail Across Tidal Wetlands in Woodbridge, Virginia
I don't often re-visit hiking trails, but not long ago I found myself at the Neabsco Creek Boardwalk in Woodbridge, Virginia. This was my fourth visit.
My first walk along the wooden boardwalk that traverses Neabsco Creek was in June 2020, about a year after the ribbon-cutting at Neabsco Regional Park.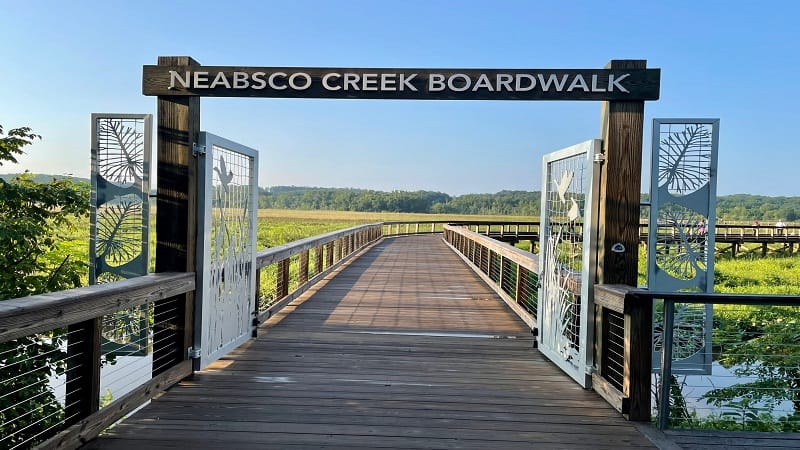 I had just started this blog, but with four kids in tow, I was not tracking this scenic walk. I returned in January 2021 (closed, ice) and April 2021 (open, but too brown).
Once the grasses had greened up, I came back one more time. With the exception of bugs just off the boardwalk, it was a perfect outing in Woodbridge.
| Trail Stats | |
| --- | --- |
| Length | 1.7 miles |
| Difficulty | Easy |
| Trail Type | Out-and-Back |
| Elevation Gain | 26 feet |
| Duration | 1-1.5 hours |
| Terrain | Wooden boardwalk, some paved path |
| Dog-Friendly | Yes |
| Fee | Free |
| Driving Directions | Click Here |
Rippon Landing Park
Set your GPS for Rippon Landing Park at 15125 Blackburn Road in Woodbridge. This small community park is part of Neabsco Regional Park.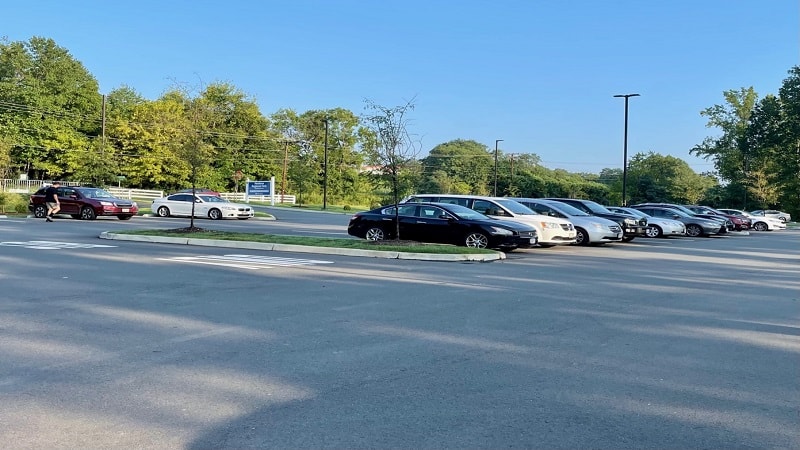 Neabsco Regional Park is home to Rippon Landing Park, Rippon Lodge Historic Site, Neabsco Boardwalk and the Julie J. Metz Neabsco Creek Wetlands Preserve.
The north entrance for the Neabsco Creek Boardwalk is located at Rippon Landing Park, which has a large parking area. There is room for at least a few dozen cars.
There are two lots close to the south entrance – the Wetlands Parking Lot and the South Parking Lot. I don't recommend parking at either of these lots.
To reach the south entrance from these alternative lots, you need to cross through a dark, humid, buggy section of trail. Trust me, park at Rippon Landing Park.
This parking lot can fill quickly as the Neabsco Creek Boardwalk is very popular. That noted, plan to arrive early to enjoy the elevated boardwalk.
At Rippon Landing Park in Prince William County, you'll also find a children's playground, a covered picnic pavilion and portable restroom facilities.
Potomac Heritage National Scenic Trail
This hike across the Neabsco Creek wetlands begins with steps on part of the Potomac Heritage National Scenic Trail.
The Potomac Heritage Trail was designated as a national scenic trail in 1983. The trail cuts across Virginia, Maryland, Washington, DC and Pennsylvania.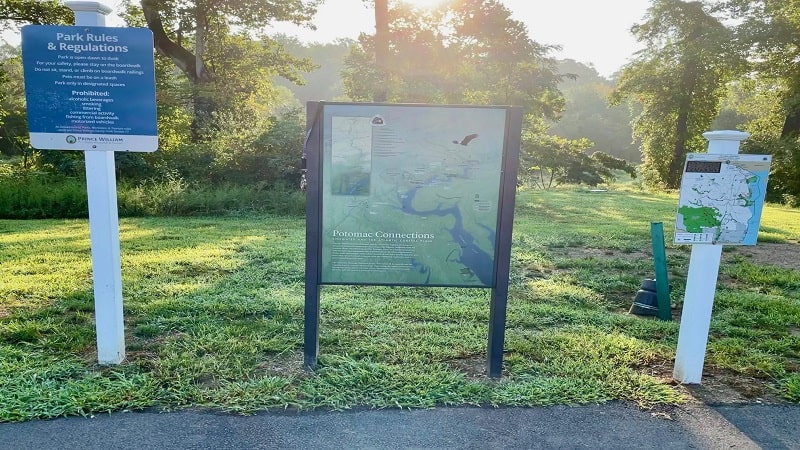 A section of this national scenic trail cuts through Rippon Landing Park and across the Neabsco Creek Boardwalk before continuing south into Leesylvania State Park.
The Potomac Heritage Trail is marked with light-blue blazes. From the lot, this gravelly hiking trail parallels a paved trail to the boardwalk's north entrance.
Both southbound trails begin from the southeast corner of the parking area at the park map. As you walk south, note that the two paths merge at the .2-mile mark.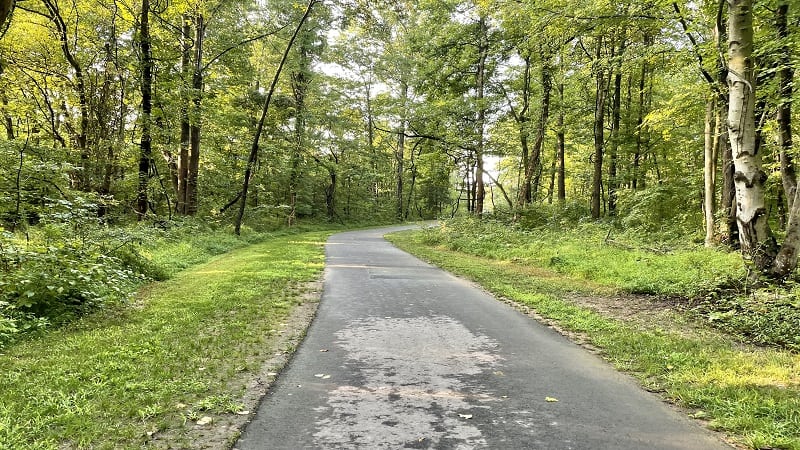 If you opt for the paved trail, walk past the playground, then by several fitness stations on the way to the north entrance of the Neabsco Creek Boardwalk.
Neabsco Creek Boardwalk
From Rippon Landing Park, the entire out-and-back hike is 1.7-miles. On its own, the stretch of ADA-compliant elevated wooden boardwalk is .6 miles (one-way).
At the end of the .2-mile southbound path (paved or gravel), you will reach the entrance to the winding boardwalk, which allows access to the wetlands area.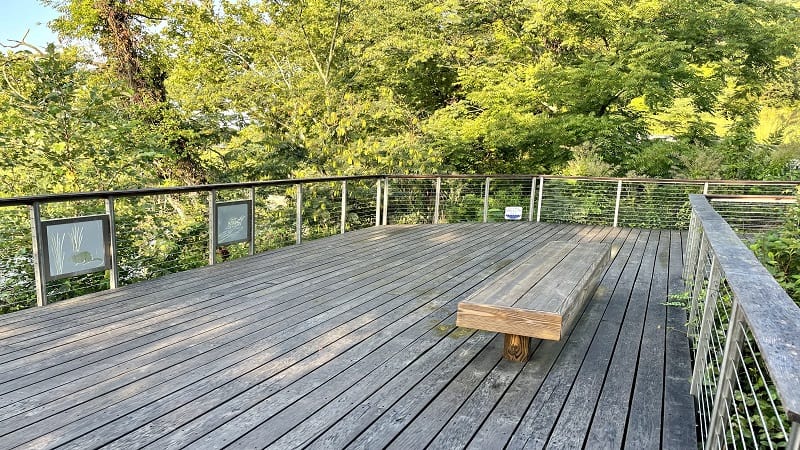 Water from the Potomac River flows into Neabsco Creek and adjacent wetlands where tall grasses and freshwater marsh filter pollution and sediment.
This process creates a rich and prosperous natural habitat for migratory birds, like great blue herons, snowy egrets, red-winged blackbirds and wood ducks.
Walk through the entrance gate, but before you do, note the first of many metal art prints on the path depicting native wildlife, like eagles, beavers and box turtles.
Take your time and revel in the views as you stroll the wooden boardwalk across the verdant wetlands. Well, the wetlands are verdant in late-spring and summer.
Neabsco Creek
The Neabsco Creek Boardwalk connects Rippon Landing Park to the Julie J. Metz Neabsco Creek Wetlands Preserve. As you walk, look up and look down for wildlife.
It's not unusual to see beavers, egrets, herons and turtles in this rich habitat as you stroll the 10-foot-wide boardwalk trail, especially in the early-morning hours.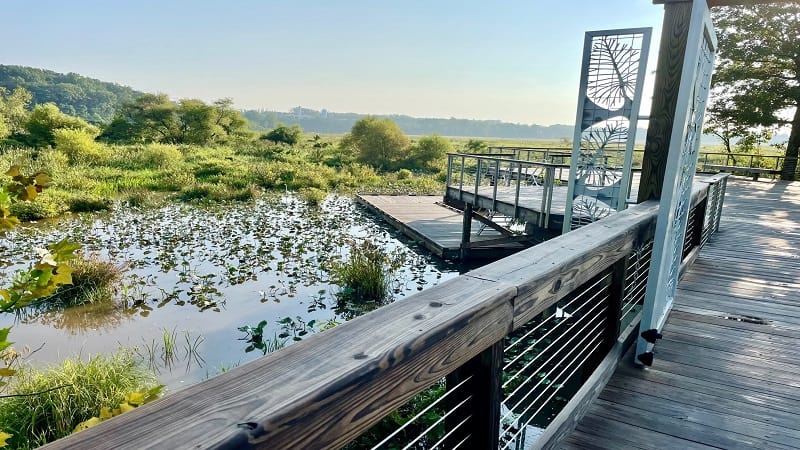 At the .8-mile mark, you will arrive at the south entrance and a two-story observation deck with benches. Savor the vistas across Neabsco Creek.
Here is where this walk ends and you re-trace your steps to the parking area at Rippon Landing Park. Do not follow the trail that goes south into the woods.
This trail leads into the dense, dark and buggy forest. There is nothing more to see and this trail only leads to the alternative parking areas.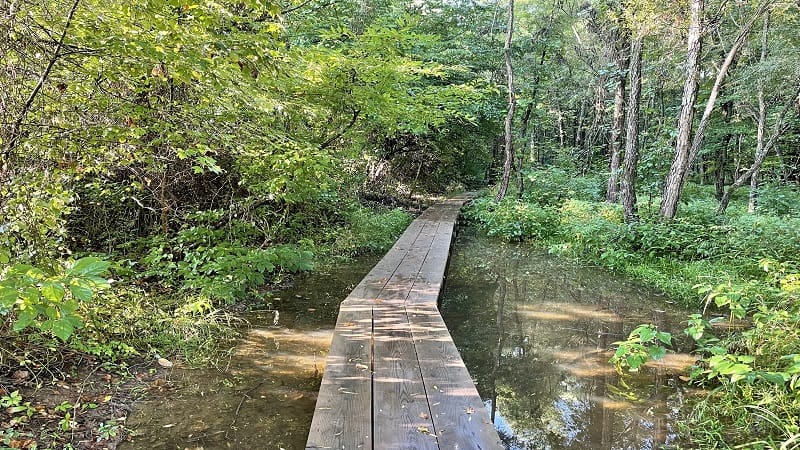 I followed the confusing paths for just a few minutes, but re-emerged with more than a dozen bug bites. I also nearly broke more than one spiderweb with my face.
Just trust me, do not go beyond the observation deck at the south entrance. There's no need to be curious. I think you will thank me.
At the 1.2-mile mark, turn left to walk toward another two-level observation deck. This accessible overlook allows for east-facing views across the wetlands.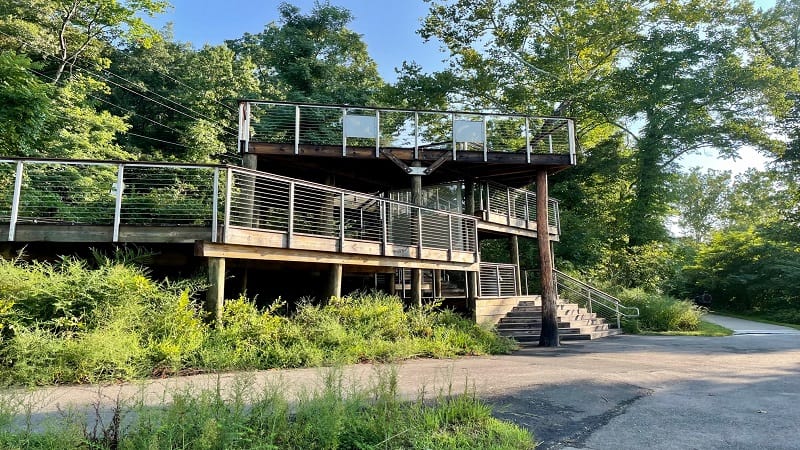 There are benches at this platform, as well as on the elevated boardwalk. When you're ready to take a break, a bench is never more than a few steps away.
Continue past the observation platform and the trail will reach the north landing of the trail at the 1.4-mile mark. Turn left here to return to the parking area.
Neabsco Creek Boardwalk: Before You Go
The Neabsco Creek Boardwalk Trail is open every day from dawn until dusk. The gates may be closed due to inclement weather conditions, like ice and snow.
Work began on the Neabsco Creek Boardwalk in late-2017. The wooden boardwalk in Northern Virginia opened to the public on June 1, 2019 – on National Trails Day.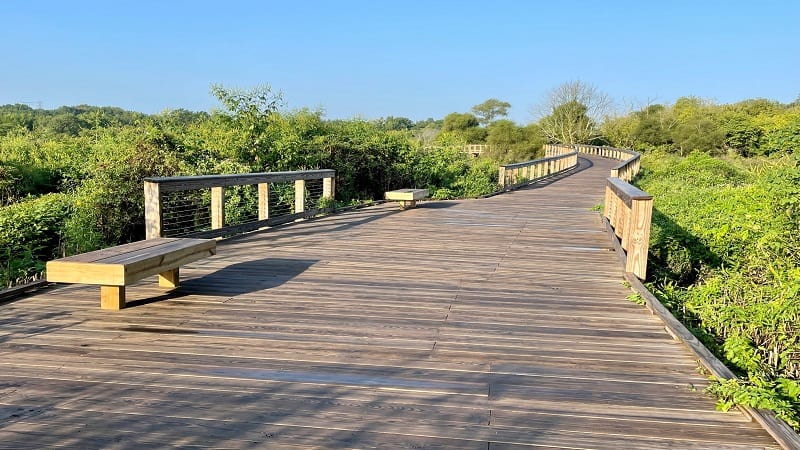 There is no charge to park at Rippon Landing Park or to enjoy any of the amenities, including the elevated wooden boardwalk path across the tidal wetlands.
This kid-friendly trail is open to dogs, pedestrians and cyclists. Much of this level pathway has hand-rails, but there are some sections without safety rails.
Nearby Hiking Trails
For those eager to tackle a second trail after a walk on the Neabsco Boardwalk, make the short eight-minute drive to Leesylvania State Park in Woodbridge.
At this park, you'll find a couple of my favorite hiking trails, including: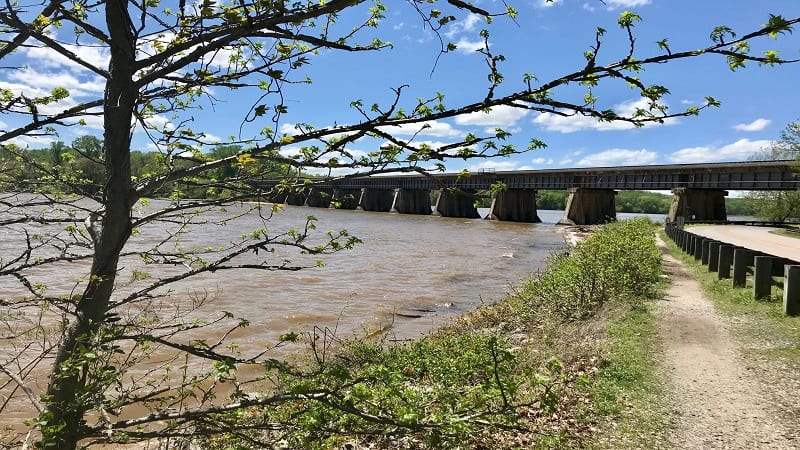 Walk the Bushey Point Trail along the Potomac River to Powell's Creek. Be sure to stroll along the sandy beach to hunt for shells at Leesylvania Park.
Park in boat launch parking for easy trail access to the Bushey Point Trail. On a warm day, watch sailboats and motor boats cruise across the Potomac River.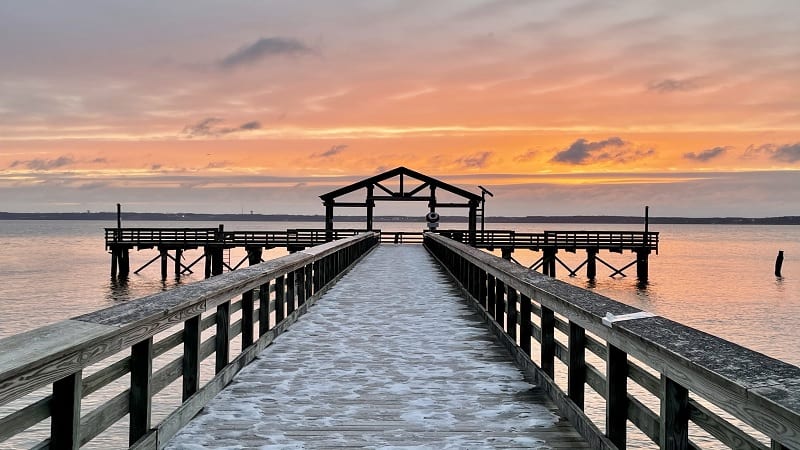 The Lee's Woods Trail begins next to the fishing pier at Freestone Point. It's steps from a beach that's a perfect spot for watching the sunrise.
There are a lot of historic sites on this hike, including Freestone Point, which once served as a military lookout point by gun-toting soldiers in the Civil War.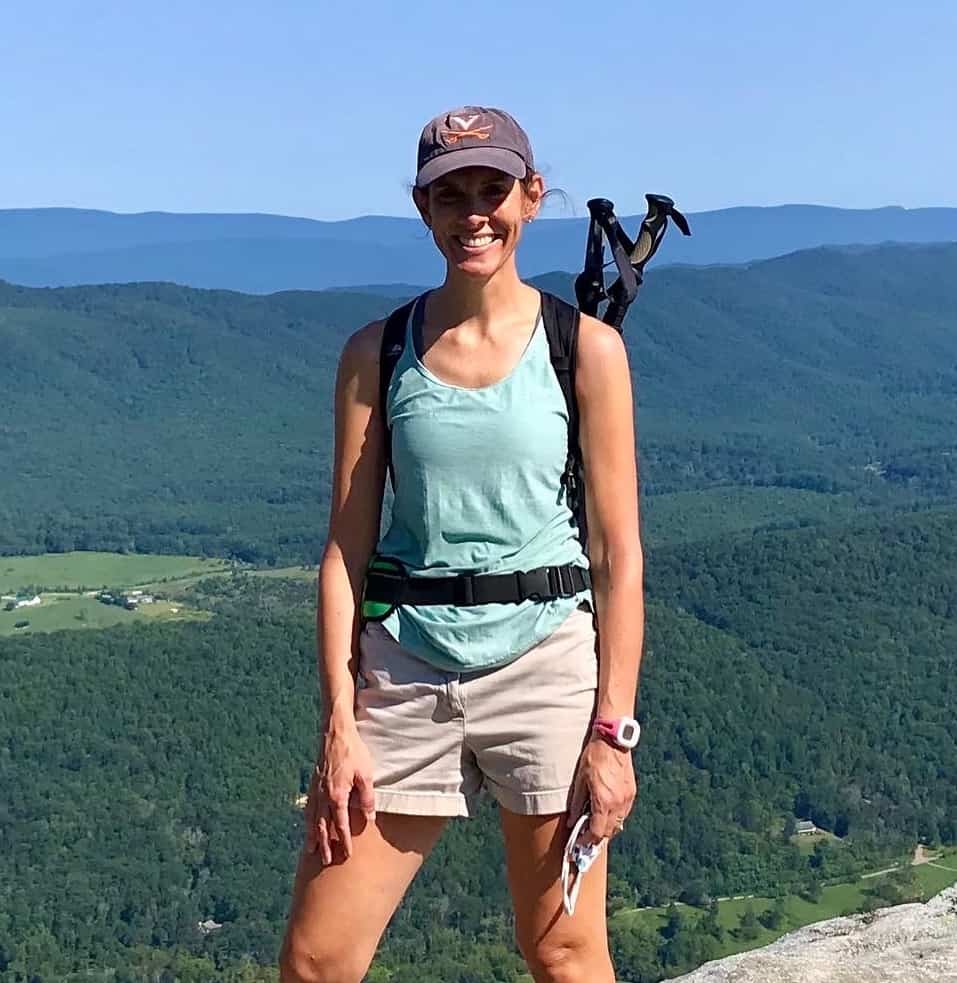 Erin Gifford is the editor of Go Hike Virginia. She has completed more than 300 hikes in Virginia. She is also the author of three hiking guidebooks from Falcon Guides. Need help finding a hike? Check out the Trail Finder feature or send Erin a message.