Pleasure House Point: Hike Across Sandy Shores & Tidal Marshes in Virginia Beach
I recently signed on to write my second hiking guidebook with Falcon Guides, this time on the coastal trails of Delaware, Maryland and Virginia. So excited.
On the hunt for sandy shores and scenic coastal trails I recently found myself at the 118-acre Pleasure House Point Natural Area in Virginia Beach.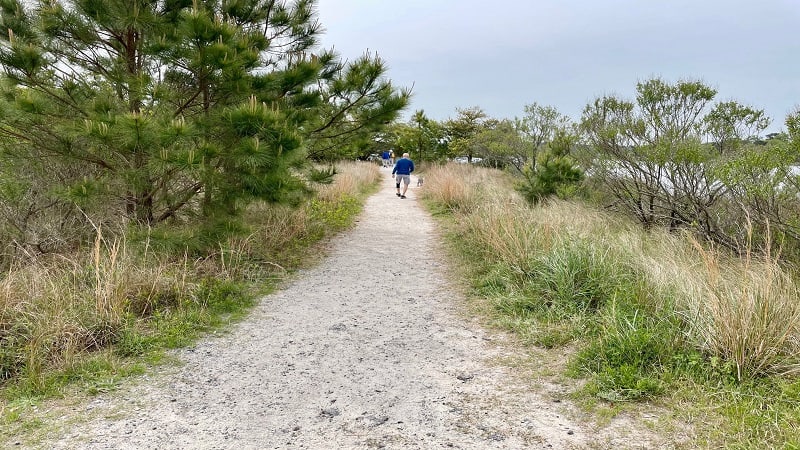 There are two trails – Meadow Trail and Beach Trail – that make up a two-mile loop that encircles the natural area with views of maritime forest and tidal marsh.
There isn't much signage, but if you stay right, you'll be on the correct path. With an elevation gain of seven feet, it's okay to veer off course now and again.
| Trail Stats | |
| --- | --- |
| Length | 2.0 miles |
| Difficulty | Easy |
| Trail Type | Loop |
| Elevation Gain | 7 feet |
| Duration | 45-60 minutes |
| Terrain | Mostly sand, some gravel |
| Dog-Friendly | Yes |
| Fee | Free |
| Driving Directions | Click Here |
Pleasure House Point Natural Area
There is no designated parking lot for Pleasure House Point Natural Area. I even verified this on the website for the City of Virginia Beach. Interesting.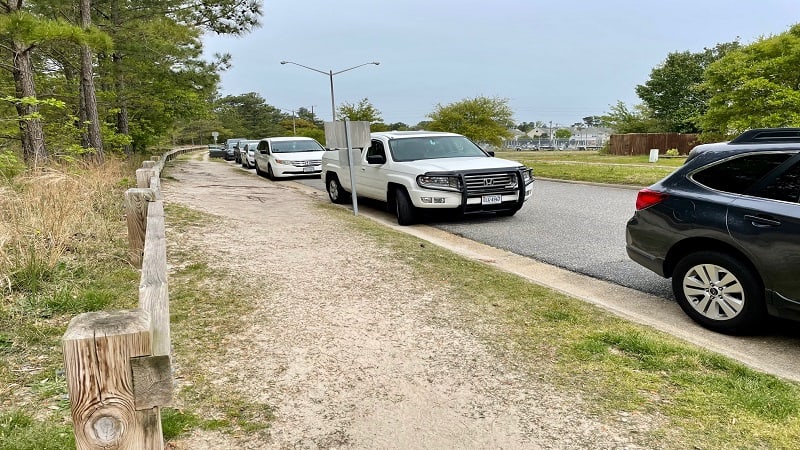 Thankfully, there are plenty of parallel spots along Marlin Bay Drive. Once you turn from Shore Drive, you'll see cars parked on the side of the road.
The trailhead is roughly .1-mile from Shore Drive on the right (when driving east along Marlin Bay Drive). There is also a large trail sign to the left of the trailhead.
Beach Trail
The hiking trail – Beach Trail – starts out sandy (well, this is a coastal trail). At the .1-mile mark, you can turn left or turn right to go around a pond.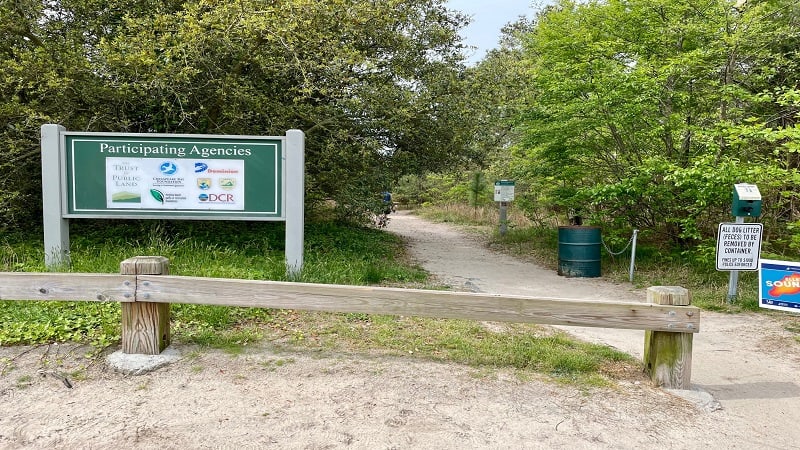 I opted to go right. There were quite a few people at the natural area , and I was the only one to stay right to walk around the small pond.
The trail is flat and sandy with pine needles scattered about from coastal pines. At the .3-mile mark you'll be around the pond and back to where you started.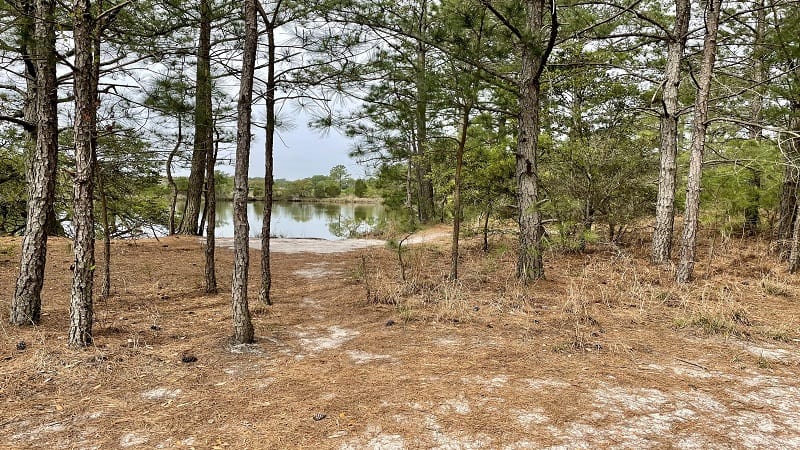 Stay right for the Meadow Trail and Beach Trail. A tidal marsh turns up on the left with more coastal loblolly pines as you continue walking on the sandy trail.
Pleasure House Creek
Pleasure House Creek is now on your right. Keep your eyes open for oysters that grow at the water's edge. They are especially plentiful at low tide.
At the .6-mile mark, stay to the right to continue along the perimeter of the natural area. Marsh grasses and coastal pines flank either side of the hiking trail.
A small beach turns up at the 1.0-mile mark. I saw several small children and active pups living their best lives – splashing and running in the shallow water.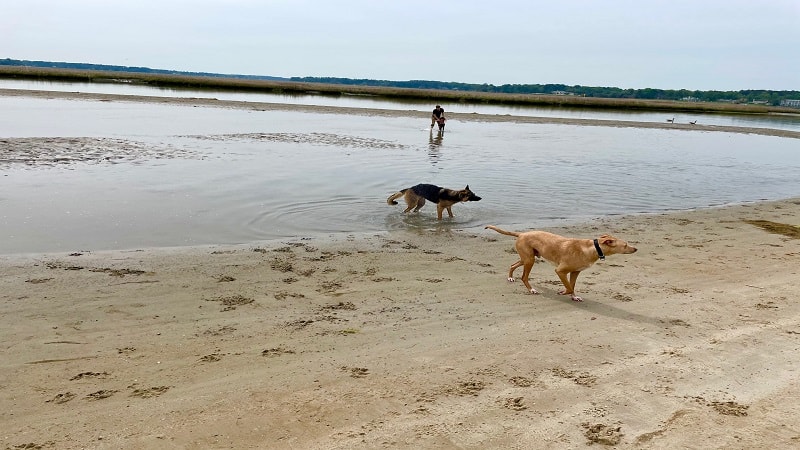 Continue along Crab Creek. Free-standing placards from the Chesapeake Bay Foundation educate on climate change and the health of the Chesapeake Bay.
At the 1.2-mile mark, there is a comfy bench where the trail splits in two. Stay to the right to continue on. Then, another delightful small pond on the left.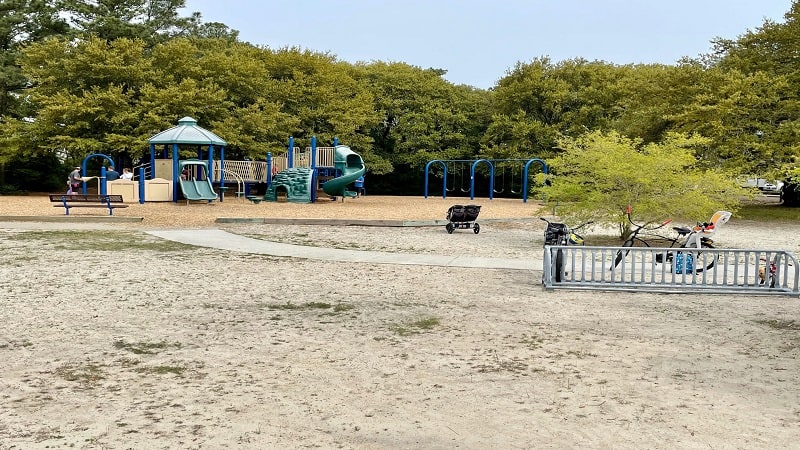 Lockhaven Park
Even better – for children, at least – a nice playground appears on the right just past the pond. You are now passing through Lockhaven Park.
In a few more steps, you'll enjoy a brief break from sandy trail as you step foot on a brick-paved path that leads to the Brock Environmental Center.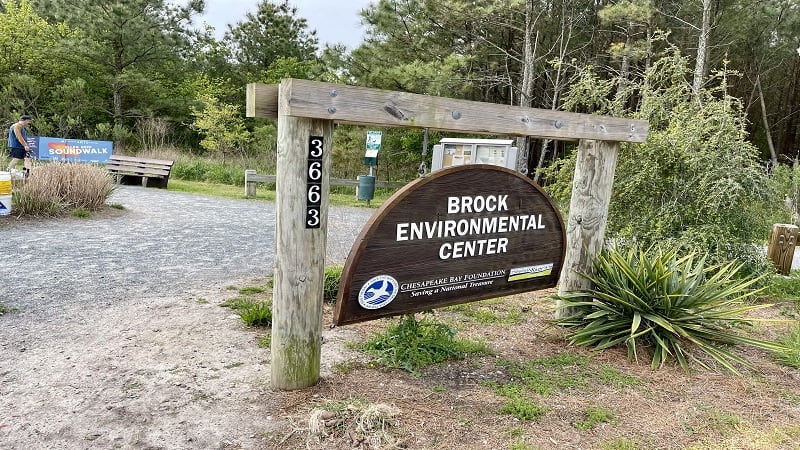 The path shortly picks back up – now as gravel. Turn right to continue on (I told you, just keep right and you'll be okay). At the 1.6-mile mark, you have a choice.
Here, you reach Marlin Bay Drive. You can walk along the sidewalk to return to your car. Or, you can stay left to pop back onto the path (yes, this time left).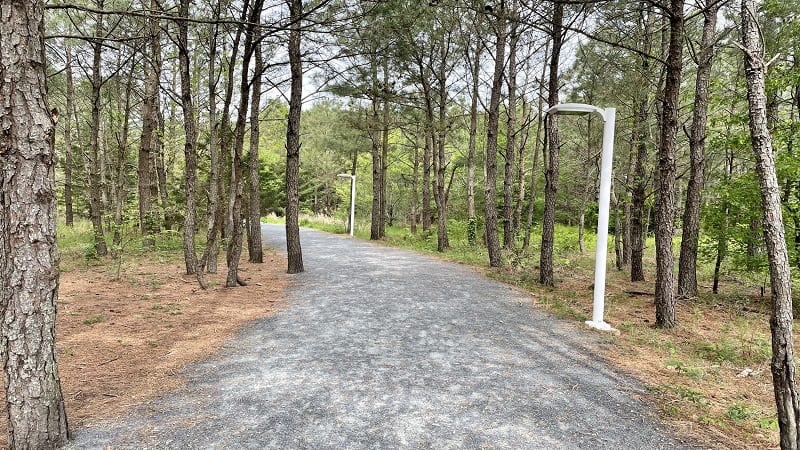 At the 1.7-mile mark, you'll return to a familiar trail. Turn right and re-trace your steps from here to your car parked on Marlin Bay Drive.
Wrap-Up Notes
From my car, this hike took me one hour. I was moving at a good clip, but I encourage you to stop for a splash on the beach and to observe native wildlife.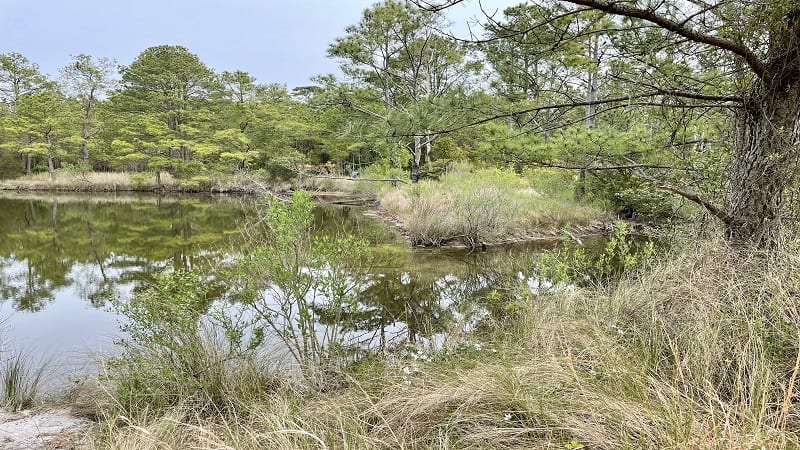 Of note, First Landing State Park in Virginia Beach is a short eight minutes away by car. This is the most-visited state park in Virginia.
At First Landing, check out the Bald Cypress Trail (1.8 miles) and the Osmanthus Trail (3.2 miles). These are two of my favorites.
Looking for more steps on area hiking trails? Check out a few of my favorite hikes in Virginia Beach.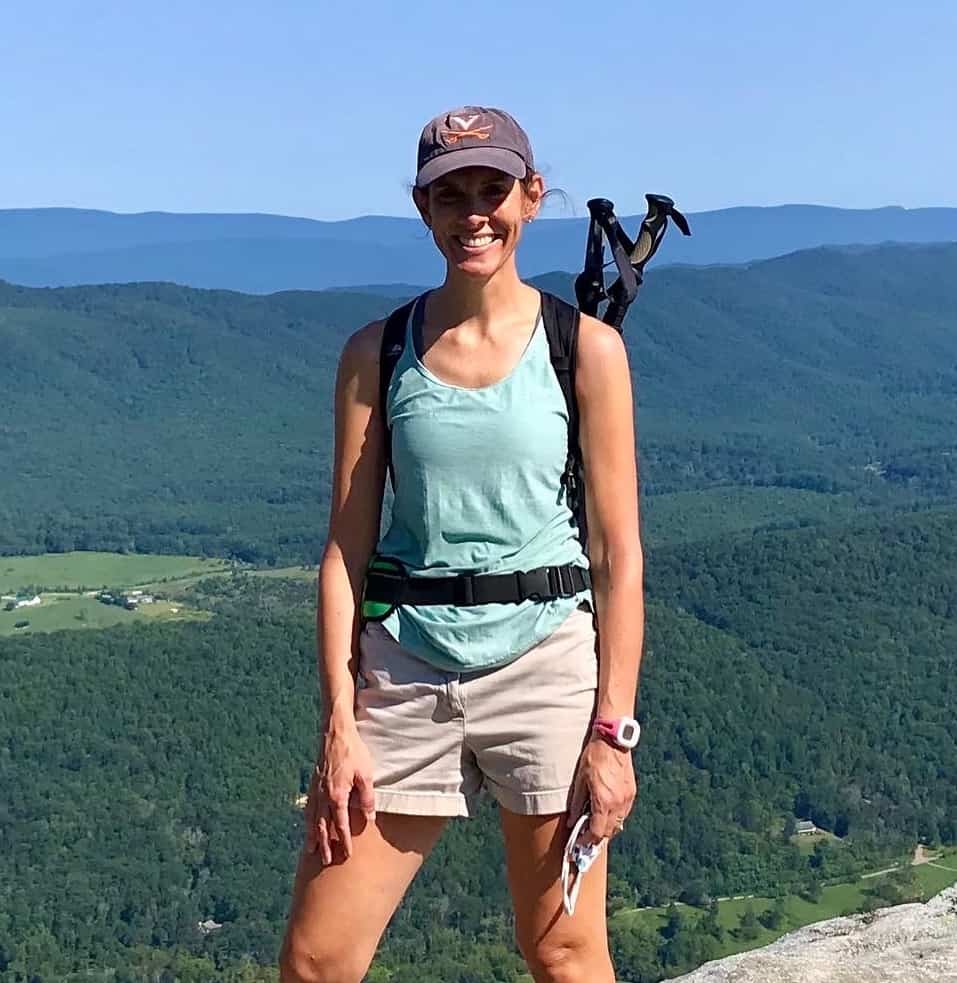 Erin Gifford is the editor of Go Hike Virginia. She has completed more than 300 hikes in Virginia. She is also the author of three hiking guidebooks from Falcon Guides. Need help finding a hike? Check out the Trail Finder feature or send Erin a message.