Ivy Creek Natural Area: Criss-Cross 7+ Miles of Wooded Trails in Charlottesville, Virginia
Earlier this week, my son and I found ourselves in Charlottesville. It was a beautiful fall day so we opted to explore Ivy Creek Natural Area while we were in town.
Ivy Creek Natural Area is managed and cared for by the Ivy Creek Foundation, a non-profit organization in Central Virginia that also organizes on-site historic farm and barn tours.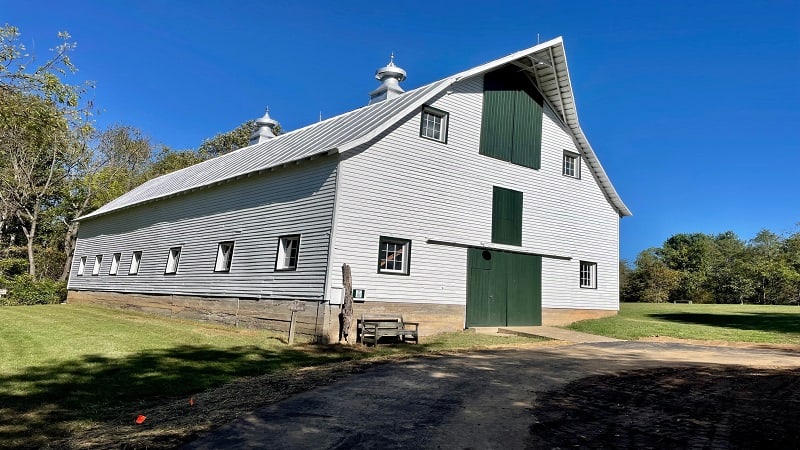 This 219-acre nature preserve features more than seven miles of hiking trails and is jointly owned by Albemarle County and the City of Charlottesville.
Eleven trails criss-cross this natural area, which sits alongside the South Fork Rivanna River Reservoir. Visitors encounter upland woods, pines, fields, streams and shoreline.
| Trail Stats | |
| --- | --- |
| Length | 2.6 miles |
| Difficulty | Easy |
| Trail Type | Loop |
| Elevation Gain | 302 feet |
| Duration | 1.5-2 hours |
| Terrain | Mostly dirt & rock trails |
| Dog-Friendly | No |
| Fee | Free |
| Driving Directions | Click Here |
Ivy Creek Natural Area Trails
The wooded scenery is lovely, but before I go on, I want to point out that dogs are not allowed (nor are pets of any kind) at this scenic natural area.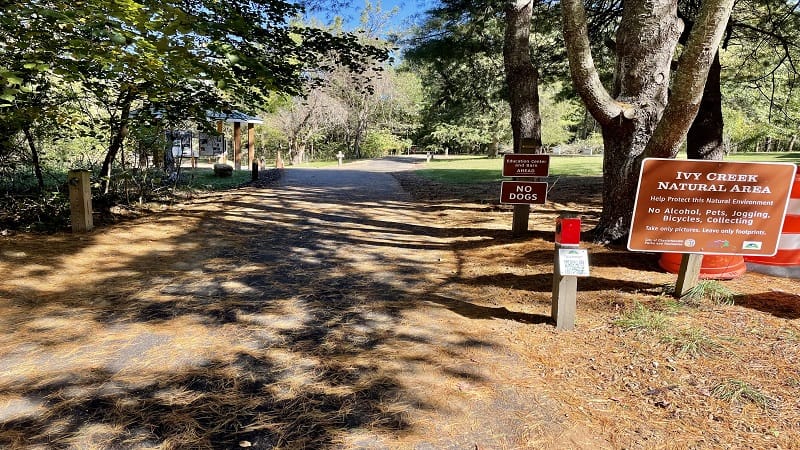 The natural area also does not permit alcohol, jogging, cycling or collecting. All are good to know before you add Ivy Creek Natural Area to your go list.
Nearly all of the 11 hiking trails are less than 1.0-mile in length. The longest trail is the Red Trail at 1.7 miles. There are also .6-miles of paved trail from the parking area.
One look at the trail map for Ivy Creek Natural Area and you'll note that trails wind and curve in all directions. The number of different hikes is nearly unlimited.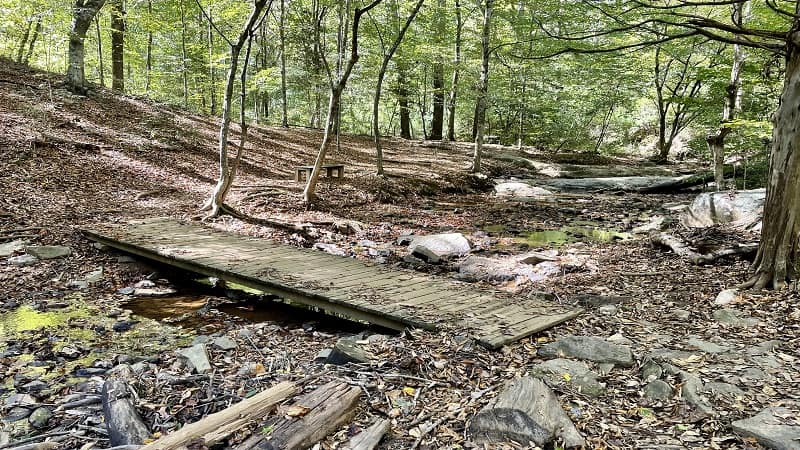 Six of the trails have corresponding written trail guides that share more with visitors on the habitats, landscapes and ecology, as well as native trees seen on the trails.
From the parking area, hikes either set off north on a paved section of trail or south along the Red Trail. A northbound start leads you past a trail kiosk and a cemetery.
A Wooded Loop Hike
We began on the paved path, making our first stop at the large trail kiosk on the left side of the path to learn about the on-property farmhouse, barn and family cemetery.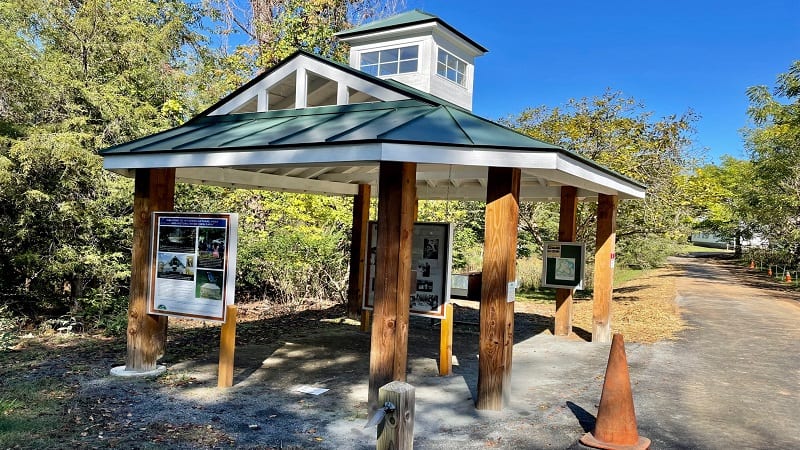 River View Farm, as the property was once called, was owned by Hugh Carr, a landowner and wife of Texie Mae said to have built the farmhouse himself in 1883.
Upon Hugh Carr's death in 1914, his eldest daughter, Mary Louise, lived in the home. The land was later purchased to create Ivy Creek Natural Area.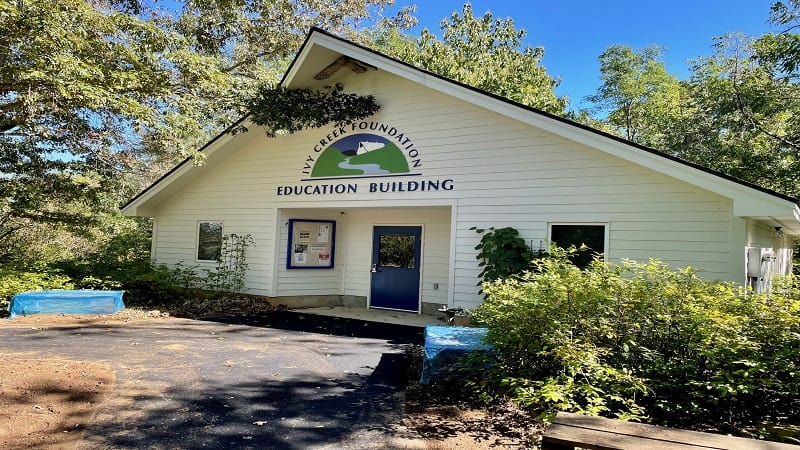 At the trail kiosk, you'll note a fork in the path. Stay to the right to explore the family cemetery and then continue on for the Education Building and a butterfly garden.
In a few more steps, you will reach the lavender-blazed North Field Trail. It's a lovely wooded trail, if a bit close to motoring cars on Earlysville Road and Woodlands Road.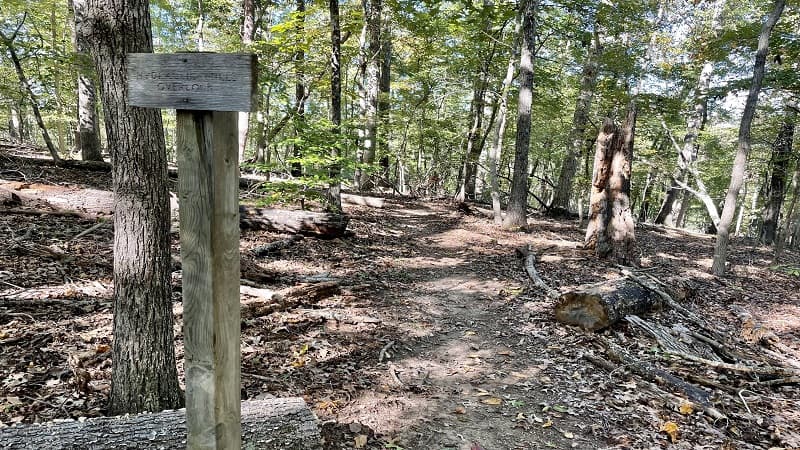 At the .4-mile mark, you will reach a sign for the Hydraulic Overlook. I love a good overlook, so I was game to head down this spur trail to see what there was to see.
Sadly, there is not much to see. You will reach a couple of benches. Just past the benches is what might have been an overlook at one time.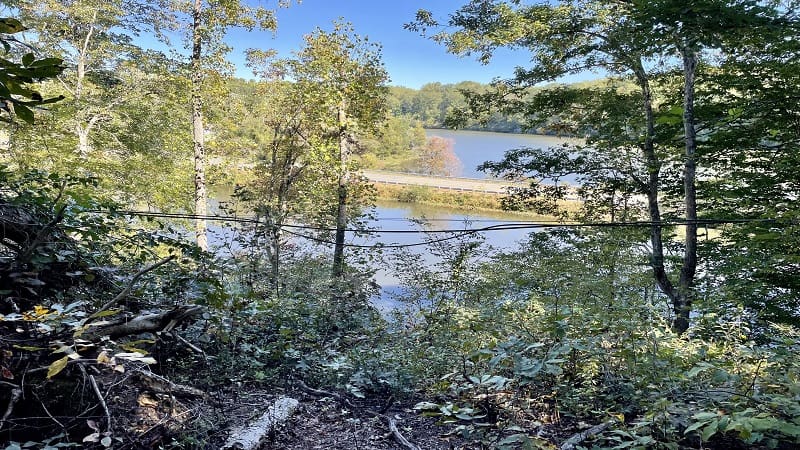 Now it's mostly obscured by trees. A power line runs right through the opening that peeks out at the reservoir and Ivy Creek, as well as two-lane Woodlands Road.
Disappointed, we re-traced our steps (uphill, mind you), then turned right to re-connect with the North Field Trail.
Connecting Trails
At the .5-mile mark, we switched over to the Blue Trail. Note that there are lots of trail markers, making it relatively easy to stay on your preferred path.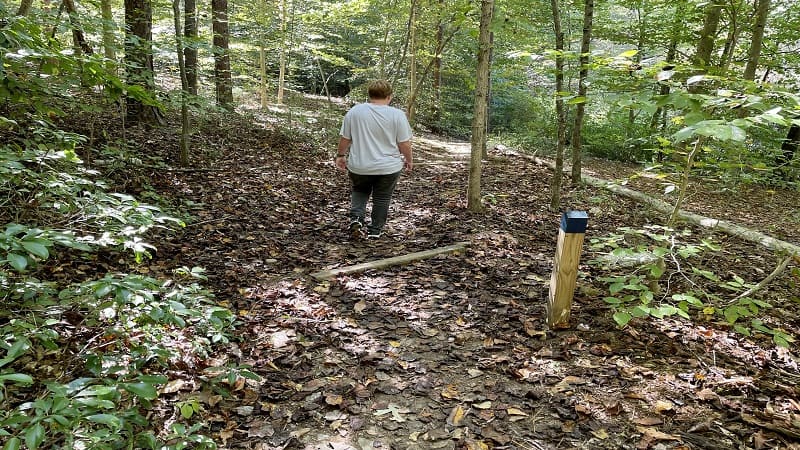 We weren't on the Blue Trail for very long. At the .8-mile mark, the trail splits and the Red Trail goes in both directions. Eesh.
The Red Trail on the left goes to the parking area, so we went with the Red Trail on the right. We followed this then exited to the Orange Trail at the 1.2-mile mark.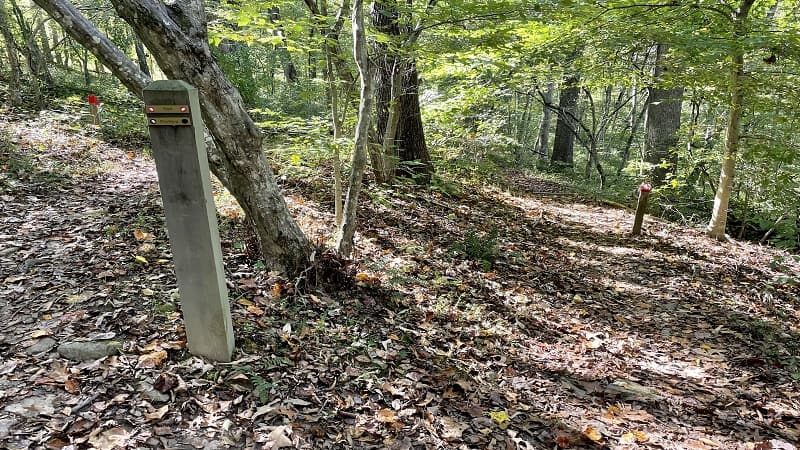 At the 1.4-mile mark, we turned right for the purple-blazed Peninsula Trail. From the map, the trail appeared to sidle up against Ivy Creek. I was eager for some views.
You'll reach a couple of benches and a wooden box with follow-along guides for the Peninsula Trail. There are eight stops, one for each of eight benches along the trail.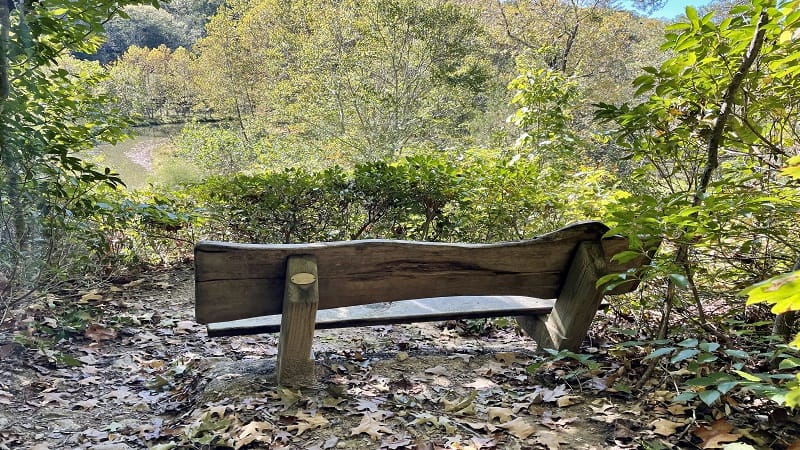 Each stop features facts and tidbits about native wildlife, vegetation, wildflowers and trees. Get ready to learn about swamp mallows, chestnut oaks and trailing arbutus.
As you continue along, you'll note there are some nice water views here and there, as well as the wooden benches that serve as stops on the trail guide.
This trail goes out to the peninsula, then returns and you'll reach the start/end of the Peninsula Trail at the 2.1-mile mark. It's much more quiet on this side of the park.
From here, you can turn left on the Orange Trail for a longer hike, but we opted to continue straight ahead onto the Brown Trail.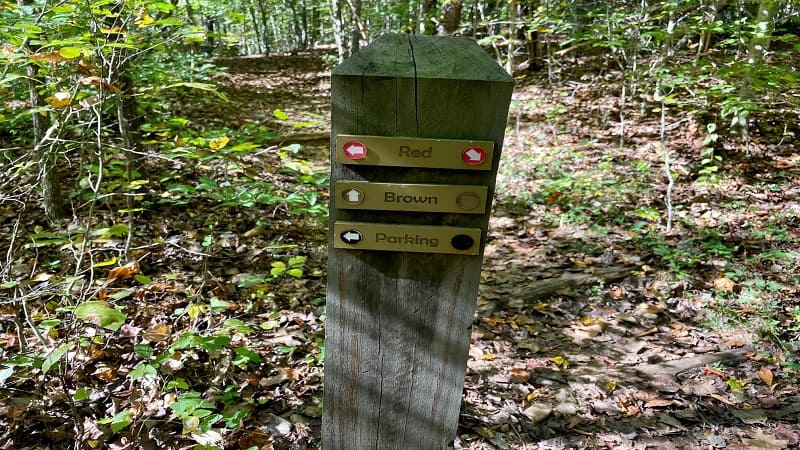 The Brown Trail connects with the Red Trail at the 2.4-mile mark, leading back to the parking area. But first, you will pass restrooms and the historic barn.
Our hike was complete at the 2.6-mile mark, but as I noted, there are so many different routes you can take or not take to make a hike your preferred length.
Wrap-Up Notes
If you were keeping track, this hike included the North Field Trail, Red Trail, Blue Trail, Orange Trail, Brown Trail and Peninsula Trail, as well as some paved trail.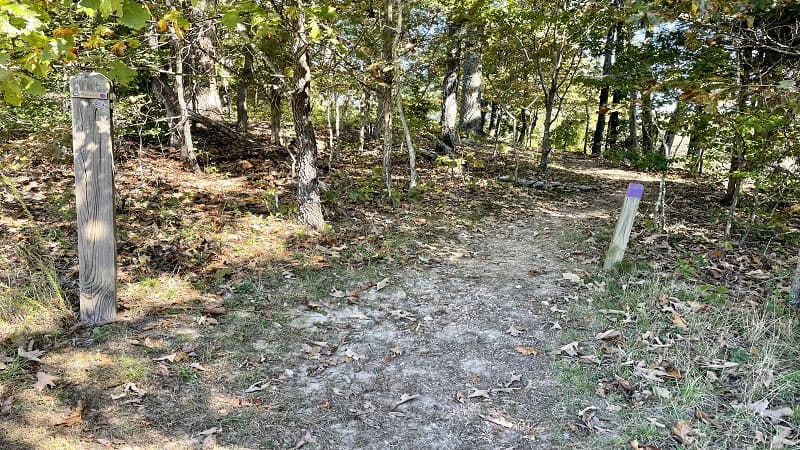 For an easy-going, relaxing walking in the woods, Ivy Creek Natural Area is a nice pick. It's not big on views, but sometimes you just need to get out into nature.
If you're looking for more hikes in the Charlottesville area, I have a few ideas, including Ragged Mountain Natural Area.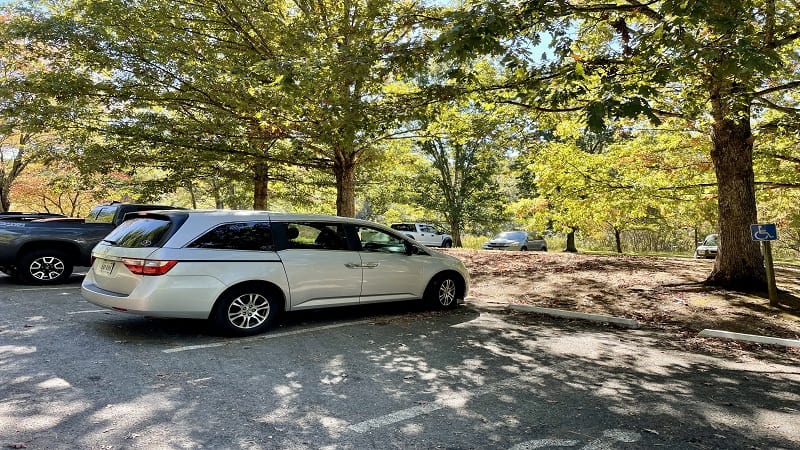 Much like Ivy Creek Natural Area, there are multiple trails that can be linked in a variety of ways at Ragged Mountain Natural Area.
I also very much enjoy the two trails along the Moormans River that set off from Sugar Hollow Reservoir. Highly recommend, especially on a warm summer day.
For more local hikes, check out my post on the best hikes near Charlottesville.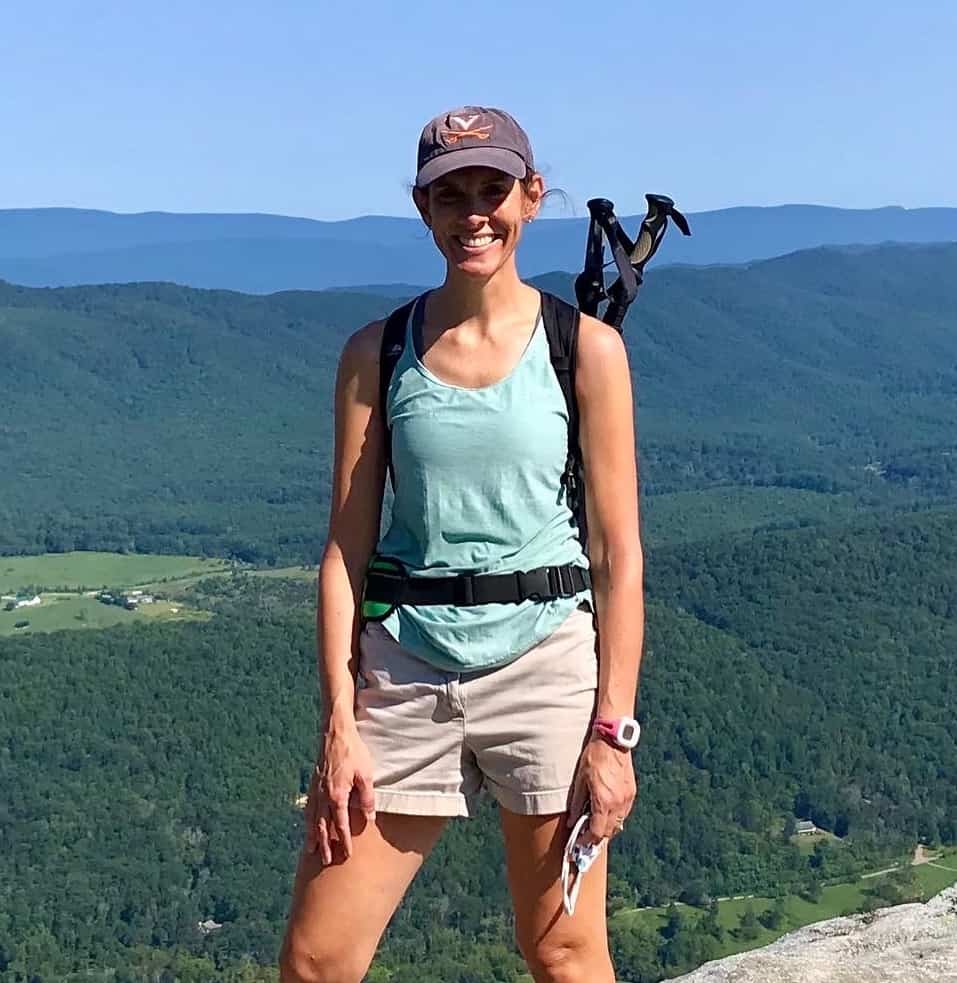 Erin Gifford is the editor of Go Hike Virginia. She has completed more than 300 hikes in Virginia. She is also the author of three hiking guidebooks from Falcon Guides. Need help finding a hike? Check out the Trail Finder feature or send Erin a message.