Bald Cypress Trail: An Easy Swamp Hike at First Landing State Park in Virginia Beach
Did you know that First Landing State Park in Virginia Beach is the most popular state park in Virginia? It's home to the Bald Cypress Trail, an easy loop hike.
More than one million visitors come to this coastal state park each year to hike, bike, camp, kayak, fish, crab and laze on pristine coastal stretches.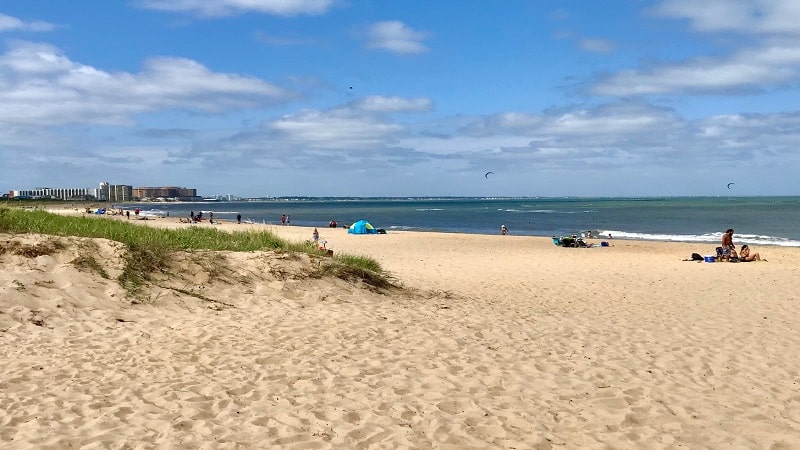 There are three entrances to this well-liked state park. Use driving directions for the primary park address (2500 Shore Drive) to reach the Trail Center.
You'll note on the First Landing State Park trail map that nearly every one of the 10 park trails originates from the Trail Center.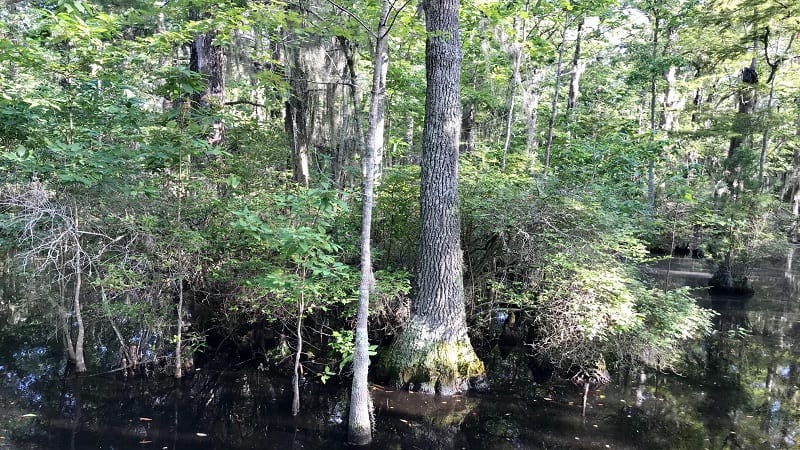 One of the most popular trails in the park is the 1.8-mile Bald Cypress Trail. This easy loop hike is shaded from start to finish.
Meander along trails of crushed pine needles and packed sand, even wooden boardwalk, as you take in unusual bald cypress trees in freshwater swamps.
| Trail Stats | |
| --- | --- |
| Length | 1.8 miles |
| Difficulty | Easy |
| Trail Type | Loop |
| Elevation Gain | 30 feet |
| Duration | 1 hour |
| Terrain | Mostly sand & gravel trails, plus wooden bridges |
| Dog-Friendly | Yes |
| Fee | $7 per vehicle weekdays ($10 per vehicle weekends, Apr-Oct) |
| Driving Directions | Click Here |
Trail Center
The parking lot at the Trail Center is large, but given this is the primary lot for nearly all hikes at the state park, it's not as large as it could be.
If you get shut out of this parking lot, you can park across Shore Drive at the park entrance with beach access.
From here, it's a bit of a hike (no pun intended) to the Trail Center, but it is what it is. For this reason, I suggest that you arrive early if you plan to hike.
Bald Cypress Trail
From the First Landing State Park map, you'll note that the trailhead is just to the right of the Trail Center.
In fact, your first steps are along a wooden bridge over a freshwater cypress swamp dotted with plenty of unusual bald cypress trees.
Before you step foot on the bridge, however, take a look at the colorful Kids in Parks brochures at the trailhead. There are four different adventures.
Among them are The Need for Trees, which helps children identify trees, and Nature's Hide & Seek, a brochure with flora and fauna to find on the hike.
Once you cross the bridge, turn left at the trail sign at the T-intersection. Immediately, you will spy two comfy benches on the left.
Take a short break or stop to tie your shoelaces, but don't pause for too long. More bald cypress trees await you all along the trail, including a scenic overlook.
At the .35-mile mark, you'll reach a fork on this mostly dirt, sand and fine gravel trail. Veer to the right for the red-blazed Bald Cypress Trail.
Bald Cypress Trees
There are a couple more benches here, too. As you continue walking you will see bald cypress trees here and there on either side of the park trail.
You'll reach a wooden bridge that takes you over a section of the cypress swamp at the .7-mile mark.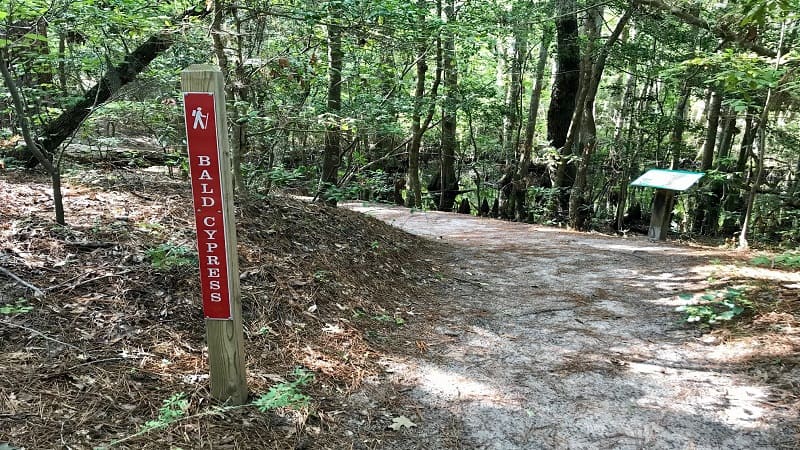 In another few steps you'll reach a junction of trails. A trail sign indicates which way to go for the Cape Henry Trail and High Dune Trail.
However, you want to continue straight to stay on the Bald Cypress Trail.
Look both ways before you cross over the Cape Henry Trail since this is a mostly flat, multi-use trail and is popular as a bike path.
Bald Cypress Swamps
At the .9-mile mark, you will reach what looks like a fork in the path (but it's not).
Walk straight out onto a scenic overlook over the cypress swamp, then re-trace your steps to return to the trail and turn left at the junction.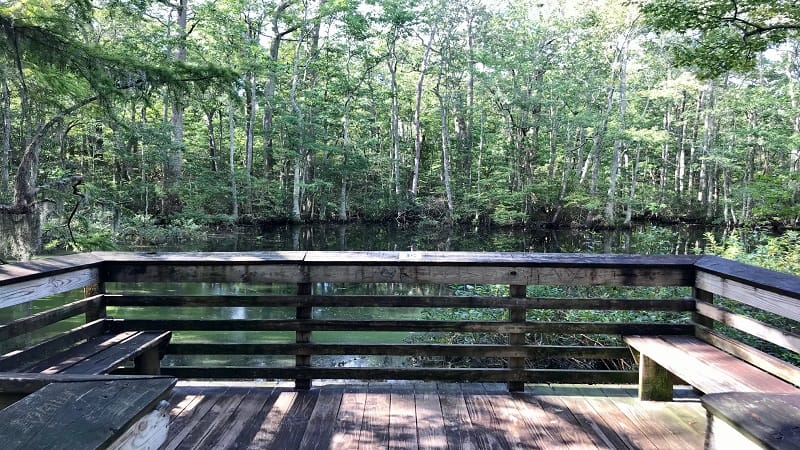 As you continue on you'll notice another relaxing bench overlooking the swamp and a trail sign at the 1.2-mile mark (stay straight).
Once you cross a small bridge you'll see a set of wooden stairs on the left. I found this a bit confusing, but bypass the stairs to stay on the Bald Cypress Trail.
Coming up you will see what I consider the very best views of the cypress swamps. They are at or near the 1.5-mile mark.
Look for trail markers for M, N and P. These are the views you've been waiting for on this hike.
In a few more steps you'll see yet another trail sign (I do love well-marked hiking trails). Turn right to merge onto the multi-use Cape Henry Trail.
At the 1.6-mile mark, turn left at the trail sign. You'll shortly see the bridge over the swamp. Turn left for the Trail Center.
Hike Options
For a longer hike, select the 3.2-mile Osmanthus Trail. On the trail map, you'll see that this loop trail shares a trailhead with the Bald Cypress Trail.
It's basically the same hike, only with 50% more steps to take.
For a shorter hike, cross the first bridge and turn right at the T-intersection. From here, turn right, then right again to merge onto the Cape Henry Trail.
From here, make a left onto the Bald Cypress Trail to reach the best views of bald cypress trees at trail markers for M, N and P. This out-and-back hike is .6 miles.
Wrap-Up Notes
From the parking area, this hike took me 45 minutes, including time to stop and snap photos of the curious bald cypress trees in the freshwater swamps.
A few quick notes before you take on this hike. First, there is a visitor center and camp store at the beach-side park entrance across Shore Drive.
If you have kids, ask in the visitor center about park packs that can be checked out for two days. These include binoculars, guidebooks and storybooks.
There are different themes too, like Chesapeake Bay, Bald Cypress Swamps, Native Americans, Colonial Times and Nocturnal Animals.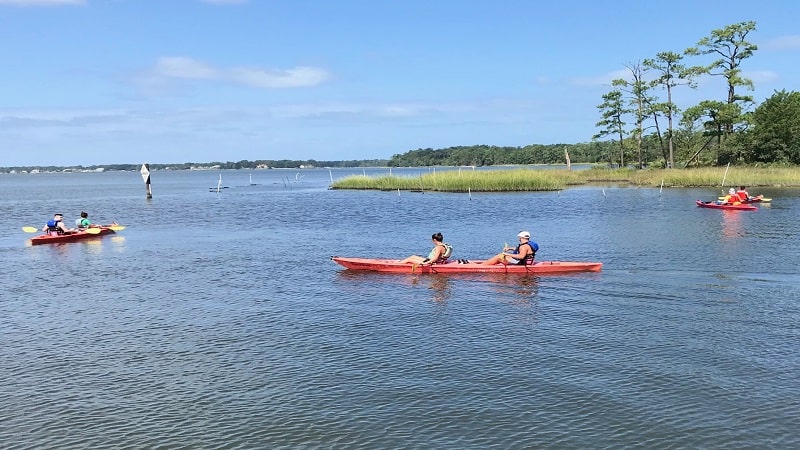 In addition to the park entrances for First Landing State Park trails and beach access, there is one more entrance at 64th Street and Atlantic Avenue.
Here you can put a kayak or canoe into the water. You can also go fishing or crabbing from the dock.
There is even a beach on Broad Bay where you can splash, swim or get up on a stand-up paddleboard.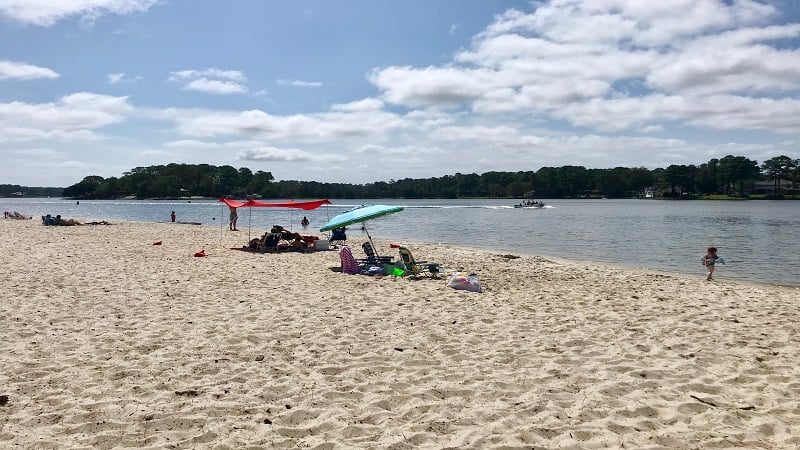 There are no watercraft rentals at this Virginia Beach state park. It's all BYO.
However, there are at least two outfitters that offer guided kayak tours, including Chesapean Outdoors and Kayak Nature Tours.
Eager for more steps on area hiking trails? Check out my favorite hikes in Virginia Beach.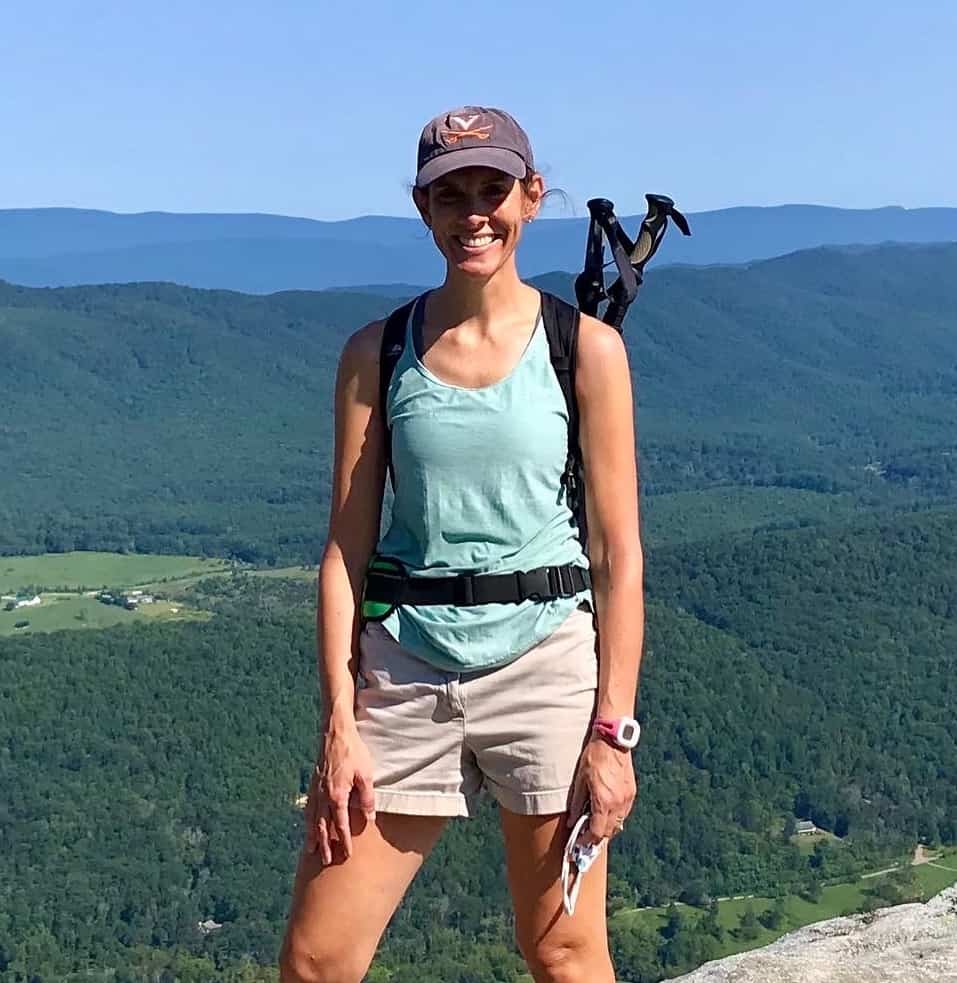 Erin Gifford is the editor of Go Hike Virginia. She has completed more than 300 hikes in Virginia. She is also the author of three hiking guidebooks from Falcon Guides. Need help finding a hike? Check out the Trail Finder feature or send Erin a message.