Sawtooth Ridge: An Easy, Rewarding Hike in Virginia's Roanoke Valley
For those who aspire to hike Virginia's Triple Crown (Dragon's Tooth, McAfee Knob & Tinker Cliffs near Roanoke, Virginia), a good place to start is Sawtooth Ridge.
This easy 1.9-mile out-and-back hike along the Appalachian Trail wows with views, a rock scramble and best of all, peace and quiet, along this serene, wooded trail.
I checked this trail off my list on Sunday afternoon. Aside from a small group of weekend backpackers, I saw no one else on the trail.
Everyone else was hiking uber-popular McAfee Knob, which originates across Catawba Valley Drive from the Sawtooth Ridge trailhead.
The Sawtooth Ridge hike may not be as well-known or as appreciated as McAfee Knob, but it should not be overlooked.
For a spirited few, Sawtooth Ridge can even be done in the same day as the 8-mile out-and-back hike to McAfee Knob.
| Trail Stats | |
| --- | --- |
| Length | 1.9 miles |
| Difficulty | Easy |
| Trail Type | Out-and-Back |
| Elevation Gain | 417 feet |
| Duration | 1 hour |
| Terrain | Mostly dirt trail, some rock scramble |
| Dog-Friendly | Yes |
| Fee | Free |
| Driving Directions | Click Here |
Sawtooth Ridge
Sawtooth Ridge shares a parking lot with McAfee Knob. This means that, especially on weekends, the lot fills up fast, like before 8 am.
Even the parallel spots along adjacent Old Catawba Road can all be snapped up by early birds.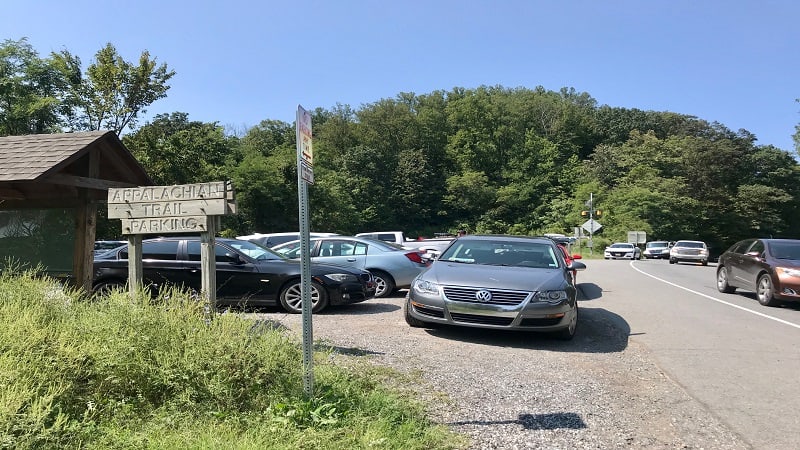 Do not park in what look like parallel spots along Catawba Valley Drive in front of the main parking lot. There are No Parking signs and you will get towed.
On Sunday, an irate police officer was directing improperly parked vehicles to be towed away. Clearly they don't mess around when it comes to parking.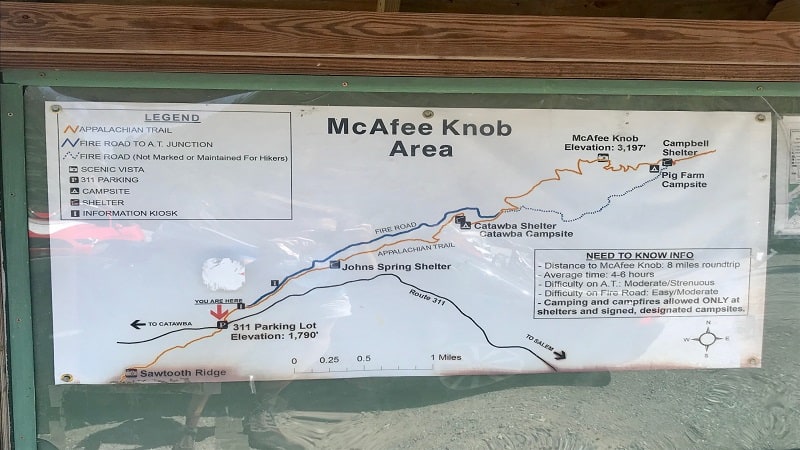 The Sawtooth Ridge trailhead originates in the middle of the parking lot. It's easy to find though you won't see any signs.
The only indication that Sawtooth Ridge exists is a mention on a McAfee Knob Area sign at the front of the lot, adjacent to an Appalachian Trail Parking sign.
Appalachian Trail
As a point of clarity, there is no Sawtooth Ridge Trail. Instead, this is an easy-going hike along an unassuming southbound stretch of the iconic Appalachian Trail.
As you take the first steps on this dirt trail the sounds of cars motoring along Catawba Valley Drive are quickly muffled by leaves rustling and birds chirping.
This section of trail knows how much more popular McAfee Knob is, so it pulls out the stops to impress would-be hikers, calling them over for a shady hike.
The trail begins with a healthy ascent, but quickly rewards with a scenic mountain views by the .3-mile mark.
The views are somewhat obstructed, but still it's a view, and there are several rocky ledges to stop and sit for a spell, maybe even re-fuel and re-hydrate.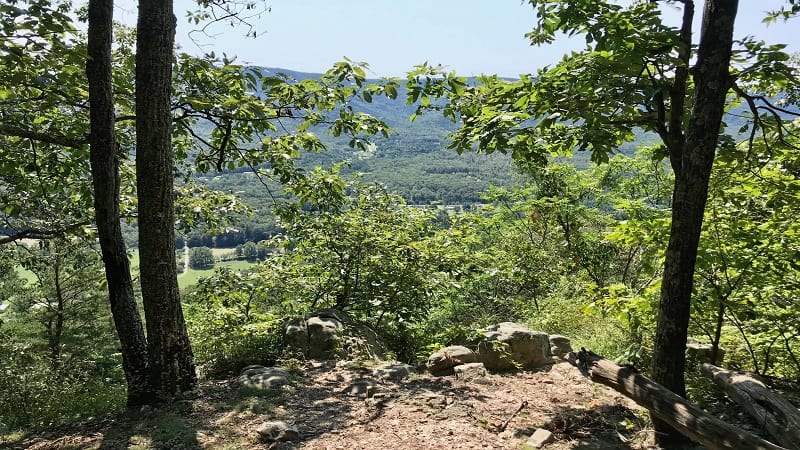 As you continue along, you will see a directional sign at the .65-mile mark urging you to stay straight to remain on the Appalachian Trail.
I can always appreciate trail signs (you know, beyond the white blazes) to keep me moving in the right direction.
The trail narrows and at times you'll walk along a ridgeline, with deep valleys on either side, then other times you'll traipse along the edge of a mountain.
I don't know about you, but I find this far more interesting than a wooded hike with similar elevation on either side.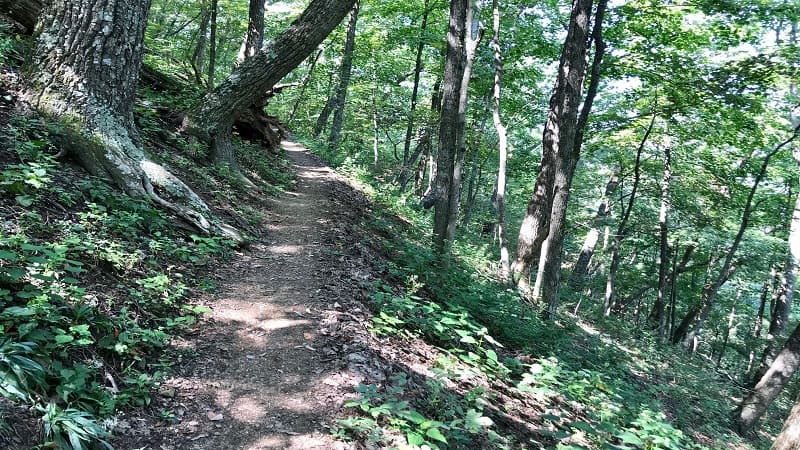 At the .85-mile mark, you'll reach a quick switchback to the left, then a fork in the trail. Continue uphill to the left on the blue-blazed spur trail.
Mountain Views
This leads to several gigantic rocks that make for a fun rock scramble. You'll also find sunny south-facing views of Fort Lewis Mountain and Brushy Mountain.
The views are fantastic, but what's to love about this hike is the less-common scramble. Also, the navigation over and around gigantic rocks in the final steps.
The elevation gain is just 417 feet. You don't need to put in a ton of effort for a payoff. Once you've taken in all the views, re-trace your steps to the parking area.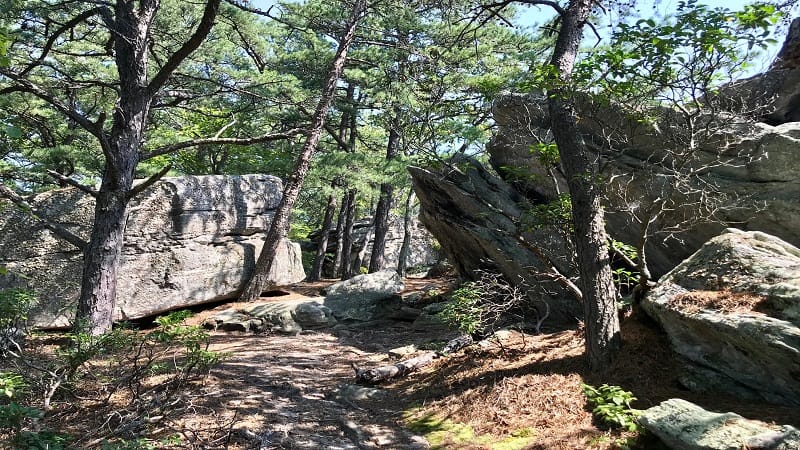 Wrap-Up Notes
From the parking area, this hike took me less than one hour to complete. This includes time to navigate the various massive rocks at the summit.
For those eager for a sip or a snack post-hike, look to Salem. This small town in Virginia's Blue Ridge is less than 15 minutes from the parking area.
There area plenty of spots for a bite on Main Street, like Mac & Bob's Restaurant and Olde Salem Brewing Company.
Eager for more hikes in Virginia? Check out my favorite hikes near Roanoke and hikes near Blacksburg.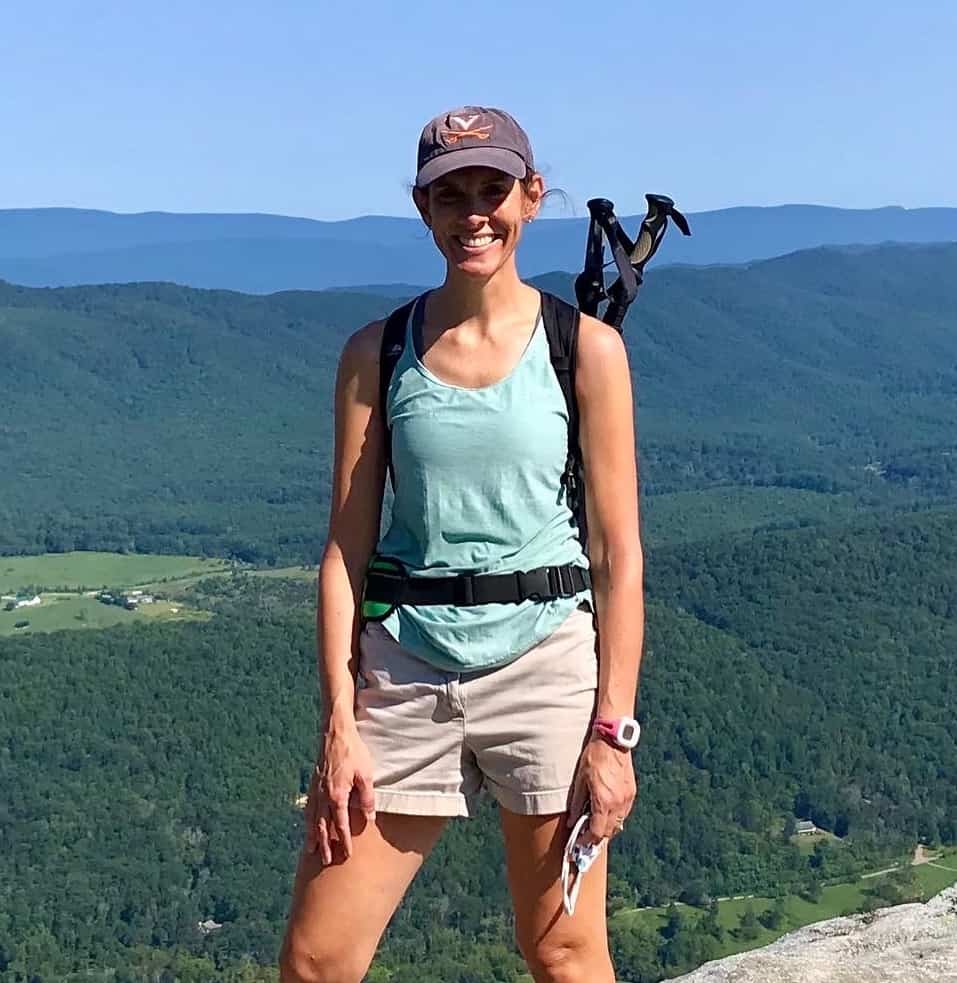 Erin Gifford is the editor of Go Hike Virginia. She has completed more than 300 hikes in Virginia. She is also the author of three hiking guidebooks from Falcon Guides. Need help finding a hike? Check out the Trail Finder feature or send Erin a message.