Beaver Lake Trail: A Shady Hike at Pocahontas State Park in Chesterfield, Virginia
There are 41 state parks in Virginia, including Pocahontas State Park in Chesterfield. Here you'll find 8,000 acres of recreational space.
There are hiking, biking and horse trails, a campground, two fishing lakes, an amphitheater, an aquatic center and a Civilian Conservation Corps (CCC) Museum.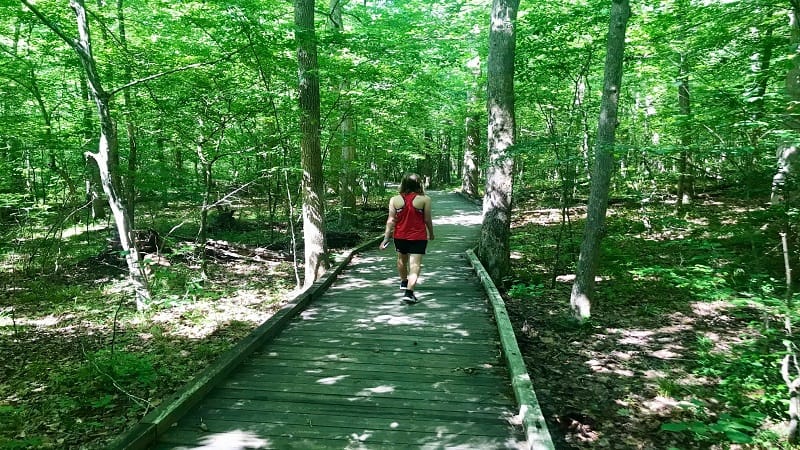 Pocahontas State Park has 60+ miles of trails that criss-cross this beautiful forested park. One of the most popular hiking trails is the Beaver Lake Trail.
This relatively secluded 2.6-mile loop hike with mild terrain and scenery changes keeps hikers engaged all along this shaded route.
| Trail Stats | |
| --- | --- |
| Length | 2.6 miles |
| Difficulty | Easy |
| Trail Type | Loop |
| Elevation Gain | 121 feet |
| Duration | 1.5-2 hours |
| Terrain | Mostly dirt & gravel trails, plus bridges & wooden boardwalks |
| Dog-Friendly | Yes |
| Fee | $7 per vehicle weekdays ($10 per vehicle weekends, Apr-Oct) |
| Driving Directions | Click Here |
Beaver Lake Trail
When you arrive at the trailhead, you'll find shaded parking spaces for at least 40 cars. You should have no problem finding a space to park even at mid-morning.
While the Beaver Lake Trail is the most popular, this lot is also the starting point for several other trails, including the Old Mill Trail and Fendley Station Trail.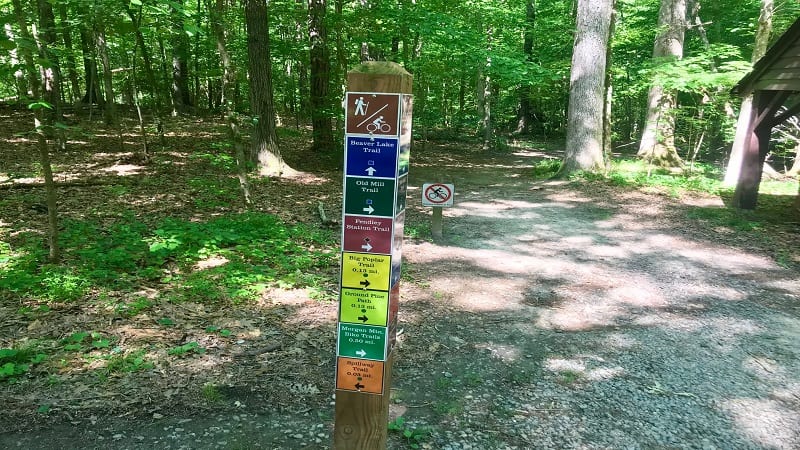 As you begin this family-friendly hike, one of the first stops along the trail (counter-clockwise) is a wooden pier for taking in views across Beaver Lake.
Beaver Lake
Kids will love the oodles of delicate green lily pads that sit on the surface around the small fishing pier.
Continue circumnavigating the lake and you will encounter a mix of bridges, wooden boardwalks and gravel trails all along this cool, shady hiking trail.
You'll also find benches every half-mile that are ideal for enjoying a snack and re-hydrating before continuing along the mostly flat Beaver Lake Trail.
At the half-way point on this kid-friendly hike in Virginia you'll cross a bridge over a mellow creek. My son quickly took off his shoes to wade in the cool water.
This is also a nice stop to skip stones and toss small rocks into the creek (what child doesn't like to do that?).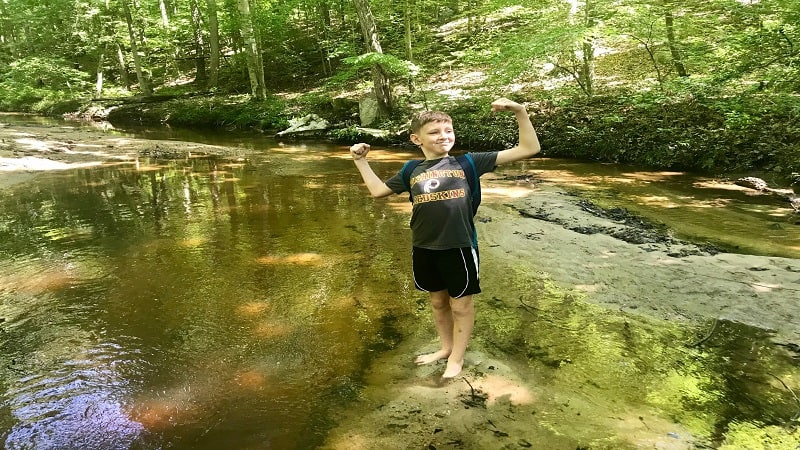 Continue on for more lily pad views on Beaver Lake before you reach the dam that cascades water onto a scenic spillway (about as close as you can get to a waterfall).
Given the dam is the image on the park's patch, it's safe to say that this spillway is the most prominent feature in Pocahontas State Park, so you won't want to miss it.
As you exit the loop trail, look for the CCC Museum. Learn more about the Civilian Conservation Corps and their work to create and manage this state park.
Hike Options
For a longer hike, tack on the hikers-only .6-mile Ground Pine Trail which intersects with the Beaver Lake Trail to make the overall hike close to 3 miles.
Alternatively, try the 4.8-mile Old Mill Trail, but do note that this shaded trail is shared with mountain bikes.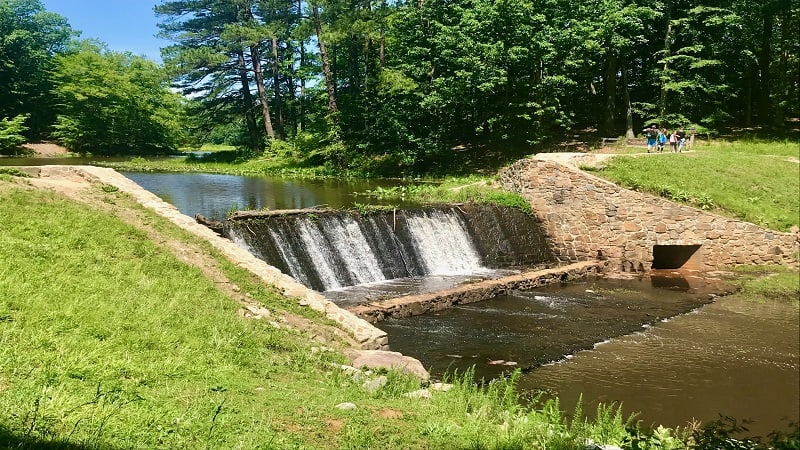 For a shorter hike, try the Spillway Trail. This .5-mile out-and-back hike also sets off near the CCC Museum.
It's an easy paved trail that leads visitors to the dam and spillway for scenic, gram-worthy photos.
Wrap-Up Notes
From the parking area, this hike took us one hour, 10 minutes to complete, including a stop for my son to slip off his shoes and splash around in the creek.
We hiked on a Sunday and saw a few couples and families hiking the trail with small children (like pre-school and early elementary school) and pups in tow.
Before or after the hike, enjoy lunch outside at picnic tables at Swift Creek Lake inside the state park. There is also an aquatic center with an outdoor water park.
The park rents canoes, kayaks, paddleboats and stand-up paddleboards from this location. You can also bring your own.
Eager for more Central Virginia day hikes? Check out my favorite hikes near Richmond, Virginia.