Roaring Run Falls: An Easy Waterfall Hike Near Eagle Rock
For a short and sweet waterfall hike that can be completed by all levels of hikers, look to Roaring Run Falls, a short drive west of Eagle Rock.
This 1.7-mile loop hike in the Roaring Run Furnace Day Use Area within Jefferson National Forest guides hikers alongside cascading Roaring Run all the way to the falls.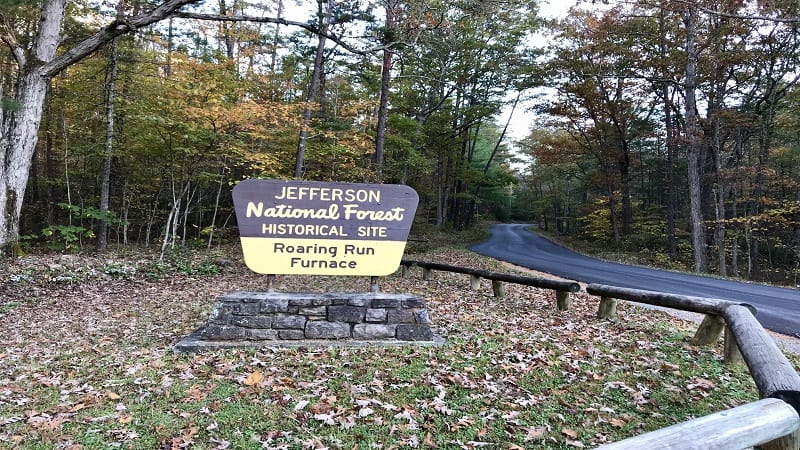 You'll cross bridges, ascend steps, stroll across wooden boardwalk, even enjoy a history lesson at the historic iron furnace that dates back to the 1800's.
On AllTrails, this hike is listed as the "Roaring Run Hoop Hole Trail," but that's not quite right. Actually, that's not right at all.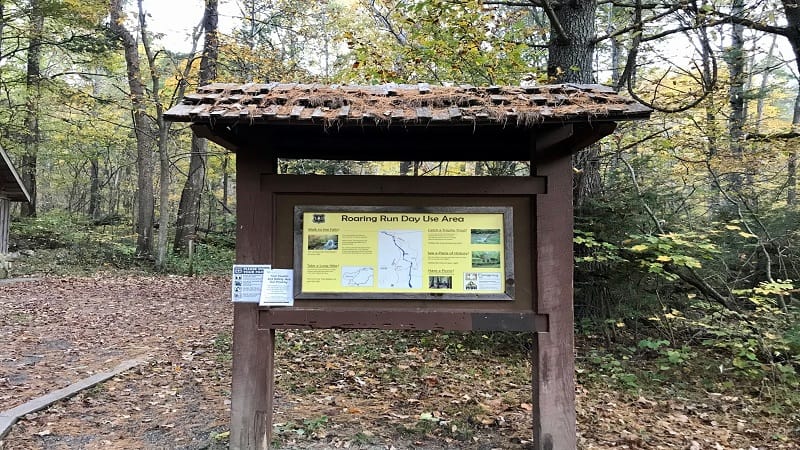 On this loop hike, you will begin on the Streamside Trail, then end on the Woodland Trail before returning to the trail kiosk and parking area.
There is an Iron Ore Trail that leads to Hoop Hole, but no Roaring Run Hoop Hole Trail.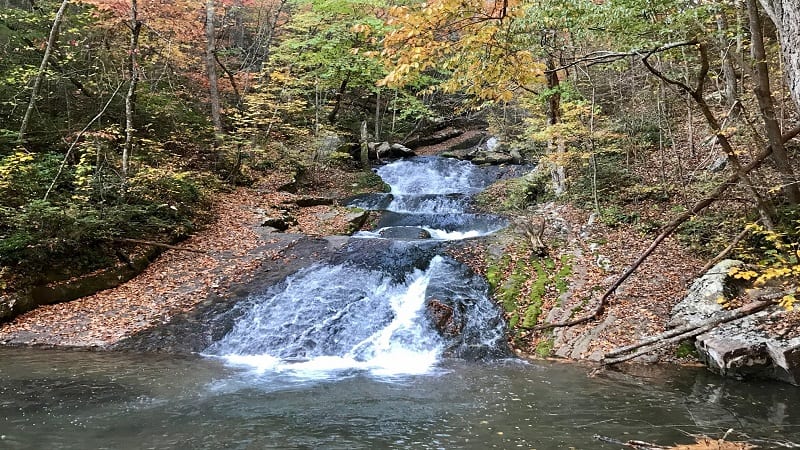 As far as I can tell, Hoop Hole is a "trail network." There is an Upper Loop and a Lower Loop of a Hoop Hole Trail, but neither go to Roaring Run Falls.
I've gotten dinged more than a few times by trails that don't actually exist. I didn't want this to happen to you. It's a beautiful hike though, so let me tell you more.
| Trail Stats | |
| --- | --- |
| Length | 1.7 miles |
| Difficulty | Easy |
| Trail Type | Loop |
| Elevation Gain | 308 feet |
| Duration | 1-1.5 hours |
| Terrain | Mostly dirt trails |
| Dog-Friendly | Yes |
| Fee | Free |
| Driving Directions | Click Here |
Arriving at the Trailhead
Navigate to the Roaring Run Furnace Day Use Area, then motor all the way to the back where you'll find a large gravel parking area.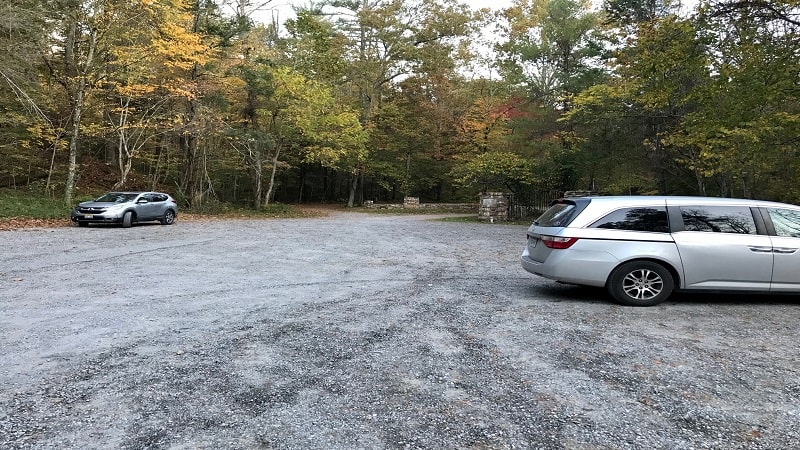 As you walk toward the trailhead, you will see a stone and wrought iron gate. I have no idea the purpose, other than to look stately, but it is absolutely gorgeous.
To the right of this gate is a gravel path that leads into the day use area. You'll see a picnic area to the right, but proceed straight ahead to the yellow trail kiosk.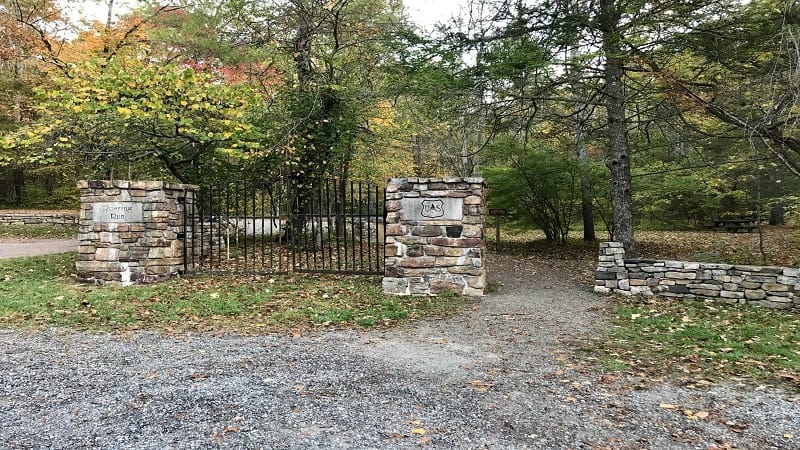 In a few more steps, you will see restrooms (likely, vault toilets). The Streamside Trail begins just to the left of the restrooms.
The First Steps
Follow the signs for the Streamside Trail to hike alongside tumbling Roaring Run. After a few paces, a short spur trail on the right leads you to your first water views.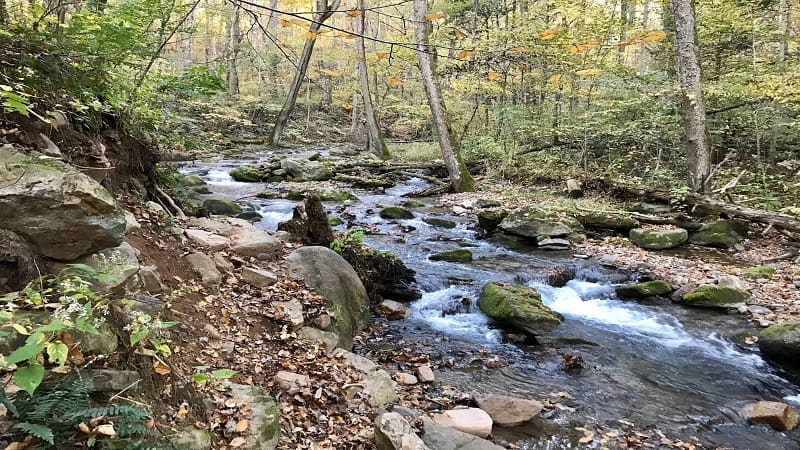 At the .2-mile mark, you'll approach your first wooden bridge, which wows with a small waterfall on the left as you cross over Roaring Run.
In a few more steps, another wooden bridge, then a section of boardwalk trail, a few steps and a relaxing bench with views of the rushing waters.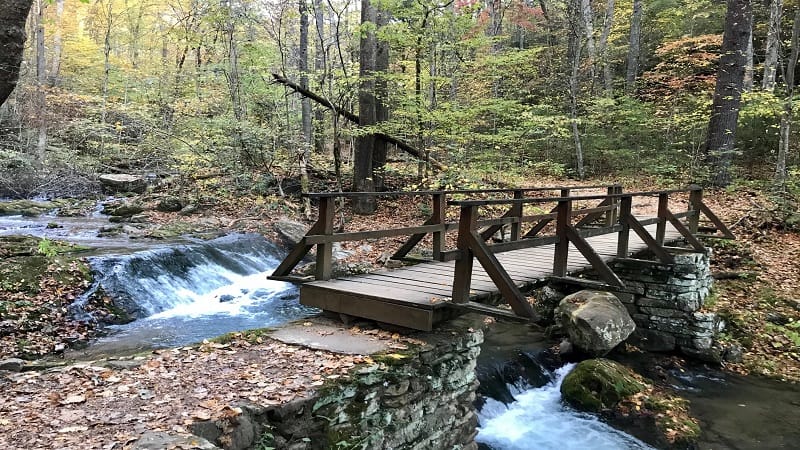 At the .5-mile mark, you'll reach the third wooden bridge that crosses over Roaring Run. Then, a trail sign. Stay to your left to continue on to the falls.
In a few more steps, get ready to savor a gram-worthy view of Roaring Run Falls. To get to a higher level, ascend two dozen steps and stay on the trail.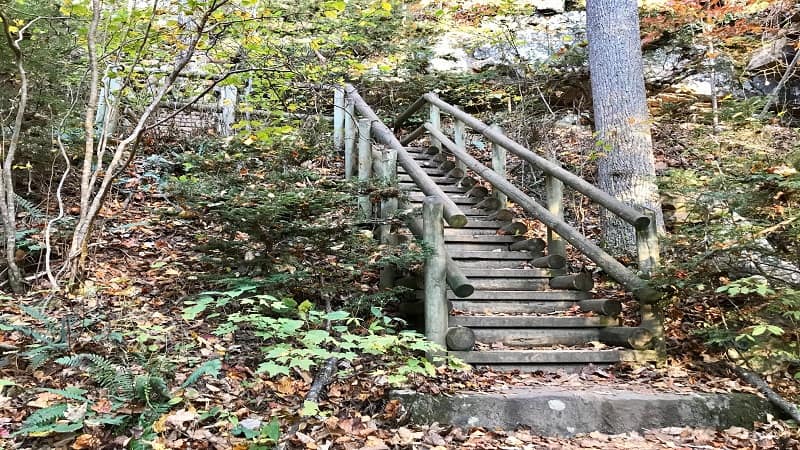 At the top level, there is a stone viewing platform, as well as a lot of flat rocks that make good seats to settle down for a snack at the falls.
Do not continue on past the stop sign. There is no climbing on the rocks adjacent to Roaring Run Falls. They can be slippery and dangerous.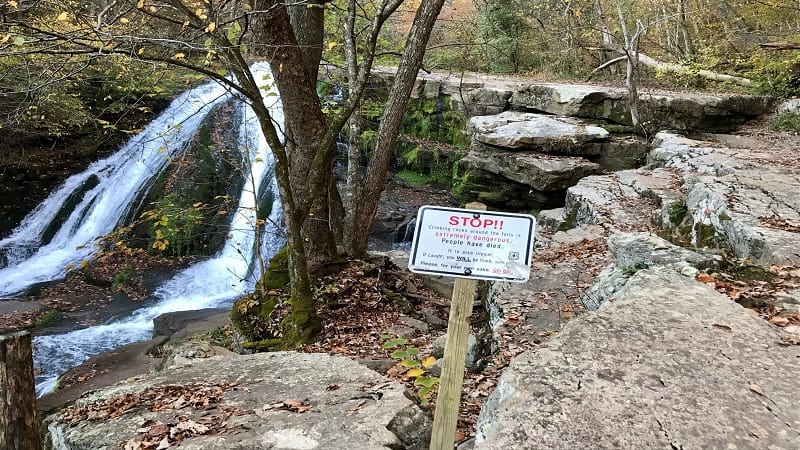 Once you've taken in all the scenic views, re-trace your steps to the trail sign at the .8-mile mark. Veer left for the Woodland Trail.
You are now high above Roaring Run as you hike into the quiet serenity of the forest. At the 1.1-mile mark, there's a crumbling overlook with big mountain views.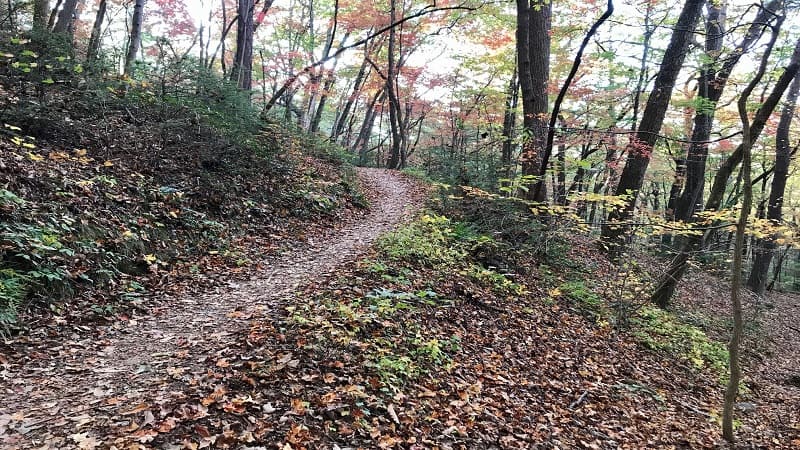 Near the 1.6-mile mark, you'll reach the historic Roaring Run Iron Furnace, which was essentially a massive oven.
Workers layered in 3 tons of charcoal, 6 tons of iron ore and 1.5 tons of limestone. They then cranked up the heat to 2800 degrees and let the ingredients cook for 24 hours.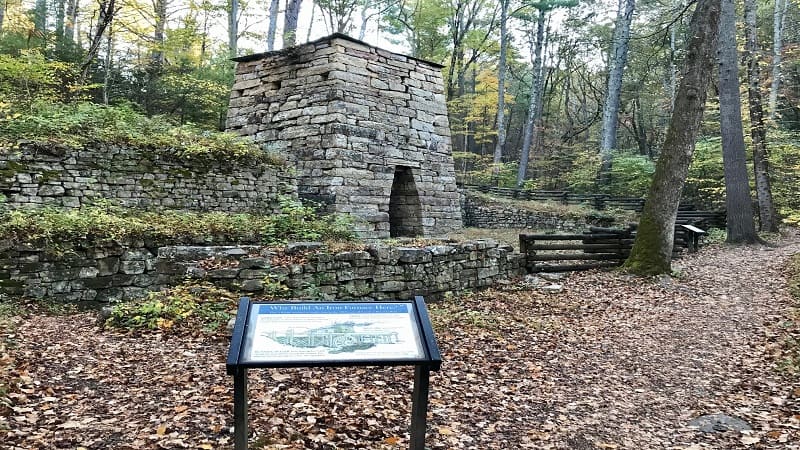 Just like that, the recipe created 3 tons of pig iron. Pig iron was used to create railroad tracks, tools and weapons.
Iron furnaces are often situated next to running water in order to turn waterwheels that drive the bellows and keep the fire hot enough to "cook" the ingredients.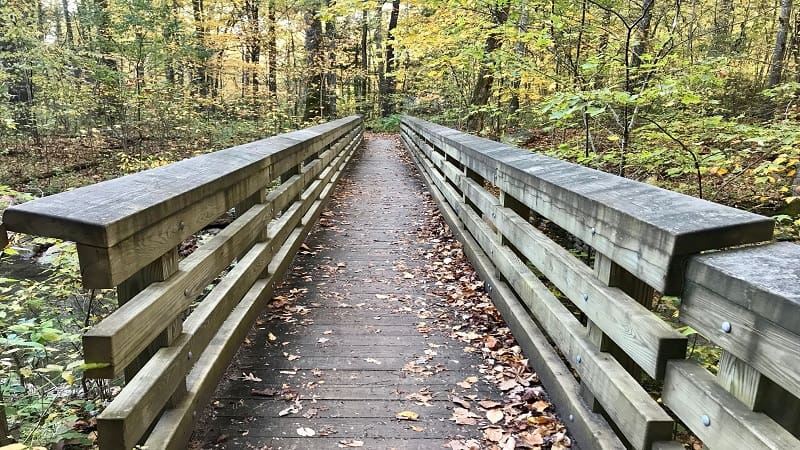 In a few more steps, you'll reach one more bridge. Cross this bridge and the restrooms will then be on your right. From here, it's a short walk to the parking area.
Hike Options
For fewer steps, walk along the Streamside Trail to Roaring Run Falls, then re-trace your steps. This will create a 1.4-mile out-and-back hike.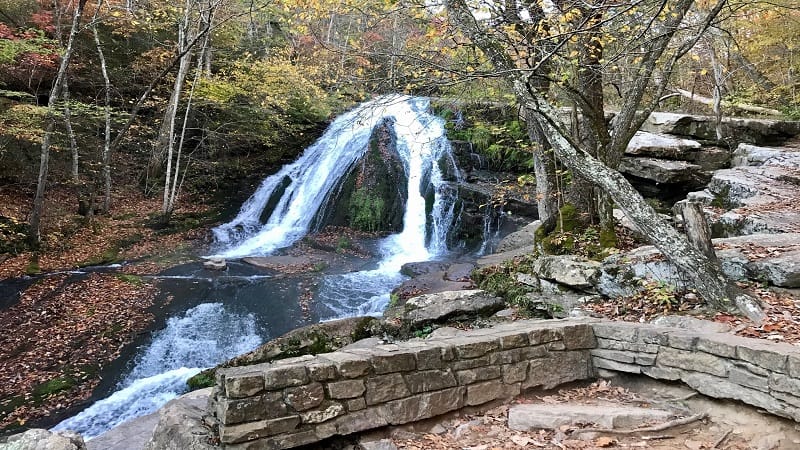 Wrap-Up Notes
From the parking area, this Roaring Run hike took me nearly an hour, including time spent ogling the breathtaking falls in Virginia.
As a quick side note, Eagle Rock (Frederick County) is not located in Eagle Rock, Virginia (Botetourt County). In fact, the two are nearly three hours apart by car.
Eager for more fantastic hikes? When you're ready to get back on the trails, here's where else to go hiking near Roanoke, Virginia.