McAfee Knob: A Spectacular Bucket List Hike on the Appalachian Trail Near Roanoke, Virginia
The 8.0-mile out-and-back McAfee Knob hike is one leg of Virginia's Triple Crown. It's arguably the most popular, guiding hikers to the famed rock protrusion.
There are two ways to the top, too. Hike the white-blazed Appalachian Trail or take the blue-blazed McAfee Knob Trail, which is more like a fire road.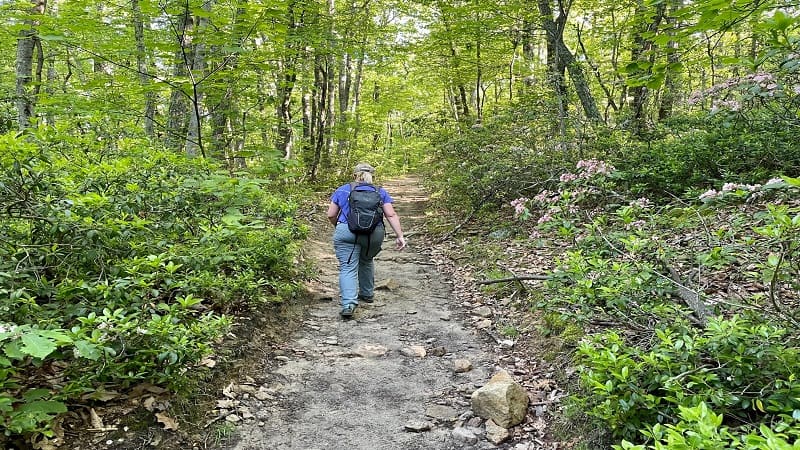 On the Appalachian Trail, you'll pass two shelters, including Catawba Mountain Shelter and Johns Spring Shelter. The McAfee Knob Trail is less scenic.
The Virginia Triple Crown also includes the 4.8-mile Dragon's Tooth hike and the 8.1-mile Tinker Cliffs hike. All three hikes are near Roanoke, Virginia.
| Trail Stats | |
| --- | --- |
| Length | 8.0 miles |
| Difficulty | Moderate |
| Trail Type | Out-and-Back |
| Elevation Gain | 1,654 feet |
| Duration | 5-6 hours |
| Terrain | Mostly dirt & rock trails, some steps |
| Dog-Friendly | Yes |
| Fee | Free |
| Driving Directions | Click Here |
McAfee Knob Parking
First things first, parking. The main parking lot for McAfee Knob is located on Catawba Valley Drive, just across the street from the start of the hike.
This lot fills up very quickly, especially on weekends. I arrived at the lot on a recent Sunday before 7 am and it was at capacity.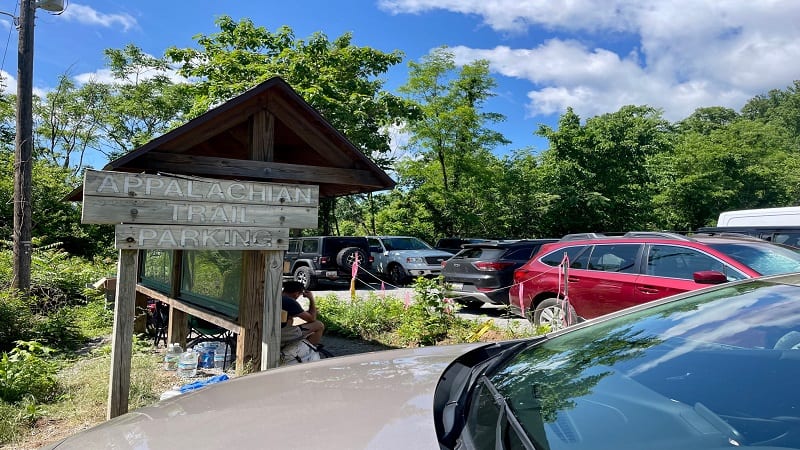 In summer, it's also a popular spot for trail angels to offer trail magic, like cold sodas and snacks, to weary Appalachian Trail thru-hikers and slackpackers.
There is no parallel parking allowed on Catawba Valley Drive (Route 311). There are No Parking signs everywhere. If you park there, you will get towed away.
Instead, park parallel on Old Catawba Road. This narrow, switchback road is 50 yards east of the main parking area. It's also legal to park here.
Alternatively, there are new parking options, though they do increase the length of the hike from 8 miles to 10 miles.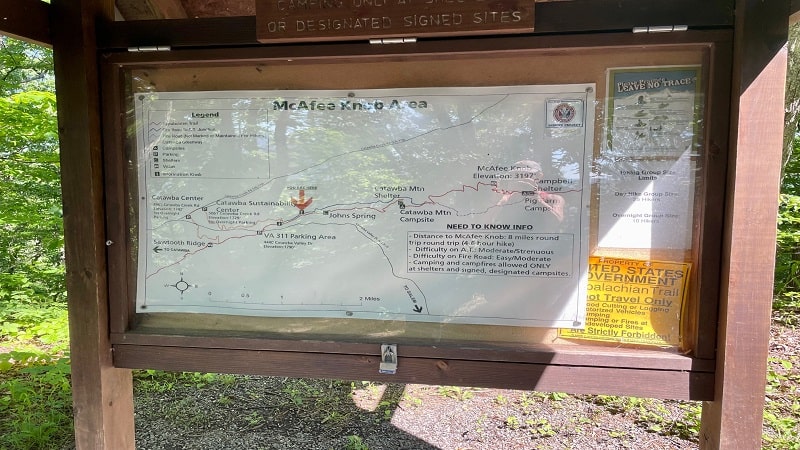 If you get shut out of the main lot, as well as Old Catawba Road, park at the Catawba Sustainability Center (CSC) or Catawba Community Center (CCC).
Both are located 1.5 miles away, on Catawba Creek Road. From both lots, a connector trail called the Catawba Greenway leads leads to the McAfee Knob hike.
From the CSC, run by Virginia Tech, the connector trail dead-ends at the McAfee Knob Trail, about 0.3 miles north of the trailhead on Catawba Valley Drive.
Meantime, from the CCC, the connector trail dead-ends on the Appalachian Trail, about 0.3 miles south of the trailhead on Catawba Valley Drive.
Note that neither of the alternative parking lots (CCC or CSC) allow overnight parking. However, they are very good options when you need a parking space.
McAfee Knob Shuttle
It's easy to take the stress out of finding a parking spot to hike to McAfee Knob. There's a new trail shuttle service, which started up in 2022.
The seasonal shuttle resumed on March 3, 2023. The shuttle runs between the I-81 Exit 140 Park & Ride lot and the main trailhead parking lot on Route 311.
When in service, the McAfee Shuttle runs every 30 minutes starting at 7 am on Fridays, Saturdays and Sundays, as well as holiday Mondays.
Shuttle tickets can be booked at McAfeeShuttle.com for $5 each way, plus transaction fees. The shuttle ended service for the year on November 26, 2023.
McAfee Knob Trailhead
From the main parking area, the trailhead is directly across Catawba Valley Drive. You will see a sign that reads "McAfee Knob 3.9 miles."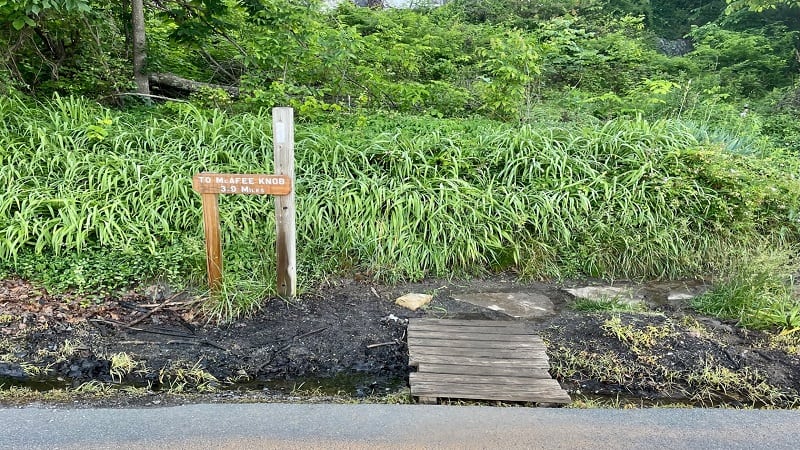 From here, the ascent begins now, first with a set of wooden steps, as you start to climb a northbound section of the white-blazed Appalachian Trail.
It's not long – just 0.3 miles – before you have a decision to make as the trail to McAfee Knob (elevation 3,130 feet) splits in two.
To the left is the McAfee Knob Trail. This is an old fire road, which runs for 2.2 miles. The trail then ends and connects with the Appalachian Trail.
To the right is a continuation of the Appalachian Trail. You will see a super-size trail kiosk with a large McAfee Knob trail map.
In 2020, I hiked to McAfee Knob with a group, and we chose the McAfee Knob Trail. This time, I was with one friend and we went up the Appalachian Trail.
Appalachian Trail
From here, the narrow trail is a little up, a little down. As you proceed, you'll climb steps, then more steps, then a few more steps. Some wood, some rocks.
At the 1.0-mile mark, you will see a sign for the Johns Spring Shelter. It's a typical three-sided lean-to shelter that's popular on the Appalachian Trail.
There is a picnic table, a fire pit and a smattering of camp sites just right for backpacking tents. A posted sign notes a two-night camping limit.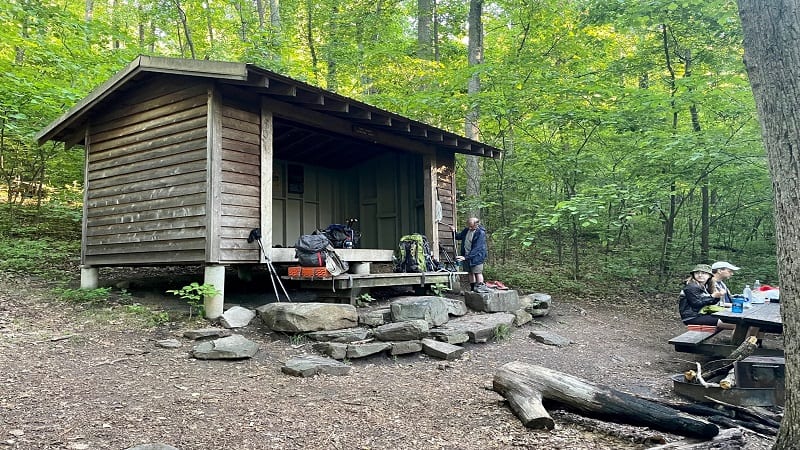 The shelter is close, just a few steps off the trail, so re-trace your steps, then continue following the white blazes. You'll cross a couple of small creeks.
Then, a surprise at the 2.2-mile mark. There's a second hikers' shelter on this stretch to McAfee Knob. This second one is the Catawba Mountain Shelter.
On average, it's about 8 miles from one shelter to the next shelter, per the Appalachian Trail Conservancy, so I was surprised to see one again so soon.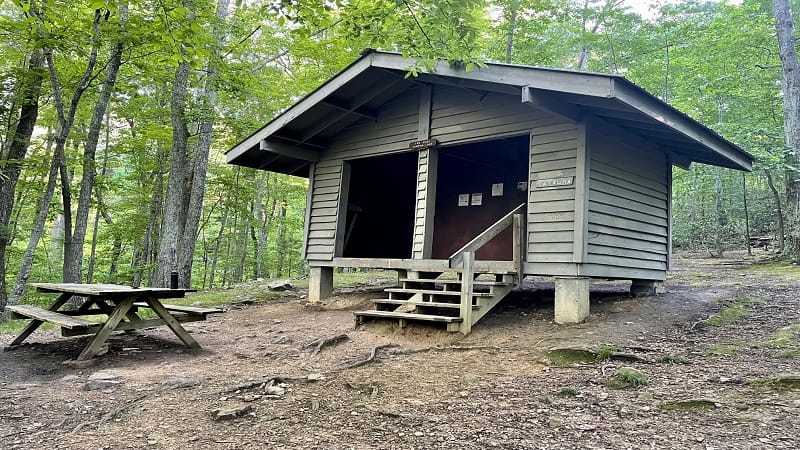 Interestingly, the first shelter was packed, but there was not a single person at the second shelter, even at 8 am.
However, there was an area of camp sites tucked back behind the shelter, and we did spy a couple of hikers over there, just starting their days.
At the 2.3-mile mark, you'll reach what looks like a full campground. It's a large camp site with plenty of sites to set up backpacking tents.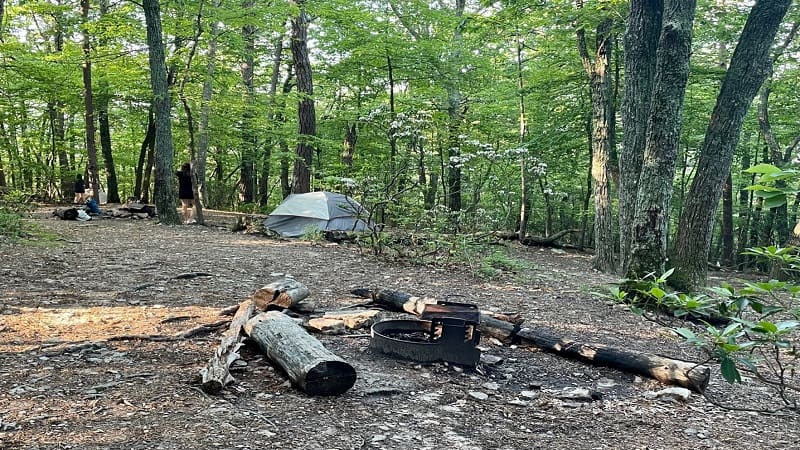 There is also a sign reminding Appalachian Trail hikers which way is north. I'm sure this is a good reminder after a good night's sleep alongside the trail.
The McAfee Knob Trail ends and merges with the Appalachian Trail at the 2.7-mile mark. There is a chain across the path prohibiting hikers from the route.
You'll encounter more wooden steps and a few rocky patches before you reach the blue-blazed McAfee Knob spur trail that leads left for the overlook.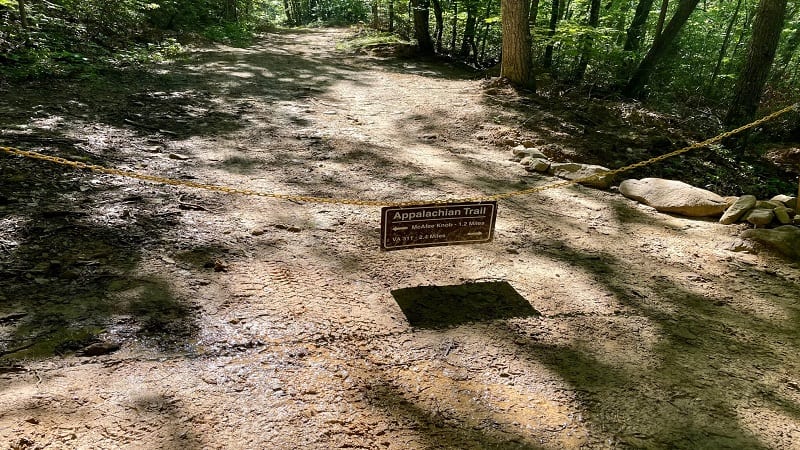 There is also a trail sign for the overlook, to help prevent hikers from walking by and missing out on McAfee Knob. What a pity that would be.
McAfee Knob
In just a few more steps, you are basking in all the glorious views from McAfee Knob, the often photographed and decidedly very famous rock protrusion.
McAfee Knob itself is a popular spot for photos, but there are plenty of rocky outcrops to settle down on to re-hydrate and re-fuel before the return hike.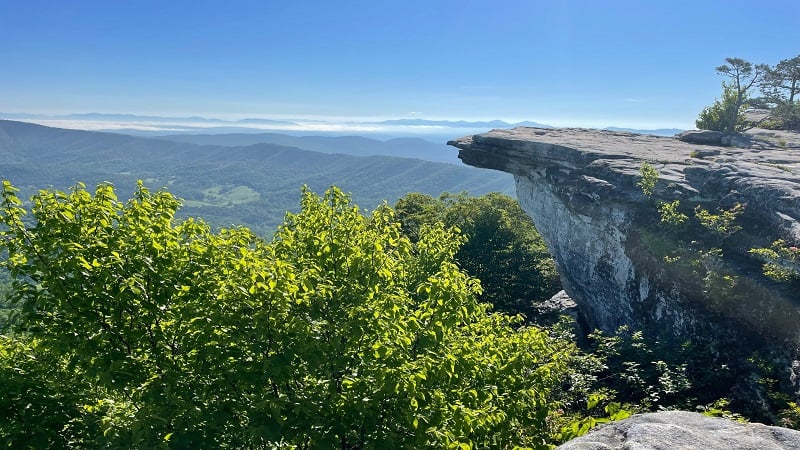 We reached McAfee Knob just before 9 am and it was the perfect time to arrive, about three hours after sunrise.
All the sunrise hikers had cleared out and none of the day hikers had arrived yet. We had the knob practically to ourselves, if only for a few minutes.
From McAfee Knob, you can see near 270-degree panoramas, including the Catawba Valley, Roanoke Valley and North Mountain.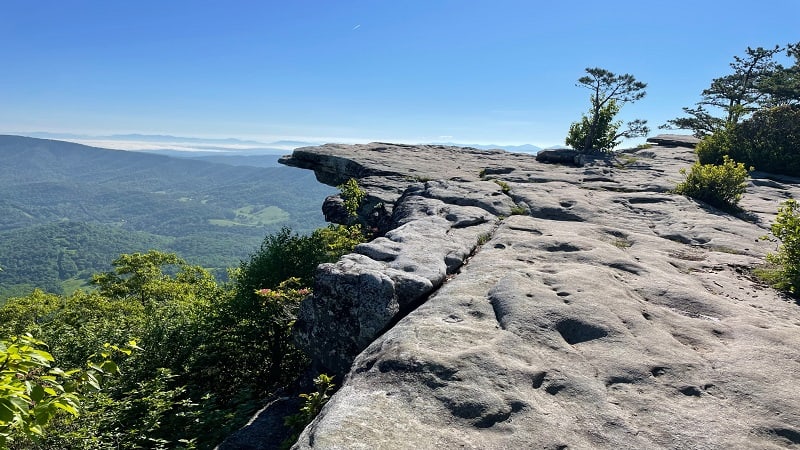 Take your time and savor all the views. Once you've soaked it all in, re-trace your steps to the trailhead.
Alternatively, you can re-trace your steps to the 5.5-mile mark, at the point where the Appalachian Trail and McAfee Knob Trail meet.
From here, turn right to take the McAfee Knob Trail to the 7.7-mile mark. Then, stay left to re-connect with the Appalachian Trail for 0.3 miles.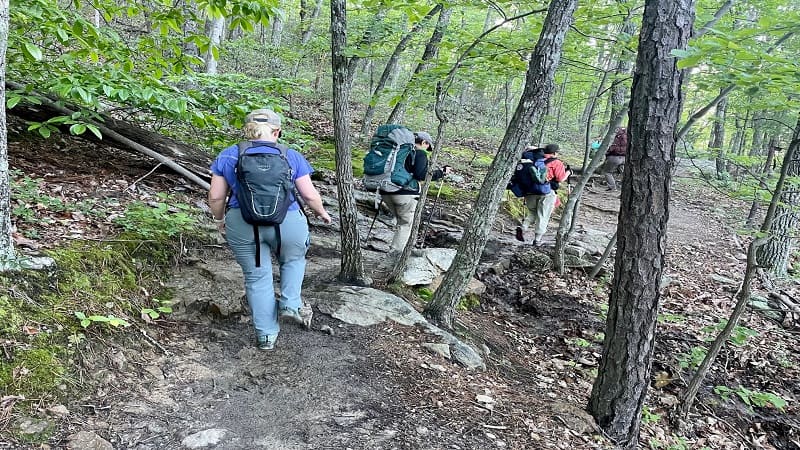 Whether you take the AT up and back, take the McAfee Knob Trail up and back, or take each in one direction, the out-and-back hike clocks in at 8 miles.
Hike Options
There are several ways to tackle McAfee Knob. As noted above, you can add extra steps by parking at one of the two alternative parking lots.
You can also tack on Tinker Cliffs. When I did this hike in 2020, I did a 13.4-mile point-to-point hike that included McAfee Knob and Tinker Cliffs.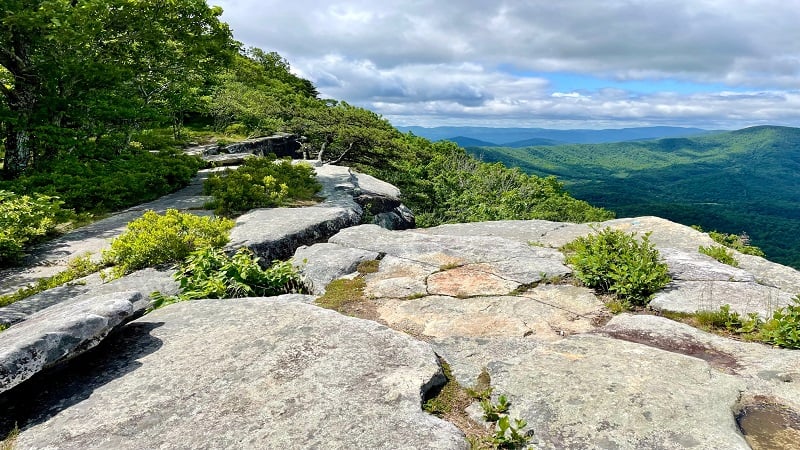 For this hike, you'll need to park a car at the McAfee Knob parking lot and a car at the Andy Layne parking area, the primary lot for the Tinker Cliffs hike.
In addition to the two shelters above, there is another trail shelter and camp site about one mile north of McAfee Knob.
The Pig Farm Campsite and Campbell Shelter – north of McAfee Knob – are also popular options with those interested in camping near McAfee Knob.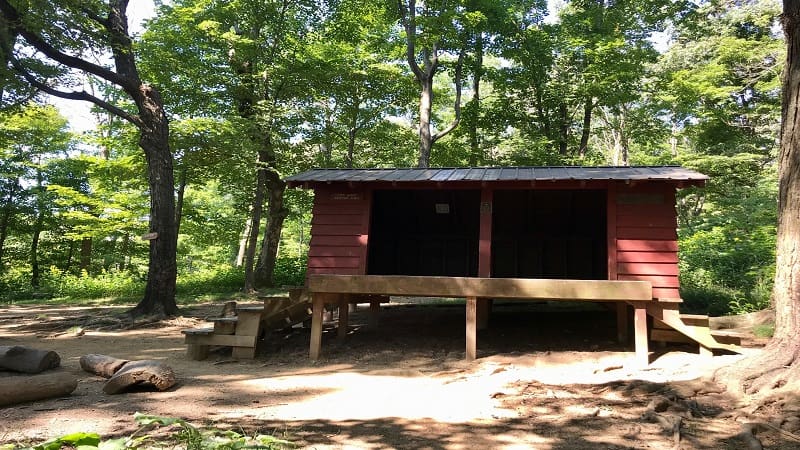 Note that camping is not allowed at Tinker Cliffs or McAfee Knob, so if you plan to backpack, consider one of the three shelter and camp site options.
Wrap-Up Notes
From the lot, this 8.0-mile round trip hike took four hours. We took the Appalachian Trail to McAfee Knob, then hiked down the McAfee Knob Trail.
It's a pretty easy-going hike, and one that many levels of hikers enjoy, including families thanks to the less challenging McAfee Knob Trail.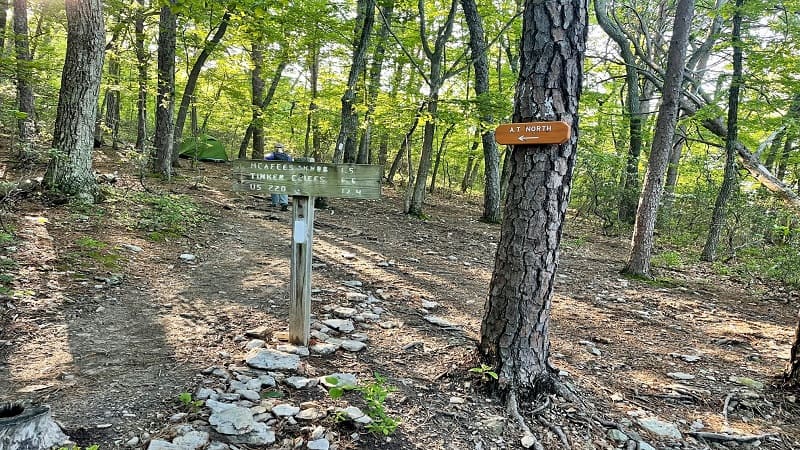 Sadly, my friend and I hiked the same morning that a thru-hiker named Paul Classen died after falling 50 feet from this spot on the Appalachian Trail.
By all accounts, he simply passed out and fell over the edge of the cliffs. Be careful out there. Stay back from the edge and don't do anything silly.
Here's a short video of my McAfee Knob hike. If you have time, check out the other Virginia's Triple Crown hikes, including Dragon's Tooth and Tinker Cliffs.