Belle Isle Trail: A Refreshing & Historical Hike Along the James River in Richmond
It can be challenging to find a satisfying hike in an urban setting, but the popular Belle Isle Trail in Richmond's James River Park goes the extra mile for visitors.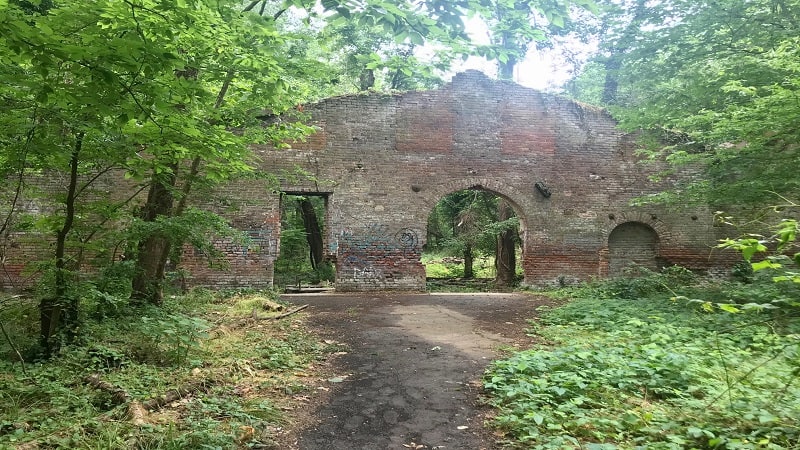 This mostly shaded gravel loop trail clocks in at 1.8 miles and engages visitors with historical buildings, rock scrambles and a suspension bridge.
| Trail Stats | |
| --- | --- |
| Length | 1.8 miles |
| Difficulty | Easy |
| Trail Type | Loop |
| Elevation Gain | 55 feet |
| Duration | 45-60 minutes |
| Terrain | Mostly gravel |
| Dog-Friendly | Yes |
| Fee | Free |
| Driving Directions | Click Here |
Belle Isle
A rather large parking lot sits adjacent to the suspended footbridge that crosses the James River and runs beneath the Robert E. Lee Bridge (for cars).
However, on weekends, this parking lot can fill up by mid-morning, so you may need to seek out open parallel parking spots just a few blocks from this lot.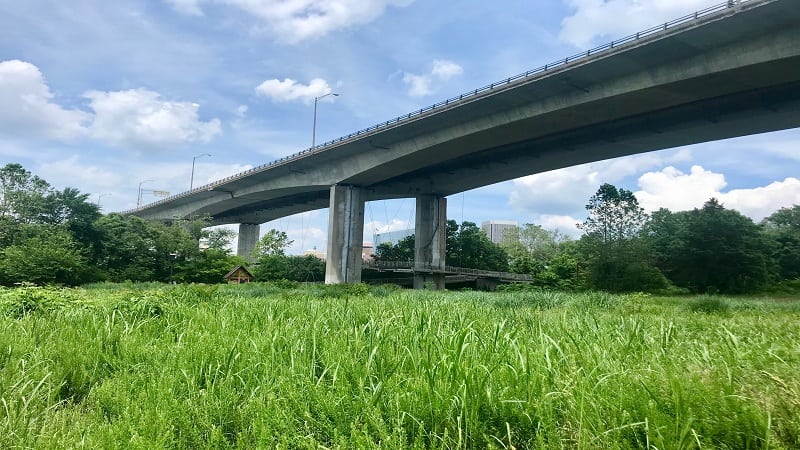 As you walk across the suspension bridge to Belle Isle, a small 54-acre island, look for kayakers paddling below in the James River.
You may even see helmet-clad groups in large inflatable rafts navigating the rapids on thrilling whitewater rafting excursions.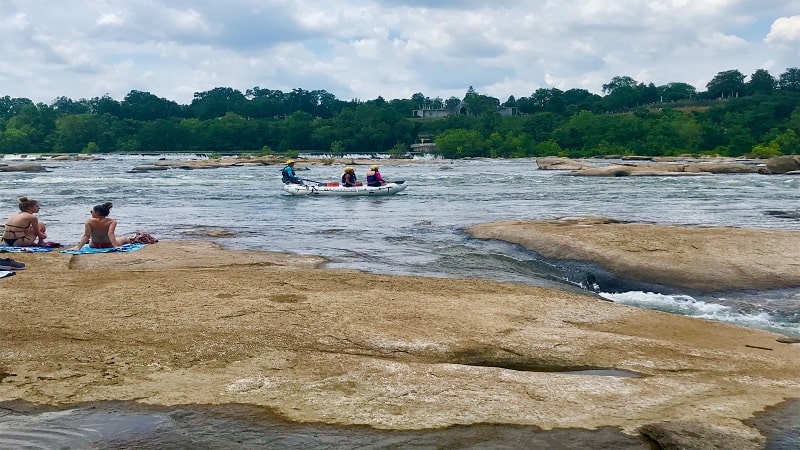 Once you cross the bridge, stay right to walk along the James River. You'll reach several spots along the way to exit the trail and climb onto the river rocks.
James River Rocks
You may want to hike in swimsuits, but watch the rapids. As in, this area is not meant for swimming. We did have fun wading though. Be sure to bring towels.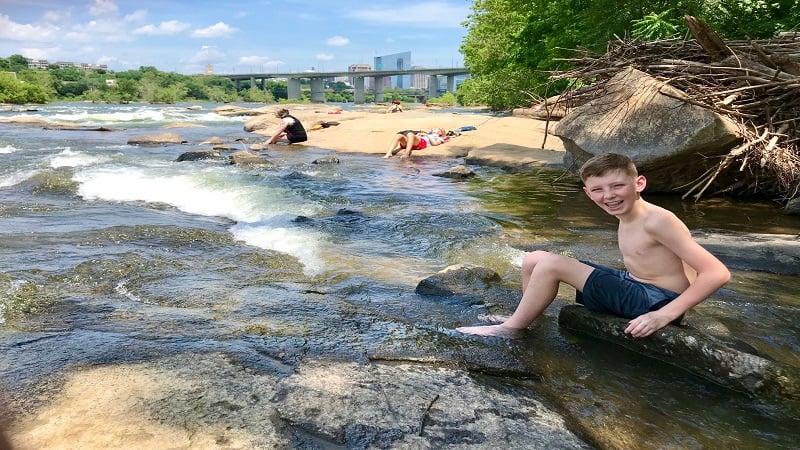 From the river rocks, enjoy views of the Robert E. Lee Bridge and the city skyline. It's easy to see why Belle Isle is a popular locale in Richmond.
A spot on the river rocks is a great place to enjoy lunch or a well-deserved snack before continuing along the perimeter of the island.
Quarry Pond
Continue on the wide, shaded gravel trail, passing more rapids as you go. Shortly, you'll reach Quarry Pond on the left-hand side of the trail.
Granite blocks were once cut and taken from the 19-foot-deep quarry pit. Until cracks were inadvertently created that continually let in water from the river.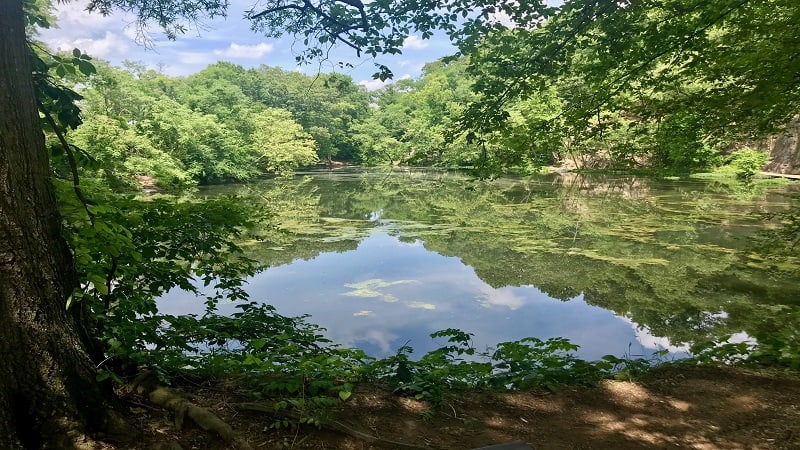 This quarry site was abandoned and Quarry Pond was created. Today, sunfish, catfish and bass, as well as yellow-bellied slider turtles, call this pond home.
Historic Sites
As you proceed, you'll see remains of a hydroelectric power plant, an old mill and a storage shed that served the needs of the Old Dominion Iron and Nail Company.
As you round the final curve of the trail, you'll notice a bike skills park, then a historic cemetery, a final resting place of various historic military figures.
You may also learn along the loop that Belle Isle once served as a prison for Union soldiers during the Civil War.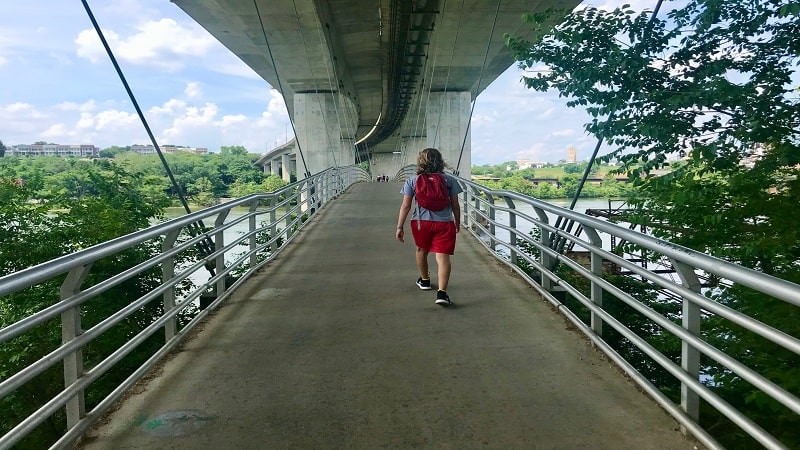 Cross the suspension bridge over the James River and you will return to the parking lot where you started.
From here, walk a block or two past the parking lot if you'd like to rent kayaks or stand-up paddleboards to enjoy on the river in summer.
Wrap-Up Notes
For a longer hike, walk the suspension bridge then cross Belle Isle by way of the .5-mile Belle Isle Connector to hook up with the Buttermilk Trail.
This out-and-back trail meanders along the James River to the Boulevard Bridge. Turn around anytime you like, but the full hike clocks in at 6 miles.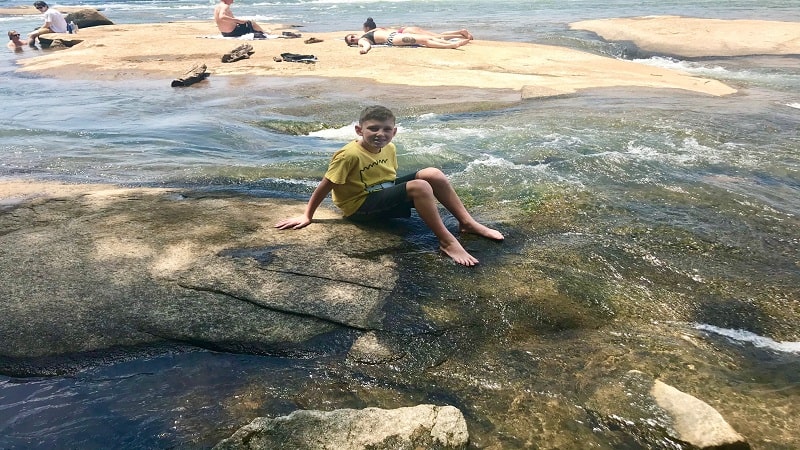 For a shorter hike, walk the path .5-miles to the river rocks for an afternoon of wading in river pools. Re-trace your steps for a one-mile out-and-back hike.
Bring a picnic lunch to eat on the river rocks or make the short drive to the trendy Shockoe Bottom neighborhood.
Eager for more Central Virginia day hikes? Check out my favorite hikes near Richmond, Virginia.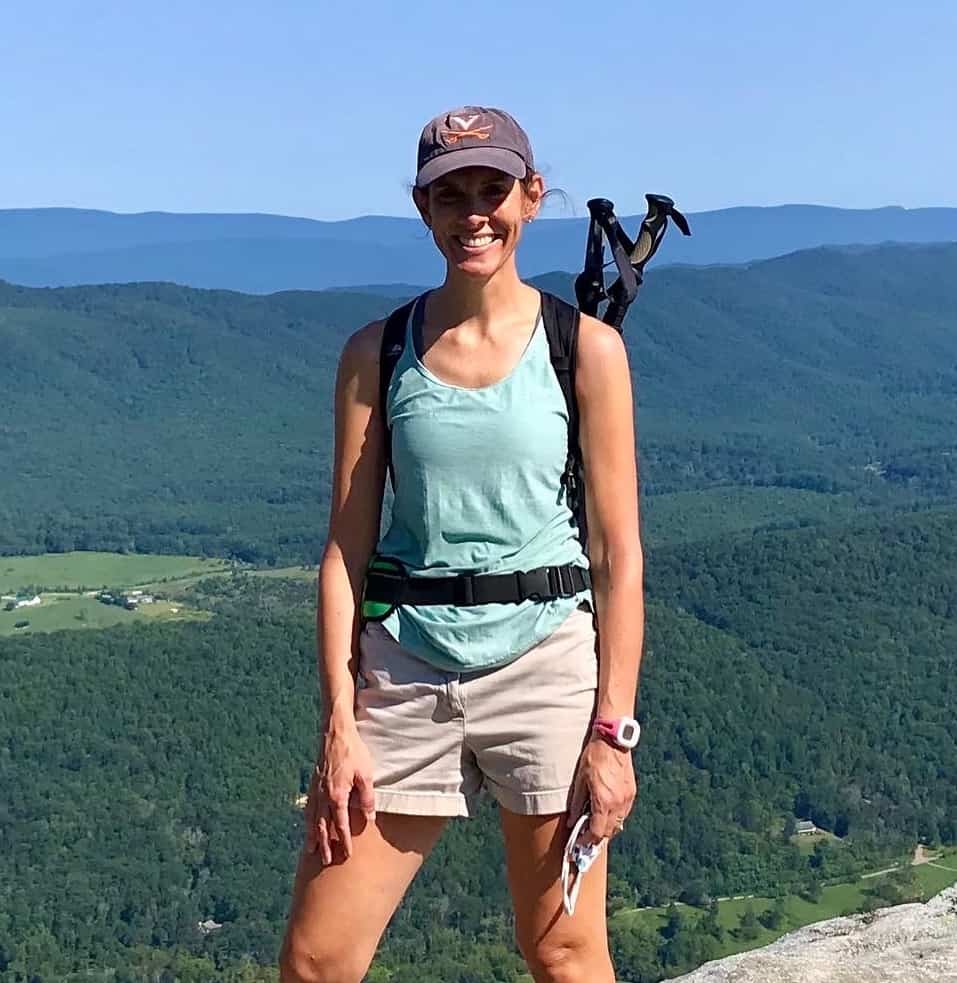 Erin Gifford is the editor of Go Hike Virginia. She has completed more than 300 hikes in Virginia. She is also the author of three hiking guidebooks from Falcon Guides. Need help finding a hike? Check out the Trail Finder feature or send Erin a message.