Seneca Regional Park: A Pristine Riverside Loop Hike in Great Falls
It's hard to believe that such a beautiful park was practically in my backyard. I had no idea. Yet, this was Seneca Regional Park in Great Falls.
With the recent snow, I've been on the hunt for low-elevation hikes. Even with microspikes, I've been hesitant to hike on steep grades, despite tempting views.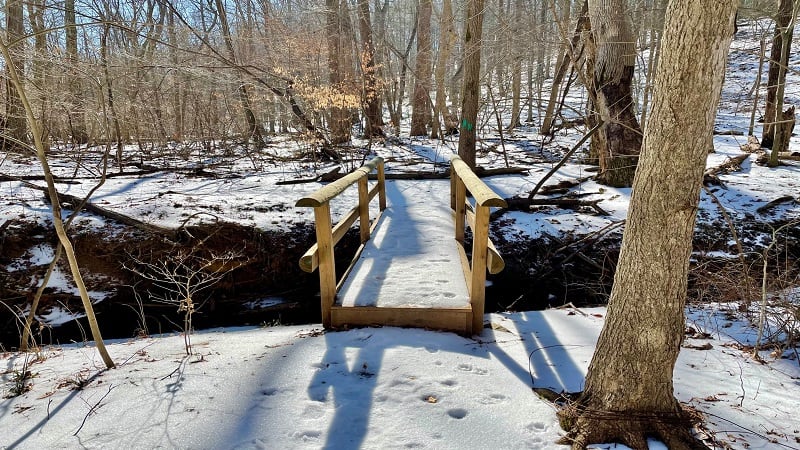 So I stumbled on Seneca Regional Park. This is no second-rate local park. It's a beautiful forested wilderness area that juts up against the Potomac River.
However, it was not without mishaps, and slippery surfaces. At a few points, I gave up and just slid down a few icy hills. It added to the fun and adventure of hiking in winter.
| Trail Stats | |
| --- | --- |
| Length | 4.5 miles |
| Difficulty | Easy |
| Trail Type | Loop |
| Elevation Gain | 387 feet |
| Duration | 2.5-3 hours |
| Terrain | Mostly dirt, rock & gravel trails |
| Dog-Friendly | Yes |
| Fee | Free |
| Driving Directions | Click Here |
Arriving at the Trailhead
Seneca Regional Park begins at the very end of Seneca Road in a quiet subdivision. It's nearly four miles from bustling Route 7, but that's far enough to escape the noise.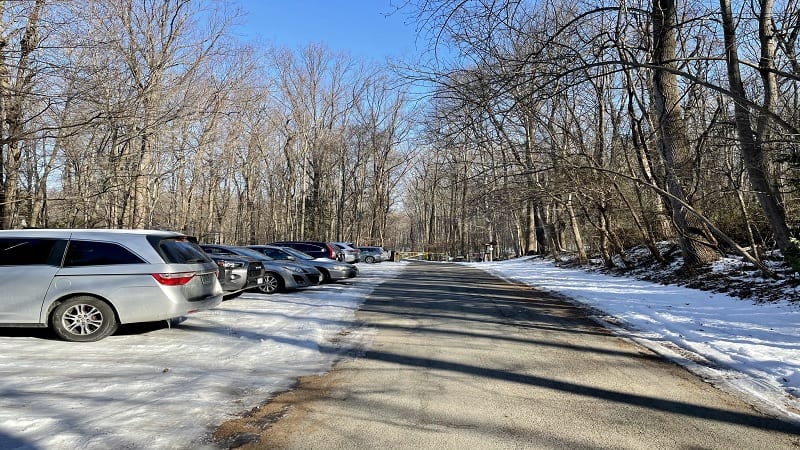 You will honestly feel as though you're worlds away from civilization. Yet, you're still just 20 minutes from nearby Riverbend Park and Great Falls Park.
Seneca Road dead-ends at the parking lot for Seneca Regional Park. Here there's probably enough room for at least 15 or 20 vehicles. Maybe more.
The First Steps
There are several inter-connected trails at Seneca Regional Park. My son and I opted to cobble together a few trails to create one large loop around the park.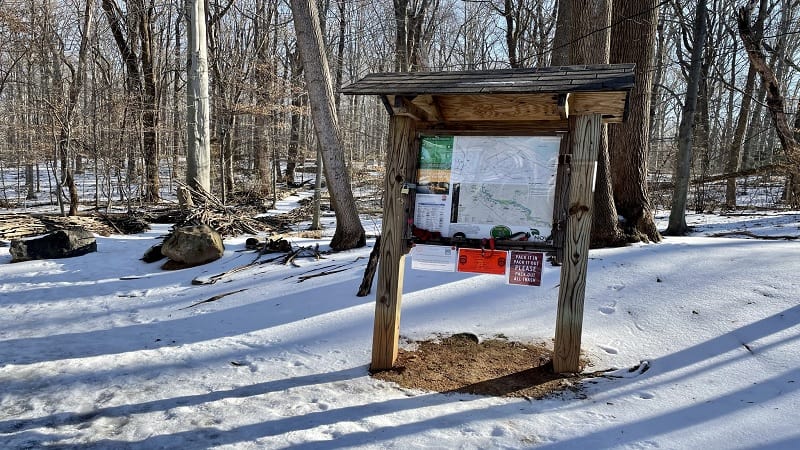 We started at the large trail kiosk at the end of the parking area. We walked past the sign, descending on a paved road for .5-mile before entering the wooded forest.
It was rather muddy and icy as we made our way to the Potomac River by the .7-mile mark. It was so relaxing on this winter day to hear the water flowing past us.
At water's edge, we were on the Potomac Heritage Trail, a national scenic trail that spans nearly 900 miles across Virginia, Maryland, Washington, DC and Pennsylvania.
We continued along, savoring the views along a mostly flat trail, following a sea foam green blaze. At the .8-mile mark, the hike began to get dicey on the iced-over trail.
On an ordinary day, an elevation change of 130 feet over .2-mile would have been no problem, but after an ice storm, it was not so good. The downhill was worse.
Between the two of us, we had one pair of microspikes, which I let my son wear. He made it up the hill with no problem, though he did have to hold my hand.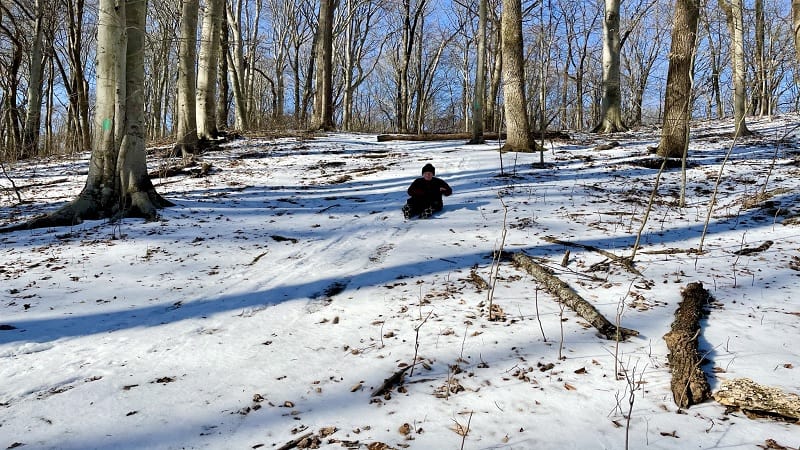 I was not going to make it up – or down – without microspikes. Between the 1.0- and 1.2-mile marks, there were fairly large descents. So I just slid down. Why not?
By the 1.3-mile, it was (thankfully) smooth sailing. There were plenty of great water and forest views to fully enjoy across the snow-covered trail. There was also less ice.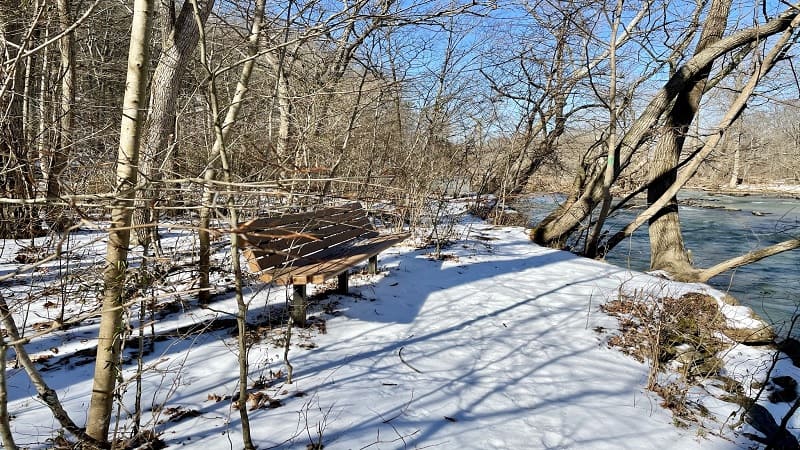 In a few more steps, you'll reach a relaxing bench with views of the water, and possibly a beaver's dam. You'll then cross over the first of several wooden bridges.
A second bench shortly comes into view to enjoy more riverside views. Interestingly you can also reach this bench by way of a short trail named River Bench Path.
At the 1.7-mile mark, you'll cross another wooden bridge, all the while still skirting alongside the flowing Potomac River. There's one more bridge at the 2.0-mile mark.
From here, you'll scoot back into the woods. At the 2.4-mile mark, you'll see a sign encouraging you to turn left. This is to stay on the Potomac Heritage Trail.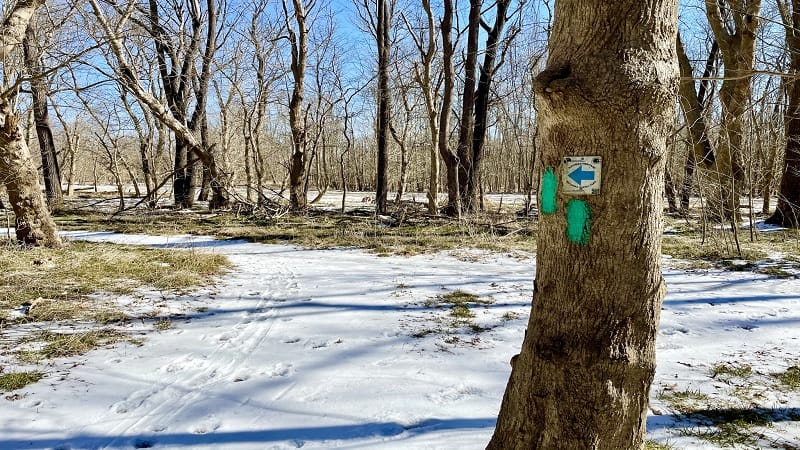 This will lead you out of the park along the Potomac River. We turned left, but then had to cut across a large grassy area to get back to the trail. Do not turn left here.
Instead, turn right for less than .1-mile until you reach a gravel road. Turn left at the dead-end. Then, at the grassy area, turn right to scoot back into the woods.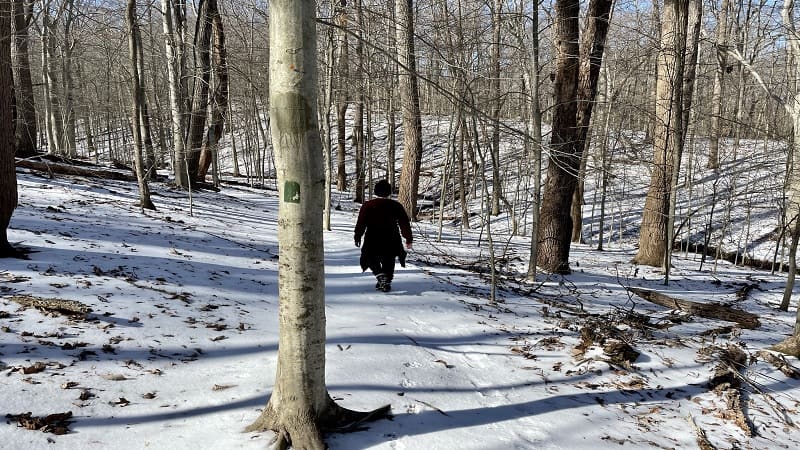 You are now on the dark green-blazed Seneca Bridal Trail. This will take you almost all the way back to the parking area. It's an easy-going stretch through the woods.
There's a mild elevation gain, basically to regain what you lost descending the paved road at the start of the hike. It's very quiet and serene. There's a picnic table, too.
In the final steps of the hike, turn left onto the yellow-blazed Seneca Connector Trail. You are now in the parking area. Your hike is complete. Celebrate.
Wrap-Up Notes
This hike took us nearly 2 hours, 15 minutes to complete, including time spent ogling the river views and sliding down icy slopes. Yikes.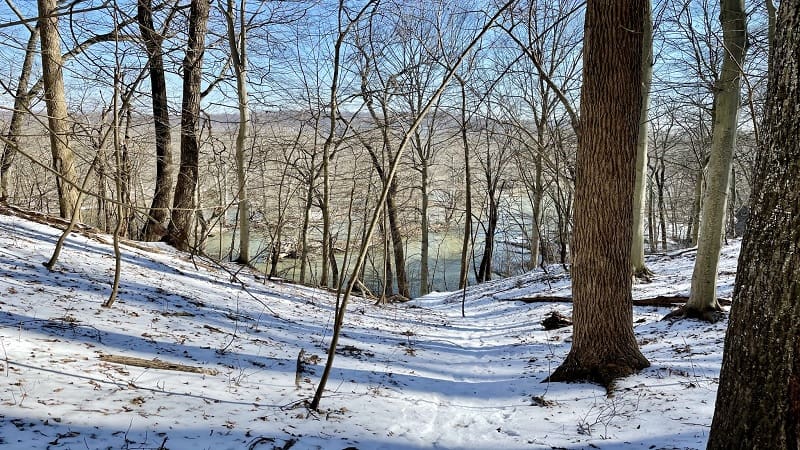 Since there are a variety of interconnected trails at Seneca Regional Park, I recommend printing out this park trail map before you go.
After this hike, I came across an article noting that this pristine forested park is so hidden that most locals are unaware of its existence. Yup, that sounds about right.
Up for a second hike? It's a short drive to Algonkian Regional Park, which also wows with forested hiking trails that meander alongside the Potomac River.