Fallingwater Cascades Trail: An Easy Hike to a Small Waterfall
You never know what you'll find around every curve of the iconic Blue Ridge Parkway. It could be an overlook, a waterfall or an incredible hiking trail.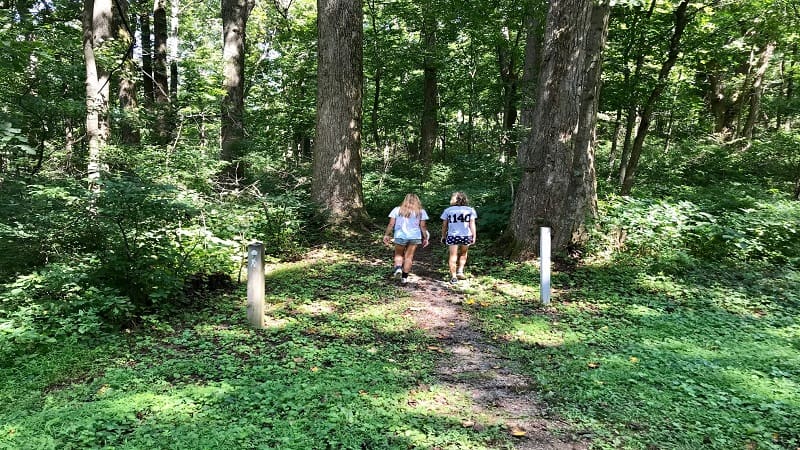 At milepost 83 near Bedford, Virginia, we found the 1.2-mile out-and-back Fallingwater Cascades Trail. This trail shares a parking lot with the uber-popular hike to Flat Top.
| Trail Stats | |
| --- | --- |
| Length | 1.2 miles |
| Difficulty | Easy |
| Trail Type | Out-and-Back |
| Elevation Gain | 426 feet |
| Duration | 1 hour |
| Terrain | Mostly dirt & gravel trails |
| Dog-Friendly | Yes |
| Fee | Free |
| Driving Directions | Click Here |
Arriving at the Trailhead
A dozen cars can tuck comfortably into parking spaces in the lot for this trailhead. Another two or three cars can park on the grass median between the lot and the byway.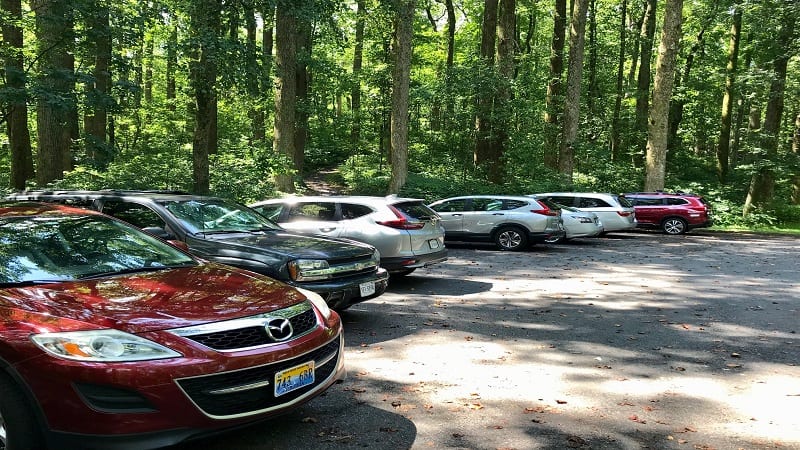 The trailhead is directly across the Blue Ridge Parkway from the Fallingwater Cascades parking area. This is your last chance for cell service.
Once you step foot onto the trail, all service disappears. This is true if, like me, you have AT&T. Verizon users seem to fare better with cell reception.
The First Steps
Once you pass the trail marker, you will be delighted by a surprisingly open and airy dirt trail. Most waterfall hikes are dark as you descend deep into the forest.
This hike was shaded, yes, but more bright and cheery as you continue on the forested trail.
At the .15-mile mark, you will see a wooden bench (kind of) built into the hillside. You'll be happy to see this rustic place to sit on the return hike up the hill.
A few more steps down the hill and the trail becomes more rocks and gravel, then simple wooden steps appear by the .3-mile mark to make the descent easier on one's knees.
At the .5-mile mark, there's another bench offering the first views of gently cascading falls.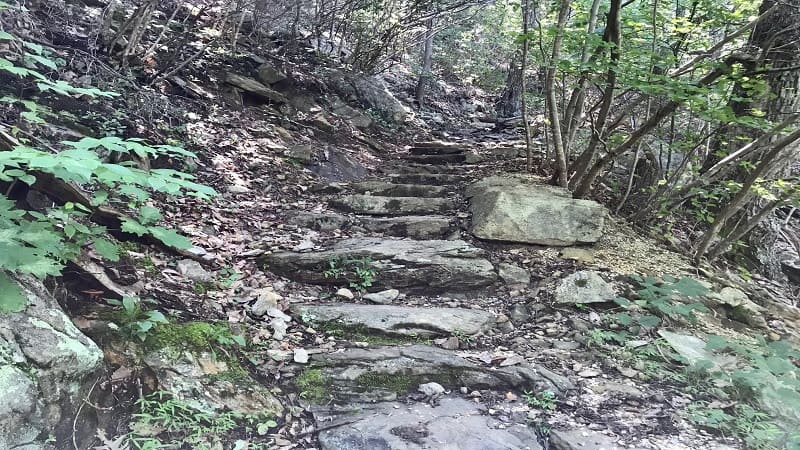 By the .6-mile mark you are at the waterfall, following a set of granite steps built into the hill. Mind you, it's a small waterfall, but it does offer a refreshing respite.
Splash in the brisk water. There are several delightful pools just right for taking off your shoes for a cool down.
Stepping stones at the waterfall allow you to cross over Fallingwater Creek to continue on the trail if you choose to do so to make this a loop hike.
Alternatively, you can re-trace your steps to return to the parking lot after a satisfying waterfall break.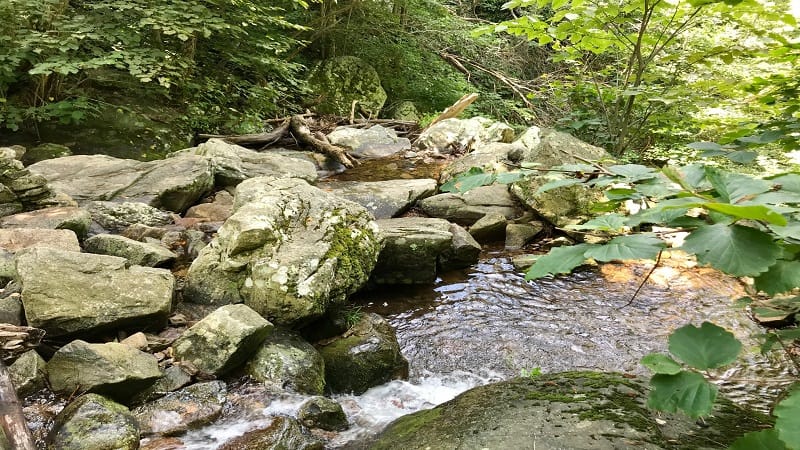 If you're up for a second waterfall hike, the trailhead for the 2.8-mile out-and-back Apple Orchard Falls Trail is less than 10 minutes away at milepost 78.
Look for the parking lot on the right and a sign for the Sunset Fields Overlook.
Wrap-Up Notes
This hike took us (me + two 13 y.o. girls) 40 minutes to complete, though we opted for the slightly shorter out-and-back route.
We were on our way to Apple Orchard Falls and wanted to stop to check out this waterfall on the way.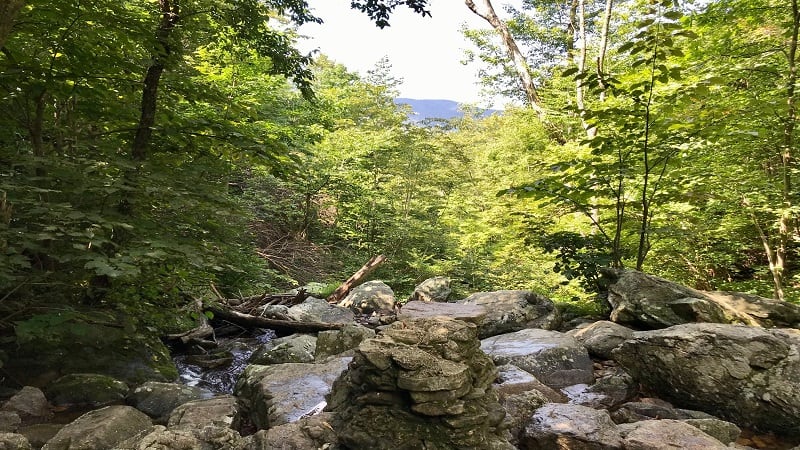 For eats and sips, the closest town is Bedford, which is about 20 minutes away. Here you'll find a small historic town in the heart of Virginia's Blue Ridge Mountains.
There are plenty of restaurants, from fast-food joints like Wendy's to fine dining at Crystal Room, so you're covered if you're hungry. Walk the streets post-meal to take in the quaint Main Street vibes.
If you have more time, take a stroll around Abbott Lake, summit Apple Orchard Mountain or hike one of the Peaks of Otter, like Sharp Top or Flat Top.
Eager for even more hikes? Here are more trails when you want to go hiking in Roanoke, Virginia (or near Roanoke).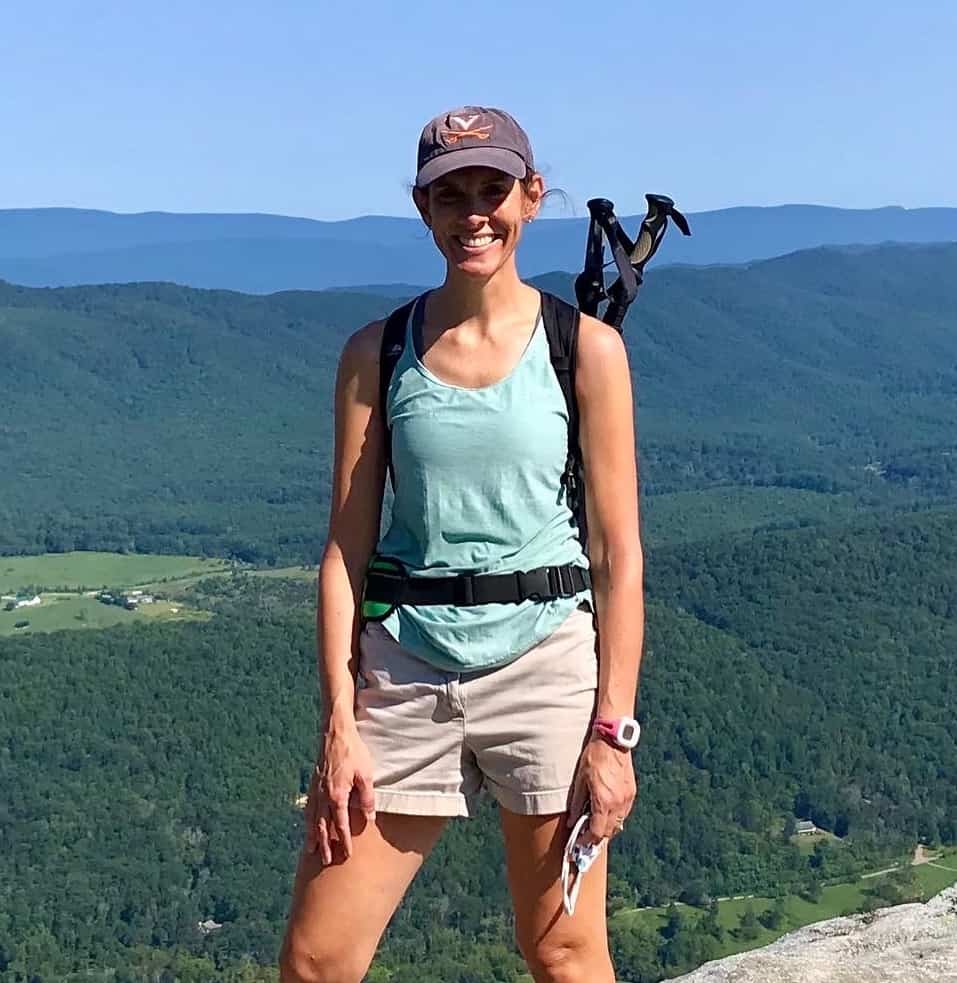 Erin Gifford is the editor of Go Hike Virginia. She has completed more than 300 hikes in Virginia. She is also the author of three hiking guidebooks from Falcon Guides. Need help finding a hike? Check out the Trail Finder feature or send Erin a message.