15 Best Hikes Near Lynchburg, Virginia
There's a lot of history in Lynchburg, Virginia, but you'll also find that this Central Virginia town boasts easy access to green spaces and hiking trails.
Within an hour's drive, you can reach trailheads that lead to the best hikes for tumbling waterfalls and mountain summits, even a super-size rock scramble.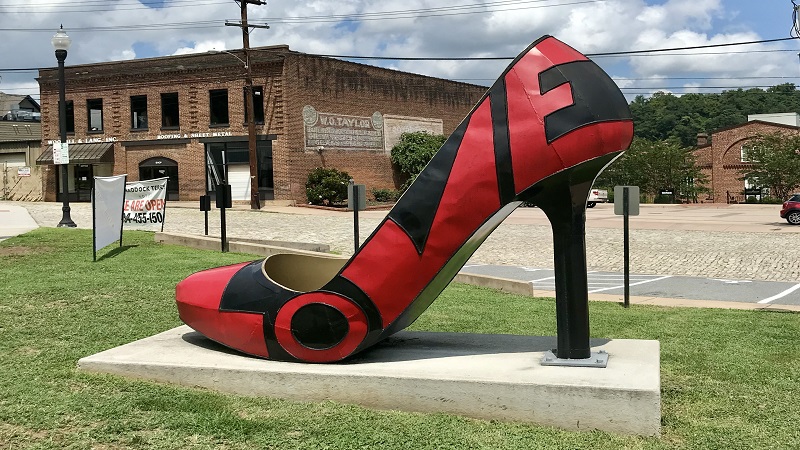 Lynchburg is also close to the Blue Ridge Parkway and Appalachian Trail. When you want to get outdoors, you've got plenty of options.
Hikes Near Lynchburg
To make it easy to navigate, I've organized Lynchburg hiking trails by skill levels so you have a good idea what to expect before stepping foot on the trails.
For these day hikes near Lynchburg, I share what's to love and how far each trailhead is from Lynchburg (from the University of Lynchburg, to be precise).
Easy Hikes
It's not hard to fall for easy-going hikes that feature flowing rivers, cascading waterfalls, even a small island. These hikes in and near Lynchburg fit the bill.
The Lynchburg RiverWalk Trail is a nearly 3.0-mile (one-way) urban trail in downtown Lynchburg that runs alongside Riverfront Park on Jefferson Street.
The RiverWalk Trail starts where the Blackwater Creek Trail ends. It continues south along the James River, then cuts across Percival's Island Natural Area.
This paved trail boasts scenic views across the flowing James River, as well as across the wooded natural area in the middle of the pristine river.
#2:

Blackwater Creek Natural Area

(10 mins)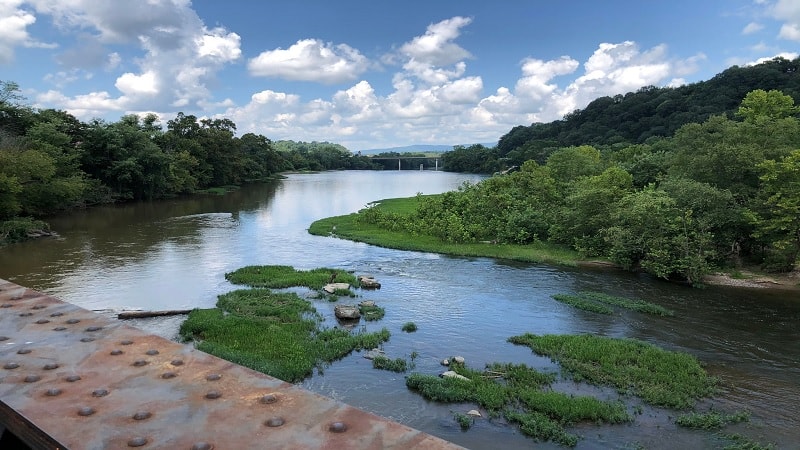 Blackwater Creek Natural Area is a wooded natural area in historic downtown Lynchburg with paved and dirt trails for bikers, hikers and runners.
The 3.0-mile (one-way) Blackwater Creek Trail is among the most popular paved trails in Lynchburg. It's a cinch to connect with other trails, too.
From the Blackwater Creek Trail, pick up earthen trails, like the Creekside Trail and Beaver Trail. The paved Kemper Station Trail leads to the bus/train station.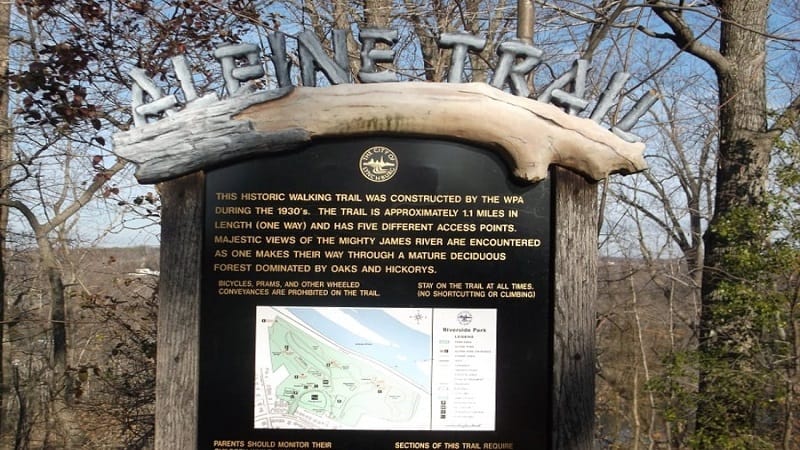 The Alpine Trail is an easy walking trail located in Riverside Park. It's also said to be the first trail that was created within a public green space in Lynchburg.
This beautiful trail rewards with views across the James River. Follow the blue blazes, which descend toward the flowing river for refreshing views.
Pick up the Alpine Trail near the Stone Overlook or the Fink Deck Truss Bridge. This park map helps guide the way across one of Lynchburg's favorite parks.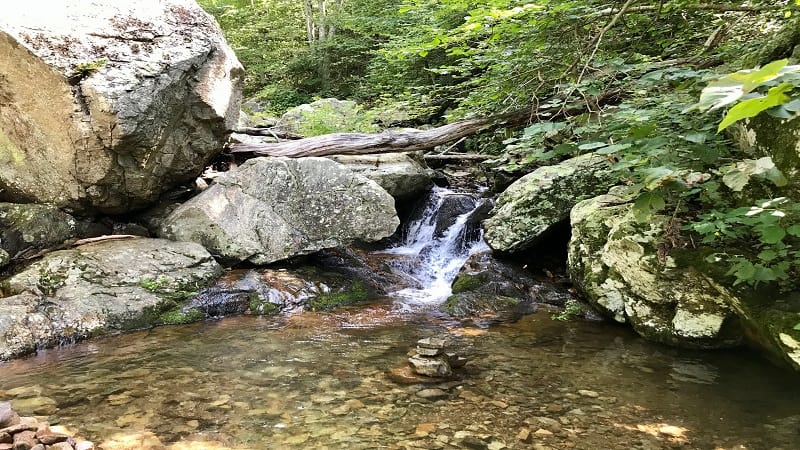 The 1.2-mile out-and-back hike to Fallingwater Cascades starts across the meandering Blue Ridge Parkway from the small parking lot.
This easy hike on a forested trail to a gently cascading waterfall is a nice break from a mid-afternoon drive on the parkway. Take off your shoes for a splash.
The waterfall is small, but it offers a refreshing break on a warm day. This short hike can also be done as a loop hike if you continue the trail just past the falls.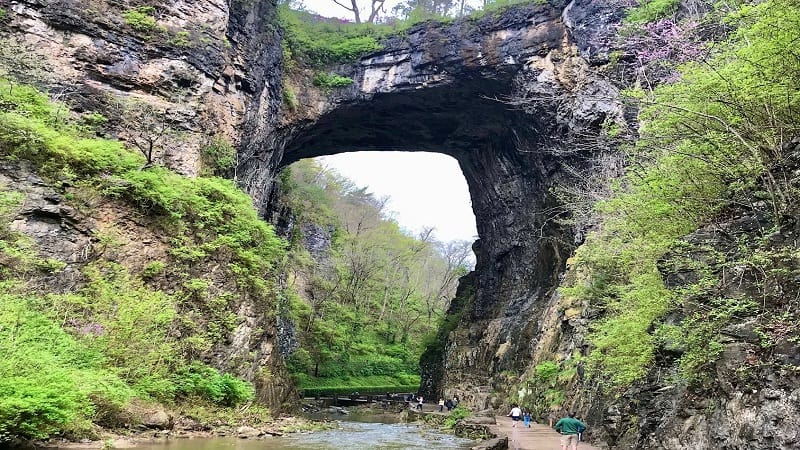 The hike to Lace Falls on the Cedar Creek Trail is a must-do at Natural Bridge State Park. For one, this trail guides you under the 215-foot-tall namesake arch.
It's easy to be awed by this natural limestone arch that has a place on the National Register of Historic Places. It was once owned by Thomas Jefferson.
Under the bridge, look up and to the left to see George Washington's initials. He carved them on the bridge in 1750. A white outline marks the initials.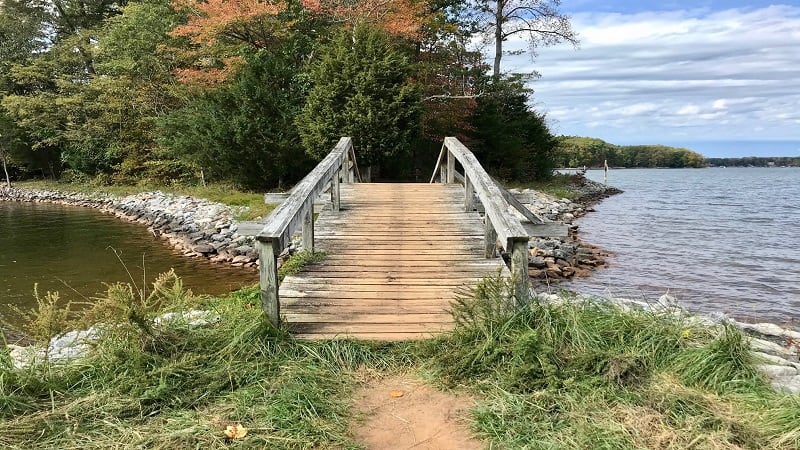 Smith Mountain Lake State Park is a go-to destination for water sports, but there's a lot to love on dry land too, like the Turtle Island Trail.
This 1.4-mile loop hike leads to a small island and a path that runs along the perimeter. A small beach area precedes the wooden footbridge to the island.
Placards on this hike educate park-goers on how abandoned fields at the state park transformed into a wooded forest over the course of 125 years.
Moderate Hikes
When you want to hike in the Lynchburg area, but you desire more mileage and elevation, these amazing hikes are for you. Get ready for vistas and falls, too.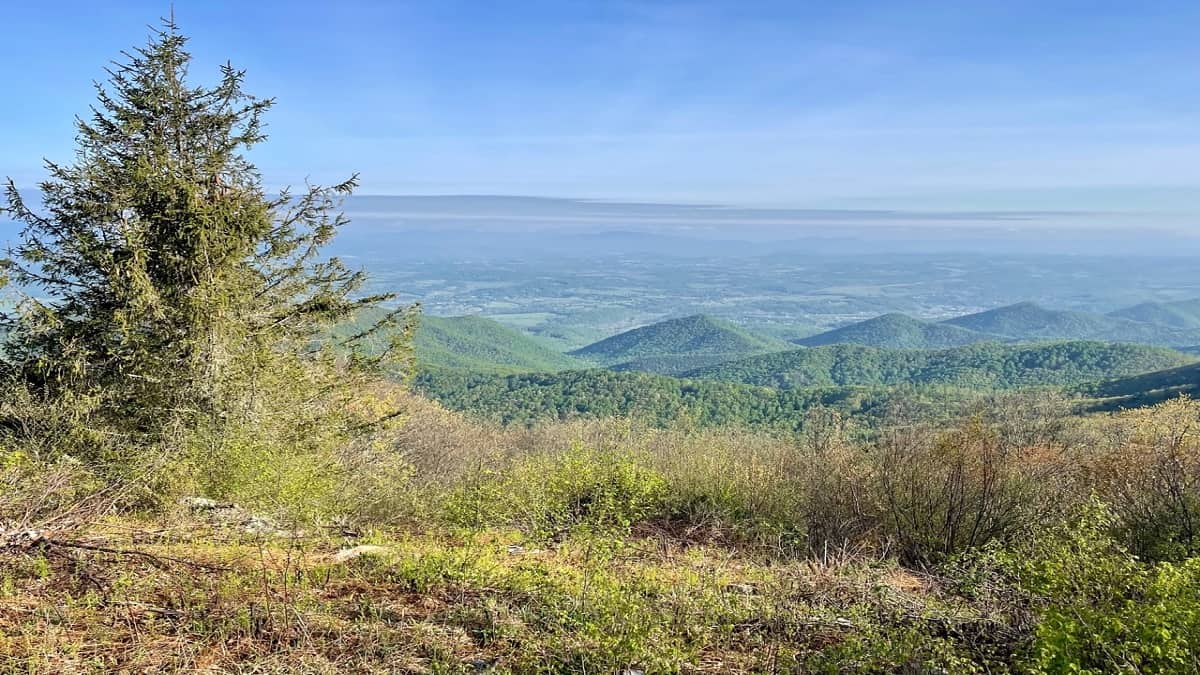 The hike to the top of Bluff Mountain on a stretch of the Appalachian Trail in Amherst County is straightforward. Hike two miles up, then two miles back.
On the way up, a spur trail appears after just 0.4 miles. Turn right for a short walk to Punch Bowl Shelter. In spring, enjoy plenty of colorful wildflowers.
This hike starts across from the parking area for the Punch Bowl Mountain Overlook. Revel in scenic west-facing vistas across the Blue Ridge Mountains.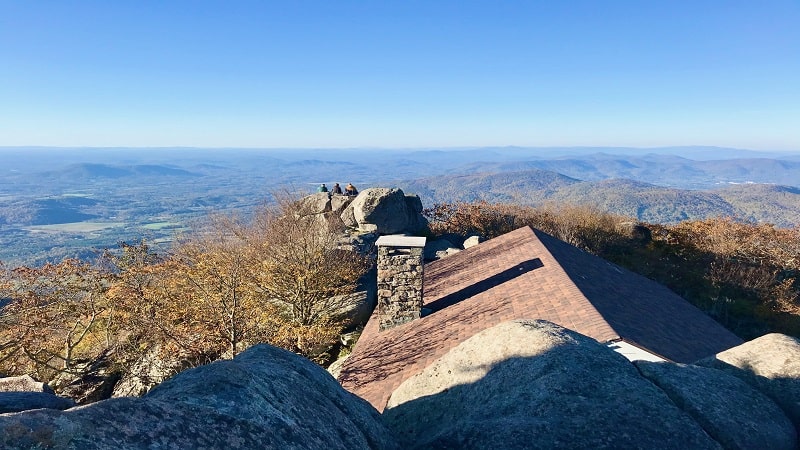 The 3.3-mile out-and-back hike boasts 360-degree panoramas from Sharp Top. There are stone walkways, stairs and terraces at the summit.
There's even a stone shelter that was once a restaurant in the 1950s and 1960s at the top of what was once thought to be Virginia's highest peak.
On the way down, step off on a short spur trail to check out Buzzard's Roost. Climb the massive rock for beautiful views across the Blue Ridge Mountains.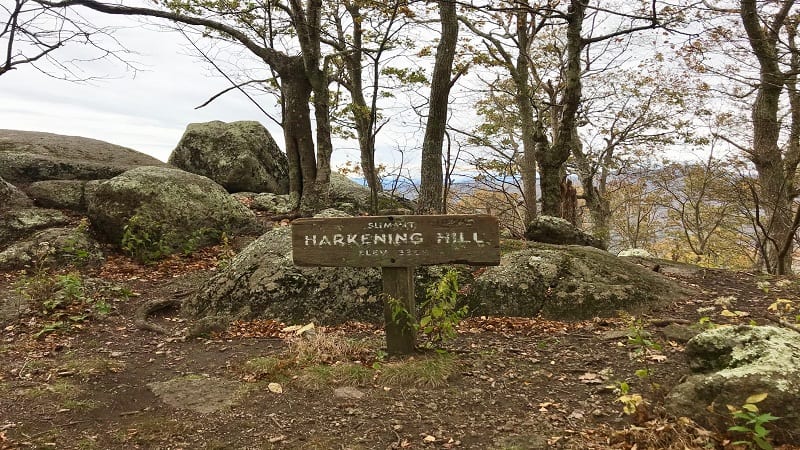 Harkening Hill stands in the shadow of Sharp Top, the most popular of the three Peaks of Otter, but the views from the top are no less breathtaking.
Tackle this beautiful hike as a 2.8-mile out-and-back hike or as a 3.2-mile loop hike, traipsing along leafy and serene stretches of trail.
A short spur trail before the summit leads to Balance Rock. It was unique and worthy of mention on a sign. A second "balance rock" wows past the summit.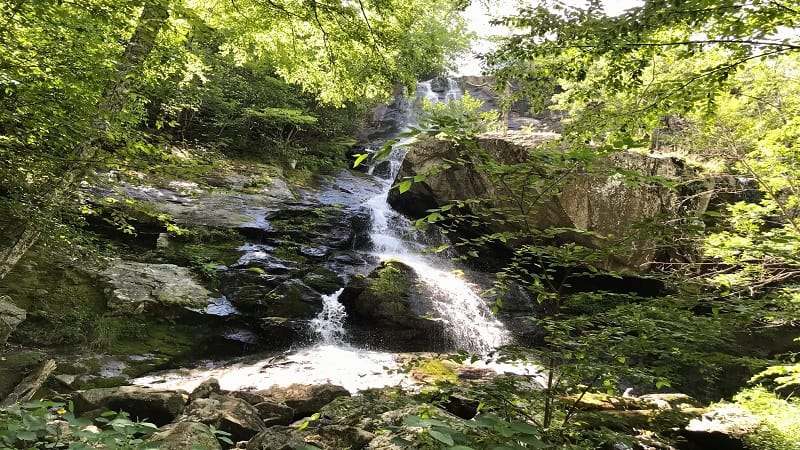 The 2.9-mile out-and-back hike to 200-foot-tall Apple Orchard Falls starts at the Sunset Field Overlook. Before you begin, revel in mountain panoramas.
As you take your first steps, you'll become enveloped by the verdant canopy of the forest. Cross streams, even wooden bridges, on the way to the falls.
At the 1.1-mile mark, you'll see an inviting waterfall. Break to re-hydrate, but press on, for this is not the waterfall you've worked so hard to reach. Soon.
The hike to Apple Orchard Mountain begins at the Thunder Ridge Overlook, a viewing deck with gorgeous 180-degree vistas across the Arnold Valley.
From here, it's a simple, forested hike along a southbound stretch of the Appalachian Trail. At the 1.4-mile mark, you'll arrive at a short spur trail.
Turn left for the Thunder Hill Shelter. It's a basic lean-to shelter with a wooden picnic table and a stone fire pit, as well as a bear box.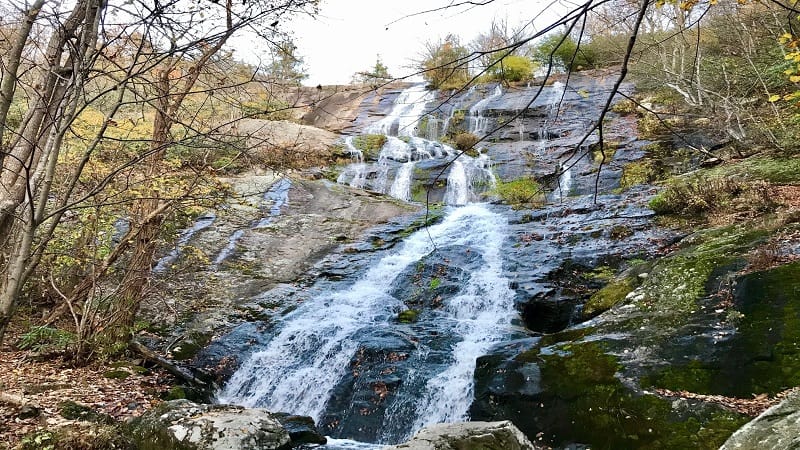 Crabtree Falls stuns with dramatic cascades and spectacular views across the Blue Ridge Mountains and Tye River Valley from atop the 1,214-foot-tall falls.
Crabtree Falls is the "highest vertical drop cascading waterfall east of the Mississippi River." It's taller than the Eiffel Tower (984 feet).
This Nelson County waterfall boasts five cascades that are within view nearly every step of this 1.7-mile hike (one-way) to the top along Crabtree Creek.
StrenuousHikes
For a challenge, as well as beautiful scenery, these strenuous hikes near Lynchburg are just what you want to add to your hiking bucket list.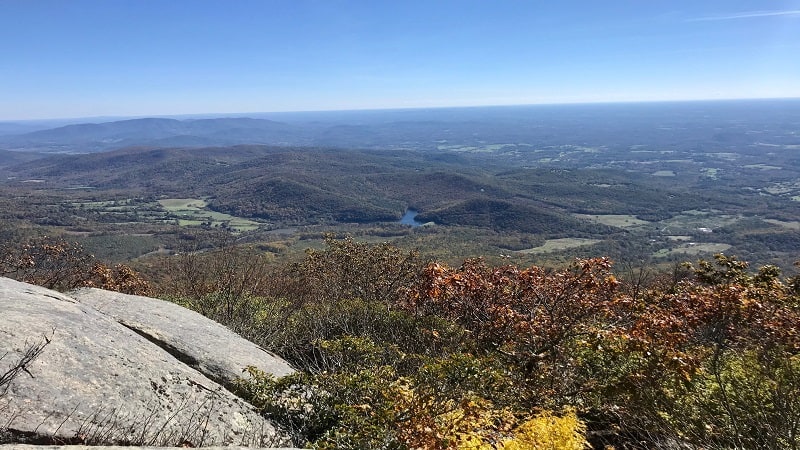 This strenuous 5.7-mile out-and-back hike to Flat Top sees an elevation gain of nearly 1,800 feet, but it's a small price to pay for such breathtaking views.
On the way up, pause at the false summit at the 2.1-mile mark. This outcrop wows with scenic vistas. Skip Cross Rock. The spur is steep and it's very meh.
There's not one single viewpoint at the very top, so hop around to different rocky outcrops to savor the panoramic views in all directions.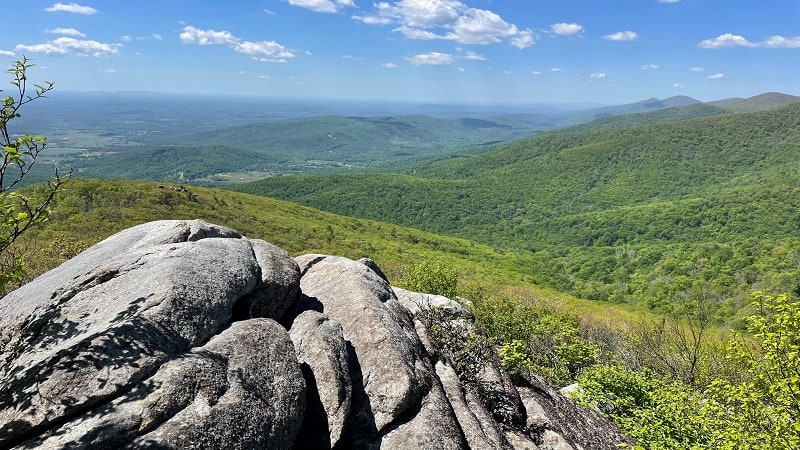 There's no question, Terrapin Mountain is a challenging 10.3-mile hike. It's also a great hike that awes with big views and really cool water features.
You'll definitely need to dig deep at some points on this hike, especially in the first three miles until you top out on your elevation gain of 2,600+ feet.
You will be rewarded with three rocky outcrops with serious vistas before you arrive at the summit. They can be easy to miss, so keep your eyes open.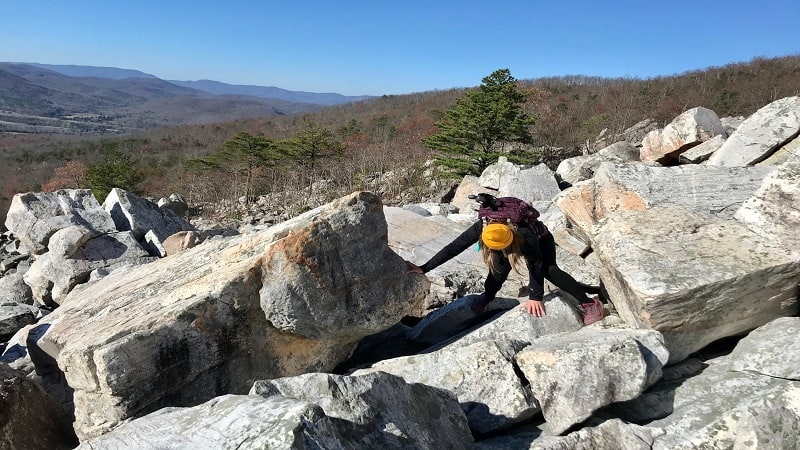 Devil's Marbleyard is the granddaddy of all rock scrambles. You'll climb up, over and around boulders across an eight-acre rock field to reach the top.
This naturally-formed super-size scramble was created many years ago by frost wedging, when water froze and broke gigantic rocks down over time.
A forested hike along the Belfast Trail leads to this never-ending field of quartzite boulders – some the size of cars – that will leave you in awe.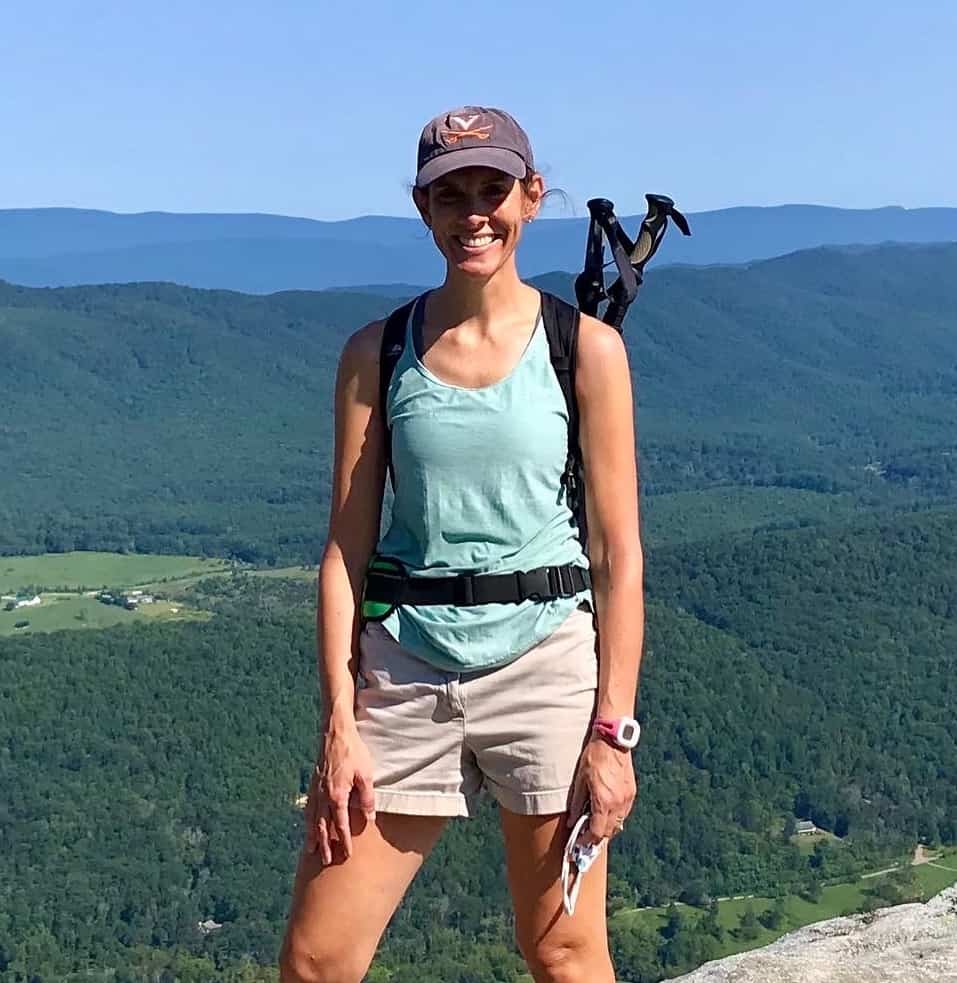 Erin Gifford is the editor of Go Hike Virginia. She has completed more than 300 hikes in Virginia. She is also the author of three hiking guidebooks from Falcon Guides. Need help finding a hike? Check out the Trail Finder feature or send Erin a message.