Westmoreland State Park: Hunt for Shark Teeth at Fossil Beach
Over the weekend, two of my kids and I camped at Westmoreland State Park. It's just north of historic Montross on Virginia's Northern Neck.
I was eager to check out the Turkey Neck Trail for my new hiking guidebook for Falcon Guides on coastal hiking trails. Sadly, more than half the trail was closed.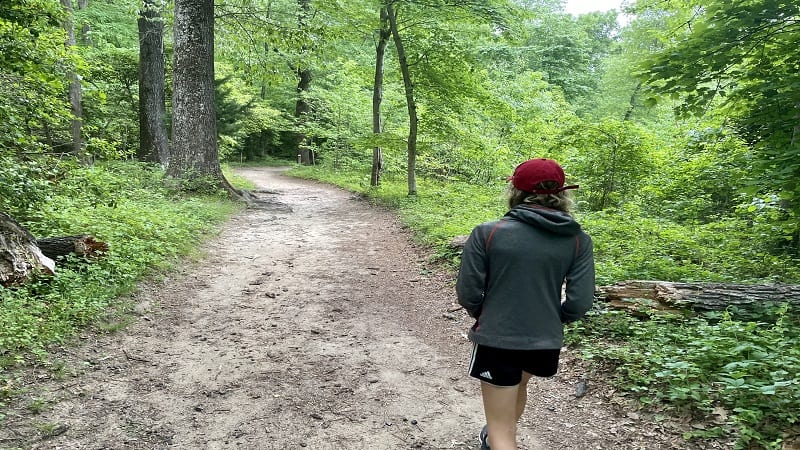 There are less than eight miles of hiking trails at Westmoreland State Park, so this was a bummer. I fell back on the Big Meadow Trail, a trail I hiked last summer.
The Big Meadow Trail leads to Fossil Beach. It's the most popular trail in the state park. Before we left the campground, we moseyed over to the trailhead.
| Trail Stats | |
| --- | --- |
| Length | 1.4 miles |
| Difficulty | Easy |
| Trail Type | Out-and-Back |
| Elevation Gain | 144 feet |
| Duration | 45-60 minutes |
| Terrain | Mostly dirt & sand trails, some boardwalk |
| Dog-Friendly | Yes |
| Fee | $7 per vehicle weekdays ($10 per vehicle weekends, Apr-Oct) |
| Driving Directions | Click Here |
Big Meadow Trail
The Big Meadow Trail begins just steps from the visitor center. There's a large trail kiosk and a big sign that reads "Fossil Beach." It's hard to get off on the wrong foot.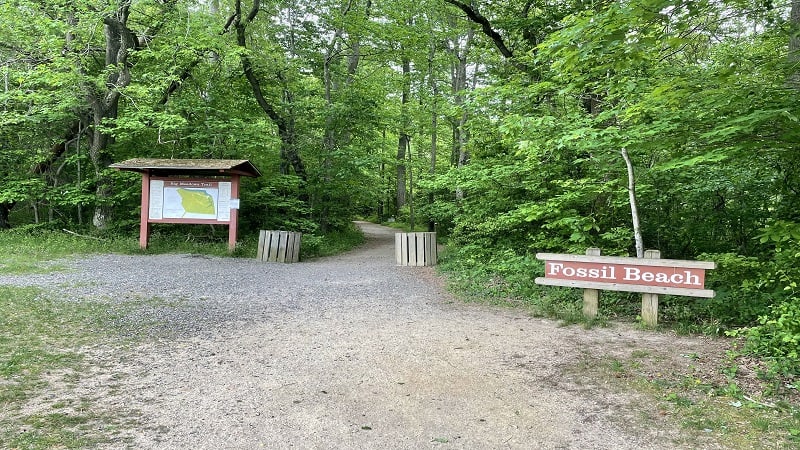 Bring along a sieve or colander as you'll want to hunt for fossils, like shark teeth, while at Fossil Beach. My spaghetti colander was all about sand sifting this day.
On the return, plan to walk out behind the visitor center to take in panoramic views across the Potomac River from atop the famed Horsehead Cliffs.
The hike on the Big Meadow Trail begins with a slow, easy descent under a forest canopy. Signs along the way point out trees, like Black Cherry and Pawpaw.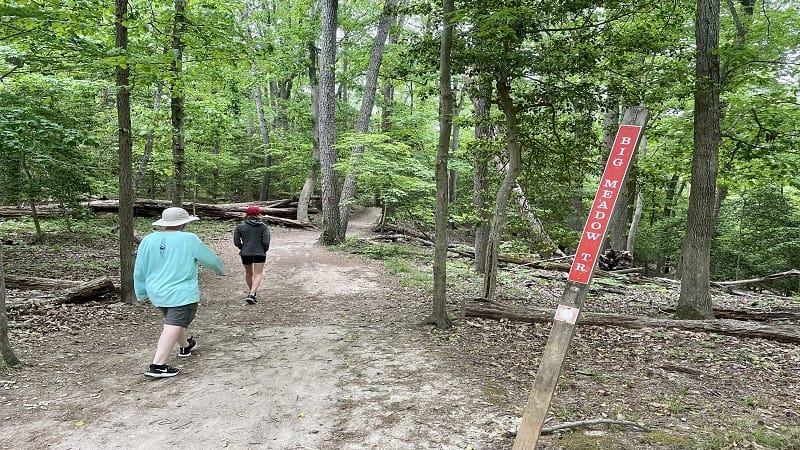 The red blazes are impossible to miss as you make your way to Fossil Beach. At the .3-mile mark, you'll reach a comfy bench for those eager to take a quick break.
Tidal Marsh
At the .6-mile mark, you'll reach a tidal marsh that – this time of year – is filled with yellow irises. These flowers are populous in wet areas and along shorelines.
I later learned that while these showy yellow irises are beautiful, they are also invasive. They can easily crowd out native vegetation. Yikes.
In a few more steps, you'll reach what was once a trail that led to a boardwalk, an observation tower and the Turkey Neck Trail. This is now closed.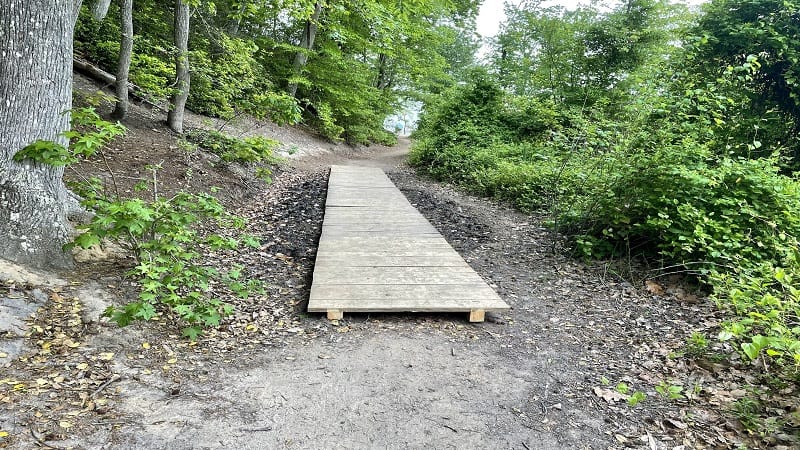 You'll arrive at a perpetually muddy area (which I recall from last year). There is now a short boardwalk and wooden planks on which to cross this section.
Fossil Beach
At the .7-mile mark, you will arrive at Fossil Beach. There is a bench and a small sandy beach on the right. Due to erosion, you cannot access the beach on the left.
For fossil hunting, go at low tide for the best luck at scooping up fossil-like shells, maybe a shark tooth or two. Plan to bring your patience as well.
We didn't find any shark teeth, but we had fun, even in the light rain. You can also enjoy scenic views of the beautiful sandstone cliffs. They are gorgeous.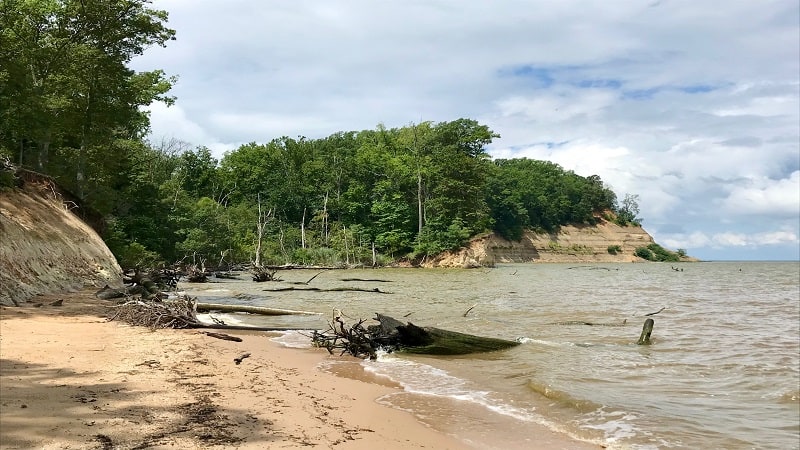 Once you've finished fossil hunting, simply re-trace your steps to the trailhead.
Wrap-Up Notes
From the visitor center, this hike took us less than 45 minutes, including time spent sifting for shells and shark teeth.
If you choose to visit Westmoreland State Park, plan to rent a kayak from the Osprey Boat House when in-season. You can also rent stand-up paddleboards.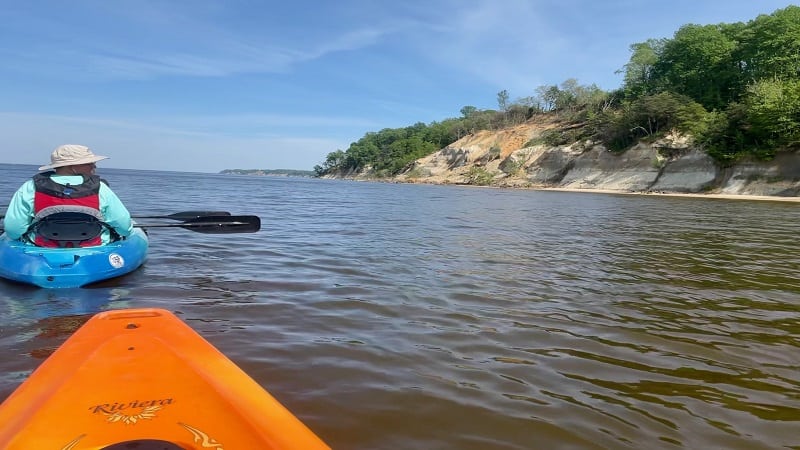 We rented a double kayak and a single kayak to view the sandstone cliffs from the Potomac River. Simply spectacular. Highly recommend.
You can rent kayaks and stand-up paddleboards every day between Memorial Day and Labor Day. Also, on weekends from mid-April to Memorial Day.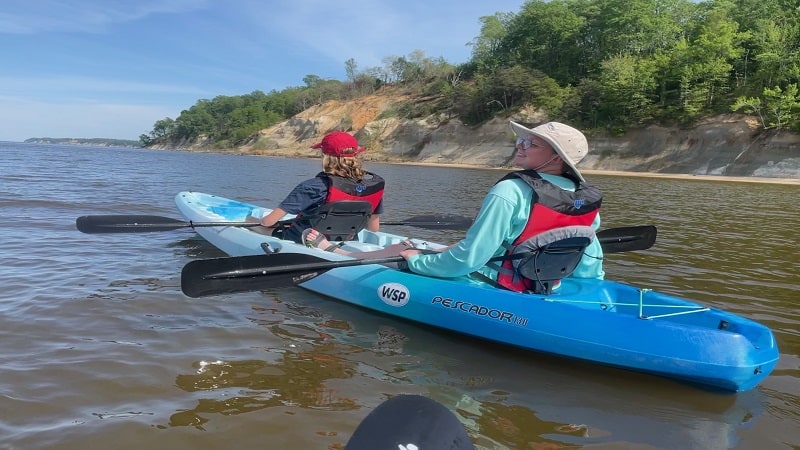 You can rent them on weekends after Labor Day until Columbus Day, too. The last rental is 90 minutes before closing time.
We booked a tent site in Campground A, which is closest to the camp store and visitor center. Firewood is available at the camp store for $6 per bundle.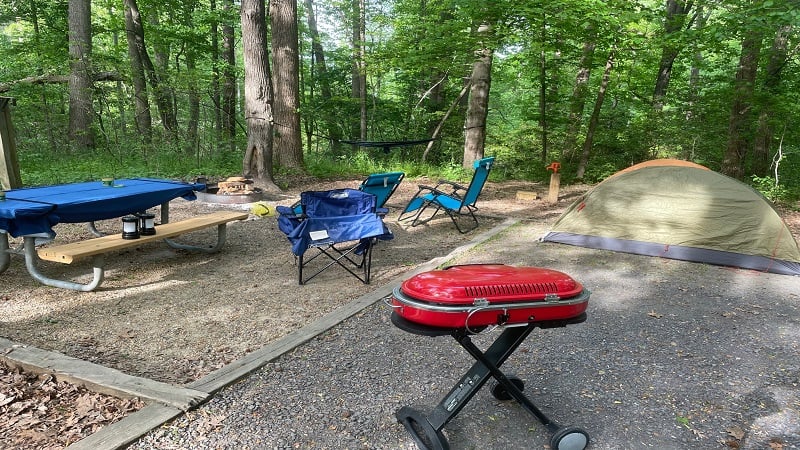 Nearby, plan to visit George Washington Birthplace National Monument in Colonial Beach. It's a short 10-minute drive and there are a couple of nature trails.
Another idea is to drive to historic Montross. There are murals on buildings across this small town. Order a cuppa at The Art of Coffee and take a stroll.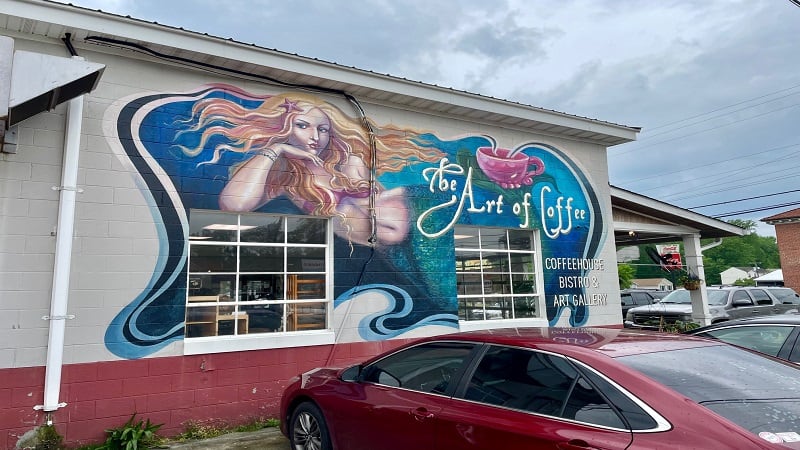 One final note, and to allay any confusion, there is a Fossil Beach at York River State Park, too. Only Westmoreland State Park is known to have shark teeth.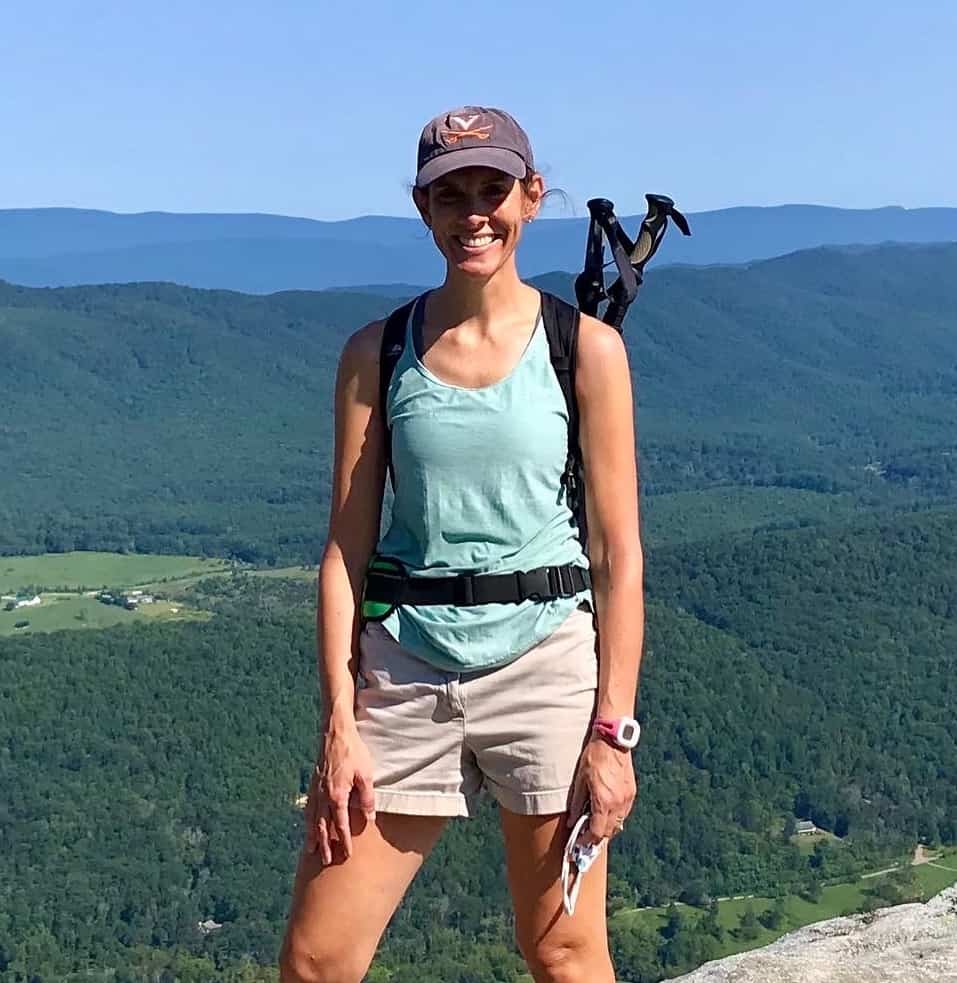 Erin Gifford is the editor of Go Hike Virginia. She has completed more than 300 hikes in Virginia. She is also the author of three hiking guidebooks from Falcon Guides. Need help finding a hike? Check out the Trail Finder feature or send Erin a message.