Saunders-Monticello Trail: A Scenic Wooded Walk in Charlottesville, Virginia
The 89-acre Kemper Park in Charlottesville, Virginia is home to a dozen wooded hiking trails, including the Saunders-Monticello Trail.
At just over two miles (one-way), the Saunders-Monticello Trail is the longest of the park's rustic trails. It's also the most visited at this scenic green space.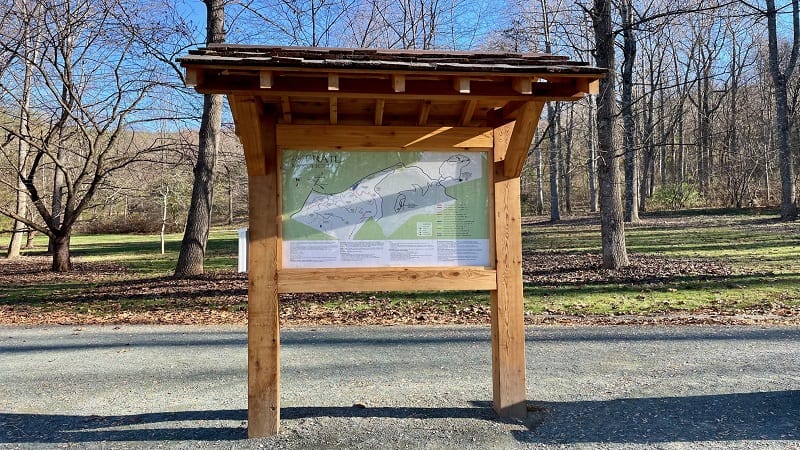 This easy nature trail leads hikers to the visitor center at Monticello. The trail also connects visitors to all other trails at this free public park.
On the Saunders-Monticello Trail, 10 gently curved sections of wooden boardwalk guide hikers around Carter Mountain and on to Thomas Jefferson's Monticello.
| Trail Stats | |
| --- | --- |
| Length | 4.6 miles |
| Difficulty | Easy |
| Trail Type | Out-and-Back |
| Elevation Gain | 459 feet |
| Duration | 2-2.5 hours |
| Terrain | Gravel trails and boardwalk sections |
| Dog-Friendly | No |
| Fee | Free |
| Driving Directions | Click Here |
Kemper Park
There are two parking lots that provide access to Kemper Park, including the hiking trails, a two-acre pond, an arboretum and an outdoor amphitheater.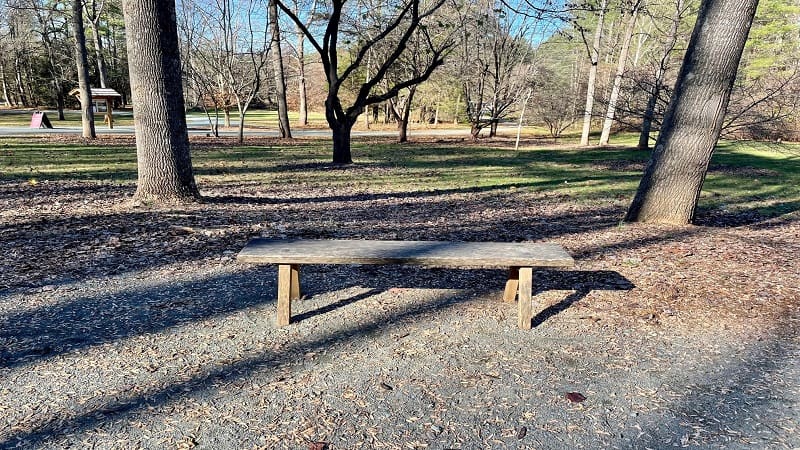 The main lot is located at 503 Thomas Jefferson Parkway. This lot can fill up quickly, especially on fair-weather weekends.
There is also an overflow lot located on Dairy Barn Road at Scottsville Road. This lot has more parking spaces, and is only a few steps past the main lot.
The free hiking trails at Kemper Park are open from sunrise to sunset. A maximum grade of 5% keeps trails accessible to walkers, bikers, strollers and wheelchairs.
Saunders-Monticello Trail
The Sanders-Monticello Trail can be accessed from both parking lots. From the overflow lot, you'll walk through a tunnel under Thomas Jefferson Parkway.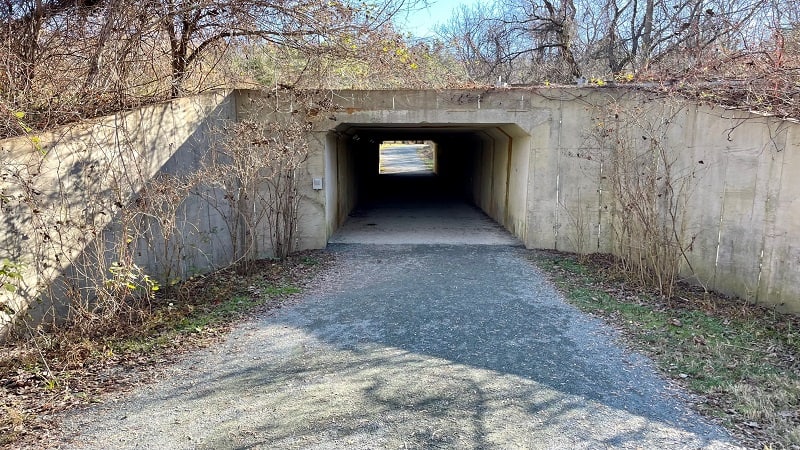 You'll then see the main lot on your left once out of the tunnel. You'll also see your first trail marker: 0.0. Every .25-mile, the trail features a mileage marker.
In a few more steps, you'll see a placard about tulip poplar trees, as well as a section of a tulip poplar that once stood near the West Front of Monticello.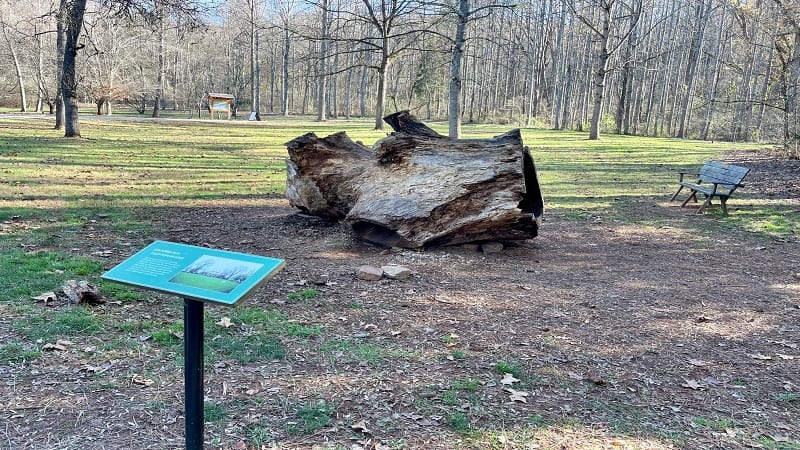 Near the .2-mile mark, you'll see a large trail kiosk with a super-size trail map. Here you can also pick up a print copy of the trail map for Kemper Park.
This family-friendly hike now begins in earnest as you make your way along the wide, gravelly Saunders-Monticello Trail.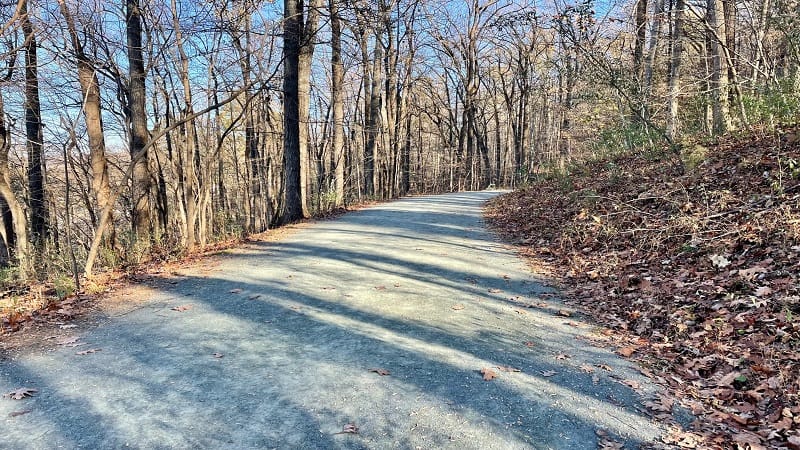 Carter Overlook
At the .6-mile mark, you'll see a sign nudging you to turn right for the Carter Overlook. It's less than .2-mile to the overlook, so why not make the trip.
Once you reach the top, there is a circular overlook with a beautiful view across Charlottesville and the Blue Ridge Mountains.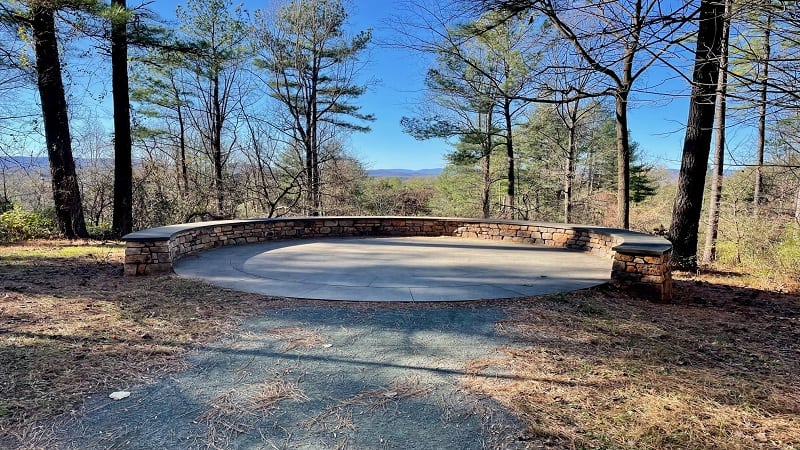 The overlook is paved with bluestone and has a semi-circular stone wall that serves as a perfect bench after the short ascent to Carter Overlook.
A dedication plaque from the Thomas Jefferson Foundation recognizes and remembers Robert Carter, a noted businessman and civic leader in Charlottesville.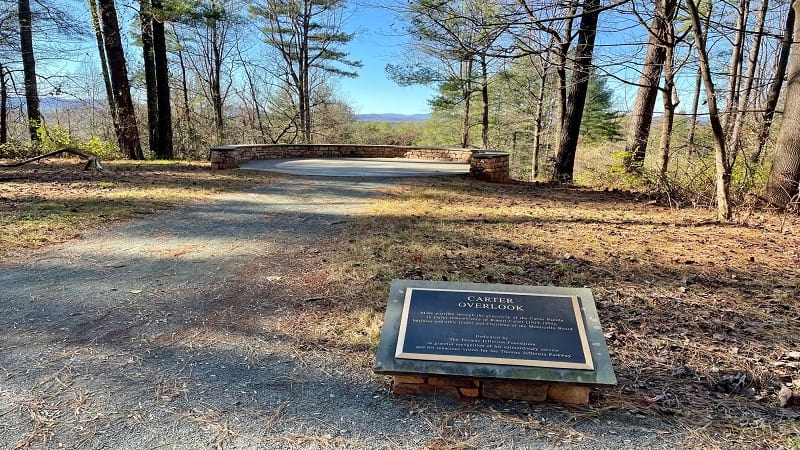 From here, re-trace your steps to continue on the Saunders-Monticello Trail. However, you can also pick up the Umbrella Magnolia Trail from the overlook.
Wooden Boardwalks
As you make your way along the Saunders-Monticello Trail, you will cross 10 curving wooden boardwalks that often seem to hug Carter Mountain.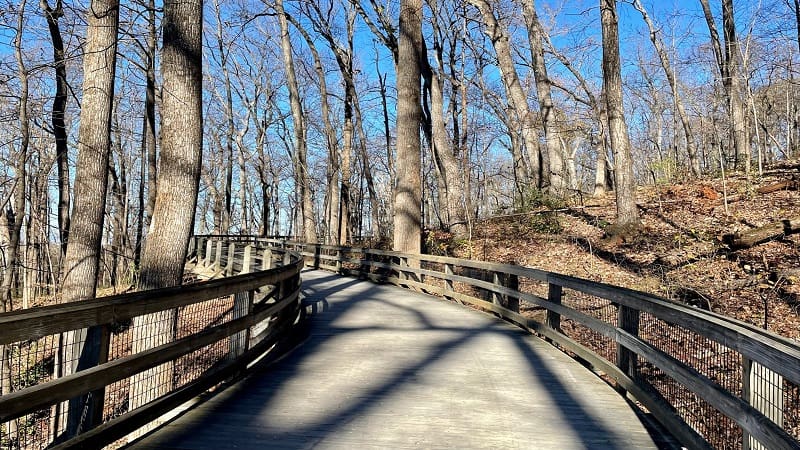 Note that dogs are not allowed on any section of the boardwalk. Dogs can walk on all other sections of trail at Kemper Park.
The boardwalks are scenic and stroller-friendly. At the first one, a large sign reads "No dogs allowed beyond this point" as a mild reminder to dog walkers.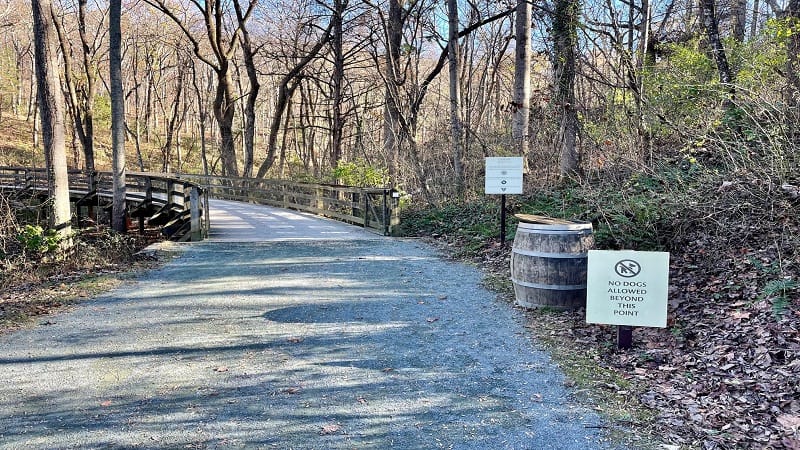 From here, it's a slow easy climb all the way to Monticello. As you rise, you'll see peeks of Charlottesville to the north of the wooded hiking trail.
At the 1.5-mile mark, you'll cross over Carters Mountain Trail (a road), so stay present as you walk. There is a well-marked crosswalk.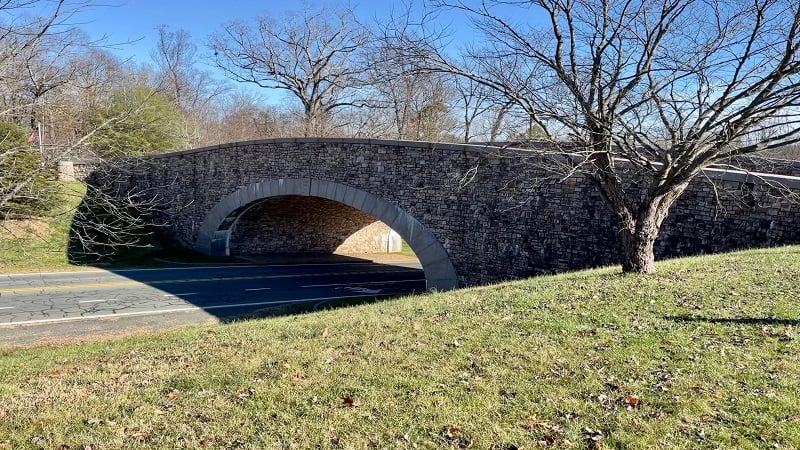 You'll then cross over Thomas Jefferson Parkway by way of the historic Saunders Bridge at the 2.1-mile mark. Then, a sign for Monticello.
Thomas Jefferson's Monticello
Once you walk over Saunders Bridge, cross the Monticello Loop (the road that leads to Monticello) at the crosswalk. The trail continues for another .2-mile.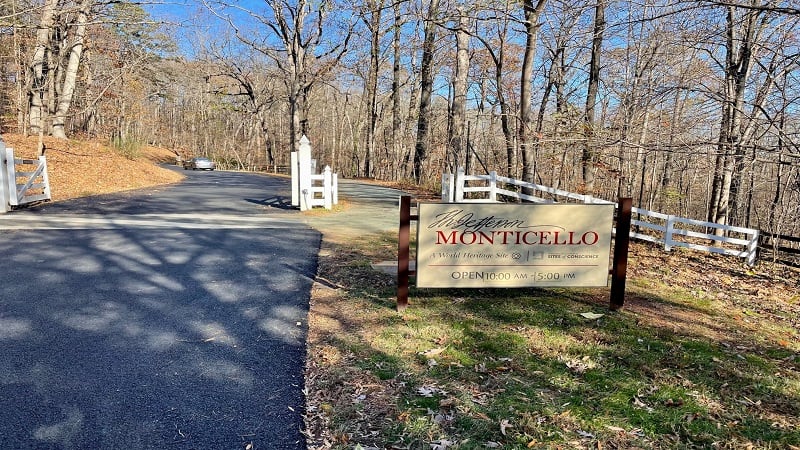 Before you reach Monticello, you'll see a wooded picnic area with at least a dozen picnic tables. There is also a marble monument to Thomas Jefferson.
The monument was placed by The Jefferson Club of St. Louis, Missouri to commemorate Thomas Jefferson's purchase of the State of Louisiana.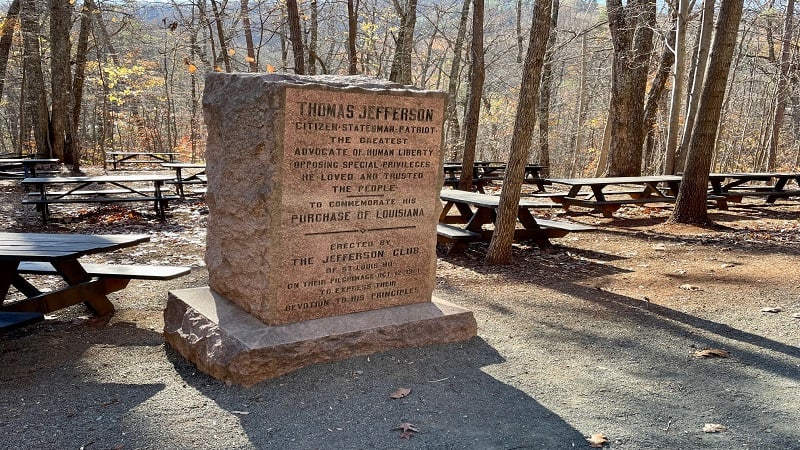 The Saunders-Monticello Trail ends at a crosswalk that leads to the Monticello Visitor Center, which has a café, restrooms and a museum shop.
If you wish to tour Monticello, guided or self-guided, you can purchase a ticket at the entrance. There are various tours, even a family scavenger hunt.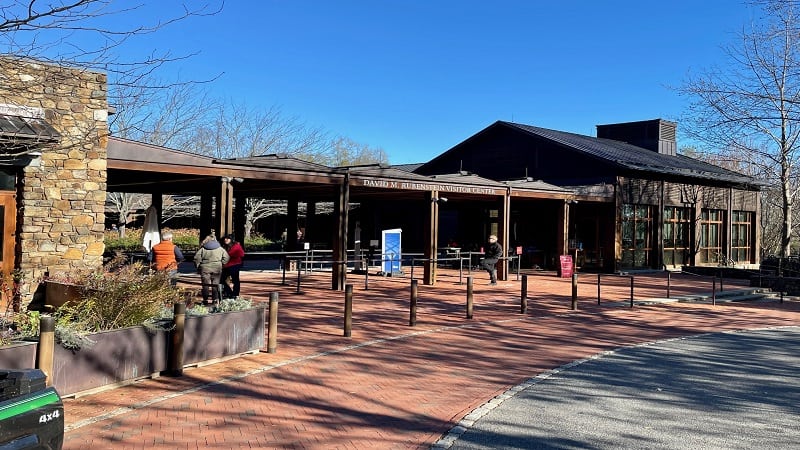 When you're all set, simply re-trace your steps to the parking area to complete your hike on the Saunders-Monticello Trail.
Wrap-Up Notes
From the overflow lot on Dairy Barn Road, this easy hike, including the steps off trail to Carter Overlook, took me nearly 90 minutes.
This wooded hike is a delight, so it's easy to see why it's among the best hikes in Charlottesville. It's also nicely shaded, making it a perfect summer hike, too.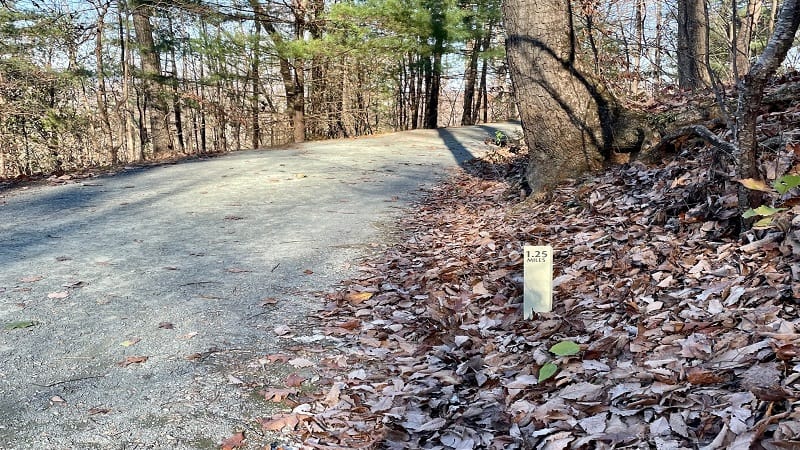 There are many lovely Charlottesville hikes, including the reservoir loop hike at Ragged Mountain Natural Area. I also love Ivy Creek Natural Area.
Just 30 minutes from Charlottesville is the Blue Ridge Tunnel. Just remember to bring a headlamp for this 4.6-mile hike through a historic railroad tunnel.