Newport News Park: An Easy Wetlands Hike on the White Oak Nature Trail
The reviews of Newport News Park were quite good (an average 4.5 stars on AllTrails), so I was eager to explore this large city park in Newport News.
I set off on the White Oak Nature Trail, a wooded hiking trail near Williamsburg that wows with views of coastal wetlands and cypress swamps.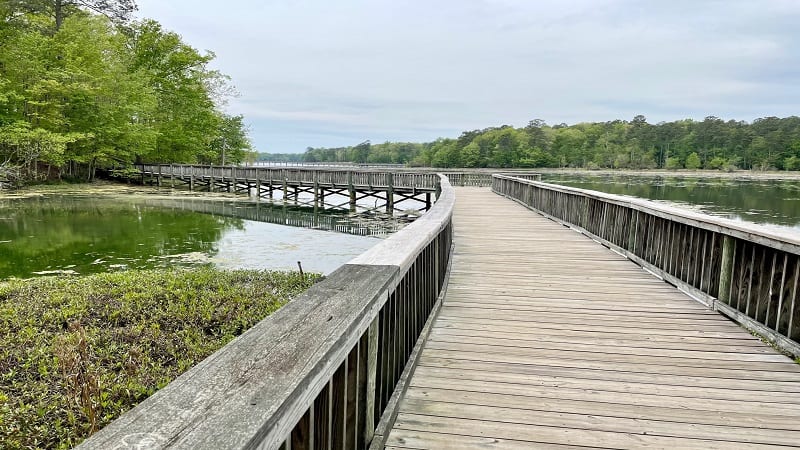 The White Oak Nature Trail is one of 65 trail loops that make up the Virginia Bird and Wildlife Trail, all of which have wildlife and birding sites and overlooks.
In Virginia's Coastal Region, there are 18 trail loops. These trails allow exploration of windswept barrier islands, cypress swamps and scenic seashores.
| Trail Stats | |
| --- | --- |
| Length | 2.7 miles |
| Difficulty | Easy |
| Trail Type | Loop |
| Elevation Gain | 62 feet |
| Duration | 1-1.5 hours |
| Terrain | Mostly dirt trails, some wooden bridges |
| Dog-Friendly | Yes |
| Fee | Free |
| Driving Directions | Click Here |
Newport News Park
Enter Newport News Park by way of Constitution Way. From here, it's a short drive to the parking area at Dam Bridge #1.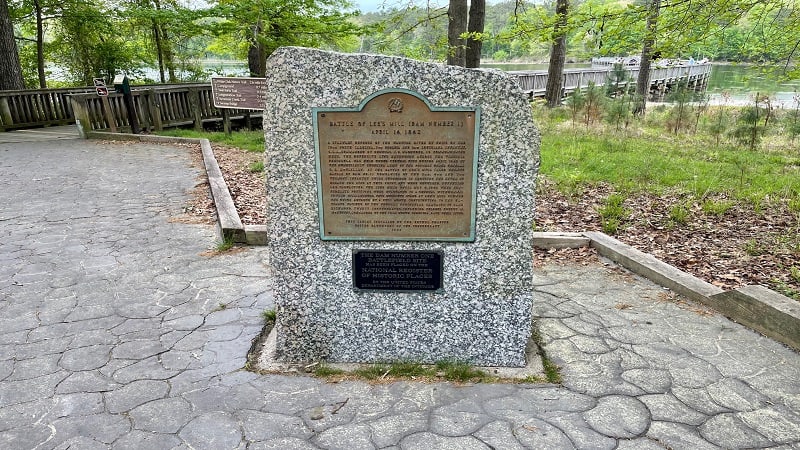 You'll pass picnic areas, fishing piers, boat launches, playgrounds and restrooms. There's a lot to do at this park, including disc golf, archery and a ropes course.
There's also a very nice campground, which has 188 wooded camp sites. The Newport News Park Campground has sites for both tents and RVs.
White Oak Nature Trail
The hike along the White Oak Nature Trail begins at Dam Bridge #1, a wooden bridge that crosses over the Lee Hall Reservoir. But first, a bit of Civil War history.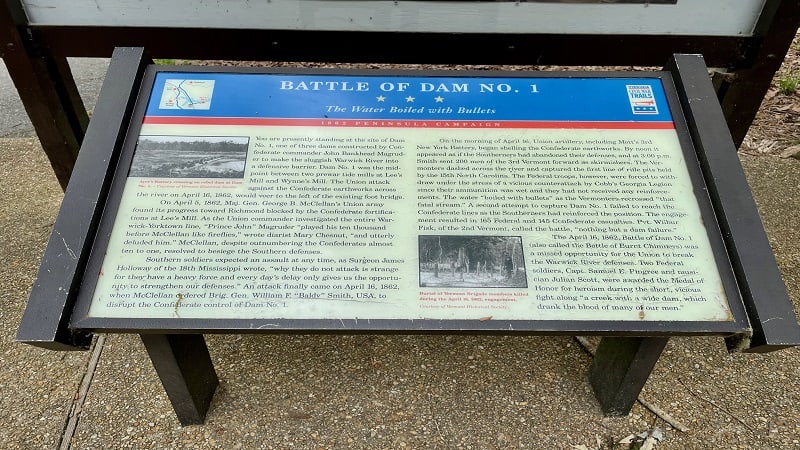 Before you reach the wooden bridge, you'll see several educational placards and monuments. Be sure to read up on the Battle of Dam #1 (April 16, 1862).
Dam #1 is one of three dams constructed by Confederate soldiers, which successfully transformed the slow-moving Warwick River into a defensive barrier.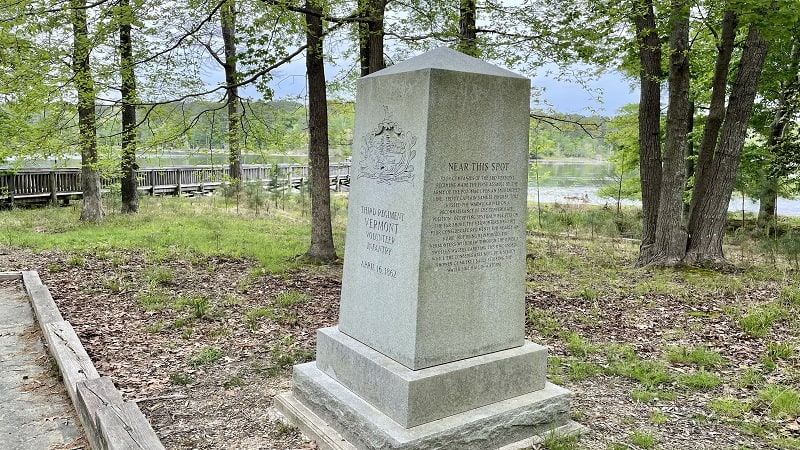 There is a monument to the Union Army's 3rd Vermont Infantry Regiment, a volunteer division that led the charge during the Battle of Dam #1.
Cross Dam Bridge #1 over the Lee Hall Reservoir. I saw lots of turtles swimming in the reservoir. Also, small children squealing at the sight of swimming turtles.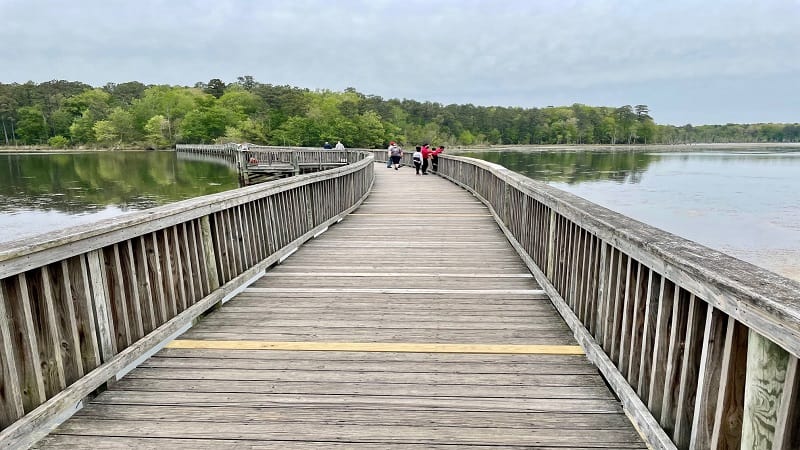 At the .2-mile mark, you'll be across the reservoir and at a trail junction. Stay right for the wooded White Oak Nature Trail. In a few steps, you'll cross over a bridge.
Step out onto a wooden overlook at the .6-mile mark to see a swamp of bald cypress trees. As you continue along, you'll cross bridges over more small creeks.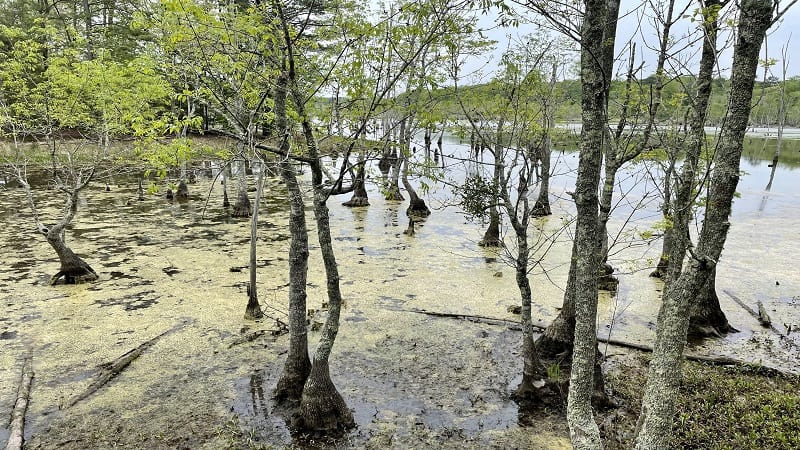 Plan to cross Sycamore Creek, then Greenbriar Creek. You'll also see benches all along the trail so you and your crew can take a rest every now and again.
At the 1.5-mile mark, you'll reach Swamp Bridge. This will take you over a wetlands-dominated section of the Lee Hall Reservoir. It's especially scenic.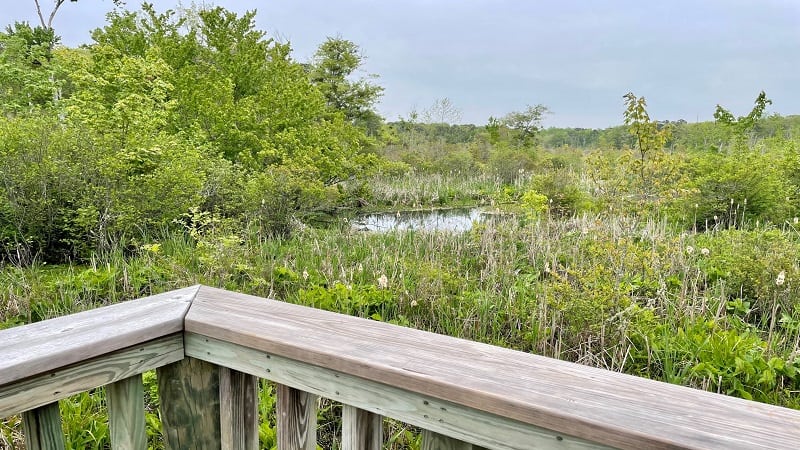 As you cross over, you will see two walk-out overlooks, each with a few steps to reach the overlook. The first turns up on the right; the second is on the left.
At the 1.9-mile mark, you will reach a sign indicating that the Swamp View Point is just .1-mile off the trail. Hmmm… I had to go check it out. Seriously, only .1-mile.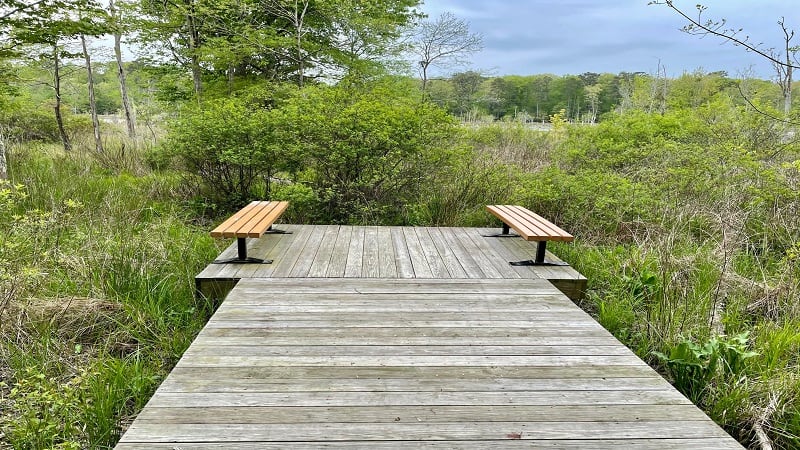 I hate to say it, but there wasn't much to see at the Swamp View Point. There's a nice platform with two benches, but the views are superior from Swamp Bridge.
At this point, you're also walking alongside the Newport News Golf Club at Deer Run. Thankfully, this golf course on the left is also mostly hidden by the woods.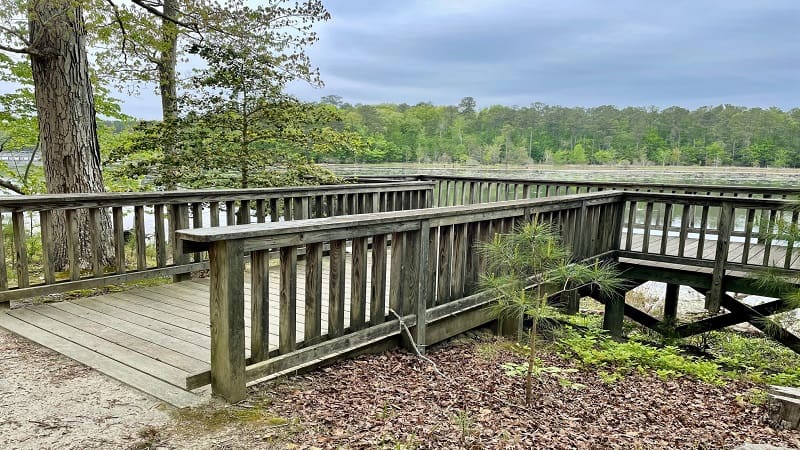 At the 2.3-mile mark, stay right for more views of bald cypress trees from a small overlook. From here, a few more bridges and boardwalks lead to the end.
This is a very nice, shady and kid-friendly hike. There are several other trails at the park too, but the White Oak Nature Trail is an all-around winner.
Wrap-Up Notes
From the parking area, this day hike took me an hour, including stops at overlooks. It's a very relaxing, scenic walk through the woods and wetlands.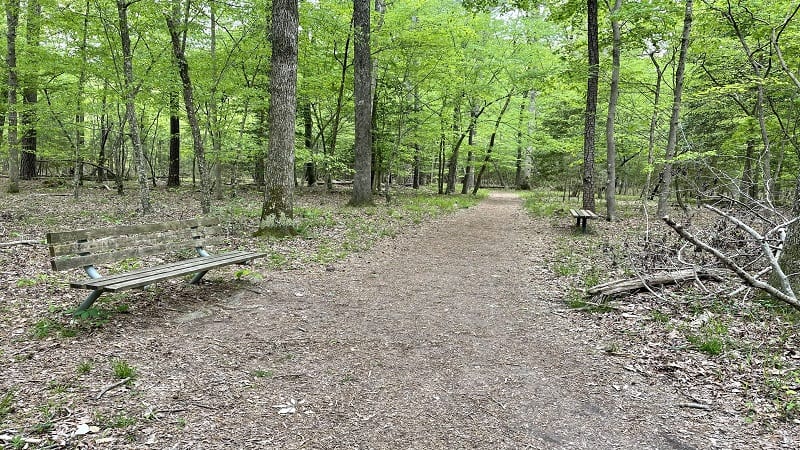 Before you go, make a stop for the children's playground and/or restrooms, which turn up on your left as you exit the park on Constitution Way.
Eager for more Coastal Virginia day hikes? Check out my favorite hikes near Williamsburg, Virginia.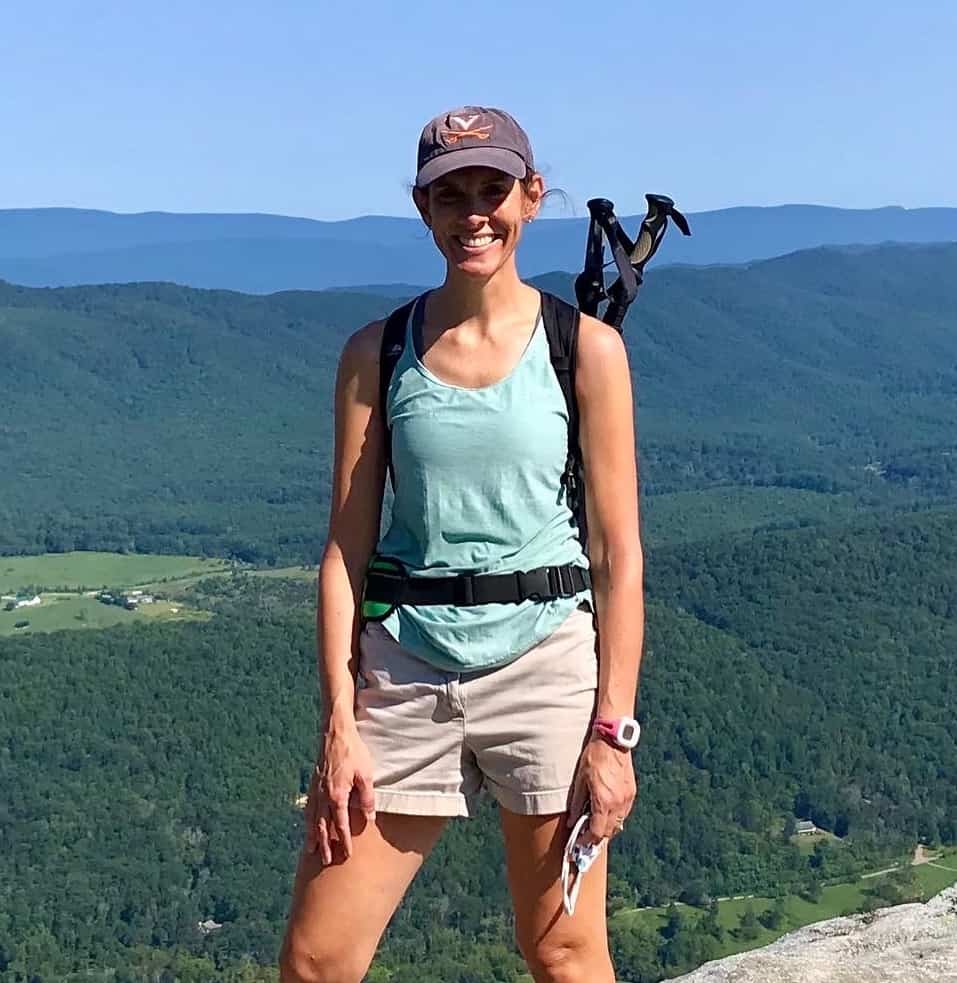 Erin Gifford is the editor of Go Hike Virginia. She has completed more than 300 hikes in Virginia. She is also the author of three hiking guidebooks from Falcon Guides. Need help finding a hike? Check out the Trail Finder feature or send Erin a message.