Oak Grove Lake Park: A Refreshing Loop Hike in Chesapeake, Virginia
I recently set my sights on Southeast Virginia, including Great Dismal Swamp National Wildlife Refuge in Suffolk and Oak Grove Lake Park in Chesapeake.
It was nice to get out of Northern Virginia to see some new hiking trails in the state, including the 1.9-mile walking path around 70-acre Oak Grove Lake.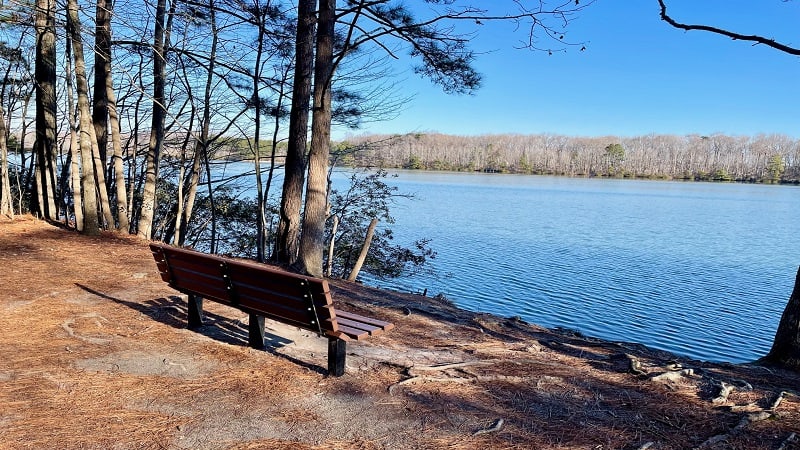 Oak Grove Lake Park is nestled between a small office park and a community of single-family homes. You just have to know that this small city park is here.
The park abuts the Chesapeake Expressway on the west side. So, yes, it can get noisy, but there are so many positives that outweigh this negative.
| Trail Stats | |
| --- | --- |
| Length | 1.9 miles |
| Difficulty | Easy |
| Trail Type | Lollipop |
| Elevation Gain | 3 feet |
| Duration | 1 hour |
| Terrain | Paved & gravel trails |
| Dog-Friendly | Yes |
| Fee | Free |
| Driving Directions | Click Here |
Oak Grove Lake Park
The parking lot is just across from an office park. It's a fairly large parking lot, too. There's room for at least 15 or 20 cars. Maybe more.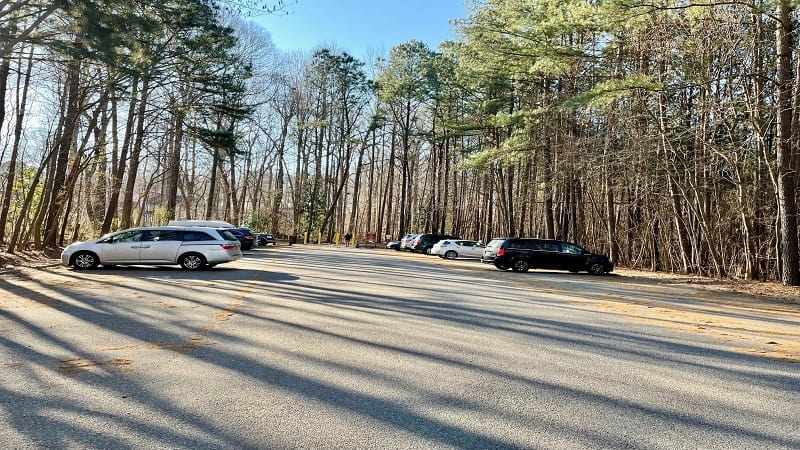 Interestingly, this city park in Chesapeake sprung up around an unsightly "borrow pit" that was reclaimed by nature and became a clear water lake.
Today, several wooden benches and overlooks reward with far-reaching views across this beautiful lake. Around the lake there are also several picnic tables.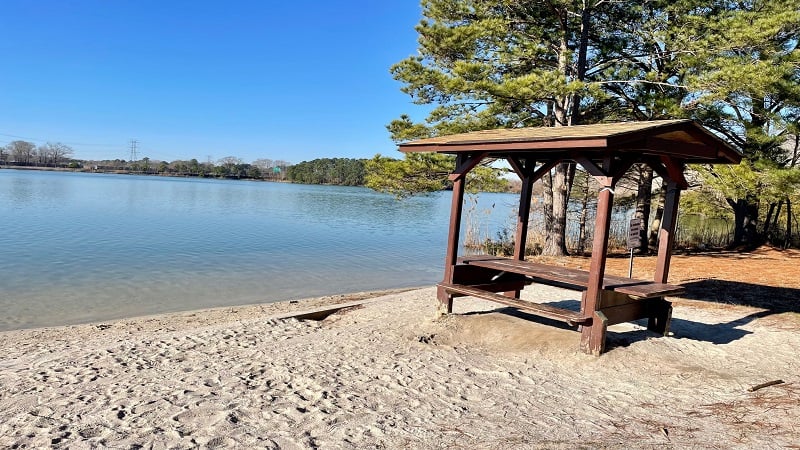 There are three banks around the lake that look just right for splashing and wading. Unfortunately, posted signs prohibit swimming, wading and boating.
Thankfully, there is a colorful playground toward the front of this city park so kids can still burn off all their energy.
Hiking Trail
From the parking area, it's a .1-mile walk to the lake, as well as to the playground, a small picnic pavilion and three porta-potties.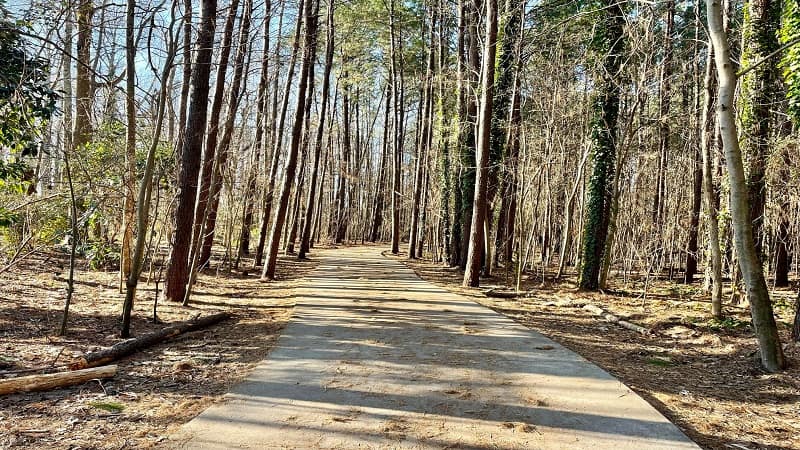 You're also steps from a small sandy beach, but again, wading is not allowed. I have to assume it's a liability issue. I'm certain visitors wade into this lake.
Once you reach Oak Grove Lake, you'll note that the trail goes in both directions to circumnavigate the lake. You can go either way on this loop.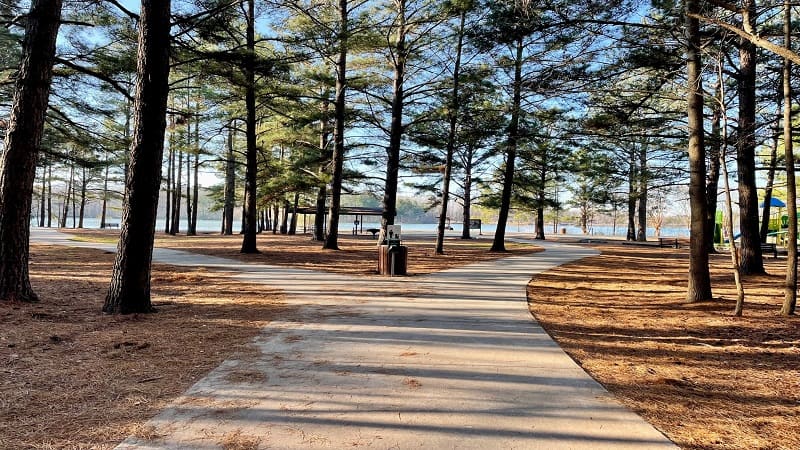 I opted to stay left for a clockwise hike around the lake. The trails skirts close to the lake and you will see mile markers every .25-miles on the path.
The path that leads in from the parking area is paved, but the loop around the lake is fine gravel. Make as many stops as you like for benches and overlooks.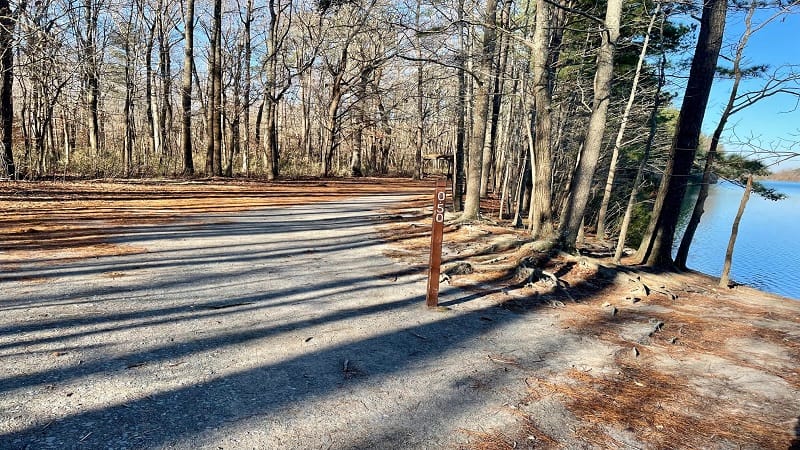 At the 1.0-mile mark, you will reach another small sandy beach area that is not a wading beach. Again, more signs prohibiting entrance into the water.
You'll reach a cool fish statue at the 1.1-mile mark. I could not have been in a worse spot in relation to the sun so I could not get a good photo. Boo.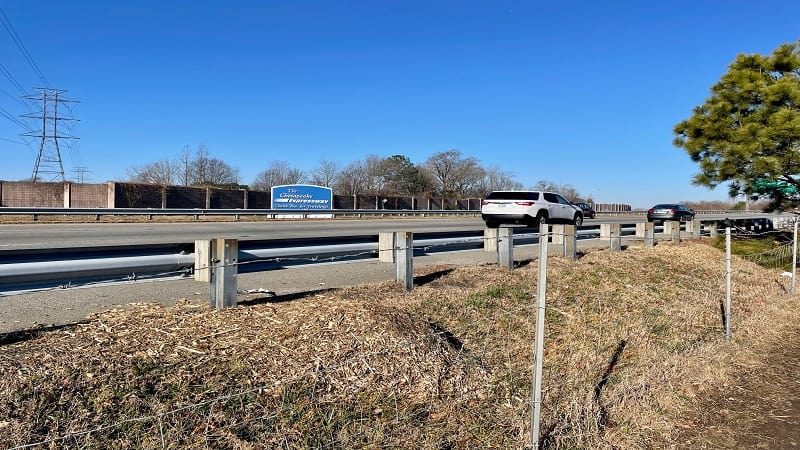 Keep walking and you'll be right alongside the Chesapeake Expressway. You can practically stick your hand out and touch the cars. It feels that close.
Thankfully, by the 1.4-mile mark, you will walk away from the expressway and back into a sea of calm and tranquility. Not literally, but you understand.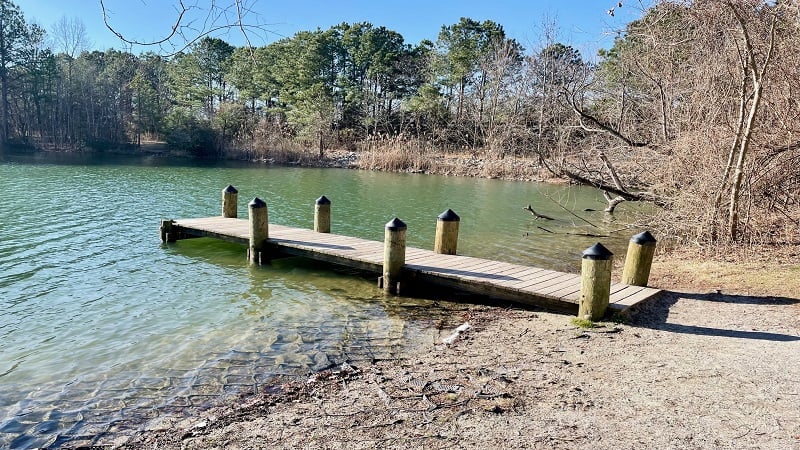 In a few more steps, you'll arrive at a fishing pier. Then another overlook or two before you close the loop at the 1.8-mile mark.
At this point, simply turn left to re-trace your steps to return to the parking area. However, if you came with kids, they will want to play on the playground.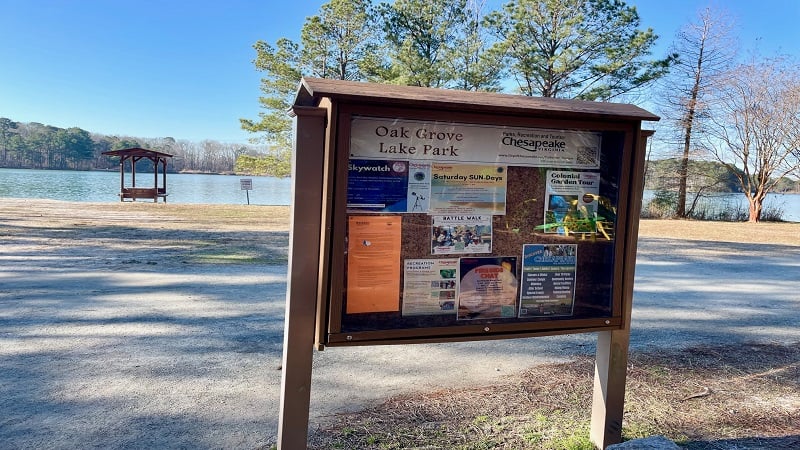 Also, before you leave, take time to see what's in the kiosk. There are loads of flyers for free events, like garden tours and dark sky activities.
You'll also find the scoop on recreation programs in Chesapeake, like summer camps and classes, even monthly fireside chats at nearby Northwest River Park.
Wrap-Up Notes
From the parking area, this stroller-friendly hike took me 45 minutes, including time spent enjoying the views across the lake from several overlooks.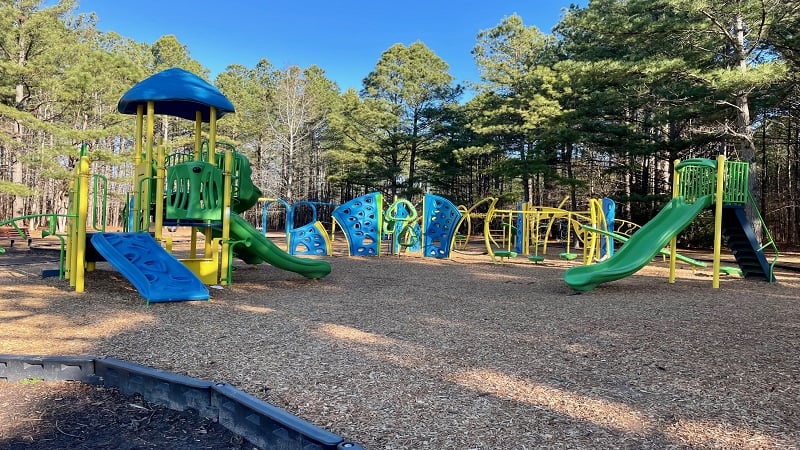 The wide walking path is open to walkers, bikers and joggers. For fitness-minded visitors, there are six outdoor fitness stations around the lake.
This loop is fairly popular I'd say given the 420+ star ratings this walk has on AllTrails. In fact, the average rating is 4.5 stars.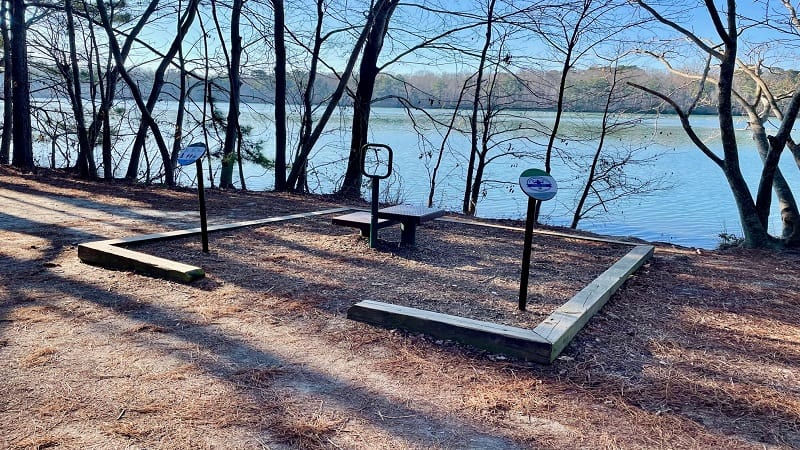 I was at the park on a fairly brisk 35 degree morning, but I imagine this park is absolutely hopping on fair-weather weekends.
For more area hikes, check out my post on hikes in Virginia Beach, including hikes at False Cape State Park and First Landing State Park.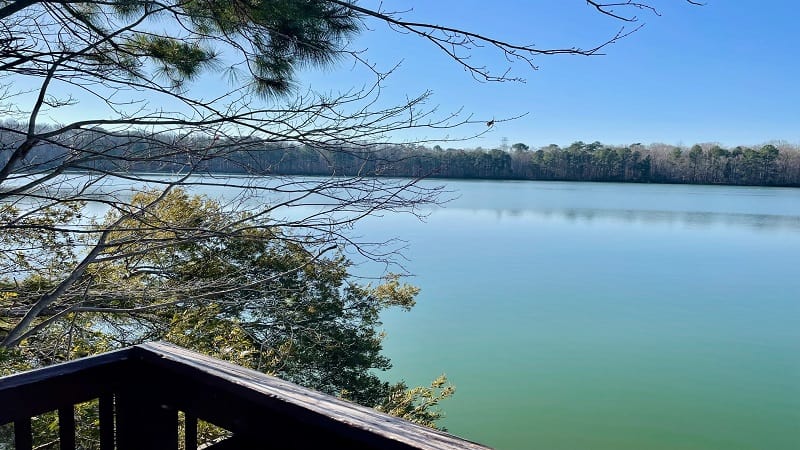 Oak Grove Lake Park is located at 409 Byron Street in Chesapeake. This public park is open every day from sunrise to sunset. All pets must be leashed.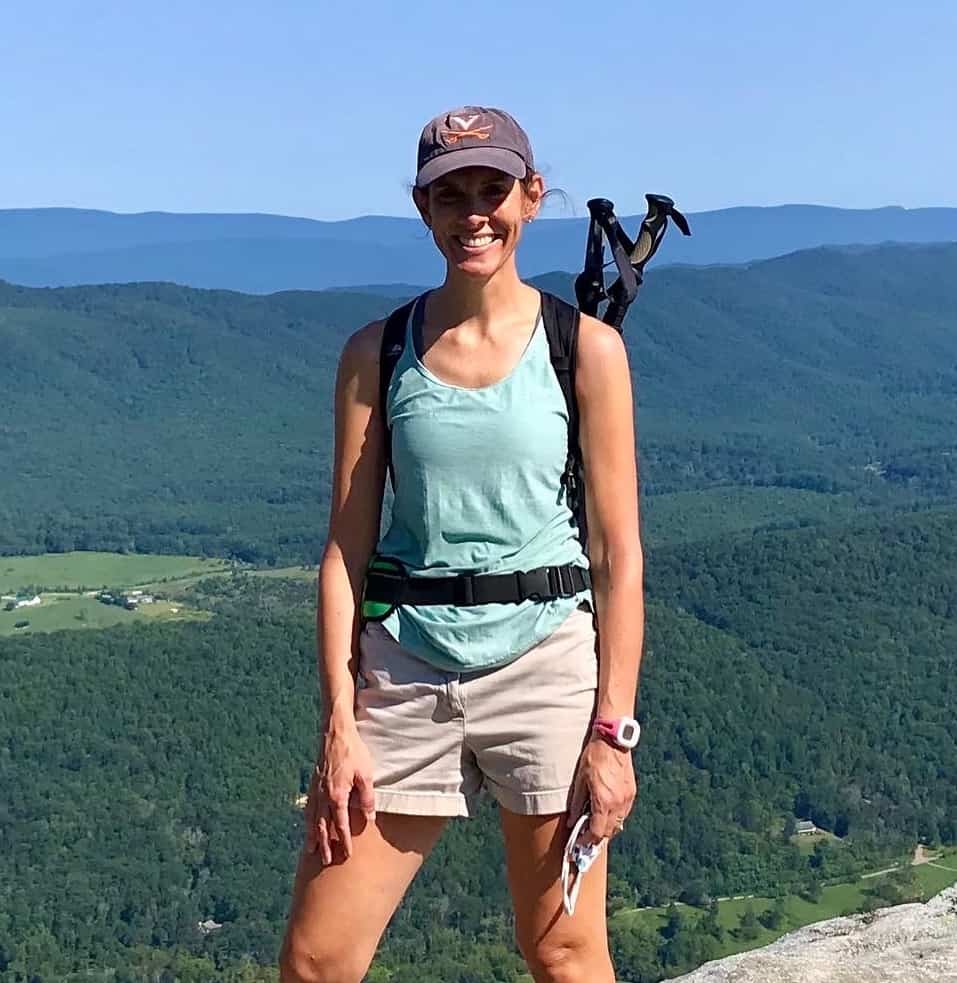 Erin Gifford is the editor of Go Hike Virginia. She has completed more than 300 hikes in Virginia. She is also the author of three hiking guidebooks from Falcon Guides. Need help finding a hike? Check out the Trail Finder feature or send Erin a message.