22 Beautiful Waterfall Hikes in Virginia
There are some amazing waterfall hikes in Virginia. A few of my faves include Apple Orchard Falls, Cascades Falls and Crabtree Falls.
You may notice that these Virginia waterfalls are not in Shenandoah National Park, which has over a dozen of its own waterfall hikes, like Rose River Falls.
Waterfall Hikes in Virginia
All of these waterfalls tumble, cascade, overflow, gush and spill. There are so many hiking trails in Virginia with waterfalls that allow you to revel in their beauty.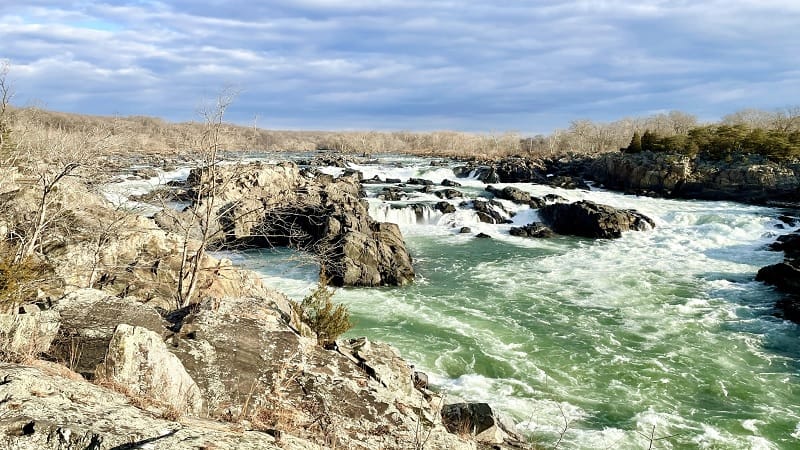 Some have swimming holes. Some can only be viewed from an overlook. Some up the drama with stone-covered beaches or multiple awe-inspiring cascades.
For waterfall lovers, I've pulled together 22 of the best waterfall hikes in Virginia, both inside and outside of Shenandoah National Park (SNP).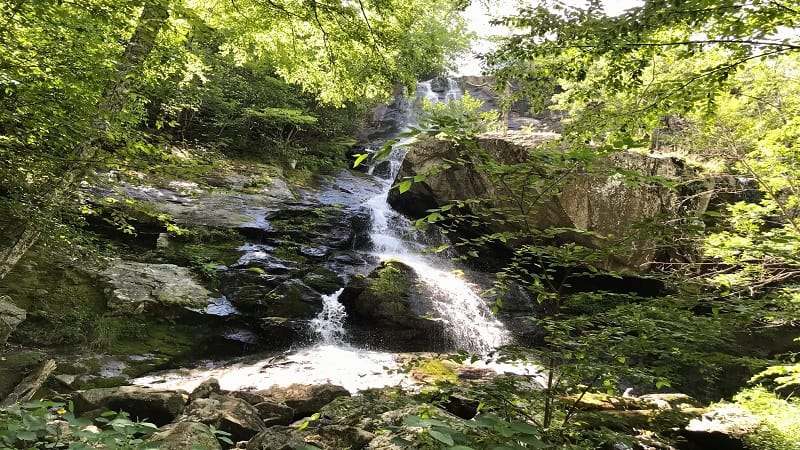 The 2.9-mile out-and-back hike to dramatic 200-foot-tall Apple Orchard Falls begins at the Sunset Field Overlook. But first, savor the views from the parking lot.
As you take your first steps, you'll quickly become enveloped by the rich, green canopy of the forest. Cross streams, even wooden bridges, on the way to the falls.
At the 1.1-mile mark, you'll spy an inviting waterfall. Break to re-hydrate, but press on, for this is not the waterfall you've worked so hard to reach. Soon.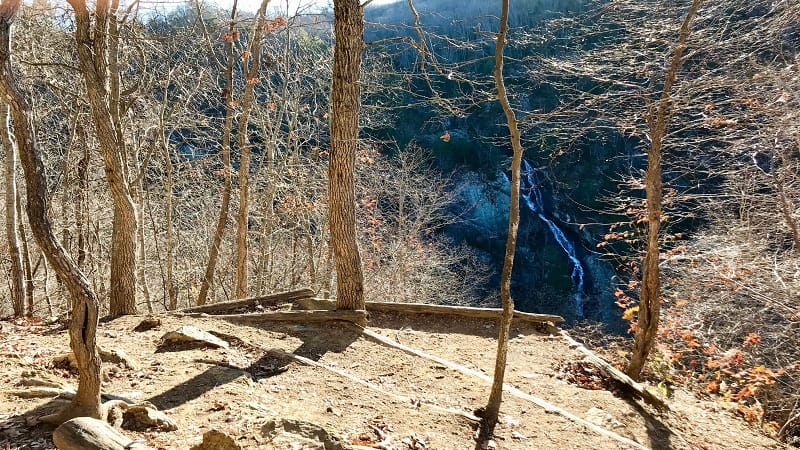 At Bottom Creek Gorge Preserve in Montgomery County, you can hike to one of Virginia's tallest waterfalls. As in, 200-foot-tall Bent Mountain Falls in Shawsville.
By cobbling together several trails you'll hike a 4.0-mile loop around the nature preserve, including to Bottom Creek for a stair-step series of waterfalls.
Continue on to the Malcolm and Jimmie Black Overlook. You can't get up close to the falls, but it's still a nice view of one of the tallest waterfalls in the state.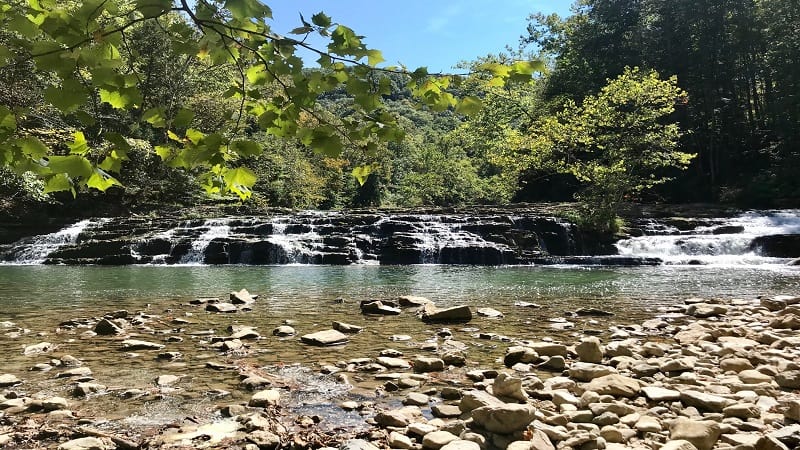 At Pinnacle Natural Area Preserve, a delightful hike leads to Big Cedar Creek Falls (aka Big Falls). Three different styles of falls are ready to impress.
Set your towel down on the stone-covered beach before you rush into the basin for a splash sure to be an adrenaline rush on this 3.1-mile out-and-back hike.
Stroll the Pinnacle View Trail to see the park's namesake, The Pinnacle. This massive dolomite and sandstone formation towers 600 feet over Big Cedar Creek.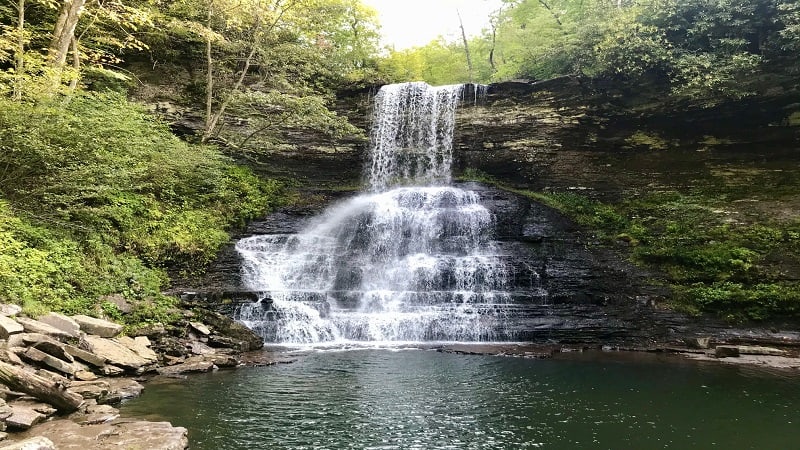 The 4.0-mile out-and-back hike to 66-foot-tall Cascades Falls in Pembroke is one to put on your list of must-do hikes. If time permits, press on to Barney's Wall.
There is a wooden viewing platform a few steps above the waterfall basin. There's also a second-level viewing area that gets you very close to Cascades Falls.
The Cascades National Recreational Trail is a short drive from Mountain Lake Lodge (the lodge from Dirty Dancing). Here, take in a sunset from Bald Knob.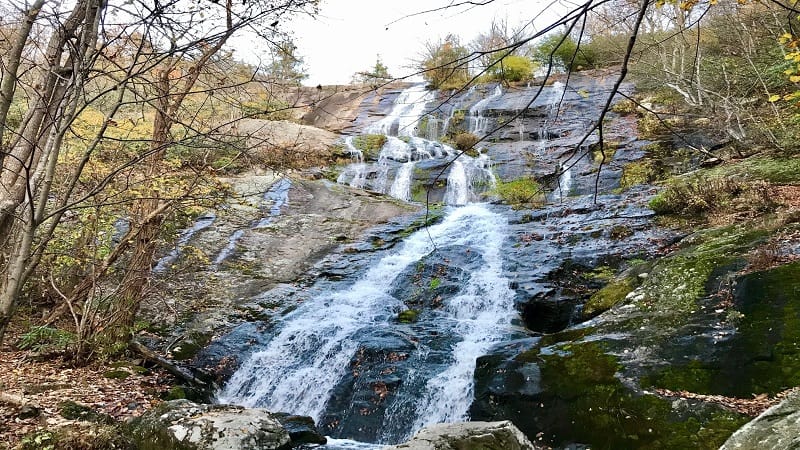 Crabtree Falls stuns with its dramatic cascades and rewarding views across the Blue Ridge Mountains and Tye River Valley from the top of the 1,214-foot-tall falls.
Crabtree Falls is the "highest vertical drop cascading waterfall east of the Mississippi River." It's taller than the Eiffel Tower (984 feet).
This show-stopping waterfall wows with five cascades that are within view nearly every step of this 1.7-mile hike (one-way) to the top along Crabtree Creek.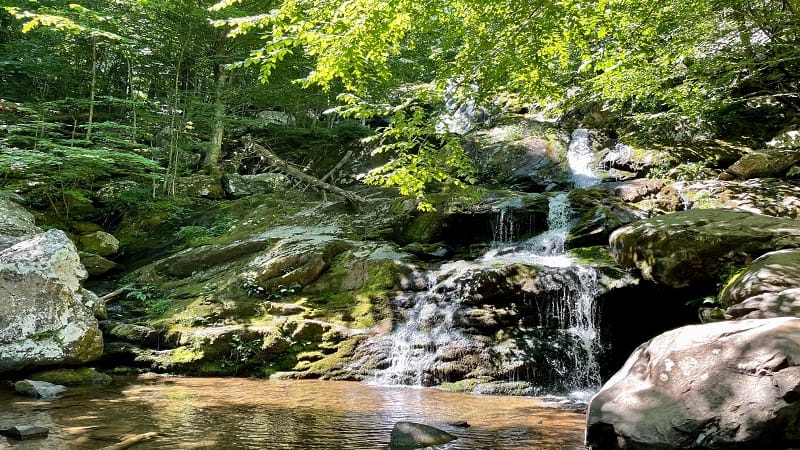 The 1.4-mile round-trip hike to 70-foot-tall Dark Hollow Falls is among the most popular Skyline Drive hikes. Do note, however, this trail is not pet-friendly.
The elevation gain on the Dark Hollow Falls Trail (on the return hike) is 400+ feet. It's worth the burn for dramatic views of the tumbling falls.
For a longer hike, you can complete a 4.7-mile loop hike. Or better, choose the 6.9-mile loop hike that includes Rose River Falls and Dark Hollow Falls.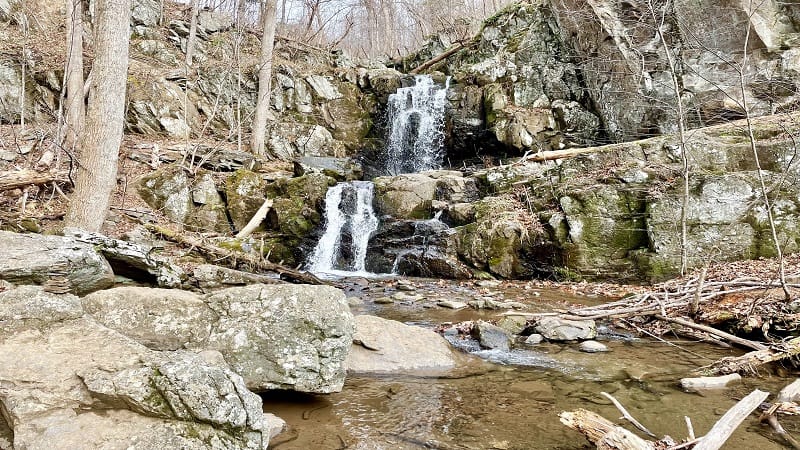 The 3.6-mile round-trip hike to Doyles River Falls includes Upper Falls and Lower Falls, as well as Doyles River Cabin, a PATC-managed cabin in the park.
Upper Falls is 28 feet tall while Lower Falls is 63 feet tall. For ample water flow, complete this hike between late-fall and early-spring.
Doyles River Cabin was built in 1936 by laborers and artisans with the Civilian Conservation Corps (CCC). From the porch, revel in views of Cedar Mountain.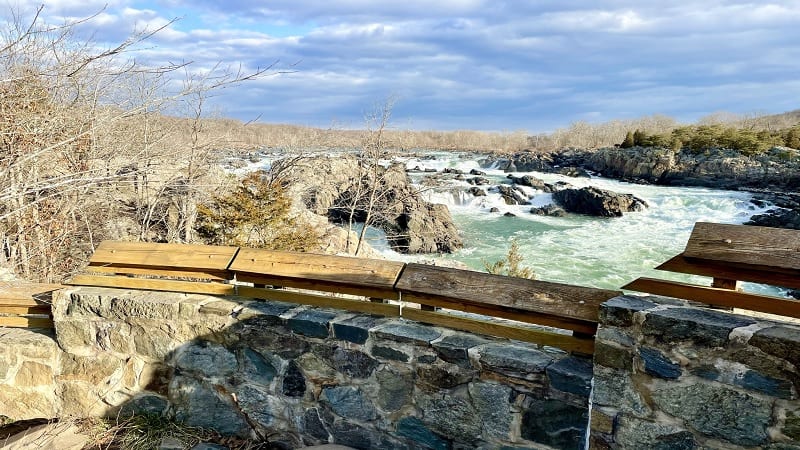 Great Falls is so great that there are three routes you can take to get there, and mind you, all three are fantastic. It may be hard to choose a favorite.
From Riverbend Park, it's a nearly 2.0-mile hike one-way to reach Great Falls Overlook (actually, three overlooks) alongside the Potomac River.
Alternatively, start at Difficult Run for a 5.1-mile loop hike that guides you to and past the overlooks. Or, start in Great Falls Park with a short hike on the River Trail.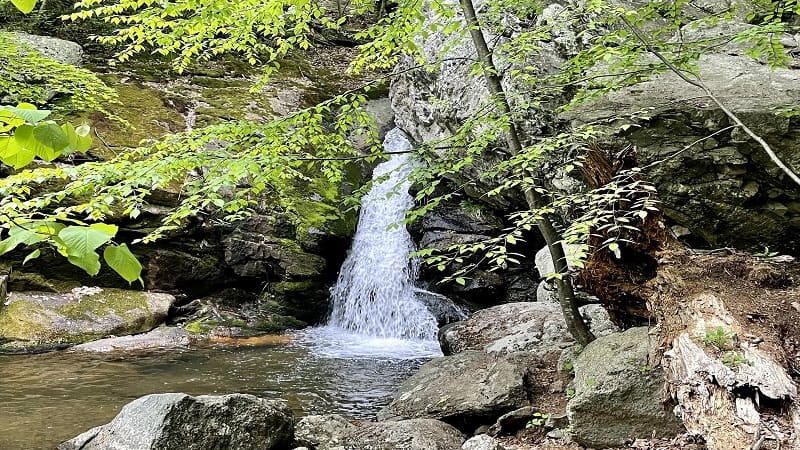 The 5.2-mile out-and-back hike to Hazel Falls (aka Cave Falls) starts at the Meadow Spring parking area at milepost 33.5 on Skyline Drive.
You'll take your first steps on the yellow-blazed Hazel Mountain Trail. It's a rugged descent along a wooded trail. Listen for the burbling of the Hazel River.
Hazel Falls wows with a small waterfall, as well as a watering hole. There are caves and cascades, too. This well-shaded area is perfect for lunch or a snack.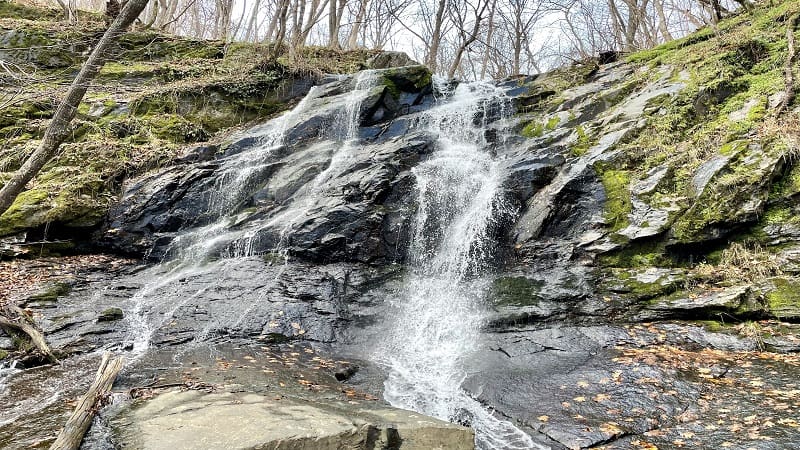 There are two ways to see 42-foot-tall Jones Run Falls. You can either tackle a 4.5-mile out-and-back hike or a 7.0-mile loop hike.
The loop hike includes Doyles River Falls, which is less than two miles from Jones Run Falls. If you've got it in you, I recommend the loop to see both falls.
Jones Run Falls is beautiful and there are plenty of rocks to take a seat for a lunch break in front of the falls. Savor the gentle cascades along Jones Run, too.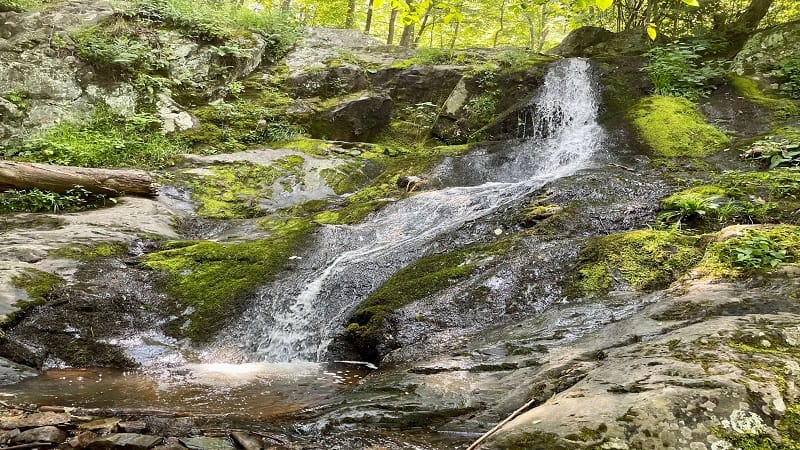 It's a straightforward 1.3-mile out-and-back hike to Lands Run Falls by way of the Lands Run Fire Road. However, there is no safe and easy way to see the falls.
You could miss Lands Run Falls if you walk too quickly on the fire road. Once you reach trickling Lands Run, cross a bridge and you have arrived.
Lands Run Falls is on your right, but you must carefully walk down a fairly steep hill to see the falls. This is the closest waterfall to the park's north entrance.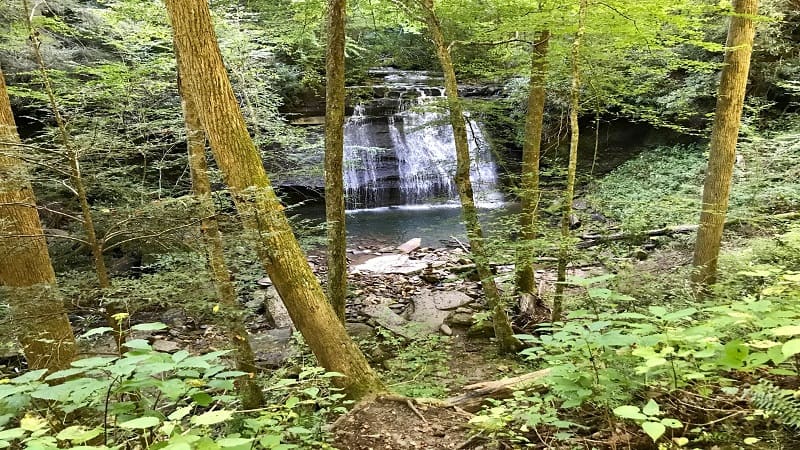 A peaceful 4.8-mile out-and-back hike rewards with Little Stony Creek next to the trail as you make your way to the swimming hole at Little Stony Falls.
The trail follows Little Stony Creek through a 400-foot-deep and 1700-foot-wide gorge along an old railroad bed in Scott County, Virginia.
Allegedly, the falls you reach at the turn-around point of this hike is Middle Falls. You cannot continue hiking on to Upper Falls. However, this basin is beautiful.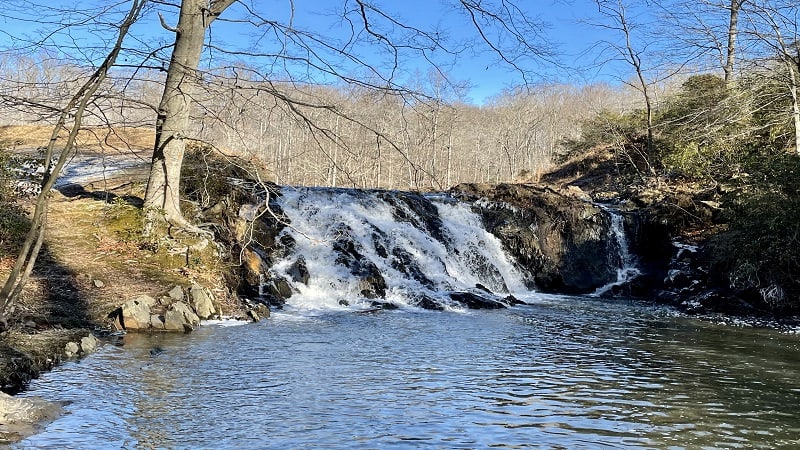 A hike on the yellow-blazed Quantico Cascades Trail at Prince William Forest Park leads to a lovely tumbling waterfall, but it's no cakewalk to reach the falls.
Let's just say that a bit of bushwhacking may be required. Or at the very least, you'll need to follow a rough path bushwhacked by someone else.
This 2.0-mile out-and-back hike leads to cascading Quantico Creek, then proceeds on to Quantico Falls, which stems from Camp Four Lake.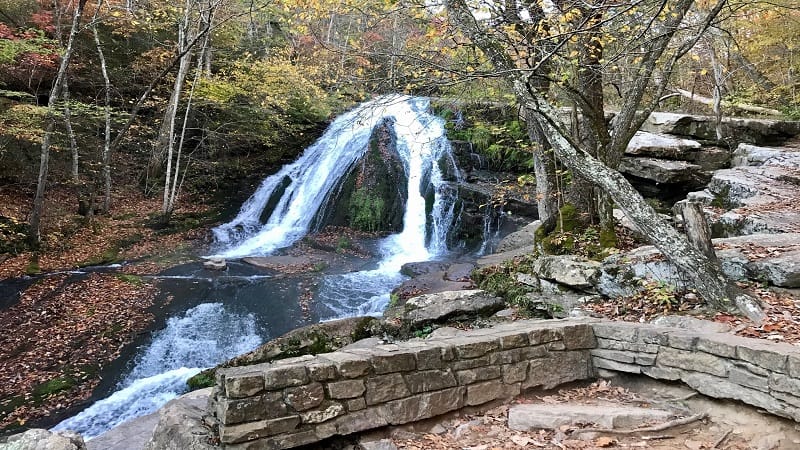 This 1.7-mile waterfall hike at Roaring Run Furnace Day Use Area in Jefferson National Forest is a rewarding hike that can be completed by all levels of hikers.
The trail guides visitors along cascading Roaring Run to the falls by the way of the Streamside Trail. On the return, take the Woodland Trail for a scenic loop hike.
You'll cross bridges, ascend steps, stroll across wooden boardwalk, even enjoy a history lesson at the historic iron furnace that dates back to the 1800's.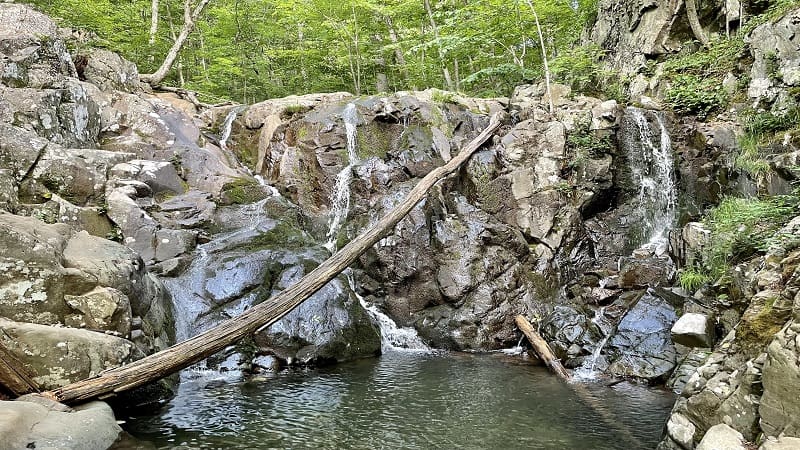 Not every waterfall hike has a refreshing swimming hole, but that's what makes the 3.9-mile loop hike to 67-foot-tall Rose River Falls one to love.
This wooded loop starts on Skyline Drive. A counter-clockwise hike leads to the historic Cave Cemetery at the .5-mile mark.
You'll soon approach a tumbling waterfall and a spur trail to Dark Hollow Falls. Walk parallel to Hogcamp Branch to continue on to Rose River Falls.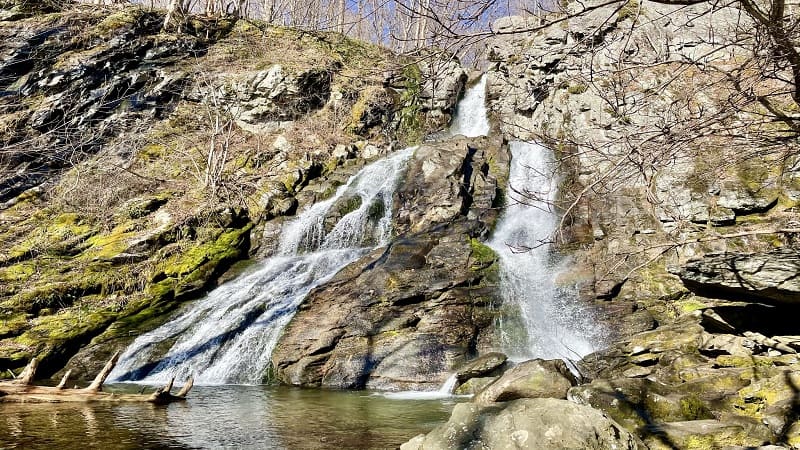 At 83 feet tall, South River Falls is the third tallest waterfall at Shenandoah National Park. It's a beauty and worth an overall elevation gain of 1,299 feet.
This hike starts at the South River Picnic Grounds on Skyline Drive. It can be done as a 5.1-mile loop hike on the South River Falls Trail and South River Fire Road.
You'll catch your first glimpse of the falls from the stone observation point at the 1.4-mile mark. Press on for more generous views from the base of the falls.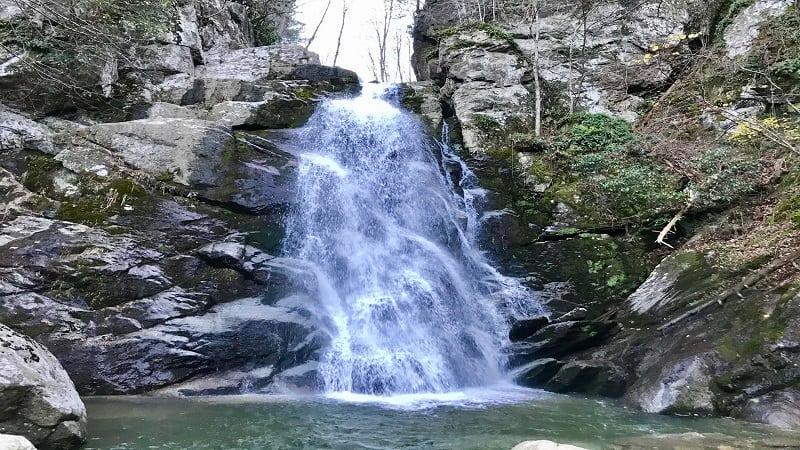 You'll find the wooded trail to tumbling 40-foot-tall Stiles Falls on the grounds of Alta Mons, an outdoor ministry and faith-based summer camp in Shawsville.
The trail is on private property, but the 3.3-mile out-and-back hike to Stiles Falls is open to anyone and everyone, according to the Camp Alta Mons website.
You'll cross over rolling Purgatory Creek three times before reaching a small rock scramble. Then, it's all about peaceful and refreshing Stiles Falls.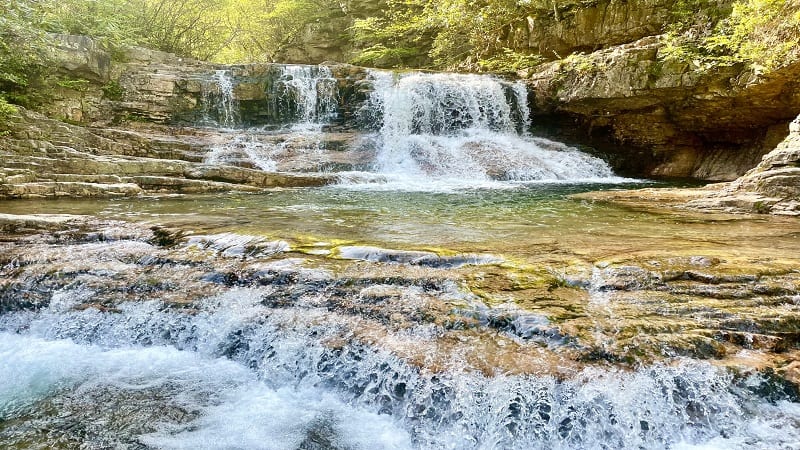 Located within St. Mary's Wilderness near Vesuvius, the 4.7-mile out-and-back hike to tumbling St. Mary's Falls makes many bucket lists in Virginia.
But first, make sure that you have durable water shoes since you will cross the flowing St. Mary's River five times on your trek to the falls.
Once you reach St. Mary's Falls by way of the St. Mary's Falls Trail you'll find tiers of cascading falls and a wonderfully refreshing swimming hole.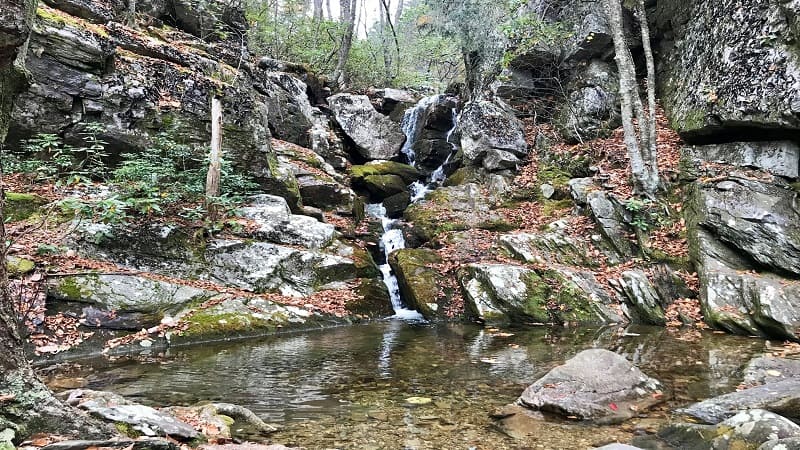 There's a lot to love about this 4.4-mile loop hike to and beyond White Rock Falls, including creek crossings, rock scrambles, a waterfall and scenic overlooks.
Get up close to the 30-foot-tall cascading falls, then take your shoes off to revel in the refreshing waterfall basin. Ahh, delightful.
Less than .5-mile past the falls, settle in at a rocky overlook with panoramic views. At the 2.7-mile mark, the Slacks Overlook awaits with vistas and a picnic table.
For an easy leg-stretcher hike along the Blue Ridge Parkway, make a stop just past milepost 34 near Vesuvius to ogle 30-foot-tall Wigwam Falls.
It's an easy .2-mile loop hike from Yankee Horse Ridge. As a bonus, you'll walk along an Old Logging Railroad that's part of this delightful forested trail.
It will only take you 10-15 minutes to complete this hike, even if you dawdle, but sometimes that's all you need after spending a lot of time in the car.
For more easy waterfall hikes, consider Lace Falls at Natural Bridge State Park or Statons Creek Falls, which is a short drive from Wigwam Falls in Vesuvius.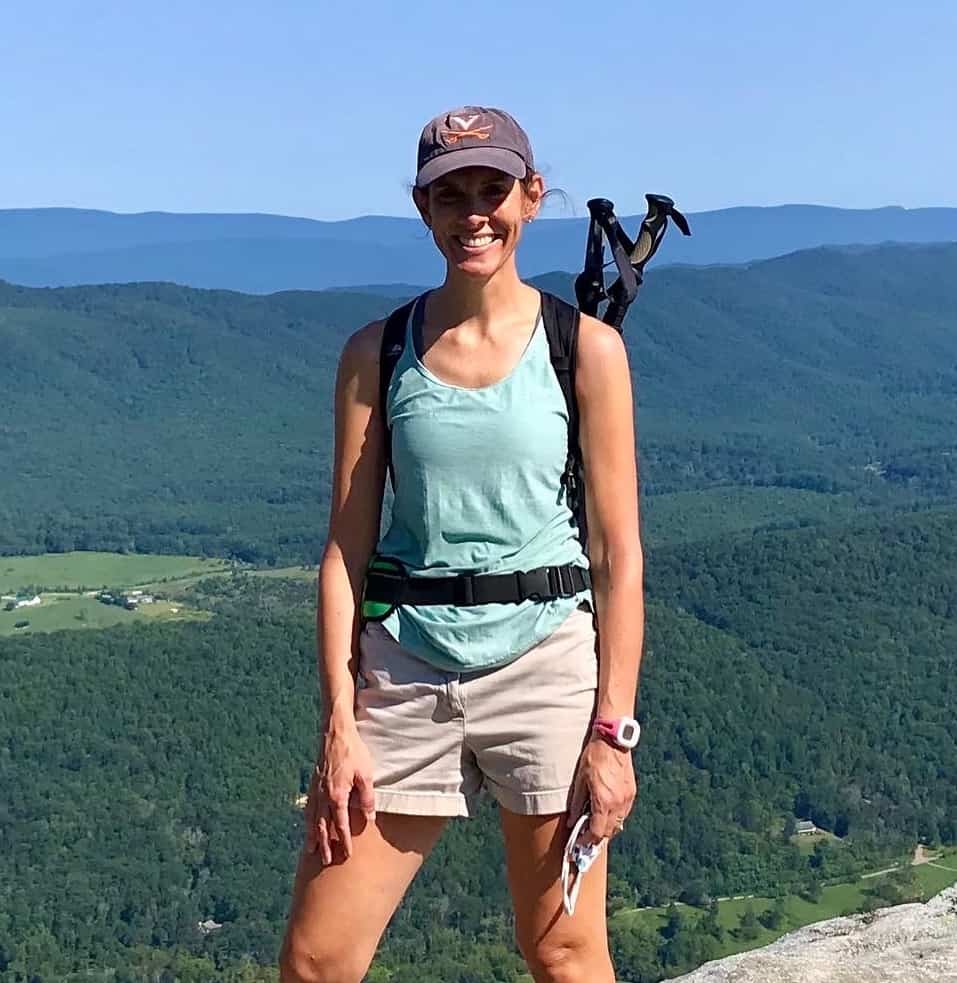 Erin Gifford is the editor of Go Hike Virginia. She has completed more than 300 hikes in Virginia. She is also the author of three hiking guidebooks from Falcon Guides. Need help finding a hike? Check out the Trail Finder feature or send Erin a message.