18 Virginia Swimming Hole Hikes
In the 'dog days' of summer, it's not hard to be convinced to set off on a hike to a refreshingly cool Virginia swimming hole. There are lots of great picks, too.
Some swimming holes are fairly well-known, like the Blue Hole at Sugar Hollow Reservoir and Devil's Bathtub, the ice-cold basin in Southwest Virginia.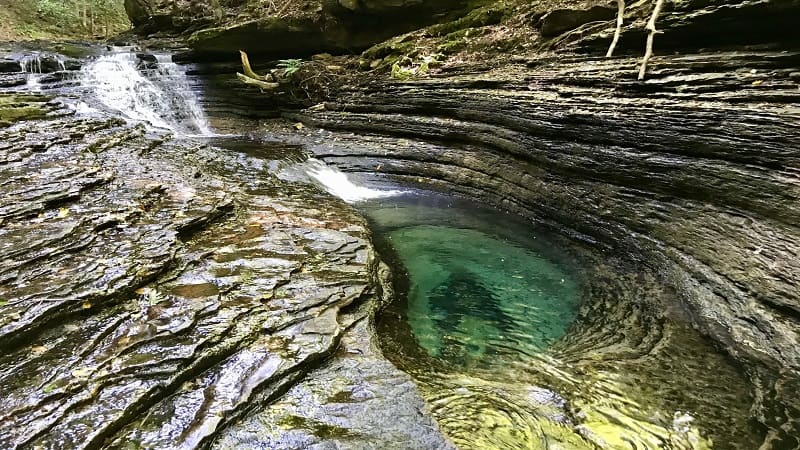 As an Amazon Associate I earn from qualifying purchases. If you click and purchase, I receive a commission at no cost to you.
However, some are unexpected, like the swimming hole at Terrapin Mountain. The big views are the star of this hike, but the watering hole is a very nice bonus.
Virginia Swimming Holes
I've organized these swimming hole hikes in Virginia by difficulty level so you will have a good idea what to expect before stepping foot on the trails.
For the hikes below, I've listed them alphabetically within each difficulty level section. Get ready to get hiking, friends.
Easy Hikes
It's a cinch to fall for easy-going hikes that lead to swimming holes, even waterfalls. All of these hikes to Virginia swimming holes fit the bill.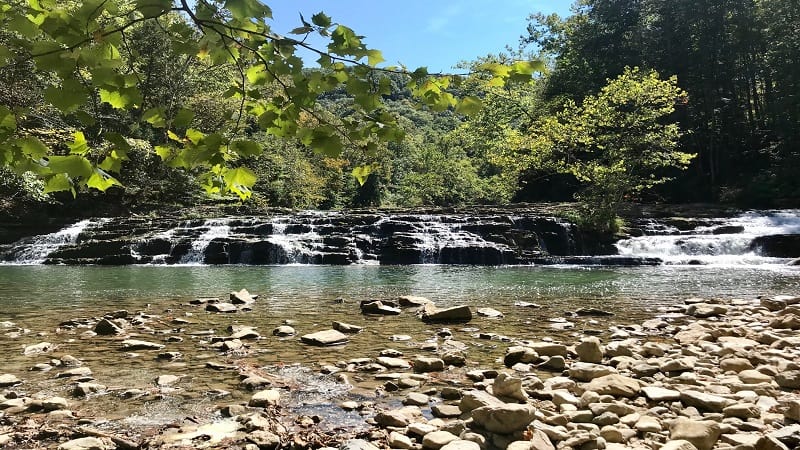 At Pinnacle Natural Area Preserve, an easy hike leads to Big Cedar Creek Falls (aka Big Falls). Three different styles of falls are ready to impress.
Set your towel down on the stone-covered beach, then enter the refreshing basin. It's sure to be an adrenaline rush on this 3.1-mile out-and-back hike.
Stroll the Pinnacle View Trail to see the park's namesake, The Pinnacle. This dolomite and sandstone formation towers 600 feet over Big Cedar Creek.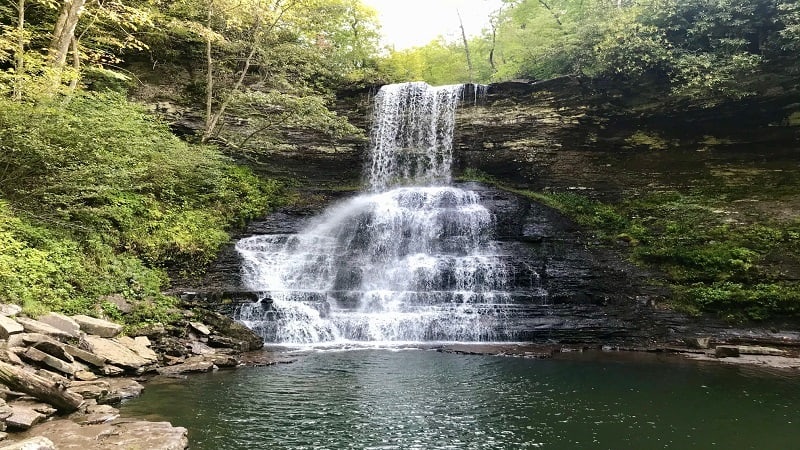 The 4.0-mile round-trip hike to 66-foot-tall Cascades Falls is one to put on your list of must-do hikes. If time permits, continue on to Barney's Wall.
There is a wooden viewing platform a few steps above the waterfall basin. A second-level viewing area gets you very close to Cascades Falls.
The Cascades National Recreational Trail is a short drive from Mountain Lake Lodge (the lodge from Dirty Dancing). Here, take in a sunset from Bald Knob.
#3:

Dismal Falls

(Pearisburg)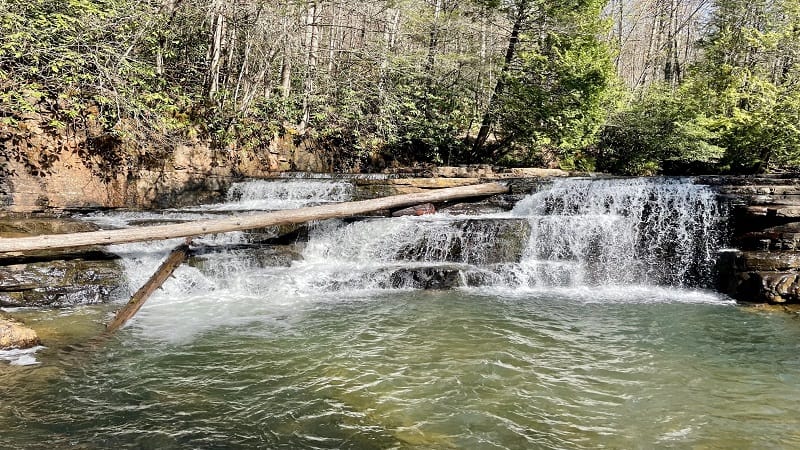 It's hardly a hike – less than .2 miles – but if you're already planning to tackle Sugar Run Mountain, then Dismal Falls is practically mandatory.
A short walk leads to stair-step falls and a gorgeous swimming hole that's absolute perfection on a warm day as a post-hike celebration.
The rocks can get slippery as you close in the falls, so take your time and get ready to make a big splash. On weekdays, you may have the falls all to yourself.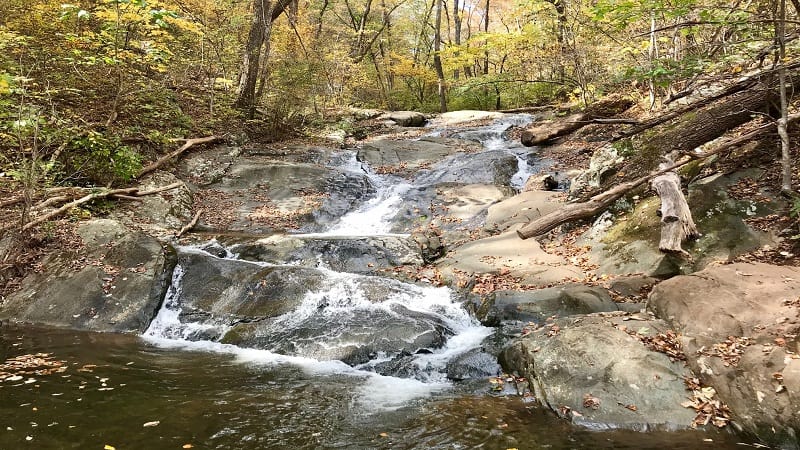 The Paul's Creek Trail at Wintergreen Resort is so peaceful you may feel like you're the only one who knows about this 1.2-mile hike.
It's a calming walk through the trees before you need to skip on rocks over a burbling creek. Then, a cascading waterfall and a refreshing swimming hole.
The trailhead for this hike is at the end of Paul's Creek Court. Be sure to savor the natural water slides as they stream into the cold basin of creek water.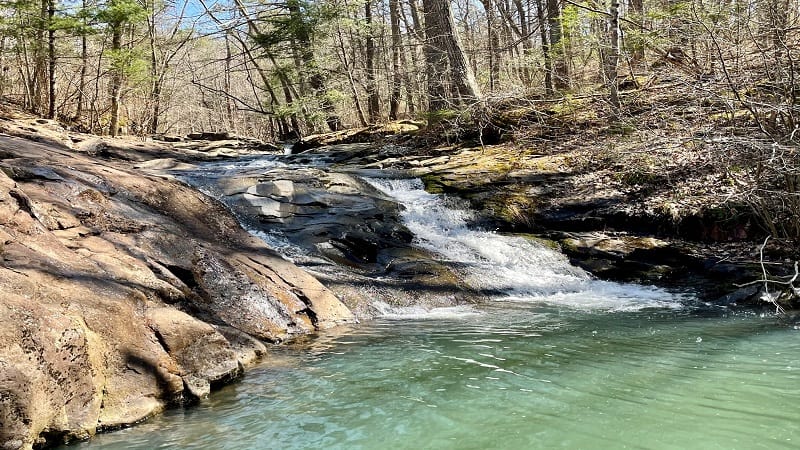 The Thompson Hollow Trail leads into Shenandoah National Park from the end of Thompson Hollow Road. A gravel road guides visitors to the hiking trail.
At the 1.0-mile mark, this trail ends as it dead-ends into the Beecher-Overall Run Trail. Turn right at this junction. Then, within .1 miles, a watery oasis.
Turn left and you will reach large rocks to sit down on, as well as refreshing cascades and small waterfalls. As a bonus, a dreamy swimming hole.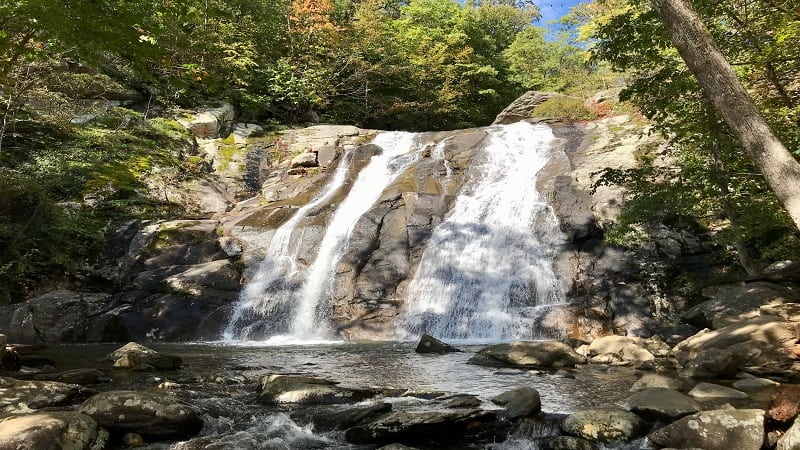 The 2.9-mile out-and-back hike on the Whiteoak Canyon Trail to Lower Whiteoak Falls and the swimming hole is so refreshing. So popular, too.
Skip across creeks and stroll footbridges as you walk alongside the rolling Robinson River. Take in the babbles and burbles of the flowing cascades.
For a longer hike, try the 8.8-mile loop hike that ascends to Upper Whiteoak Falls before descending on more rocky terrain along the Cedar Run Trail.
Moderate Hikes
When you want to hike to a swimming hole, but you crave more elevation and mileage, these hikes fit the bill. Get ready for vistas and waterfalls, too.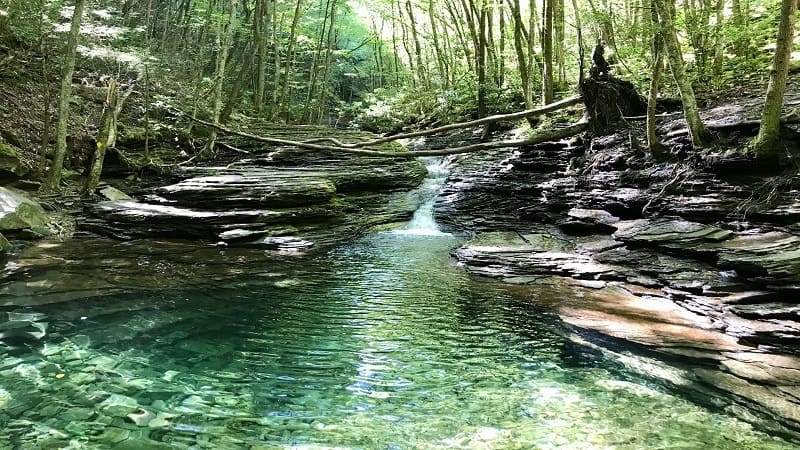 There's nothing like a hike to a swimming hole. Devil's Bathtub is among the best natural swimming holes too thanks to really, really cold water.
Even on the warmest of summer days, the water temperature rarely gets higher than 65 degrees. A couple of rope swings kick the fun up a notch, too.
Just beyond the swimming hole is the actual Devil's Bathtub. At the very least, it's a basin shaped like a tub. There is also a crystal-clear waterfall.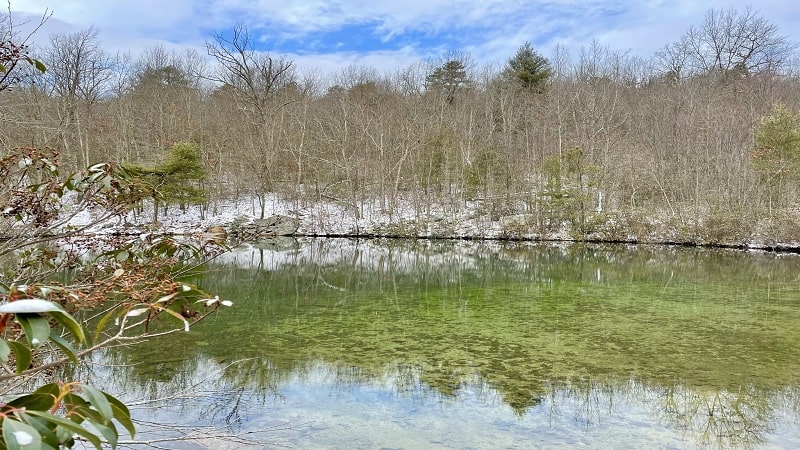 The 8.4-mile out-and-back hike to spring-fed Emerald Pond by way of the Massanutten Trail and Bird Knob Trail is fantastic. Oh, the magnificent views.
When you arrive at Emerald Pond, prepare to be awed. If not by the pond, then by the primitive camp sites with fire rings set up around the pond.
The area was snow-covered when I completed this hike, but I noticed at least three camp sites with stone fire pits. This is an awesome swimming hole, too.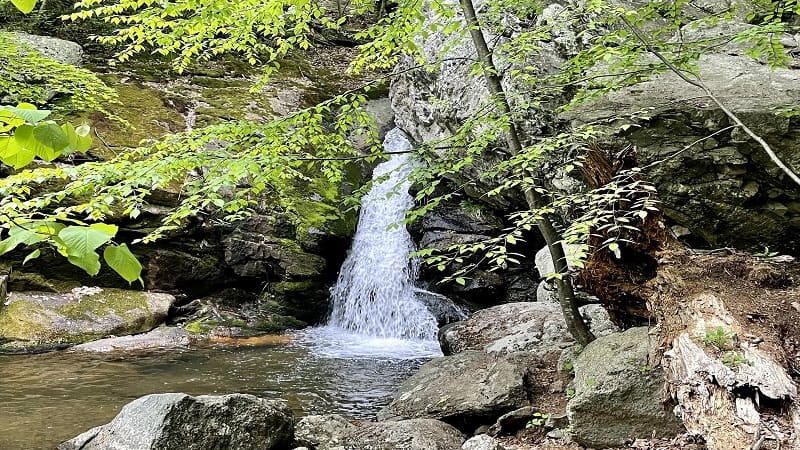 The 5.2-mile out-and-back hike to Hazel Falls (aka Cave Falls) starts at the Meadow Spring parking area at milepost 33.5 on Skyline Drive.
You'll take your first steps on the yellow-blazed Hazel Mountain Trail. It's a rugged descent along a wooded trail. Listen for the burbling of Hazel River.
Hazel Falls wows with a small waterfall, as well as a watering hole. There are caves and cascades, too. This well-shaded area is perfect for lunch or a snack.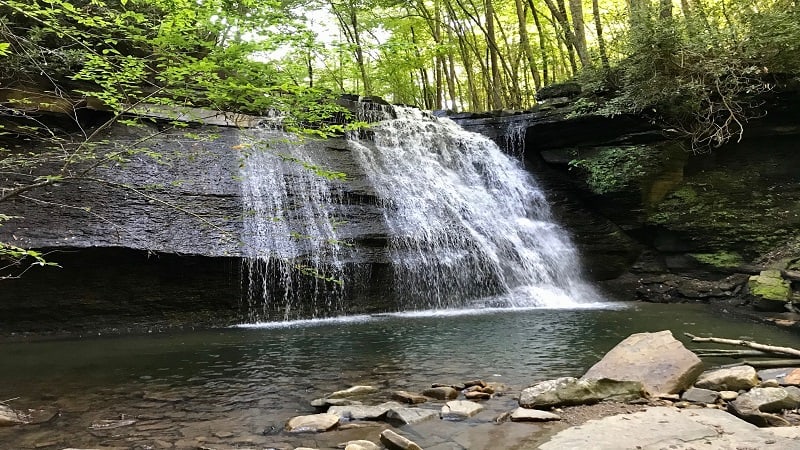 A quiet 4.8-mile out-and-back hike rewards with Little Stony Creek next to the trail as you make your way to the swimming hole at Little Stony Falls.
The trail follows Little Stony Creek through a 400-foot-deep and 1700-foot-wide gorge along an old railroad bed in Scott County, Virginia.
Allegedly, the falls at the turn-around point of this hike is Middle Falls. You cannot continue hiking on to Upper Falls. However, this basin is beautiful.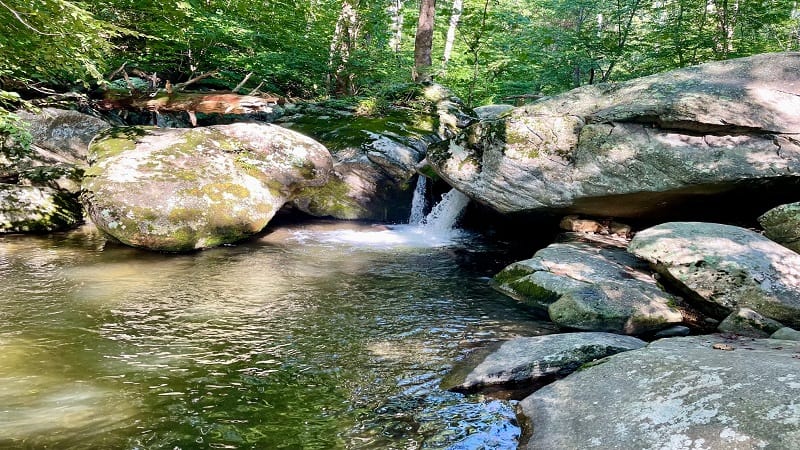 Many hikers set off on the blue-blazed Nicholson Hollow Trail with the goal of reaching Corbin Cabin. However, there's more to this 8.4-mile round-trip hike.
For much of this hike, you'll walk alongside the flowing Hughes River. There are water crossings, cascades and swimming holes all along this trail.
Keep your eyes open for primitive camp sites alongside the hiking trail. This is a quiet hike. You may even have the swimming holes to yourself.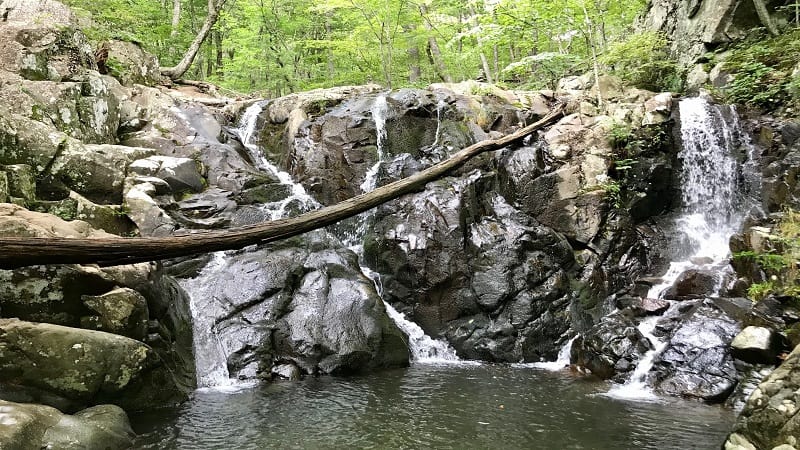 Not every waterfall hike has a refreshing swimming hole, but that's what makes the 3.9-mile loop hike to 67-foot-tall Rose River Falls one to love.
This wooded loop starts on Skyline Drive. A counter-clockwise hike leads to the historic Cave Cemetery at the .5-mile mark.
You'll soon approach a tumbling waterfall and a spur trail to Dark Hollow Falls. Walk parallel to Hogcamp Branch to continue on to Rose River Falls.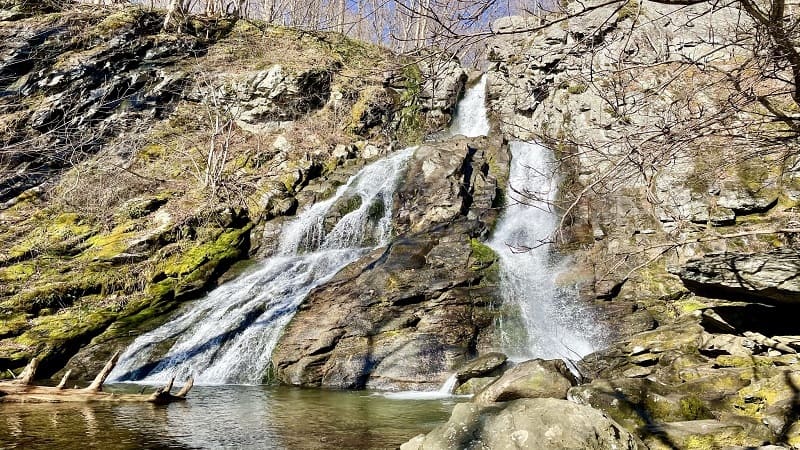 At 83 feet tall, South River Falls is the third tallest waterfall at Shenandoah National Park. It's a beauty and worth an overall elevation gain of 1,299 feet.
This hike starts at the South River Picnic Grounds on Skyline Drive. This hike is best as a 5.1-mile loop hike on the South River Falls Trail and South River Fire Road.
You'll catch a glimpse of the falls from the stone observation point. Press on for more generous views and a swimming hole at the base of the falls.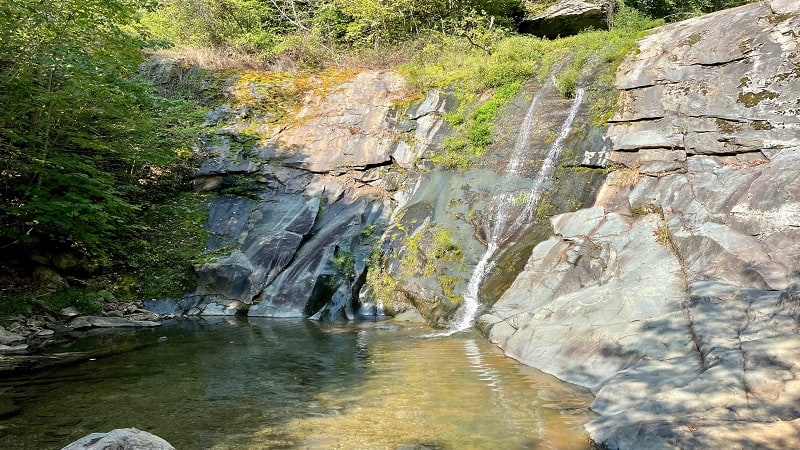 This 4.7-mile northbound out-and-back hike begins from the parking lot for Sugar Hollow Reservoir. The hike starts at a red gate on the lot's west side.
This forested hike to Big Branch Falls follows the North Fork Moormans River and wows with several easy river crossings along the way to the falls.
At the 2.2-mile mark, a blue-blazed spur trail leads to Big Branch Falls. There is a gently-flowing waterfall as well as a small yet refreshing swimming hole.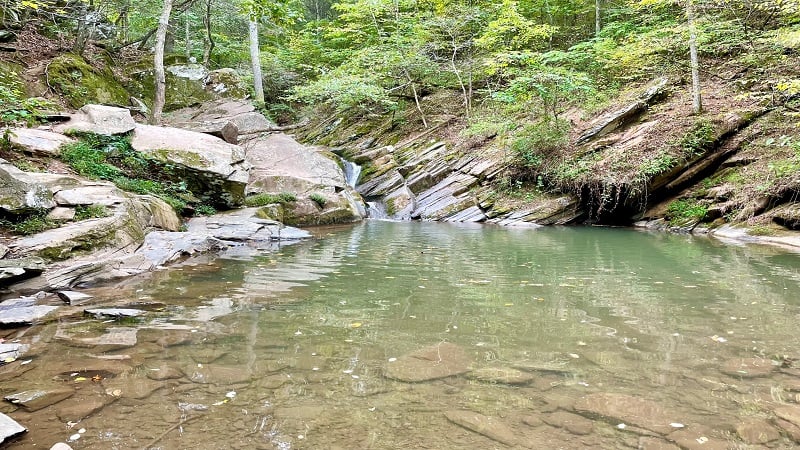 This 3.1-mile southbound out-and-back hike begins from the parking area for Sugar Hollow Reservoir, guiding hikers into Shenandoah National Park.
You'll slowly ascend alongside the South Fork Moormans River until you reach the Blue Hole, a magical swimming hole that's especially popular in summer.
A small cascading waterfall fills the basin for a cooling splash. An easy rock scramble leads to the water's edge. There are lots of rocks to sit on, too.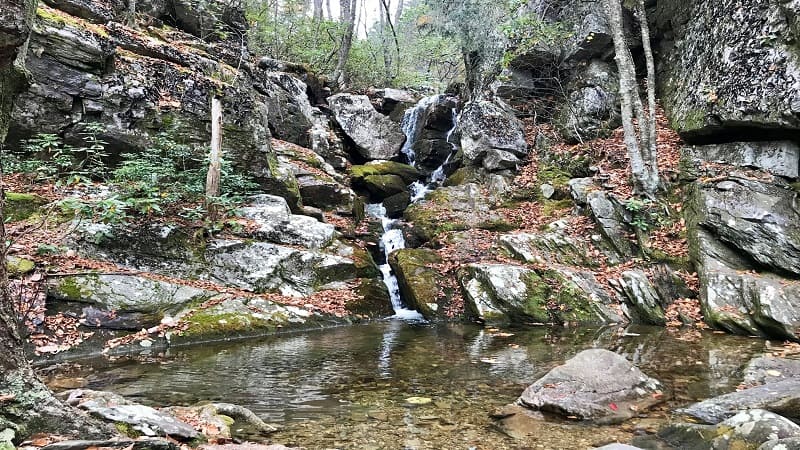 There's much to love about this 4.4-mile loop hike to and beyond White Rock Falls, including creek crossings, rock scrambles and scenic overlooks.
Get close to the 30-foot-tall cascading falls near the Blue Ridge Parkway, then slip off your shoes to revel in the refreshing waterfall basin. Ahh, delightful.
Settle in at an overlook with panoramic views that are a short walk past the falls. At the 2.7-mile mark, the Slacks Overlook awaits with vistas and a picnic table.
Strenuous Hikes
For a challenge, as well as big views and splash-worthy swimming holes, add these strenuous hikes to your hiking bucket list. Bring water shoes.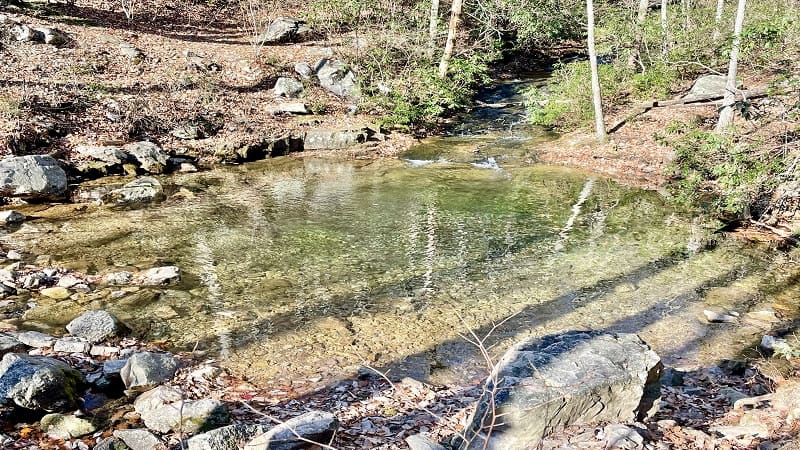 The scenic and strenuous 9.8-mile Riprap Loop at Shenandoah National Park includes the Appalachian Trail, Riprap Trail and Wildcat Ridge Trail.
Tackle this hike clockwise to save the rewarding overlooks, water crossings and cascading falls, even a swimming hole, for the latter half of this hike.
You'll reach Chimney Rock at the 8.1-mile mark. Sit on a flat top rock to revel in mountain views. From here, it's less than two miles to the end of the hike.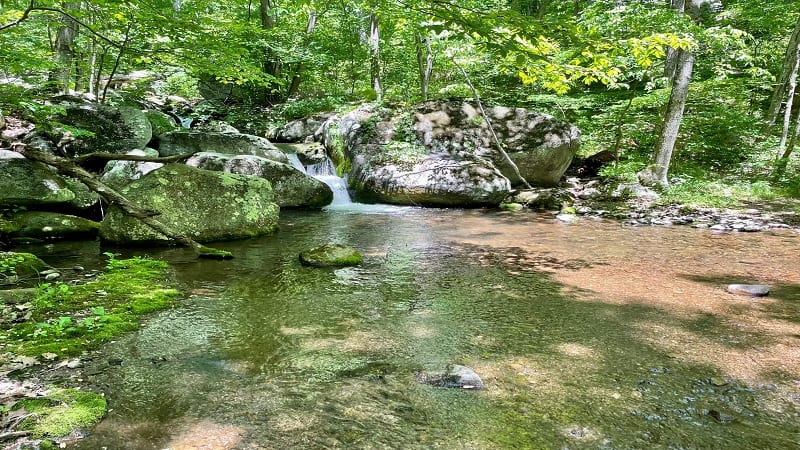 Terrapin Mountain is a challenging 10.3-mile hike that's best known for big views, but this hike also wows with refreshingly cool water features.
Just over half-way into this hike, you'll reach gently-flowing Reed Creek. Soak your feet or enjoy a quick splash, but know that more rewards are to come.
At the 5.8-mile mark, enjoy a small waterfall and a refreshing watering hole. Before the hike ends, a shower-like waterfall cools on a hot, steamy day.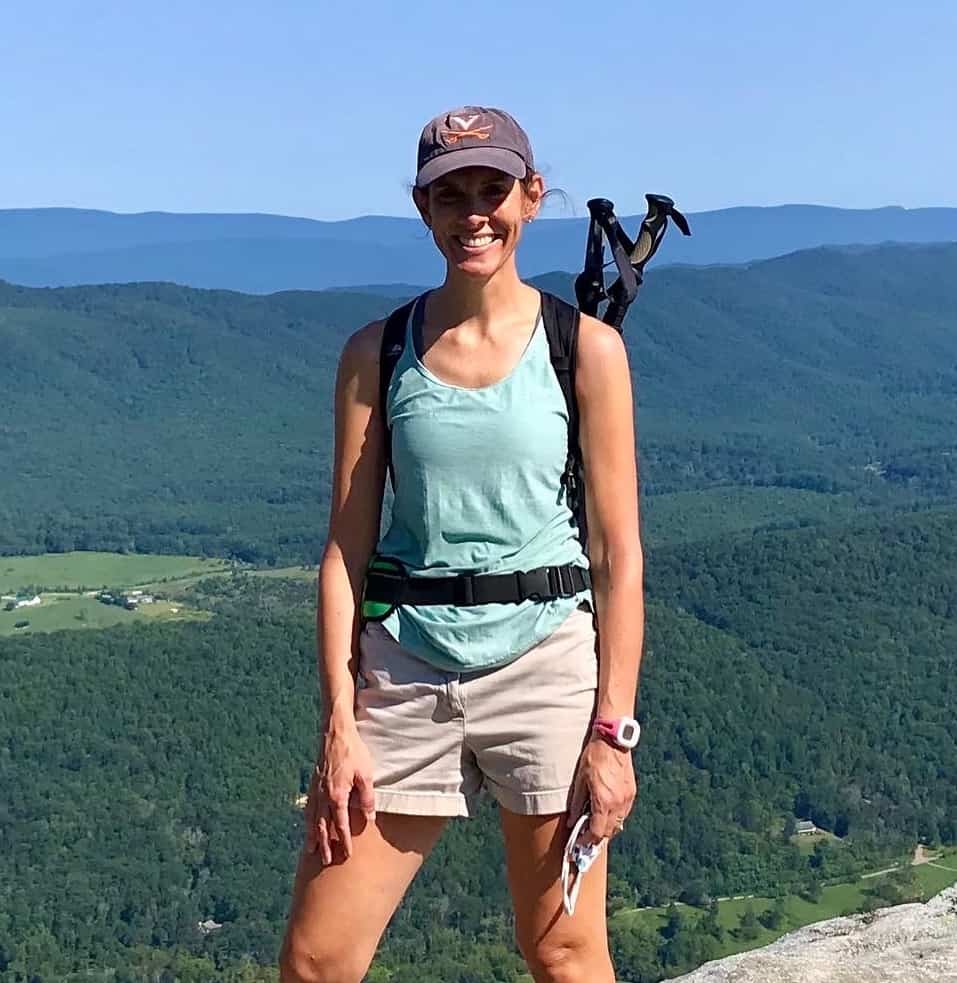 Erin Gifford is the editor of Go Hike Virginia. She has completed more than 300 hikes in Virginia. She is also the author of three hiking guidebooks from Falcon Guides. Need help finding a hike? Check out the Trail Finder feature or send Erin a message.