White Rock Falls: A Spectacular Waterfall Hike Near Waynesboro, Virginia
The 4.4-mile loop hike to 30-foot-tall White Rock Falls near Waynesboro, Virginia wows with cascading falls, a watering hole and wide-open scenic views.
But first, let's get started on the right foot. Or, at least on the right trail since two trails originate from the parking area at milepost 18.5 on the Blue Ridge Parkway.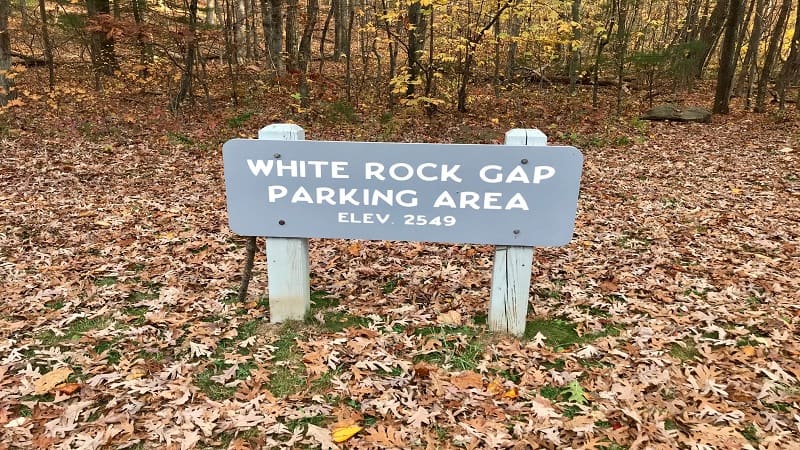 The White Rock Gap Trail begins in the southeast corner of the parking lot. For this hike, start across the parkway on the White Rock Falls Trail.
It's also worth noting that you can do this waterfall hike as an out-and-back (3.4 miles) or a loop (4.4 miles). There is no significant elevation increase with the loop.
| Trail Stats | |
| --- | --- |
| Length | 4.4 miles |
| Difficulty | Moderate |
| Trail Type | Loop |
| Elevation Gain | 896 feet |
| Duration | 2.5-3.5 hours |
| Terrain | Mostly dirt trails, some easy rock scramble |
| Dog-Friendly | Yes |
| Fee | Free |
| Driving Directions | Click Here |
White Rock Gap
The White Rock Gap parking area is thankfully easy to find, just off the Blue Ridge Parkway at milepost 18.5 near Montebello.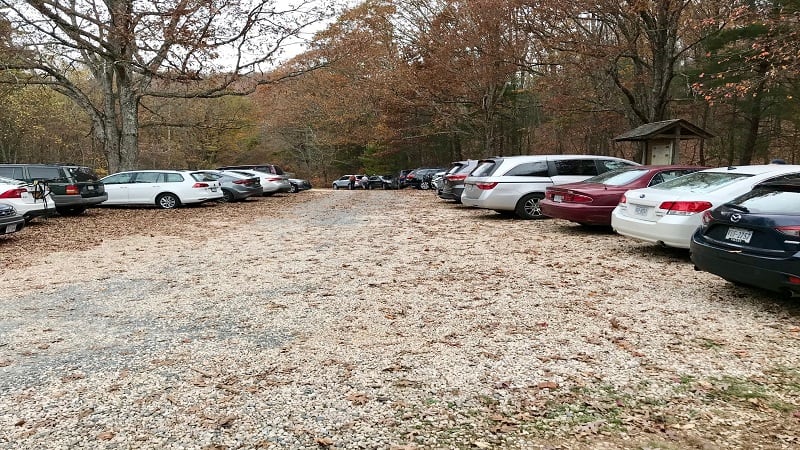 The lot is fairly large too, able to accommodate at least 20 vehicles. A trail kiosk near the middle of the lot maps out the four different White Rock Gap area trails.
From here, cross over the scenic byway to reach the trailhead where you'll begin your descent into the fairly dense forest.

White Rock Falls Trail
As you begin this hike, you'll quickly hear the sounds of a gently flowing stream as you make your way along the yellow-blazed White Rock Falls Trail.
Wind your way through a former hemlock grove, then cross over White Rock Creek at the 1.2-mile mark. Large stones and logs make it easy to traverse (and stay dry).
From here, steep switchbacks keep you on track to reach White Rock Falls. An unmarked trail at the 1.65-mile mark guides you right to the cascading falls.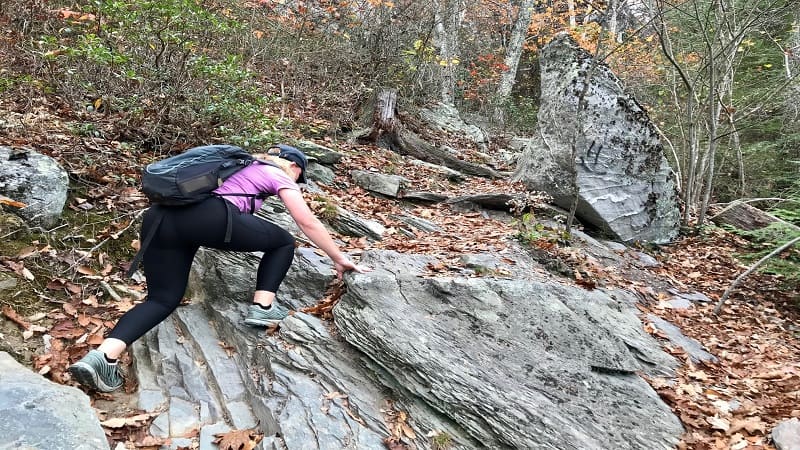 There's a bit of a rock scramble, even a downed tree to navigate, to reach the 30-foot-tall waterfall. Take your shoes off to enjoy the refreshing waterfall basin.
Re-trace your steps from the waterfall to the yellow-blazed White Rock Falls Trail. Just past the 2.1-mile mark you'll reach the first of two outrageously scenic vistas.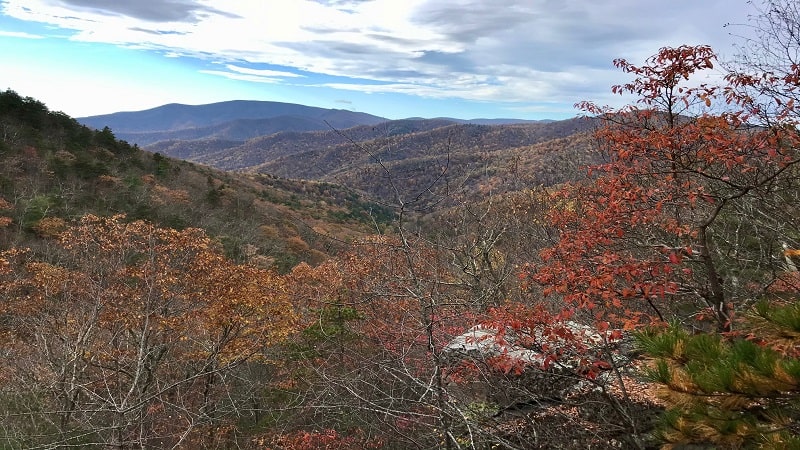 Honestly, I had no idea there would be one much less two panoramic overlooks, so this was like winning the lottery on this hike.
Take a seat on the rocky outcrop for dramatic mountain views. In a few more steps, there's a second overlook with similar views just above the tumbling falls.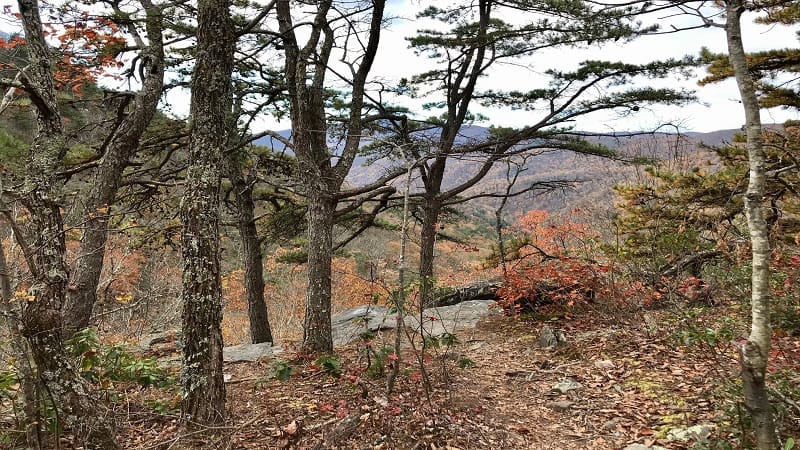 Over the next 0.5-mile, plan to hop over a couple of creeks on wooden bridges, ascend wooden and stone steps, then cross over the Blue Ridge Parkway.
Slacks Overlook
Across the parkway, enjoy every ounce of the wide-reaching views from the Slacks Overlook. An inviting picnic table makes the perfect spot to stop for lunch.
Set off to the right of the parking lot onto a spur trail that leads you to the blue-blazed Slacks Trail. From here, it's a basic walk in the woods, but it's quite relaxing.
At the 4.3-mile mark, the trail connects with the White Rock Gap Trail. Turn right at this junction and you'll be back in the parking lot in a few more steps.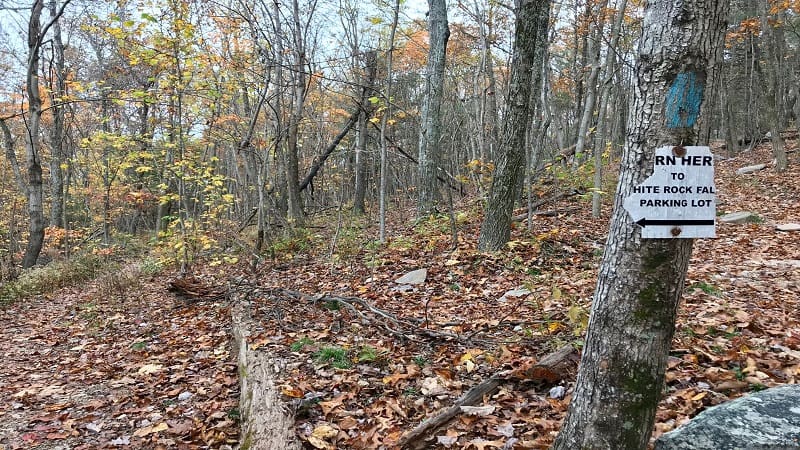 Hike Options
You can do this hike as a loop or as an out-and-back from White Rock Gap, but there are two more ways to reach this waterfall in Virginia.
For a shorter 2.0-mile out-and-back hike to White Rock Falls, begin your hike from the Slacks Overlook parking area at milepost 19.9.
Another option is to begin from nearby Sherando Lake. The orange-blazed White Rock Gap Trail begins (or ends) at the campground.
From Sherando Lake, it's a 2.5-mile hike to the White Rock Gap parking area, then another 1.7 miles to White Rock Falls. This out-and-back clocks in at 8.4 miles.
Wrap-Up Notes
This 4.4-mile Central Virginia day hike took two of us 2 hours, 15 minutes to complete, including time spent at the falls and overlooks.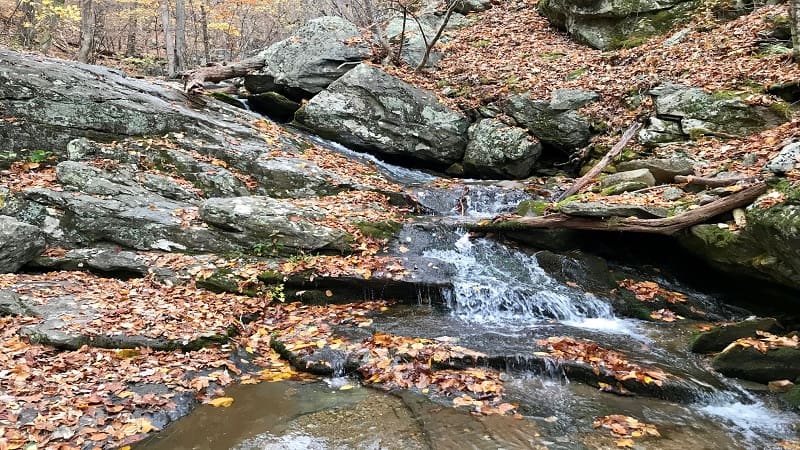 Bring snacks or lunch to enjoy on this hike. Alternatively, Waynesboro is a quick 30-minute drive. A couple of faves include The Fishin' Pig and Heritage on Main.
Eager for more steps on trails after you hike to White Rock Falls? Check out my favorite hikes near Charlottesville and hikes near Wintergreen Resort.